Summary
Kronisk infektion med jord-transmitteres helminter (STHs) forårsager malabsorption, forkrøbling, og spilder på det voksende barn. Derfor er det sandsynligt, at disse infektioner også reducere fysiske egnethed for børn. Her vil vi visualisere to teknikker til diagnosticering af STHs og den 20-meter shuttle run test for at vurdere børns fysiske kondition.
Cite this Article
Copy Citation | Download Citations

Yap, P., Fürst, T., Müller, I., Kriemler, S., Utzinger, J., Steinmann, P. Determining Soil-transmitted Helminth Infection Status and Physical Fitness of School-aged Children. J. Vis. Exp. (66), e3966, doi:10.3791/3966 (2012).
Abstract
Jord-transmitterede helminther (STH) infektioner er almindelige. Faktisk er mere end 1 milliard mennesker ramt, især i udviklingslandene, hvor fattigdommen hersker og hygiejne adfærd, vandforsyning og sanitet er ofte mangelfuld 1,2. Ascaris lumbricoides, Trichuris trichiura, og de ​​to hageorm arter, Ancylostoma duodenale og Necator americanus, er den mest udbredte STHs 3. Den estimerede globale byrde på grund af hageorm sygdom, ascariasis, og trichuriasis er 22,1, 10,5, og 6,4 mio disability-adjusted life years (DALY), henholdsvis 4. Desuden er en anslået 30 til 100.000.000 mennesker smittet med Strongyloides stercoralis, de mest forsømte STH arter af global betydning, som velsagtens også forårsager en betydelig indvirkning på folkesundheden 5,6. Multiple-arter infektioner (dvs. forskellige STHs nærede i et enkelt individ) er fælles, og infektioner har været lin KED til sænket produktivitet og dermed økonomiske udsigter i udviklingslandene 1,3.

Til diagnosticering af fælles STHs, anbefaler World Health Organization (WHO) den Kato-Katz teknik 7,8, hvilket er en forholdsvis enkel metode til bestemmelse af forekomsten og intensiteten af sådanne infektioner. Det letter påvisning af parasitæg at smittede forsøgspersoner passerer i deres afføring.

Med hensyn til diagnosticering af S.stercoralis, er der i øjeblikket ingen enkel og præcist værktøj til rådighed. The Baermann teknik er den mest anvendte fremgangsmåde til diagnose. Princippet bag Baermann teknik er, at aktive S.stercoralis larver migrere ud af en belyst frisk fækal prøve som larverne er phototactic 9. Det kræver mindre avancerede laboratorie materialer og er mindre tidskrævende end kultur og immunologiske metoder 5.

t "> morbiditeter associeret med STH infektioner spænder fra akutte, men fælles symptomer, såsom mavesmerter, diarré og kløe, til kroniske symptomer, såsom anæmi, under-og fejlernæring, og kognitiv svækkelse 10. Da symptomerne er generelt uspecifikke og subtile, de ofte ubemærket, betragtes som en normal tilstand med ramte individer eller behandles som symptomer på andre sygdomme, der kan være mere almindelige i en given indstilling. Det er således tænkeligt, at den sande byrde STH infektioner er undervurderet med vurdering værktøjer bygger på selv-deklarerede tegn og symptomer, som normalt er tilfældet i befolkningsbaserede undersøgelser.

I slutningen af 1980'erne og begyndelsen af 1990'erne, fremhævede Stephenson og kolleger mulighed for STH infektioner sænker fysiske egnethed drenge i alderen 6-12 år 11,12. Denne linje af videnskabelig undersøgelse fået ny fremdrift for nylig 13,14,15. Den 20-meter (m) shuttle run test blev udviklet end valideret af Léger et al. 16 og anvendes i hele verden til at måle aerob kondition af børn 17. Testen er nem at standardisere og kan udføres hvor en 20-meter lang og flad kører kursus og en lydkilde er til rådighed, der gør brugen attraktiv i ressourcerige begrænsede indstillinger 13. For at lette og standardisere forsøg på at vurdere, om STH infektioner have en effekt på den fysiske egnethed skolebørn, præsenterer vi metoder til at diagnosticere STH infektioner eller foranstaltning fysisk fitness, der er nemme at udføre og alligevel giver nøjagtige og reproducerbare resultater. Dette vil bidrage til at skabe nye beviser vedrørende de sundhedsmæssige konsekvenser af STH infektioner.
Protocol
1. Kato-Katz Teknik
Anbring en standard Kato-Katz skabelon med et hul til fastholdelse 41,7 milligram (mg) af fæces på et mikroskopobjektglas.
Scoop 2-3 gram (g) af en frisk fækal prøve på et stykke avis eller aluminiumfolie og trykke et stykke ståltråd eller plastnet oven at sigte det.
Anvendelse af en lille spatel, skrabe den sigtede materiale fra masken og helt udfylde hullet i Kato-Katz skabelon med det. For at fjerne overskydende fækalt materiale, nivellere indholdet af hullet med spatel.
Lodret fjerne skabelonen uden at forstyrre det fækale materiale nu klæber til mikroskopobjektglas. Skabelonen og spatel kan rengøres i vand med vaskemiddel, og genanvendes.
Læg et stykke cellofan, præ-gennemblødt i glycerol-malakitgrønt opløsning i mindst 24 timer (h), i det fækale prøve på objektglasset.
For at sprede det fækale materiale i en tyk smear, tryk forsigtigt en ren mikroanvendelsesområde glider mod prøven slide, jævn fordeling af materialet i en cirkel med en diameter lidt mindre end bredden af ​​objektglasset.
Lad objektglasset at rydde i 30-60 minutter (min), hvor de dias skal holdes væk fra direkte sollys. Derefter systematisk undersøge tykke udstrygningspræparat under et lysmikroskop (40-100x forstørrelse). Tæl antallet af STH æg og stratificere dem efter art (dvs. A.lumbricoides, T.trichiura, og hageorm). Af note, kan andre helminther æg (fx Schistosoma mansoni) også påvises ved denne metode, og bør tælles og registreres særskilt.
Have et standardiseret estimat af intensiteten af ​​infektion, der konventionelt udtrykkes som antallet af æg per gram afføring (EPG), multipliceres ægget tæller med 24 (24 x 41,7 mg ≈ 1 g).
2. Baermann Teknik
Opsæt en stand, der kan holde et glas tragt og vedlægge en gummislange, lukket witha clip, til bunden af ​​tragten.
Anbring en sigte eller en tråd-skærm formet som en kegle i tragten og lag det med et stykke medicinsk gaze.
Fylde tragten med ledningsvand og sikre, at hele opsætningen ikke lække.
Scoop 20-30 g frisk fæces på midten af ​​den medicinske gaze og sikre, at den er helt nedsænket i vand. Tilsæt mere vand hvis nødvendigt. Fold den medicinske gaze over prøven.
Nedefra, skinne kunstigt lys på tragten i 2 timer.
Drain 50 milliliter (ml) af den nedre del af vandet i kanalen til et centrifugeglas ved forsigtigt at frigive klemmen på gummislange.
Centrifuger det opsamlede vand ved 600 x g (relative centrifugalkraft) i 5 minutter og forsigtigt hældes ud supernatanten uden at forstyrre bundfaldet. Fastholde de sidste par dråber i røret.
Genopslæmmes sediment og pipette 2 dråber af opløsningen på et objektglas og undersøge objektglassetunder et lysmikroskop (40x forstørrelse til påvisning og 100-400X forstørrelse for arter bekræftelse). Første stadie larver (L1) af S. stercoralis er i live og aktivt bevæger sig under mikroskop.
3. 20-m Shuttle Run Test
Mål en 20-meter flad og lige kører kursus og markere det med kogler.
Hjælp testen deltager bære en pulsmåler på håndleddet og det tilsvarende senderen rundt om brystkassen 18. Dette udstyr gør det muligt hjertefrekvens deltageren skal måles før og efter testen, og dermed overvåger, om deltageren har udøvet maksimal indsats.
Instruer deltageren til at køre frem og tilbage på banen ved at følge tempoet i indspillede lydsignaler afgrænser 20-m omgange. Begyndende med en hastighed på 8,5 km i timen (km / t), hyppigheden af ​​de signaler, der indikerer 20-meters mellemrum stiger med hvad der svarer til 0,5 km / t hver min.
Sørg thpå deltagerens starter en ny 20-meter interval hver gang et signal lyder, og slutter det før næste signal ankommer.
Stop deltager, hvis han / hun undlader at følge tempoet for to på hinanden følgende 20-meters mellemrum.
Optag den højeste hastighed indiceret til sidste interval, som deltageren udfyldt fuldstændigt, sammen med alder og køn deltageren.
Kontroller, at pulsen ved afslutningen af testen er barnets maksimal hjertefrekvens 19. Hvis denne puls ikke er nået, kan barnet ikke have udøvet maksimal indsats, og derfor skal testen gentages.
Vurdere den maksimale aerobe kapacitet (VO 2 max) for deltageren ved hjælp af en ligning lagt frem af Léger og medarbejdere: VO 2 max = 31,025 + 3,238 * hastighed (i km / h) - 3,248 * alder (i år) + 0,1536 * hastighed (i km / h) * alder (i år).
4. Repræsentative resultater
I form afSTH diagnose med Kato-Katz teknik, unikke egenskaber ved de forskellige helminth æg giver mulighed for at identificere de fleste arter 20. Æg fra A.lumbricoides (ca. 45-75 mikrometer (um) lang og 35-50 um bred, figur 1) har tykkere skalvægge end æggene fra T.trichiura (figur 2) og hageorm (figur 3). Et befrugtet æg af A.lumbricoides (fig. 1) har en ydre PROTEINER lag, hvilket gør det ser gyldenbrun, medens en ikke-befrugtede æg mangler det ydre lag og er let langstrakt og større samlet. Æg fra T.trichiura (ca. 50 um lang og 22 um brede, figur 2) er aflange og har distinkte polære stik. Hageorm æg (ca. 64-76 um lang og 36-40 um bred, figur 3), på den anden side, har en meget tynd væg, efterfulgt af en klar ring omkring en tæt klynge af celleri midten af ​​ægget.
S.stercoralis L 1 larver (figur 4) er cirka 180-380 um lang og har en meget kort mundhulen. En særskilt genital primordium (fremhævet med en blå pil i figur 4) kan observeres og halen af larver (fremhævet med en rød pil i figur 4) har en skarp ende.
Da de virkelige konsekvenser af STH infektioner på fysiske egnethed børn stadig bliver debatteret 13,14,15, er der ingen repræsentativt resultat for deres indvirkning på dette punkt. Fortolkning af 20-m shuttle run testresultater kan udføres på forskellige måder. Den fysiske egnethed af børn kan sammenlignes mellem smittede og ikke-smittede forsøgspersoner, som er ens med hensyn til alder og køn, andre potentielt relevante sundhedsbetingelser, socioøkonomisk status og kulturelle vaner. Dette kan ske på en tværsnitsundersøgelse 13,14,15 hvorSTH infektion status og fysisk egnethed af inficerede og ikke-inficerede børn vurderes på et bestemt tidspunkt. Styrken af ​​bevismateriale vil være højere, når man følger et randomiseret, kontrolleret forsøgsdesign, hvor den fysiske egnethed skolebørn vurderes før og efter anthelminthic / placebo behandling, der giver mulighed for både kort-og langsigtede evaluering. Man kan desuden prøve at identificere en eventuel dosis-respons-forhold mellem intensiteten af STH infektioner og fysisk fitness og sammenligne forskellige niveauer af multiparasitism 1 med fysisk fitness. I værket, som Yap og medarbejdere 15 blev fysisk kondition, som afbildet af VO 2 max, fundet at være væsentligt reduceret i børn smittet med T.trichiura sammenlignet med børn, der ikke er inficeret med T.trichiura (Figur 5) .

Figu . re 1 Mikroskopiske billeder af A.lumbricoides æg: befrugtede (A) og ikke-befrugtede (B) under 500x forstørrelse. Scale bar = 50 | jm.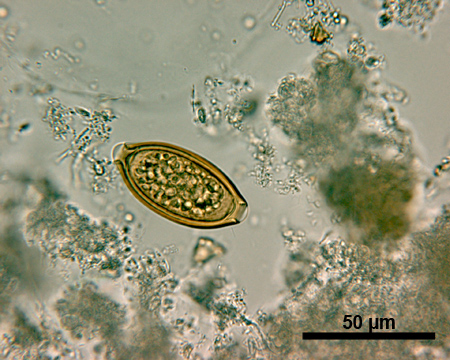 Figur 2. Mikroskopisk billede af en T.trichiura æg under 500x forstørrelse. Scale bar = 50 um.

Figur 3. Mikroskopisk billede af en hageorm æg under 500x forstørrelse. Scale bar = 50 | jm.

Figur 4. Mikroskopisk billede af en S.stercoralis L 1 larve under 250x forstørrelse. Pile angiver hale (rød) og genital primordium (blå). Scale bar = 100 | jm.
d/3966/3966fig5.jpg "/>
Figur 5. Kurve, der viser den fysiske kondition niveau af børn smittet med T.trichiura forhold til den fysiske kondition niveau børn ikke inficeret med T. trichiura.
Subscription Required. Please recommend JoVE to your librarian.
Discussion
De tre protokoller er beskrevet i dette dokument er blevet testet og udført i den syd-vestlige del af Yunnan-provinsen, Folkerepublikken Kina blandt medlemmer af Bulang etniske mindretal 21 og i forskellige dele af Afrika 6,13,14.
Der er flere skabeloner til rådighed for Kato-Katz teknik. Hvert enkelt hul-størrelse vil levere en særskilt mængde af fækalt materiale. Til beregning af EPG'er er det derfor nødvendigt at kende enhed af skabelonen, således at multiplicere det optalte antal æg med den korrekte faktor, at nå frem til EPG skøn. Endvidere, når hageorm er til stede i samfundet er omfattet af undersøgelsen, er det vigtigt at læse de slides kort efter tilberedning (efter en clearing tid på 30 minutter, men inden for en maksimal clearing tid på 60 min). Den væsentligste årsag er, at ved høje temperaturer, hageorm æg hurtigt opløses 22. Tiden mellem fækalt produktion af undersøgelsen participant og undersøgelse af prøverne er også vigtigt som et interval på 3 timer eller mere kan føre til et 50% fald i følsomhed Kato-Katz teknik til hageorm diagnosticering 23. Endelig, for at forbedre den diagnostiske følsomhed af Kato-Katz teknik, især i områder med lav intensitet STH infektioner, flere fækale prøver skal man fra en deltager, og dobbelt eller tredobbelt Kato-Katz tykke pletter bør udarbejdes fra hver afføringsprøve 7,24.
Med hensyn til Baermann teknik, skal der udvises forsigtighed ved udførelse af eksperimentet som infektiøse larver kan være til stede og derfor skal der bæres. Selvom Baermann teknikken viser en betydeligt højere følsomhed end andre koncentration teknikker og er mindre arbejdskrævende end dyrkningsmetoder, der er vigtige mangler. For eksempel er en stor mængde frisk fækalt materiale påkrævet, hvilket er et problem ved patienter indgive små fækale prøver.På den anden side kan et stort fækal prøve øge chancerne for larvernes påvisning i lav intensitet infektioner 9. Desuden er der risiko for, at larver af andre nematoder, såsom hageorm eller Trichostrongylus spp. Kan være til stede, således omhyggelig mikroskopisk undersøgelse berettiget.
Der er direkte og indirekte måder at måle VO 2 max for aerobe fitness vurderinger. Direkte protokoller kræver løbebånd, cykel-ergometre og andre specialiserede og pladskrævende udstyr, der kan måle volumen og gas koncentrationer af den udåndede luft. En sådan fremgangsmåde ikke er mulig i en ressource-begrænset landlige omgivelser i den tredje verden. For sådanne indstillinger, er indirekte måder, såsom den 20-m shuttle run test, de foretrukne metoder. Selv om indirekte metoder aldrig er så nøjagtige som direkte metoder, har den 20-m shuttle run test oprettet ved Léger og medarbejdere viste høj reproducerbarhed (r = 0,89) og validitå mod maksimal iltoptagelse på et løbebånd 16. Desuden kan investigator og deltager forholdet være lavere og flere deltagere kan udføre testen på samme tid, hvilket sparer de menneskelige ressourcer og tid. Pulsmålere er ikke typisk anvendes i sådanne tests 13,16. Men deres anvendelse gør det muligt for investigator at indhente yderligere oplysninger om deltagerne har udøvet maksimal indsats i testen. Endelig er det tilrådeligt at lade deltagerne gøre en prøvekørsel af de første par intervaller, således at de kan stifte bekendtskab med den hastighed og kurs.
Som konklusion mener vi, at en kombination af de ovennævnte metoder, efter standardprotokoller, giver mulighed for at vurdere forekomsten og intensiteten af ​​STH infektioner og fysisk egnethed skolebørn på et solidt videnskabeligt, men alligevel overskuelige og overkommelig måde.
Subscription Required. Please recommend JoVE to your librarian.
Disclosures
Ingen interessekonflikter erklæret.
Acknowledgements
Forfatterne er taknemmelige for de forskellige befolkningsgrupper i Yunnan provinsen, Folkerepublikken Kina og Agboville, Côte d'Ivoire, for deres deltagelse i de ovenfor beskrevne undersøgelser. Vi står i gæld til det lokale felt teams, der har bistået i afprøvningen og gennemførelsen af ​​protokollerne. Vi er især taknemmelige til følgende kolleger fra det schweiziske Tropiske og Public Health Institute: Yvette Endriss for at tilvejebringe de mikroskopiske billeder, Hanspeter Marti og hans team til laboratorie support og Stefanie Krauth for hendes hjælp under video optagelserne. Endelig takker vi de to anonyme dommere til en række nyttige kommentarer.
Materials
Name
Company
Catalog Number
Comments

Note: Materials in this list are generic and can be obtained from different sources.

Kato-Katz kit
[400 plastic templates with a hole of 6 millimeter (mm) (diameter) in a 1.5 mm thick template; 400 plastic spatula; a 20-m role of nylon screen of 80 mesh size; a 20-m role of hydrophilic cellophane, 34 μm thick.]
Vestergaard Frandsen
Please note that the glycerin-malachite green solution is not included in this kit but can be bought from any chemical supplier.
Glass funnel [about 8 centimeter (cm) wide and 6 cm deep]
The glass funnel for the Baermann technique should be able to hold about 60 mL of water. The size of the rubber hose and gauze is dependent on the type of glass funnel used.
Biological microscope
Olympus
CX21LED/CX21
Centrifuge
Shanghai Medical Instruments Group
80 - 2T
Pre-recorded signals
Bitworks Design
Team Bleep Test Version 1.3.1
iPhone application
Heart rate monitor
POLAR
FT1
Watch and transmitter