Summary
In dit protocol beschrijven we de productie, zuivering en titratie van lentivirale vectoren. Wij bieden een voorbeeld van lentivirale vector-gemedieerde gen-levering in de eerste gekweekte neuronen en astrocyten. Onze methoden kunnen ook van toepassing op andere celtypen
Abstract
Efficiënte gen-levering in het centrale zenuwstelsel (CZS) is belangrijk in het bestuderen van gen-functies, het modelleren van neurologische aandoeningen en het ontwikkelen van therapeutische benaderingen. Lentivirale vectoren aantrekkelijk instellingen transductie van neuronen en andere celtypen in CNS omdat zij beide delen en niet-delende cellen ondersteuning aanhoudende expressie van transgenen transduceren en relatief grote verpakkingen capaciteit en lage toxiciteit 1-3. Lentivirale vectoren zijn met succes gebruikt in transduceren veel neurale celtypen in vitro 4-6 en bij dieren 7-10.
Grote inspanningen zijn gedaan om lentivirale vectoren te ontwikkelen met verbeterde bioveiligheid en efficiëntie voor gen delivery. De huidige derde generatie replicatie deficiënt en zelfstandige inactiverende (SIN) lentivirale vectoren in figuur 1. De vereiste elementen voor vector verpakking worden opgesplitst in vier plasmiden. In de lentivirale transfer plasmide, wordt de U3-regio in lang de 5 'terminale herhaling (LTR) vervangen door een sterke promotor van een ander virus. Deze wijziging kan de transcriptie van de vectorsequentie onafhankelijk van HIV-1 Tat eiwit dat normaal nodig is voor HIV genexpressie 11. De verpakking signaal (Ψ) is essentieel voor encapsidering en Rev reagerend element (RRE) nodig om hoge titer vectoren. De centrale polypurine kanaal (cPPT) is voor de nucleaire invoer van de vector DNA, een functie nodig transduceren niet-delende cellen 12. In het 3 'LTR, de cis-regulerende sequenties volledig uit de U3 regio. Deze verwijdering wordt gekopieerd naar 5 'LTR na reverse transcriptie, waardoor transcriptionele inactivatie van beide LTR. Plasmide pMDLg / pRRE bevat HIV-1 gag / pol-genen, die structurele eiwitten en reverse transcriptase te bieden. pRSV-Rev codeert voor Rev, die bindt aan de RRE voor een efficiënte RNA uitvoer uit de kern. pCMV-G codeertde vesiculaire stomatitis virus glycoproteïne (VSV-G), die HIV-1 Env vervangt. VSV-G vergroot de tropisme van de vectoren en laat de concentratie via ultracentrifugatie 13. Al de genen die coderen voor de accessoire eiwitten, waaronder Vif, Vpr, VPU en Nef zijn uitgesloten in de verpakking systeem. De productie en manipulatie van lentivirale vectoren dienen te worden uitgevoerd volgens de NIH richtlijnen voor onderzoek met recombinant DNA ( http://oba.od.nih.gov/oba/rac/Guidelines/NIH_Guidelines.pdf ). Een goedkeuring van individuele institutionele biologische en chemische comite voor de veiligheid kan nodig zijn voor het gebruik van lentivirale vectoren. Lentivirale vectoren worden gewoonlijk geproduceerd door cotransfectie van 293T cellen met lentivirale overdracht plasmide en het helper plasmiden die coderen voor de eiwitten vereist vector verpakking. Veel lentivirus overdracht plasmiden en helper plasmiden kunnen worden verkregen uit Addgene een niet-Profit plasmide repository ( http://www.addgene.org/~~V ). Sommige stabiele verpakkende cellijnen zijn ontwikkeld, maar deze systemen minder flexibiliteit en de verpakking efficiëntie algemeen af tijd 14, 15. Commercieel beschikbare transfectie kits kunnen ondersteunen hoge efficiëntie van transfectie 16, maar zij zeer duur zijn voor grootschalige vector preparaten. Calciumfosfaatprecipitatie methoden leveren zeer efficiënte transfectie van 293T-cellen en zorgen zo voor een betrouwbare en kosteneffectieve aanpak voor lentivirale vector productie.
In dit protocol produceren wij lentivirale vectoren door cotransfectie van 293T cellen met plasmiden vier op de calciumfosfaat precipitatie principe, gevolgd door zuivering en concentratie ultracentrifugatie door een 20% sucrose kussen. De vector titers worden bepaald door fluorescentie-geactiveerde celsortering (FACS) anallyse of door real-time qPCR. De productie en titratie van lentivirale vectoren in dit protocol kan worden afgewerkt met 9 dagen. Wij bieden een voorbeeld van transduceren deze vectoren in muizen neocorticale culturen die zowel neuronen en astrocyten. We tonen aan dat lentivirale vectoren hoge efficiëntie van transductie en celtype-specifieke gen expressie in primaire gekweekte cellen van CNS ondersteunen.
Protocol
1. Verpakking van lentivirale vectoren
Lentivirale vectoren worden geproduceerd door cotransfectie van een lentivirale transfer vector en plasmiden nodig verpakkingsmateriaal 293T cellen door calciumfosfaat transfectiemethode. We maken gebruik van 10 100-mm weefselkweek gerechten in dit protocol. Het kan worden vergroot of verkleind afhankelijk toepassingen. De 293T cellijn wordt gehandhaafd in Dulbecco's gemodificeerd Eagles medium (DMEM) met hoog glucose (4,500 mg / L), aangevuld met 10% foetaal bovine serum (FBS), 100 eenheden / ml penicilline, 100 pg / ml streptomycine bij 37 ° C incubator met 5% CO2.
Zaad 293T cellen 30-40% confluentie 10 100 mm weefselkweekschalen (3 x 10 6 cellen / schaal) in kweekmedium. Zet de cellen om incubator.
Na ongeveer 20-24 uur cultuur, controleert de cel dichtheid. De cellen moet 80% confluentie bij de transfectie zijn.
Bereid een 50 ml buis. Voeg 4,4 ml TE79/10 (1 mM TrisHCl, 0,1 mMEDTA, pH 7,9) minus het totale volume van de volgende plasmide DNA. Voeg 100 ug lentivirus overdracht plasmide (figuur 1), 58 pg pMDLg / pRRE 31 ug pCMV-G, 25 ug pRSV-Rev, 600 pi 2M CaCl2. Voorzichtig mengen.
Maak nog eens 50 ml buis. Voeg 5 ml 2x HBS (0,05 M HEPES, 0,28 M NaCl, 1,5 mM Na 2 HPO 4, pH 7.12).
Neem de DNA-CaCl2 mengsel van 10 ml pipet aan de buis met 2 x HBS druppelsgewijs terwijl vortexen de buis.
Houd de precipitatiereactie bij kamertemperatuur (RT) gedurende 30 minuten.
Verwijder de cultuur gerechten uit de couveuse. Meng de neerslag reactie door vortexen. Voeg 1 ml suspensie van 100 mm schaal bevattende cellen. De suspensie wordt langzaam toegevoegd, terwijl voorzichtig toegedruppeld zwenken het medium in de schaal. Terug van deze schalen in de broedstoof en laat gedurende 5 uur.
Verwijder het medium uit de kweek. Voeg 6 ml vers kweekmedium met 6 mM natrium-butyrate elke schotel. Zet de culturen incubator. Na overnacht cultuur, als er een fluorescerende reporter in het construct, controleert reportergen expressie onder fluorescentiemicroscoop. Gewoonlijk dan 80% van de cellen brengen reportergen indien wordt aangedreven door een alomtegenwoordige promoter (bijvoorbeeld CMV promoter).
Twee dagen (40-44 uur) na transfectie supernatant te verzamelen van 10 gerechten in 2 van 50 ml buizen (ongeveer 30 ml per buis). Bevries de bovenstaande vloeistof in -80 ° C vriezer of ga naar de volgende stap.
2. Concentratie en Zuivering van de vectoren
Centrifugeer de vers verzameld en ontdooid supernatant 900 g (ongeveer 2000 rpm) gedurende 10 min op een celresten te verwijderen in de supernatant.
Bevestig een 60-ml spuit met een 0,2-um SFCA spuitfilter. Overdracht supernatant van 50 ml buis op de spuit. Filtreer de bovenstaande vloeistof in een polyallomer centrifugebuis.
Neem 5 ml 20% sucrose (bereid in PBS) in een 5 ml pipet. Plaatsende pipet op de bodem van de centrifugebuis met supernatant. Voeg langzaam het sucrose oplossing onder de vector supernatant. Herhaal deze stappen voor supernatans van een andere buis.
Centrifugeer de supernatant bij 11.000 rpm en 4 ° C gedurende 4 uur met Beckman SW28 rotor swing.
Verwijder het supernatant. Voeg 150 pi 4% Lactose (bereid in PBS) aan elke centrifugebuis. Resuspendeer de pellets.
Breng de geconcentreerde vector van alle centrifugebuizen een 1,5 ml buis. Laat de buis op ijs gedurende 15 minuten.
Meng de vector schorsing door pipetteren. Spin met microcentrifuge op volle snelheid (ongeveer 16.000 g) gedurende 1 minuut.
Breng supernatant een nieuwe 1,5 ml buis. Verdeel het eindmonster in 20 ui fracties en opgeslagen ze in -80 ° C vriezer.
3. Titratie van de vectoren
Zaad 5 x 10 4 / putje HT1080 cellen in 12-well plaat 1 ml DMEM medium aangevuld met 10% FBS.
Na overnight cultuur, tellen cellen van het ene goed en scoren de cel nummer.
Maak 5-voudige seriële verdunning (1:5, 1: 25; 1:125 en 1:625) van de geconcentreerde vector met kweekmedium. Voeg I ui van elke verdunde vector afzonderlijke putjes. De monsters mag worden vermenigvuldigd om de nauwkeurigheid te verhogen.
Voeg 1 pi 4 mg / ml polybreen (Hexadimethrine bromide) in elk putje met vector en een goed zonder vector. Meng door zachtjes schudden van de plaat. Keer terug naar incubator gedurende 48 uur.
Verwijder medium uit de celkweek putten. Was elk putje met PBS. Voeg 250 ul 1 x trypsine-EDTA oplossing aan de cellen. Wanneer de cellen losgemaakt (3-5 min), 1 ml kweekmedium. Resuspendeer de cellen door pipetteren. Breng celsuspensie van 1,5 ml centrifugebuizen.
Centrifugeer 900 g gedurende 6 minuten. Voor vectoren met een fluorescerende reportergen (bijv. GFP) naar 3,7 stap FACS analyse. Voor vectoren zonder een verslaggever, ga dan naar stap 3.8 voor real time qPCR.
Voor vectoren met een fluorescent reporter gen, verwijder het supernatant en resuspendeer de pellet met 300 pi van 3,7% formaldehyde in PBS. Bepaal het percentage positieve cellen reporter door FACS analyse. De titer wordt weergegeven als transductie eenheden per milliliter geconcentreerd vector (TU / ml).
Als bijvoorbeeld 1 x 10 5 cellen getransduceerd met 1/25 ul (0,04 pl) vector en 30% cellen reporter positief de titer is:
Gebruik de verdunningen vallen in een lineair verband tussen het percentage positieve cellen en de hoeveelheid vector toegevoegd titer te bepalen. De uiteindelijke titer dient het gemiddelde van de titers verkregen transductions ten minste twee verschillende hoeveelheden van de vector.
Voor vectoren zonderfluorescerende reportergen, extract genomisch DNA van HT1080 cellen met DNA QIAamp Mini Kit (Qiagen) volgens protocol van de fabrikant. Versterken vectorsequentie in genomisch DNA met ABI Prism 7000 Sequence Detection System (Applied Biosystems) met primers (HIV-1 PBS / psi gebied 17) 5'-CCGTTGTCAGGCAACGTG-3 'en 5'-AGCTGACAGGTGGTGGCAAT-3' en TaqMan sonde 5 '-FAM-AGCTCTCTCGACGCAGGACTCGGC-TAMRA-3'. Albumine gen dat een enkele kopie gen in het genoom (2 kopieën / cel) werd geamplificeerd met primers 5'-TGAAACATACGTTCCCAAAGAGTTT-3 'en 5'-CTCTCCTTCTCAGAAAGTGTGCATAT-3' en 5'-probe FAM-TGCTGAAACATTCACCTTCCATGCAGA-TAMRA-3 'als een interne controle. Bepalen aantal kopieën van de vector en albumine met PCR in 96-well plaat volgens de vervaardiging van instructies aan de volgende programma: 50 ° C gedurende 2 minuten, 95 ° C gedurende 10 min en 35 cycli van 95 ° C gedurende 15 sec en 60 ° C gedurende 2 minuten. Ten-voudige seriële verdunningen van plasmiden met een bekende concentratie (weergegeven als kopienummer) dat het template-sequenties moet worden versterkt tot een standaardcurve voor kwantificering van onbekende monsters te maken. De titer wordt weergegeven als integratie-eenheden per milliliter geconcentreerd vector (IU / ml).
4. Transductie van neocorticale Cultures
Neocorticale kweken die zowel neuronen en gliacellen bereid uit muizen corticaal met twee stappen plating procedure als eerder beschreven 18. Neocortices verkregen foetale muizen 14-16 dagen dracht uitgeplaat op een vooraf vastgestelde gliacellen monolaag in MEM aangevuld met 10% FBS, 20 mM glucose en 2 mM glutamine in 24-well weefselkweekplaten plaat.
Na 5 dagen in vitro, voeg 10 uM cytosinearabinoside (Ara-C) in neocortical cultuur niet-neuronale celdeling remmen. Ga door de cultuur van de cellen voor 2 dagen.
Warm kweekmedium in 37 ° C waterbad gedurende 5-10 minuten. Vervang de Ara-C met medium met vers kweekmedium (500 ul / putje).
Voeg vector met gewenste MOI (multipliciteit van infectie, de verhouding van het aantal deeltjes vector om het aantal doelcellen) aan de cultuur. Ga cultuur voor 24 uur. We maken gebruik van MOI van 1-10 (meestal 5) in primaire corticale culturen.
Vervang het kweekmedium met vers medium. Ga cultuur. Als er een reporter-gen in de vector construct, controleert cellen onder fluorescentiemicroscoop 2 dagen na transductie. Reportergen expressie zichtbaar in neuronen 2-7 na transductie, afhankelijk van de vector ontwerp en de dosering.
5. Representatieve resultaten
De titers van lentivirale vectoren gemaakt met dit protocol, in bedrijf 10 8 -10 10 IU / ml, ontwh geschikt voor transductie van verschillende celsoorten van CNS zowel in vitro als in vivo. tabel 1 en figuur 2 tonen een representatief resultaat met vectoren door dit protocol. We getransduceerde muizen neocorticale culturen met lentivirale vectoren die green fluorescent protein (GFP) onder de zeggenschap synapsin (SYN) promoter of gliale fibrillaire zuur eiwit (GFAP) promoter. Zeven dagen na transductie, voerden we immunokleuring te etiketteren neuronen en astrocyten met anti-Neun en anti-GFAP antilichamen, respectievelijk. Zoals getoond in tabel 1 en Fig. 2A, na transductie met de vector die de synapsin promotor, meer dan 90% van de neuronen (Neun + cellen) express GFP en geen astrocyten (GFAP + cellen) drukt dit reportergen. Wanneer GFAP promoter wordt gebruikt in de vector construct (Fig. 2B), ongeveer 80% van astrocyten (GFAP + cellen) express GFP; alle GFP + cellen astrocyten bevestigd door colokalisatie met GFAP en de afwezigheid van GFP expressie in Neun gelabelde cellen. Deze resultaten demonstreren dat lentivirale vectoren zijn erg efficiënt transgenen leveren cellen CNS en cel-genexpressie kan worden bereikt wanneer geschikte promotors worden gebruikt.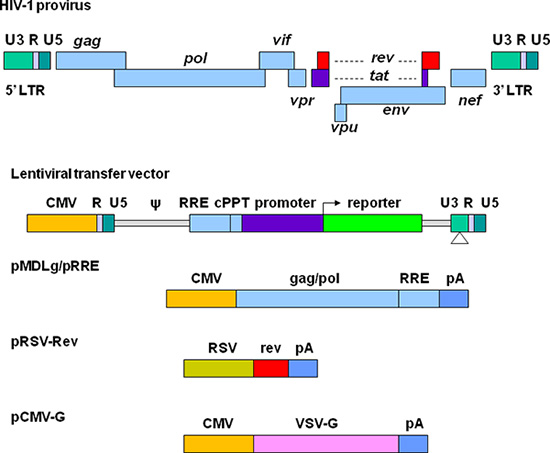 Figuur 1. Schematische weergave van HIV-gebaseerde vectoren lentivirale en de verpakking plasmiden. De HIV-1 provirus is bovenaan. De elementen voor vector productie gescheiden in vier verschillende plasmiden. De lentivirus overdracht plasmide een hybride 5 'LTR, waarin de U3 gebied vervangen door de cytomegalovirus (CMV) promotor, het verpakkingssignaal (ψ), de sequentie RRE de centrale polypurine kanaal (cPPT) een gen van belang (bijvoorbeeld een fluorescerend reporter) met een promotor keuze, en het 3 'LTR, waarin decis regulerende sequenties zijn volledig verwijderd uit het U3-regio. pMDLg / pRRE bevat gag en pol genen en RRE sequentie van HIV-1 onder de controle van de CMV promoter. pRSV-Rev bevat de coderende sequentie van Rev aangedreven door de RSV promoter. pCMV-G bevat VSV-G-eiwit gen onder controle van de CMV promoter. PA geeft de polyadenyleringssignaal uit menselijke β-globine gen.

Figuur 2. Expressie van reportergenen in muizen neocorticale mengcultuur getransduceerd met lentivirale vectoren die celtype-specifieke promotors. De kweken werden getransduceerd met LV-SYN-GFP (A) of LV-GFAP-GFP vectoren (B) een MOI 5. Zeven dagen na transductie werden de cellen immunostained anti-Neun of anti-GFAP antilichaam. Boven-panelen tonen GFP-fluorescentie, het Midden-panelen tonen immunokleuring en onderste panelen worden samengevoegd beelden (GFP: groen, Neun of GFAP: rood).
Vector
GFP + cellen in neuronen
GFP + in astrocyten
LV-SYN-GFP
92,2 ± 7,3
0
LV-GFAP-GFP
0
78,3 ± 11,5
Tabel 1. Vergelijking van de GFP-expressie in muriene neocorticale culturen getransduceerd met lentivirale vectoren die verschillende promotors een.
een Murine neocorticale culturen (5 x 10 5 / well in 24-wel plaat) werden getransduceerd met LV-SYN-GFP of LV-GFAP-GFP in een MOI 5. Zeven dagen na transductie, werden culturen gefixeerd en immunostained voor Neun of GFAP. Het aantal GFP en Neun / GFAP expresserende cellen werden geteld beelden van 10 velden per experimentele conditie. De waarden geven het percentage van neuronen (Neun + cellen) ofastrocyten (GFAP + cellen) die ook tot uiting de GFP-reportergen. De waarden zijn gemiddelden ± SD van drie onafhankelijke experimenten.
Subscription Required. Please recommend JoVE to your librarian.
Discussion
In dit protocol hebben we laten zien de productie van lentivirale vectoren en de toepassing van deze vectoren in neocorticale culturen. We hebben aangetoond efficiënte en celtype-specifieke transductie met de vectoren die door deze methode. Wanneer de synapsin promoter wordt gebruikt, GFP expressie strikt neuron specifiek. Wanneer de GFAP promoter wordt gebruikt, GFP expressie is uitsluitend in astrocyten. Indien geen celtype-specifieke expressie noodzakelijk is, kan een universele promoter worden gebruikt. We vonden zowel ubiqutin en fosfoglyceraatkinase (PGK) promoters kunnen hoog niveau genexpressie rijden in neocorticale culturen 6. Genexpressie gedreven door lentivirale vectoren kan worden aangepast voor specifieke niveaus van meningsuiting of celtypen door de keuze van de initiatiefnemers (bijv. alomtegenwoordige of celtype-specifieke) of door het gebruik van verschillende envelop-eiwitten of vector pseudotypes aan specifieke weefsels of toepassingen richten. Bijvoorbeeld pseudotyping hondsdolheid G-eiwit of een fusie van VSV-G eend hondsdolheid eiwit ondersteunt retrograde axonaal transport 19,20. De tijdelijke transfectie-protocol kan vector verpakking verschillende manteleiwitten.
Lentivirale vectoren worden over het algemeen geconcentreerd door ultracentrifugatie zonder zuivering stappen. Deze ongezuiverde vectoren zijn geschikt voor vele celtypen. Evenwel hoofdzakelijk neuronale kweken zijn gevoelig voor verontreinigingen uit de producerende cellen, resulterend in charges variatie op cytotoxiciteit. De 20% sucrose kussen zuiveringsstap maakt de vectoren consequent niet-giftig in primaire neuronen. Wij raden het gebruik van gezuiverd vectoren voor transductie van primaire neuronen en injectie in dieren. Bij grotere schaal of hogere zuiverheid van vector preparaten vereist zijn, kunnen andere zuiveringstechnieken zoals affiniteitschromatografie 21 en anionenuitwisseling membraan chromatografie 22 worden gebruikt. Zoals lange transductie algemeen moet in primaire neuronale kwekenDient extra voorzichtigheid worden genomen om besmetting te minimaliseren tijdens de bereiding van de vectoren. Het passeren van de vector supernatant met 0,2 uM filter en het gebruik van autoclaveerbaar polyallomer centrifugebuizen bij het concentreren van de vector zal dienen dit doel. Fles boven filters worden gebruikt als een grote hoeveelheid supernatant moet worden gefilterd. Natrium butyraat is gemeld dat het de activiteit van promotors 23 te stimuleren. Toevoeging van natriumbutyraat het kweekmedium na transfectie van de producerende cellen kan de vector titer meer dan 10 plooien 24. Polybreen (hexadimethrine bromide) is op grote schaal gebruikt voor gentransfer protocollen om de efficiëntie van retrovirale genoverdracht verhogen door neutralisatie van negatieve ladingen, en aldus vector-cel interacties 25. In onze handen, polybreen giftig is neuronen in neocorticale culturen. Daarom moet polybreen worden vermeden transduceren primaire neuronale kweken. Als ereen fluorescerende reporter in de vector, is het handig om de vector titer te bepalen door FACS analyse. Als er geen reporter beschikbaar is of een reportergen wordt aangedreven door een weefsel specifieke promotor, qPCR voor het detecteren integratie van de vector in doelcellen moet een ruimere keuze integratie van vector onafhankelijk van transgenexpressie zijn. De titer van specifieke vectoren bepaald door FACS analyse lager dan qPCR aangezien niet alle geïntegreerde kopieën van de vector zijn functioneel. Vector titers kan worden bepaald door HIV p24 proteïne door Elesa of vector genomisch RNA door qRT-PCR in vector preparaten. Deze werkwijzen zijn minder nauwkeurig door het grote aantal gebreken virusdeeltjes onvermijdelijk die tijdens het verpakken en het functionele deeltjes die niet goed transduceren doelcellen 26. De vectoren die door dit protocol zijn met succes toegepast in zowel in vitro als in vivo in rodeuk hersenen 27. Onderzoekers moeten individueel te testen in hun systemen, als vector-gemedieerde genexpressie, is niet noodzakelijk in celkweken en in vivo systemen, zelfs in hetzelfde celtype 6,28. Lentivirale vectoren zijn alom gebruikt voor overexpressie of slopen genen van interesse in een verscheidenheid van cel-types in CNS. Ons protocol moet nuttig zijn voor de neurowetenschappen onderzoekers lentivirale vectoren in hun onderzoek applicaties te ontwikkelen.
Subscription Required. Please recommend JoVE to your librarian.
Disclosures
Geen belangenconflicten verklaard.
Acknowledgments
Dit werk werd ondersteund door de NIH Neuroscience Blueprint Core-subsidie ​​(P30 NS057105, BJS) naar Washington University, Programma Project Grant NS032636 (BJS) en door het Hope Center for Neurological Disorders.
Materials
| | | | |
| --- | --- | --- | --- |
| Name | Company | Catalog Number | Comments |
| DMEM | Sigma-Aldrich | D5796 | |
| MEM | Invitrogen | 11090-081 | |
| Fetal bovine serum | Hyclone | SV3001403 | |
| PBS | Mediatech, Inc. | 21-040-CM | |
| Trypsin-EDTA | Sigma-Aldrich | T3924 | |
| Sodium butyrate | Sigma-Aldrich | B5887 | |
| Hexadimethrine bromide (Polybrene) | Sigma-Aldrich | H9268 | |
| 293T cells | ATCC | CRL-11268 | |
| HT1080 cells | ATCC | CCL-121 | |
| Falcon 100 x 20 mm tissue culture dish | BD Biosciences | 353003 | |
| 1 x 3 ½ in polyallom–r centrifuge tube | Beckman Coulter Inc. | 326823 | |
| 0.2-micron syringe filter | Corning | 431219 | |
| QIAamp DNA Mini Kit | Qiagen | 51304 | |