Summary
Transurethral instillasjon er en utfordrende prosedyre og har ikke blitt godt beskrevet i litteraturen. Målet med dette manuskriptet er å beskrive en teknikk for transurethral innsetting av et kateter for intravesical levering av væsker med aktive stoffer i urinblæren og/eller prostata hos voksne mannlige mus.
Abstract
Transurethral instillasjon kan brukes til å levere ulike løsninger med aktive ingredienser (f.eks legemidler, kjemikalier, bakterier og virus) lokalt i urinblæren indusere dyremodeller blæren patologi eller vurdere den effektiviteten av intravesical behandlinger. Mest gnager modeller av lavere urin skrift (LUT) patologi er indusert i kvinnelige mus grunn å intravesical instillasjon av stoffer via den kvinnelige urinrøret. Men på grunn av anatomiske forskjellene mellom den kvinnelige og mannlige LUT, transurethral instillasjon i en mannlig mus har vært ansett en svært utfordrende prosedyre, og det har ikke vært beskrevet tidligere. I dette manuskriptet gir vi en detaljert beskrivelse av hvordan å forberede polyetylen rør for påfølgende innsetting urinrøret mannlige museklikk. Dessuten, diskuterer vi de ideelle typene PE rør brukes avhengig av ønsket område av vaksinering. I tillegg beskriver vi punkt for punkt hvordan å forberede et dyr for en vellykket transurethral instillasjon unngå skader til urethra og sikre løsningen til ønsket plassering. Prosedyren er startet av trekke prepuce og glans å utsette åpningen av urinrøret kjøtt. Deretter glans er forstått av sløv ikke-knusing tang å stabilisere penis og PE slangen. PE slangen settes først inn i urinrøret kjøtt parallelt med dyr kroppen og dens vinkel justeres ved å vippe kateter for å manøvrere det å følge ryggsøylens naturlige urinrøret. Denne teknikken kan brukes til indusert murine modeller av blæren patologi og/eller evaluere effektiviteten av intravesical behandlinger i mannlige mus.
Introduction
Transurethral instillasjon tilnærmingen er brukt i tidligere studier som én av metodene til å opprette gnager modeller av blæren, patologi,1,,2,,3,,4 og kan brukes til å evaluere den effektiviteten av lokalt levert i mus. Selv om dyremodeller ikke fullt recapitulate menneskelige patologi, gir identifikasjon av de underliggende mekanismene i dyrestudier en bedre forståelse av de menneskelige LUT lidelser som interstitiell cystitt/blære smertesyndrom, neurogenic cystitis, autoimmune cystitis og prostatic betennelse5.
Transurethral instillasjon prosedyren utføres på en voksen mann mus er mer teknisk utfordrende enn intravesical instillasjon i en voksen kvinnelig musen6. Naturlig buet anatomi av mannlige urinrøret med liten diameter gjør det teknisk vanskelig å oppnå transurethral innsetting av et kateter. Derfor detaljerte instruksjoner for transurethral induksjon musen urin spor infeksjon6 og LUT betennelse7,8,9,10,11 , 12 , 13 , 14 , 15 via blæren satt inn kateter ble tidligere skissert for kvinnelige mus bare. Dette manuskriptet har som mål å gi en detaljert beskrivelse av teknikken for transurethral instillasjon stoffer i mannlige mus inkludert videoklipp, bilder og illustrasjoner. Transurethral instillasjon prosedyrer i en voksen mann mus kan utføres med variabel inoculates lik som tidligere beskrevet i kvinnelige musen7 og slått sammen med flere teknikker som eletromyografi opptak av visceromotor svar (VMR)16.
Subscription Required. Please recommend JoVE to your librarian.
Protocol
alle prosedyrer med dyr, inkludert metoden og varigheten av anestesi, samt postoperativ pleie, ble diskutert med en veterinær og godkjent av dyr institusjon og bruk Committee (IACUC) på den tilknyttede institusjon. I dette manuskriptet ble alle prosedyrer utført med 8 til 15-uke-gamle C57BL/6 mannlige mus og protokollen følger retningslinjene for dyr omsorg som er godkjent av IACUC ved University of Colorado.
1. forberedelse av rør
Merk: for å innpode i inoculum, en nål knyttet til polyetylen rør ( figur 1A) eller en liten måler (< 24 G) angiocatheter kan brukes ( figur 1G). Bruk av en angiocatheter krever ingen forberedelse enn sterilisering med 70% etanol (EtOH). Inoculum er stoffet som innpodet/injisert/satt inn urinveiene. Dette kan være en løsning som inneholder bakterier, virus eller en kjemisk. Dette er forberedt på forhånd og forskning protokollen. For eksempel hvis studie tar sikte på å vurdere effektene av E. coli infeksjon på lavere urinveiene, forskeren må du forberede inoculum som inneholder bakterier, som kan være inokulert/innpodet i lavere urinveiene.
Utarbeidelse av nålen knyttet til PE slangen er enkelt og består av følgende: velge størrelsen på PE rør basert på målet orgel og alderen på et dyr. Bruk PE-10 rør for et dyr yngre enn 12 uker, (utvendig diameter er 0,024 inches og innvendig diameter er 0.011 inches). PE-10 slangen er foreslått for å være gjeldende for (1) primære såing av inoculum i fremre prostata (AP) og sædblærene (SV) eller (2) primære såing av inoculum i blæren av et dyr yngre enn 12 ukens av alderen. PE rør med større diameter størrelsen PE 50 (utvendig diameter opp til 0.038 inches og innvendig diameter opp til 0.023 inches) kan brukes for det primære såing av inoculum i blæren av eldre dyrene.
Kuttet ca 2,5 tommer PE rør.
Velg en nål som passer den valgte PE diameteren skal brukes. En 27 G nål kan passe inn i lumen PE-10 rør og en 22 G nål passer lumen PE-50 rør.

Forberede nålen før innsetting PE slangen ved å gni den skarpe kanten av nålen på en kommersielt tilgjengelig olje stein ( figur 1A -B) å gjøre det kjedelig, eller bruk en kommersielt tilgjengelig stump nålen.

Innføre kjedelig nålen ( figur 1 c) i lumen av PE slangen. Unngå skade lumen eller inn i en falsk lumen ved p restene i midten av lumen. ( figur 1 d -E). Hvis PE slangen er skadet under innsetting av kjedelig nålen, kuttet skadet slutten og starter prosessen.
Sett p-vedlagt PE slangen i 70% av EtOH for sterilisering til bruk for prosedyren. Flush 70% EtOH gjennom nål-PE slangen å sterilisere lumen og sikre det er ingen lekkasje fra PE slangen skade under prosessen med nåleinnføring. Hvis det er lekkasje, forkastet p-PE slangen.
Merk: Spissen av PE slangen må være glatt før catheterization. For å unngå problemer med å innføre PE slangen inn i urinrøret, er det anbefalt å kutte spissen av PE slangen umiddelbart før catheterization ( figur 1F). Foreslåtte Minimumslengden på PE slangen er 1,5 tommer, som inkluderer delen rundt nålen.
2. Catheterization prosedyren
før induksjon av anestesi, tømme blæren mus.

Bruke lett trykk og massasje til nedre del av magen av mus. Disse manøvrene vanligvis føre til spontan renons. En full blære kan resultere i umiddelbar lekkasje og Kontroller alle instilled inoculum.
Merk: En ekstra mulighet til å sikre en tom blære i en mus er å frata dyret vann i minst 1 time før transurethral instillasjon prosedyren. Vann savn bør godkjennes av institusjonen som en del av dyr protokollen.

Bruker en bedøvelse maskin med isoflurane flyt (2%) å indusere anestesi.

Når Dyret er anesthetized, plassere den på en varm oppvarming teppe og dekke det med en blå puten med nesen sin i en nosecone for vedlikehold av kontinuerlig anestesi.
Bekrefter at dyret er under narkose ved å sjekke den pedal refleks (toe knip).

Når den pedal refleks er fraværende, gå videre ved å trekke prepuce.

Trykk kjønnshår regionen med både tommelen og pekefingeren på én hånd ( tall 2A og 2B), og trekk ut kjertler penis med tommelen og pekefingeren på den andre hånden ( figur 2C). Når dette gjøres riktig, forblir det prepuce, glans-penis og penile kroppen synlige. ( figur 2D og figur 2F). Ikke bruk tang til å trekke ut kjertler penis som dette vil resultere i skade vevet.

Smør spissen av kateter og glans med sterilt kirurgisk smøremiddel før innsetting av kateter. Dette vil lette innsetting av PE slangen.
Merk: Pakket individuelt kvadratene av kirurgiske smøremiddel, i stedet for en stor tube, anbefales for bruk å opprettholde sterile forhold.
Hold tuppen av penis med kjedelig tang og forsiktig presse glans å forårsake urethral meatus åpne.
Hold sprøyten med p-vedlagt PE-rør eller PE slangen selv og sette inn PE slangen gjennom urethral kjøtt.
Merk: Et stativ grep av med p-vedlagt PE-slangen eller PE slangen selv tommelen, indeks og midtre fingrene anbefales for stabilitet.
Merk: Banen til catheterization skal være buede på grunn av ryggsøylens naturlige urinrøret omgitt av glans penis og penile kroppen i voksne mannlige mus som vist i figur 3A og 3B figur. Catheterized PE slangen kan møte motstand under catheterization, derfor er det anbefalt å justere vinkelen ved å vippe slangen opp eller ned hjelpe forhånd PE slangen videre målet orgel. Om nødvendig kan PE slangen roteres litt for å manøvrere gjennom de ulike skarpe svingene av urinrøret. Når det er for mye motstand, slangen skal trekkes tilbake og avansere igjen med minimal trykk. Trekke PE-slangen ut helt og kan være nyttig å bruke mer smøring.
Utføre instillasjon av inoculum når PE-slangen har nådd ønsket orgel ved å trykke p stempelet innpode ønsket volum av inoculum (5-200 µL volum er foreslått).

For instillasjon av inoculum i urinblæren, fremme PE slangen til omtrent 0,75 inches av PE slangen settes ( figur 3A).
Merk: For instillasjon av inoculum i Ap. og SV, vanligvis the inn rør møter motstand når den når poenget med åpning i fremre prostata. Ved å justere vinkelen ved å vippe slangen opp eller ned, PE slangen vil gå videre før ca 1 tomme PE rør er satt inn ( figur 3B).
3. I Vivo Imaging lavere urin skrift og nyrer
Merk: hensikten med i vivo imaging i dette manuskriptet er: (1) å bekrefte den romlige lokaliseringen av inoculum, og (2) å vurdere forekomsten av refluks av inoculum til den nyrene. For dette formålet, enten bedøvet eller euthanized musen kan brukes.
For å visualisere lavere urinveiene en voksen mann mus, utføre nedre mage midtlinjen laparotomy å avsløre den blæren, prostata og sædblærene.

Incise huden utviklet fra skambenet å like nedenfor xiphoid prosessen med saks.
Heve huden av subkutan vev.
Identifisere avascular linea alba ligger utviklet og incise dette for å angi bukhulen der alle organer finnes.
Bekrefter den romlige lokaliseringen av visualisering av blå fargen eller en annen egnet sporing agent.
Subscription Required. Please recommend JoVE to your librarian.
Representative Results
Transurethral instillasjon blått fargestoff via PE 50 slangen førte instillasjon fargestoff i urinblæren (figur 4A), og via PE 10 rør i Fargelegging av SV og AP (figur 4B), henholdsvis. For å vurdere om de utførte transurethral instillasjon forårsaker en umiddelbar refluks av inoculum til nyrene eller ikke, ble nyrene og ureter observert etterfulgt av instillasjon av 100 µL av blått fargestoff og fluorescerende farge (figur 4A-B). Ingen av instillasjon prosedyren bruker to forskjellige størrelser av PE rør og to forskjellige fargestoffer resulterte i Fargelegging av urinlederne eller nyrene.

Figur 1: 22 G p forberedelse for innsetting polyetylen rør 50. Skarpe nålen (A) er slipt mot en olje stein (B) å kjedelig skarpe kanter (C). Når nålen er kjedelig, er nålen inn lumen PE rør (D) og avanserte over nålen med fine tang (E). Slangen er så kuttet ca 1,5 tommer (F). 24 G angiocath (G) kan også brukes. Klikk her for å se en større versjon av dette tallet.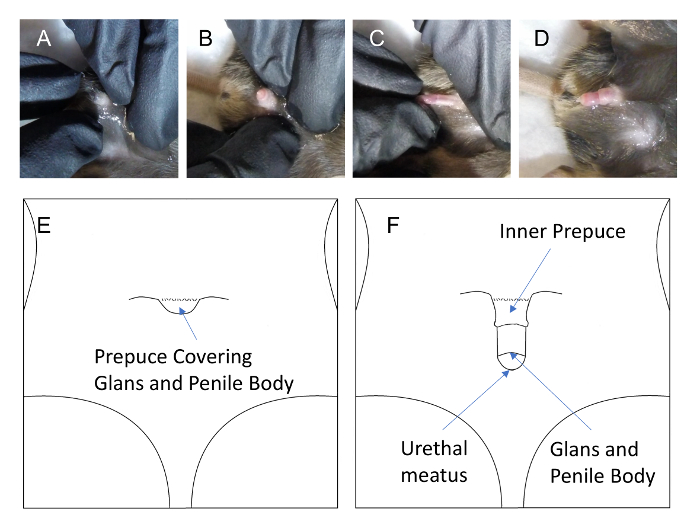 Figur 2: Mannlige musen prepuce dekker glans urethral kjøtt (A), med liten trekkraft av prepuce glans kan være eksponert (B) og med liten trekkraft av glans (C), kan hele prepuce trukket (D), dermed gir enkel tilgang til urinrøret kjøtt og urinrøret. Klikk her for å se en større versjon av dette tallet.

Figur 3: Illustrasjoner av lavere urin skrift organer; urinblæren, prostata og seminal vesicle (SV) viser transurethral instillasjon bruke PE 50 rør (A) og PE 10 rør (B) for primære såing av urinblæren og SV/fremre prostata, henholdsvis. Klikk her for å se en større versjon av dette tallet.

Figur 4: Bilder av øvre og nedre urinveisinfeksjon organer; nyrene, urinblæren, prostata og seminal vesicle (SV) etter transurethral instillasjon PE 50 rør (A) og PE 10 rør (B). Klikk her for å se en større versjon av dette tallet.
Subscription Required. Please recommend JoVE to your librarian.
Discussion
Dette manuskriptet beskriver i detalj en metode for transurethral instillasjon voksne mannlige musen. Differensial primære seeding området kan nås ved hjelp av PE rør med forskjellige diametere. PE-50 anbefales for vellykket nå urinblæren lumen, mens en større diameter PE-10 brukes til AP og SV (figur 3A-B). I tillegg til valget av størrelsen på PE rør og målet organ for vaksinering spille andre faktorer, som volumet av innpodet inoculum, også en rolle i slutten plasseringen og distribusjon av løsningen. Vår eksperimenter viser at transurethral instillasjon av 100 µL av blå farge ved hjelp av enten PE-10 eller PE-50 ikke utløser til umiddelbar refluks av fargestoff til nyrene. Men til refluks av urin til nyrene kan skje under post instillasjon perioden og kan resultere i nyren infeksjon, som tidligere ble vist i voksne kvinnelige mus8. Derfor anbefales histologiske evaluering av nyrene å bekrefte fravær av indirekte forurensning av nyrene fra transurethral instillations.
Det er flere viktige viktige skritt å utføre en vellykket transurethral instillasjon av inoculum. Først PE slangen bør være av tilstrekkelig lengde-minst 2,5 tommer. Dette ville tillate for ytterligere justeringer av rør lengden, eventuelt rør forberedelse, eller etter transurethral instillasjon prosedyren. Flere forsøk og feil under Trinn 9 i denne protokollen kan forårsake blokkering av innsatte slutten av PE slangen av kroppsvæsker. I denne situasjonen bør spissen av PE slangen kuttes til har en fjern tips for påfølgende forsøk. Når spissen av PE slangen er kuttet, bør den kirurgiske smøremiddelet brukes på nytt. Andre, et riktig grep av enten sprøyte eller PE slangen selv øker suksessraten. Tredje tilstrekkelig lengde av PE slangen skal settes og prepuce, glans-penis og penile kroppen skal være strengt kø uten grep under prosessen med catheterization. Ellers kan tilbakestrømming av inoculum skje når sprøytestempelet er skjøvet.
Bedre resultater for transurethral instillasjon prosedyren kan være et resultat av praksis ledsaget av unngå skader til urethra og målet orgelet under prosedyren. Ytelse resultater kan valideres ved hjelp av fargede fargestoffer eller fluorescerende fargestoffer som for å bekrefte primære lokalisering av inoculum og tegn på reflux til nyrene.
Subscription Required. Please recommend JoVE to your librarian.
Disclosures
Forfatterne ikke avsløre.
Acknowledgments
Forfatterne har ikke noen anerkjennelse.
Materials
| | | | |
| --- | --- | --- | --- |
| Name | Company | Catalog Number | Comments |
| BD INTRAMEDIC Polyethylene Tubing/ PE 10 | BD Medical | 63019-004 | |
| BD INTRAMEDIC Polyethylene Tubing/ PE 50 | BD Medical | 63019-048 | |
| BD Insyte-N Autoguard/ Angiocath | BD Medical | 311411 | |
| Ethanol (EtOH) | Fisher Scientific | BP2818500 | |
| BD Needle Only 22 Gauge (G) 1 inch | Becton Dickson | 205155 | |
| BD Needle Only 27 Gauge (G) 1/2 inch | Becton Dickson | 305129 | |
| Luer stub, 22 G X 0.5 in / Blunt Needle | Instech | LS22 | |
| Luer stub, 27 G X 0.5 in / Blunt Needle | Instech | LS27 | |
| 6" Long x 2" Wide x 1" Thick, Aluminum Oxide Sharpening Stone / Oil Stone | Norton | 40204034 | |
| Surgical Lubricant Sterile Bacteriostatic Folilpac | Surgilube | 281020543 | |
| Isoflurane | Fluriso | 13985-528-60 | |
| SomnoSuite Low-Flow Anesthesia System | Kent Scientific | SS-01 | |
| Dissecting Forceps, Curved | vwr | 82027-392 | |
| BD 1 ml Syringe | BD Medical | 309626 | |
| India Ink Solution., 0.2% in PBS buffer | Alfa Aesar | J61007 | |
| 8~12 weeks old male C57B/6 Mice | Jackson Lab | #000664 | |