Summary
Transuretral instillation är en utmanande förfarande och inte är väl beskriven i litteraturen. Syftet med detta manuskript är att beskriva en teknik för transuretral införande av en kateter för intravesical leverans av vätskor med aktiva substanser i den urinblåsa eller prostata hos vuxna manliga möss.
Cite this Article
Copy Citation | Download Citations

Lee, S., Carrasco Jr., A., Meacham, R. B., Malykhina, A. P. Transurethral Instillation Procedure in Adult Male Mouse. J. Vis. Exp. (129), e56663, doi:10.3791/56663 (2017).
Abstract
Transuretral instillation kan användas för att leverera olika lösningar med aktiva ingredienser (t.ex. läkemedel, kemikalier, bakterier och virus) lokalt i urinblåsan att inducera djurmodeller av urinblåsan patologier eller utvärdera den effektiviteten av intravesical behandlingar. Mest gnagare modeller av nedre urinvägarna (LUT) patologier induceras hos honmöss på grund att underlätta intravesical instillation av ämnen via kvinnliga urinröret. Dock beror på anatomiska skillnader mellan den kvinnliga och manliga LUT, transuretral instillation i en manlig mus har ansetts vara en mycket krävande procedur, och det har inte tidigare beskrivits. I detta manuskript ger vi en detaljerad beskrivning av hur du förbereder polyeten (PE) slangar för efterföljande insättning i urinröret av en manlig mus. Dessutom diskuterar vi idealtyper av PE slangen ska användas beroende på den önskade platsen för inympning. Dessutom beskriver vi punkt för punkt hur man förbereder ett djur för en framgångsrik transuretral instillation att undvika skador på urinröret och säkerställa leverans av lösningen till önskad plats. Förfarandet är startat av Upprullningskraften förhuden och ollonet att exponera öppnandet av den urinrörets meatus. Nästa, ollonet är förstått av trubbiga icke-krossning pincett att stabilisera penis och PE slangen. PE slangen sätts först in i urinrörets meatus parallellt med animaliskt kroppen, då dess vinkel justeras genom att luta katetern för att manövrera det för att följa den naturliga krökningen av urinröret. Denna teknik kan användas till inducerad murina modeller av urinblåsan patologier och utvärdera effektiviteten av intravesical behandlingar hos hanmöss.
Introduction
Metoden med transuretral instillation har använts i tidigare studier som en av metoder för att skapa gnagare modeller av urinblåsan patologier1,2,3,4 och kan användas för att utvärdera den effektiviteten av lokalt levererade möss. Även om djurmodeller inte fullt recapitulate mänskliga patologier, ger identifiering av de underliggande mekanismerna i djurstudier en bättre förståelse av de mänskliga LUT störningarna såsom interstitiell cystit/blåsa smärtsyndrom, neurogen cystit, autoimmuna cystit och prostata inflammation5.
Transuretral instillation förfarandet utförs på en vuxen manlig musen är mer tekniskt krävande än intravesical instillation i en vuxen kvinnlig mus6. Manliga urinröret tillsammans med dess små diameter naturligt böjda anatomi gör det tekniskt svårt att åstadkomma transuretral införandet av en kateter. Därför utförliga anvisningar för transuretral induktion av mus urinvägarna infektion6 och LUT inflammation7,8,9,10,11 , 12 , 13 , 14 , 15 via urinblåsan-insatt kateter skisserades tidigare för honmöss endast. Detta manuskript syftar till att ge en stegvis beskrivning av tekniken för transuretral instillation av ämnen hos hanmöss inklusive videoklipp, bilder och illustrationer. Transuretral instillation i en vuxen manlig mus kan utföras med variabel infektionsstadierna liknande den som tidigare beskrivits i kvinnliga mus7 och samman med ytterligare tekniker såsom Elektromyogram inspelningar av visceromotor svar (VMR)16.
Subscription Required. Please recommend JoVE to your librarian.
Protocol
alla förfaranden med djur, inklusive metod och varaktigheten av anestesi, liksom postoperativ vård, diskuterades med en veterinär och godkänts av institutionell djur vård och användning kommittén (IACUC) på den anknuten institution. I detta manuskript, utfördes alla förfaranden med 8 till 15 veckor gamla C57BL/6 hanmöss och protokollet följer djurvård riktlinjerna godkändes av IACUC vid University of Colorado.
1. beredning av slangar
Obs: för att ingjuta inokulatet, bifogas en nål polyeten slangen ( figur 1A) eller en liten mätare (< 24 G) angiocatheter kan vara begagnade () figur 1 g). Användning av en angiocatheter kräver inga förberedelser än sterilisering med 70% etanol (EtOH). Inokulatet är ämnet som är ingjutit/injiceras/insatta på urinvägarna. Detta kan vara en lösning som innehåller bakterier, virus eller en kemikalie. Detta är beredd före tid och per protokollet forskning. Till exempel om studien syftar till att utvärdera effekterna av E. coli infektion på de nedre urinvägarna, forskaren måste du förbereda den inokulum som innehåller bakterier som kan vara inokuleras/ingjutit i de nedre urinvägarna.
Beredning av nålen bifogas PE slangar är enkel och består av följande: Välj storlek på PE slangar baserat på målorganet och ålder på ett djur. För ett djur som är yngre än 12 veckor, Använd PE-10 slangar (ytterdiameter är 0,024 inches och innerdiameter är 0,011 inches). PE-10 slangen föreslås för att vara tillämplig för (1) primär sådd av inokulatet i främre prostata (AP) och sädesblåsorna (SV), eller (2) den primära sådd av inokulatet i blåsan av ett djur som är yngre än 12 veckor ålder. PE rör med större diameter av upp till storlek PE 50 (ytterdiameter upp till 0.038 inches och innerdiameter upp till 0.023 tum) kan användas för den primära sådd av inokulatet i blåsan av äldre djur.
Skär cirka 2,5 inches av PE rör.
Välj en nål som passar den valda PE diametern användas. En 27 G nål kan passa in i lumen av PE-10 slangar, och en 22 G nål passar lumen av PE-50 slangar.

Förbered nålen före insättning i PE slangen genom att gnida den skarpa kanten av nålen på en kommersiellt tillgänglig olja sten ( figur 1A -B) att göra det tråkiga, eller använder en kommersiellt tillgänglig trubbig nålen.

Införa tråkig nålen ( figur 1 c) i lumen av den PE-slangen. Undvika skador på lumen eller trätt i en falska lumen genom att säkerställa nål resterna i mitten av lumen. ( figur 1 d -E). Om PE slangen är skadad under införandet av tråkig nålen, skär skadad avsluta och starta om processen.
Placera nålen-anslutna PE slangen i 70% av EtOH för sterilisering tills dess användning för förfarandet. Flush på 70% EtOH genom nål-PE slangen att sterilisera lumen och så det är inget läckage från PE slangen från skada under processen för införande av nål. Om det finns läckage, kasseras nål-PE slangen.
Obs: Spetsen av PE slangen måste vara smidig innan kateterisering. För att undvika problem med att införa PE slangen in i urinröret, rekommenderas det att skär spetsen av PE slangen omedelbart före kateterisering ( figur 1F). Den föreslagna minsta längden av PE slangen är 1,5 inches, vilket inkluderar den delen kring nålen.
2. Kateterisering förfarande
före induktion av anestesi, tömma blåsan av mus.

Applicera lätt tryck och massera till nedre delen av buken av musen. Dessa manövrer normalt leda till spontan tömning. En full urinblåsa kan resultera i utspädning eller omedelbar läckage någon ingjuten inokulum.
Obs: Ytterligare en möjlighet att säkerställa en tom blåsa i en mus är att beröva djuret vatten minst 1 timme före start av förfarandet transuretral instillation. Vatten frihetsberövande bör godkännas av institutionen som en del av protokollet djur.

Använda en anestesi maskin med isofluran flöde (2%) för att inducera anestesi.

När djuret är sövda, placera den på en varm värme filt och täck den med en blå pad med dess näsa inuti en noskon för underhåll av kontinuerlig anestesi.
Bekräfta att djuret är under narkos genom att kontrollera pedal reflexen (tå nypa).

När pedal reflexen är frånvarande, vidare genom Upprullningskraften förhuden.

Tryck på blygd regionen med både tummen och pekfingret med ena handen ( siffror 2A och 2B), och dra ut körtlar penis med hjälp av tummen och pekfingret av den andra hand ( figur 2 c). När detta sker korrekt, är den förhuden och ollonet penis kropp utsatta. ( figur 2D och figur 2F). Använd inte tång dra ut körtlar penis eftersom detta kommer att resultera i skador på vävnad.

Smörj spets katetern och ollonet med sterila kirurgiska smörjmedel före införande av kateter. Detta kommer att underlätta införandet av PE slangen.
Obs: Individuellt förpackade rutor av kirurgiska smörjmedel, istället för en stor tub, rekommenderas för varje användning att upprätthålla sterila förhållanden.
Håll försiktigt spetsen på penis med tråkig pincett och kläm försiktigt ollonet för att orsaka den urinrörets meatus öppna.
Håll sprutan med nålen-anslutna PE-slang eller PE rör sig och infoga PE slangen genom den urinrörets meatus.
Obs: Ett stativ grepp om sprutan med nål-anslutna PE-slangen eller PE rör sig med tummen, index och långfingret rekommenderas för stabilitet.
Obs: Sökvägen till kateterisering bör vara böjda på grund av den naturliga krökningen av urinröret omges av ollonet penis och penis kropp i vuxna manliga musen som visas i figur 3A och figur 3B. Kateteriserade PE slangen kan möta motstånd under kateterisering, det rekommenderas därför att justera vinkeln genom att vinkla slangen uppåt eller nedåt hjälp advance PE slangen vidare till målorganet. Om det behövs kan PE slangen vridas något för att hjälpa den att manövrera genom de olika skarpa svängar av urinröret. När det finns för mycket motstånd, slangen ska dras tillbaka och avancera sedan igen med minimalt tryck. Dra PE-slangen ut helt och använda mer smörjning kan vara till hjälp.
Utföra instillation av inokulatet när PE-slangen har nått önskad orgeln av kolven nålen att ingjuta den önskade volymen av den inokulatet (5-200 µL volym föreslås).

För instillation av inokulatet in i urinblåsan, avancera PE slangen tills ungefär 0,75 tum av PE rör sätts ( figur 3A).
Obs: för instillation av inokulatet i AP och SV, allmänt, the infogas slangar möter motstånd när det når punkten av öppning i främre prostatan. Genom att justera vinkeln genom att vinkla slangen uppåt eller nedåt, PE slangen kommer avancera vidare tills ca 1 tum av PE rör har varit isatt ( figur 3B).
3. In Vivo Imaging i nedre urinvägarna och njurarna
Obs: Syftet i vivo imaging i detta manuskript är: (1) för att bekräfta den rumsliga lokaliseringen av inokulatet; och (2) att bedöma förekomsten av reflux av inokulatet till den njurarna. För detta ändamål, antingen en sövda eller euthanized mus kan användas.
För att visualisera de nedre urinvägarna av en vuxen hane mus, utföra nedre buken mittlinjen laparotomi för att exponera den urinblåsa, prostata och sädesblåsorna.

Incisionsfilm huden i mittlinjen från blygdbenet till strax under den xiphoid process som använder sax.
Höja skinnet av den subkutana vävnaden.
Identifiera avaskulär linea alba ligger i mittlinjen och incisionsfilm här om du vill ange i bukhålan där alla organ finns.
Bekräfta rumsliga lokaliseringen av visualisering av det blå färgämnet eller en annan lämplig spårningsagent.
Subscription Required. Please recommend JoVE to your librarian.
Representative Results
Transuretral instillation av blått färgämne via PE 50 slangar resulterade i instillation av färgämnet i urinblåsan (figur 4A) och via PE 10 slangar i färgläggning av SV och AP (figur 4B), respektive. För att utvärdera om den utförda transuretral instillationen orsakar en omedelbar reflux av inokulatet till njurarna eller inte, observerades njure och urinledare följt av instillation av 100 µL av blått färgämne och fluorescerande färgämne (figur 4A-B). Ingen av instillation proceduren med två olika storlekar av PE rör och två olika färgämnen resulterade i färgläggning av urinledarna eller njurar.

Figur 1: 22 G nål förberedelse för införande i polyeten (PE) slang 50. Vassa nålen (A) är slipas mot en olja sten (B) att tråkig skarpa kanter (C). När nålen är tråkig, nålen sätts in lumen av PE slangen (D) och avancerade över nålen med fin pincett (E). Slangen skärs sedan till ungefärligt 1.5 inches (F). 24 G angiocath (G) kan också användas. Klicka här för att se en större version av denna siffra.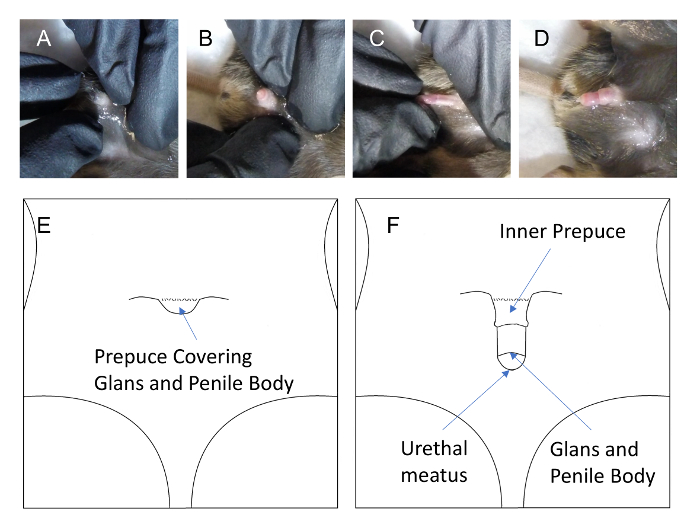 Figur 2: Manliga mus förhuden täcker ollonet och urinrörets meatus (A), med liten dragning av förhuden ollonet kan vara exponerad (B), och med liten dragning av ollonet (C), hela förhuden kan vara indragen (D), således ger enkel åtkomst till urinrörets meatus och urinröret. Klicka här för att se en större version av denna siffra.

Figur 3: Illustrationer av nedre urinvägarna organ; urinblåsan, prostata och seminal vesikel (SV) visar transuretral instillation med PE 50 slangar (A) och PE 10 slangar (B) för primära sådd av urinblåsan och SV/främre prostata, respektive. Klicka här för att se en större version av denna siffra.

Figur 4: Bilder av övre och nedre urinvägarna organ; njurar, urinblåsa, prostata och seminal vesikel (SV) efter transuretral instillation använder PE 50 slangar (A) och PE 10 slangar (B). Klicka här för att se en större version av denna siffra.
Subscription Required. Please recommend JoVE to your librarian.
Discussion
Detta manuskript beskriver i detalj en metod för transuretral instillation i vuxna manliga mus. Differentiell primära sådd området kan nås med hjälp av PE rör av olika diametrar. PE-50 rekommenderas för att framgångsrikt nå urinblåsan lumen, medan en större diameter PE-10 används för att nå AP och SV (figur 3A-B). Förutom valet av storlek av PE rör och målorgan för inympning spela andra faktorer, såsom volym av ingjuten inokulatet, också en roll i slutet läge och distribution av lösningen. Våra experiment påvisa att transuretral instillation av 100 µL av blått färga med antingen PE-10 eller PE-50 utlöser inte omedelbar återflöde av färgämnet till njurarna. Dock återflöde av urin till njurarna kan hända under perioden efter instillation och kan resultera i njurinfektion, som visades tidigare i vuxen honmöss8. Histologisk undersökning av njurarna rekommenderas därför starkt att bekräfta avsaknaden av indirekt kontaminering av njurarna från transuretral instillations.
I området i närheten finns det flera viktiga viktiga steg för att utföra en lyckad transuretral instillation av inokulatet. Det första PE slangen bör vara en tillräcklig längd — minst 2,5 inches. Detta skulle möjliggöra ytterligare justeringar av längden på slangen, om det behövs under förberedelseprocessen slangar eller efter transuretral instillation proceduren. Flera försök och misslyckanden under steg 9 i detta protokoll kan orsaka en blockering av infogade slutet av PE slangen genom kroppsvätskor. I det här fallet ska spetsen av PE slangen skäras ut för att ha en tydlig spets för efterföljande försök. När spetsen av PE slangen är skära, bör den kirurgiska smörjmedlet tillämpas igen. För det andra, ett korrekt grepp över sprutan eller PE rör sig ökar framgång. Tredje, tillräckligt lång PE slangen skall införas och att förhuden och ollonet penis kroppen bör vara stelt uppradade utan handgrepp under processen för kateterisering. Återflödet av inokulatet kan annars hända när sprutkolven skjuts.
Bättre resultat för förfarandet transuretral instillation kan vara ett resultat av praxis tillsammans genom att undvika skador på urinröret och target organ under förfarandet. Resultat kan verifieras genom att använda färgade färgämnen eller fluorescerande färgämnen som förfarandet för att bekräfta primära lokalisering av inokulatet och tecken på reflux till njurarna.
Subscription Required. Please recommend JoVE to your librarian.
Disclosures
Författarna har något att avslöja.
Acknowledgments
Författarna har inte några bekräftelser.
Materials
| | | | |
| --- | --- | --- | --- |
| Name | Company | Catalog Number | Comments |
| BD INTRAMEDIC Polyethylene Tubing/ PE 10 | BD Medical | 63019-004 | |
| BD INTRAMEDIC Polyethylene Tubing/ PE 50 | BD Medical | 63019-048 | |
| BD Insyte-N Autoguard/ Angiocath | BD Medical | 311411 | |
| Ethanol (EtOH) | Fisher Scientific | BP2818500 | |
| BD Needle Only 22 Gauge (G) 1 inch | Becton Dickson | 205155 | |
| BD Needle Only 27 Gauge (G) 1/2 inch | Becton Dickson | 305129 | |
| Luer stub, 22 G X 0.5 in / Blunt Needle | Instech | LS22 | |
| Luer stub, 27 G X 0.5 in / Blunt Needle | Instech | LS27 | |
| 6" Long x 2" Wide x 1" Thick, Aluminum Oxide Sharpening Stone / Oil Stone | Norton | 40204034 | |
| Surgical Lubricant Sterile Bacteriostatic Folilpac | Surgilube | 281020543 | |
| Isoflurane | Fluriso | 13985-528-60 | |
| SomnoSuite Low-Flow Anesthesia System | Kent Scientific | SS-01 | |
| Dissecting Forceps, Curved | vwr | 82027-392 | |
| BD 1 ml Syringe | BD Medical | 309626 | |
| India Ink Solution., 0.2% in PBS buffer | Alfa Aesar | J61007 | |
| 8~12 weeks old male C57B/6 Mice | Jackson Lab | #000664 | |