Summary
Transuretral instillation er en udfordrende procedure og er ikke blevet godt beskrevet i litteraturen. Formålet med dette manuskript er at beskrive en teknik til transuretral indsættelse af et kateter til intravesikal levering af væsker med aktive stoffer ind i urinblæren og/eller prostata hos voksne mandlige mus.
Cite this Article
Copy Citation | Download Citations

Lee, S., Carrasco Jr., A., Meacham, R. B., Malykhina, A. P. Transurethral Instillation Procedure in Adult Male Mouse. J. Vis. Exp. (129), e56663, doi:10.3791/56663 (2017).
Abstract
Transuretral instillation kan bruges til at levere forskellige løsninger med aktive ingredienser (f.eks. narkotika, kemikalier, bakterier og vira) lokalt i urinblæren til enten fremkalde dyremodeller for blære patologier eller vurdere den effektiviteten af intravesikal behandlinger. De fleste gnavere modeller af nedre urinveje (LUT) patologier er induceret i hunmus grund at lette af intravesikal instillation af stoffer via den kvindelige urinrøret. Men på grund af anatomiske forskelle mellem kvindelige og mandlige LUT, transuretral instillation i en mandlig mus har været anset for en meget udfordrende procedure, og det er ikke tidligere beskrevet. I dette manuskript giver vi en detaljeret beskrivelse af hvordan man forbereder polyethylen (PE) rør til efterfølgende indsættelse i urinrøret mandlige musen. Derudover diskuterer vi de ideelle typer af PE rør anvendes afhængigt af det ønskede websted af podning. Desuden, vi beskriver punkt af punkt Sådan Forbered en animalsk nemlig en vellykket transuretral instillation til at undgå skade på urinrøret og sikre levering af løsningen til den ønskede placering. Proceduren, der er startet af tilbagetrækningskraften forhud og glans at udsætte indledningen af den urethral meatus. Næste, glans er forstået af stump ikke-knusning pincet til at stabilisere penis og PE rør. PE rør indsættes først i urethral meatus parallelt med det animalske organ, så dets vinkel er justeret ved at vippe kateter for at manøvrere det for at følge den naturlige krumning af urinrøret. Denne teknik kan bruges til inducerede murine modeller af blæren patologier og/eller vurdere effektiviteten af intravesikal behandlinger i mandlige mus.
Introduction
Transuretral instillation tilgang har været anvendt i tidligere undersøgelser som en af metoderne til at oprette gnavere modeller af blæren patologier1,2,3,4 og kan bruges til at evaluere de effektiviteten af lokalt leverede behandlinger i mus. Selvom dyremodeller ikke fuldt sammenfatte menneskelige patologier, giver identifikation af de underliggende mekanismer i dyreforsøg en bedre forståelse af de menneskelige LUT lidelser såsom interstitiel cystitis/blæresmerter syndrom, neurogen blærebetændelse, autoimmune blærebetændelse og prostata inflammation5.
Transuretral instillation procedure udføres på en voksen mand mus er mere teknisk udfordrende end intravesikal instillation i en voksen kvindelig musen6. Den naturligt buede anatomi af de mandlige urinrøret sammen med sin lille diameter gør det teknisk vanskeligt at gøre transuretral indsættelse af et kateter. Derfor detaljerede instruktioner for transuretral induktion af musen urinary spore infektion6 og LUT betændelse7,8,9,10,11 , 12 , 13 , 14 , 15 via blære-indsat kateter var tidligere skitseret for kvindelige mus kun. Dette manuskript har til formål at give en trinvis beskrivelse af teknikken for transuretral instillation af stoffer i mandlige mus herunder videoklip, billeder og illustrationer. Transuretral instillation procedurer i en voksen mand mus kan udføres med variabel inokulerede samme som tidligere beskrevet i den kvindelige mus7 og fusioneret med supplerende teknikker såsom electromyogram optagelser af visceromotor svar (VMR)16.
Subscription Required. Please recommend JoVE to your librarian.
Protocol
alle procedurer med dyr, herunder metode og varighed af anæstesi og postoperativ pleje, blev diskuteret med en dyrlæge og godkendt af institutionelle dyrs pleje og brug udvalg (IACUC) på den tilknyttet institutionen. I dette manuskript, alle procedurer blev udført med 8 til 15 uger gamle C57BL/6 mandlige mus og protokollen følger dyrs pleje retningslinjer godkendt af IACUC på University of Colorado.
1. forberedelse af slangen
Bemærk: for at indgyde inokulat, en nål tilknyttet polyethylen (PE) slanger ( figur 1A) eller en lille måler (< 24 G) angiocatheter kan være brugt () figur 1 g). Brug af en angiocatheter kræver ingen forberedelse end sterilisation med 70% ethanol (EtOH). Inokulat er det stof, der er indgydt/injiceres/indsat på urinvejene. Dette kan være en løsning, der indeholder bakterier, virus eller et kemikalie. Dette er udarbejdet forud for tid og pr. forskning protokol. For eksempel, hvis undersøgelsen har til formål at evaluere virkningerne af E. coli-infektion på de nedre urinveje, forskeren bliver nødt til at forberede inokulum som indeholder bakterier, som kan blive podet/indpodet i de nedre urinveje.
Udarbejdelse af nålen knyttet til PE rør er enkle og består af følgende: Vælg en størrelse til PE rør baseret på målorgan og alder af et dyr. For et dyr, der er yngre end 12 uger, bruge PE-10 slanger (udvendig diameter er 0,024 tommer og indvendig diameter er 0.011 inches). PE-10 slanger foreslås for at gælde for (1) den primære såning af inokulum i forreste prostata (AP) og Sædblærer (SV), eller (2) den primære såning af inokulum i blæren på et dyr, der er yngre end 12 ugens i alder. PE rør med en større diameter på op til størrelse PE 50 (udvendig diameter op til 0,038 inches og indvendig diameter op til 0,023 inches) kan bruges til den primære såning af inokulum i blære af de ældre dyr.
Skære ca 2,5 inches af PE rør.
Vælg en nål, der vil passe de valgte PE diameter skal anvendes. 27 G nål kan passe ind i lumen af PE-10 slanger, og en 22 G nål passer lumen af PE-50 tubing.

Forbered nålen før indsættelse i PE slangen ved at gnide den skarpe kant af nålen på et kommercielt tilgængelige olie sten ( figur 1A -B) at gøre det kedeligt, eller bruge en kommercielt tilgængelig stump nål.

Indføre kedelig nålen ( figur 1 c) i lumen af PE-rør. Undgå at beskadige lumen eller indrejse i et falsk lumen ved at sikre nål forbliver i midten af lumen. ( fig. 1 d -E). Hvis PE rør beskadiges ved isætning af kedelig nålen, klippe den beskadigede ende og genstart processen.
Sted den nål-attached PE rør i 70% af EtOH for sterilisation indtil dets anvendelse under proceduren. Flush 70% EtOH gennem nålen-PE rør til at sterilisere lumen og til at sikre, at der er ingen lækage fra PE rør fra skade i løbet af processen af nål indsættelse. Hvis der er lækage, kasseres nålen-PE rør.
Bemærk: Spidsen af PE-rør skal være glat inden kateterisation. For at undgå problemer med at indføre PE rør ind i urinrøret, anbefales det at klippe spidsen af PE rør umiddelbart før kateterisation ( figur 1F). Den foreslåede mindstelængden af PE-rør er 1,5 inches, som omfatter den del omkring nålen.
2. Kateterisation Procedure
før induktion af anæstesi, tømme blæren mus.

Gælder blide tryk og massage til underlivet af musen. Disse manøvrer typisk føre til spontan annullering. En fuld blære kan medføre fortynding eller umiddelbar lækage enhver indpodet inokulum.
Bemærk: En ekstra mulighed for at sikre en tom blære i en mus er at fratage dyr af vand i mindst 1 time før starten af proceduren transuretral instillation. Vand afsavn skal godkendes af institutionen som en del af den animalske protokol.

Bruge en anæstesi maskine med isofluran flow (2%) til at fremkalde anæstesi.

Når dyret er bedøvede, Placer den på en varm varme tæppe og dække det med en blå pude med sin næse inde i en nosecone for vedligeholdelse af kontinuerlig anæstesi.
Bekræfter, at dyret er under anæstesi ved at kontrollere den pedal refleks (tå knivspids).

Når den pedal refleks er fraværende, fortsætte af tilbagetrækningskraften forhud.

Presse den pubic regionen med både tommel- og pegefinger af én hånd ( tal 2A og 2B), og træk ud at kirtler penis ved hjælp af tommelfingeren og pegefingeren af anden hånd ( figur 2 c). Når dette er udført korrekt, forbliver forhud, glans penis og penis kroppen synlige. ( figur 2D og figur 2F). Brug ikke pincet til at trække ud kirtler penis, da dette vil resultere i skader på væv.

Smøre spidsen af kateteret og glans med steril kirurgiske smøremiddel før indføring af kateter. Dette vil lette indføringen af PE rør.
Bemærk: Individuelt emballeret kvadrater af kirurgisk smøremiddel, i stedet for én stor tube, anbefales til hver brug at vedligeholde sterile forhold.
Hold forsigtigt spidsen af penis ved hjælp af kedelig pincet og forsigtigt klemme glans til at forårsage den urethral meatus åbne.
Hold sprøjten med nål-attached PE-rør eller PE slanger sig og indsætte PE rør gennem den urethral meatus.
Bemærk: Et stativ greb sprøjte med kanyle-attached PE-rør eller PE slanger sig selv ved hjælp af tommelfinger, index og midterste fingre er anbefalet for stabilitet.
Bemærk: Stien til kateterisation bør være buet på grund af den naturlige krumning af urinrøret omgivet af glans penis og penis krop i den voksne mandlige mus som vist i figur 3A og figur 3B. Catheterized PE slangen kan møde modstand under kateterisation, det anbefales derfor, at justere vinklen ved at vippe slangen op eller ned for hjælp forhånd PE rør efter målorgan. Hvis det er nødvendigt, kan PE rør drejes lidt for at hjælpe det manøvrere gennem de forskellige skarpe sving af urinrøret. Når der er for meget modstand, slangen skal trækkes tilbage og derefter gå videre igen med minimal tryk. Trække PE-slangen ud helt og kan være nyttigt at bruge flere smøring.
Udføre instillation af inokulat når PE-rør har nået den ønskede orgel ved at trykke nålen stemplet til at indgyde den ønskede mængde af inokulum (5-200 µL volumen er foreslået).

For instillation af inokulat ind i urinblæren, fremme PE rør indtil ca 0,75 inches af PE slangen er indsat ( figur 3A).
Bemærk: For instillation af inokulum i AP og SV, generelt, the indsat slanger møder modstand, når den når punktet af åbning i den forreste prostata. Ved at justere vinklen ved at vippe slangen op eller ned, PE rør vil fremme yderligere indtil ca 1 tomme af PE rør har været indsat ( figur 3B).
3. In Vivo Imaging af nedre urinveje og nyrer
Bemærk: Formålet med i vivo billeddannelse i dette håndskrift er: (1) at bekræfte den geografiske lokalisering af inokulum; og (2) at vurdere forekomsten af refluks af inokulum til den nyrerne. Til dette formål, der kan bruges enten en bedøvede eller aflivede mus.
For at visualisere de nedre urinveje af en voksen mand mus, udføre lavere abdominal midterlinjen laparotomi at eksponere blæren, prostata og Sædblærer.

Incise huden i midterlinjen fra skambenet til lige under formet som et sværd proces ved hjælp af saks.
Løfte skindet det subkutane væv.
Identificere avascular linea alba ligger i midterlinjen, og incise her for at indtaste den peritoneale hulrum hvor alle organer er placeret.
Bekræfter den geografiske lokalisering af visualisering af det blå farvestof eller en anden egnet tracking agent.
Subscription Required. Please recommend JoVE to your librarian.
Representative Results
Transuretral instillation af blå farvestof via PE 50 slanger resulterede i instillation af farvestof i urinblæren (figur 4A), og via PE 10 slanger i farvelægningsmetode SV og AP (figur 4B), henholdsvis. For at vurdere, om de udførte transuretral instillation forårsager en øjeblikkelig refluks af inokulum til nyrerne eller ej, observeret nyre og ureter efterfulgt af instillation af 100 µL af det blå farvestof og fluorescerende farvestof (figur 4A-B). Ingen af de instillation procedure ved hjælp af to forskellige størrelser af PE rør og to forskellige farvestoffer resulterede i farvelægningsmetode urinledere og nyrer.

Figur 1: 22 G nål forberedelse til indsættelse i polyethylen (PE) rør 50. Den skarp nål (A) er slebet mod en olie sten (B) at sløve de skarpe kanter (C). Når nålen er kedelig, er nålen indsat i lumen af PE-rør (D) og avancerede over nålen med fine pincet (E). Slangen er derefter klippe til omkring 1,5 inches (F). 24 G angiocath (G) kan også bruges. Venligst klik her for at se en større version af dette tal.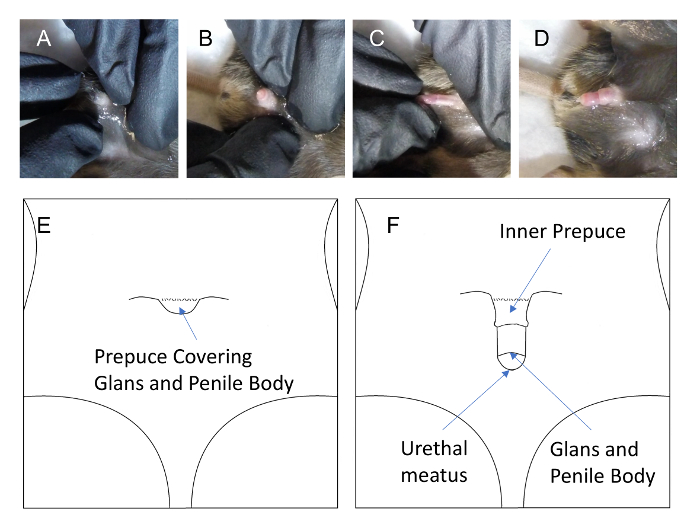 Figur 2: Mandlige mus forhud dækker glans og urethral meatus (A), med mindre trækkraft af forhud glans kan blive udsat (B), og med mindre trækkraft af glans (C), den hele forhud kan være tilbagetrukket (D), således giver mulighed for nem adgang til urethral meatus og urinrøret. Venligst klik her for at se en større version af dette tal.

Figur 3: Illustrationer af nedre urinveje organer; urinblære, prostata og sædblæren (SV) viser transuretral instillation ved hjælp af PE 50 slanger (A) og PE 10 slanger (B) for primære såning af urinblæren og SV/forreste prostata, henholdsvis. Venligst klik her for at se en større version af dette tal.

Figur 4: Billeder af øvre og nedre urinveje organer; nyrer, urinblære, prostata og sædblæren (SV) efter transuretral instillation ved hjælp af PE 50 slanger (A) og PE 10 slanger (B). Venligst klik her for at se en større version af dette tal.
Subscription Required. Please recommend JoVE to your librarian.
Discussion
Dette manuskript beskriver i detaljer en metode af transuretral instillation i voksne mandlige mus. Differential primære seeding område kan nås ved hjælp af PE rør af forskellige diametre. PE-50 anbefales for med held at nå urinblæren lumen, mens en større diameter PE-10 anvendes til at nå AP og SV (figur 3A-B). Ud over valget af størrelsen på PE rør og målorgan for podning spille andre faktorer, såsom omfanget af indpodet inokulum, også en rolle i slutningen placering og fordeling af løsningen. Vores forsøg viser at transuretral instillation af 100 µL af blå farve ved hjælp af enten PE-10 eller PE-50 udløser ikke instant tilbageløb af farvestof til nyrerne. Men tilbageløb af urin til nyrerne kan ske i løbet af perioden efter instillation og kan resultere i nyre-infektion, som tidligere blev vist i voksne hunmus8. Histologisk vurdering af nyrerne er derfor stærkt anbefales at bekræfte fravær af indirekte kontamination af nyrerne fra transuretral instillations.
Der er flere vigtige vigtige skridt til at udføre en vellykket transuretral instillation af inokulat. Først, PE rør skal være af en tilstrækkelig længde — mindst 2,5 inches. Dette ville muliggøre yderligere justeringer af slange længde, om nødvendigt under forberedelsesprocessen slanger eller efter transuretral instillation procedure. Flere forsøg og fejl under trin 9 i denne protokol kan forårsage en blokering af indsatte slutningen af PE-rør af kropsvæsker. I denne situation bør spidsen af PE-rør skæres ud til at have et klart tip til efterfølgende forsøg. Når spidsen af PE-rør er skåret, bør den kirurgiske smøremiddel igen anvendt. For det andet øger en korrekt greb af enten sprøjte eller PE slanger sig succesraten. For det tredje en tilstrækkelig længde af PE-rør bør indsættes og forhud, glans penis og penis organ bør være stift linet op uden hånd greb under processen med kateterisation. Ellers kan tilbagestrømning af inokulat ske når sprøjten stemplet er skubbet.
Bedre resultater for proceduren transuretral instillation kan være et resultat af praksis ledsaget af at undgå skader på urinrøret og target organ under proceduren. Resultater resultater kan valideres ved hjælp af farvede farvestoffer eller fluorescerende farvestoffer som proceduren til at bekræfte primære lokalisering af inokulat og eventuelle tegn på refluks til nyrerne.
Subscription Required. Please recommend JoVE to your librarian.
Disclosures
Forfatterne har ikke noget at oplyse.
Acknowledgments
Forfatterne har ikke nogen anerkendelser.
Materials
| | | | |
| --- | --- | --- | --- |
| Name | Company | Catalog Number | Comments |
| BD INTRAMEDIC Polyethylene Tubing/ PE 10 | BD Medical | 63019-004 | |
| BD INTRAMEDIC Polyethylene Tubing/ PE 50 | BD Medical | 63019-048 | |
| BD Insyte-N Autoguard/ Angiocath | BD Medical | 311411 | |
| Ethanol (EtOH) | Fisher Scientific | BP2818500 | |
| BD Needle Only 22 Gauge (G) 1 inch | Becton Dickson | 205155 | |
| BD Needle Only 27 Gauge (G) 1/2 inch | Becton Dickson | 305129 | |
| Luer stub, 22 G X 0.5 in / Blunt Needle | Instech | LS22 | |
| Luer stub, 27 G X 0.5 in / Blunt Needle | Instech | LS27 | |
| 6" Long x 2" Wide x 1" Thick, Aluminum Oxide Sharpening Stone / Oil Stone | Norton | 40204034 | |
| Surgical Lubricant Sterile Bacteriostatic Folilpac | Surgilube | 281020543 | |
| Isoflurane | Fluriso | 13985-528-60 | |
| SomnoSuite Low-Flow Anesthesia System | Kent Scientific | SS-01 | |
| Dissecting Forceps, Curved | vwr | 82027-392 | |
| BD 1 ml Syringe | BD Medical | 309626 | |
| India Ink Solution., 0.2% in PBS buffer | Alfa Aesar | J61007 | |
| 8~12 weeks old male C57B/6 Mice | Jackson Lab | #000664 | |