Summary
Transüretral korumak zor bir işlemdir ve de literatürde açıklanmayan. Bu yazının amacı transüretral mesane ve/veya yetişkin erkek farelerde prostat içine aktif maddeler ile sıvı İntravezikal teslim etmek için bir kateter yerleştirilmesi için bir tekniği tarif etmektir.
Abstract
Transüretral korumak aktif maddeler (Örneğin, ilaçlar, kimyasallar, bakteri ve virüsler) ile farklı çözümler yerel olarak mesane mesane patolojiler hayvan modelleri teşvik veya değerlendirmek için sunmak için kullanılan İntravezikal tedavi etkinliğinin. En kemirgen modellerin alt idrar yolu (LUT) patolojiler dişi farelerde İntravezikal korumak kadın üretra yoluyla maddelerin kolaylığı için indüklenir. Ancak, anatomik farklılıklar arasında kadın ve erkek LUT nedeniyle erkek fare transüretral korumak çok zor bir prosedür olarak kabul ve daha önce tarif. Bu makale, biz nasıl bir erkek fare üretra içine sonraki ekleme için polietilen (PE) boru hazırlamak ayrıntılı bir açıklama sağlar. Buna ek olarak, biz aşı istediğiniz siteye bağlı olarak kullanılmak üzere PE boru ideal tür tartışıyorlar. Ayrıca, nokta nokta bir hayvan üretra yaralanmayı önlemek ve istenen konuma çözüm teslim sağlamak başarılı bir transüretral korumak için hazırlamak nasıl açıklar. Yordamı sünnet derisi ve üretral verin açılış duyurmak için glans geri çeker tarafından başlatılır. Ardından, glans penis ve PE boru stabilize etmek için kör olmayan kırma forseps tarafından kavradı. PE boru ilk hayvan vücudu paralel üretral verin eklenir, sonra açısı üretra doğal eğimi takip manevra kateter eğerek ayarlanır. Bu teknik mesane patolojiler indüklenen fare modelleri için kullanılabilir/veya erkek farelerde İntravezikal tedavilerin etkinliğini değerlendirmek.
Introduction
Transüretral korumak yaklaşım önceki çalışmalarda yöntemlerinden biri mesane patolojiler1,2,3,4 kemirgen modeller oluşturmak için kullanılmıştır ve değerlendirmek için kullanılan farelerde yerel olarak teslim edilen tedavilerin etkinliğini. Hayvan modelleri tamamen insan patolojiler özetlemek olamaz, hayvan çalışmalarında temel mekanizmaları tanımlaması interstisyel sistit/mesane ağrı sendromu, Nörojenik gibi insan LUT bozuklukları daha iyi anlaşılmasını sağlar sistit, otoimmün sistit ve Prostatik inflamasyon5.
Bir yetişkin erkek fare üzerinde gerçekleştirilen transüretral korumak yordam daha teknik bir yetişkin dişi fare6İntravezikal korumak daha zordur. Erkek üretra ile birlikte onun küçük çaplı doğal olarak kavisli anatomisi teknik olarak zor bir kateter transüretral ekleme yerine getirmek yapmak. Bu nedenle, ayrıntılı talimatlar transüretral indüksiyon için fare idrar yolu enfeksiyonu6 ve LUT iltihap7,8,9,10,11 , 12 , 13 , 14 , 15 mesane eklenen kateter yolu ile daha önce sadece dişi fareler için özetlenen. Bu el yazması, video klipler, görüntüler ve resimler de dahil olmak üzere erkek farelerde maddelerin transüretral korumak için teknik, adım adım açıklamasını sunmayı amaçlamaktadır. Yetişkin bir erkek fare yordamlarda değişkenle gerçekleştirilebilir transüretral korumak daha önce kadın fare7 ' açıklanan ve electromyogram kayıtları gibi ek teknikleri ile birleştirilmiş benzer inoculates visceromotor yanıt (VMR)16.
Subscription Required. Please recommend JoVE to your librarian.
Protocol
hayvanlarla yöntemi ve süresi anestezi, ameliyat sonrası bakım, hem de dahil olmak üzere tüm yordamları bir veteriner ile tartışıldı ve kurumsal hayvan bakım ve kullanım Komitesi (IACUC), bağlı kurum. Bu makale, 8-15-hafta-yaşlı C57BL/6 erkek fare ile tüm yordamları gerçekleştirilen ve protokol IACUC Colorado Üniversitesi tarafından onaylanmış hayvan bakımı kuralları izler.
1. boru hazırlık
Not: inoculum aşılamak için iğne ekli polietilen (PE) tüp ( şekil 1A) veya küçük bir ölçüm (< 24 G) angiocatheter-ebilmek var olmak kullanılmış () şekil 1G). Bir angiocatheter kullanımı % 70 etanol (alkol) ile sterilizasyon dışında hiçbir hazırlık gerektirir. İnoculum telkin/enjekte/idrar yolu yatırılır bir maddedir. Bu bakteri, virüs veya bir kimyasal içeren bir çözüm olabilir. Bu önceden başı araştırma protokolü hazırlanır. E. coli enfeksiyonu alt idrar yolu üzerindeki etkilerini değerlendirmek için çalışma amacı varsa, örneğin, araştırmacı aşı/telkin alt idrar yolu olabilir bakteri içeren inoculum hazırlamanız gerekir.
PE boru için bağlı iğne hazırlanması basittir ve aşağıdaki görevlerden oluşur: hedef organ ve bir hayvanın yaşına göre PE boru boyutunu seçin. 12 haftadan daha küçük bir hayvan için PE-10 boru kullanın (dış çap 0,024 inç ve çapı 0.011 inç). PE-10 boru inoculum anterior prostat (AP) ve seminal veziküller (SV) (1 birincil tohum veya inoculum bir hayvan 12 hafta-in yaş genç mesane içinde (2 birincil tohum için geçerli olması için önerilmektedir. PE boru PE 50 (dış çapı en fazla 0,038 inç ve iç çapı kadar 0.023 inç)-ebilmek var olmak kullanılmış birincil inoculum büyük hayvanların mesane içinde tohum için boyutu maksimum daha büyük çaplı.
Yaklaşık 2.5 inç PE boru kesti.
Kullanılmak üzere seçilen PE çapı uygun olacağı bir iğne seçin. 27 G iğne PE-10 boru Lümen sığabilecek ve PE-50 boru Lümen 22 G iğne uyuyor.

Hazırla iğne iğne keskin kenar bir piyasada bulunan petrol taş üzerinde sürtünme tarafından PE boru içine ekleme önce ( şekil 1A -B) mat yapmak veya piyasada bulunan künt kullanmak için iğne.

Sıkıcı iğne ( şekil 1 c) PE boru Lümen tanıtmak. Hasar vermemek için kartı Lümen veya giriş yanlış Lümen içine iğne kalır Lümen ortasına sağlayarak. ( şekil 1 d -E). PE boru sıkıcı iğne ekleme sırasında hasar görmüşse, hasarlı sonunda kesti ve işlemi yeniden başlatmanız.
% 70'i alkol kullanımı için yordamı kadar sterilizasyon için iğne bağlı PE boru yerleştirin. % 70 alkol Lümen sterilize etmek için ve orada emin olmak için iğne-PE boru aracılığıyla PE boru üzerinden gelen hiçbir sızıntı olduğunu iğne ekleme işlemi sırasında zarar floş. Sızıntı olursa iğne-PE boru göz ardı.
Not: PE boru ucu önce kateterizasyon pürüzsüz olması gerekir. PE boru üretra içine tanıtımı ile sorunları önlemek için hemen önce kateterizasyon ( şekil 1F) PE boru ucu kesmek için önerilir. Önerilen minimum PE boru 1,5 inç, hangi iğne çevreleyen bölümü içeren uzunluğudur.
2. Kateterizasyon yordam
anestezi indüksiyon önce fare mesane boş.

Hafif basınç uygulayın ve fare alt karın için masaj. Bu manevralar genellikle kendiliğinden geçersiz kılma için yol. Tam bir mesane seyreltme veya hemen sızıntı aşılanan herhangi bir inoculum neden olabilir.
Not: bir fare bir boş mesane emin olmak için ek bir seçenek transüretral korumak yordamı başlamadan en az 1 saat su hayvan mahrum etmektir. Su yoksunluğu hayvan protokolün bir parçası olarak kurum tarafından onaylanması.

Anestezi ikna etmek için isoflurane akışı (% 2) ile bir anestezi makinesi kullanın.

Sonra hayvan anestezi, ılık ısıtma battaniye var yerleştirin ve onun burnu sürekli anestezi bakımı için bir nosecone içinde olan mavi bir yastık ile örtmek.
Pedal refleks (ayak tutam) kontrol ederek hayvan anestezi altında olduğundan emin olun.

Bir kez pedal refleks yoktur, sünnet derisi geri çeker tarafından devam.

Basın bir elin işaret parmağı ve başparmak ile kasık bölgesi ( şekil 2A ve 2B) ve diğer el (işaret parmağı ve başparmak kullanarak bezleri penis çekin şekil 2C). Bu doğru bir şekilde gerçekleştirilir alırsa, sünnet derisi, glans penis ve penis vücut maruz kalır. ( şekil 2B ve şekil 2F). Forseps bu için doku hasarına yol açar gibi bezleri penisin çekmeye kullanmayın.

Uç kateter ve glans kateter yerleştirilmesi önce steril cerrahi yağ ile yağlayın. Bu PE boru ekleme kolaylaştıracaktır.
Not: Ayrı ayrı paketlenmiş kareler yerine bir büyük tüp, cerrahi kayganlaßtırıcı steril koşullar korumak her kullanım için önerilir.
Donuk forseps kullanarak penis ucuna kadar yavaşça tutun ve hafifçe sıkmak açmak üretral verin neden glans.
İğne bağlı PE-tüp veya kendisi boru PE şırınga tutun ve üretral verin aracılığıyla PE boru takın.
Not: İğne bağlı PE-tüp veya kendisi başparmak, dizin ve orta parmak kullanarak boru PE şırınga bir tripod kavrama istikrar için önerilir.
Not: Kateterizasyon yolunu glans penis ve penis vücut yetişkin erkek fare şekil 3A ve şekil 3B gösterildiği gibi çevrili üretra doğal eğim nedeniyle kavisli. Catheterized PE boru direnci Kateterizasyon sırasında uygun olmayabilir, bu nedenle, bu açı boru yukarı veya aşağı doğru yardım peşin eğerek PE boru hedef organ daha ayarlamak için tavsiye edilir. Gerekirse, PE boru biraz üretra çeşitli keskin turnike manevra yardımcı olması için döndürülebilir. Çok fazla direniş olduğunda tüp geri çekilmiş olmalıdır ve yine en az basınçla ilerlemek. PE boru çekerek tamamen dışarı ve daha fazla yağlama kullanarak yararlı olabilir.
PE boru (5-200 µL birim önerilen) inoculum istenen hacmi aşılamak için iğne pistonu iterek istediğiniz organ ulaştı sonra inoculum korumak gerçekleştirmek.

İnoculum korumak idrar kesesi içine ilerlemek için PE boru PE boru yaklaşık 0,75 inç kadar eklenir ( şekil 3A).
Not: AP ve SV, genellikle, inci inoculum korumak içinaçılış ön prostat içine noktası ulaştıktan sonra eklenen e boru direnci karşılamaktadır. Yaklaşık 1 inç PE boru geçmeden açı tüp yukarı veya aşağı eğerek ayarlayarak, PE boru daha da ilerler ( şekil 3B) eklenen.
3. Vivo Düşsel alt idrar yolu ve böbrek
Not: Bu el yazması vivo içinde görüntüleme amacı: inoculum; kayma lokalizasyonu onaylamak (1) ve (2) için inoculum reflü insidansı değerlendirmek için böbrekler. Bu amaçla,-ebilmek var olmak kullanılmış imzalat veya ötenazi bir fare.
Alt idrar yolu yetişkin erkek fare görselleştirmek için mesane, prostat ve seminal veziküller ortaya çıkarmak için alt karın orta hat laparotomi gerçekleştirmek.

Xiphoid makas kullanarak işlemi sadece kasık kemiğine gelen orta hat deride deşmek.
Subkutan doku derisini yükseltmesine.
Avasküler linea alba bulunan orta hat içinde belirlemek ve bu tüm organları nerede Periton boşluğuna girmek için deşmek.
Kayma yerelleştirme mavi boya veya başka bir uygun izleme Aracısı görselleştirme tarafından onaylayın.
Subscription Required. Please recommend JoVE to your librarian.
Representative Results
Transüretral korumak PE 50 boru ile mavi boya, boya içine idrar kesesi (şekil 4A) ve renklendirme SV ve AP (şekil 4B), PE 10 boru üzerinden korumak sırasıyla sonuçlandı. Gerçekleştirilen transüretral korumak inoculum böbrekler için anlık bir reflü neden ya da değil olup olmadığını değerlendirmek için böbrek ve üreter mavi boya ve floresan boya (şekil 4A-B) 100 µL korumak tarafından takip tespit edildi. PE boru ve iki farklı boya iki farklı boyutları kullanarak korumak yordamı hiçbiri böbrek ve üreter renklendirme içinde sonuçlandı.

Şekil 1: 22 G iğne polietilen (PE) içine 50 boru ekleme için hazırlık. Keskin iğne(a)keskin kenarları (C) donuk bir petrol taş (B) karşı öğütülmüş etmektir. Bir kez iğne sıkıcıdır, iğne PE boru (D) Lümen eklenen ve iğne üzerinde iyi forseps (E) ile gelişmiş. Tüp sonra yaklaşık 1.5 inç (F) kesilir. 24 G angiocath (G) de kullanılabilir. Bu rakam daha büyük bir versiyonunu görüntülemek için buraya tıklayınız.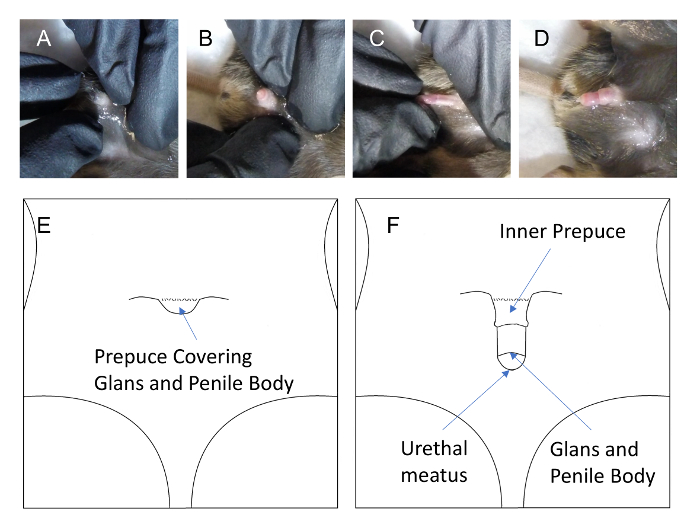 Resim 2: Erkek fare sünnet derisi glans kapsar ve hafif çekiş glans olabilir sünnet derisi ile üretral verin(a)(B) maruz ve glans (C) hafif arazi ile tüm sünnet derisi olabilir (D), böylece geri çekildi üretral verin ve üretra kolay erişim sağlar. Bu rakam daha büyük bir versiyonunu görüntülemek için buraya tıklayınız.

Şekil 3: İllüstrasyonlar alt idrar yolu organları; Mesane, prostat ve seminal vezikül (SV) transüretral korumak birincil SV/ön prostat, idrar kesesi ve sırasıyla tohum için PE 50 boru(a)ve (B) PE 10 kablo kanalları kullanarak gösterilen. Bu rakam daha büyük bir versiyonunu görüntülemek için buraya tıklayınız.

Şekil 4: Alt ve üst üriner sistem organ görüntüleri; böbrekler, mesane, prostat ve seminal vezikül (SV) PE 50 boru(a)ve (B) PE 10 kablo kanalları kullanarak transüretral korumak sonra. Bu rakam daha büyük bir versiyonunu görüntülemek için buraya tıklayınız.
Subscription Required. Please recommend JoVE to your librarian.
Discussion
Bu el yazması yetişkin erkek fare transüretral korumak bir yöntem ayrıntılı olarak anlatılmaktadır. Fark birincil tohumlama alanı farklı çaplarda PE boru kullanarak ulaşılabilir. PE-50 başarıyla PE-10 AP ve SV (şekil 3A-B) erişmek için kullanılan daha büyük çaplı iken idrar kesesi Lümen ulaşmak için önerilir. PE boru ve hedef organ aşılama için boyutu seçimi ek olarak, aşılanan inoculum, hacmi gibi diğer faktörler de çözüm dağıtımını ve bitiş konumunu bir rol oynamaktadır. Mavi 100 µL transüretral o korumak bizim deneyler göstermek her iki PE-10 kullanarak boya veya PE-50 boya böbrekler için anlık reflü tetiklemez. Ancak, böbreklerin idrar reflü sonrası korumak döneminde ortaya çıkabilir ve böbrek enfeksiyonu, daha önce yetişkin dişi fareler8' de gösterildiği gibi neden. Bu nedenle, böbrekler histolojik değerlendirme dolaylı kirlenmesi transüretral instillations üzerinden böbrekler yokluğu onaylamanız önerilir.
İnoculum bir başarılı transüretral korumak gerçekleştirmek için birkaç önemli anahtar adımlar vardır. İlk olarak, PE boru yeterli bir uzunluğu olmalıdır — en az 2.5 inç. Bu boru uzunluğu ek ayarlamalar için gerekirse, boru hazırlama işlemi sırasında veya transüretral korumak yordamı aşağıdaki sağlayacak. Birden çok girişimleri ve adım 9 Bu protokol sırasında hataları PE boru sonuna eklenen bir tıkanıklık vücut sıvıları tarafından neden olabilir. Bu durumda, PE boru ucu açık bir ipucu için sonraki girişimler için kesilmelidir. Bir kez PE boru ucu kesilir, cerrahi yağ yeniden uygulanması. İkinci olarak, uygun kavrama şırınga veya kendisi boru PE başarı oranını artırmak. Üçüncü olarak, yeterli uzunlukta PE boru eklenmesi gereken ve sünnet derisi, glans penis ve penis vücut katı el kavrama Kateterizasyon işlemi sırasında dizilmiş. Aksi takdirde, şırınga pistonu ittiğinde geri inoculum ortaya çıkabilir.
Transüretral korumak yordam için daha iyi sonuçlar işlem sırasında üretra ve hedef organ hasarı kaçınarak eşliğinde pratik bir sonucu olabilir. Performans sonuçları renkli boyalar veya floresan boyalar inoculum birincil lokalizasyonu ve böbrekler için reflü belirtileri onaylamak için yordamı kullanarak doğrulanabilir.
Subscription Required. Please recommend JoVE to your librarian.
Disclosures
Yazarlar ifşa gerek yok.
Acknowledgments
Yazarlar herhangi bir teşekkür var mı.
Materials
| | | | |
| --- | --- | --- | --- |
| Name | Company | Catalog Number | Comments |
| BD INTRAMEDIC Polyethylene Tubing/ PE 10 | BD Medical | 63019-004 | |
| BD INTRAMEDIC Polyethylene Tubing/ PE 50 | BD Medical | 63019-048 | |
| BD Insyte-N Autoguard/ Angiocath | BD Medical | 311411 | |
| Ethanol (EtOH) | Fisher Scientific | BP2818500 | |
| BD Needle Only 22 Gauge (G) 1 inch | Becton Dickson | 205155 | |
| BD Needle Only 27 Gauge (G) 1/2 inch | Becton Dickson | 305129 | |
| Luer stub, 22 G X 0.5 in / Blunt Needle | Instech | LS22 | |
| Luer stub, 27 G X 0.5 in / Blunt Needle | Instech | LS27 | |
| 6" Long x 2" Wide x 1" Thick, Aluminum Oxide Sharpening Stone / Oil Stone | Norton | 40204034 | |
| Surgical Lubricant Sterile Bacteriostatic Folilpac | Surgilube | 281020543 | |
| Isoflurane | Fluriso | 13985-528-60 | |
| SomnoSuite Low-Flow Anesthesia System | Kent Scientific | SS-01 | |
| Dissecting Forceps, Curved | vwr | 82027-392 | |
| BD 1 ml Syringe | BD Medical | 309626 | |
| India Ink Solution., 0.2% in PBS buffer | Alfa Aesar | J61007 | |
| 8~12 weeks old male C57B/6 Mice | Jackson Lab | #000664 | |