Summary
Virale Vektoren können für gezielte Genmanipulation. Wir demonstrieren, ein Verfahren zur bedingten Genexpression oder Ablation im Rückenmark der Maus, stereotaktische Injektion unter Verwendung eines viralen Vektors in der dorsalen Horn, ein bekannter Ort der synaptischen Kontakt zwischen primären somatosensorischen Afferenzen und Neuronen des zentralen Nervensystems.
Abstract
Intraparenchymalen Injektion eines viralen Vektors ermöglicht bedingten Genmanipulation in unterschiedliche Populationen von Neuronen oder bestimmte Bereiche des zentralen Nervensystems. Wir demonstrieren eine stereotaktische Injektion Technik, gezielt Genexpression oder Silencing im dorsalen Horn des Rückenmarks Maus ermöglicht. Der chirurgische Eingriff ist kurz. Es erfordert Laminektomie eines einzelnen Wirbel, bietet für eine schnelle Wiederherstellung des Tieres und ungestörte Beweglichkeit der Wirbelsäule. Kontrollierte Injektion eines kleinen Vektor Suspensionsvolumen bei niedriger Drehzahl und die Verwendung eines Mikrospritze mit abgeschrägten Glaskanüle minimieren Gewebeläsion. Die lokale Immunantwort auf den Vektor, hängt von den spezifischen Eigenschaften des Virus eingesetzt; in unserer Erfahrung ist es kleinen und kurzlebigen wenn ein rekombinantes Adeno-assoziierten Virus verwendet wird. Ein Reportergen wie verstärkt grün fluoreszierende Protein erleichtert die Beobachtung räumliche Verteilung des Vektors oder der Wirksamkeit und zellulären Spezificity der Transfektion.
Introduction
Log in
or
Start trial
to access full content. Learn more about your institution's access to JoVE content
here
Fortgeschrittenen Technologien bedingter Genmanipulation in der Maus zu ermöglichen vielfältige Ansätze zur Exploration von synaptischen Bahnen und funktionelle Verbindungen im zentralen Nervensystem. Transgene können durch niedermolekulare Effektoren wie Doxycyclin Einwirken auf ein Tetracyclin-gesteuerten Transaktivator, die für den Einsatz als Repressor oder Aktivator der Gentranskription, oder Tamoxifen Erkennen eines mutierten Ligandenbindungsdomäne des Östrogenrezeptors 1 funktionieren kann geregelt werden . Irreversible Modifikation Transgen wird üblicherweise von Desoxyribonukleinsäure (DNA) Rekombinasen erreicht. Cre (Ursachen Rekombination) und Flp (Flippase Rekombinationsenzyms) katalysieren die Exzision, Inversion oder Translokation von DNA-Fragmenten, die von loxP (locus der Kreuzung x über, P1) oder Frt (Flippase Anerkennung target) Seiten bzw. 1 flankiert werden. Zu den Anwendungen gehören Gen-Aktivierung oder Inaktivierung und induzierbare Ribonukleinsäure (RNA) Störungen 3 werden. Large-scale Mutagenese-Projekte in Nordamerika ( http://www.norcomm.org/index.htm ) und Europa ( http://www.knockoutmouse.org/about/eucomm ) produzieren Bibliotheken embryonalen Stammzellen der Maus Zellklone mit bedingten Gen-Targets und Fallen, die letztlich auf das gesamte Maus-Genom. Mäuse aus diesen Klonen erzeugt werden, können mit einer wachsenden Zahl von Maus Linien gekreuzt werden, daß DNA-Rekombinasen exprimieren unter Promotoren oder Loci für eine bestimmte Population von Neuronen zur selektiven Genmanipulation ( http://nagy.mshri.on.ca/cre_new/index . php ).
4. Hochleistungs-(gutless) Adenovirus, Adeno-assoziiertes Virus, Herpes simplex-Virus und Lentivirus-Vektoren werden üblicherweise neurotropen verwendet. Die Auswahl des geeigneten Virus für eine Fragestellung ist ein wichtiger Teil des experimentellen Designs. Größe des Transgens, Lieferroute, Spezifität der Infektion mit Neuronen, um Gliazellen, Infektion Wirksamkeit, entzündlichen und toxische Nebenwirkungen müssen berücksichtigt werden 4 entgegengesetzt.
Hier beschreiben wir die stereotaktische Injektion eines viralen Vektors in der dorsalen Horn des Rückenmarks, eine Technik, die wir verwenden zur bedingten Genregulation in unserer Forschung über die Neurobiologie von Schmerz. Das Hinterhorn erhält afferenten Input von primären somatosensorischen Neuronen einschließlich nozizeptiven Neuronen. Lokale Interneurone verarbeiten die Informationen vor der Projektion Neuronen vermitteln sie ausdas Hinterhorn des Gehirns 5. Wir demonstrieren die Infektion von Dorsalhorn spinalen Neuronen an Segmentebene L4 mit einem neurotropen rekombinanten Adeno-assoziierten Virus (rAAV), das verstärkt grün fluoreszierende Protein (EGFP) drückt unter einem konstitutiv aktiven CMV-Promotors.
Subscription Required. Please recommend JoVE to your librarian.
Protocol
Log in
or
Start trial
to access full content. Learn more about your institution's access to JoVE content
here
Das chirurgische Verfahren beschrieben wurde vom Institutional Animal Care und Use Committee (IACUC) der Columbia University genehmigt worden.
Ein. Vorbereitung der Ausrüstung und Virus-Suspension
Reinigen und desinfizieren Sie das Gerät, sterilisieren die chirurgischen Instrumente und die V-Kerbe Spikes, die verwendet werden, um Wirbel L1 beheben werden.
Ziehen und Kegel Glaspipetten. Wir verwenden Pipetten, die einen Durchmesser der Spitze von 40 um aufweisen und in einem Winkel von 20 ° abgeschrägt. Sterilisieren Sie die Glas-Pipetten.
Richten Sie den stereotaktischen Rahmen, montieren Sie die Mikrospritze Injektor auf dem Manipulator und verbinden Sie den Injektor mit dem Controller.
Bringen Sie einen der Glaspipetten der Mikrospritze mit der Klemmverschraubung Kit.
Entfernen Sie den Kolben aus der Mikroliterspritze und füllen Sie die Spritze mit Mineralöl. Oil Red O (1 - (2,5-Dimethyl-4-(2,5-dimethylphenylazo) phenylazo)-2-naphthol), zu dem Mineralöl zugegeben werden, um seine v erhöhenisibility. Setzen Sie den Kolben und schieben Sie es den ganzen Weg bis zur Spitze. Sorgfältig vermeiden damit eine Luftblase erzeugt.
Bereiten Sie die Viruspartikel Suspension in einer biologischen Sicherheitswerkbank. Auftauen des gefrorenen Virus auf Eis und kurz vor Gebrauch verdünnte mit steriler phosphatgepufferter Kochsalzlösung auf die gewünschte Teilchengröße Konzentration.
Legen Sie die Mikrospritze in die Halterung an der Einspritzdüse.
Pipette 5 ul der Virus-Suspension auf eine kleine Kunststoff-Folie, zB Parafilm. Senken Sie das Glas Pipettenspitze in dem Tropfen und ziehen Sie den Kolben, um die Mikrospritze füllen. Erstellen Sie eine kleine Luftblase an der Pipettenspitze, um ein Verstopfen zu verhindern.
2. Laminektomie
Bereiten Sie den OP-Bereich durch Abwischen Bank und Heizkissen mit Desinfektionsmittel.
Anesthetize der Maus. Wir verwenden Inhalationsnarkose mit Isofluran (3% während der Induktion, 2% -3% bei Wartungsarbeiten).
Zeigen Schmiermittel auf jedes Auge, um die Augen vor dem Austrocknen während der Schutz derBetrieb.
Rasur das Fell von den unteren Rücken, um den Hals des Maus und desinfizieren die Haut mit wechselnden Tücher einer Antiseptikum wie Chlorhexidin oder PVP-Jod und 70% Ethanol. Isolierung des aseptisch vorbereitete Stelle mit Operationstuch und infiltrieren die Einschnittstelle mit Bupivacain (0,25%, 1:10 mit physiologischer Kochsalzlösung).
Einzuschneiden die Schale am caudalen Ende des Brustkorbs entlang der Mittellinie (2-3 cm) und trennen die Faszie Abdecken der Wirbelsäule.
Weil das Rückenmark aufhört zu wachsen früher während der postnatalen Entwicklung außer der Wirbelsäule liegt spinale Segment L4 unterhalb der ersten Lendenwirbel (L1). Wirbel L1 befindet kaudal des Wirbels, der die letzte Paar Rippen hält. Identifizieren und aufzudecken Wirbel L1, indem die kleinen Rückenmuskeln und Bänder an seiner dorsalen Oberfläche.
Leicht anheben und halten Wirbel L1 mit einer Adson Pinzette. Verwenden Sie einen dedizierten Laminektomie Zangen, um den dorsalen Portio entfernenn des Wirbels (Wirbelsäule und Lamina) und setzen das Rückenmark. Vermeiden Sie Schäden am Rückenmark.
Übertragen Sie die Maus auf der Heizplatte in der stereotaktischen Rahmen. Überwachen Sie die Temperatur der Maus im späteren Betrieb.
3. Injektion
Fix Wirbel L1 mit V-Kerbe Spikes. Die Spitzen müssen stabilisieren die Wirbelsäule, so dass der Wirbel nicht während der Atmung bewegen.
Bringen Sie die Mikrospritze näher, so dass die Pipettenspitze oberhalb des Laminektomie Website ist. Senken Sie den Kolben, bis Sie die Virussuspension Verlassen der Pipette zu sehen. Nehmen Sie die Tropfen mit einem sterilen Wattestäbchen.
Positionieren der Pipettenspitze am rostralen äußersten Teil der freiliegenden Rückenmarks. Zentrieren Sie die Pipette über den hinteren Mittelfurche, dann bewegen Sie die Spitze 500 um seitlich. Senken Sie die Spitze an der Oberfläche des Rückenmarks und Punktion der Dura mater oder, wenn Sie mit einem unbeveled Glaspipette arbeiten, verwenden eine abgeschrägte Stahlkanüle zu durchstechen die dura. Senken Sie die Spitze der Glaspipette 300 um in das Rückenmark.
Inject 1 ul Virussuspension mit einer Rate von 200 nl / min.
Am Ende der Einspritzung, warten Sie mindestens 2 Minuten vor langsam Zurückziehen der Pipette.
Wiederholen Schritte 3.3 bis 3,5 bei der kaudalen äußersten Teil der freiliegenden Rückenmarks zur vollständigen Verteilung des viralen Vektors in Wirbelsegment L4 erreichen. Die beiden Injektionsstellen befinden rostralen und kaudal des L4-Segment zu Gewebeschäden in der Zielregion zu vermeiden.
4. Wundverschluss
Release Wirbel L1 aus den V-Kerbe Klemmen und entfernen Sie die Maus aus dem stereotaktischen Rahmen.
Naht der Faszie mit 5,0 Vicryl. Die geschlossene Blende bietet Versicherungsschutz für die Laminektomie Ort.
Schließen Sie die Haut mit Nylon-Fäden oder chirurgische Klammern.
5. Postoperative Pflege
Übertragen Sie die Maus, um eine Erholung Käfig mit weichen, nonparticular Betten. Legen Sie sie auf ter Seite für bequeme Atmung. Überwachen das Tier, bis sie vollständig wach, ambulant ist und fängt an zu trinken.
Wir bieten postoperativen Analgesie für 72 Stunden mit täglichen subkutanen Injektionen von Carprofen (5,0 mg / kg).
Überwachung postoperativen Erholung durch tägliche Inspektion für die ersten 3 Tage, dann jeden zweiten Tag oder 3 Tage pro Woche, bis das Experiment abgeschlossen ist.
Entfernen Sie die Haut Nähte oder Klammern 7 bis 10 Tage nach der Operation, wenn die Wundheilung abgeschlossen ist.
Euthanize das Tier nach Beendigung des Experiments.
Subscription Required. Please recommend JoVE to your librarian.
Representative Results
Log in
or
Start trial
to access full content. Learn more about your institution's access to JoVE content
here
Erfolgreiche Transfektion ergibt robuste Genexpression in Nervenzellen des eingespritzten Dorsalhorn (Abbildung 1), Schonung der dorsalen Horn von der Gegenseite, Vorderhorn und der Spinalganglien.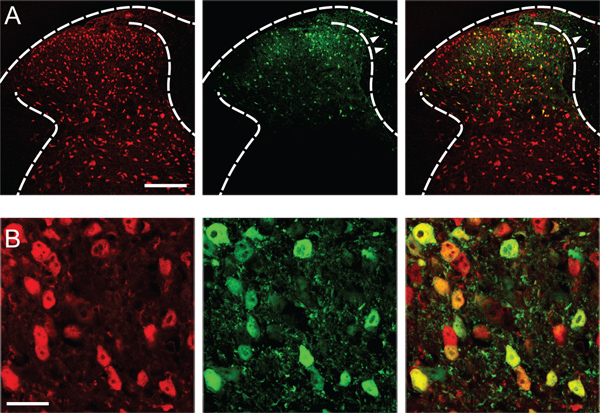 Abbildung 1. Transfektion von Hinterhorn-Neuronen. (A) Expression des fluoreszierenden Reporter eGFP (grün) in der linken Hinterhorn des L4 Rückenmark, zwei Wochen nach der stereotaktischen Injektion von rAAV-EGFP (Serotyp AAV2 / 8, 10 9 Genomkopien / ul). Neuronen wurden für neuronale Kerne Protein (NeuN, rot) immungefärbt. Pfeilspitzen Punkt gestreut transfizierten Gliazellen im dorsalen Spalte. Maßstab, 150 um. (B) Etwa 80% der Neuronen im medialen Hinterhorn infiziert waren. Maßstab, 20 mm. Ein monoklonaler Antikörper, der gegen NeuN (EMD Millipore) wurde bei einer Verdünnung von 1:2,0 verwendet00 für die Immunfärbung.
Subscription Required. Please recommend JoVE to your librarian.
Discussion
Log in
or
Start trial
to access full content. Learn more about your institution's access to JoVE content
here
Stereotaktische Injektion ermöglicht Targeting-Vektor Rückenmarksneuronen für Anwendungen wie neuronale Netzwerk-Mapping basierend auf transsynaptische Virusverschleppung 6,7 oder optogenetische Dissektion 8, Axon Führung während der Regenerierung vor Verletzungen 9,10 oder Gentherapie zur Prävention oder Behandlung von Neurodegeneration 11, 12. Virale Vektoren sind für Genmanipulation worden im Rückenmark verwendet, um zu untersuchen somatosensorischen, Motor und vegetative Bahnen 9,10,13-15. Die Maus ist die Modellorganismus am weitesten in Studien mit stereotaktische Injektion eines viralen Vektors in das Gehirn oder das Rückenmark verwendet, aber die Technik ist in anderen Spezies, einschließlich Primaten 16 eingesetzt.
Stereotaktische Injektion in das Vektor-Rückenmark der Maus ist sicher; das chirurgische hier beschriebene Verfahren erfordert einen einzigen Laminektomie an der Injektionsstelle, so daß das Tier wieder ohne Instabilitätty in seiner Wirbelsäule Bewegungen. Injektion und langsames Entfernen der Kanüle innerhalb von 10 min vollständig, dauert die gesamte Prozedur einschließlich Hautpräparat und Wundverschluss etwa 40 min. Wir bieten postoperativen Anästhesie für 72 Stunden mit Carprofen, ein Nicht-steroidale entzündungshemmende Analgetikum.
Um Gewebetrauma zu minimieren, setzen wir gezapftes Kanülen mit einem Spitzendurchmesser von 40 um. Eine scharfe abgeschrägten Kanülenspitze erleichtert das Einführen in das Rückenmark, rechtfertigen die Investition in eine Mikropipette Mahlwerk. Verwendung einer Schleifmaschine erlaubt auch bei gleich bleibender Fasenwinkel in jedem Experiment reduzierenden Variation der Einspritzung Ergebnisse. Wir bevorzugen automatisierte Steuerung der Einspritzgeschwindigkeit gegenüber manuellen Evangeliumszeit 17 für eine gleichmäßige Verteilung des Virus Teilchensuspension im Dorsalhorn und um das Risiko einer Injektion Fehler zu verringern. Ebenso kritisch ist ein langsames Herausziehen der Kanüle, die 2-5 min eingeleitet werden nach Abschluss der Injecti werdenauf zu vermeiden, die Virussuspension wieder auf und verursacht eine extraspinal verschütten.
Ausmaß und die Verteilung des intraspinale Transfektion auf die injizierte Dosis und Partikel intrinsische Eigenschaften des viralen Vektor wie Serotyp und Infektion Wirksamkeit ab. Die optimale Partikelgröße Verdünnung muss empirisch für jeden Virus und Serotyp bestimmt und kann zwischen verschiedenen Chargen des gleichen Virus variieren. Die Wirksamkeit der beiden Infektionen und DNA Transduktion kann auch je nach gezielten Population von Neuronen 18,19. AAV erzielt Gentransfer in Neuronen ohne pathogene und minimal immun Nebenwirkungen 20. Nach unserer Erfahrung ist die Infektion von Hinterhorn-Neuronen vollständig innerhalb von 1-2 Wochen und stabil. Wir haben kleinere Mikroglia Reaktionen an der Injektionsstelle beobachtet, aber diese innerhalb einer Woche behoben.
Wir empfehlen Vergleich verschiedener Serotypen von Vektoren, die ein Reportergen wie EGFP exprimieren an evaluate Transfektionsraten, bestimmen die Zeitintervalle zwischen Injektion und stabile Transfektion und festzustellen, ob sich die Infektion beschränkt auf Neuronen ist. Spezifität wird am Zelltropismus des Vektors, der transfizierten Gens und seines Promotors abhängen. Ermittler studieren somatosensorischen Bahnen sollte auch prüfen Spinalganglien Neuronen für eine mögliche Expression des Reporter-Gens, das von der Infektion dieser Neuronen an ihren zentralen Terminals im Dorsalhorn oder aus Verunreinigungen des Liquor 19 führen kann.
In den Vereinigten Staaten ist die Verwendung von viralen Vektoren für Gen-Manipulation durch die NIH Richtlinien für die Forschung an rekombinanter DNA-Moleküle (geregelt http://oba.od.nih.gov/rdna/nih_guidelines_oba.html ). Diese Richtlinien bestimmen Voraussetzungen für Forscher Ausbildung, persönliche Schutzausrüstung, viralen Vektor Containment, decontamination, Entsorgung von kontaminierten Materialien wie gebrauchte Spritzen und Kanülen und Tierhaltung nach der Injektion. Die Ermittler sollten mit ihren lokalen IACUC oder gleichwertigen Einrichtung institutioneller Aufsicht, um die Regeln und Vorschriften, die für ihre Forschung gelten bestimmen arbeiten.
Subscription Required. Please recommend JoVE to your librarian.
Disclosures
Die Autoren erklären, dass sie keine finanziellen Interessen haben.
Acknowledgments
Wir danken Bakhos A. Tannous, Ph.D., Direktor des Vector Entwicklung und Produktion in der Neuroscience Center of Massachusetts General Hospital in Charlestown, Massachusetts, für die Bereitstellung der rAAV-EGFP Vektor, und John Whang für technische Unterstützung. Diese Arbeit wurde von grant R01 NS050408 (JS) aus dem National Institute of Neurological Disorders and Stroke unterstützt.
Materials
| | | | |
| --- | --- | --- | --- |
| Name | Company | Catalog Number | Comments |
| Spinal base plate | David Kopf Instruments | 912 | |
| Small animal stereotaxic instrument | David Kopf Instruments | 900 | |
| Mouse gas anesthesia head holder | David Kopf Instruments | 923-B | |
| Adjustable base mounts | David Kopf Instruments | 982 | |
| V notch spikes | David Kopf Instruments | 987 | |
| Small animal temperature control system | David Kopf Instruments | TCAT-2LV | |
| Adson forceps | Fine Science Tools | 11006-12 | |
| Laminectomy forceps | Fine Science Tools | 11223-20 | |
| UltraMicroPump (one) with SYS-Micro4 Controller | World Precision Instruments | UMP3-1 | |
| Microsyringe, 65RN | Hamilton | 7633-01 | |
| RN compression fitting, 1 mm | Hamilton | 55750-01 | |
| Borosilicate glass capillaries | World Precision Instruments | 1B100F-4 | |
| Microgrinder | Narishige | EG-44 | |