Summary
Identificatie van mechanismen die ten grondslag liggen aan spierschade is cruciaal. Hier presenteren we de histologische techniek voor het bereiden van in paraffine ingebedde en bevroren delen van Drosophila thoracale spieren. Dit maakt analyse van de spier-morfologie en lokalisatie van eiwitten en andere spiercel componenten.
Cite this Article
Copy Citation | Download Citations | Reprints and Permissions

Kucherenko, M. M., Marrone, A. K., Rishko, V. M., Yatsenko, A. S., Klepzig, A., Shcherbata, H. R. Paraffin-Embedded and Frozen Sections of Drosophila Adult Muscles. J. Vis. Exp. (46), e2438, doi:10.3791/2438 (2010).
Abstract
De moleculaire karakterisering van spierdystrofieën en myopathieën bij de mens is de complexiteit van de spierziekte en genetische analyse van spier-specificatie onthuld, is de vorming en functie in modelsystemen heeft waardevolle inzichten in de spier fysiologie. Daarom is het identificeren en karakteriseren van moleculaire mechanismen die ten grondslag liggen spierschade is van cruciaal belang. De structuur van de volwassen Drosophila multi-fiber spieren lijken op gewervelde dwarsgestreepte spieren 1 en de genetische traceerbaarheid van Drosophila heeft het een geweldig systeem om dystrofische spier morfologie analyseren en karakteriseren van de processen die van invloed spierfunctie bij oudere volwassen vliegen 2. Hier presenteren we de histologische techniek voor het bereiden van in paraffine ingebedde en bevroren delen van Drosophila thoracale spieren. Deze voorbereidingen zorgen voor het weefsel te worden gemerkt met klassieke histologische vlekken en voorzien van eiwitten opsporen van kleurstoffen, en in het bijzonder vriescoupes zijn ideaal voor de immunohistochemische detectie van proteïnen in intacte spieren. Dit maakt voor de analyse van spierweefsel structuur, de identificatie van morfologische afwijkingen, en detectie van de expressie patroon voor spier / neuron-specifieke eiwitten in Drosophila volwassen spieren. Deze technieken kunnen ook enigszins worden aangepast voor het snijden van andere lichaamsdelen.
Protocol
1. Voorbereiding
Vers voor te bereiden Carnoy's fixeermiddel door het combineren van absolute ethanol, chloroform en ijsazijn in verhouding 06:03:01 respectievelijk. 3 Deze, evenals alle oplossingen voor onderdompelen kragen moet worden bewaard in glazen potten vlekken (zie reagentia sectie voor aanbeveling).
Bereid aluminiumfolie zakken de juiste grootte voor de kragen.
Bereid de volgende oplossingen in vlekken potjes: 2 X 40% ethanol, 70% ethanol, 2 X 100% ethanol, methylbenzoaat (MB), 50/50 v / v MB en paraffine, 2 X paraffine. Plaats de MB en paraffine containers in een incubator ingesteld op 60-65 ° C.
Warme paraffine om in folie zakken giet tot 60-65 ° C.
2. Bevestiging Vliegen in Halsbanden
Bevestig de kraag 4 onder de binoculair met behulp van tape in een verticale positie waar u het toegangspunt voor de vlieg te zien.
Verdoven vliegen met behulp van koolstof-dioxide of via hypothermie met behulp van een ijsblok. Wees voorzichtig niet om de vliegen te bevriezen.
Met behulp van een tang, pick-up individuele vliegt grijpen hun vleugels en plaats in de kraag georiënteerde goed (de kop en borst op de top van de bladen en de buik onder de bladen). 10-20 vliegt moet passen gemakkelijk in de kraag.
Opmerking: Als u de analyse van verschillende genotypes, vergeet dan niet om een ​​nota van de kraag nummer en de bijbehorende genotype te maken.
3. Paraffine secties van Drosophila Thoraxes
Verplaats de kraag om de oplossing van de Carnoy en vast het weefsel bij 4 ° C gedurende de nacht.
Na fixatie, ontwateren het monster met behulp van toenemende concentraties van ethanol. Voor 10 minuten onderdompelen in de kraag 40% (2 maal), 70% en 100% (2 keer) ethanol bij kamertemperatuur. Volgende incuberen kraag in MB en MB + paraffine-oplossing (1:1) gedurende 30 min in elk en vervolgens infiltreren de kraag in twee veranderingen van paraffine voor 60 min elk bij 60-65 ° C. Snel verplaatsen de kraag in de folie zak en vullen met gesmolten (60-65 ° C) paraffine. Plaats bij kamertemperatuur en laat de paraffine te worden hard (is het het beste om te vertrekken 's nachts). Merk op dat de kraag kan worden geplaatst in de folie zak in verschillende richtingen, afhankelijk van de oriëntatie van de secties die u nodig heeft (langs-of dwarsrichting).
Haal droog paraffine blokken met kragen uit de folie en voorzichtig de kraag te scheiden van de paraffine blok. Met behulp van een scherp mes of scalpel voorzichtig knip de extra-paraffine van rond de vlieg weefsel.
Snijd de paraffineblok Met 7-10 micrometer sectie stappen op een rotatie microtoom en laat de gesneden weefsel plat zweven in een 37 ° C waterbad. Plaats de doorsnede weefsel van polaire dia's en laat drogen boven 's nachts. Deze dia's kunnen worden gebruikt voor het kleuren met hematoxyline en eosine (Figuur 1A-D), toluïdine blauw, aniline blauw of andere sterft weefsel structuren te visualiseren, maar ook voor antilichaam vlekken (Figuur 1E-E ``).
4. Vriescoupes van Drosophila Thoraxes
Net als met paraffine secties, de voorbereiding van de vliegen in een kraag en mode een aluminiumfolie zak. Elke beslissing tot bevriezing koeler zal nodig zijn om de monsters te bereiden. Zorg ervoor dat de koeler is rond -60 ° C, gebruik dan een beetje ethanol en droog ijs te laten voor het bereiken van deze temperatuur. Een uur voor de aanvang van het experiment zetten de fles van de cryo-embedding medium (Tissue-Tek oktober verbinding) ondersteboven in een 4 ° C koelkast in om het afkoelen en tot de vorming van luchtbellen te minimaliseren.
Verplaats de kraag met vliegen om de folie zak dat is pre-gekoeld gedurende enkele minuten in de bevriezing koeler snel en te vullen met de cryo-embedding verbinding. Laat het monster te bevriezen gedurende 3-10 minuten. Voorzichtig uitpakken de gevormde blok in de koeler, voorzichtig de kraag te scheiden van de inbedding blok en zet het bij -20 ° C gedurende ten minste een dag.
Snijd de bevroren spieren op een cryo-microtoom tussen -15 en -18 ° C met een sectie dikte van 10-15 um. Plaats op gepolariseerde glijbanen en te houden bij -20 ° C tot klaar voor verdere verwerking te doen. Wij stellen voor tot vaststelling van de weefsel in 4% formaldehyde-oplossing PBS gedurende 10 minuten bij kamertemperatuur voorafgaand aan de antilichaam kleuring.
5. Lipiden Detectie in Drosophila Spieren
Lipide druppels kan worden gedetecteerd met olie rode O vlek op vriescoupes met behulp van een protocol overgenomen van Sieber en Thummel 5.
Na fixatie, dia's twee keer wassen met water gedurende 5 minuten, geëquilibreerd in propyleenglycol voor 10 min en incubeer gedurende 3 uur in de olie-rood O vlek bij kamertemperatuur. Was daarna monsters twee keer voor 5 min in propyleenglycol en 30 minuten in PBS. Monteren in 30% glycerol.
6. Representatieve resultaten:

Vijgure 1. Parrafin ingebedde coupes
Hematoxyline en eosine gekleurd dwarse (AB) en longitudinale (CD) delen van indirecte vlucht spieren. A en C toont een normale gestructureerd spieren. Abnormale door de grootte en morfologie spieren zijn vertegenwoordigd op B en D, respectievelijk (zwarte pijlen). Dwarsdoorsnede van Drosophila thorax gekleurd met anti-LAMC, nucleaire envelop marker en DAPI, nucleaire vlek (EF). Vergrote weergave van normaal (rode pijl) en verslechterd (gele pijl) spieren (F). G staat voor sectie van Drosophila darmkanaal gekleurd met LAMC en DAPI.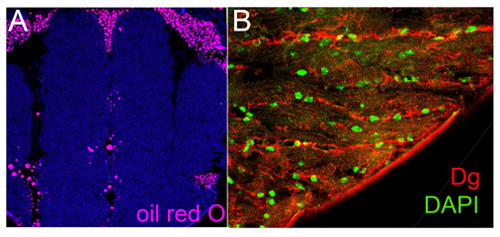 Figuur 2. Vriescoupes
A. Dwarse vriescoupes van Drosophila thorax gekleurd met rode olie O, lipide druppels label.
B. Longitudinale vriescoupes van indirecte vlucht spieren gekleurd met anti-Dg, spier sarcolemma marker en DAPI.
Disclosures
Geen belangenconflicten verklaard.
Acknowledgments
Wij danken prof. dr. Eichele voor het toestaan ​​van ons om de cryo-microtoom te gebruiken. Werk werd gefinancierd door Max-Planck-Gesselschaft.
Materials
| | | | |
| --- | --- | --- | --- |
| Name | Company | Catalog Number | Comments |
| Stainless steel collars | Home made | | Specially constructed |
| Forceps | Fine Science Tools | 11295-10 | |
| Aluminum foil | Any Supplier | | |
| Blade or scalpel | Any Supplier | | |
| Wheaton macro staining jar | Wheaton | 900200 | |
| Microtome | Carl Zeiss, Inc. | | Model: Hyrax M25 |
| Cryo-microtome | Leica Microsystems | | Model CM3050S |
| 60-65°C Incubator | Any Supplier | | Large enough to hold at least 4 staining jars |
| Freezing cooler with metal block | Any Supplier | | Store at -80°C |
| Super-frost slides | Thermo Fisher Scientific, Inc. | 9161155 | |
| Cover slips | Any Supplier | | Recommend 24 X 40 mm |
| Chloroform | Sigma-Aldrich | 288306 | Analytical grade |
| Glacial acetic acid | Merck & Co., Inc. | 100063 | Analytical grade |
| Ethanol | Merck & Co., Inc. | 100983 | Analytical grade |
| Methylbenzoate | Sigma-Aldrich | M29908-500G | Analytical grade |
| Paraplast plus | Sigma-Aldrich | 76258 | Paraffin |
| Tissue-Teck O.C.T. compound | Sakura Finetek | 4583 | |
| 16% formaldehyde, methanol free | Polysciences, Inc. | 18814 | |
| Glycerol | Sigma-Aldrich | G5150-1L | |
References
Miller, A. The internal anatomy and histology of the imago of Drosophila melanogaster. CSHL Press. Cold Spring Harbor. (1950).
Shcherbata, H. R. Dissecting muscle and neuronal disorders in a Drosophila model of muscular dystrophy. The EMBO journal. 26, 481-481 (2007).
Kucherenko, M. M. Genetic modifier screens reveal new components that interact with the Drosophila dystroglycan-dystrophin complex. PloS one. 3, e2418-e2418 (2008).
Puchtler, H., Waldrop, F. S., Conner, H. M., Terry, M. S. Carnoy fixation: practical and theoretical considerations. Histochemie. 16, 361-36 (1968).
Ashburner, M. Drosophila - A Laboratory Manual. CSHL Press. (1989).
Sieber, M. H., Thummel, C. S. The DHR96 nuclear receptor controls triacylglycerol homeostasis in Drosophila. Cell metabolism. 10, 481-481 (2009).