Summary
Unser Experiment zeigt, wie eine Sequenzierung von bakteriellen Spezies translozierenden im peripheren Blut von HIV-positiven Patienten.
Cite this Article
Copy Citation | Download Citations

Merlini, E., Bellistri, G. M., Tincati, C., d'Arminio Monforte, A., Marchetti, G. Sequencing of Bacterial Microflora in Peripheral Blood: our Experience with HIV-infected Patients. J. Vis. Exp. (52), e2830, doi:10.3791/2830 (2011).
Abstract
Der gesunde Magen-Darm-Trakt ist physiologisch kolonisierten durch eine Vielzahl von kommensalen Mikroben, die die Entwicklung der humoralen und zellulären mukosalen Immunsystems 1,2 beeinflussen.
Microbiota vom Immunsystem über eine starke Schleimhaut-Barriere abgeschirmt. Infektionen und Antibiotika sind dafür bekannt, sowohl die normale Magen-Darm-Schranke und die Zusammensetzung der ansässigen Bakterien, die in möglichst immun Anomalien Ergebnis 3. Mai zu ändern.
HIV verursacht einen Bruch in der Magen-Darm-Barriere mit progressiven Versagen der Schleimhaut-Immunität und Leckagen in die systemische Zirkulation von bakteriellen Bioprodukte, wie Lipopolysaccharid und bakterielle DNA-Fragmente, die zu systemischen Immunaktivierung 4-7 beitragen. Mikrobielle Translokation ist in HIV / AIDS-Immunpathogenese und Ansprechen auf die Therapie 4,8 gebracht.
Unser Ziel war die Zusammensetzung der Bakterien translozierenden im peripheren Blut von HIV-infizierten Patienten zu charakterisieren. Um zu verfolgen unser Ziel wir eine PCR-Reaktion für die panbacteric 16S ribosomial Gen durch eine Sequenzanalyse gefolgt.
Kurz gesagt, ist Vollblut sowohl HIV-infizierten und gesunden Probanden verwendet. Da die gesunden Individuen normalen intestinalen Homöostase derzeit keine Translokation der Mikroflora wird bei diesen Patienten zu erwarten. Nach Vollblutspende durch Venenpunktion und Plasma-Trennung wird die DNA aus dem Plasma extrahiert und verwendet werden, um eine breite Palette PCR-Reaktion für die panbacteric 16S ribosomial Gen 9 Führen. Nach PCR-Produkt Reinigung, Klonierung und Sequenzierung Analysen durchgeführt.
Protocol
Behandlung von HIV-infizierten Blutproben erfordert einige wichtige Empfehlungen.
Alle Proben von Blut muss in robuster auslaufsicheren Behältern transportiert werden. Vorsicht beim Sammeln der Proben eine Kontamination des Containers Außen-und einer begleitenden Unterlagen der Probe zu vermeiden.
Alle Personen, die Verarbeitung infiziertes Blut muss Handschuhe tragen. Handschuhe müssen geändert werden und die Hände gewaschen nach Abschluss der Verarbeitung von Proben.
Die Verarbeitung von HIV-infizierten Blutprobe muss in einer Klasse II Biohazard Kabinett Haube getan werden.
Mechanische Pipettierhilfen verwendet werden sollte.
Verwendung von Nadeln oder andere spitze oder scharfe Gegenstände (einschließlich Glas z. B. Pipetten oder Kapillaren) auf Situationen, in denen es keine Alternative zu beschränken.
Laboratory Flächen müssen mit einem geeigneten chemischen Desinfektionsmittel nach einem Austritt von Blut dekontaminiert werden und wenn Tätigkeiten abgeschlossen sind.
Verunreinigte Materialien müssen vor der Wiederverwendung dekontaminiert werden oder müssen korrekt entsorgt werden über die klinische Abfälle Route.
Jeder Vorfall von beruflicher Exposition gegenüber potenziell infektiösem Blut oder Flüssigkeiten (dh diejenigen, erfordert universelle Vorsichtsmaßnahmen) sollte als medizinischer Notfall behandelt werden, da Interventionen zeitnah eingeleitet werden muss, um wirksam zu sein.
Das Protokoll benötigt 5 Tage für seine Vollendung. Der Zeitrahmen ist in Abbildung 1 dargestellt sind.
Bakterienarten identifiziert werden mit den Methoden in Abbildung 2 beschrieben.
1. Probengewinnung
9 ml Vollblut in EDTA enthaltenden Röhrchen gezogen.
Die Rohre werden bei 2000 rpm für 10 Minuten bei RT zentrifugiert, um Plasma zu erhalten.
Plasma wird in einer sterilen 2 ml Eppendorf-Röhrchen gesammelt.
2. DNA-Extraktion aus Plasmaproben
Ausreichend desinfizieren Kapuze, Pipetten und Material für das Experiment nötig, um die Sterilität zu gewährleisten.
Position aller Materialien unter UV-Licht für mindestens 30 Minuten.
Wischen Sie Handschuhe mit einem Desinfektionsmittel.
Tränken Sie ein paar Papiertücher in Ethanol und legen Sie sie unter der Haube. Jedes Mal, wenn ein Trinkgeld wird verworfen wischen Sie die Pipette auf die nasse Papiertücher.
DNA extrahiert Verwendung eines kommerziellen Kits nach den Anweisungen des Herstellers (Easy-DNA Kit, Invitrogen, Carlsbad CA, USA).
350 ul Plasma in ein steriles 2 ml Eppendorf-Röhrchen gegeben.
350 ul gefiltert Reinstwasser als negative Kontrolle verwendet.
Add 10 l Lysozym (1mg/ml) zu den Proben.
Inkubieren für 30 Minuten bei 37 ° C.
Add 500 ul von Lysis Solution und vorsichtig mischen, um die Proben.
Inkubieren für 7 Minuten bei 65 ° C.
Add 900 ul Chloroform zu den Proben.
Vortex kräftig, bis die Proben gleichmäßig viskos sind.
Geben Sie 200 ul des Niederschlags-Lösung und kräftig vortexen.
Centrifuge Proben bei 10500 rpm für 10 Minuten bei RT zur Trennung der Phasen und bilden die Schnittstelle.
Übertragen Sie die obere wässrige Phase in ein frisches Reaktionsgefäß mit 1 ml Ethanol 100%.
Centrifuge Proben bei 10500 rpm für 10 Minuten bei 4 ° C.
Ethanol entfernen.
Add 1 ml Ethanol 70%.
Centrifuge Proben bei maximaler Geschwindigkeit für 10 Minuten bei 4 ° C.
Ethanol entfernen. Die restliche Ethanol sollte mit einem pipettator entfernt werden.
Das Pellet in 50 ul von Reinstwasser.
Lesen DNA-Konzentration mit einem Spektralphotometer.
3. 16S rRNA Gene PCR
PCR-Amplifikation wird wie zuvor beschrieben 9 durchgeführt.
Amplify DNA in einem 100 ul Reaktionsansatz, bestehend aus 10 ul 10x PCR-Puffer, 5 ul 25 mM MgCl2, 5 pl 2 mM insgesamt dNTPs, 1 ul 50 uM Primer RW01 (AACTGGAGGAAGGTGGGGAT), 1 ul 50 uM Primer DG74 (AGGAGGTGATCCAACCGCA), 34 ul H20 und 0,5 ul Taq-Polymerase (AmpliTaq Gold, Applied Biosystem, Foster City, CA, USA).
Transfer der PCR-Mischung Filter, um eine mögliche Kontamination durch bakterielle Taq-Polymerase zu vermeiden.
Centrifuge Filter (Microcon, Millipore, Billerica, MA, USA) für 30 Minuten bei 500 rcf bei 4 ° C.
Aliquot der PCR-Mix nach der Anzahl der Proben, die verstärkt (positive und negative PCR Kontrollen, Proben und extrahiert Wasser) werden müssen.
Verwenden Sie die folgenden Thermocycler Bedingungen: 94 ° C für 10 Minuten; 40-mal für je 1 Minute Zeit bei 94 ° C, 55 ° C und 72 ° C und 10 min bei 72 ° C.
Visualisieren Sie die PCR-Produkt auf einem 2% Agarosegel. Verwenden Sie 100 bp DNA-Leiter. PCR-Produkt beträgt ca. 360 bp (Abbildung 3).
4. PCR Produkt Purification
Nur PCR-positiven Proben sollten gereinigt werden. Die Reinigung erfolgt mit Hilfeeines kommerziellen Kits nach den Anweisungen des Herstellers (PureLink PCR microkit, Invitrogen, Carlsbad CA, USA).
Add 4 Volumen Binding Buffer mit Isopropanol pro 1 Volumen PCR-Produkt.
Transfer-PCR-Produkt mit Binding Buffer, um eine Spalte.
Zentrifuge für 1 Minute bei 10000 rcf bei RT.
Wash-Säule mit Waschpuffer mit Ethanol.
Zentrifuge für 1 Minute bei 10000 rcf bei RT.
Zentrifuge bei maximaler Geschwindigkeit für 1 Minute bei RT auf die Silica-Membran trocknen und entfernen Sie alle verbleibenden Waschpuffer mit Ethanol.
Add 10 l Reinstwasser.
Inkubation für 1 Minute bei RT.
Zentrifuge bei maximaler Geschwindigkeit für 2 Minuten bei RT auf die gereinigte DNA zu sammeln.
5. Cloning
Lysogenie Broth (LB) Platte Vorbereitung
Lösen Sie 25 g LB-Mix in ca. 800 ml Wasser.
Bringen Sie das Endvolumen auf 1 L.
Add 15 gr von Bactoagar.
Autoklaven für 20 Minuten.
Nach dem Autoklavieren kräftig Schwenken Sie die Lösung in die Flasche zu mischen geschmolzenem Agar.
Die Lösung wird auf 50 ° C.
Add Ampicillin (50 ug / ml) und schwenken, bis sie sich auflöst.
Platten gießen bis zu einer Tiefe von ca. 3mm.
Verlassen Sie die Platten bei Raumtemperatur.
Spread-X-Gal (40mg/ml) und IPTG (100 mM) auf jeder LB-Platte und bei 37 ° C bis zur Verwendung.
Kompetente Zellen Transformation
Transformation wird unter Verwendung eines kommerziellen Kits nach den Anweisungen des Herstellers (Topo TA Cloning Kit, Invitrogen, Carlsbad CA, USA).
Bereiten Sie die Klonierungsreaktion Mix (1-4 ml frisches PCR-Produkt, 1 ul Salz-Lösung, 1 ul der Vektor-und Wasser, wenn nötig).
Mix Reaktion vorsichtig und inkubieren für 5-10 Minuten bei RT.
Legen Sie die Reaktion auf Eis.
Add 2 ul des Klonens Reaktion in ein Fläschchen mit kompetenten Zellen und vorsichtig mischen.
Inkubieren auf Eis für 30 Minuten.
Heat-Schock die Zellen für 30 Sekunden bei 42 ° C.
Sofort überweisen Sie den Schlauch in Eis.
Add 250 ul Medium.
Cap der Röhre fest sitzen und schütteln die Röhre horizontal bei 37 ° C für 1 Stunde.
Verbreiten Sie 50 ul von jeder Transformation auf eine vorgewärmte Platte selektive.
Inkubieren über Nacht bei 37 ° C.
Nach der Inkubation zu entwickeln weiß und blaue Kolonien auf den Platten. Weiße Kolonien sind für PCR-Produkt Einsetzen positive und blaue Kolonien sind für PCR-Produkt Einsetzen negativ.
6. Sequencing Analysis
Sequenzierreaktion
Eine Mischung wird unter Verwendung dieser Reagenzien: 2,5 ul DNA, 1 ul Primer (5pmol / ul) 1,1 ul BigDye (Applied Biosystem, Foster City, CA, USA).
Thermal Cycler Bedingungen: 96 ° C für 1 Minute, 25 Mal für 96 ° C für 10 sec, 55 ° C für 15 sec und 60 ° C für 4 min.
Säulenreinigung
Für jede Reaktion der Vorbereitung, MicroSpin Column (Qiagen,, Mailand, Italien).
Invert Spalte und Wirbel um Harz zu mischen.
Snap off Sumpf der Kolonne, lösen Deckel ¼ Drehung, und legen Spalte in einem Reaktionsgefäß.
Zentrifuge 3200 rpm für 1 Minute.
Transfer-Spalte, um eine saubere Mikrozentrifugenröhrchen.
Sorgfältig Pipette das gesamte PCR-Sequenzierung Reaktion in der Mitte der Säule.
Zentrifuge 3200 rpm für 1 Minute.
Gereinigte DNA wird in das Rohr (20 ul von Reinstwasser) eluite.
Sequencing Analysis
Laden Sie die gereinigte Probe (20 ul) in 96-Multiwellplatte.
Legen Sie die Platte in den Sequenzer. Automatisierte DNA Sequencer erzeugen ein Vier-Farben-Chromatogramm, das die Ergebnisse der Sequenzierung laufen.
Geben Sie die Nukleotidsequenz wie eine Abfrage der öffentlichen Sequenz-Datenbanken. Die Suche basiert auf der NCBI-Datenbanken und-Servern ausgeführt, mit Basic Local Alignment Search Tool (BLAST).
Betrachten Sie nur Bakterien, die mit 98-100% Homologien.
7. Repräsentative Ergebnisse

Abbildung 1. Timeline des Verfahrens.

Abbildung 2. Flussdiagramme des gesamten Identifizierung von Bakterien Verfahren.

Abbildung 3. 2% Agarosegel zeigt breites Spektrum 16S rRNA-Gen PCR-Produkte. Spur 1 enthält eine 100bp DNA-Leiter, Bahn 2 die PCR positive Kontrolle enthält, zeigt Spur 3 die negative PCR-Kontrolle. Lane 4 zeigt Proben aus einem HIV-positiven Patienten, und Spur 5 enthält Wasser. Spur 6 shows Proben von gesunden Menschen und einem negativen PCR-Reaktion, Spur 7 enthält Wasser. Nur HIV-positiven Patienten zeigt eine positive PCR-Amplifikation. Reinstwasser als negative Kontrolle während der Extraktion verwendet, bedeutet, dass keine Kontamination stattgefunden.

Abbildung 4. 0,7% Agarosegel zeigt Plasmid mit Miniprep-Verfahren extrahiert. Spur 1 enthält eine 1 Kilobasen DNA-Leiter, enthält Spur 2 die blaue Kontroll-Kolonie, Bahnen 3 bis 12 enthalten weiße Kolonien. Das Plasmid aus dem blauen Kolonie enthält nicht die PCR-Produkt einfügen. Alle 10 weißen Kolonien enthalten Plasmid mit dem richtigen einfügen.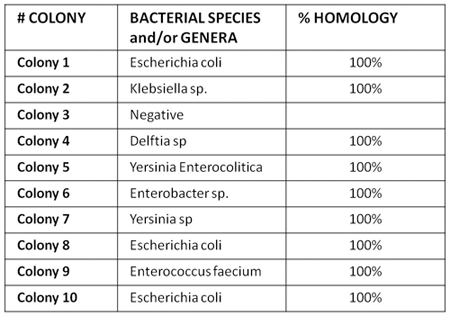 Abbildung 5. Zeigt ein Beispiel der bakteriellen Sequenzierung im Plasma von einem HIV-positiven Menschen. Unsere Ergebnisse zeigen, dass mikrobielle Translokation in HIV Krankheit eine polimicrobic Flora, die nicht in HIV-negativen Patienten ist zu sehen, was darauf hindeutet erheblichen Ausfall von gut Immunität in die Kontrolle der Bakterien Translokation betrifft.
Subscription Required. Please recommend JoVE to your librarian.
Discussion
Subscription Required. Please recommend JoVE to your librarian.
Disclosures
Keine Interessenskonflikte erklärt.
Acknowledgments
Wir sind dankbar, dass Gianni Scimone für hervorragende Unterstützung mit Video machen.
Materials
| | | | |
| --- | --- | --- | --- |
| Name | Company | Catalog Number | Comments |
| Easty-DNA Kit | Invitrogen | K 180001 | |
| Chloroform | Sigma-Aldrich | C2432 | |
| Ethanol | Sigma-Aldrich | E7203 | |
| | | | |
| UltraPure Waer | Invitrogen | 10977049 | |
| Lysozyme | Fluka | 62970 | 10 μg/mL in Distillated Water |
| AmpliTaq Gold | Applied Biosystems | 26478701 | |
| Microcon 100 | EMD Millipore | 42413 | |
| PCR primers | Invitrogen | | |
| Agarose | Eppendorf | C1343 | |
| DNA ladder | Invitrogen | 15628019 | |
| Purelink PCR micro kit | Invitrogen | K310050 | |
| LB Agar, powder | Invitrogen | 22700025 | |
| Bactoagar | Invitrogen | | |
| Ampicillin | Invitrogen | 11593027 | 10 mg/mL in Distillated Water |
| X-gal | Invitrogen | 15520034 | 40mg/mL in DMF |
| IPTG | Invitrogen | 15529019 | 100mM in Distillated water |
| Topo TA cloning kit | Invitrogen | K450002 | |
| Purelink Quick Plasmid Miniprep kit | Invitrogen | K210010 | |
| Big dye | Applied Biosystems | 4337455 | |
| DyeEx 2.0 spin kit | Qiagen | 63204 | |
References
Hooper, L. V., Macpherson, A. J. Immune adaptations that maintain homeostasis with the intestinal microbiota. Nat Rev Immunol. 10, 159-169 (2010).
Macpherson, A. J., Harris, N. L. Interactions between commensal intestinal bacteria and the immune system. Nat Rev Immunol. 4, 478-485 (2004).
Kanauchi, O., Mitsuyama, K., Araki, Y., Andoh, A. Modification of intestinal flora in the treatment of inflammatory bowel disease. Curr Pharm Des. 9, 333-346 (2003).
Brenchley, J. M. Microbial translocation is a cause of systemic immune activation in chronic HIV infection. Nat Med. 12, 1365-1371 (2006).
Brenchley, J. M., Price, D. A., Douek, D. C. HIV disease: fallout from a mucosal catastrophe. Nat Immunol. 7, 235-239 (2006).
Jiang, W. Plasma levels of bacterial DNA correlate with immune activation and the magnitude of immune restoration in persons with antiretroviral-treated HIV infection. J Infect Dis. 199, 1177-1185 (2009).
Marchetti, G. Microbial translocation is associated with sustained failure in CD4+ T-cell reconstitution in HIV-infected patients on long-term highly active antiretroviral therapy. AIDS. 22, 2035-2038 (2008).
Marchetti, G. Role of Microbial Translocation and Immune Hyperactivation in Disease Progression of HIV+ Patients with Preserved CD4 Count in the Absence of ART. The 17th Conference on Reteroviruses and Opportunistic Infections (CROI), San Francisco, CA, USA, (2010).
Greisen, K., Loeffelholz, M., Purohit, A., Leong, D. PCR primers and probes for the 16S rRNA gene of most species of pathogenic bacteria, including bacteria found in cerebrospinal fluid. J Clin Microbiol. 32, 335-351 (1994).