Summary
Våra experiment visar hur du utför en sekvensering analys av bakteriearter translocating i perifert blod av HIV-positiva patienter.
Cite this Article
Copy Citation | Download Citations

Merlini, E., Bellistri, G. M., Tincati, C., d'Arminio Monforte, A., Marchetti, G. Sequencing of Bacterial Microflora in Peripheral Blood: our Experience with HIV-infected Patients. J. Vis. Exp. (52), e2830, doi:10.3791/2830 (2011).
Abstract
Den friska mag-tarmkanalen är fysiologiskt koloniseras av en mängd olika kommensala mikrober som påverkar utvecklingen av humorala och cellulära slemhinnor immunsystemet 1,2.
Mikrobiota är avskärmad från immunförsvaret via en stark slemhinnor barriär. Infektioner och antibiotika är kända för att förändra både den normala mag-tarmkanalen barriär och sammansättning bosatt bakterier, vilket kan resultera i möjliga immuna avvikelser 3.
HIV orsakar ett brott i mag-barriär med progressiv misslyckande slemhinnor immunitet och läckage till systemcirkulationen av bakteriell Bioproducts, som lipopolysackarid och bakteriella fragmenten DNA, som bidrar till systematiska immun aktivering 4-7. Mikrobiell translokation är inblandad i hiv / aids immunopathogenesis liksom terapisvaret 4,8.
Vi syftade till att karakterisera sammansättningen av bakterier translocating i perifert blod av HIV-infekterade patienter. För att fullfölja vårt mål vi satte upp en PCR-reaktion för panbacteric 16S ribosomial gen följdes av en sekvensering analys.
Kortfattat är helblod från både hiv-smittade och friska försökspersoner som används. Med tanke på att friska individer nuvarande normala intestinala homeostas ingen förflyttning av mikrofloran förväntas hos dessa patienter. Efter helblod insamlingen genom venpunktion och plasma separation, är DNA extraherat från plasma och används för att utföra ett brett utbud PCR-reaktion för panbacteric 16S ribosomial gen 9. Efter PCR-produkten rening, kloning och sekvensering analyser utförs.
Protocol
Hantering av hiv-infekterat blod prover kräver några viktiga rekommendationer.
Alla exemplar av blod måste transporteras i robust behållare som inte läcker. Man måste vara försiktig när du hämtar provet för att undvika kontaminering av behållarens utsida och eventuella papper som medföljer provet.
Alla personer bearbetning smittat blod måste bära handskar. Handskar måste bytas och händerna tvättas efter avslutad provbearbetning.
Behandling av HIV-smittat blod prover måste göras i en klass II biohazard skåp huva.
Mekanisk pipettering hjälpmedel ska användas.
Användning av nålar eller andra vassa föremål (inklusive glas t.ex. pipetter eller kapillärrör) måste begränsas till situationer där det inte finns något alternativ.
Laboratorium ytor måste saneras med lämpliga kemiska desinfektionsmedel efter ett spill av blod och när arbetet aktiviteter genomförs.
Förorenat material som används skall saneras innan de används igen eller måste hanteras på rätt sätt via den kliniskt avfall rutten.
Varje incident vid yrkesmässig exponering för potentiellt infektiöst blod eller vätskor (dvs. som kräver universella försiktighetsåtgärder) bör behandlas som en medicinsk nödsituation som insatser måste sättas in omgående för att vara effektiva.
Protokollet kräver fem dagar för att fullfölja. Tidsramen är detaljerad i figur 1.
Bakteriearter identifieras med hjälp av de metoder som beskrivs i figur 2.
1. Provtagning
9 ml helblod dras in EDTA innehåller rör.
Rören centrifugeras vid 2000 rpm i 10 minuter vid RT för att få plasma.
Plasma samlas upp i en steril 2 ml Eppendorf-rör.
2. DNA-extraktion från plasmaprover
Adekvat desinficera huva, pipetter och material som behövs för försöket för att garantera sterilitet.
Placera allt material under UV-ljus i minst 30 minuter.
Torka handskar med ett desinfektionsmedel.
Blötlägg ett par pappershanddukar i etanol och placera dem under huven. Varje gång ett tips är kasseras torka av pipetten på den våta pappershanddukar.
DNA extraheras med ett kommersiellt kit efter tillverkarens anvisningar (Easy-DNA Kit, Invitrogen, Carlsbad CA, USA).
350 mikroliter av plasma placeras i ett sterilt 2 ml Eppendorf-rör.
350 mikroliter av filtrerade ultrarent vatten används som negativ kontroll.
Tillsätt 10 mikroliter av lysozym (1mg/ml) till proverna.
Inkubera 30 minuter vid 37 ° C.
Tillsätt 500 mikroliter av lyseringslösning och blanda försiktigt med proverna.
Inkubera 7 minuter vid 65 ° C.
Tillsätt 900 mikroliter av kloroform med proverna.
Vortex kraftigt tills proverna är jämnt trögflytande.
Tillsätt 200 mikroliter av fällningslösningen och skaka kraftigt.
Centrifugera proverna vid 10.500 rpm i 10 minuter vid RT att separera faserna och bilda gränssnittet.
Överför den övre vattenfasen till en ny mikrocentrifugrör innehållande 1 ml etanol 100%.
Centrifugera proverna vid 10.500 rpm under 10 minuter vid 4 ° C.
Ta bort etanol.
Tillsätt 1 ml av etanol 70%.
Centrifugera proverna vid maximal hastighet under 10 minuter vid 4 ° C.
Ta bort etanol. Den kvarvarande etanol ska tas bort med en pipettator.
Återsuspendera pelleten i 50 mikroliter av ultrarent vatten.
Läs DNA-koncentration med en spektrofotometer.
3. 16S rRNA Gene PCR
PCR-amplifiering sker som tidigare beskrivits 9.
Förstärka DNA i en 100 mikroliter reaktion blandning bestående av 10 mikroliter 10X PCR-buffert, 5 mikroliter av 25 mm MgCl2, 5 mikroliter av 2 mm totalt dNTPs, 1 mikroliter av 50 mikroM grundfärg RW01 (AACTGGAGGAAGGTGGGGAT), 1 mikroliter av 50 mikroM primer DG74 (AGGAGGTGATCCAACCGCA), 34 mikroliter av H20 och 0,5 mikroliter av Taq-polymeras (AmpliTaq Gold, Tillämpad Biosystem, Foster City, CA, USA).
Överför PCR-blandningen i filter för att undvika eventuell kontaminering av bakterier Taq-polymeras.
Centrifugera filter (Microcon, Millipore, Billerica, MA, USA) i 30 minuter vid 500 RCF vid 4 ° C.
Alikvotera PCR-blandningen i enlighet med antalet prov som måste förstärkas (positiv och negativ PCR-kontroller, prover och extraheras vatten).
Använd följande termocykeln villkor: 94 ° C i 10 minuter, 40 gånger under 1 minut varje gång vid 94 ° C, 55 ° C och 72 ° C och 10 minuter vid 72 ° C.
Visualisera PCR-produkten på en 2% agarosgel. Använd 100 bp DNA-stege. PCR-produkten storlek är ca 360 bp (Figur 3).
4. PCR-produkten Rening
Endast PCR-positiva prov skall vara renat. Rening sker medett kommersiellt kit efter tillverkarens anvisningar (PureLink PCR microkit, Invitrogen, Carlsbad CA, USA).
Tillsätt 4 volymer bindningsbuffert innehåller isopropanol per 1 volym PCR-produkt.
Överför PCR-produkten med bindande buffert till en kolumn.
Centrifugera i 1 minut till 10000 RCF vid RT.
Tvätta kolonnen med tvättbuffert som innehåller etanol.
Centrifugera i 1 minut till 10000 RCF vid RT.
Centrifugera vid maximal hastighet under 1 minut vid RT att torka kvarts membranet och ta bort eventuella tvättbuffert med etanol.
Tillsätt 10 mikroliter av ultrarent vatten.
Inkubera i 1 minut vid RT.
Centrifugera vid maximal hastighet i 2 minuter vid RT att samla in de renade DNA.
5. Kloning
Lysogeny buljong (LB) Plate Förberedelser
Lös 25 gr i LB blanda i ca 800 ml vatten.
Ta den slutliga volymen till 1 l.
Tillsätt 15 gr Bactoagar.
Autoklav i 20 minuter.
Efter autoklavering, kraftfullt virvla lösningen i kolven att blanda smält agar.
Kyl lösningen till 50 ° C.
Lägg Ampicillin (50 mikrogram / ml) och snurra tills det löser sig.
Häll ut på plattor till ett djup av ca 3 mm.
Låt plattorna i rumstemperatur.
Sprid X-Gal (40mg/ml) och IPTG (100 mm) på varje LB plattan och inkubera vid 37 ° C tills redo att användas.
Behöriga Celler Transformation
Omvandling sker med ett kommersiellt kit efter tillverkarens anvisningar (Topo TA kloning kit, Invitrogen, Carlsbad CA, USA).
Förbered mixen kloning reaktionen (1-4 mikroliter av färska PCR-produkten, 1 mikroliter av saltlösning, 1 mikroliter av vektor och vatten om det behövs).
Blanda reaktion försiktigt och inkubera i 50-10 minuter vid RT.
Placera reaktionen på is.
Tillsätt 2 mikroliter av kloning reaktionen i en injektionsflaska av kompetenta celler och blanda försiktigt.
Inkubera på is i 30 minuter.
Heat-shock cellerna i 30 sekunder vid 42 ° C.
Överför omedelbart röret i isen.
Tillsätt 250 mikroliter av medium.
Cap röret tighly och skaka röret horisontellt vid 37 ° C i 1 timme.
Sprid 50 mikroliter från varje omvandling av en uppvärmd selektiv tallrik.
Inkubera över natten vid 37 ° C.
Efter inkubation, vit och blå kolonier utvecklas på tallrikar. Vita kolonier är positiva för PCR-produkt insättning och blå kolonier är negativa för PCR-produkt insättning.
6. Sekvensering Analys
Sekvensering Reaktion
En mix är gjord med hjälp av dessa reagenser: 2,5 l DNA, 1 l primer (5pmol / l) 1,1 l BigDye (Applied Biosystem, Foster City, CA, USA).
Värmecykel förhållanden: 96 ° C under 1 minut, 25 gånger 96 ° C i 10 sek, 55 ° C i 15 sekunder och 60 ° C i 4 min.
Kolumn Rening
För varje reaktion, förbereda en MicroSpin Column (Qiagen, Milano, Italien).
Invertera kolumn och skaka för att blanda harts.
Snap från botten av kolonnen, lossa locket ¼ varv, och placera kolumnen i en mikrocentrifugrör.
Centrifug 3200 rpm i 1 minut.
Överför kolumn till ett rent mikrocentrifugrör.
Försiktigt pipettera hela PCR-sekvensering reaktion i mitten av kolumnen.
Centrifug 3200 rpm i 1 minut.
Renat DNA eluite in i röret (20 ìl av ultrarent vatten).
Sekvensering Analys
Ladda renade provet (20 l) i 96-multispot plattan.
Ladda plattan i sequencern. Automatiserad DNA Sequencers generera ett fyrfärgstryck kromatogram som visar resultaten av sekvensering springa.
Mata in nukleotidsekvensen som en fråga mot allmänheten sekvensen databaser. Sökningen sker på NCBI databaser och servrar, med grundläggande lokala Alignment Search Tool (BLAST).
Tänk bara bakterier med 98-100% homologier.
7. Representativa resultat

Figur 1. Tidslinje av förfarandet.

Figur 2. Flödesscheman av hela bakteriell identifiering förfarande.

Figur 3. 2% agarosgel visar brett utbud 16S rRNA genen PCR-produkter. Körfält 1 innehåller ett 100 bp DNA stege, innehåller körfält 2 PCR positiva kontrollen visar körfält 3 negativ PCR-kontroll. Lane 4 visar prover från en hiv-positiv patient, och körfält 5 innehåller vatten. Lane 6 shOWS prover från en frisk individ och en negativ PCR-reaktion, körfält 7 innehåller vatten. Endast HIV-positiva patienter visar en positiv PCR-amplifiering. Ultrarent vatten som används som en negativ kontroll under extraktionen, tyder på att ingen kontaminering skett.

Figur 4. 0,7% agarosgel visar plasmid extraheras med miniprep förfarande. Körfält 1 innehåller en 1 Kilobase DNA stege, innehåller körfält 2 blå kontroll kolonin, körfält 3 till 12 innehåller vita kolonier. Den plasmid från de blå kolonin innehåller inte PCR-produkten insatsen. Alla 10 vita kolonier innehåller plasmid med rätt sätt.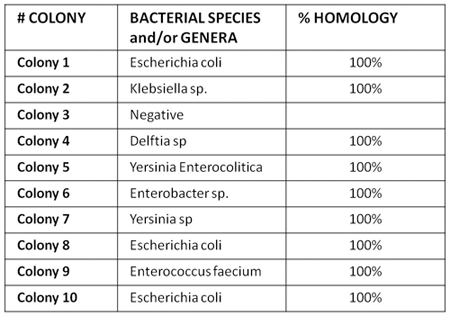 Figur 5. Visar ett exempel på bakteriell sekvensering analys i plasma från en HIV-positiv individ. Våra resultat visar att mikrobiell translokation hos HIV sjukdom innebär en polimicrobic flora, som inte ses hos HIV-negativa patienter, vilket tyder på betydande fel i tarmen immunitet för att kontrollera bakterier translokation.
Subscription Required. Please recommend JoVE to your librarian.
Discussion
Subscription Required. Please recommend JoVE to your librarian.
Disclosures
Inga intressekonflikter deklareras.
Acknowledgments
Vi är tacksamma mot Gianni Scimone för utmärkt hjälp med video att göra.
Materials
| | | | |
| --- | --- | --- | --- |
| Name | Company | Catalog Number | Comments |
| Easty-DNA Kit | Invitrogen | K 180001 | |
| Chloroform | Sigma-Aldrich | C2432 | |
| Ethanol | Sigma-Aldrich | E7203 | |
| | | | |
| UltraPure Waer | Invitrogen | 10977049 | |
| Lysozyme | Fluka | 62970 | 10 μg/mL in Distillated Water |
| AmpliTaq Gold | Applied Biosystems | 26478701 | |
| Microcon 100 | EMD Millipore | 42413 | |
| PCR primers | Invitrogen | | |
| Agarose | Eppendorf | C1343 | |
| DNA ladder | Invitrogen | 15628019 | |
| Purelink PCR micro kit | Invitrogen | K310050 | |
| LB Agar, powder | Invitrogen | 22700025 | |
| Bactoagar | Invitrogen | | |
| Ampicillin | Invitrogen | 11593027 | 10 mg/mL in Distillated Water |
| X-gal | Invitrogen | 15520034 | 40mg/mL in DMF |
| IPTG | Invitrogen | 15529019 | 100mM in Distillated water |
| Topo TA cloning kit | Invitrogen | K450002 | |
| Purelink Quick Plasmid Miniprep kit | Invitrogen | K210010 | |
| Big dye | Applied Biosystems | 4337455 | |
| DyeEx 2.0 spin kit | Qiagen | 63204 | |
References
Hooper, L. V., Macpherson, A. J. Immune adaptations that maintain homeostasis with the intestinal microbiota. Nat Rev Immunol. 10, 159-169 (2010).
Macpherson, A. J., Harris, N. L. Interactions between commensal intestinal bacteria and the immune system. Nat Rev Immunol. 4, 478-485 (2004).
Kanauchi, O., Mitsuyama, K., Araki, Y., Andoh, A. Modification of intestinal flora in the treatment of inflammatory bowel disease. Curr Pharm Des. 9, 333-346 (2003).
Brenchley, J. M. Microbial translocation is a cause of systemic immune activation in chronic HIV infection. Nat Med. 12, 1365-1371 (2006).
Brenchley, J. M., Price, D. A., Douek, D. C. HIV disease: fallout from a mucosal catastrophe. Nat Immunol. 7, 235-239 (2006).
Jiang, W. Plasma levels of bacterial DNA correlate with immune activation and the magnitude of immune restoration in persons with antiretroviral-treated HIV infection. J Infect Dis. 199, 1177-1185 (2009).
Marchetti, G. Microbial translocation is associated with sustained failure in CD4+ T-cell reconstitution in HIV-infected patients on long-term highly active antiretroviral therapy. AIDS. 22, 2035-2038 (2008).
Marchetti, G. Role of Microbial Translocation and Immune Hyperactivation in Disease Progression of HIV+ Patients with Preserved CD4 Count in the Absence of ART. The 17th Conference on Reteroviruses and Opportunistic Infections (CROI), San Francisco, CA, USA, (2010).
Greisen, K., Loeffelholz, M., Purohit, A., Leong, D. PCR primers and probes for the 16S rRNA gene of most species of pathogenic bacteria, including bacteria found in cerebrospinal fluid. J Clin Microbiol. 32, 335-351 (1994).