Summary
Ons experiment zal laten zien hoe je een sequencing analyse van bacteriële soorten transloceren in het perifere bloed van HIV-positieve patiënten uit te voeren.
Cite this Article
Copy Citation | Download Citations

Merlini, E., Bellistri, G. M., Tincati, C., d'Arminio Monforte, A., Marchetti, G. Sequencing of Bacterial Microflora in Peripheral Blood: our Experience with HIV-infected Patients. J. Vis. Exp. (52), e2830, doi:10.3791/2830 (2011).
Abstract
De gezonde maag-darmkanaal is fysiologisch gekoloniseerd door een grote verscheidenheid aan commensale microben die de ontwikkeling van de humorale en cellulaire mucosale immuunsysteem 1,2 beïnvloeden.
Microbiota is afgeschermd van het immuunsysteem via een sterke mucosale barrière. Infecties en antibiotica is bekend dat zowel de normale maag-darmkanaal barrière en de samenstelling van de ingezeten bacteriën, wat kan leiden tot mogelijke immuun afwijkingen drie veranderen.
HIV veroorzaakt een breuk in de gastro-intestinale barrière met progressieve uitval van mucosale immuniteit en lekkage in de systemische circulatie van bacteriële bioproducten, zoals lipopolysaccharide en bacteriële DNA-fragmenten, die bijdragen tot systemische activering van het immuunsysteem 4-7. Microbiële translocatie is betrokken in HIV / AIDS immunopathogenese en de respons op de therapie 4,8.
Ons doel was om de samenstelling van de bacteriën transloceren in het perifere bloed van HIV-geïnfecteerde patiënten te karakteriseren. Na te streven ons doel hebben we het opzetten van een PCR-reactie voor de panbacteric 16S ribosomial gen, gevolgd door een sequentie-analyse.
In het kort, is volbloed van zowel HIV-geïnfecteerde en gezonde proefpersonen gebruikt. Gezien het feit dat gezonde personen normale darm homeostase momenteel geen translocatie van microflora wordt verwacht in deze patiënten. Na de hele bloedafname door venapunctie en plasma scheiding, wordt DNA geëxtraheerd uit plasma en wordt gebruikt om een breed scala PCR-reactie voor de panbacteric 16S ribosomial gen 9 uit te voeren. Na de PCR product zuivering, klonen en sequencing analyses worden uitgevoerd.
Protocol
Het hanteren van hiv-besmet bloed monsters vereist een aantal belangrijke aanbevelingen.
Alle exemplaren van het bloed moet worden vervoerd in stevige lekvrije containers. Zorg moet worden genomen bij het verzamelen van het monster om verontreiniging van de buitenkant van de container en van alle papierwerk bij het monster te voorkomen.
Alle personen die de verwerking van besmet bloed moeten handschoenen dragen. Handschoenen moeten worden gewijzigd en de handen gewassen na voltooiing van het monster verwerking.
Verwerking van HIV-besmet bloed monsters moeten worden gedaan in een klasse II biohazard kast kap.
Mechanische Pipetteerhulpen moet worden gebruikt.
Het gebruik van naalden of andere scherpe voorwerpen (inclusief glas bijvoorbeeld pipetten of capillaire buizen) moet worden beperkt tot situaties waarin er geen alternatief is.
Laboratorium oppervlakken, moet gereinigd worden met een geschikte chemische desinfecterende na een lekkage van bloed en wanneer werkzaamheden zijn voltooid.
Gebruikte verontreinigde materialen, moet gereinigd worden voor hergebruik of moet worden afgevoerd via de juiste klinische afval route.
Ieder incident van beroepsmatige blootstelling aan potentieel besmettelijke bloed of vocht (dat wil zeggen, degenen die universele voorzorgsmaatregelen) moeten worden behandeld als een medisch noodgeval als interventies moet onmiddellijk worden begonnen om effectief te zijn.
Het protocol vereist dat 5 dagen voor de voltooiing ervan. De termijn is gedetailleerd in figuur 1.
Bacteriesoorten worden geïdentificeerd met behulp van de methoden beschreven in figuur 2.
1. Monstername
9 ml bloed is getrokken in EDTA met buizen.
Buizen worden gecentrifugeerd bij 2000 rpm gedurende 10 minuten bij RT aan plasma te verkrijgen.
Plasma wordt opgevangen in een steriele 2 ml Eppendorf-buis.
2. DNA-extractie van plasmamonsters
Adequaat te desinfecteren kap, pipetten en materialen die nodig zijn voor het experiment, om steriliteit te garanderen.
Plaats alle materialen onder UV-licht voor ten minste 30 minuten.
Veeg handschoenen met een desinfecterend middel.
Geniet van een paar papieren handdoekjes in ethanol en leg ze onder de motorkap. Iedere keer dat een tip is weggegooid veeg de pipet op de natte papieren handdoeken.
DNA wordt geëxtraheerd met behulp van een commerciële kit volgens de instructies van de fabrikant (Easy-DNA Kit, Invitrogen, Carlsbad CA, USA).
350 pi van plasma worden geplaatst in een steriele 2ml eppendorfbuisje.
350 pi van ultrapuur water gefilterd worden gebruikt als negatieve controle.
Voeg 10 ul van lysozyme (1mg/ml) om de monsters.
Incubeer gedurende 30 minuten bij 37 ° C.
Voeg 500 ul van Lysis Solution en meng zachtjes om de monsters.
Incubeer gedurende 7 minuten bij 65 ° C.
Voeg 900 ul van chloroform om de monsters.
Vortex krachtig tot de monsters gelijkmatig viskeus.
Voeg 200 ul van Neerslag Solution en vortex krachtig.
Centrifugeer monsters op 10500 rpm gedurende 10 minuten bij RT om de fasen te scheiden en de interface te vormen.
Breng de bovenste waterige fase naar een nieuwe microcentrifugebuis met 1 ml ethanol 100%.
Centrifugeer monsters op 10500 rpm gedurende 10 minuten bij 4 ° C.
Verwijder de ethanol.
Voeg 1 ml ethanol 70%.
Centrifugeer monsters op maximale snelheid gedurende 10 minuten bij 4 ° C.
Verwijder de ethanol. De resterende ethanol moet worden verwijderd met een pipettator.
Resuspendeer de pellet in 50 uL van ultrapuur water.
Lees DNA-concentratie met een spectrofotometer.
3. 16S rRNA PCR Gene
PCR-amplificatie wordt uitgevoerd zoals eerder beschreven 9.
Versterken DNA in een 100 ul reactiemengsel bestaande uit 10 pi van 10X PCR-buffer, 5 ul 25 mM MgCl2, 5 ul van 2 mM totaal dNTPs, 1 ul van 50 uM primer RW01 (AACTGGAGGAAGGTGGGGAT), 1 ul van 50 uM primer DG74 (AGGAGGTGATCCAACCGCA), 34 pi van H20 en 0,5 ul Taq-polymerase (AmpliTaq Gold, Applied Biosystem, Foster City, CA, USA).
Overdracht van de PCR-mix in de filters om mogelijke besmetting door bacteriën Taq polymerase te voorkomen.
Centrifuge filters (Microcon, Millipore, Billerica, MA, USA) gedurende 30 minuten op 500 RCF bij 4 ° C.
Aliquot de PCR-mix op basis van het aantal monsters die moeten worden versterkt (positieve en negatieve PCR-controles, monsters en onttrokken water).
Gebruik de volgende thermische cycler voorwaarden: 94 ° C gedurende 10 minuten, 40 keer 1 minuut elke keer bij 94 ° C, 55 ° C en 72 ° C, en 10 min bij 72 ° C.
Visualiseer het PCR-product op een 2% agarose gel. Gebruik 100 bp DNA ladder. PCR-product is ongeveer 360 bp (figuur 3).
4. PCR-product Zuivering
Alleen PCR-positieve monsters moet worden gezuiverd. Zuivering wordt uitgevoerd met behulp vaneen commerciële kit na instructies van de fabrikant (Purelink PCR MicroKit, Invitrogen, Carlsbad CA, USA).
Voeg 4 volumes Binding Buffer met isopropanol per 1 volume PCR-product.
Transfer PCR-product met Binding Buffer naar een kolom.
Centrifugeer gedurende 1 minuut bij 10.000 RCF bij RT.
Was kolom met Wash Buffer met ethanol.
Centrifugeer gedurende 1 minuut bij 10.000 RCF bij RT.
Centrifugeer op maximale snelheid gedurende 1 minuut bij RT om het silica membraan droog en verwijder alle resten van het wassen Buffer met ethanol.
Voeg 10 ul van ultrapuur water.
Incubeer gedurende 1 minuut bij kamertemperatuur.
Centrifugeer op maximale snelheid gedurende 2 minuten bij RT om het gezuiverde DNA te verzamelen.
5. Klonen
Lysogeny bouillon (LB) Plate Voorbereiding
Los 25 gr van de LB mix in ongeveer 800 ml water.
Breng het uiteindelijke volume van 1 L.
Voeg 15 gr van Bactoagar.
Autoclaaf gedurende 20 minuten.
Na de autoclaaf, krachtig krul de oplossing in de kolf gesmolten agar mix.
Koel de oplossing tot 50 ° C.
Voeg Ampicilline (50 ug / ml) en zwenken totdat het oplost.
Giet platen tot een diepte van ongeveer 3 mm.
Laat de platen uit bij kamertemperatuur.
Spread X-Gal (40mg/ml) en IPTG (100 mm) op elk LB plaat en incubeer bij 37 ° C tot klaar voor gebruik.
Competente cellen Transformatie
Transformatie is uitgevoerd met behulp van een commerciële kit na instructies van de fabrikant (Topo TA klonering kit, Invitrogen, Carlsbad CA, USA).
Bereid het klonen reactie mix (1-4 pi van verse PCR-product, 1 ui zout-oplossing, 1 ui vector en water indien nodig).
Meng reactie en incubeer gedurende 5-10 minuten bij RT.
Plaats de reactie op het ijs.
Voeg 2 pi van het klonen reactie in een flacon van competente cellen en meng voorzichtig.
Incubeer op ijs gedurende 30 minuten.
Heat-shock de cellen gedurende 30 seconden bij 42 ° C.
Onmiddellijk overdracht van de buis in ijs.
Voeg 250 ul van medium.
Tighly dop van de buis en horizontaal schud de buis bij 37 ° C gedurende 1 uur.
Spread 50 pi van elke transformatie op een voorverwarmde selectieve plaat.
Incubeer overnacht bij 37 ° C.
Na de incubatie, witte en blauwe kolonies te ontwikkelen op de borden. Witte kolonies zijn positief voor PCR product inbrengen en blauwe kolonies zijn negatief voor PCR product inbrengen.
6. Sequencing Analyse
Sequencing Reactie
Een mix is ​​gemaakt met behulp van deze reagentia: 2,5 ul DNA, 1 ui primer (5pmol / ul) 1,1 ul BigDye (Applied Biosystem, Foster City, CA, USA).
Thermische cycler voorwaarden: 96 ° C voor 1 minuut, 25 keer voor de 96 ° C gedurende 10 seconden, 55 ° C gedurende 15 sec en 60 ° C gedurende 4 minuten.
Column Zuivering
Voor elke reactie, bereiden een MicroSpin kolom (Qiagen,, Milaan, Italië).
Omgekeerde kolom en vortex tot hars te mengen.
Snap de bodem van de kolom, los deksel ¼ draai, en plaats kolom in een microcentrifugebuis.
Centrifuge 3200 rpm gedurende 1 minuut.
Transfer kolom aan een schoon microcentrifugebuis.
Voorzichtig pipet de gehele PCR sequencing reactie in het midden van de kolom.
Centrifuge 3200 rpm gedurende 1 minuut.
Gezuiverde DNA zal eluite in de buis (20 ul van ultrapuur water).
Sequencing Analyse
Laad het gezuiverde monster (20 pl) in 96-multiwell-plaat.
Laad de plaat in de sequencer. Geautomatiseerde DNA sequencers het genereren van een vier-kleuren chromatogram met de resultaten van de volgorde uit te voeren.
Voer de nucleotidesequentie als een query tegen het publiek sequentie databanken. De zoekopdracht wordt uitgevoerd op de NCBI databases en servers, met Basic Local Alignment Search Tool (BLAST).
Besteed alleen aandacht aan bacteriën met 98-100% homologieën.
7. Representatieve resultaten

Figuur 1. Tijdlijn van de procedure.

Figuur 2. Stroomschema's van de gehele bacteriële identificatie procedure.

Figuur 3. 2% agarosegel tonen breed scala 16S rRNA-gen PCR-producten. Laan 1 bevat een 100 bp DNA ladder, baan 2 van de PCR-positieve controle bevat, baan 3 toont de negatieve PCR-controle. Laan 4 toont monsters van een HIV-positieve patiënt, en de baan 5 water bevat. Lane 6 shOWS monsters van een gezonde persoon en een negatieve PCR-reactie; laan 7 bevat water. Alleen HIV-positieve patiënten toont een positieve PCR-amplificatie. Ultrapuur water wordt gebruikt als een negatieve controle bij de extractie stap, betekent dat er geen besmetting heeft plaatsgevonden.

Figuur 4. 0,7% agarosegel met plasmide geëxtraheerd met Miniprep procedure. Laan 1 bevat een 1 kilobase DNA-ladder, laan 2 bevat de blauwe controle-kolonie, lanen 3 tot en met 12 bevatten witte kolonies. Het plasmide van de blauwe kolonie bevat niet het PCR-product in te voegen. Alle 10 witte kolonies bevatten plasmide met de juiste plaatsen.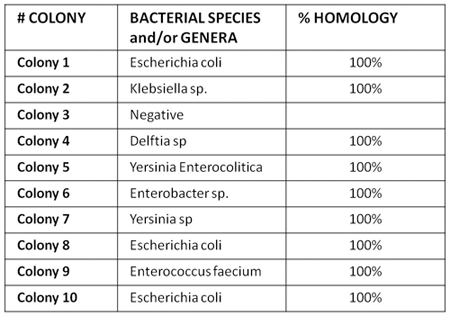 Figuur 5. Toont een voorbeeld van bacteriële sequencing analyse in het plasma van een HIV-positieve persoon. Onze resultaten tonen aan dat microbiële translocatie in de HIV-ziekte een polimicrobic flora, die niet wordt gezien bij HIV-negatieve personen, hetgeen suggereert substantieel niet van de darm immuniteit in het controleren van bacteriën translocatie betrokken zijn.
Subscription Required. Please recommend JoVE to your librarian.
Discussion
Subscription Required. Please recommend JoVE to your librarian.
Disclosures
Geen belangenconflicten verklaard.
Acknowledgments
We zijn dankbaar Gianni Scimone voor een uitstekende hulp bij het maken van video.
Materials
| | | | |
| --- | --- | --- | --- |
| Name | Company | Catalog Number | Comments |
| Easty-DNA Kit | Invitrogen | K 180001 | |
| Chloroform | Sigma-Aldrich | C2432 | |
| Ethanol | Sigma-Aldrich | E7203 | |
| | | | |
| UltraPure Waer | Invitrogen | 10977049 | |
| Lysozyme | Fluka | 62970 | 10 μg/mL in Distillated Water |
| AmpliTaq Gold | Applied Biosystems | 26478701 | |
| Microcon 100 | EMD Millipore | 42413 | |
| PCR primers | Invitrogen | | |
| Agarose | Eppendorf | C1343 | |
| DNA ladder | Invitrogen | 15628019 | |
| Purelink PCR micro kit | Invitrogen | K310050 | |
| LB Agar, powder | Invitrogen | 22700025 | |
| Bactoagar | Invitrogen | | |
| Ampicillin | Invitrogen | 11593027 | 10 mg/mL in Distillated Water |
| X-gal | Invitrogen | 15520034 | 40mg/mL in DMF |
| IPTG | Invitrogen | 15529019 | 100mM in Distillated water |
| Topo TA cloning kit | Invitrogen | K450002 | |
| Purelink Quick Plasmid Miniprep kit | Invitrogen | K210010 | |
| Big dye | Applied Biosystems | 4337455 | |
| DyeEx 2.0 spin kit | Qiagen | 63204 | |
References
Hooper, L. V., Macpherson, A. J. Immune adaptations that maintain homeostasis with the intestinal microbiota. Nat Rev Immunol. 10, 159-169 (2010).
Macpherson, A. J., Harris, N. L. Interactions between commensal intestinal bacteria and the immune system. Nat Rev Immunol. 4, 478-485 (2004).
Kanauchi, O., Mitsuyama, K., Araki, Y., Andoh, A. Modification of intestinal flora in the treatment of inflammatory bowel disease. Curr Pharm Des. 9, 333-346 (2003).
Brenchley, J. M. Microbial translocation is a cause of systemic immune activation in chronic HIV infection. Nat Med. 12, 1365-1371 (2006).
Brenchley, J. M., Price, D. A., Douek, D. C. HIV disease: fallout from a mucosal catastrophe. Nat Immunol. 7, 235-239 (2006).
Jiang, W. Plasma levels of bacterial DNA correlate with immune activation and the magnitude of immune restoration in persons with antiretroviral-treated HIV infection. J Infect Dis. 199, 1177-1185 (2009).
Marchetti, G. Microbial translocation is associated with sustained failure in CD4+ T-cell reconstitution in HIV-infected patients on long-term highly active antiretroviral therapy. AIDS. 22, 2035-2038 (2008).
Marchetti, G. Role of Microbial Translocation and Immune Hyperactivation in Disease Progression of HIV+ Patients with Preserved CD4 Count in the Absence of ART. The 17th Conference on Reteroviruses and Opportunistic Infections (CROI), San Francisco, CA, USA, (2010).
Greisen, K., Loeffelholz, M., Purohit, A., Leong, D. PCR primers and probes for the 16S rRNA gene of most species of pathogenic bacteria, including bacteria found in cerebrospinal fluid. J Clin Microbiol. 32, 335-351 (1994).