Summary
Minimal invasiv kirurgisk (MIS) prosedyrer er avhengige av omtale å lokalisere strukturer ikke synlig direkte til kirurgen. Dette manuskriptet beskriver en kombinert metode for fly-av-fly disseksjon og flerdelte anatomi av fersk-frosne prøver å finne strukturer risiko under MIS prosedyrer.
Cite this Article
Copy Citation | Download Citations | Reprints and Permissions

Dalmau-Pastor, M., Vega, J., Malagelada, F., Peña, F., Manzanares-Céspedes, M. C. An Anatomical Study of Nerves at Risk During Minimally Invasive Hallux Valgus Surgery. J. Vis. Exp. (132), e56232, doi:10.3791/56232 (2018).
Abstract
Den økende populariteten til minimal invasiv kirurgisk (MIS) prosedyrer gjør det nødvendig at nye omtale oppstår, for å hjelpe i tridimensional retning og lokalisering av strukturer som ikke direkte synlige til kirurgen. Dette er spesielt viktig for strukturer risiko som nerver eller blodårer. Optimalisering av håndtering av cadaveric materiale og kombinasjonen av flere teknikker kompensere for den begrensede tilgjengeligheten av tilstrekkelig. Beskrevet protokollen kombinerer anatomiske fly-av-fly disseksjon og flerdelte anatomi av fersk-frosne prøver å lokalisere relevante strukturer, som nerver, arteries, årer og riktig posisjon portaler under MIS prosedyrer. Skildring av disse strukturene i anatomi lærebøker kan avvike fra det oppdages i kirurgiske feltet. og derfor nye anatomiske studier med en kirurgisk orientering er nødvendig. Men er dette en kompleks, tidkrevende teknikken krever spesifikk trening. Omtale beskrevet med den såkalte 'clock metoden' gir kirurgen med et lett og reproduserbar system for å finne banen til nervene risiko Hallux Valgus MIS prosedyrer. Denne modellen kan ekstrapolert mange andre minimal invasiv kirurgisk prosedyrer.
Introduction
Hallux valgus er en felles patologi påvirker første tå, der den proksimale falanksen er avveket lateralt mens den første metatarsal avveket medialt1. PCI eller minimal-invasiv kirurgisk (MIS) teknikker for hallux abducto var blant de første som beskrevet i denne disiplinen, og flere studier rapporterer sine fordeler, men også deres risiko2. Hallux Valgus MIS korreksjon innebærer rotasjonsosteotomi utført gjennom små snitt bestemt Kirurgiske instrumenter. Gitt at åpen disseksjoner utføres ikke, risikoen for skade nevrovaskulære strukturer er høyere enn når dette er oppdaget under åpen kirurgi. Også, som alle kirurgiske prosedyrer, plasseringen av pasienten og kirurgen rundt drifts tabellen er langt fra anatomisk posisjon i klassisk anatomiske bøker eller aviser.
Nevrologiske strukturer risiko under Hallux Valgus kirurgi er dorsomedial nerve stortåen, grenen av overfladisk peroneal nerve og dorsolateral nerve av stortåen, gren av dypt peroneal nerve. Formålet med denne studien er å beskrive plasseringen av disse nervene med hensyn til incisions i hallux kirurgi og illustrere det med en ny metode å reprodusere i kirurgiske forhold. Videre er en trygg portal for bruk av PCI instrumenter beskrevet.
En grundig anatomisk kunnskap er viktig i alle kirurgiske felt, spesielt i minimal invasiv prosedyrer. Utviklingen av nye kirurgiske og imaging teknikker krever en ny forståelse av både den bi-dimensjonale og tri-dimensjonale plasseringen av anatomiske landemerker. Tidligere rapportert anatomiske disseksjon teknikker ble utviklet av vårt team å overvinne begrensninger av klassiske disseksjon teknikker3,4,5,6 , og her brukes for å gjengi den huden snitt og instrument oppføring portaler tilsvarer MIS prosedyrer brukes til å behandle hallux valgus (HV) og rigidus (HR) patologi. Metoden gjelder dermed de kirurgiske teknikkene som utviklet seg fra tradisjonell åpen kirurgi til MIS3,4,5,6.
Subscription Required. Please recommend JoVE to your librarian.
Protocol
Denne studien ble godkjent av institusjonelle etiske komiteen (Comissió de Bioètica, UB). Disseksjon prosedyrene ble utført av en erfaren sine, spesielt opplært i fly-av-fly disseksjon teknikk. Dette er en viktig forutsetning for å sikre et vellykket resultat av eksperimentet.
1. forberedelse
Velg den prøver skal inkluderes i studien. Bruk under-the-knee cadaveric frisk-frosne menneskelig fot.

Utelat følgende: alle slags misdannelser i beinet, ankel eller fot (dette kan påvirke løpet av nerver og til slutt påvirke resultatene av studien), magesår, arr eller tydelig underskriver av tidligere kirurgiske prosedyrer eller andre skader som kunne vanskelig lokalisering av nerver.

Velg ti kortet føtter (fem venstre- og fem amputert nivået av distale tibia), fra kaukasiske frisk-frosne ikke exsanguinated prøver; de inkluderte 5 menn og 5 kvinner med en median alder av 80 (range, 53-95) år.
Tin de ved tiner dem i romtemperatur vann for 6-8 timer. Ikke bruk varmt vann som det kan endre egenskapene til de.
Klargjør feltet disseksjon. Plass prøven på en ikke-sterilt kirurgisk drapere på tabellen disseksjon. Plass prøven i en stabil posisjon som tillater en komfortabel tilgang til disseksjon området; Bruk gjerne en støtte som tillater å flyttes etter behov.
Forberede disseksjon instrumenter som skal brukes sammen med noen gasbind pads for å rengjøre feltet under disseksjon prosessen.
2. disseksjon
Med en skalpell, incise bare huden til å opprette et vindu på ca 20 cm x 5 cm på den mediale delen av foten, orientert langs. Starte 15 cm proksimale til første metatarso-phalangeal joint og slutten 5 cm distale, ca.

Dissekere huden uten å forstyrre subkutant vev og unngå alle forskyvning av nervøs strukturer. Bruke friske skalpell blad for hver planet.
Utføre innspillinger med cutting edge av skalpell vender ut og ikke mot prøven. Dette følger en av prinsippene for en fly-av-fly anatomiske Disseksjon av huden. Bruk toothed tang i dette trinnet for å holde tett huden.

Fjerne huden dekke vindusområdet. Bruk gauze for å rydde feltet dissecting om nødvendig.
Utføre en forsiktig Disseksjon av subkutan vev å identifisere dorsomedial og dorsolateral nerver av første tåen. Bruk ikke-toothed tang og nye skalpell blader for å unngå skade på strukturer oppdaget. Iris saks og periosteotome er nyttig for fremgang i Disseksjon av området hvor nerver finnes (men er ikke synlige), som de tillater en mindre aggressiv disseksjon og hindre skade på nervene.
Dissekere på den øvre del av vinduet, for å unngå utilsiktet klipping nerver. Identifisere nervene uten å koble fra den underlegne delen av subkutan vev å hindre forskyvning. Når hver nerve er identifisert, dissekere gjennom sin kurs før den første metatarso-phalangeal felles.
Fixate nervene i utgangsstillingen med hensyn til den første metatarso-phalangeal felles, med en nål som vil pierce både nerve og første metatarsophalangeal felles linje.
Utføre manuell trekkraft på første tå slik at plasseringen av felles linjen er gjort tydelig mellom leder av den første metatarsal og av den proksimale falanksen på første tå. Nålen må punktering nerve først og deretter bli introdusert i metatarso-phalangeal felles. Dette trinnet sikrer at plasseringen av nerve forhold til felles blir stabil gjennom hele studiet.
3. frysing
Beskytte hver prøven med bobleplast og teip, for å unngå kalde brenning. Pass under tekstbryting prosessen ikke til å flytte nålene holder nerver.
Merke hver prøven riktig.
Innføre de i fryseren mellom-17 ° C og 20 ° C.
Vente minst 6 timer (eller over natten) for prøvene å fryse før du utfører neste trinn i protokollen.
4. saging
Sjekk BT2508RC utstyret. Bruk en diamant så med vannkjølingssystem.
Klargjør feltet arbeider der de vil bli manipulert etter inndelingen.
Åpne vannstrømmen og start bandsaw rotasjon. Justere hastighet så og vannstrømmen for kjøling.
En gang frosset, plasser prøven på så styret. Justere kutte linjen 1 cm bakenfor metatarso-phalangeal felles, som dette er punktet hvor de relevante kirurgiske incisions er plassert. Utføre delen umiddelbart etter at prøven er fjernet fra fryseren å unngå avriming.
Sett vannet til et minimum for å beskytte prøven brennes på grunn av friksjonen i bandsaw, mens du unngår tining prøven av vann og eventuelle etterfølgende endringer av anatomiske strukturer.
Når den første delen er ferdig, forkaste fremre blokken av prøven (den inneholder tærne).
Utføre en del andre. Gjøre en parallell kutt, 1 cm bakre for det første for å få en 1 cm-tykke blokk. Dette er standard tykkelse, tynnere delene kan forårsake strukturer å flytte fra sine opprinnelige banen.
Se bort fra resten av prøven, eller lagre for videre studier. De kan være refrozen eller fast ved nedsenkning i etappe, den stabiliserende løsninger.
5. målinger
Plass inndelte blokken flatt på tabellen arbeider og goniometer flat på overflaten av kutt prøven.
Bruk en standard goniometer med sentrum ligger i sentrum av den første metatarsal diaphysis. Plasser ett av aksen ved extensor digitorum longus senen, mediale grense på ryggen.
Måle plasseringen av dorsomedial og dorsolateral nerver av det første toe ved hjelp av den andre aksen av goniometer.
Ekstrapolere målene på en klokke modell der sfæren er konturene av den første metatarsal diaphysis.
Subscription Required. Please recommend JoVE to your librarian.
Representative Results
Med metoden klokke, fant dorsomedial og dorsolateral nerver konsekvent mellom 10 og 2 o'clock (figur 1). Dorsomedial nerve ble funnet på gjennomsnittlig 26.2° mediale til den mediale kantlinjen EHL, som tilsvarer en sone mellom 12 og 2 klokken en høyre fot, og mellom 10 og 12 o'clock i en venstre fot. Dorsolateral nerve var 32.3° sideveis til den mediale kantlinjen EHL i gjennomsnitt, som tilsvarer en sone mellom 12 og 2 klokken en venstre fot, og mellom 10 og 12 o'clock i en høyre fot.
Figur 2 viser typiske distribusjon av dorsomedial og dorsolateral nerver som åpenbart av anatomiske fly-av-fly dissection.

Figur 1 : Frontal cross-delen av en høyre fot viser plasseringen av dorsomedial nerve (1) og dorsolateral nerve (2). En klokke kule har blitt lagt til første metatarsal hodet. Tohodet pilene viser området der nervene er funnet for å være i denne studien. Klikk her for å se en større versjon av dette tallet.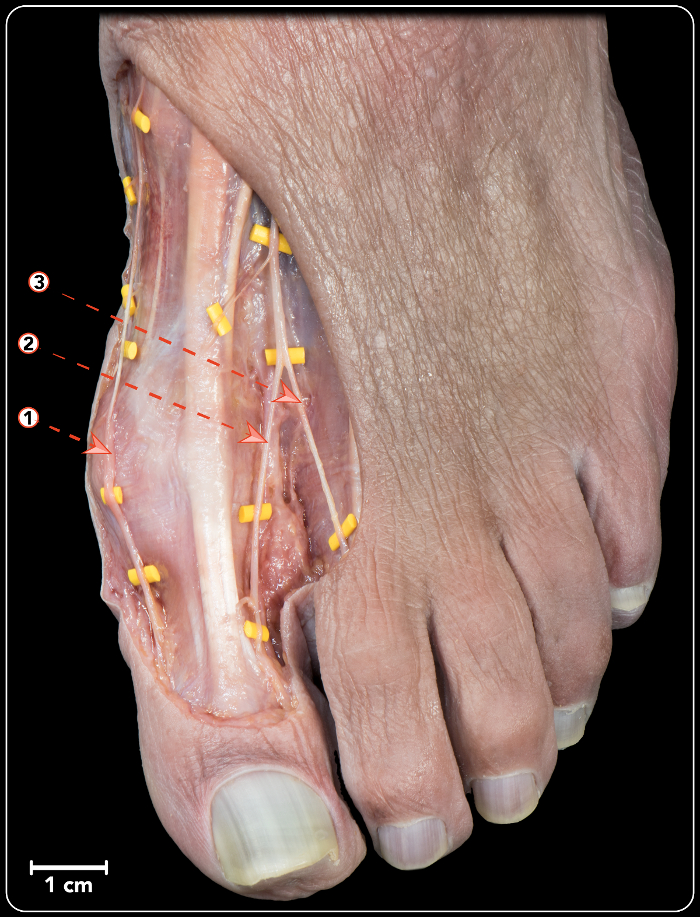 Figur 2 : Anatomisk fly-per-fly disseksjon (dorsal visning av en fot) viser typiske distribusjon av dorsomedial og dorsolateral nerver som er funnet i denne studien. 1. Dorsomedial nerve på første tå. 2. dorsolateral nerve på første tå. 3. Dorsomedial nerve på andre tå. Klikk her for å se en større versjon av dette tallet.
Subscription Required. Please recommend JoVE to your librarian.
Discussion
Grunnlaget for metoden som brukes i denne studien er en kombinasjon av seksjon anatomi og anatomisk fly-av-fly disseksjon, som det har vært praktisert historisk7. Dette krever ikke bare anatomisk kunnskap, men også spesifikk trening for hva er en tid-krevende teknikk som er sterkt avhengig av ferdigheter i dissector. Derfor noen anatomiske bilder i anatomiske lærebøker eller vitenskapelige artikler, spesielt innen Ortopedisk kirurgi, mangler nøyaktighet og er ikke lærerikt nok å være nyttig for kirurgen utfører banebrytende teknikker, som minimal invasiv prosedyrer. Derfor har det blitt antydet at anatomiske studier bør utføres med et nært samarbeid mellom eksperter, kirurger og anatomists8i litteraturen.
Bruk av fersk-frosne prøvene er avgjørende for å få pålitelige anatomiske resultater, spesielt når studere overfladisk strukturer som nerver. Bruk av fiksert prøver produserer ofte endringer i volum og plasseringen av anatomiske strukturer. Likeledes, nervesystemet og vaskulære strukturer er utsatt for forskyvning i løpet av sin håndtering ved dissection. Derfor har vi inkludert tre avgjørende skritt i våre teknikk for å sikre at nervene ikke skal fortrenges: dissection i studien påvirker ikke i subkutant vev, nerver er løst med intra articular nåler på først metatarsophalangeal felles og prøver er frosset før BT2508RC prosessen.
Tiner eksemplene kan føre til forskyvning av relevante anatomiske strukturer, dermed behovet for forsiktig forberedelse og frysing av prøvene. Forrige forberedelse og montering av kuttes er viktig å oppnå pålitelig tiltak.
En av de mulige begrensningene av denne teknikken oppstår når nerve studier ikke er i nærheten av en felles, som vil utelukke fiksering av nerve med en nål. Bruk av en vaskulær merking teknikk kunne overvinne dette problemet, vaskulære strukturer er i de fleste tilfeller parallelt nerver9.
Et økende antall kirurgiske prosedyrer utføres i dag ved minimal invasiv metoder, der nevrologiske strukturer ikke er direkte visualisert2,3. I disse tilfellene er tredimensjonale orientering avgjørende for kirurgen. Omtale med metoden klokke gir kirurgen med et lett og reproduserbar system for å finne nerve posisjon i forhold til kirurgisk snitt for Hallux Valgus minimal invasiv prosedyrer.
Denne teknikken, som kombinerer fly-av-fly disseksjon og flerdelte anatomi i fersk-frosne prøvene har blitt brukt til å gi anatomiske veiledning for nyeste minimal invasiv kirurgiske prosedyrer3,4, 10,11.
Subscription Required. Please recommend JoVE to your librarian.
Disclosures
Forfatterne har ikke konkurrerer økonomiske interesser knyttet til eller påvirker denne studien.
Acknowledgments
Vi takker den tekniske staben dissekere rommet av Bellvitge Campus av universitetet i Barcelona for sin dyktige assistanse. Vi takker Audiovisuals avdeling for sitt arbeid med video som en del av denne publikasjonen. Vi takker kroppen givere av fakultet av universitetet i Barcelona.
Materials
| | | | |
| --- | --- | --- | --- |
| Name | Company | Catalog Number | Comments |
| Adson Non-Toothed dissection forceps | Bontempi | BD-31 | |
| Adson Toothed dissection forceps | Bontempi | BD-30 | |
| Surgical scalpel handle nº 4 | Swann-Morton | 4 | |
| Surgical scalpel blades nº 24 | Swann-Morton | 24 | Ad libitum |
| Iris scissors- curved | Bontempi | FG-2 | |
| Periostotome P-24 | Bontempi | 718-24G | |
| Intramuscular 23G sterile needles | Totclinic | 23 | Ad libitum |
| Goniometer | | | |
| Latex gloves | | | Ad libitum |
| Gauze pads | | | Ad libitum |
| Non-Sterile surgical drape | | | |
| Saw | EXAKT Advanced Technologies GmbH | EXAKT 312 Pathology Saw | |