Summary
Minimalt invasiva kirurgiska ingrepp (MIS) lita på anatomiska hänvisningar till lokalisera strukturer inte direkt synliga för kirurgen. Detta manuskript beskriver en kombinerad metod av flyg-av-plan dissektion och sectional anatomi av färskfryst exemplar att hitta strukturer riskerar under MIS förfaranden.
Cite this Article
Copy Citation | Download Citations | Reprints and Permissions

Dalmau-Pastor, M., Vega, J., Malagelada, F., Peña, F., Manzanares-Céspedes, M. C. An Anatomical Study of Nerves at Risk During Minimally Invasive Hallux Valgus Surgery. J. Vis. Exp. (132), e56232, doi:10.3791/56232 (2018).
Abstract
Den växande populariteten av minimalt invasiva kirurgiska ingrepp (MIS) gör det nödvändigt att nya anatomiska referenser uppstår, stöd i tredimensionella orientering och lokalisering av strukturer som inte är direkt synliga för kirurgen. Detta är särskilt kritiskt för strukturer riskerar som nerver eller blodkärl. Optimering av hanteringen av avlidna material och kombinationen av flera tekniker kompensera för den begränsade tillgången på lämpliga prover. Protokollet beskrivs kombinerar anatomisk flyg-av-plan dissektion och sectional anatomi av färskfryst exemplar för att lokalisera relevanta strukturer såsom nerver, artärer, vener och korrekt placera portaler under MIS förfaranden. Skildring av dessa strukturer i anatomi läroböcker kan skilja sig från vad påträffas i operationsområdet; och därför behövs nya anatomiska studier med en kirurgisk inriktning. Detta är dock en komplicerad, tidskrävande teknik som kräver särskild utbildning. De anatomiska referenser beskrivs med det so-called 'klocka metod' ge kirurgen med ett lätt och reproducerbara system för att hitta sökvägen till nerver riskerar Hallux Valgus MIS förfaranden. Denna modell kan extrapoleras till många andra minimalt invasiva kirurgiska ingrepp.
Introduction
Hallux valgus är en gemensam patologi som påverkar den första tån, där proximala falangen är avvikit sidled medan den första metatarsalen är avvikit medialt1. Perkutan eller minimalinvasiv kirurgisk (MIS) tekniker för hallux valgus var bland de första som beskrivs i denna disciplin, och många studier rapporterar sina fördelar men också sina risker2. Hallux Valgus MIS korrigering innebär osteotomier utförs via små snitt med specifika kirurgiska instrument. Med tanke på det öppet dissektioner utförs inte, risken för skador på neurovaskulär strukturer är högre än när dessa identifieras under öppen kirurgi. Också, liksom i alla kirurgiska ingrepp, positionering av patienten och kirurgen runt operationsbordet är långt ifrån den anatomisk position som skildras i klassiska anatomiska böcker eller tidningar.
De neurologiska strukturerna riskerar under Hallux Valgus operation är den dorsomedial nerven av stortån, grenen av den ytliga peroneal nerven, och den dorsolaterala nerven av stortån, gren av djupt peroneal nerv. Syftet med denna studie är att beskriva läget för dessa nerver när det gäller snitt används i hallux kirurgi och att illustrera det med en ny metod som enkelt reproducerbar i kirurgiska förhållanden. Dessutom beskrivs en safe-portalen för användning av perkutan instrument.
En noggrann anatomisk kunskap är viktigt i alla operationsområdet, särskilt under minimalt invasiva ingrepp. Utvecklingen av nya kirurgiska och imaging tekniker kräver en ny förståelse av både den bi-dimensionell och den tredimensionella läge av anatomiska landmärken. Tidigare rapporterade anatomisk dissektion tekniker har utvecklats av vårt team för att övervinna begränsningarna av klassisk dissektion tekniker3,4,5,6 och här används för att reproducera den huden snitt och instrumentet posten portaler motsvarar de MIS-förfaranden som används för behandling av hallux valgus (HV) och rigidus (HR) patologi. Metoden är således tillämplig på dessa kirurgiska tekniker som utvecklats från traditionell öppen kirurgi till MIS3,4,5,6.
Subscription Required. Please recommend JoVE to your librarian.
Protocol
Denna studie godkändes av den institutionella etiska kommittén (Comissió de Bioètica, UB). Dissektion förfarandena genomfördes av en erfaren anatom, speciellt utbildade i flyg-av-plan dissektion teknik. Detta är en nödvändig förutsättning för ett lyckat resultat av experiment.
1. beredning
Välj de exemplar som inkluderas i studien. Använd under-the-knee avlidna färskfryst människors fötter.

Utesluta följande: någon form av missbildningar i benet, fotled eller fot (eftersom detta kunde påverka nerverna och slutligen påverkar resultaten av studien), sår, ärr eller tydliga tecken på tidigare kirurgiska ingrepp eller något annat tillstånd som kan svårt localizationen av nerverna.

Välj tio oparade fötter (fem vänster och fem höger, amputerat i nivå med distala tibia), från kaukasiska färskfryst inte exsanguinated exemplar; exemplaren ingår 5 män och 5 kvinnor med en medianålder på 80 (intervall, 53-95) år.
Frosta exemplaren av upptining dem i rumstemperatur kranvatten för 6-8 timmar. Använd inte hett vatten eftersom det kan förändra egenskaperna hos exemplaren.
Förbereda fältet dissektion. Placera preparatet på en icke-sterila kirurgiska draperi på tabellen dissektion. Placera provet i en stabil position som tillåter en bekväm tillgång till området för dissektion. Använd helst, ett stöd som gör preparatet flyttas efter behov.
Förbereda de dissektion instrument som ska användas tillsammans med vissa Flor Madrassera för att rensa fältet under processen dissektion.
2. dissektion
Med en skalpell, incisionsfilm bara huden för att skapa ett fönster av ca 20 cm x 5 cm på den mediala delen av foten, orienterade longitudinellt. Börja 15 cm proximalt i första metatarso-phalangeal gemensamt, och slutet 5 cm distalt, ungefär.

Dissekera huden utan att störa den subkutana vävnaden och undvika någon förskjutning av nervös strukturer. Använd färska skalpell blad för varje plan.
Utföra snitt med framkanten av den skalpell utåt och inte inför provet. Detta följer en av principerna för en flyg-av-plan anatomisk dissektion av huden. Använd tandad tång under steg tätt hålla huden.

Ta bort huden som täcker fönsterområdet. Använd gasväv för att rengöra dissekera området om det behövs.
Utföra en noggrann dissektion av subkutan vävnad att identifiera dorsomedial och dorsolaterala nerver av första tån. Använda icke-tandad tång och ny skalpell blad för att undvika skador på de strukturer som uppstått. Iris sax och periosteotome är till hjälp för framsteg i dissektion av området där nerver finns (men är fortfarande inte synliga), eftersom de tillåter en mindre aggressiv dissektion och förhindra skador på nerverna.
Dissekera på den proximala delen av fönstret, för att undvika oavsiktligt skär nerverna. Identifiera nerver utan att koppla loss från den sämre delen av den subkutana vävnaden att förhindra förskjutning. När varje nerv är identifierat, dissekera genom dess kurs tills det första metatarso-phalangeal gemensamt.
Fixera nerverna i sin ursprungliga position med avseende på det första metatarso-phalangeal gemensamt, med en nål som kommer pierce både nerv och den första metatarsofalangeala gemensamma linjen.
Utföra manuell dragning av första tån så platsen för den gemensamma linjen blir uppenbart mellan chefen för den första metatarsalen och basen av proximala falangen av första tån. Nålen måste punktera nerven först och sedan införas i metatarso-phalangeal gemensamt. Detta steg försäkrar att nerven med avseende på gemensamt ståndpunkt kommer att vara stabil under hela studien.
3. frysning
Skydda varje prov med bubbelplast och tejp, för att undvika kalla bränning. Ta hand under inplastningsprocessen inte att flytta de nålar som håller nerverna.
Tagga varje prov på lämpligt sätt.
Införa exemplaren i frysen mellan-17 ° C och -20 ° C.
Vänta minst 6 timmar (eller över natten) i proverna att frysa innan du utför nästa steg i protokollet.
4. sågning
Kontrollera sågning utrustningen. Använd en diamant såg med vatten kylsystem.
Förbereda de arbetsfält där exemplaren kommer att manipuleras efter avsnittet.
Öppna vattenflödet och starta bandsåg rotation. Justera skärhastigheten sågen och vattenflödet för kylanläggningar.
När frysta, placera preparatet i saw-styrelsen. Justera såglinjen 1 cm posteriort det metatarso-phalangeal gemensamt, eftersom detta är den punkt där den relevanta kirurgiska snitt placeras. Utföra avsnittet direkt efter provexemplaret avlägsnas från frysen för att undvika avfrostning.
Ställ in vattenflödet till ett minimum för att skydda preparatet från sveda på grund av friktion av bandsågen, samtidigt undvika upptining exemplaret av vatten och varje efterföljande ändring av de anatomiska strukturerna.
När den första delen är klar, kassera det främre blocket av preparatet (som innehåller tårna).
Utföra ett andra avsnitt. Göra en parallell skära, 1 cm bakre till den första för att erhålla ett 1 cm tjocka block. Detta är den standard tjockleken, som tunnare sektioner kan orsaka strukturerna för att flytta från sin ursprungliga sökvägen.
Kassera resten av preparatet eller Spara för fortsatta studier. Exemplaren kan frysas eller fast genom nedsänkning i fixativ lösningar.
5. mätningar
Placera den blåa blocket platt på tabellen arbetande och goniometer platt på ytan av skär preparatet.
Använda en standard goniometer med dess center som ligger i mitten av den första mellanfot diaphysis. Placera en av axeln på den mediala gränsen av extensor digitorum longus senan, dorsalt.
Mäta platsen för dorsomedial och dorsolaterala nerver av första tån genom att använda den andra axeln av goniometer.
Extrapolera mätningarna till en klocka modell, där klotet är konturen av den första mellanfot diaphysis.
Subscription Required. Please recommend JoVE to your librarian.
Representative Results
Använder metoden klocka hittades den dorsomedial och dorsolaterala nerver konsekvent mellan 10 och 2 klockan (figur 1). Den dorsomedial nerven hittades i genomsnitt 26,2 ° medial till den mediala gränsen av den EHL, vilket motsvarar en zon mellan 12 och 2 klockan i en högra fot, och mellan 10 och 12 klockan i en vänster fot. Dorsolaterala nerven var 32,3 ° i sidled till den mediala gränsen av EHL i genomsnitt, vilket motsvarar en zon mellan 12 och 2 klockan i en vänster fot, och mellan 10 och 12 klockan i en höger fot.
Figur 2 visar typiska fördelningen dorsomedial och dorsolaterala nerver som framkommit vid anatomiska flyg-av-plan dissektion.

Figur 1 : Frontal gränsöverskridande avsnitt av en höger fot som visar positionen för den dorsomedial nerv (1) och dorsolaterala nerv (2). En klocka sfär har varit ovanpå på första metatarsalhuvudet. Dubbelriktad pilarna visar området där nerver har befunnits vara i denna studie. Klicka här för att se en större version av denna siffra.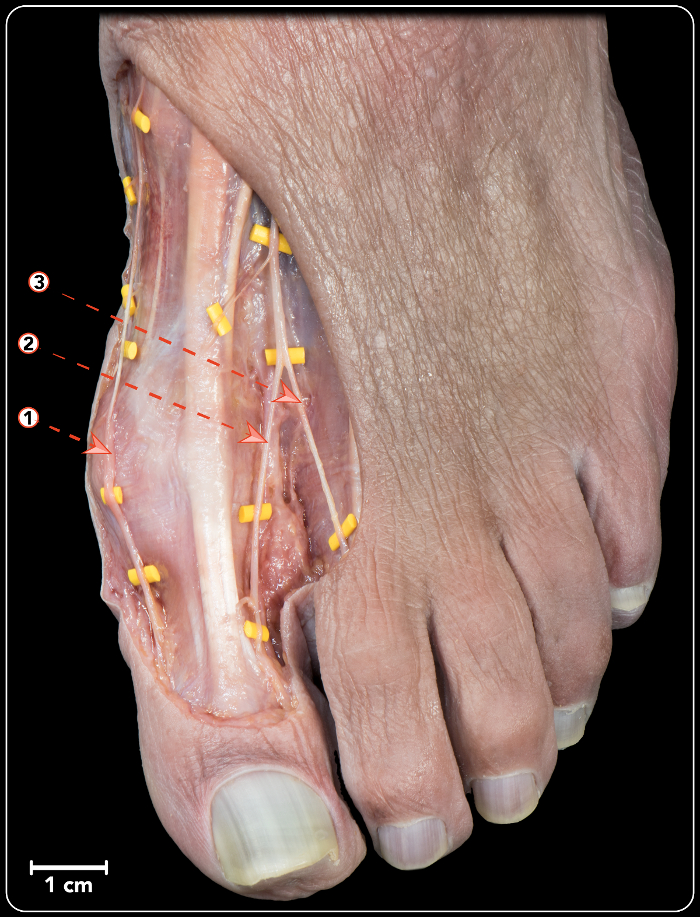 Figur 2 : Anatomiska flyg-per-plan dissektion (dorsala vy av en fot) visar typiska fördelningen av dorsomedial och dorsolaterala nerver som har hittats i denna studie. 1. Dorsomedial nerv av första tån. 2. dorsolaterala nerv av första tån. 3. Dorsomedial nerv av den andra tån. Klicka här för att se en större version av denna siffra.
Subscription Required. Please recommend JoVE to your librarian.
Discussion
Grundval av den metod som används i denna studie är en kombination av sectional anatomi och anatomiska flyg-av-plan dissektion, som det har varit praktiseras historiskt7. Detta kräver inte bara anatomical kunskap utan även särskild utbildning för vad är en tid-krävande teknik som kraftigt beroende av DISSEKTOR kompetens. Därför vissa anatomiska bilder i anatomiska läroböcker eller vetenskapliga artiklar, särskilt inom ortopedisk kirurgi, saknar noggrannhet och är inte lärorikt nog att vara användbar för kirurgen utför banbrytande tekniker, som minimalt invasiva ingrepp. Därför har det föreslagits i litteraturen att anatomiska studier bör utföras med ett nära samarbete mellan experter, kirurger och anatomer8.
Användning av färskfryst exemplar är nödvändigt att erhålla tillförlitliga anatomiska resultat, särskilt när man studerar ytliga strukturer som nerver. Användning av fixerade prover ger ofta förändringar i volym och placeringen av de anatomiska strukturerna. Jämväl, nervös och vaskulära strukturer är mottagliga för förskjutning under dess hantering vid tidpunkten för dissektion. Därför har vi inkluderat tre kritiska steg i vår teknik för att säkerställa att nerverna inte kommer att förskjutas: dissektion utförs i studien påverkar inte den subkutana vävnaden, nerver korrigeras med intraartikulär nålar vid första metatarsofalangealleden, och proverna fryses innan sågning processen.
Upptining av proverna kan leda till förskjutningen av relevanta anatomiska strukturer, därmed behovet av noggranna förberedelser och frysning av proverna. Den föregående beredning och montering av skärande material är viktiga att uppnå tillförlitlig åtgärder.
En av de möjliga begränsningarna av denna teknik uppstår när nerven studeras inte är nära en gemensamma, vilket kommer att hindra fixering av nerven med en nål. Användning av en vaskulär märkning teknik kunde övervinna problemet, som vaskulära strukturer är i de flesta fall parallellt med nerver9.
Ett ökande antal kirurgiska ingrepp utförs numera av minimalinvasiva metoder, där neurologiska strukturer inte är direkt visualiserade2,3. I dessa fall är tredimensionella orientering avgörande för kirurgen. Anatomiska referenser med metoden klocka ger kirurgen med ett lätt och reproducerbara system för att lokalisera den nerv positionen i samband med kirurgiska snitt för Hallux Valgus minimalinvasiva ingrepp.
Denna teknik, som kombinerar flyg-av-plan dissektion och sectional anatomi i färskfryst exemplar har använts framgångsrikt anatomisk vägledning för nyaste minimalt invasiva kirurgiska ingrepp3,4, 10,11.
Subscription Required. Please recommend JoVE to your librarian.
Disclosures
Författarna har inte konkurrerande ekonomiska intressen avser eller påverkar denna studie.
Acknowledgments
Vi tackar den tekniska personalen av dissekera rummet av Bellvitge Campus Barcelonas universitet för deras skickliga hjälp. Vi tackar departementet audiovisuella hjälpmedel för deras arbete med videon ingår som en del av denna publikation. Vi tackar kroppen donatorerna till medicinska fakulteten på universitetet i Barcelona.
Materials
| | | | |
| --- | --- | --- | --- |
| Name | Company | Catalog Number | Comments |
| Adson Non-Toothed dissection forceps | Bontempi | BD-31 | |
| Adson Toothed dissection forceps | Bontempi | BD-30 | |
| Surgical scalpel handle nº 4 | Swann-Morton | 4 | |
| Surgical scalpel blades nº 24 | Swann-Morton | 24 | Ad libitum |
| Iris scissors- curved | Bontempi | FG-2 | |
| Periostotome P-24 | Bontempi | 718-24G | |
| Intramuscular 23G sterile needles | Totclinic | 23 | Ad libitum |
| Goniometer | | | |
| Latex gloves | | | Ad libitum |
| Gauze pads | | | Ad libitum |
| Non-Sterile surgical drape | | | |
| Saw | EXAKT Advanced Technologies GmbH | EXAKT 312 Pathology Saw | |