Summary
Een nieuwe fluorescentie
Abstract
Fluorescentie in situ hybridisatie (FISH) is een techniek die het mogelijk maakt specifieke DNA-sequenties kunnen worden opgespoord op metafase of interfase chromosomen in celkernen 1. De techniek maakt gebruik van DNA-probes met unieke sequenties die hybridiseren met hele chromosomen of specifieke chromosomale regio's, en dient als een krachtige aanvulling op de klassieke cytogenetica. Bijvoorbeeld, veel eerdere studies meldde de frequente detectie van verhoogde chromosoomafwijkingen bij leukemie patiënten die verband houden met blootstelling aan benzeen, benzeen-vergiftiging patiënten en gezonde werknemers die worden blootgesteld aan benzeen, met behulp van klassieke cytogenetische analyse 2. Met behulp van FISH, hebben leukemie-specifieke chromosomale veranderingen waargenomen te worden verhoogd in ogenschijnlijk gezonde werknemers blootgesteld aan benzeen 3-6, met vermelding van de kritische rol van cytogentic veranderingen in benzeen geïnduceerde leukemie.
Over het algemeen, een enkele FISH-test onderzoekt slechts een of een paar hele chromosomenof specifieke loci per dia, zodat meerdere kruisingen te worden uitgevoerd op meerdere dia's om alle menselijke chromosomen te dekken. Spectral karyotypering (SKY) maakt visualisatie van het hele genoom tegelijkertijd, maar de eis van speciale software en apparatuur beperkt de toepassing ervan 7. We beschrijven hier een nieuwe FISH-test, OctoChrome-vis, die kan worden toegepast voor Chromosomics, die we hier definiëren als de gelijktijdige analyse van alle 24 menselijke chromosomen op een dia in humane studies, zoals chromosoom-brede aneuploïdie studie (CWA's) 8. De basis van de methode, markt gebracht door Cytocell als de Chromoprobe Multiprobe System, is een OctoChrome apparaat dat verdeeld in 8 vierkanten, die elk draagt ​​drie verschillende heel chromosoom painting probes (Figuur 1). Elk van de drie probes rechtstreeks gelabeld met een verschillende gekleurde fluorofoor, groen (FITC), rood (Texas Red) en blauw (Cumarine). De opstelling van chromosoom combinaties op de OctoChrome toestel is ontworpen om de identificatie van de non-random structurele chromosoombeschadiging veranderingen (translocaties) gevonden in de meest voorkomende leukemieën en lymfomen vergemakkelijken, bijvoorbeeld t (9; 22), t (15; 17), t (8; 21 ), t (14; 18) 9. Bovendien kan numerieke veranderingen (aneuploïdie) in chromosomen gelijktijdig worden gedetecteerd. De overeenkomstige template objectglaasje wordt ook verdeeld in 8 vierkanten waarop de metafase spreads gebonden zijn (figuur 2), en zich boven de OctoChrome apparaat. De probes en target DNA zijn gedenatureerd bij hoge-temperatuur en gehybridiseerd in een vochtige kamer, en vervolgens alle 24 menselijke chromosomen kunnen gelijktijdig gevisualiseerd.
OctoChrome FISH is een veelbelovende techniek voor de klinische diagnose van leukemie en lymfoom en voor de detectie van aneuploïdieën in alle chromosomen. We hebben toegepast deze nieuwe Chromosomic aanpak in een CWA's studie van benzeen blootgestelde Chinese arbeiders 8,10.
Protocol
1. Voorbeeld prepareren
OctoChrome FISH is ontworpen om chromosomale veranderingen in metafase spreads van menselijke cellen, inclusief onderzoeken maar niet beperkt tot gekweekte perifere bloedcellen, stam / progenitorcellen, en cellijnen. De monsters moeten worden bereid volgens de standaard procedure voor het oogsten van metafasen 3,11-13: door het gebruik van Colcemid behandeling om cellen te arresteren in metafase, hypotone behandeling aan cellen zwellen, en Carnoy's fixeermiddel aan cellen vast te stellen in suspensie bij ongeveer 0,5-1 x 10 6 cellen per ml.
Reinig de 8-vierkant dia (die in de OctoChrome Kit, Catalogus #: PMP 803, Cytocell Ltd, Cambridge, Verenigd Koninkrijk, figuur 2) door te dompelen in pure ethanol gedurende 2 minuten.
Alvorens het monster dia, drop a kleine hoeveelheid cellen op een dia aan het celdichtheid controleren. Als de cel dichtheid te hoog is (te veel overlappende cellen), vul de schorsing met verse fixeermiddel. Als de cel dichtheid te laag is (te weinig cels op dia), spin down van de cellen en opnieuw te schorten in een kleiner volume van verse fixeermiddel. Pipetteer 5-10 pi celsuspensie op elk van 8 gebieden van de template dia in een opeenvolging van afwisselend vierkanten 1/7 - 2/8 - 3/5 - 4/6. Zodra de eerste twee vierkantjes luchtgedroogd, spotten de resterende vierkantjes op dezelfde wijze. Dit voorkomt de cel spreads van elkaar storen.
De gedroogde dia kan worden opgeslagen bij -20 ° C in stikstofatmosfeer voor groter dan 5 jaar voordat hybridisatie.
2. Lokalisatie van metafasen met behulp van een geautomatiseerd systeem
Breng 20 ul van 4 ',6-diamidino-2-phenylindole (0,2 ug / ml) naar het centrum van elke helft van de dia en bedekken met een dekglaasje.
Voer een automatische scan van het monster slide te lokaliseren de metafase cellen met behulp van Metafer software (MetaSystems, Altlussheim, Duitsland). Dit vergemakkelijkt de locatie van alle metafasen en toekomstige her-evaluatie van alle mobiele beelden.
Handmatig Bekijk de scanresultaten en de schrapping van niet-metafase artefacten.
3. Hybridisatie
Voorbereiding van het monster glijbaan en OctoChrome apparaat
Dompel de sample dia in 2x SSC buffer bij kamertemperatuur gedurende 30 min weg te wassen DAPI.
Dehydrateer het monster dia via een reeks ethanol wasbeurten (2 minuten elk in 70%, 85% en 100% ethanol), laten drogen en op een 37 ° C verwarmingsplaat gedurende 5 minuten plaatsen.
Plaats de Chromoprobe Multiprobe hybridisatie Kamer (die in de OctoChrome Kit) in een 37 ° C waterbad om de temperatuur tot 37 ° C (+ / - 1 ° C).
Meng de hybridisatie oplossing (verstrekt in de OctoChrome Kit) door herhaalde pipetteren en pre-warm een ​​25 pi aliquot per OctoChrome apparaat tot 37 ° C.
Pre-warme elk OctoChrome apparaat (die in de OctoChrome Kit, zie figuur 2) tot 37 ° C door het plaatsen van het apparaat label naar beneden op een kookplaat. Raak thij reliëf oppervlakken van het OctoChrome apparaat als ze bevatten de sondes.
Positionering van het monster schuif het over het OctoChrome apparaat (figuur 2)
Voeg 2 pl voorverwarmde hybridisatie oplossing voor elk van de acht gebieden op de voorverwarmde OctoChrome toestel terwijl het blijft bij 37 ° C.
Voorzichtig keren de sjabloon schuif het over het OctoChrome apparaat zodanig dat het nummer 1, dat nu staat op zijn kop, is gelegen over de top rechterhand gedeelte van de OctoChrome apparaat. Om u te helpen lokaliseren vierkant 1, heeft zijn positie op het apparaat is gemarkeerd in Orange.
Zorg ervoor dat de sjabloon slide zorgvuldig wordt afgestemd op de bijbehorende gebieden op de OctoChrome apparaat. Doe de schuif het over het OctoChrome apparaat, zodat de druppels van hybridisatie oplossing contact te maken met de dia. Zachte Toepassen zelfs druk te waarborgen dat de hybridisatie oplossing wordt uitbreiden tot de randen van elk van de verhoogde gebieden op de OctoChrome apparaat.
Tillende dia / OctoChrome voorzichtig houden van de mat uiteinde van de glazen dia en omkeren zodat de schuif is onder de OctoChrome apparaat. Zorg ervoor dat het apparaat geen uitstrijkje in de sjabloon dia als dit kan kruisbesmetting van de sondes.
Plaats op een 37 ° C (+ / - 1 ° C) kookplaat voor 10 minuten.
Denaturatie
Breng het monster dia / OctoChrome apparaat aan op de kookplaat, waarbij met name zorg om het niveau vast te houden. Zorg ervoor dat het monster glijbaan gelijkmatig contact op met de kookplaat.
Denatureren op de warmhoudplaat bij 75 ° C (+ / - 1 ° C) gedurende 5 minuten.
Hybridisatie
Plaats voorbeelddia / OctoChrome apparaat in de Chromoprobe Multiprobe Hybridisatie Kamer.
Plaats het deksel en drijven de kamer in de 37 ° C (+ / - 1 ° C) water bad (niet - roeren) 's nachts. Let op: het deksel niet af te dichten op de kruising kamer, doe de deksel niet sluiten van het waterbad; NIET hybridiseren in eenincubator. Deze stappen zijn cruciaal voor het regelen van vochtigheid.
Post-hybridisatie wasbeurten
Voorbereiding van wasoplossingen
Oplossing 1: Maak een Coplin / Hellendahl pot met 0.4x SSC. Equilibreer tot 72 ° C (+ / - 1 ° C) in een waterbad en de pH tot 7,0 passen.
Oplossing 2: Maak een Coplin / Hellendahl pot met 2x SSC en 0,05% Tween 20. Laten staan ​​bij kamertemperatuur.
Verwijder de OctoChrome apparaat uit de schuif en plaats de dia in Oplossing 1 voor 2 minuten.
Plaats de dia in Oplossing 2 gedurende 30 seconden.
4. Montage en visualisatie van de resultaten
Breng 20 ul van DAPI naar het centrum van elke helft van de dia en breng een dekglaasje.
Incubeer in het donker gedurende 10 minuten bij kamertemperatuur te kunnen bekijken met behulp van fluorescentie microscopie.
5. Representatieve resultaten
Figure 3A toont een normale metafase cel in Plein 2. (1) - (3): Chromosomen 8, 21 en 12 werden geschilderd rood, groen en blauw, en worden gevisualiseerd door middel van een Texas Red, FITC en DEAC filter, respectievelijk (4): Visualisatie door middel van een DAPI / FITC / Texas Red triple filter. Over het algemeen, de chromosomen beschilderd met blauw zijn niet duidelijk door de drievoudige filter en moeten worden beschouwd onder de specifieke DEAC filter.
Figuur 3B toont vertegenwoordiger abnormale cellen met leukemie-specifieke chromosomale translocatie en aneuploïdie. (1): t (8; 21), een gemeenschappelijke chromosomale translocatie in acute myeloïde leukemie; (2): trisomie 21, drie kopieën van chromosoom 21, een gemeenschappelijke aneuploidie in leukemie.
Figuur 1. Plaatsing van chromosoom combinaties op de OctoChrome apparaat en de verwachte chromosomale schilderen resultaten.
Figuur 2. Positionering van het monster schuif het over het OctoChrome apparaat.
Figuur 3. Vertegenwoordiger resultatenverkregen uit OctoChrome FISH (Plein 2).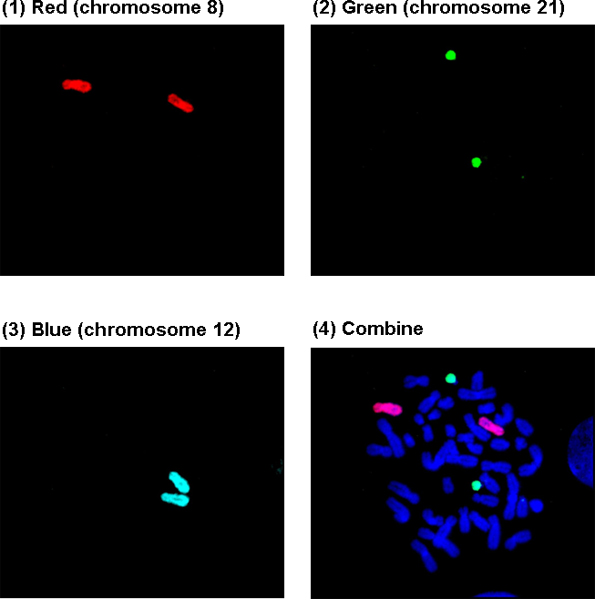 Figuur 3A. Een normale cel met chromosomen 8, 12, 21 geschilderd in Plein 2.
Figuur 3B. Vertegenwoordiger van abnormale cellen met leukemie-specifieke chromosomale translocatie en aneuploidie in Plein 2.
Subscription Required. Please recommend JoVE to your librarian.
Discussion
Deze roman OctoChrome-FISH-test maakt het mogelijk om tegelijkertijd alle 24 menselijke chromosomen te onderzoeken in een hybridisatie op een dia. De opstelling van chromosoom combinaties op de 8 pleinen is ontworpen om de identificatie van de non-random chromosoomherschikkingen in de meest voorkomende leukemieën en lymfomen vergemakkelijken. Zo kan de test gelijktijdig detecteren numerieke (aneuploidie) als structureel (translocaties) chromosoom veranderingen.
De meest kritische stap in dit assay controleert de vochtigheid tijdens de nachtelijke hybridisatie in de zwevende kamer in de water bad. De FISH probes en hybridisatiebuffer gemakkelijk uitdrogen als de luchtvochtigheid laag is, of worden te verdunnen door het absorberen van te veel vocht als de luchtvochtigheid hoog is. Wat de uitkomst ook kan een negatieve invloed hebben op de resultaten. Een mogelijke wijziging van deze uitdaging te overwinnen is om de OctoChrome apparaat en monster glijbaan af te dichten met tape en op een 37 ° hybridiseren; C kookplaat in het donker 's nachts.
Sample slides die zijn teveel leeftijd kunnen ongeschikt zijn voor gebruik in deze assay rechtstreeks. Bij de afbraak van deze monsters met pepsine zal verbeteren hybridisatie, het opslaan van voorbewerkte monster dia's in een stikstofatmosfeer bij -20 ° C wordt sterk aanbevolen om een ​​minimum te beperken veroudering.
OctoChrome-FISH is een veelbelovende techniek voor de klinische diagnose van leukemie en lymfoom. Het is ook zeer nuttig voor de behandeling van meest specifieke chromosomale herschikkingen die verband houden met de menselijke leukemie en lymfoom in populaties blootgesteld aan potentiële leukemogens en lymphomagens en voor het bestuderen van de aneuploidie-inducerende effecten van chemische stoffen in een chromosoom-brede manier. Onze vorige CWA's studie met behulp van deze techniek aangetoond dat bepaalde chromosomen wellicht meer getroffen dan anderen door blootstelling aan benzeen 8,10, een primaire industriële chemische en een alomtegenwoordige milieuvervuiling die ervoor zorgt dat menselijke leukemie 14.Dit fenomeen van de "selectieve aneuploïdie" kan worden verkend in andere blootstelling aan chemische stoffen met behulp van CWA's.
Subscription Required. Please recommend JoVE to your librarian.
Disclosures
Wij hebben niets te onthullen.
Acknowledgments
De auteurs willen graag Dr Cliona M. McHale bedanken voor het kritisch lezen en bewerken van het manuscript. Dit werk werd gefinancierd door het National Institute of Environmental Health Sciences, National Institute of Health subsidie ​​R01ES017452 naar L Zhang.
Materials
| | | | |
| --- | --- | --- | --- |
| Name | Company | Catalog Number | Comments |
| | | | |
| OctoChrome Kit | Cytocell Ltd. | PMP 803 | |
| phytohaemagglutinin (PHA) | Invitrogen | 10576-015 | |
| Colcemid | Invitrogen | 15212-012 | |
| Carnoy's fixative | | | Methanol : glacial acetic acid = 3: 1 |
| Fluorescence microscope | | | Equipped with filters to view DAPI, Texas Red, FITC, and Coumarin spectra individually and a DAPI/FITC/Texas Red triple filter to view different colors simultaneously |
| Metafer software | MetaSystems, Altlussheim, Germany | | Facilitate to locate all metaphases and to re-evaluate the abnormalities |