Summary
43 kadar moleküler hedeflere eş zamanlı olarak algılanması için düşük maliyetli, yüksek verim yöntemi açıklanmıştır. MPCR / RLB Uygulamaları mikrobiyal yazarak ve klinik örneklerde birden fazla patojenlerin tespiti içerir.
Cite this Article
Copy Citation | Download Citations | Reprints and Permissions

O'Sullivan, M. V. N., Zhou, F., Sintchenko, V., Kong, F., Gilbert, G. L. Multiplex PCR and Reverse Line Blot Hybridization Assay (mPCR/RLB). J. Vis. Exp. (54), e2781, doi:10.3791/2781 (2011).
Abstract
Multiplex PCR / Reverse Line Blot Hibridizasyon tahlil yeniden kullanılabilir bir naylon membran, prob hibridizasyon bir multipleks PCR reaksiyonu kullanılarak 43 örneklerinde 43 moleküler hedeflere kadar algılanmasını sağlar. Problar 5 'amin membran fiksasyonu sağlayacak şekilde değiştirilmiştir. Astarlar streptavidin-peroksidaz ve ışığa filmi üzerinden bir kemilüminesan substrat kullanarak melezleşmiş PCR ürünlerinin algılanmasını sağlar 5 'biotin değiştirilmiş. Düşük kurulum ve tüketim giderleri ile bu tekniği ucuz (yaklaşık US $ 2 örnek), yüksek verimlilik (aynı anda birden fazla membranlar işlenebilir) ve kısa bir geri dönüş süresi (yaklaşık 10 saat) sahiptir.
Bu teknik, bir kaç yolu kullanılabilir. Çoklu problar, tek bir amplifiye ürün içinde sıra varyasyonu tespit etmek için tasarlanmış olabilir, ya da sonraki tespiti için kullanılan bir (veya daha fazla) probları ile aynı anda birden fazla ürün yükseltilecek. Her iki yaklaşım da bir arada tek bir tahlil içinde de kullanılabilir. , Tek bir hedef sırası için birden fazla probları içerecek şekilde tahlil yeteneği son derece özel kılar.
Yayınlandı mPCR / RLB uygulamaları metisiline dirençli Staphylococcus aureus 3-5 ve Salmonella sp 6, moleküler, Streptococcus pneumoniae 7,8, Streptococcus agalactiae 9 ve enterovirüslerin 10,11, kimlik serotipleme yazmaya, antibiyotik direnç genleri 1,2 tespit Mycobacterium sp 12, 13-15 genital ve solunum yolu 16 ve diğer 17 patojenler ve algılama ve mollicutes 18 tanımlama tespit. Ancak, tekniğin çok yönlülük uygulamaların neredeyse sınırsız ve mikro-organizmaların moleküler analizi ile sınırlı değildir anlamına gelir.
MPCR / RLB beş adım a) Primer ve Prob tasarım, b) DNA ekstraksiyonu ve PCR c) membran hazırlanması, d) Hibridizasyon ve algılama, e) Membran Rejenerasyon.
Protocol
Dikkatli göz astar ve prob tasarımı verilmelidir. GenBank olarak veritabanlarından ilgi hedefleri mevcut tüm dizileri uygun hedefler korunmuş alanları tanımlamak için kullanılmalıdır. Hedeflerin çok sayıda tek bir mPCR tayininde amplifiye olduğu yerlerde, her güçlendirilmiş dizisi benzer uzunlukta olmalı ve rekabeti önlemek için 300 baz çiftinden geçmemelidir. Yönteminin bir alternatif uygulama korunmuş bölgelere karşı primerler kullanılarak bir uzun hedef yükseltmek ve Amplikon içinde dizisi varyasyonu tanımlamak için birden fazla probları kullanmak. Bu durumda, güçlendirilmiş PCR ürününün daha uzun olabilir. Primer tavlama sıcaklıkları buna göre ayarlanır PCR koşulları ile benzer olmalıdır. Güçlü bir ikincil yapı veya astar dimer formu Astarlar kaçınılmalıdır. Sigma Aldrich DNA hesap makinesi ( http://www.sigma-genosys.com/calc/DNACalc.asp ) bu özellikleri güvenilir bir şekilde tahmin etmek için kullanılabilir.
DNA probları ile 60 ° C Tavlama sahip olacak şekilde tasarlanmış olmalıdır Özgüllüğü maksimize etmek için, tahlil, biri ters astar bağlayıcı sitesine bitişik ileri DNA iplikçik literatürde ve diğer ileri astar bağlayıcı sitesine bitişik ters iplikçik ilgi her hedef için iki probları dahil edilebilir. Bu durumda, her iki ileri ve geri primerler biotin değiştirilmesi gerekir. Amplifiye hedef başına sadece tek bir prob kullanılan ediliyorsa, o zaman sadece bir astar biotin değiştirilmiş olmak zorunda.
Astar ve mPCR / RLB testi için yoklamaları tasarlarken güçlü bir in vitro sonuçlar ile korele PCR ürünleri ve prob hibridizasyon tahmin siliko yöntemleri kullanmanız önerilir . İdeal olarak bu tüm genom dizisi kullanılabilir olduğu izolat kullanılarak yapılır. FastPCR (http://primerdigital.com/fastpcr.html mevcut) gibi yazılımlar, bu amaç için kullanılabilir. Zayıf ya da hiç prob sinyali siliko analizinde, düşük prob tavlama sıcaklıklarda baz çifti uyumsuzluklarını gösterir tahmin edilebilir .
DNA ekstraksiyon teknikleri test edilen numunelerin bağlı olarak değişecektir ve PCR koşulları astar tasarım bağımlı olacaktır. Okuyucular, DNA ekstraksiyonu ve PCR ve koşulları 1-19 ile ilgili daha fazla bilgi için bireysel testlerin yayınlara adlandırılır .
Her test membran üzerindeki her bir prob için en az bir pozitif ve bir negatif prob sinyali yanı sıra DNA kontrolü sağlamak için uygun kontrolleri ile çalıştırılır. Ayrıca, tüm örnekler (bir mikro-organizma halinde bir tür ya da cins özel prob gibi) pozitif olması bekleniyor membran üst kısmında bir prob için faydalıdır. Bu bir pozitif kontrol probu olarak görür, ama aynı zamanda sonuçların kolay yönlendirme izin verir.
1. Membran Hazırlanması
Aşağıdaki çözümleri hazırlayın:

100ml 0,5 M NaHCO3 (pH 8.4)
100 ml 0,5 M NaHCO 3
20 ml% 16 EDAC
250 ml 0,1 M NaOH
250 ml 2xSSPE
250 ml% 2xSSPE/0.1 SDS - 60 ° C'de su banyosunda
250 ml 20 mM EDTA.

60 ° C'ye kadar ön ısıtma fırın
Immunetics Miniblotter% 70 etanol ile temizleyin.
2 pmol / ml son bir konsantrasyon ve 200 ul hacmi 0.5 M NaHCO 3 oligonükleotid problar sulandırınız.
15x15 cm BiodyneC naylon membran kesin. 0.5 cm'lik bir kalem ve cetvel kullanarak, membran üst kısmı boyunca kapalı kural ve burada ayrıntıları yazmak.
20 ml plastik bir torba içinde Seal membran, 10 dakika boyunca taze oda sıcaklığında% 16 EDAC çözüm ve kaya yaptı.
30 saniye boyunca, deiyonize su ile membran yıkayın.
Membran (kalem hattına paralel) üzerinde çalışan kanallar miniblotter yerleştirin membran. Yeri ve yakın emici kağıdı destek yastık koyun. Kanallarından sıvı aspire.
150 ul 0.5 M NaHCO 3 ile 1 ve 45 şeritli doldurun. Hava kabarcıklarını önlemek için dikkatli olmak, şerit sırayla 2-44 doldurmak için her sonda çözüm 150 ul kullanın. Bir hava kabarcığı pipet yerde tutarak, kanal görünmüyor hızla hava kabarcığı pipet üst şamandıra izin çözüm aspirat, daha sonra tekrar deneyin. 5 dakika oda sıcaklığında inkübe edin.
Prob çözümler aspire, membran çıkartın ve oda sıcaklığında 250 ml 0,1 M NaOH 9 dakika süreyle yıkayın.
30 saniye boyunca 250 ml 2xSSPE membran yıkayın.
° C 5 dakika boyunca 60 250 ml önceden ısıtılmış fırında 2xSSPE/0.1% SDS membran yıkayın.
Hemen hibridizasyon için kullanılan değilse, oda sıcaklığında 20 dakika (saklı kalan 10 ml) 240 ml 20 mM EDTA membran yıkama, daha sonra kalan 10 ml 20 mM EDTA ve stor ile plastik torba membran mühüre buzdolabında 4 ° C
Miniblotter deterjan ve fırça Pyroneg ile yıkayın. Durulayın ve kurumasını bekleyin.
2. Hibridizasyon ve algılama
Aşağıdaki çözümleri hazırlayın:

250 ml 2xSSPE/0.1% SDS - su banyosu mağaza, 60 ° C
500 ml 2xSSPE/0.5% SDS - su banyosu mağaza, 60 ° C
500 ml% 2xSSPE/0.5 SDS - 42 fırın mağaza ° C
500 ml 2xSSPE - oda sıcaklığında tutmak
500 ml% 1'lik SDS - 60 su banyosunda mağaza ° C başlangıçta (adım 3)
250 ml 20 mM EDTA oda sıcaklığında saklayın (3 adım için).

60 yaşında bir fırın açın ° C ve bir fırın 42 ° C. Bir ocak üzerinde büyük bir beher kaynatmak için su getir.
% 70 etanol ile Miniblotter Temiz Immunetics.
Küçük bir kap içine 2xSSPE/0.1% SDS kısım 10 ml. Her PCR ürünü 20 ul 150 numaralı tüpler% ul 2xSSPE/0.1 SDS ekleyin.
PCR ürünleri kaynatın 10 dakika için 100 ° C strafor sahipleri. En az 5 dakika boyunca buz üzerinde hemen yerleştirin.
60 240 ml 2xSSPE/0.1% SDS kalan membran ° C fırında 5 dakika yıkayınız.
Miniblotter desteğiyle yastık ile yerleştirin membran. Yolunuzu kadar kanal (kalem hattı dik) dikey olarak çalıştırın.
Miniblotter kanallarından Emiş aşırı sıvı.
Ilk ve son kanallar kalan 150 ul 2xSSPE/0.1% SDS ekleyin. Hava kabarcıklarını önlemek için dikkatli olmak, sırayla kalan kanal (2-44) haşlanmış PCR ürünleri ekleyin.
60 düz Yeri miniblotter hibridizasyon yer almasına izin ° C fırında 1 saat.
Her kanal aspire sıvı sonra miniblotter membran kaldırmak.
10 dakika boyunca 60 ° C fırında prewarmed 250 ml% 2xSSPE/0.5 SDS iki kez yıkayın.
2xSSPE/0.5% 42 SDS ile naylon ayıran örgü ıslatın ° C ve membran rulo kullanın.
Silindir tüp içine yerleştirin membran haddelenmiş, ve membran iç yüzey abuts sağlamak için alemini. 42 15 ml 2xSSPE/0.5% SDS 3 ul streptavidin-peroksidaz konjuge (Roche Uygulamalı Bilimler) ° C ve silindir tüpü eklemek. Kapağı sıkıca vidalayın ve rulo fırında 42 ° C'de 60 dakika için. Rulo yönde membran sıkın olmadığı gibi olduğundan emin olun. Sızıntı olup olmadığını düzenli olarak kontrol edin.
Miniblotter su ve deterjanla Pyroneg yıkayın, durulayın ve kurumasını bekleyin.
Rulo tüpten membran çıkarın. 2xSSPE/0.5% SDS kalan 42 ° C'de 10 dakika boyunca iki kez yıkayın.
Oda sıcaklığında 5 dakika boyunca iki kez 2xSSPE yıkayın.
80 kadar fırında öncesi sıcak ° C ve yer 500ml% 1 SDS fırın. Çevirin
Makyaj 15 ml Amersham ECL algılama solüsyonu (7.5 ml çözelti A ve B çözeltisi 7.5 ml). 2xSSPE ve algılama çözümü eklemek atın. 2 dakika çözümü ile membran tam kapsama sağlamak için elle hafifçe sallayın. Kemilüminesan çözüm atın.
Pozlama kartuş uygun plastik şeffaflık iki yaprak kesin. Iki yaprak ve maruz kalma kartuş yerleştirmek arasında yer membran.
Karanlık oda için devam edin. Kırmızı ışık altında, kartuş ECL algılama filmi ekleyin ve 5 dakika boyunca maruz. Film izlerken doğru yönde izin kaldırılması üzerine Dog-kulak, sağ alt köşede.
Başına üreticinin yönergelerini gibi otomatik geliştirici ya da kimyasal banyoların film geliştirin.
Gerekirse daha uzun veya daha kısa pozlama süreleri ile pozlama tekrarlayın.
3. Membran rejenerasyonu
80 ° C'de 30 dakika boyunca iki kez 250 ml% 1'lik SDS membran yıkayın.
15 dakika boyunca oda sıcaklığında 240 ml 20 mM EDTA membran yıkayın.
Seal plastik bir torba içinde 10 ml 20 mM EDTA ile membran ve gelecekte yeniden kullanım için 4 ° C buzdolabına.
4. Temsilcisi Sonuçlar:
En iyi film yerleştirerek, baskılı bir ızgara üzerinde ya da başka görüntü tarama ve BioNumerics (Uygulamalı Matematik, Sint-Martens-Latem, Belçika) gibi yazılım içine ithal görüntülenebilir. Her prob sonucu pozitif ve negatif kontrol probları referans yorumlanması gerekir. Sonuçları en zayıf, negatif veya pozitif olarak sınıflandırılır. Olumlu sonuçlar, sinyal gibi güçlü ya da pozitif bir kontrol probu daha güçlü olduğu. Sinyal yok veya negatif kontrol (arka plan sinyal durumda) eşit olduğu olumsuz sonuçlar. Zayıf sinyal pozitif kontrol probu daha sönük, ancak negatif kontrol daha güçlü olduğu. Zayıf sonuçlar zayıf prob bağlama ya da astar dimer oluşumu non-spesifik sinyaller nedeniyle önde gelen nokta mutasyonu sonucu olabilir. Ilgi hedef başına iki problar kullanılarak, tek bir zayıf bir sonuç, güvenli bir şekilde spesifik olmayan sinyal olarak yorumlanabilir özgüllüğü artırabilir. Herhangi bir şüphe kalırsa, tek bir karmaşık PCR reaksiyonu, herhangi bir amplifikatöre jel tabanlı algılama ve sıralama ile yapılabilirsonuç gerçekten olumlu olup olmadığını belirlemek için ürün lified. Bir temsilci sonucu Şekil 2'de gösterilmiştir.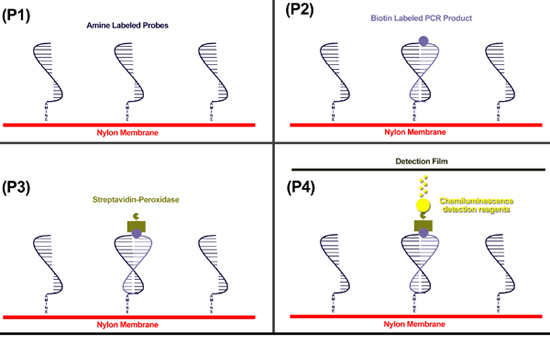 Şekil 1 mPCR / RLB ilkeleri (P1) Adım 1.9. Amine modifiye probları bir naylon membrana kovalent bağlıdırlar. (P2) Adım 2.10. Biotin modifiye PCR ürünleri probları melezleşmiştir. (P3) Adım 2.14. Peroxidase ile işaretlenmiş Streptavidin, membran ile inkübe ve biotin bağlanır. (P4) 2,19-2,21 Adımlar. Peroksidaz ışık, ışığa duyarlı film maruz kaldığı üreten, ECL algılama reaktifler bir reaksiyonu katalizler. Membran sonra tekrar kullanmak için yıkanır.

Şekil 2 Temsilcisi mPCR / RLB sonucu. Örnekler 1 - 6 arasındaki pozitif kontrol temsil aralarında 43 probları her biri için en az bir pozitif prob sinyali var. Her hedef dizisi (U yoluyla), özgüllüğü en üst düzeye çıkarmak için iki farklı problar ile tespit edilmiştir. A1 ve A2 Problar her numune için olumlu ve filmin yönlendirme yardımcı bekleniyor türe özgü probları temsil eder. Probe A1 zarının alt kısmında tekrarlanır. 7 ve 8 Örnekleri negatif kontrol. Problar S1, S2, T1 ve T2, astarlar veya astar dimer ürün muhtemel nonspesifik bağlanma gösteren negatif kontroller sinyal olduğunu unutmayın. Bu problar veya primerlerin yeniden dizayn gerekli olacaktır. Problar C1, D1 ve streptavidin-peroksidaz konjuge veya kemilüminesan substrat bazı non-spesifik alımı nedeniyle olasılıkla zarından şeritli F1 göstermek, ancak bu gerçek pozitif prob sinyalleri kolayca ayırt edilir. Problar D1 ve D2 diğer problar göre nispeten zayıf bir sinyal var, bu daha az verimli amplifikasyon önde gelen büyük amplikonlarının nedeniyle olabilir. Probe J2 negatif prob J1 olumlu birkaç örnek (1, 3, 4, 6, 39). Bu büyük olasılıkla, bu örnekler için J2 bağlayıcı sitesinde bir mutasyon temsil eder.
Discussion
MPCR / RLB yöntemi PCR amplikonlarının çok sayıda eş zamanlı algılama izin verir. Çünkü, kemilüminesan prob-bazlı saptama yüksek hassasiyet, çok sayıda primer çiftleri ile tek bir multipleks PCR reaksiyonu DNA örneğinin yükseltmek için kullanılabilir.
Prob sinyalleri kalan PCR ürünü ile jel elektroforezi gerçekleştirirken, bir veya daha fazla numune ile elde edilen PCR veya prob hibridizasyon sorunu olup olmadığını ayırt yardımcı olabilir. Membran tüm prob sinyalleri zayıf veya yok, ama jel elektroforezi başarılı PCR gösterir, olasılıklar membran etiketleme ile ilgili sorunlar, bir önceki kullanımdan sonra membran yanlış rejenerasyon, hibridizasyon veya streptavidin inkübasyon sırasında yanlış sıcaklıklarda, ya da kusurlu streptavidin peroksidaz konjuge veya algılama reaktif.
Kontrol örnekleri, bireysel probları yanlış negatif sinyaller, jel tabanlı algılama ve daha sonraki sıralama ile tek PCR PCR ürün amplifikasyon doğrulamak ve prob bağlama yerinde dizisi varyasyon bakmak için yapılabilir üreten olabileceğini göstermektedir. Zayıf ya da hiç prob sinyali geniş Amplikon boyutuna bağlı olabilir: Mümkünse tüm amplikonlarının benzer uzunluğu ve 300 bp den az olmalıdır. Amplikonlarının İkincil DNA yapılarını da kötü prob bağlama üretebilir ve astar yeniden tasarlamak gerekebilir. Bireysel primer veya prob konsantrasyonları da sinyal gücünü optimize etmek için farklı olabilir.
Nonamplified astarlar veya primer-dimer ürün bağlayıcı prob nedeniyle yanlış pozitif sinyaller tek PCR jel tabanlı algılama ve daha sonraki sıralama yaparak incelenmiştir. Bu durum oluşursa, gerekli olabilecek problar yeniden tasarımı. Prob bağlanma yerleri nokta mutasyonlarının, zayıf ya da hiç sinyal yol açabilir. Amplifiye her ürün için iki probları tespit etmek bu kadar kolay hale getirir. Bu özellik dikkatli astar ve prob tasarımı ile küçük hedef DNA dizisi değişimleri tespit etmek için yararlanılabilir.
Ürün algılama aşağıdaki multipleks PCR reaksiyonları pek çok yöntem varken Özetle, mPCR / RLB düşük kurulum maliyeti ile yüksek verimli ve ucuz olma avantajına sahiptir. Yöntemi esneklik, geniş bir uygulama yelpazesi için kullanılmasına izin verir.
Disclosures
Çıkar çatışması ilan etti.
Acknowledgments
Matthew O'Sullivan ve Fei Zhou Avustralya Ulusal Sağlık ve Tıbbi Araştırma Konseyi Lisansüstü Tıbbi Araştırma Bursu alıcıları.
Materials
Name
Company
Catalog Number
Comments
5' amine C6 modified oligonucleotide probes
Sigma-Aldrich
NaHCO3
Sigma-Aldrich
S-8875
0.5 M solution made up to pH 8.4
NaOH
Sigma-Aldrich
S5881
0.1M solution
20xSSPE buffer
Amresco
0810-4L
Sodium dodecyl sulfate (SDS)
Sigma-Aldrich
L-4390
Make up 10% stock solution, do not autoclave, should be kept for 1 week maximum before use
Ethylenediaminetetraacetic acid (EDTA)
Sigma-Aldrich
E9884
Make up 0.5 M solution adjusted to pH 8.0 and autoclave
N-(3-Dimethylaminopropyl)-N′-ethylcarbodiimide hydrochloride (EDAC)
Sigma-Aldrich
E7750
Make up a 20 ml 16% solution just prior to use using 3.2 g EDAC and 18 ml Millipore water
BiodyneC 0.45 μm nylon Membrane 20x20 cm
Pall Corporation
74480C
Deionised, purified water
Liquid Pyroneg detergent
Johnson Diversey
HH12291
Streptavidin-peroxidase conjugate
Roche Group
11 089 153 001
Amersham ECL detection reagents
GE Healthcare
RPN2105
Amersham ECL detection reagents
GE Healthcare
RPN2105
OHP Transparency film
Corporate Express
EXP 504 OHP
Amersham hyperfilm ECL high performance chemiluminescent film 18x24 cm
GE Healthcare
28906837
Ice
Table 1. Consumables used in the mPCR/RLB assay.
Hybaid Shake'n'Stack Ovens (2) rolling bottle and nylon separating mesh
Thermo Fisher Scientific, Inc.
HBSNSRS220
Method can be performed with a single oven as long as there is facility for maintaining solutions at 42°C and 60°C prior to use
The Belly Dancer rocking platform
Stovall Life Sciences, IBI Sciences
Euro BDbo
Miniblotter
Immunetics
MN100-45
Water bath
Suction
Hot plate
Exposure cartridge
Sigma-Aldrich
Z36,009-0
X-ray film developer
Can also use developer, fixer and water in trays in dark room instead of automated developer. Lumino-imager may also be used instead of Xray film
Table 2. Equipment required for the mPCR/RLB assay.