Summary
I denne protokollen beskriver vi produksjon, rensing og titrering av lentiviral vektorer. Vi tilbyr et eksempel på lentiviral vektor-mediert genet levering i primære dyrkede nerveceller og astrocytes. Våre metoder kan også gjelde for andre celletyper
Abstract
Effektiv genet levering i sentralnervesystemet (CNS) er viktig i å studere gen-funksjoner, modellering nevrologiske sykdommer og utvikle terapeutiske tilnærminger. Lentiviral vektorer er attraktive verktøy i transduksjon av nerveceller og andre celletyper i CNS som de transduce både skillelinjer og ikke-delende celler, støtte vedvarende uttrykk for transgener, og har relativt stor emballasje kapasitet og lav toksisitet 1-3. Lentiviral vektorer har blitt brukt i transducing mange nevrale celletyper in vitro 4-6 og i dyr 7-10.
Stor innsats er gjort for å utvikle lentiviral vektorer med forbedret biosikkerhet og effektivitet for genet levering. De nåværende tredje generasjons replikering-defekte og selv-inaktivere (SIN) lentiviral vektorer er avbildet i figur 1. De nødvendige elementene for vektor emballasje er delt inn i fire plasmider. I lentiviral transfer plasmid er U3-regionen i 5 'lange terminal gjenta (LTR) erstattet med en sterk promoter fra et annet virus. Denne endringen gjør at transkripsjon av vektoren sekvensen uavhengig av HIV-1 Tat protein som normalt kreves for HIV genuttrykk 11. Emballasjen signal (Ψ) er avgjørende for encapsidation og Rev-responsive element (Børre) kreves for å produsere høy titer vektorer. Den sentrale polypurine tarmkanalen (cPPT) er viktig for kjernefysisk import av vektor-DNA, en funksjon som kreves for transducing ikke-delende celler 12. I 3 'LTR, er cis-regulatoriske sekvenser fullstendig fjernet fra U3 regionen. Denne slettingen er kopiert til 5 'LTR etter revers transkripsjon, som resulterer i transcriptional inaktivering av begge liter. Plasmidet pMDLg / pRRE inneholder HIV-1 gag / pol gener som gir strukturelle proteiner og revers transkriptase. pRSV-Rev koder Rev som binder seg til Børre for effektiv RNA eksport fra kjernen. pCMV-G kodervesicula stomatitt viruset glykoprotein (VSV-G) som erstatter HIV-1 konv. VSV-G utvider tropisme av vektorene og gir konsentrasjon via ultracentrifugation 13. Alle gener som koder de ekstra proteiner, deriblant Vif, VPR, VPU, og Nef er utelukket i emballasjen systemet. Produksjonen og manipulering av lentiviral vektorer skal utføres i henhold til NIH retningslinjer for forskning som involverer rekombinant DNA ( http://oba.od.nih.gov/oba/rac/Guidelines/NIH_Guidelines.pdf ). En godkjenning fra individ Institusjonell biologiske og kjemiske Safety Committee kan være nødvendig før bruk lentiviral vektorer. Lentiviral vektorer er ofte produsert av cotransfection av 293T celler med lentiviral overføring plasmid og hjelperåndene plasmider som koder for proteiner som kreves for vektor emballasje. Mange lentiviral overføre plasmider og hjelpeprogrammer plasmider kan fås fra Addgene, en non-Profit plasmidet repository ( http://www.addgene.org/~~V ). Noen stabile emballasje cellelinjer har blitt utviklet, men disse systemene gir mindre fleksibilitet og emballasje effektivitet generelt avtar over tid 14, 15. Kommersielt tilgjengelige transfeksjon kits kan støtte høy effektivitet av transfeksjon 16, men de kan være svært dyrt for storskala vektor forberedelser. Kalsium fosfat nedbør metoder gir svært effektiv transfeksjon av 293T celler og dermed gi et pålitelig og kostnadseffektiv tilnærming for lentiviral vektor produksjon.
I denne protokollen, produserer vi lentiviral vektorer ved cotransfection av 293T celler med fire plasmider basert på kalsiumfosfat nedbør prinsipp, etterfulgt av rensing og konsentrasjon med ultracentrifugation gjennom en 20% sukrose pute. De vektor titere bestemmes av fluorescens-aktivert celle sortering (FACS) analysis eller ved sanntid qPCR. Produksjonen og titrering av lentiviral vektorer i denne protokollen kan være ferdig med 9 dager. Vi tilbyr et eksempel på transducing disse vektorer i murine neokortikale kulturer som inneholder både nerveceller og astrocytes. Vi viser at lentiviral vektorer støtte høy effektivitet transduksjon og celle type-spesifikk genekspresjon i primære dyrkede celler fra CNS.
Protocol
1. Pakking av Lentiviral Vektorer
Lentiviral vektorer er produsert av cotransfection av en lentiviral overføring vektor og andre plasmider som kreves for emballasje til 293T celler ved kalsiumfosfat transfeksjon metode. Vi bruker 10 100-mm vevskulturstudier retter i denne protokollen. Det kan skaleres opp eller ned avhengig av applikasjoner. Den 293T cellelinje opprettholdes i Dulbecco modifiserte Eagles medium (DMEM) med høy glukose (4500 mg / L), supplert med 10% fosterets storfe serum (FBS), 100 enheter / ml penicillin, 100 mikrogram / ml streptomycin i 37 ° C kuvøse med 5% CO 2.
Seed 293T celler på 30-40% samløpet til 10 100 mm vevskulturstudier retter (3 x 10 6 celler / oppvask) i kultur medium. Returner cellene til inkubatoren.
Etter 20-24 h kultur, sjekk cellen tetthet. Cellene skal være ca 80% samløpet ved transfeksjon.
Forbered en 50-ml tube. Legg 4,4 ml TE79/10 (1 mM TrisHCl, 0,1 mmEDTA, 7,9 pH) minus det totale volumet av følgende plasmid DNA. Tilsett 100 mikrogram lentiviral overføring plasmid (figur 1), 58 mikrogram pMDLg / pRRE, 31 mikrogram pCMV-G, 25 mikrogram pRSV-Rev, 600 mL 2M CaCl 2. Bland forsiktig.
Forbered en annen 50-ml tube. Tilsett 5 ml 2x HBS (0,05 m HEPES og 0,28 M NaCl, 1,5 mm Na 2 4 HPO, 7,12 pH).
Ta DNA-CaCl 2 blanding av 10 ml pipette og tilsett til røret som inneholder 2 x HBS, dropwise mens virvling røret.
Hold nedbør reaksjonen ved romtemperatur (RT) i 30 min.
Fjern kultur retter fra inkubatoren. Bland nedbør reaksjonen godt av virvling. Tilsett 1 ml suspensjon til hver 100-mm dish inneholder celler. Suspensjonen må legges langsomt, dropwise mens forsiktig virvlende mediet i fatet. Returnere disse rettene til inkubator og la til 5 timer.
Fjern mediet fra kulturen. Legg 6 ml frisk kultur medium med 6 mm natrium butyrate til hver rett. Returner kulturer til inkubatoren. Etter natten kultur, hvis det er en fluorescerende reporter i konstruksjonen, sjekk reporter genekspresjon under fluorescerende mikroskop. Vanligvis over 80% av cellene uttrykker reporteren genet hvis det er drevet av en allestedsnærværende promoter (f.eks CMV promoter).
To dager (40-44 timer) etter transfeksjon, samle supernatanten fra 10 retter i 2 50-ml rør (ca 30 ml hver tube). Frys supernatanten i -80 ° C fryseboks eller gå til neste trinn.
2. Konsentrasjon og rensing av vektorene
Sentrifuger fersk samlet eller tint supernatanten på 900 g (ca 2000 rpm) for 10 min for å fjerne enhver celleavfall i supernatanten.
Fest en 60-ml sprøyte til en 0,2-mikrometer SFCA sprøyte filter. Overfør supernatanten fra 50-ml tube til sprøyten. Filtrer supernatanten til et polyallomer sentrifugerør.
Ta 5 ml 20% sukrose (utarbeidet i PBS) opp i en 5-ml pipette. Settpipetten til bunnen av sentrifugerør inneholder supernatanten. Sakte legger sukroseløsning under vektoren supernatanten. Gjenta disse trinnene for supernatanten fra en annen tube.
Sentrifuger supernatanten ved 11000 rpm og 4 ° C i 4 timer med Beckman SW28 swing rotor.
Fjern supernatanten. Tilsett 150 mL 4% laktose (utarbeidet i PBS) til hver sentrifugerør. Resuspender pellets.
Overfør konsentrert vektor fra alle sentrifugerør til et 1,5 ml tube. La røret på is i 15 min.
Bland vektoren suspensjon ved pipettering. Spinn med mikrosentrifuge ved full hastighet (ca 16 000 g) i 1 min.
Overfør supernatanten til en ny 1,5-ml tube. Fordel den endelige prøven i 20 mL alikvoter og lagret dem i -80 ° C fryser.
3. Titrering av vektorene
Seed 5 x 10 4 / brønn HT1080 celler i 12-brønns plate i 1 ml DMEM medium supplert med 10% FBS.
Etter overnight kultur, telle celler fra en brønn, og scorer celle nummer.
Lag fem ganger seriell fortynning (1:5, 1: 25; 1:125, og 1:625) av konsentrert vektor med kultur medium. Legg jeg mL av hver fortynnet vektor til egne brønner. Prøvene kan dupliseres for å øke nøyaktigheten.
Legg en mL 4 mg / ml Polybrene (Hexadimethrine Bromide) i hver brønn inneholder vektor og inn i en brønn uten vektor. Bland ved å forsiktig risting platen. Returner til inkubator for 48 timer.
Fjern mediet fra cellekultur brønnene. Vask hver brønn med PBS. Tilsett 250 mL 1x trypsine-EDTA løsning til cellene. Når cellene er frittliggende (3-5 min), tilsett 1 ml kultur medium. Resuspender cellene ved pipettering. Overføring cellesuspensjon til 1,5 ml sentrifugerør.
Sentrifuger ved 900 gr i 6 min. For vektorer med et fluorescerende reporter gen (f.eks GFP), gå til trinn 3.7 for FACS analyse. For vektorer uten reporter, gå til trinn 3.8 for sanntids qPCR.
For vektorer som inneholder en Fluorescent reporter genet, fjern supernatanten og resuspender pellet med 300 mL av 3,7% formaldehyd i PBS. Bestem andelen av reporteren positive celler ved FACS analyse. Den titer vil være representert som transduksjon enheter per milliliter konsentrert vektor (TU / ml).
For eksempel, var hvis 1 x 10 5 celler transduced med 1/25 mL (0,04 mL) vektor og 30% celler er reporter positive, vil titer være:
Bruk bare de fortynninger falle i en lineær sammenheng mellom andelen positive celler og mengden av vektoren lagt beregne titer. Den endelige titer bør være et gjennomsnitt av de titere innhentet fra transductions av minst 2 forskjellige mengder av vektoren.
For vektorer utenfluorescerende reporter genet, trekke ut genomisk DNA fra HT1080 celler ved hjelp QIAamp DNA Mini Kit (Qiagen) i henhold til produsentens protokollen. Forsterke vektor sekvens i genomisk DNA ved hjelp av ABI Prism 7000 Sequence Detection System (Applied Biosystems) med primere (i HIV-1 PBS / psi region 17) 5'-CCGTTGTCAGGCAACGTG-3 'og 5'-AGCTGACAGGTGGTGGCAAT-3', og TaqMan sonde 5 '-FAM-AGCTCTCTCGACGCAGGACTCGGC-Tamra-3'. Albumin gen som er ett eksemplar gen i genomet (2 kopier / celle) ble også forsterket med primere 5'-TGAAACATACGTTCCCAAAGAGTTT-3 'og 5'-CTCTCCTTCTCAGAAAGTGTGCATAT-3', og sonde 5'-FAM-TGCTGAAACATTCACCTTCCATGCAGA-Tamra-3 'som en intern kontroll. Bestem kopiere numre av vektor og albumin ved PCR i 96-brønn plate i henhold til produksjon instruksjons med følgende program: 50 ° C i 2 min, 95 ° C i 10 min, og 35 sykluser på 95 ° C i 15 sek og 60 ° C i 2 min. Ten-fold serielle fortynninger av plasmider med kjent konsentrasjon (representert som kopinummer) som inneholder malen sekvenser bør også forsterkes for å lage en standard kurve for kvantifisering av ukjente prøver. Den titer vil være representert som integrasjon enheter per milliliter konsentrert vektor (IE / ml).
4. Transduksjon av neokortikale kulturer
Neokortikale kulturer som inneholder både nerveceller og gliaceller er forberedt fra mus cortices ved hjelp av en to-stegs plating prosedyre som tidligere beskrevet 18. Neocortices hentet fra fosterets mus på 14-16 dager drektighet er belagt på en tidligere etablert glial monolayer i MEM supplert med 10% FBS, 20 mM glukose og 2 mm glutamin i 24-brønnen vevskultur plate.
Etter 5 dager i vitro, legger 10 mm cytosin arabinoside (Ara-C) i neocortical kultur å hemme ikke-nevronale celledeling. Fortsett kultur cellene i 2 dager.
Varm kultur medium i 37 ° C vannbad i 5-10 min. Bytt Ara-C inneholder medium med fersk kultur medium (500 mL / brønn).
Legg vektor med ønsket MOI (mangfaldet av infeksjon, forholdet mellom antall vektor partikler til antall målcellene) til kultur. Fortsett kultur i 24 timer. Vi bruker MOI fra 1-10 (vanligvis 5) i primære kortikale kulturer.
Erstatt kultur medium med frisk medium. Fortsett kultur. Hvis det er en reporter gen i vektoren konstruksjon, sjekk celler under fluorescerende mikroskop 2 dager etter transduksjon. Reporter genuttrykk vil være synlig i nevroner 2-7 etter transduksjon, avhengig av vektor design og dosen som brukes.
5. Representative Resultater
De titere av lentiviral vektorer produsert med denne protokollen serien 10 8 -10 10 IE / ml, which er egnet for transduksjon av en rekke celletyper fra CNS både in vitro og in vivo. Tabell 1 og figur 2 viser et representativt resultat ved hjelp av vektorer produsert av denne protokollen. Vi transduced murine neokortikale kulturer med lentiviral vektorer som uttrykker grønt fluorescerende protein (GFP) kontrollert av synapsin (SYN) Arrangøren eller glial fibrillary surt protein (GFAP) promoter. Sju dager etter transduksjon, utførte vi farging å merke nevroner og astrocytes med anti-Neun og anti-GFAP antistoffer, henholdsvis. Som vist i tabell 1 og fig. 2A, etter transduksjon med vektoren som bærer synapsin arrangøren, over 90% av nevroner (Neun + celler) Express GFP og ingen astrocytes (GFAP + celler) uttrykker dette reporter genet. Når GFAP promoter brukes i vektoren konstruktet (Fig. 2B), ca 80% av astrocytes (GFAP + celler) uttrykks GFP, alle GFP + celler er astrocytes som bekreftet av colocalization med GFAP og fravær av GFP uttrykk i Neun-merkede celler. Disse resultatene viser at lentiviral vektorer er svært effektiv til å levere transgener til celler fra CNS og celle-spesifikk genekspresjon kan oppnås når egnede arrangører brukes.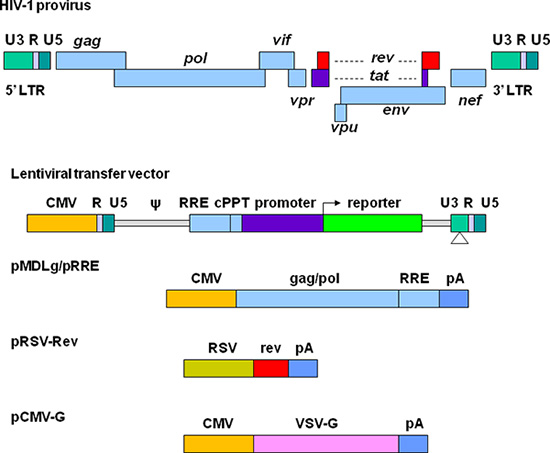 Figur 1. Skjematisk fremstilling av HIV-baserte lentiviral vektorer og emballasjen plasmider. Den HIV-1 provirus vises øverst. Elementene for vektor produksjon er delt inn i fire forskjellige plasmider. Den lentiviral overføring plasmidet inneholder en hybrid 5 'LTR der U3 regionen blir erstattet med cytomegalovirus (CMV) promoter, emballasjen signal (ψ), det Børre sekvensen, den sentrale polypurine tarmkanalen (cPPT), et gen av interesse (f.eks en fluorescerende reporter) sammen med en formidler av valg, og 3 'LTR dercis regulatoriske sekvenser er helt fjernet fra U3 regionen. pMDLg / pRRE inneholder gag og pol gener og Børre sekvens fra HIV-1 under kontroll av CMV arrangøren. pRSV-Rev inneholder kodende sekvens av Rev drevet av RSV promoter. pCMV-G inneholder VSV-G protein genet under kontroll av CMV arrangøren. PA indikerer polyadenylation signal fra human β-globin genet.

Figur 2. Uttrykk av reporter gener i mus neokortikale blandet kultur transduced med lentiviral vektorer som frakter celletype-spesifikke arrangører. Kulturene ble transduced med LV-SYN-GFP (A) eller LV-GFAP-GFP vektorer (B) ved en MOI av fem. Syv dager etter transduksjon, ble cellene immunostained med anti-Neun eller anti-GFAP antistoff. Viser Øvre paneler GFP fluorescens, mellomledere paneler viser farging og lavere paneler flettes bilder (GFP: grønn, Neun eller GFAP: rød).
Vector
GFP + celler i nevroner
GFP + i astrocytes
LV-SYN-GFP
92,2 ± 7,3
0
LV-GFAP-GFP
0
78,3 ± 11,5
Tabell 1. Sammenligning av GFP uttrykk i murine neokortikale kulturer transduced med lentiviral vektorer som bærer ulike arrangører noen.
en murine neokortikale kulturer (5 x 10 5 / brønn i 24-brønns plate) ble transduced med LV-SYN-GFP eller LV-GFAP-GFP på en MOI av fem. Syv dager etter transduksjon, ble kulturer fast og immunostained for Neun eller GFAP. Antallet GFP og Neun / GFAP uttrykker cellene ble talt i bilder fra 10 felt per eksperimentell tilstand. Verdiene representerer prosentandelen av nevroner (Neun + celler) ellerastrocytes (GFAP + celler) som også uttrykte GFP reporter genet. Verdiene som vises er midler ± SD fra tre uavhengige eksperimenter.
Subscription Required. Please recommend JoVE to your librarian.
Discussion
I denne protokollen, har vi vist produksjonen av lentiviral vektorer og anvendelse av disse vektorer i neokortikale kulturer. Vi viste effektiv og celletype-spesifikk transduksjon med vektorer produsert av disse metodene. Når synapsin promoter brukes, er GFP uttrykk strengt neuron spesifikk. Når GFAP promoter brukes, er GFP uttrykk utelukkende i astrocytes. Hvis ingen celletype-spesifikke uttrykk er nødvendig, kan en allestedsnærværende promoter brukes. Vi fant både ubiqutin og phosphoglycerate kinase (PGK) arrangører kan kjøre høyt nivå genuttrykk i neokortikale kulturer 6. Genuttrykk drevet av lentiviral vektorer kan tilpasses for bestemte nivåer av uttrykk eller celletyper ved valg av arrangører (f.eks allestedsnærværende eller celletype-spesifikke) eller ved hjelp av forskjellige konvolutt proteiner eller vektor pseudotypes å målrette bestemte vev eller programmer. For eksempel, pseudotyping med rabies G protein eller en fusjon av VSV-G end rabies protein støtter retrograd aksonal transport 19,20. Den forbigående transfeksjon protokollen lar vektor emballasje med forskjellige konvolutten proteiner.
Lentiviral vektorer er ofte konsentrert ved ultracentrifugation uten rensing trinn. Disse urenset vektorer er egnet for mange celletyper. Men primære nevrale kulturer er følsomme for forurensninger fra produsent celler, noe som resulterer i batch til batch variasjon for cytotoksisitet. Den 20% sukrose pute rensingen gjør vektorene konsekvent ikke-giftig i primære nerveceller. Vi anbefaler å bruke renset vektorene for transduksjon av primære nerveceller og injeksjon i dyr. Dersom større skala eller høyere renhet av vektor preparater kreves, kan andre rensing teknikker, slik som affinitet kromatografi 21 og anion bytte membran kromatografi 22 brukes. Som langsiktig transduksjon er vanligvis nødvendig i primære nevrale kulturer, Bør spesiell forsiktighet utvises for å minimere forurensning under forberedelse av vektorene. Bestått vektor supernatanten med 0,2 mM filter og bruk autoklaveres polyallomer sentrifugerør under konsentrasjon av vektoren vil tjene dette formålet. Flaske-top filter kan brukes dersom et stort volum av supernatant må filtreres. Sodium butyrate har blitt rapportert å stimulere aktiviteten av arrangører 23. Tilsetting av natrium butyrate til kultur medium etter transfeksjon av produsentens cellene kan øke vektoren titer mer enn 10 folder 24. Polybrene (hexadimethrine bromid) har vært mye brukt for genoverføring protokoller for å effektivisere retrovirale genoverføring ved å nøytralisere de negative ladninger, og dermed tilrettelegge for vektor-celle interaksjon 25. I våre hender, er polybrene giftig for nervecellene i neokortikale kulturer. Derfor bør polybrene unngås i transducing primære nevrale kulturer. Hvis det eren fluorescerende reporter i vektor, er det praktisk å bestemme vektoren titer av FACS analyse. Når ingen reporter er tilgjengelig eller en reporter gen er drevet av en vev bestemt promoter, qPCR for å oppdage integrasjon av vektor i målceller bør være et bedre valg som integrasjon av vektor er uavhengig av transgene uttrykk. Den titer av spesifikke vektorer bestemmes av FACS analysen vil være lavere enn for qPCR som ikke alle integrert kopier av vektoren er funksjonelle. Vector titere kan også bestemmes ved å måle HIV p24 protein ved Elesa eller vektor genomisk RNA ved QRT-PCR i vektor forberedelser. Men disse metodene er mindre nøyaktige på grunn av betydelig antall defekte viruspartikler uunngåelig generert under pakkeprosessen og funksjonelle partikler som ikke klarer transduce målceller 26. De vektorer laget av denne protokollen har blitt brukt med suksess i både in vitro og in vivo i robulk hjerne 27. Etterforskerne skal teste i sine systemer enkeltvis, som vektor-mediert genuttrykk er ikke nødvendigvis identisk i cellekulturer og in vivo systemer selv i samme celletype 6,28. Lentiviral vektorer har vært mye brukt til overekspresjon eller slå ned gener av interesse i en rekke celle-typer i CNS. Vår protokoll bør være nyttig for Neuroscience etterforskerne å utvikle lentiviral vektorer i sin forskning applikasjoner.
Subscription Required. Please recommend JoVE to your librarian.
Disclosures
Ingen interessekonflikter erklært.
Acknowledgments
Dette arbeidet ble støttet av NIH Neuroscience Blueprint Core-stipend (P30 NS057105, BJS) til Washington University, Program Project Grant NS032636 (BJS) og av håp Center for nevrologiske lidelser.
Materials
| | | | |
| --- | --- | --- | --- |
| Name | Company | Catalog Number | Comments |
| DMEM | Sigma-Aldrich | D5796 | |
| MEM | Invitrogen | 11090-081 | |
| Fetal bovine serum | Hyclone | SV3001403 | |
| PBS | Mediatech, Inc. | 21-040-CM | |
| Trypsin-EDTA | Sigma-Aldrich | T3924 | |
| Sodium butyrate | Sigma-Aldrich | B5887 | |
| Hexadimethrine bromide (Polybrene) | Sigma-Aldrich | H9268 | |
| 293T cells | ATCC | CRL-11268 | |
| HT1080 cells | ATCC | CCL-121 | |
| Falcon 100 x 20 mm tissue culture dish | BD Biosciences | 353003 | |
| 1 x 3 ½ in polyallom–r centrifuge tube | Beckman Coulter Inc. | 326823 | |
| 0.2-micron syringe filter | Corning | 431219 | |
| QIAamp DNA Mini Kit | Qiagen | 51304 | |