Cite this Article
Copy Citation
Xu, L., Shen, Q., Mao, Z., Lee, L. J., Ziouzenkova, O. Encapsulation Thermogenic Preadipocytes for Transplantation into Adipose Tissue Depots. J. Vis. Exp. (100), e52806, doi:10.3791/52806 (2015).
Abstract
Celle innkapsling ble utviklet for å innfange levedyktige celler i semipermeable membraner. De innpodet innkapslede celler kan utveksle lavmolekylære metabolitter i vev av den behandlede verten for å oppnå langtidsoverlevelse. Den semipermeable membran tillater innpodet innkapslede celler for å unngå avvisning av immunsystemet. Innkapslingen fremgangsmåte ble utviklet for å muliggjøre en kontrollert frigivelse av bioaktive forbindelser, slik som insulin, andre hormoner og cytokiner. Her beskriver vi en metode for innkapsling av katabole celler, som bruker lipider for varmeproduksjon og energi ødsling (thermogenesis) i intraabdominalt fettvev av overvektige mus. Innkapsling av termo katabolske celler kan være potensielt anvendelig for forebygging og behandling av fedme og type 2 diabetes. En annen potensiell anvendelse av katabole celler kan inkludere avgiftning fra alkohol eller andre giftige metabolitter og miljøgifter.
Introduction
Økende forekomst av kroniske sykdommer 1 har stimulert på Studier transplantasjon av terapeutiske cellepopulasjoner 2. Syngenisk eller allogenic stamceller er de mest brukte celletyper for disse programmene to. Men disse behandlingene ikke tillate kontroll av differensiering og migrering av stamceller etter implantering, og er ikke kostnadseffektive. Transplantasjon av genetisk modifiserte celler som har gunstige funksjoner forventer å forbedre behandlingen av mange sykdommer. Imidlertid er genetiske celle modifikasjoner gjenkjent av vertens immunsystem, derfor disse behandlingene krever immunsuppresjon tre. Innkapsling av celler som produserer insulin har blitt utviklet av Dr. Chang 4. Teknikken er basert på innkapsling av celler i alginat dråper som er nedsenket i en kalsiumkloridoppløsning. Alginatmolekylene består av mannuronsyre (M) og guluronsyre (G) og kan forbindes med Ca 2+. Etter gelering blir kulene suspendert et poly-L-lysin (PLL) løsning. Under dette trinnet binder PLL til G og M i alginatmolekylene som etablerer kapselen membran. Porøsiteten av kapselen membran kan moduleres ved å variere M og PLL-konsentrasjoner, inkubasjonstid og temperatur. Bindingen av PLL er også avhengig av type og konsentrasjon av alginat. Alginat matriser tverrbundet med Ca 2+ ioner, er ustabile i fysiologisk miljø eller i felles bufferløsninger med høy konsentrasjon av fosfat og citrate ioner. Disse buffere kan trekke Ca2 + fra alginat og flytendegjøre kjernen. Flytendegjøring av alginat kjernen gir plass inne i kapsler for cellulær bevegelse og vekst. Celler innkapslet i alginat med polyanionisk polykationisk poly-L-lysin (APL) er ugjennomtrengelig for immunoglobuliner, men har tilførsel av næringsstoffer og effluks av giftstoffer. Disse APL eiendommer aktivere langsiktig survival av innkapslede celler etter transplantasjon til genetisk forskjellige verter. Elliott et al. Rapporterte overlevelsen av fungerende innkapslede svinepankreas cellene i en human pasient ni år etter implantasjon 5.
Innkapslingsteknikker kan klassifiseres i mikroinnkapsling (3-800 pm) og makroinnkapsling (større enn 1000 um). Mikrokapsler er mer holdbare enn makrokapsler 6. Siden den ble oppdaget av Dr. Chang og kolleger i 1964 har mikroinnkapsling vært mye brukt for innkapsling av anabole cellene som produserer insulin, andre hormoner, og bioaktive molekyler 7. Disse behandlingene sto overfor flere utfordringer i vertsvevet inkludert fibrose og immunrespons 8. I første omgang har bivirkninger knyttet til kvaliteten på biopolymerer blitt løst. Imidlertid transplantasjon av anabole celler fremdeles initierer bivirkninger, slik som fibrose, som et resultat av hormon overproduction utenfor et spesialisert kjertel.
I de siste tiårene, fedme og type 2 diabetes har nådd epidemiske proporsjoner 9. Mer enn 30% av voksne mennesker over hele verden er overvektige og overvektige 10. Økt intra-abdominal (IAB) fett dannelse øker forekomsten av kronisk betennelse og fremmer type 2 diabetes, hjerte- og karsykdommer, visse kreftformer og andre tilleggslidelser 11-13. Flere linjer med bevis antydet at patogenesen forbundet med IAB fett kan avverges ved spesifikke adipocytter. Nyere studier har vist at transplantasjon av subkutane adipocytter til IAB region kan forbedre forbrenningen og redusere fedme og insulinresistens hos gnagere in vivo 14. Effektiv reduksjon av fedme og insulinresistens er blitt assosiert med termo adipocytter er i stand til avgi energi i form av varme 15,16. Termogenetisk modifikasjon av adipocytter kan oppnås ved stabil transfeksjonav gener som deltar i mitokondrie proton frakopling, som uncoupling protein 1 (Ucp1) eller av gener som regulerer uttrykket av Ucp1 og andre thermogenic gener 15,16. Vårt nylige studier har vist at mangel på aldehyd-dehydrogenase 1 a1 (Aldh1a1) fører til termogenetisk ombygging av IAB fett som reduserer fedme og insulinresistens hos disse musene 17,18. Spesielt, innkapsling av thermogenic Aldh1a1 mangel (Aldh1a1 - / -) preadipocytes formidler samme terapeutiske effekt i IAB fett i obese villtype mus, foreslå nye terapeutiske muligheter for behandling av IAB fett 18. I eksperimentelle innstillinger, innkapslede celler aktivere forskere å studere effekten av spesifikke cellepopulasjoner på en kostnadseffektiv måte 19. Her diskuterer metoden for innkapsling av en termo katabolsk cellelinje og dens laboratorium og terapeutisk anvendelse i en musemodell av fedme. Protokollen beskriver three faser for mikrokapselproduksjon (figur 1): dannelse av alginat mikroperler (figur 1A), dannelsen av den polykationiske poly-L-lysin (PLL) membraner på overflaten av mikroperler (figur 1B), og fjerning av alginat kjerner (figur 1C).
Subscription Required. Please recommend JoVE to your librarian.
Protocol
Studien protokollen ble godkjent av Ohio State University etiske komiteer. Dyreforsøk ble godkjent av IACUC protokollen. Alle prosedyrer ble utført under nivået 2 biosikkerhet skap med laminær strømning. Vi fulgte alle standard sikkerhetskrav og prosedyrer. Den mikroinnkapslingsteknikk for fremstilling av mikrokapsler er blitt utført som beskrevet 17, 18.
1. Forberedelser av Materials
Forbered 10 ml 2% natriumalginat-løsning i autoklavert fysiologisk saltvann (0,9% NaCl i vann). Forbered 0,05% PLL-løsning i fysiologisk saltvann. Forberede disse løsningene dagen før og røre over natten. Filter løsninger med 0,22 mikrometer filter før bruk.
Forbered 50 mM natriumsitrat og 100 mM CaCl 2 i 0,9% NaCl-løsninger og autoklav dem.
Autoklav alle løsninger, nåler, elektroder og begre. Grundig rene sprøyter med ledninger for å unngå tilstopping.
Bestemme den passende mengde av celler som skal brukes for kapslene (102 mikrokapsler er nødvendig for hver cm 2 av brønnen og det er omtrent 500 celler pr kapsel 18). Bruk 1 ml natrium alginat per to millioner celler.
Tilbered en "Fibroblast Growth Medium" som inneholder 10% kalveserum, og 100 U / ml penicillin / streptomycin i en høy glukose (4,500 mg / l glukose) Dulbeccos modifiserte Eagles medium (DMEM).

Tilbered en "Differentiation Medium I 'inneholdende 10% føtalt bovint serum, 10 ug / ml insulin, 1 uM deksametason, 0,5 mM 3-isobutyl-1-metyl-xantin og 100 U / ml penicillin / streptomycin i DMEM.
Tilbered en "Differentiation Medium II" som inneholder 10% føtalt bovint serum, 10 ug / ml insulin og 100 U / ml penicillin / streptomycin i DMEM.

Forbered lysisbuffer inneholder en proteasehemmer tablett per 10 ml Radio-Immunpresipitering Assay buffer (RIPA buffer).
2. Alginat Microbeads Forberedelser (figur 1A)
Fjern gammel medium fra cellekultur kolbe. Rens cellene med 10 ml PBS. Ta med celler i suspensjon med 0,25% trypsin-EDTA (2 ml per en konfluent T175 kolbe).
Telle celler i cellesuspensjonen ved hjelp av en hemocytometer. Bruk 10 ml porsjon fra cellesuspensjonen og telle celler i henhold til produsentens instruksjoner. Sentrifuger de gjenværende celler i medium sentrifugering ved 480 xg ved romtemperatur i 5 min.
Suspen cellepelleten i natriumalginat som beskrevet i trinn 1.4. Overfør natriumalginat-celleløsning til en 5 ml sprøyte.
Fjerne luftbobler i oppløsningen, legge til en 23-gauge nål og invertere sprøyten for å lage en 1 ml lomme av luft.
Plasser et lite begerglass (180 ml) inneholdende 144 ml 100 mM CaCl2-løsning under nålen tuten av lamine. Fest elektroden til lamine med spissen approximbart 2,5 cm over overflaten av 100 mM CaCl2-løsning.
Plasser tett sprøyten inneholdende natriumalginat-celleløsning i sprøytepumpe. Fest gummirøret til åpningen av sprøyten. Presse stempelet til natriumalginat-celleløsning går halvveis gjennom røret. Justere spenningen til 5,4 kV. Sett diameter på 12,06 mm på sprøytepumpe. Justere hastigheten til 3 ml / time. Starte pumpen. Slå på lamine og opprettholde spenningen til 5,4 kV.
Lukk vinduet på panseret og unngå unødvendige vibrasjoner til slutten av dannelsen av alginat mikroperler. Tross alt løsningen passerer gjennom nålen, stivne alginat kuleformede mikroperler i 100 mM CaCl 2 løsning for ytterligere 20 min før belegg med PLL.
3. Coating Microbeads med PLL (figur 1B)
Fjern beger inneholdende natrium- alginat-celle kuleformede mikroperler og overføre disse MicrobEADS til en 50 ml sentrifugering tube. Fjern CaCl2-løsning fra mikro pellet.
Vask alginat-celle kuleformede mikrokuler ved tilsetning av 30 ml 0,9% NaCl. Rist rør for hånd forsiktig. Fjern 0,9% NaCl med 25 ml pipette etter at mikroperlene har felt ut ved gravitasjon. Gjenta to ganger for totalt 3 vasker.
Bruke 10 ml 0,05% PLL løsning på 1 ml natriumalginat-løsning. Tilsett 0,05% PLL og virvel ved 1000 omdreininger pr minutt i 10 minutter.
Merk: Vanligvis er det tilstrekkelig for PLL belegg 10 min.
Etter PLL belegge er dannet, fjernes PLL løsningen og vask kapslene tre ganger som beskrevet under 3.2.
4. Fjerning av Alginat Kjerne (figur 1C)
Tilsett 30 ml 50 mM natriumcitratoppløsning. Vent i 5 minutter eller inntil alt natrium alginat er oppløst. Vask kapsler tre ganger som beskrevet i trinn 3.1.1.
Fjern 0,9% NaCl, tilsett 20 ml kulturmedium til 50 ml tubeog overføre alle kapsler som inneholder cellene til en cellekulturflaske. Håndtak innkapslede celler under standard celledyrkningsforhold 18.
5. I Vitro Applications for å studere xenotransplantat og vertscelle Interaksjoner eller Kinetics av Metabolitt Tilstrømningen / utstrømning mellom celler (figur 2)
Kultur vertsceller på 24 brønners plate før konfluent for co-kulturer. Bruk "fibroblast vekstmedium" for dyrking preadipocytes.
Overføring av mikrokapsler i 24-brønners plate inneholdende sammenflytende vertsceller. Legg mikrokapsler for å oppnå et enkeltlag (102 mikrokapsler / cm 2 av godt).
Indusere pre-adipocyttdifferensiering med Differensiering Medium I. Hver 48 timer, endre media til Differensiering Medium II i seks dager. Lyses celler i RIPA buffer. Bruk 50 mikrogram protein per betingelse for å analysere protein uttrykk ved hjelp av Western blot.
6. I Vivo Søknad om treatment of Obesity (figur 3)
Bland 4% isofluran med oksygen for induksjon av anestesi og 2% isofluran med oxygen for opprettholdelse av anestesi. Bekreft tilstrekkelig bedøvelse dybde ved tå klype.

Påfør anti-klø salve på øynene for å beskytte hornhinner fra å tørke ut.

Bruk Innkapslede celler som er permanent merket med fluorescens kunstig protein, for eksempel grønn fluorescens protein (GFP).
Bruk en 3 ml sprøyte og en 20 gauge nål for å injisere innkapslede celler.

Injiser 0,5 x 10 6 celler suspendert i 0,2 ml PBS inn i hver IAB fett depot som er plassert i området mellom en intraperitoneal gonade- og nyre som er vist på figur 3. Bruk dette volum PBS og celle nummer for mus med en gjennomsnittlig vekt av 40 g. Juster celle antall og volum på mus som har forskjellig vekt eller for fastsettelse av doseavhengige effekter.
Subscription Required. Please recommend JoVE to your librarian.
Representative Results
Figur 1 viser at hvert trinn av mikroperler produksjonen kan kontrolleres under mikroskopet. Figur 2A viser hvordan samkultur adipocytter med et monolag av innkapslede celler. Figur 2B er et representativt eksempel på en kvantitativ undersøkelse ved hjelp av mikrokapsler adipocyttuttrykte / ko-kulturer som ble beskrevet i kapittel 5. Lysater av adipocytter ble analysert ved hjelp av Western blot. Innkapslede celler ble ikke analysert i dette eksperimentet. Primær ATGL og β-aktin-antistoffer ble anvendt i en 1: 1000 fortynning. Forholdet mellom ATGL til β-aktin er vist som gjennomsnitt ± SD for tre uavhengige eksperimenter. Lignende ko-kultur metoder kan brukes til å analysere mRNA og studere effektene av innkapslede celler og adipocyttuttrykte interaksjoner i ko-kulturer. Dataene viser at innkapslet thermogenic Aldh1a1 - / - adipocytes indusere betydelig høyere nivåer av ATGL lipase og lipolyse 18 i adipocytter forhold til encapsulated WT adipocytter.
Figur 3 viser at GFP indikerer beliggenheten og integriteten av kapsler i verts fettvev. Ekspresjon av GFP er også en indikator på cellelevedyktigheten.
Kvalitativ evaluering
Kvaliteten på innkapsling eller implantering av innkapslede celler kan evalueres ved mikroskopi, MRI, og ved hjelp av immunhistokjemisk analyse av behandlede fettvev 18.
Kvantitativ tilnærming
Gitt den unike ekspresjon av GFP i overlevende transplanterte celler, tillater måling av GFP ekspresjonsnivåer innkapslede celler som skal kvantifiseres i vev, som beskrevet 18 .GFP og andre proteiner kan påvises ved hjelp av spesifikke anti-GFP-antistoffer i et homogenat av en hel fettvev depot. GFP nivåer av protein i denne homogenate gi informasjon om antall levedyktige implanterte cellene.
Figur 1: et skjematisk riss av fremgangsmåten for produksjon av mikrokapselen. (A)
alginat mikroperler under et mikroskop (20X).
(B)
det ytre lag etter belegning med PLL (20X).
(C)
den endelige microcapsule etter oppløsning av alginat kjerne (20X).
Klikk her for å se en større versjon av dette tallet.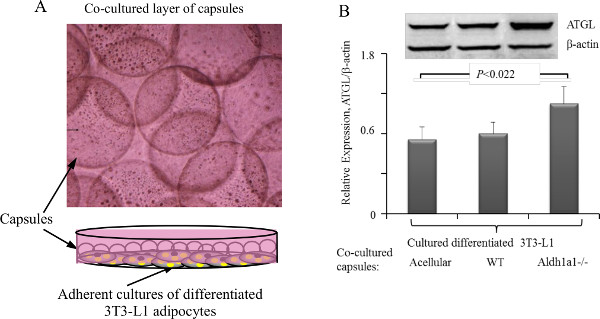 Figur 2: Microcapsule co-kulturer med tilhenger cellelinje kulturer (A) Skjematisk (nedre panel) av en co-kultur av mikrokapsler (sirkler flytende i media) med tilhenger adipocytter.. (B) Sammenligning av uttrykk for ATGL fra3T3-L1 adipocytter co-kultivert med acellulære, WT, eller Aldh1a1 - / - adipocyttuttrykte inneholder mikrokapsler. Betydningen P-verdien ble bestemt ved bruk av Mann-Whitney U-test. Øvre inserts viser en representant Western blot. Klikk her for å se en større versjon av dette tallet.

Figur 3:. Skjematisk fremstilling av et intra-abdominal (IAB, visceral) fett injeksjon med innkapslede celler Den fotografiske bildet av den injiserte IAB fett puten viser misfargede klynger av innkapslede celler 80 dager etter transplantasjonen (trekant). Disse IAB kjepphest pad ble innebygd i parafin og analysert. Hematoxylin og eosin (H & E) farging viser klynger av innkapslede celler (piler), implanterte mikrokapsler (C), innkapsledeceller (CC), verts adipocytter (a). Samme bilde analysert under fluorescerende lys viser GFP-merket transplanterte cellene på innsiden av runde intakte kapsler. Klikk her for å se en større versjon av dette tallet.
Subscription Required. Please recommend JoVE to your librarian.
Discussion
Forskjellige metoder er blitt brukt til å innkapsle celler, innbefattende tørking, ekstrudering, og 19 emulsjonen. I denne fremgangsmåte blir alginatkuler ekstrudert gjennom en nål, deretter belagt med PLL og alginat kjernen vil bli oppløst for å fullføre innkapslingen. Selv om denne metode er blitt brukt i mange år, er dannelsen av perler med ønsket størrelse og sfærisk form fremdeles utfordrende. Størrelsen på kapslene er sterkt avhengig av viskositeten av natriumalginat-løsning, diameteren ekstruderen og avstanden mellom nålespissen og CaCl2-løsning 20. Jo kortere avstanden mellom nålespissen og overflaten av CaCl 2 oppløsning, er de små perler produsert. Den beskrevne protokoll fører til produksjon av APL med porer (<32 kD). Porestørrelsen kan være eksperimentelt testet ved hjelp av fluorescerende immunglobuliner (> 32 kD), og fluorescerende små peptider som tidligere beskrevet 18. Dette sIZE av pore er tilstrekkelig til å understøtte overlevelsen av celler i in vitro-kulturer i 2 uker, og etter in vivo implantering i fettvev i minst 80 dager 18. Den mikro formen er en viktig faktor som påvirker overlevelse av innkapslede celler. Sprakk perler med mange satellitt microbeads øke utvekst av celler 21. Satellittdannelse forekom ved lavere konsentrasjon og lav viskositet middels G alginatløsninger påføres 22, mens dannelsen av halen skyldes høy-G alginat 23. Som skjærkraften kan også bidra til sprukne perler, anbefaler vi et skånsomt vaskeprosedyre for mikroperler og foreslå optimale forhold for produksjon av robuste kapsler som passer for in vitro co-kulturer og engrafting i vev in vivo.
Microcapsulation har vist seg å være en effektiv metode for implantering for å beskytte biologisk materiale, slik som celler, cytokins, enzymer, hormoner og bioabsorbents fra miljøet og immunresponsen 24. Den kontrollerte frigjøring av hormoner eller cytokiner fra innkapslede celler ble testet med hensyn til dets terapeutiske effekt i en lang rekke sykdommer, inkludert fedme 18, diabetes mellitus 5, leversvikt 25 og 26 anemi. Imidlertid er effektiviteten av innpodet anabole innkapslede celler ofte redusert som følge av fibrose. Her beskriver vi ny anvendelse av termo katabole celler for behandling av fedme og insulinresistens 18. Innkapsling av Aldh1a1 - / - adipocytter, og muligens andre katabolske celler, har flere fordeler i forhold til innkapsling av anabole celler Aldh1a1 -. / - Preadipocytes spontant holder seg til den indre overflate av membranen 18 APL og differensiere i adipogenic miljø av fett som IAB hindrer deres overdreven spredning i kapsler og rask ruptur av kapsler. I tilleggsunn, har disse cellene redusert betennelsesreaksjoner og katabolske egenskaper 27. Immunhistokjemisk data viser at implantasjon av APL innkapslet Aldh1a1 - / - adipocytes inn IAB fett for 80 dager ble ikke ledsaget av uttalt immunrespons og fibrose hos mus 18; Men flere studier må utføres i fremtiden for å vurdere potensielle inflammatorisk virkning. Primært øker Aldh1a1 mangel uttrykk for thermogenic Ucp1 i adipocytter. Aldh1a1 mangel reduserer autocrine produksjon av retinsyre økende nivåer av retinaldehyde 28. Denne veien påvirker mange transkripsjons veier 28,29, noe som kan være involvert i produksjonen av egenverdi og parakrine thermogenic faktorer. Spesielt, innkapslet Aldh1a1 - / - adipocytter cellene produserer lignende thermogenic respons i vertsvektige WT mus. Innkapslet Aldh1a1 - / - adipocytter ser ut til å produsere parakrin faktor (er) increasing antall Ucp1-positive celler i verts WT fettvev 18. Sammen utgjør disse thermogenic svar resulterte i en fortrinnsrett reduksjon av injisert IAB fett. En fenotype av udødelig Aldh1a1 - / - preadipocytes utøver mange egenskaper som gjør denne genmodifisering en lovende kandidat for innkapsling teknologi reduserende diett-indusert fedme.
Nylig mange andre biologiske inkludert cytokin irisin, Mir-133a 30 meteorin som hormon 31, parathyroid hormon-relatert protein 32 ble rapportert å utøve thermogenic ombygging av underhudsfett hvitt fettvev. Flere studier er nødvendig for å fastslå om disse termo faktorene er egnet for innkapsling teknologier og behandlinger mot fedme i subkutan og / eller IAB fett. Mikrokapsler som inneholder katabole celler kan være potensielt egnet for å fjerne et overskudd av skadelige metabolitter i et giftig miljø. For eksempel pasients kan ha nytte av tilrettelagt nedbrytningen av alkohol eller deoxyglucosone, en første reaktiv metabolitt hos pasienter med diabetes. Imidlertid er fremtidige studier for å bestemme om disse programmer kan ha terapeutiske fordeler.
Oppsummert disse studiene gir en proof-of-concept som forsterkning av thermogenic respons i IAB fett kan være initiert av en liten undergruppe av innkapslet Aldh1a1 - / - preadipocytes. Videre har disse studier vist gjennomførbarheten av vev-spesifikk behandling med injisert implantater av innkapslede katabolske termogene celler.
Subscription Required. Please recommend JoVE to your librarian.
Acknowledgements
Vi vil gjerne takke Jennifer Petrosino og David DiSilvestro for redaksjonell hjelp. Denne forskningen ble støttet av Award nummer 20020728 fra den amerikanske Egg styret og Award nummer 10040042 fra Novo Nordisk Farmasi samt av Food Innovation Center, kontor for internasjonale saker, Center for Advanced Functional Foods Forskning og entreprenørskap ved OSU samt National Science Foundation gi EØF-0914790 (LJL). Prosjektet er beskrevet ble støttet av Award Number R21OD017244 (OZ) og UL1RR025755 (OSUCCC) fra National Center for Forskning Resources, finansiert av Office of direktøren, National Institutes of Health (OD) og støttes av NIH Roadmap for medisinsk forskning og NCI P30CA16058. Innholdet er utelukkende ansvaret til forfatterne og representerer ikke nødvendigvis de offisielle visningene av National Center for Forskning Resources eller National Institutes of Health.
Materials
| | | | |
| --- | --- | --- | --- |
| Name | Company | Catalog Number | Comments |
| Encapsulation device (VAR V1) | Nisco | LIN-0042 | None |
| KD scientific syringe pump | KD scientific | 780100Y | None |
| Olympus microscope | Olympus Optical | IX70-S8F2 | None |
| Sodium alginate | Sigma | MKBP8122V | None |
| Poly-L-lysine hydrobromide (PLL) | Sigma | 020M5006V | None |
| Calcium chloride | Sigma | SLBJ2662V | None |
| Sodium citrate tribasic dihydrate | Sigma | 030M0200 | None |
| Sodium chloride | Sigma | SLBD2595V | None |
| Mini-PROTEAN TGX Gels | Bio-Rad | 456-1093 | None |
| ATGL primary antibody (from rabbit) | Cell Signaling | 2138S | None |
| Secondary anti body (anti rabbit) | LI-COR | 926-68071 | None |
| Radio-Immunoprecipitation Assay (RIPA) buffer | Boston BioProducts | D25Y6Z | None |
| Phosphate buffered saline (PBS) | Sigma | RNBD2893 | None |
| Trypsin | Gibco | 25200-056 | None |
| Cortizone 10 anti-itch ointment | Cortizone 10 | C4029138 | None |
| Dulbecco's Modified Eagle Medium (DMEM) | Gibco | 11965-092 | None |
| Newborn calf serum (CS) | Sigma | N4762 | None |
| Fetal bovine serum (FBS) | Sigma | F4135 | None |
| 3-Isobutyl-1-methylxanthine (IBMX) | Sigma | I0516 | None |
| Dexamethasone | Sigma | D4902 | None |
| Insulin (bovine) | Sigma | I5879 | None |
| Protease inhibitor cocktail tablets | Roche | 4693159001 | None |