Summary
Vi beskriver en metode med målrettet perifer bestråling å indusere tretthet-lignende oppførsel i mus. Den valgte ikke-dødelig stråling dose fører til en ukes reduksjon i frivillig hjulgående aktivitet.
Cite this Article
Copy Citation | Download Citations

Wolff, B. S., Renner, M. A., Springer, D. A., Saligan, L. N. A Mouse Model of Fatigue Induced by Peripheral Irradiation. J. Vis. Exp. (121), e55145, doi:10.3791/55145 (2017).
Abstract
Kreft-relatert tretthet (CRF) er en urovekkende og kostbar tilstand som ofte rammer pasienter som får kreft behandlinger, inkludert strålebehandling. Her beskriver vi en metode med målrettet perifer bestråling å indusere tretthet-lignende oppførsel i mus. Med riktig skjerming, rettet mot bestråling nedre buk / bekken-regionen til mus, sparing hjernen, i et forsøk på å modellere strålebehandling mottas av personer med bekkenkreft. Vi leverer en strålingsdose som er tilstrekkelig til å fremkalle tretthet-lignende oppførsel i mus, målt ved frivillig hjulgående aktivitet (VWRA), uten å forårsake åpen sykelighet. Siden hjulet løping er en normal, frivillig adferd hos mus, bør bruken har liten konfunderende effekt på andre atferdstester eller biologiske tiltak. Derfor kan hjulløpe brukes som et mulig resultat tiltak for å forstå de atferdsmessige og biologiske korrelater tretthet. CRF er en kompleks tilstand med hyppig colidelser, og sannsynligvis har årsaker knyttet både til kreft og dets ulike behandlinger. Metodene som beskrives i dette dokumentet er nyttige for undersøkelse av strålingsinduserte endringer som bidrar til utvikling av CRF, og, mer generelt, for å utforske de biologiske nettverk som kan forklare utviklingen og utholdenhet av et perifert-utløst, men sentral-drevet oppførsel, som tretthet .
Introduction
Kreft-relatert tretthet (CRF) er en urovekkende og kostbar tilstand som ofte rammer pasienter som får kreftbehandling 1. Utmattelsen er verken proporsjonal med nylig aktivitet og heller ikke lindres av hvile, og det er forbundet med et bredt spekter av forstyrrelser relatert til humør, motivasjon, oppmerksomhet og kognisjon to. De biologiske årsaker til CRF er ukjent, men det har vist seg i mange tilfeller å korrelere med betennelse og cytokinnivåer, også i noen tilfeller med hemoglobinnivåer og funksjon av forskjellige hormonsystemer (se Saligan et al. 3 for en gjennomgang av biologisk studier av CRF).
Kontrollerte studier ved hjelp av dyremodeller er nødvendig for å forstå virkemåten og biologi forbundet med denne komplekse tilstand. Mens tumor-relatert 4 eller kjemoterapi-relatert 5, 6 fettigue har blitt undersøkt i gnagermodeller, kan etiologien av CRF være behandlings spesifikke. For å undersøke CRF knyttet til strålebehandling, har vår gruppe nylig utviklet en musemodell for bestråling-indusert utmattelse 7. I motsetning til eksisterende CRF-modeller som involverer hjernen eller total kroppsbestråling 8, 9, utforsker denne modellen hvordan en endring i sentral-drevet oppførsel, som tretthet, kan utløses av en periferisk målrettet bestråling prosedyre.
Fremgangsmåten som beskrives her er utformet for å modellere strålebehandling administreres til pasienter med bekken kreft, ved hjelp av ledningen skjerming for å målrette den nedre buk / bekkenområdet med bestråling. Imidlertid, ved å modifisere ledningen skjerming eller dens plassering i forhold til forsøksdyr, denne fremgangsmåten kan tilpasses for å modellere bestråling av andre deler av kroppen. Frivillig hjulgående aktivitet (VWRA) brukes til å måle tretthet-lignende behavior; fordi det er en frivillig og normal atferd 10, bør det tillate samtidig bruk av andre atferdsmessige og biologiske tester. Vi har funnet at periferi bestråling er tilstrekkelig til å redusere VWRA i mus uten å forårsake åpen sykelighet 7. Senere eksperimenter med denne modellen kan bidra til å avsløre effekten av perifer bestråling på immun og andre biologisk signalering, samt nedstrøms endringer i sentralnervesystemet som kan produsere underskudd forbundet med CRF.
Subscription Required. Please recommend JoVE to your librarian.
Protocol
Etikk Uttalelse: Denne studien ble godkjent av National Institutes of Health (NIH) Animal Care og bruk komité. Alle etterforskere som deltar i dyr håndtering og måling av utfall av studiene var riktig utdannet ved NIH Office of Animal Care og bruk og National Heart, Lung, and Blood Institute Murine fenotyping Core. Alle aspekter av dyreforsøk, bolig, og miljøforhold brukt i denne studien var i samsvar med The Guide for omsorg og bruk av forsøksdyr 11.
1. Bolig og forsøksdyr
MERK: Hus mannlige C57BL / 6 mus (om lag fem uker gamle ved ankomst) individuelt gjennom hele eksperimentet og gi ad libitum tilgang til mat og vann. Alle bur holdes på en 12:12 h lys-mørke-syklusen med lyset fasen begynner på 6 am og mørk fase på 18:00.
Identifiser mus og tilordne dem til individuelle standard lufted mus bur. Tillat 24 timer etter identifisering prosedyren for å bli frisk.
MERK: Tail tatovering er anbefalt som et middel for identifikasjon for å eliminere muligheten for at et øremerke kan bli fanget i en løpehjul. Tatovere et nummer på halen av hver mus, med nummeret på halen matchende nummer skrevet på musen bur.
Tillat musene akklimatiseres til burene i minst tre dager, håndtering hver mus forsiktig i en periode på tre minutter per dag.
2. Kjøre Wheel Akklimatisering og Baseline
Introduser musene til individuelle VWRA bur, hver utstyrt med et løpehjul som er koblet til en elektronisk teller for kontinuerlig opptak.
MERK: Alle hjul tellere koble til en datamaskin via en enkelt USB-grensesnitt (se Materials List). Dataprogram beregner antall hjul rotasjoner, distanse, og gjennomsnittshastighet over hver utpekt tidsintervall av den angitte totale duration. Når opptaket stopper, blir dataene automatisk lagret både som tekst og som regneark.
Initiere opptak av VWRA gjennom datamaskinen programvaregrensesnitt. Satt innspilling intervaller til en time, og varigheten til minst fem dager. Fortsett opptak VWRA i minst fem dager.
MERK: Ved slutten av trinnet 2,2, bør alle mus oppnå en relativt konsistent mengde daglig hjul løpende aktivitet. Hvis ikke, så identifisere og utelukke eventuelle uteliggere.
Stopp VWRA opptaket gjennom programvaren grensesnittet, og returnere musene til sine vanlige bur som er beskrevet i trinn 1.1 (bur uten løpehjul).
Tilfeldig mus inn i enten humbug-bestrålt kontroll eller bestrålt grupper.
3. Bestråling
Merk: Utfør følgende trinn for alle mus i begge grupper, en gang per dag i tre sammenhengende dager. Unn mus i samme rekkefølge hver dag.
Bedøve hver mus ved intraperitoneal injeksjon aven ketamin (100 mg / kg) og xylazin (10 mg / kg) blanding.
Bekreft anestesi med en tå klype og bruke salve på øynene for å hindre tørrhet mens under anestesi.
Overfør bedøvet musen til en bly skjerming enhet. Ordne musen i skjermingen, slik at bare den nedre del av magen / bekkenet er eksponert.
MERK: Skjermen er sammensatt av to ledende "bokser", med et smalt åpent mellomrom som tillater stråling til en liten, målrettet regionen til mus (se figur 1).
Bruk medisinsk tape for å feste bunnen av musens hale i posisjon inne i skjerming.
MERK: Trinn 3.4 er valgfritt, men gjør det kan bidra til at posisjonen til musen ikke endres i løpet av neste trinn.
Transportere skjerminnretningen i stråle, slik at dyret posisjon inne i skjermingen er opprettholdt.
Hvis musen er i bestråling gruppen levere 800 cGy på en dose hastighet på ca 110 cGy / min. Hvis musen er i humbug-bestråling kontrollgruppen, la musen i den inaktive irradiator for tilsvarende tid.
MERK: Optimal irradiator innstillingene vil avhenge av den aktuelle enheten. Den doserate på 110 cGy / min levert fra en kilde 137 Cesium er den sentrale doserate til stråle brukt her. Eksponeringstiden ble justert for å oppnå den ønskede totaldose på 800 cGy.
Fjern musen fra stråle og skjerming, og deretter gå tilbake til sin opprinnelige, standard bur nevnt i trinn 1.1.
Kontinuerlig overvåke musen før den har gjenvunnet nok bevissthet til å opprettholde sternal recumbency.
4. Stråling-indusert Fatigue Measurement
På dagen etter fullførelse av tre etterfølgende dager med bestråling, overfører musene til sine individuelle bur VWRA som er beskrevet i trinn 2,1.
Record VWRA, som beskrevet i trinn 2.2, bortsett fra at her innstilling av opptaksVarigheten til mer enn 15 dager. Ved slutten av de 15 dagene, manuelt stoppe VWRA opptaket gjennom programvaren grensesnittet.
MERK: Dataene fra hver opptaksperiode blir automatisk lagret som regneark, som hver inneholder rotasjons, distanse og hastighetsmålinger for alle dyr (kolonner) og på alle intervaller (rader) i hele varigheten av opptaket. Ved slutten av eksperimentet, er det to regneark generert av opptaks programvare: ett for før-bestråling VWRA, og en for den post-bestråling VWRA.
Subscription Required. Please recommend JoVE to your librarian.
Representative Results
Tre grupper av mus ble kjørt gjennom den protokoll som er beskrevet ovenfor. Det var totalt 16 humbug og 20 bestrålt (2400 cGy, 3 x 800 cgy / dag) mus. Etter tre etterfølgende dager med bestråling, viste det bestrålte gruppen betydelig redusert VWRA sammenlignet med sham (blandede gjentatte målinger ANOVA: viktigste effekten av bestråling behandling, F 1,13 = 19,233, p <0,001). Effekten var betydelig for de første syv dagene etter bestråling (enkle viktigste effektene, p <0,05 med Bonferroni korreksjon), med lavest gjennomsnitts VWRA avstand skjer på den tredje dagen etter stråling (Figur 2A). På dager 25 og 26 ble det ikke data samlet inn på grunn av andre atferds testing.
Figur 2B viser fordelingen av endringen i VWRA fra før til etter bestråling. Mens flertallet av mus testet viste tretthet-lignende symptomer (en reduksjon in hjul kjører aktivitet), var det et lite antall mus som viste liten endring eller til og med en økning i VWRA (figur 2B, nedre plott). På grunn av denne variasjonen kan eksperimenter med små utvalg ikke fange tretthet-lignende oppførsel.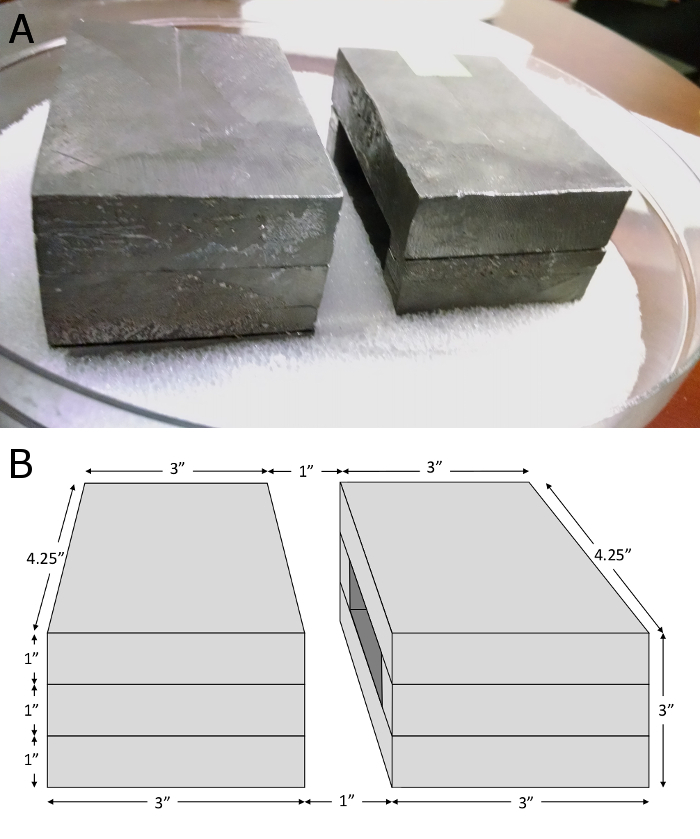 Figur 1: Bly skjerming Apparatus. Skjermings, som ble utviklet i huset, er satt sammen som to identiske bokser. Mus blir plassert med bare deres bekkenet eksponert i mellomrommet mellom føringsboksene. (A) Et fotografi av det skjerm i sin beholder. Bly boksene er omgitt av polystyrenskum for å holde dem i stilling, som er omgitt av en 10,5-tommers diameter plexiglass beholder som er designet for stråle. (B) Skjematisk av ledelsen skjerming. Ledningen skjerming består av 1-tommers tykke blokker av bly arvarierte som to bokser. Hver boks består av fire deler: den øvre og nedre stykker er 4,25 "x 3" x 1 ", mens sidestykkene er ~ 0,5" x 3 "x 1". I montert tilstand er de ytre dimensjoner av hver eske er 4,25 "x 3" x 3 ", og det er en en" gap mellom dem. Klikk her for å se en større versjon av dette tallet.

Figur 2: Daglig Frivillig Wheel Running Avstand. (A) Gjennomsnittlig total distanse drevet av mus hver dag (n = 16 kontroll, 20 bestrålt). Mus ble bestrålt på dagene 14, 15 og 16. På dager 25 og 26 ble ingen data innsamlet på grunn av andre adferdstesting. Feilsøylene viser standard feil av gjennomsnittet. * P <0,05. (B) Histogrammer av endringen i VWRA, her definert som gjennomsnittet av de three dager umiddelbart før bestråling (dag 11 - 13) minus gjennomsnittet av de tre dager umiddelbart etter bestråling (dag 17 - 19). Positive tall indikerer en reduksjon i VWRA. Klikk her for å se en større versjon av dette tallet.
Subscription Required. Please recommend JoVE to your librarian.
Discussion
Vi har beskrevet en protokoll ved å bruke rettet perifert bestråling for å indusere en reduksjon av VWRA i mus uten forvirrer sykelighet eller dødelighet. Viktigst av alt gir en enkel skjerming enhet bestråling i denne protokollen for å målrette et ønsket region konsekvent, ligne strålebehandlinger mottatt av pasienter med bekkenkreft. I motsetning til eksisterende CRF-modeller som involverer hjernen eller total kroppsbestråling 8, 9, utforsker denne modellen hvordan en perifer-målrettet Bestrålingsprosedyren kan påvirke sentralt drevet tretthetsatferd. I våre representative resultater viser vi at omkrets bestråling levert på denne måten er tilstrekkelig til å frembringe utmatting-lignende oppførsel med en fullstendig gjenoppretting omtrent en uke senere.
Som et mål på tretthet, VWRA muliggjør en enkel og objektiv vurdering av avstand og hastighet i 24 timer per dag, som krever minimal opplæring og eksperiment tid. det gjøres kreve bolig mus i individuelle bur, noe som gjør anlegget plass en mulig begrensende faktor. Mens enkelte bolig kan påvirke mus atferd, kan muligens føre til angst 12 eller hyperaktivitet 13, er det bevis for at hjulet kjører kan redusere disse negative effektene 14. Wheel kjører atferd har også vist seg å ha mindre intra-mus variasjon og større reproduserbarhet enn andre vurderinger av fysisk aktivitet 15. Det er imidlertid mulig at fysisk utmattelse kan være mer selektivt fanges i andre enn frivillig aktivitet måter, ettersom frivillig aktivitet kan avhenge av motivasjon eller annen enn strengt tatt fysisk tretthet 16 faktorer. Ytterligere eksperimenter ville være nødvendig å foreta en slik bestemmelse.
Det er imidlertid flere punkter innenfor den protokoll som er avgjørende for suksess. Det er viktig at mus som får lov til å tid recover ved ankomst i et nytt anlegg, og at håndteringen utføres i løpet av denne perioden som angitt. Disse prosedyrene redusere stress og angst, noe som kan påvirke frivillig aktivitet 17. Opprettholde fullstendig anestesi under bestrålingsprosessen er også kritisk, ikke bare fordi være begrenset innenfor lukkede rom (ledningen skjerming) kan være en betydelig stressfaktor for dyrene 18, men også for å unngå unødig eksponering av andre organer / vev til bestråling. Det er derfor viktig å sikre at doseringen av narkosen er tilstrekkelig for alder og stammen av mus før bestråling del av denne protokollen. I tillegg er det akklimatisering av mus til løpehjul for en minimum fem dager kritisk for å oppnå stabil oppførsel før bestrålings og egnede data for analyse.
For å feilsøke uvanlig VWRA tall, bør VWRA merdene kontrolleres regelmessig for potensielle problemer. for example, hvis sengetøy materialer blitt stablet opp på eller rett under hjulet, eller hvis løpehjulene ikke er tilstrekkelig rene, dette kan legge motstand mot hjulet spinne og redusere aktivitetsnivå målinger. I tillegg, siden de fleste hjul kjører oppstår under de mørke timer 7, kan VWRA være følsom for svingninger i lys syklus, og forsiktighet bør tas for å holde lys sykluser regelmessig og uavbrutt.
Denne protokollen har plass til bruk av forskjellige nivåer av bestråling. For eksempel beskrev vi tre dager med dosering med 800 cGy i denne protokollen, men vi har sett noe lavere nivåer av utmattelse ved hjelp av tre dager med 600 cGy dosering 7. Virkningene av et spesielt bestrålings dose vil være avhengig av musestamme 19, doseringshastighet til stråle 20, fraksjoner over flere dager 21, og sannsynligvis størrelsen av regionen exposed under skjerming. Enkeltdoser på 1000 cGy hele kroppen bestråling har blitt brukt i C57 / BL6 mus uten økt dødelighet 22, men forholdsregler bør tas for å sikre at høye doser av stråling ikke gi noen tegn til sykelighet.
Foruten stråledose, kan flere andre tiltak bli endret for å passe forsøket på hånden. Ved å endre ledelsen skjerming eller dyrets plassering i skjerming, kan disse metodene tilpasses målrette andre kroppsregioner med bestråling. Imidlertid bør endringer i skjerminnretningen bli validert med dosimetri for å sikre at bestråling ikke trenge inn i det skjermede område. Denne protokollen kan også tilpasses til å innlemme et bredt spekter av atferdsmessige tiltak, som frivillig løpe aktivitet ikke ville utelukke atferdsmessige eksperimenter som er mer fysisk eller mentalt krevende. For eksempel CRF forekommer ofte sammen med kognitiv svikt 3; framtideksperimenter kunne utforske rollen som strålebehandling kan spille i denne sammenheng. Tilstedeværelsen av hjulløpe aktivitet må tas i betraktning ved utførelse av de ytterligere adferdstester, som VWRA kan påvirke fysiologi og opptreden på mange måter 16.
Med bestrålingsdoser på 800 cGy eller mindre, bør musene ikke trenger spesiell omsorg etter å utvinne fra anestesi. Imidlertid kan bestråling prosedyre og resulterer tretthet potensielt samhandle med andre tiltak som ytterligere atferdstester eller farmasøytiske behandlinger. Dyrene skal overvåkes nøye i dagene umiddelbart etter bestråling når endre eller legge til dette beskrevet prosedyre. Ulike stammer av mus kan også vise forskjellig følsomhet for bestråling 19, så forsiktighet utvises ved bruk av andre enn C57BL / 6 stammer.
Selv om denne teknikken er konstruert for å representere stråling isert tretthet, er det bare én komponent av komplekset CRF-konseptet. CRF er en tilstand som sannsynligvis har mange årsaker og oppstår hos pasienter som har kreft og ofte får flere behandlinger. En forståelse av CRF kan derfor kreve sett av eksperimenter med tumorbærende mus og med andre behandlinger som kjemoterapi eller hormonbehandling. Innlemming disse variablene i biologiske og atferdstester vil tillate forskere å identifisere sine bidrag til dette komplekse tilstanden. Musen modellen beskrevet her, kan bidra til å forstå den spesifikke rollen av stråling i CRF og utvikle mulige behandlingsformer.
Subscription Required. Please recommend JoVE to your librarian.
Disclosures
Denne forskningen ble støttet av Seksjon for egenutført forskning, National Institute of Nursing Research, National Institutes of Health.
Acknowledgments
Forfatterne ønsker å takke Michele Allen av National Heart, Lung, and Blood Institute (NHLBI) av National Institutes of Health (NIH) for sjenerøst deler sin kompetanse i murine fenotyping metoder og for hennes pågående teknisk assistanse, så vel som for Timothy Hunt av NHLBI for å hjelpe oss å utvikle skjermenheten. Denne studien er støttet av Seksjon for egenutført forskning fra Statens institutt for sykepleieforskning på NIH, og en del av validering rettssaken er støttet av en bevilgning fra Oncology Nursing Society Foundation.
Materials
| | | | |
| --- | --- | --- | --- |
| Name | Company | Catalog Number | Comments |
| C57BL/6 Mice | Charles River | | Strain code 027 (http://www.criver.com/products-services/basic-research/find-a-model/c57bl-6n-mouse) |
| Ketamine HCl | Putney | | 100 mg/mL stock solution |
| Xylazine HCl | Lloyd Laboratories | | 100 mg/mL stock solution |
| Rodent Tattoo System | AIMS | ATS-3 | http://animalid.com/lab-animal-identification-systems/ats-3-general-rodent-tattoo-system |
| Lead Shielding Apparatus | (custom made) | | One-inch thick lead shielding arranged as two boxes with a one-inch thick gap between them for targeted irradiation |
| Plexiglass shielding container | (custom made) | | Plexiglass container filled with styrofoam. Styrofoam cutouts hold the lead shielding in place. |
| GammaCell 40 Exactor | Best Theratronics | | http://www.theratronics.ca/product_gamma40.html |
| RAD Disk Ultra | Best Theratronics | | http://www.theratronics.ca/product_rad.html |
| Mouse Single Activity Wheel Chamber | Lafayette Instrument Company | #80820 | http://www.lafayetteneuroscience.com/product_detail.asp?itemid=980 |
| Activity Wheel Counter for Computer Monitoring | Lafayette Instrument Company | #86061 | http://www.lafayetteneuroscience.com/product_detail.asp?itemid=1052 |
| Modular Cable for Wheel Counters | Lafayette Instrument Company | #86051-7 | http://www.lafayetteneuroscience.com/product_detail.asp?itemid=1046 |
| USB Computer Interface for Activity Wheel Counters | Lafayette Instrument Company | #86056A | http://www.lafayetteneuroscience.com/product_detail.asp?itemid=1047 |
| Activity Wheel Monitor Software | Lafayette Instrument Company | #86065 | http://www.lafayetteneuroscience.com/product_detail.asp?itemid=1053 |