Summary
Her har vi detalje en metode til kultur tand bakterier i underkæbe skiver ved hjælp af en vævshakker. Denne metode giver enestående adgang til tanden under udviklingen, hvilket giver god mulighed for manipulation og afstamning opsporing, ikke er til rådighed ved hjælp af mere traditionelle dyrkningsmetoder.
Abstract
Eksplantation kultur muliggør manipulation at udvikle organer på bestemte tidspunkter, og er derfor en vigtig metode til udviklingsmæssige biolog. For mange organer er det vanskeligt at få adgang til at udvikle væv for at muliggøre overvågning under ex vivo-kultur. Den skive dyrkningsmetode giver adgang til væv, så morfogenetiske bevægelser kan følges og specifikke cellepopulationer kan målrettes til manipulation eller afstamning sporing.
I denne artikel beskriver vi en metode til skive kultur, der har været meget vellykket for kultur af tand bakterier i en række arter. Metoden giver fremragende adgang til tand bakterier, der udvikler sig ved en lignende sats, der blev observeret in vivo, omgivet af de andre kæbe væv. Dette giver vævsinteraktioner mellem tanden og det omgivende væv, der skal overvåges. Selv om dette dokument koncentrerer sig om tand bakterier, kan den samme protokol skal anvendes til at følge udviklingen af ​​en rækkeandre organer, såsom spytkirtler, Meckel brusk, nasale kirtler, tunge og øre.
Introduction
Log in
or
Start trial
to access full content. Learn more about your institution's access to JoVE content
here
For en række forsøg er det vigtigt at være i stand til kultur væv ex vivo til at følge udviklingen. Kultur udvikle væv giver adgang ved definerede perioder af udvikling og tillader manipulation af gener ved tilsætning af faktorer til dyrkningsmediet, eller indlæst perler, og ved anvendelse af transfektion og elektroporation 1. For mange forsøg er det vigtigt at være i stand til at visualisere det væv, som det vokser, for eksempel for at følge skæbnen for afstamning mærkede celler som vævet undergår morfogenese. Dette kan være særligt problematisk for væv, der udvikler dybt i embryonet, som ikke er indlysende, når en blok af væv fra embryonet dyrkes. Tænder er gode eksempler på dette, som de udvikler i underkæben, overkæben og frontal nasal proces. Når hele underkæben dyrkes de overfladiske strukturer i tanden kan ses, men ændringer i morfologi kan kun analyseret efter sektionering af fast væv 3. Disse skivekulturer har været meget nyttige i direkte efter morfogenese af tanden, og tillader slægt sporing af forskellige komponenter, såsom emalje knude og dental papilla og follikelstimulerende 1,4-7. Teknikken er ikke begrænset til musefostre og har med succes været anvendt til dyrkning af levende udsnit af svin og slange dentalt væv 8,9. Ud over den fordel af at være i stand til at visualisere tandudvikling, udsnittet metode har også den fordel, at de tynde skiver af væv har øget adgang til næringsstoffer fra mediet og luft fra inkubatoren. Dette resulterer i en forbedret vækst af tand bakterier, som matcher udvikling in vivo og viser invasion af endotelceller i papilla 7. I modsætning hertil tand bakterier i hele underkæbe kulturer udvikle langsommere end in vivo og midten af kulturen er ofte nekrotisk i langvarige kulturer. I skive kultur, tanden udvikler sig inden for en skive af kæben, og kan overvåges dens samspil med det omgivende udvikle knogler og andre væv. I vores metode vævet hakket lige efter dissektion med noget behov for at integrere i en støtte medium 10,11 og intet behov for et system til at fastgøre væv til huggeblokken. Metoden er derfor noninvasive og hurtig, så mange kæber, der skal skæres i en session.
Subscription Required. Please recommend JoVE to your librarian.
Protocol
Log in
or
Start trial
to access full content. Learn more about your institution's access to JoVE content
here
1.. Set Up
Slib Dissektionsinstrumenter (ved hjælp af en slibesten smurt med mineralsk olie) og sterilisere før brug for orgel kultur ved hjælp af en 70% ethanol spray og tør-varme sterilisation. Skærp dissektion nåle ved hjælp af elektrolyse i 2 M natriumhydroxid ved hjælp af en 12 V forsyning.
Forbered dyrkningsmediet anvendes til dissektion og dyrkning af embryonale organer bestående af Advanced Dulbeccos Modified Eagle Medium F12 (DMEM F12) suppleret med 1% Glutamax og 1% penicillin-streptomycin.
2. Embryo Dissection
Frasortering en tidsindstillet parret gravid kvinde ved hjælp af en tidsplan en metode, som er godkendt af Indenrigsministeriet eller andet ledelsesorgan. Dissekere væk huden omkring maven, og skar maven med en saks. Find de to Uterushornene, der forbinder sammen på lavere midterlinjen.
Dissekere ud livmoderen og placeres i et rør fyldt med medium på is. When på is, kan vævet stå i flere timer.
Fjerne livmoderen og anbringes i en petriskål i medium under mikroskop. Hvor det er muligt embryo dissektioner skal udføres i en laminar flow hætte for at minimere forurening.
Dissekere ud embryoner fra livmoderen og befri dem fra deres extraembryonic væv.
Halshugge embryoner ved hjælp af en wolfram nål og overføre hovederne i en frisk skål af medium.
Isoler mandiblerne fra hovedet ved at placere en nål i mundhulen og skære igennem mod bagsiden af hovedet (figur 1A og 1B). Isolerede mandibles kan gemmes midlertidigt i medium på is mens man venter på at hakke.
For hele underkæbe skiver iscenesætter E11.5-E15.5 er ideelle til tand kim kultur. Efter E15.5 udviklingslandene knogle i underkæben er for hård til at hakke. Tand skiver kan stadig foretages, men knoglen (dentary og danner alveoleknoglen), skal denne først fjernes veddissektion før snitning 9. Fjern ben forsigtigt med wolfram nåle og pincet.
3. Embryo Slicing
Forbered mandibeldelen vævssnit ved hjælp af et standardiseret skema vævshakker (figur 1C). Brug en frisk blad efter ca 200 Kindbakkerne, og sørg for at det flugter med den stigende disken, når den falder.
Rengør monteringsskiven og blad med 70% ethanol før brug. Der skal udvises forsigtighed ved brug af maskinen, da kniven er meget skarp.
Sæt helikopter på en skæring afstand på mellem 200-400 um efter alder af prøven, og afhængigt af, om det hele tand kim er påkrævet. Indstil klingen kraft på maksimum.
Overfør en underkæbe til plast montering disken ved hjælp af en pipette eller pincet. Arranger underkæben på disken og sørg for orientering er stadig klar. Fremkalderopløsningen tungen kan anvendes som et nyttigt milepæl for bestemmelse orientering. For kindtænder Brug AFrontal / tværgående orientering (se plan hakke i figur 1B), mens der for fortænder bruge en sagittal skive gennem underkæben at afspejle de forskellige orientering af disse tænder som de vokser (se plan hakke i figur 2A).
Fjern den overskydende medie fra hele vævet med filtrerpapir for at lidt tør underkæben på monteringen disken.
Umiddelbart efter tørring, placere disken på den cirkulære rustfrit stål bord i helikopteren. Tænd maskinen og trykke på start. Tabellen gennemløber automatisk fra venstre til højre, mens på samme tid snitningen arm bærer kniven hæves og faldet på op til 200 slag / min.
Sluk for maskinen, når vævet er blevet fuldstændig skåret. Sørg for, at klingen arm er i hævet position, og fjern disken. Anbring ikke fingrene under kniven armen eller forlade maskinen uden opsyn, når hakning.
Tag monteringsskive og straks tilføje medium to skiverne på disken for at forhindre overdreven udtørring. Løsne forsigtigt skåret væv fra bunden af skiven ved hjælp af en wolfram nål og derefter afpipetteres i en lille petriskål medium (figur 2A).
Adskil skiverne ved hjælp af en nål og derefter vælge de vævssnit, der indeholder væv af interesse under et stereomikroskop (figur 1D, 1E, og 2B). Placer udvalgte skiver i friske kultur retter med medium.
4.. Slice Kultur
Forbered centrale brønd organ dyrkningsskåle klar til kultur ved at tilsætte ca 2 ml autoklaveret vand til den ydre såvel at undgå dehydrering, og ved at placere et metalgitter på tværs af midten af skålen (figur 3A og 3B).
Forbered metalgitre ved at skære strimler cirka 4 cm x 1,5 cm af plader af rustfrit stålnet. Brug en hulning at lave et hul i midten og bøjesiderne for at skabe en forskudt ende. Gitteret skal passe fladt hele den centrale godt, liggende parallelt med bunden af skålen (figur 3A og 3B). Autoklaver tavlerne at sterilisere før brug.
Skær et stykke af transparent polyethylenterephthalat (PET) membran (porestørrelse 0,4 um) stor nok til at dække hullet i nettet. Den overskårne membran i fadet med den valgte skive.
Placer skive på toppen af ​​membranen og derefter forsigtigt løfte membranen ud af mediet, med skive fladtrykt i midten.
Filtret på risten i det cirkulære hul i midten, og der tilsættes ca 1 ml dyrkningsmedium til brønden, op til niveauet af membranen.
For manipulationer tilføje proteiner eller småmolekyle-inhibitorer til mediet (for eksempel 8).
Fotografere skive for en fortegnelse over morfologi på dag 0 af kulturen.
Placer retter i en fugtig atmosfære af 5% CO
Fotografere kulturer med jævne mellemrum for i gennemsnit 7 dage. Skift dyrkningsmediet hver 48-72 time. For fotografering se skiverne med en lyskilde nedefra (figur 2C-E).
5.. Lineage Sporing
Hvis afstamning sporing er nødvendig, kan lipofile farvestoffer, såsom Dil eller DiO injiceres i tand kim før trin 4 skive kultur.
Træk glas kanylerne hjælp af en nål aftrækker.
Bryd spidsen af ​​nålen med pincet og placere spids ned i farveopløsning. Lad et par minutter, mens farvestoffet fylder spidsen ved kapillarvirkning.
Læg den fyldte nål i en holder og vedhæfte via slangen til en injektor eller mund aspirator.
Placer spidsen af ​​nålen i dyrkningsmediet berøre området af den del som skal mærkes. Anvend lufttryk til at fortrænge en lille mængde farvestof ud af nålen end på vævet.
Fjern kanylen og tjekke for mærkning under fluorescens.
Succesfuld mærkede skiver kan overføres til filtre og dyrket som beskrevet i trin 4.
Subscription Required. Please recommend JoVE to your librarian.
Representative Results
Log in
or
Start trial
to access full content. Learn more about your institution's access to JoVE content
here
For at følge bevægelsen af ​​den første kindtand tand follikel var 250 um frontal udsnit taget gennem en underkæbe ved hjælp af den ovenfor beskrevne metode. Den dentale follikel er laget af mesenkym der omgiver den ydre emalje epitel (OEE) i udviklingslandene tand, og er tidligere blevet vist at deltage i dannelsen af væv periodontium 6. Kindbakkerne blev dissekeret på E14.5, hætten fase af tand udvikling. I den skive var klart omridset af dental epitel og kondenserende dental mesenchyme kunne identificeres som en mørkere ring omkring tanden epitel (figur 4A). Dil blev injiceret i mesenkym siden af den ydre emalje epitel tand skive på den linguale side (figur 4A). Efter mærkning skiverne blev dyrket i 4 dage og fotograferet med mellemrum (figur 4B og 4C). In vivo tand bakterier ville have nåetbell stadium ved E18.5, og en tydelig klokke fase form blev observeret i skiver, hvilket indikerer en lignende progression i løbet af denne periode. Pletten af Dil blev anset for at strække sig ind i et bånd af celler, der strækker sig omkring den ydre dental epitel tanden steg (figur 4B og 4C).

Figur 1. Dannelse af levende skiver. (A) E14.5 embryo. Stiplede linjer angiver de planer skæres med en dissekere nål, startende med lavere snit for halshugning. (B) dissekeret underkæben. Tungen vender nedad. Flyet af sektion for vævshakker er vist ved hjælp af stiplede linjer. (C) vævshakker viser klinge arm (BA) og hvid Monteringsskive (MD) med forberedte prøve (pil). (D) repræsentant skive gennem det molæreregion. Pile peger på kindtand bakterier. (E) Høj effekt visning af en kindtand skive. Tanden kim epitel er skitseret med sorte pletter. Billeder skærpet ved hjælp af Photoshop. T = Tunge, DB = Dentary knogle, MC = Meckel brusk. Målestokken i A = 3 mm. Målestokken i B & D = 1 mm. Målestokken i E = 500 um. Klik her for at se større figur .

Figur 2. Fortand og kirtel kultur. (A) E12.5 Mandible, der er blevet hakket sagittally. Udviklingslande fortænder (skitseret hvide pletter med asterix) og submandibulære kirtler (skitseret med sorte pletter og pile) kan lige lavet ud. (B) Samme underkæbe viser centrale 4 skiver skilles ud. Den voksende submandibularis cen ses som en knop omgivet af kondenseret mesenchyme (pilespidser) i de to laterale sektioner (top på billedet). Den kondenserende mesenkym omkring kirtel er skitseret i rødt. Fortænderne er i epithelial fortykkelse etape (Asterix), i de to centrale skiver (nederst i billedet). (C) Sagittal skive gennem en fortand på E14.0 på dag 0. (D) Samme skive 1 døgn senere. (E) Samme udsnit efter 3 dage i kultur. (CE) pilen peger på en fortand og danner labial livmoderhalskræft løkke. Pilespids peger på at udvikle submandibularis. I kultur tanden kim strækker bagud livmoderhalsen loops vokser, mens spytkirtel fortsætter med at gennemgå forgrening morfogenese og lumen dannelse. Billeder skærpet ved hjælp af Photoshop. T = Tunge, MC = Meckel brusk. Målestokken i A & B = 1 mm. Målestokken i C, D, E = 500 um. Klik herfor at se større figur.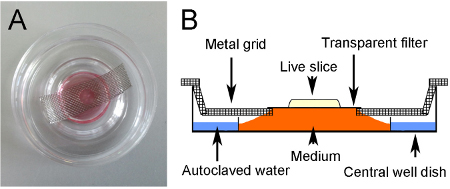 Figur 3. Kultur-metoden. (A) Kulturperler skive. Kulturen sidder på en transparent filter ophængt over medium via en metalgitter. Et hul i gitteret tillader udsnittet skal visualiseres med lys nedefra. (B) Skematisk af dyrkningsmetode.

Figur 4.. Dii mærkning af dental follicle. (AC) Fusioneret lys og mørke felt billeder, der viser udviklingen kindtand kim og placering af Dil afstamning etiket. (A) Dag 0. Tanden kim (pilespids) er hætten scenen. Dil etiketter celler dental follikel på den linguale side af tanden. (B (C) Dag 4. Tanden kim har nået klokke scenen og Dil mærkede celler ses at sprede sig i en bue omkring udviklingen ydre emalje epitel. Billeder er blevet skærpet i Photoshop efter sammenlægning lag ved hjælp af skærm. Epitel af tand skitseret med sorte pletter. DP = dental papilla ligger inden for det indre emalje epitel. DF = dental follicle, der løber omkring den ydre emalje epitel. MC = Meckel brusk. Målestokken i A, B, C = 500 um. Klik her for at se større figur .
Subscription Required. Please recommend JoVE to your librarian.
Discussion
Log in
or
Start trial
to access full content. Learn more about your institution's access to JoVE content
here
Denne metode til tand kultur har den fordel, at få adgang til tanden kim er fremragende, så nøjagtig afstamning sporing og placering af perler i epitel eller mesenchyme. Definerede regioner i at udvikle tand kim kan derfor målrettet. Under dyrkning kan følges skiftende morfologi af tanden kim, og virkningen af ​​manipulationer hurtigt vurderes.
Metoden er dog kun egnet til unge tand bakterier før væsentlig dannelse af hårde væv, såsom dentin og emalje, da disse ikke kan hakkes præcist. For Kindbakkerne er det efter E15.5 nødvendigt at fjerne knoglen før hakning. Dette har den ulempe af potentielt beskadige tand kim, der er tæt forbundet med knogle fra E16.5. Vi har med succes skåret dissekeret tand bakterier op til postnatal dag 4, hvorefter tanden bliver for hårdt for helikopteren at skære på grund af aflejring af emalje. Den skive metode fungerer godt på tand bakterier fra E13.5, dvs knopstadiet 1,6. Før dette tidspunkt-punkt, når tanden er i epithelial fortykkelse fase tand bakterier udvikler men succesraten er reduceret, og morfologi kan blive påvirket på lang sigt.
En væsentlig ulempe ved den fremgangsmåde er, at sønderdeling sker tilfældigt gennem tanden. I nogle skiver vil blive fundet en hel tand kim i en skive, mens det i andre helikopteren kan skære tand kim gennem midten. Dette betyder, at det kan være vanskeligt at opnå et stort antal af identiske skiver. For at bekæmpe dette problem, er det muligt at opdele en skive ned i midten og bruge højre og venstre side som eksperimentel og kontrol. Til dette imidlertid underkæben skal omhyggeligt placeret på sønderdeling disken for at sikre skive skæres symmetrisk. For nogle forsøg er det en fordel at have skiver, der dissekere tanden, således at de interne strukturer, såsom emaljeknude, kan tilgås for afstamning mærkning 4. Tanden kim synes meget robust, og sådanne halv tand bakterier er i stand til at udvikle sig godt i kultur, som tidligere vist i halverede kindtand bakterier 12,13.
Som et alternativ til at skære kultur, kan tand bakterier dissekeres ud af underkæben og dyrket i isolation 14. Dette fjerner problemet med dårlig ernæring og iltning er forbundet med dyrkning af store blokke af væv og fører til god tand udvikling, men som en konsekvens tanden udvikles uden interaktion med det omgivende væv. Når store mængder af de omkringliggende mesenchyme fjernes antallet af tand bakterier, der danner kan ændres, fremhæver betydningen af det omgivende mesenchyme for normal tand udvikling 15.. Slice kultur er derfor en god metode til undersøgelse af interaktion af væv, for eksempel hvordan ben og tand interagere i dannelsen af ​​alveolær knogle eller hvordan salivariere kirtler interagere med tungen og oralt epitel, noget, der er tabt, når disse væv dyrkes i isolation.
Dette papir fremhæver brugen af denne fremgangsmåde til dyrkning af tand bakterier, men den samme fremgangsmåde er også fremragende til dyrkning udviklingslandene submandibulære og sublinguale kirtler og efter udviklingen af struktur, såsom Meckel brusk (figur 2).
Subscription Required. Please recommend JoVE to your librarian.
Disclosures
Forfatterne erklærer, at de ikke har nogen konkurrerende finansielle interesser.
Acknowledgments
Sarah A. Alfaqeeh er finansieret af Kind Saud University College of Dentistry, Ministeriet for Videregående Uddannelser, Kongeriget Saudi-Arabien.
Materials
| | | | |
| --- | --- | --- | --- |
| Name | Company | Catalog Number | Comments |
| Ethanol | VWR | 101077Y | 100% ethanol was diluted in distilled H2O to 70%. |
| DMEM F12 | Gibco | 12634-010 | Advanced Dulbecco's Modified Eagle Medium F12 |
| GlutaMAX | Gibco | 35050-061 | |
| Penicillin-streptomycin | Sigma | P0781 | |
| DiI (Molecular probes) | Vybrant | V-22885 | Cell-labeling solution |
| | Invitrogen | | Cell tracker CM-DiI, C-7000 |
| DiO (Molecular probes) | Vybrant | V22886 | |
| Geminator 500 | Thomas | Thomas No. 3885A20 | Dry-heat sterilization |
| McIlwain tissue chopper | Ted Pella, Inc. | 10180 | Standard table |
| Organ culture dish (Center-Well Organ Culture Dish) | Falcon | 353037 | |
| Membranes (Cell Culture Inserts, 0.4 μm pore size) | BD Falcon | 353090 | PET track-etched membrane, 6-well format |
| Metal grids (Stainless Steel - AISI 304 - Mesh) | Goodfellow | FE228710 | (Fe/Cr18/Ni10) |
| AutoFlow Direct Heat CO2 Incubator | Nuaire | NU-5500 | |
| Picospritzer III | Intracel Ltd | 051-0500-900 0-100 psi | Single channel picospritzer III |
| Glass capillary with filament 1 mm | WPI | TW100F-4 | |
| Tungsten wire 0.1 mm | Goodfellow | W005138 | |
| Tungsten wire 0.38 mm | Goodfellow | W005155 | |
| Aspirator tubes | Sigma | A5177 | Used for mouth aspiration lineage tracers |