Summary
İnsan pluripotent kök hücreler (hPSCs) farklı hastalıkların sayısız tedavi potansiyeline sahiptir. Bu hücrelerin yardımcı vücutta herhangi bir hücre tipinde farklılaşabilmektedir olduğu yatmaktadır. Burada hPSCs arasında pluripotence göstermek için kullanılan deney teratomlar, açıklanmaktadır.
Cite this Article
Copy Citation | Download Citations | Reprints and Permissions

Peterson, S. E., Tran, H. T., Garitaonandia, I., Han, S., Nickey, K. S., Leonardo, T., Laurent, L. C., Loring, J. F. Teratoma Generation in the Testis Capsule. J. Vis. Exp. (57), e3177, doi:10.3791/3177 (2011).
Abstract
Pluripotent kök hücreler (PSC'ler) bunlar her üç germ hücreleri içinde farklılık olabilir benzersiz özelliği var. Bu, bunların pek çok farklı hastalıkların tedavisi için potansiyel olarak değerli bir araçtır. Uyarılmış pluripotent kök hücreler (iPSCs) ve insan embriyonik kök hücreleri ile devam eden araştırma çıkışıyla (hESC) belirli bir hücre hattı pluripotent olduğunu kanıtlamanın deneyleri için bir ihtiyaç vardır. Germline iletim fare embriyonik kök hücre (Mesc) hatları 1,2,3 pluripotence göstermek için altın standart olmuştur. Bu testte kullanarak, araştırmacılar Mesc hattı germ hücreleri dahil olmak üzere 4 embriyo tüm hücre tipleri yapabilirsiniz gösterebilirsiniz. İnsan EKH germline iletimi için test edilemez yana insan ESC hatları 5,6 üretimi ile, bu hücrelerin pluripotence kanıtlamak için uygun bir test belli değildi. Bir taşıyıcı olarak, teratomlar assay anda pluripot göstermek için kullanılırinsan pluripotent kök hücrelerinin ğ (hPSCs) 7,8,9. Bu deneyi son zamanlarda, büyüteç altına alındı ​​ve yeni teknolojilerin etkin araştırılmaktadır rağmen, teratom tahlil günümüzde altın standart 7'dir. Bu deneyde, söz konusu hücre, bir bağışıklık sistemi zayıflamış fare içine enjekte edilir. Hücrelerin pluripotent olduğunu, bir teratom sonuçta gelişecektir ve tümörün bölümleri her 3 germ 10 dokuların gösterecektir. Teratomlar deneyde, hPSCs fare farklı bölgelerde içine enjekte edilebilir. Veya bacak ya subkutan veya intramüsküler 11 içine; en yaygın enjeksiyon siteleri testis kapsül, böbrek kapsül, karaciğer içerir. Burada tümör büyümesi için site olarak testis kapsül kullanarak hPSCs gelen teratomların nesil için sağlam bir protokol tanımlamaktadır.
Protocol
Not: Tüm hayvan prosedürleri IACUC veya muadili tarafından onaylanması gerekir.
Tüm cerrahi ekipman ameliyattan önce sterilize edilmelidir. Steril eldiven, örtü ve gazlı bez kullanılmalıdır.
1. Ameliyat öncesi hazırlık
6 haftalık Muş MUSCULUS CbySmn.CB17-Prkdc SCID / J erkek fareler veya fare diğer bağışıklık suşu edinin.
Tüm cerrahi aletler, eldiven, gazlı bez ve sterilize edin.
Accutase enjekte edilecek hPSCs ayrışır.
Hücreleri saymak ve matrigel DMEM/F-12 1:1 seyreltilerek 20-30 uL başına 1.000.000 hücreleri tekrar süspansiyon. Bitirene kadar buz üzerinde hücreleri tutun.
Genelde bu Tripan mavi enjekte edilir deney aracılığıyla, bir çalışma yapmak için yararlı olduğunu not edin. Bu, herhangi bir hücre boşa önce olası sorunları belirlemeye yardımcı olacaktır.
Vivaryum olarak, kurumunuzun kabul prosedürlerine göre farenizi uyutmak. Deneylerde, biz bir Anseth kullanılanizofluran ile ÇSED makinesi. Fareler başlangıçta 1L/min oksijen ve% 3-4 izofluran ile bir indüksiyon odasına konuldu. Bir kez anestezi, 1L/min oksijen ve% 2-3 izofluran ile bir burun konisi kullanılmıştır.
Clippers ile karın Tıraş ve karın ortasına başlayarak ve dışa doğru saat yönünde çalışma, fare karın ön duvarı temizleyin. İlk kullanım Povidon-İyot çözeltisi% 70 etanol ile yıkayın. Çubuklar her zaman değişen, 3 kez tekrarlayın. Bir doku kültürü veya kesme kaput içinde hayvan sıcak tutmak için bir ısıtma pedi için hayvan aktarın.
Sadece kalça seviyesinin altında steril cerrahi makas ile cilt ve periton 1 cm longitudinal kesi olun.
Forseps ile periton tutarken, başka bir steril forcept ile sağ kalça aşağı doğru ulaşacak ve ekli testis ile birlikte beyaz yağ dokusu dışarı doğru çekin.
Steril gazlı bez testisler yerleştirin.
Tüberkülin veya Hamilton (1 cc) şırınga wi doldurunhPSCs enjekte edilecek th. Sizin gibi WA09 (ayrıca H9 olarak bilinir) gibi pluripotent olduğunu bildiğiniz bir kontrol hPSC satırı eklemek iyi bir fikir olduğunu unutmayın. Bu şekilde size enjeksiyon ya da cerrahi kusurlu olup olmadığını belirlemek için kullanabileceğiniz bir pozitif kontrole sahip.
Yavaşça testis kapsül şişmeye başlarsa durdurmak, herhangi bir büyük kan damarları uzak testis kapsülünün merkezi haline hPSCs (20-30 uL) enjekte edilir.
Hücrelerinin reflü önlemek için yavaş iğne çıkarılır.
Forseps kullanarak, karında orijinal konumuna testis ve yağ dokusu transferi geri.
2 veya 3 emilebilen sütürlerle periton kadar kapatın ve autoclips ile cilde yakın.
Kurtarır ve 1-2 gün boyunca günde iki kez ameliyat sonrası analjezik bazı formunuz (vivaryum kabul ne bakınız) verilen kadar fare sıcak tutulmalıdır.
Ile anestezi ne de analjezik ne tümör gelişmesine engel olduğunu unutmayın.
Th Monitör6-12 hafta süreyle tümör büyümesi için e hayvan. Çok nadir olarak, tümör önceden ila 6 hafta sonra, enjeksiyon boyutu 5 mm kadar uzayabilir, böylece hayvanlar izlemek için önemlidir. Bu durumda, hayvanlar ötenazi ve tümörler işlenmiş ve her zamanki gibi analiz edilmelidir.
Tümör palpe edilebilir ve yaklaşık büyüklüğü 5mm ulaştığında, fare uyutmak ve kabul hayvan protokol prosedürlere göre bu kurban.
Buna göre tümör ve belge çıkarın - fotoğraf, tedbir boyutu, tartın.
Küçük parçalar halinde tümörün kesin ve% 4 paraformaldehit çözüm düzeltin. Örnekleri kadar% 4 paraformaldehit Mağaza kesit, boyama ve analiz için bir patolog gönderilir.
2. Temsilcisi Sonuçları:
Bu protokol yapıldığı zaman olarak tanımlanan ve hücre çizgisi enjekte pluripotent, bir palpabl, görsel bariz, tümör en az 12 hafta içinde oluşturmalıdır. WA09 gibi kurulan hPSC hatları için, biz genellikle bakın6 hafta içinde tümörler. IPSC hatlar için 8-10 hafta içinde tümör görmek olağandışı değildir. Bu prosedür doğru gerçekleştirildi emin olmak için, bir pozitif kontrol olarak, pluripotent olduğu bilinen bir çizgi ile farelere enjekte etmek için çok önemlidir. Tümörler genellikle çok heterojen bir görünüm ve birçok ekli kistleri (Şekil 1). Bir patolog tarafından tümör örneklerinin analizi her üç germ (Şekil 2) farklılaşmış dokuların göstermelidir.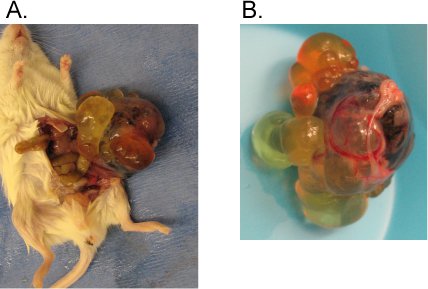 Şekil 1. Testis kapsül Tipik hPSC elde teratom.
Tarif protokolü takip, bir milyon WA09 hücreleri, bir bağışıklık sistemi zayıflamış fare testis kapsül içine enjekte edildi. Altı hafta sonra bir teratom gözlendi. A) Teratoma fare çekilir. B) teratom resmi kadar kapatın. Heterojenite ve kist yapıları unutmayın.
Şekil 2. Hematoksilin ve teratom gelen Eosin kesitlerin her germ tabakasından dokuları gösterir.
Fiksasyonu takiben, teratom Hematoksilen ve Eosin ile kesitli ve lekeli idi. Bir patolog tarafından Analizi 3 germ her birinden hücrelerinin varlığını ortaya çıkarmıştır.
Discussion
Burada sunulan yöntemin testis kapsül hPSCs gelen teratomlar doğurmanın çok güvenilir, kolay yol sağlar. Bu tekniğin birçok kritik parametre vardır. Özellikle, bir kontrol olarak pluripotent olduğu bilinmektedir hPSC hücre çizgileri enjekte etmek için önemlidir. Diğer önemli parametreler enjeksiyon ve tümör gözlenmesi arasındaki zaman aralığı vardır. WA09 gibi hücre hatları için, teratom 6-8 hafta dikkat edilmelidir. Yeni iPSC hatları için biz genellikle 10 hafta gerekli olduğunu bulmak. Başka bir endişe enjekte hücrelerin sayısıdır. Biz bir milyon hücre enjekte ama tahlil kolaylıkla daha az hücre ile yapılabilir. Buna ek olarak, enjeksiyon, orta önemlidir. Biz PBS veya DMEM/F-12 aksine hücreler, matrigel ve DMEM/F-12 bir 1:1 karışımı enjekte edildiğinde biz en iyi sonuçları almak bulabilirsiniz.
Disclosures
Çıkar çatışması ilan etti.
Acknowledgments
Bu çalışma CIRM hibe # TR-1250, RT1-01.108 ve CL1-00.502 tarafından finanse edildi.
Materials
| | | | |
| --- | --- | --- | --- |
| Name | Company | Catalog Number | Comments |
| Accutase | Invitrogen | A1110501 | |
| DMEM/F-12 | Invitrogen | 113300-032 | |
| Matrigel | BD Biosciences | 354277 | |