Summary
Drosophila melanogaster er en genetisk og adfærdsmæssigt medgørlige modelsystem, som er blevet anvendt til at forstå den molekylære og cellulære grundlag af mange vigtige biologiske processer i over et århundrede 1. Drosophila er blevet godt udnyttet til at opnå indsigt i den genetiske basis for fly adfærd.
Cite this Article
Copy Citation
Nichols, C. D., Becnel, J., Pandey, U. B. Methods to Assay Drosophila Behavior. J. Vis. Exp. (61), e3795, doi:10.3791/3795 (2012).
Abstract
Drosophila melanogaster, bananfluen, er blevet anvendt til at undersøge molekylære mekanismer af en lang række humane sygdomme, såsom cancer, kardiovaskulær sygdom og forskellige neurologiske sygdomme 1. Vi har optimeret enkle og robuste adfærdsmæssige analyser til bestemmelse af larve bevægelse, voksen klatring evne (RING assay), og frieri adfærd i Drosophila. Disse adfærdsmæssige analyser er bredt anvendelig til at studere betydningen af genetiske og miljømæssige faktorer på fly adfærd. Larver kravle evne kan bruges som pålideligt til at bestemme tidligt stadium ændringer i kravlende evner Drosophila larver og også for at undersøge effekten af narkotika eller menneskelige sygdomsgener (i transgene fluer) på deres bevægelse. Den larver kravle analysen bliver mere relevant, hvis udtryk eller afskaffelse af et gen forårsager dødelighed i puppe eller voksen etaper, da disse fluer ikke overlever til voksenalderen, hvor de ellers kunne vurderes. Denne grundlæggende enssay kan også anvendes i forbindelse med lys eller stress at undersøge yderligere adfærdsmæssige reaktioner i Drosophila larver. Bejlen adfærd har været meget anvendt til at undersøge genetiske grundlag for seksuel adfærd, og kan også bruges til at undersøge aktiviteter og koordinering, samt indlæring og hukommelse. Drosophila frieri adfærd indebærer udveksling af forskellige sensoriske stimuli, herunder visuelle, auditive, og chemosensory signaler mellem mænd og kvinder, der fører til en kompleks række af velkarakteriserede motoriske adfærd kulminerede med en vellykket samleje. Traditionelle voksne klatrestativer analyser (negative geotaxis) er kedelige, arbejdskrævende og tidskrævende, med betydelig variation mellem forskellige forsøg 2-4. Den hurtige iterative negative geotaxis (ring) assay 5 har mange fordele i forhold til mere bredt anvendte protokoller, der giver en reproducerbar, følsom og højt gennemløb fremgangsmåde til at kvantificere voksen lokomotorisk og negative geotaxis behaviors. I det RING-assayet, kan flere genotyper eller medicinske behandling testes samtidig under anvendelse af store antal dyr med high-throughput fremgangsmåde gør det mere egnet til screening eksperimenter.
Protocol
A. larver Gennemgang Assay
1. Larverne Collection
Opret en 8 ounce flaske fluer (10-15 hanner + 10-15 hunner).
Lad fluer lægger æg i 24 timer, derefter klar flaske fluer. (Overfør de voksne ind i en ny flaske og gentag om nødvendigt).
Inkuber flaske i 3-4 dage, eller indtil tredje stadie-larver er synlige.
Tilsættes 50 - 100 ml 20% sucrose til flasken med larver og lad henstå i 20 minutter. Larver vil flyde til toppen.
Indsamle larver med en 25 ml serologisk pipette med spidsen skåret af, og anbringes i en mesh kurv.
Vask larver i nettet kurven to gange med deioniseret H2O Larver er nu klar til forsøgene.
2. Til behandling af larver med lægemiddel
Anvender en børste til at transportere det ønskede antal af larver i en 5 ml bægerglas indeholdende en opløsning 5% sucrose + medikament.
Lad larver foder i mindst 15 minutter.
Hæld lægemiddel-behandlet larver i et mesh kurv og skyl. De er nu klar til brug.
3. Bevægelsesaktivitet Assay (måling af den samlede distance eller kropvæggen sammentrækninger)
Brug en pensel til at transportere de enkelte larve til:

15 cm petriskål indeholdende 2% agarose (tidligere udhældt og tillades at hærde) over millimeterpapir, hvor en 0,2 cm 2 gitter.

Tæl antallet af gitterlinjer krydsede i 1 minut.

Brønd af en glas dissektion skål indeholdende en fortyndet gær pasta-opløsning.

Tæl peristaltikken sammentrækninger (fuld forreste til bageste bevægelse = 1 sammentrækning) i et minut, mens observere under en dissektion mikroskop.

Gentag, indtil de ønskede antal larver er blevet talt.
B. Hurtig iterativ negative geotaxis (RING) protokol
Dette assay blev oprindeligt afmeldtbeskrevet af Gargano et al 5.
Saml nyklækkede voksne mandlige fluer under lys CO 2 bedøvelse og anbringes i en standard hætteglas indeholdende mad (eller mad + medicin).
Bevar fluer ved stuetemperatur (på bænken toppen. ~ 22 ° C) i 2-3 dage for at give mulighed for helbredelse fra CO 2 (og akkumulering af steady-state medicinindhold hvis relevant).
Overfør ca 25 fluer uden bedøvelse til tilberedte polystyren hætteglas.
Samle hætteglas med fluer i ringen apparatet (figur 1).
Tillad fluer til at akklimatisere sig til miljøet, uforstyrret, i 15-20 minutter.
I denne periode sted digitalkamera ~ 1 m foran apparatet (på en platform, hvis det er nødvendigt at tilpasse midten af ​​linsen på højde med midten af ​​hætteglas), fokus og zoome kameraet på apparatet, og indstille en timer til 3,0 sekunder.
Tag forsigtigt fat i RING apparatet med din venstre hånd, så for ikke at distUrb fluerne, og hold timer med din højre hånd.
Kraftigt tryk apparatet ned på overfladen af ​​bordet tre gange at sikre, at hanen er hårdt nok til at vælte alle fluerne til bunden af ​​hætteglassene.
Samtidig med afslutningen af ​​den tredje hanen, starte 3 sekunder nedtælling.
På tre sekunder at tage et billede.
Nulstille timer i 1 minut og start. I løbet af denne tid skal kameraet og fokuseres på apparatet, og at angive en anden kanal timer til tre sekunder.
Efter 1 minut, gentag trin 1,7-1,10
Efter en totalt 5-6 forsøg, uploade billeder på en computer og bruge din favorit billedfremviser at åbne, og scorer den gennemsnitlige højde klatrede for hvert hætteglas.
Udføre statistiske analyser på dine forskellige grupper man sammenligner den gennemsnitlige højde, rumtemperatur.
C. Courtship og parring Assay
Første ting om morgenen, klare godt producerende flasker FLIES skal anvendes.
I løbet af dagen (hver 3-4 timer), indsamle nyklækkede seksuelt naive mænd og kvinder:

Placer mænd individuelt i hætteglas eller rør med medium.
Placer 5-6 hunner sammen per hætteglas / rør.
Isolere opsamlet fluer ved 25 ° C under 12 timers lys / mørke i 5 dage.
Overfør en kvindelig ind i kammeret på en parring hjul.
Overføre en mandlig ind i kammeret af en parring hjul.
Overhold par under en dissektion mikroskop for følgende adfærd:

Orientering (de mandlige orienterer mod kvinder)
Trykke (hannen haner kvinder)
Wing sangen (den mandlige udvider og vibrerer den ene vinge)
Licking (de mandlige slikker de kvindelige kønsorganer)
Curling (hannen krøller dets underliv under selve)
Kopulation forsøg (Curling aktivitet, mens du forsøger at montere den kvindelige)

Overhold for 10 minutter eller indtil en vellykket samleje, henviser det tidspunkt, hvor hver opførsel forekommer (latenstid), den samlede tid udfører forlovelsestid opførsel før parring (for at beregne frieri indekset), såvel som antallet af par, der med held at udføre en given adfærd ( frekvens). 100% af vildtype-par vil normalt parre inden for 5 minutter.
Beregn en bejlen index (CI) ved at dividere den tid tilbragt i forlovelsestid divideret med den samlede tid, indtil samleje. For vildtype par dette normalt svinger mellem 0,6-0,8.
D. Repræsentative resultater
Crawling analyse
Normal vildtype larve vil vandre ~ 3 cm / minut, og udviser ~~~HEAD=NNS 40-50 kropsvæggen sammentrækninger i et minut. Vi har for nylig udviklet en Drosophila model på FUS / TLS-relaterede amyotrofisk lateral sklerose, der viser larver kravler defekt, nedsat levetid og voksen klatring nedskrivninger 6. Vi målrettede udtryk of vildtype og mutantformer af FUS / TLS de motoriske neuroner (OK-371-GAL4 driver) og udførte en larver gennemgang assay. Som vist nedenfor vildtype larver kravle op til 12 cm, hvorimod ekspression af vildtype FUS faldt larvestadiet gennemgang evnen til omkring 6 cm. Dyr, der udtrykker ALS-fremkaldende mutation R521C i FUS / TLS demonstrere en meget alvorlig forringelse i deres gennemgang bevægelse (figur 1), kravler kun omkring 1 cm / minut.
Negativ geotaxis RING analysen
Unge vildtype voksne fluer bør have en gennemsnitlig klatring højde på ~ 4-5 cm i en 3 sekunders tidsperiode (tiden kan justeres fra 3 sekunder for at imødekomme forskellige stammer eller aktivitetsniveauer for at definere en given gennemsnitlig højde for en given stamme / behandling). Fluer, der forbliver i bunden tildeles en værdi på 0. Det er ikke tilrådeligt at anvende mere end 25 fluer pr hætteglas, fordi det så bliver vanskeligt at bestemme placeringen af ​​hver enkelt fly til at måle højden. No desensibilisering er observeret op til 6 på hinanden følgende forsøg indbyrdes 1 minut fra hinanden, at vi har anvendt. Det er af afgørende betydning ikke at genbruge polystyren test hætteglassene i denne analyse efter de første sæt af data er samlet, fordi nye fluer placeret i brugte hætteglas ikke vil stige i samme omfang som i friske hætteglas.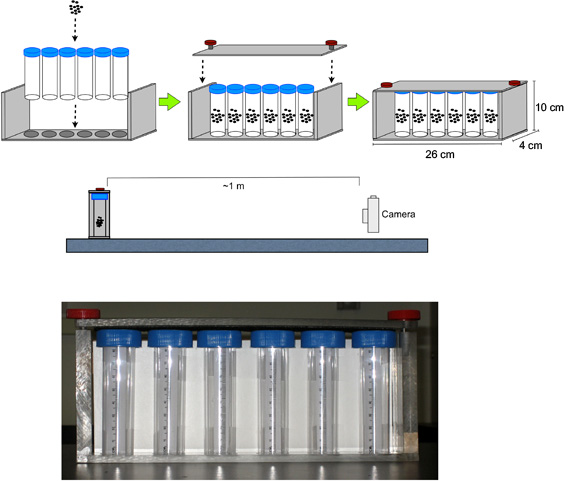 Figur 1. Opsætning for RING Assay. Det digitale kamera er placeret ~ 1 m foran apparatet med fluer i polystyren hætteglas, fokusere og zoome kameraet på apparatet, og sæt en timer til 3,0 sekunder.
Figur 2. Repræsentative data fra larve gennemgangen assay under anvendelse af fluerne ektopisk ekspression UAS-FUS WT og UAS-FUS R521C under kontrol af en motor neuron driver (OK371-GAL4).
Subscription Required. Please recommend JoVE to your librarian.
Discussion
Drosophila opførsel er stramt reguleret af genetiske og miljømæssige faktorer. Vi, og andre, har tidligere brugt de beskrevne analyser her for at indsamle data til at undersøge gener relateret til flyve adfærd og til humane neurodegenerative sygdomme, modelleret i Drosophila 5-19. For gennemgang assay er en omhyggelig udvælgelse af tre tredje stadiums larver et kritisk trin. Hvis behandling med et lægemiddel, vil det tage 10-15 minutter (eller mere afhængigt af typen og arten af ​​lægemidlet) for at opnå maksimal virkning, hvis det har god opløselighed. Derfor har vi rutinemæssigt fodrer flyver stoffet i 15 minutter, og derefter vente yderligere 15 minutter før testning. Det er imidlertid vigtigt at holde medikamentkoncentrationer i opløsning, og eksponeringstider, mellem behandlingsgrupper den samme for nøjagtig sammenligning. CNS-aktive lægemidler vil normalt have en maksimal virkning varig ~ 45 minutter. Larverne skal vaskes godt efter selektion (eller gravet fodring) for at fjerne flue fødevarer ogtilladt akklimatiseret i 1 minut, før du starter kravle analysen. Agarpladen skal opbevares ved stuetemperatur (~ 22 ° C) i en time, så lav temperatur, kan påvirke larver gennemgang evne. Selv om larvens crawling analysen kan give vigtig information om aktivitetsniveau, er det ikke egnet til analyse af subtile koordinering underskud. Derfor, som en screening platform er det mest hensigtsmæssigt for en first-pass undersøge grove aktivitet underskud.
En voksen adfærd, der indebærer finmotorisk koordination er frieri og parring. Denne adfærd er blevet brugt til at undersøge aspekter af adfærd der er relevante for menneskelige sygdomme, og involverer sensorisk forarbejdning (olfaktoriske, visuel, akustisk), i tillæg til finmotorisk kontrol 18. Når en mand opdager en kvinde, han indleder frieri ritual, der skrider frem i et stereotypt mønster begynder med orientering adfærd (dreje mod og jager den kvindelige). Dette efterfølges af wingsong, licking og trykke af den kvindelige genetalia, krølning af underlivet mod kvindelige, og kulminerer i samleje, hvilket kan vare flere gange ti minutter 20-22. Fordi mange af de aspekter af frieri inddrage visuelle signaler, mørke forhold kan føre til en forringelse af parring, og analyser bør udføres med nok lys, så flyver kan se hinanden. Derfor, hvid-eyed fluer normalt har meget dårlige resultater i vores beskrevne analyse og læsere er frarådet at planlægge eksperimenter udnytte dem med denne protokol. Hvis behandling fluerne med et lægemiddel, sætte lægemidlet i mediet fluerne er isoleret på (fx 1% agarose + 10% sucrose + medikament i stedet for standard fødevarer ved behandling med lægemiddel til at undgå enhver mulig nedbrydning af lægemidlet af mikroorganismer i fødevarer). Generelt fluerne isoleres i 5 ml reagensglas, der 300-500 ml af fødevarer i dem, tilsluttet med bomuld. IKKE bedøver fluerne for overførsel til parring hjulet. Det jegs helt afgørende for at vaske den sammenpassende hjulet udmærket mellem bruger for at fjerne eventuelle resterende feromoner (varmt vand med en lille mængde Alconox sæbe natten over under omrystning og derefter vasket i minimum 48 timer i deioniseret vand under omrystning, og adskillige udskiftninger af vand) . En anden overvejelse ved udførelse af assayet beskriver vi er vejret. I vores erfaring fluer vil ikke ret, hvis det regner, eller ligner det vil regne. De udfører bedste på lyse solrige dage, uanset om laboratoriet har vinduer eller ej. Vores nuværende teori er, at dette fænomen er relateret til atmosfærisk tryk, men vi har ikke undersøgt dette.
Den traditionelle negative geotaxis analysen bygger på måling af, hvor mange fluer klatre over en forudbestemt højde på 10 sekunder (beskrevet i http://www.jove.com/details.php?id=2504 ). Vi mener, at RING-assayet har visse fordele frem for den traditionelle assay. Den ene er throughput, som seks uafhængige gentagelser kan måles samtidigt i forhold til et standard-assay, og systemet er generelt skalerbar. En anden er følsomhed, fordi den gennemsnitlige højde klatrede i en defineret tidsperiode er kvantificeret, snarere end en bestået / ikke-nummer for absolutte højde. Med denne fremgangsmåde kan mere subtile underskud observeres. På grund af størrelsen af ​​gennemløb, er assayet mere egnet til skærme end den mere trættende traditionelle negativ geotaxis assay. Yderligere Garagano et al. (2005) beskriver et computeriseret scoring metode, hvis der anvendes yderligere vil øge gennemløbet. Primære overvejelser for dette assay er, at det er nødvendigt, at fluerne ikke bedøves før afprøvning, og at friske hætteglas anvendes efter et givet sæt af prøver før en ny batch af fluer testes.
Subscription Required. Please recommend JoVE to your librarian.
Disclosures
Vi har intet at afsløre.
Acknowledgements
Vi vil gerne takke Astha Maltare til at generere de larver crawling data. Vi vil gerne takke Dr. Nicholas Lanson Jr. for at give sine kommentarer til manuskriptet. Dette arbejde blev støttet af Robert Packard Center for ALS på Johns Hopkins (til UBP) og Amyotrofisk Lateral Sclerose Association (UBP) og R01MH083689 fra National Institutes of Mental Health (CDN).
Materials
| | | | |
| --- | --- | --- | --- |
| Name | Company | Catalog Number | Comments |
| Sucrose | Fisher Scientific | S5-500 | |
| Agarose | Invitrogen | 16500-500 | |
| 6 oz Drosophila bottle | Genesee Scientific | 32-130 | |
| Paint Brush (#1) | Ted Pella, Inc. | 11859 | |
| Cornmeal | Fisher Scientific | NC9109741 | |
| Agar | Genesee Scientific | 66-104 | |
| Molasses | Fisher Scientific | NC9349176 | |
| Propionic acid | Acros Organics | 14930-0010 | |
| Tegosept | Apex | 20-258 | |
| Ethanol | Fisher Scientific | BP2818-4 | |
| Yeast | Genesee Scientific | 62-107 | |