Summary
Drosophila melanogaster är en genetiskt och beteendemässigt foglig modellsystem som har använts för att förstå den molekylära och cellulära grunden för många viktiga biologiska processer i över ett sekel 1. Drosophila och har utnyttjats för att få insikt i den genetiska grunden för fluga beteende.
Cite this Article
Copy Citation
Nichols, C. D., Becnel, J., Pandey, U. B. Methods to Assay Drosophila Behavior. J. Vis. Exp. (61), e3795, doi:10.3791/3795 (2012).
Abstract
Drosophila melanogaster, bananfluga, har använts för att studera molekylära mekanismer för ett brett spektrum av mänskliga sjukdomar såsom cancer, hjärt-och kärlsjukdomar och olika neurologiska sjukdomar 1. Vi har optimerat enkla och robusta beteendemässiga analyser för att bestämma larver rörelse, vuxna klättring förmåga (RING analys) och beteenden frieri av Drosophila. Dessa beteendemässiga analyser är allmänt tillämpliga för att studera rollen av genetiska och miljömässiga faktorer på fluga beteende. Larver genomsökning förmåga kan på ett tillförlitligt sätt användas för att bestämma tidigt stadium förändringar i kryper förmåga Drosophila larver och även för att undersöka effekten av läkemedel eller mänskliga gener sjukdom (transgena flugor) på deras rörelseförmåga. Den larver genomsökning Analysen blir mer tillämplig om uttryck eller avskaffandet av en gen orsakar dödlighet i puppa eller vuxen steg, eftersom dessa flugor inte överlever till vuxen ålder, där de annars skulle kunna bedömas. Denna grundläggande enssay kan också användas i samband med starkt ljus eller stress för att undersöka ytterligare beteendemässiga responser i Drosophila-larver. Uppvaktningen beteende har använts i stor omfattning för att undersöka genetiska grunden för sexuellt beteende, och kan även användas för att undersöka verksamheten och samordning, samt inlärning och minne. Drosophila kurtisuppförande medför utbyte av olika sensoriska stimuli, inklusive syn, hörsel och chemosensory signaler mellan män och kvinnor som leder till en komplex serie av väl karakteriserade motoriska beteenden som kulminerar i framgångsrika parning. Traditionella vuxna klättring analyser (negativa geotaxis) är tråkiga, arbetsintensiva och tidskrävande, med betydande variation mellan olika försök 2-4. Den snabba iterativa negativa geotaxis (ring)-analys 5 har många fördelar jämfört med mer allmänt använda protokollen, vilket ger en reproducerbar, känslig och hög genomströmning tillvägagångssätt för att kvantifiera vuxen rörelseaktivitet och negativa geotaxis behaviors. I ringen analysen kan flera genotyper eller behandlingar läkemedel provas samtidigt med stort antal djur, med hög kapacitet synsätt gör det mer mottaglig för screening experiment.
Protocol
A. Metabolik Predatorer Ekotoxikologi Genomsökning Analys
1. Larver Collection
Skapa ett 8 ounce flaska flugor (10-15 hanar + 10-15 kvinnor).
Låt flugor lägga ägg under 24 timmar, därefter klart flaska flugor. (Överför de vuxna i en ny flaska och upprepa vid behov).
Inkubera flaska för 3-4 dagar, eller tills tredje stadiet larver är synliga.
Tillsätt 50 till 100 ml av 20% sackaros till flaskan med larver och låt stå under 20 minuter. Larver kommer att flyta till toppen.
Samla larver med hjälp av en 25 ml serologisk pipett med spetsen avskurna, och placera in i ett nät korg.
Tvätta larver i nätkorg två gånger med avjoniserat H 2 O. Larverna är nu redo för experimenten.
2. Att behandla larver med läkemedel
Använda en borste för att transportera det önskade antalet larver i ett 5 ml bägare innehållande en lösning 5% sackaros + läkemedel.
Låt larver foder i minst 15 minuter.
Häll läkemedels-behandlade larver i en nätkorg och skölj. De är nu redo att använda.
3. Rörelseapparaten analys (mätning av totala färdsträckan eller organ sammandragningar vägg)
Använd en borste för att transportera enskilda larv till en:

15 cm Petriskål innehållande 2% agaros (tidigare gjutits och tillåts härda) över diagrampapper med en 0,2 cm 2 rutnät.

Räkna antalet rutnätslinjer korsas i 1 minut.

Tja av ett glas dissektion skål innehållande en utspädd lösning jäst pasta.

Räkna peristaltiken sammandragningar (full anterior till posterior rörelse = 1 kontraktion) i en minut medan observera under ett dissektion mikroskop.

Upprepa tills de önskade antalet larver har räknats.
B. Snabb iterativ negativa geotaxis (ring) Protokoll
Denna analys var ursprungligen avregistrerasformas av Gargano et al 5.
Samla nyligen framkom vuxna manliga flugor i ljus CO 2 bedövning och placera i en vanlig flaska innehållande livsmedel (eller livsmedel + läkemedel).
Behåll flugor i rumstemperatur (på bänk. ~ 22 ° C) under 2-3 dagar för att tillåta återhämtning från CO 2 (och ackumulering av steady-state läkemedelsnivåer i förekommande fall).
Överför ca 25 flugor utan bedövning för att förberedda polystyren flaskor.
Montera injektionsflaskor med flugor i ringen apparaten (Figur 1).
Låt flugor acklimatisera sig till miljön, ostört, i 15-20 minuter.
Under denna tid platsen digitalkamera ~ 1 meter framför apparaten (på en plattform vid behov anpassa mitten av linsen i höjd med mitten av flaskor), fokusera och zooma kameran på apparaten och ställa in en timer för att 3,0 sekunder.
Ta försiktigt tag i RING apparaten med din vänstra hand så att inte distUrb flugorna, och håller timern med höger hand.
Kraftigt tryck på apparaten ner på ytan av bänken tre gånger, se till att kranen är tillräckligt hårt för att slå ner alla flugor till botten av flaskorna.
Samtidigt med det tredje kranen, startar 3 sekunders nedräkning timer.
På tre sekunder att ta en bild.
Återställ timer för 1 minut och starta. Under denna tid återställa kameran och fokusera på apparaten och ställ en annan kanal för timern i tre sekunder.
Efter 1 minut, upprepa steg 1,7-1,10
Efter totalt 5-6 försök, ladda upp bilder på en dator och använda din favorit bildvisare öppna och gör det medelhöjden klättrade för varje flaska.
Utför statistisk analys på dina olika grupper jämför den genomsnittliga höjden klättrade.
C. Uppvaktningen och parning analys
Första sak på morgonen, tydliga väl producerande flaskor Flies som skall användas.
Under dagens lopp (var 3-4 timmar), samla in nya framkommit sexuellt naiva män och kvinnor:

Placera män individuellt i flaskor eller tuber med medium.
Placera 5-6 honor tillsammans per flaska / rör.
Isolera uppsamlade flugor vid 25 ° C under 12 h ljus / mörker under 5 dagar.
Överföra en kvinnlig in i kammaren hos ett passande hjul.
Överföra en manlig in i kammaren hos ett passande hjul.
Observera paret under ett dissektionsmikroskop för följande beteenden:

Orientering (de manliga orienterar mot kvinna)
Knacka (hanen kranar hona)
Wing låt (den manliga sträcker och vibrerar en vinge)
Licking (de manliga slickar den kvinnliga könsorgan)
Curling (den manliga lockar sin mage under sig själv)
Copulationen försök (Krypa aktivitet samtidigt som man försöker montera den kvinnliga)

Observera för 10 minuter eller tills framgångsrika parning, notera den tid då varje inträffar (latens), den totala tiden engagerad i uppvaktningen beteende tills parning (för att beräkna uppvaktning index), liksom antalet par som framgångsrikt utföra en viss beteende ( frekvens). 100% av vildtyp par i allmänhet para inom 5 minuter.
Beräkna en KURTIS (Cl) genom att dividera den tid som tillbringas i parningen dividerat med den totala tiden tills parning. För vildtyp par här varierar vanligen mellan 0,6-0,8.
D. Representativa resultat
Krypande analys
Normal vildtyp larven kommer att vandra ~ 3 cm / minut och uppvisar ~~~HEAD=NNS 40-50 kroppens vägg sammandragningar i en minut. Vi har nyligen utvecklat en Drosophila modell av FUS / TLS-relaterade amyotrofisk lateral skleros som visar larver krypande defekt, minskad livslängd och vuxna klättring nedskrivningar 6. Vi riktat uttryck of vildtyp och muterade former av FUS / TLS för att de motoriska nervceller (OK-371-GAL4 förare) och utförde ett larver krypande analys. Som framgår nedan, vild typ larver kryper upp till 12 cm, medan uttrycket av vildtyp FUS minskade larver kryper förmågan att ca 6 cm. Djur som uttrycker ALS-mutationen R521C i FUS / TLS visar en mycket allvarlig försämring i sin genomsökning rörelse (figur 1), krypande bara ca 1 cm / minut.
Negativ geotaxis RING-analys
Unga vildtyp vuxna flugor ska ha en genomsnittlig klättring höjden av ~ 4-5 cm i 3-sekunders tidsperiod (tiden kan justeras från 3 sekunder för att passa olika stammar eller sysselsättningsgrader för att definiera en given genomsnittlig höjd för en viss stam / behandling). Flugor som återstår i botten tilldelas ett värde av 0. Det rekommenderas inte att använda mer än 25 flugor per flaska eftersom det då blir svårt att fastställa platsen för varje enskild fluga för att mäta höjd. No desensibilisering har observerats upp till de 6 försök i rad placerade 1 minut från varandra som vi har anställt. Det är viktigt inte att återanvända flaskorna polystyren test i denna analys efter de inledande uppsättningar av data samlas eftersom nya flugor placerade i använda injektionsflaskor inte klättra i samma utsträckning som i nya flaskor.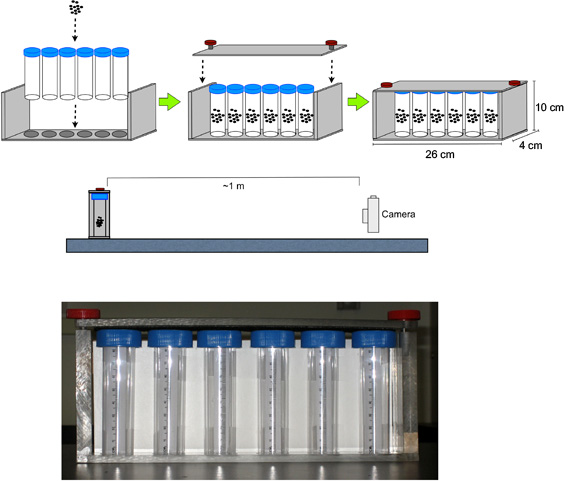 Figur 1. Setup för ringen analysen. Den digitala kameran är placerad ca 1 m framför apparaten med flugor i polystyren flaskorna, fokusera och zooma kameran på apparaten och ställa in en timer till 3,0 sekunder.
Figur 2. Representativa data från larver krypande analys med användning av flugor ektopiskt uttrycker UAS-FUS WT, och UAS-FUS R521C under kontroll av en motorisk nervcell föraren (OK371-gal4).
Subscription Required. Please recommend JoVE to your librarian.
Discussion
Drosophila beteende är hårt reglerad av genetiska och miljömässiga faktorer. Vi och andra har tidigare använt de analyser som beskrivs här att samla in data för att undersöka gener relaterade till flyga beteenden och till mänskliga neurodegenerativa sjukdomar modelleras i Drosophila 5-19. För krypande analysen är noggrant urval av 3: e stadiet larver ett kritiskt steg. Om behandling med ett läkemedel, tar det 10-15 minuter (eller mer beroende på vilken typ och karaktär av läkemedlet) för att uppnå maximal effekt om det har god löslighet. Därför matar vi rutinmässigt flyger läkemedlet i 15 minuter, och sedan vänta ytterligare 15 minuter före testning. Det är emellertid viktigt att behålla läkemedelskoncentrationer i lösning, och exponeringstiden, mellan behandlingsgrupperna på samma för korrekt jämförelse. CNS-aktiva läkemedel har vanligtvis en maximal effekt varar ~ 45 minuter. Larverna skall tvättas väl efter selektion (eller grävas matning) för att avlägsna fluga mat ochtillåtet acklimatiserades under 1 minut innan krypande analysen. Agarplattan bör hållas vid rumstemperatur (~ 22 ° C) under en timme, så låg temperatur kan påverka larver genomsökning förmåga. Även om larver krypande analysen kan ge viktig information om aktivitetsnivåer, är det inte lämpligt för analys av subtila samordning underskott. Därför, som en screening plattform för det är mest lämpligt för en första pass undersöka grova aktivitet underskott.
En vuxen beteende som innebär att finmotorik samordning är uppvaktning och parning. Detta beteende har använts för att undersöka olika aspekter av beteenden som är relevanta för mänskliga sjukdomar, och innebär sensorisk bearbetning (lukt, visuell, akustisk) förutom fina motorstyrning 18. När en manlig upptäcker en kvinna, initierar han uppvaktningen ritual som fortskrider i en stereotyp mönster som börjar med orientering beteende (vänder sig mot och jagar honan). Detta följs av wingsong, Licking och knacka av den kvinnliga genetalia, curling i buken mot honan, och kulminerar i parning, vilket kan vara flera tiotals minuter 20-22. Eftersom många av de aspekter av uppvaktning innebär visuella ledtrådar, mörkt leda till en försämring av parning prestanda och analyser bör utföras med tillräckligt ljus så att flugor kan se varandra. Således, vit-eyed flugor har oftast mycket dåliga resultat i vår beskrivna analysen och läsarna avråds planerar experiment använder dem med detta protokoll. Om behandling av flugor med ett läkemedel, placera läkemedlet i mediet flugor isoleras på (t.ex. 1% agaros + 10% sackaros + läkemedel istället för standard mat när behandling med läkemedel för att undvika eventuella försämring av läkemedlet av mikroorganismer i mat). Generellt flugorna är isolerade i 5 ml provrör som har 300-500 ml mat i dem, pluggas med bomull. Gör bedöva INTE flugor för överföring till parningen hjulet. Det jags helt avgörande för att tvätta parningen hjulet mycket väl mellan använder för att avlägsna eventuella kvarvarande feromoner (varmt vatten med en liten mängd Alconox tvål över natten med skakning och därefter tvättas i minst 48 timmar i avjoniserat vatten med skakningar, och många byten av vatten) . En annan faktor när man utför analysen beskriver vi är vädret. I vår erfarenhet flugor kommer inte att uppvakta om det regnar eller ser ut att regna. De fungerar bäst på ljusa soliga dagar, oavsett om laboratoriet har fönster eller inte. Vår nuvarande teori är att detta fenomen är relaterad till atmosfärstryck, men vi har inte undersökts här.
Den traditionella negativa geotaxis analys bygger på att mäta hur många flugor klättrar över en förutbestämd höjd på 10 sekunder (beskrivet i http://www.jove.com/details.php?id=2504 ). Vi tror att den RING-analysen har vissa fördelar framför den traditionella analysen. En är throughput, som sex oberoende replikat kan mätas samtidigt i förhållande till en av standardanalys, och systemet är i allmänhet skalbar. En annan är känslighet, eftersom den genomsnittliga höjden klättrade i en definierad tidsperiod kvantifieras, snarare än en godkänd / icke godkänd nummer för absolut höjd. Med hjälp av denna metod kan mer subtila underskott observeras. På grund av nivån på genomströmning, är analysen mer lämpade för skärmar än den mer tråkiga traditionella negativt geotaxis analys. Vidare Garagano et al. (2005) beskriver en datoriserad utvärderingsmetoden att om det används skulle ytterligare öka genomströmningen. Primära överväganden för denna analys är att det är absolut nödvändigt att flugorna inte bedövas före testning, och att nya flaskor används efter en given uppsättning försök innan en ny sats av flugor testas.
Subscription Required. Please recommend JoVE to your librarian.
Disclosures
Vi har inget att lämna ut.
Acknowledgements
Vi vill tacka Astha Maltare för generering av larver krypande data. Vi vill tacka Dr Nicholas Lanson Jr för att ge sina synpunkter på manuskriptet. Detta arbete stöddes av Robert Packard Centrum för ALS vid Johns Hopkins (till UBP) och amyotrofisk lateral skleros Association (UBP) och R01MH083689 från National Institutes of Mental Health (CDN).
Materials
| | | | |
| --- | --- | --- | --- |
| Name | Company | Catalog Number | Comments |
| Sucrose | Fisher Scientific | S5-500 | |
| Agarose | Invitrogen | 16500-500 | |
| 6 oz Drosophila bottle | Genesee Scientific | 32-130 | |
| Paint Brush (#1) | Ted Pella, Inc. | 11859 | |
| Cornmeal | Fisher Scientific | NC9109741 | |
| Agar | Genesee Scientific | 66-104 | |
| Molasses | Fisher Scientific | NC9349176 | |
| Propionic acid | Acros Organics | 14930-0010 | |
| Tegosept | Apex | 20-258 | |
| Ethanol | Fisher Scientific | BP2818-4 | |
| Yeast | Genesee Scientific | 62-107 | |