Summary
Drosophila melanogaster er en genetisk og behaviorally medgjørlig modell system som har blitt brukt til å forstå det molekylære og cellulære grunnlag for mange viktige biologiske prosesser i over et århundre en. Drosophila har blitt godt utnyttet til å få innsikt i det genetiske grunnlaget for flue oppførsel.
Cite this Article
Copy Citation
Nichols, C. D., Becnel, J., Pandey, U. B. Methods to Assay Drosophila Behavior. J. Vis. Exp. (61), e3795, doi:10.3791/3795 (2012).
Abstract
Drosophila melanogaster, bananflue, har blitt brukt til å studere molekylære mekanismer av et bredt spekter av menneskelige sykdommer som kreft, hjerte-og karsykdommer og ulike nevrologiske sykdommer 1. Vi har optimalisert enkle og robuste atferdsmessige analyser for å bestemme larvenes bevegelse, voksen klatring evne (RING assay), og frieri virkemåter for Drosophila. Disse atferdsproblemer analysene er allment gjeldende for å studere rollen av genetiske og miljømessige faktorer på utlegger oppførsel. Larve gjennomgang evnen kan bli pålitelig brukes for å bestemme tidlig stadium endringer i kravlende evner Drosophila larver og også for å undersøke effekten av medikamenter eller menneskelige sykdomsgener (i transgene fluer) på locomotion deres. Den larve gjennomgang analysen blir mer aktuelt dersom uttrykk eller opphevelse av et gen som forårsaker dødelighet i pupal eller voksen stadier, da disse fluene ikke overlever til voksen alder hvor de ellers kunne bli vurdert. Dette grunnleggende enssay kan også brukes i forbindelse med sterkt lys eller stress å undersøke flere atferdsmessige reaksjoner i Drosophila larver. Frieri atferd har blitt mye brukt til å undersøke genetiske grunnlaget for seksuell atferd, og kan også brukes til å undersøke aktiviteten og samordning, samt læring og hukommelse. Drosophila frieri atferd innebærer utveksling av ulike sensoriske stimuli, inkludert visuell, auditiv, og chemosensory signaler mellom menn og kvinner som fører til en kompleks serie av godt karakteriserte motoriske atferd kulminerte i vellykket copulation. Tradisjonelle voksne klatring analyser (negative geotaxis) er kjedelig, arbeidskrevende og tidkrevende, med betydelig variasjon mellom ulike studier 2-4. Den raske iterative negative geotaxis (RING) assay 5 har mange fordeler fremfor mer allment ansatt protokoller, som gir en reproduserbar, følsom, og høy gjennomstrømning tilnærming til å kvantifisere voksen locomotor og negative geotaxis behaviors. I RING analysen, kan flere genotyper eller medikamentelle behandlinger testes samtidig med stort antall dyr, med høy gjennomstrømning tilnærming gjør det mer mottagelig for screening eksperimenter.
Protocol
A. larve Kribling Assay
1. Larver Collection
Sett opp en 8 unse flaske fluer (10-15 hanner + 10-15 kvinner).
La fluer legger egg i 24 timer, deretter klar flaske fluer. (Overfør de voksne inn i en ny flaske og gjenta etter behov).
Inkuber flaske i 3-4 dager, eller frem til tredje instar larver er synlige.
Legg 50-100 ml 20% sukrose til flasken med larver og la sitte i 20 minutter. Larvene flyter til toppen.
Samle larver med en 25 ml serologisk pipette med spissen avskåret, og plass til en mesh kurv.
Vask larver i mesh kurv to ganger med avionisert H 2 O. Larvene er nå klar for eksperimenter.
2. Å behandle larver med narkotika
Bruk en pensel til å transportere det ønskede antall larver til et 5 ml begerglass som inneholder en løsning 5% sukrose + narkotika.
La larver fôret i minst 15 minutter.
Hell narkotika-behandlet larver i en mesh kurv og skyll. De er nå klar til bruk.
3. Locomotor Assay (som måler total distanse eller kroppen vegg kontraksjoner)
Bruk en pensel til å transportere individuell larve til en:

15 cm petriskål inneholder 2% agarose (tidligere strømmet og lov til å stivne) over millimeterpapir med en 0,2 cm 2 rutenettet.

Tell antall rutenettlinjer krysset i 1 minutt.

Vel av et glass disseksjon rett inneholder en fortynnet gjær pasta løsning.

Tell peristaltikk sammentrekninger (fullt fremre til bakre bevegelse = 1 sammentrekning) i ett minutt mens observere under et disseksjon mikroskop.

Gjenta til ønsket antall larver er telt.
B. Rapid iterativ negative geotaxis (RING) protokoll
Denne analysen ble opprinnelig strøketbeskrevet av Gargano et al 5.
Samle nylig oppståtte voksne mannlige fluer under lett CO 2 anesthetization og sted inn i en standard hetteglass med mat (eller mat + narkotika).
Opprettholde fluer ved romtemperatur (på benken toppen. ~ 22 ° C) i 2-3 dager for å tillate utvinning fra CO 2 (og akkumulering av steady-state legemiddelnivå eventuelt).
Overfør ca 25 fluer uten bedøvelse til preparerte polystyren hetteglass.
Monter hetteglass med fluer i ringen apparatet (figur 1).
Tillat fluer å akklimatisere seg til miljøet, uforstyrret, i 15-20 minutter.
I løpet av denne tiden sted digitalkameraet ~ 1 m foran apparatet (på en plattform om nødvendig å justere sentrum av linsen i midten høyden av hetteglass), fokusere og zoome kameraet på apparatet, og sette en timer til 3,0 sekunder.
Nøye ta tak i RING apparat med venstre hånd slik at de ikke distUrb fluene, og hold timer med høyre hånd.
Kraftig trykk apparatet ned på overflaten av benken tre ganger, slik at kranen er vanskelig nok å slå ned alle fluene til bunns i hetteglass.
Samtidig med ferdigstillelse av tredje springen, starte tre andre nedtellingstidtakeren.
På tre sekunder ta et bilde.
Tilbakestille timeren i 1 minutt og start. I løpet av denne tiden nullstille kameraet og fokus på apparatet, og sett en annen kanal av tidtakeren i tre sekunder.
Etter 1 minutt, gjenta trinn 01.07 til 01.10
Etter totalt 5-6 forsøk, laste opp bilder på en datamaskin og bruke din favoritt bildeviser å åpne, og scorer gjennomsnittlig høyde klatret for hvert hetteglass.
Utføre statistisk analyse på ulike grupper som sammenligner gjennomsnittlig høyde klatret.
C. Frieri og Mating Assay
Først i morgen, klare godt produserende flasker flies som skal brukes.
I løpet av dagen (hver 3-4 time), samle nylig oppståtte seksuelt naive menn og kvinner:

Plasser menn individuelt i hetteglass eller rør med medium.
Plasser 5-6 hunner sammen per hetteglass / rør.
Isoler samlet fluer ved 25 ° C under 12 t lys / mørk i 5 dager.
Overfør en kvinnelig inn i kammeret av en parring hjul.
Overfør en mannlig inn i kammeret av en parring hjul.
Observer paret under en disseksjon mikroskop for følgende oppførsel:

Orientering (de mannlige orienterer mot den kvinnelige)
Tapping (den mannlige prikker det kvinnelige)
Wing sangen (det mannlige utvider og vibrerer en vinge)
Licking (de mannlige licks det kvinnelige kjønnsorgan)
Curling (den mannlige krøller buken under seg selv)
Copulation forsøk (Curling aktivitet mens du forsøker å montere den kvinnelige)

Observer for en0 minutter eller til vellykket copulation, notere tidspunkt hver problemet oppstår (latency), den totale tiden engasjert i frieri atferd inntil copulation (å beregne frieri indeks), samt antall par som kunne utføre en gitt atferd ( frekvens). 100% av villtype parene vil generelt parre innen 5 minutter.
Beregn et frieri index (CI) ved å dele tiden i frieri dividert med den totale tiden til parringen. For villtype parene dette varierer vanligvis mellom 0.6 til 0.8.
D. Representative Resultater
Crawling assay
Normal villtype larve vil vandre ~ 3 cm per minutt, og viser ~~~HEAD=NNS 40-50 kroppsveggen sammentrekninger i ett minutt. Vi har nylig utviklet en Drosophila modell av FUS / TLS-relaterte amyotrofisk lateral sklerose som viser larvenes krypende defekt, redusert levetid og voksen klatring verdifall 6. Vi målrettet uttrykk of vill type og mutante former av FUS / TLS til de motoriske nevroner (OK-371-gal4 fører) og utførte en larve gjennomgang analysen. Som vist nedenfor, villtype larvene krype opp til 12 cm, mens uttrykk av villtype FUS redusert larvenes krypende evnen til ca 6 cm. Dyr uttrykker ALS-forårsaker mutasjon R521C i FUS / TLS demonstrere en svært alvorlig svekkelse i sin gjennomgang bevegelse (figur 1), krypende bare ca 1 cm per minutt.
Negativ geotaxis RING assay
Unge villtype voksne fluer bør ha en gjennomsnittlig klatring høyde på ~ 4-5 cm i en tre-sekunders periode (tiden kan justeres fra 3 sekunder for å imøtekomme ulike stammer eller aktivitetsnivå å definere et gitt gjennomsnitt høyde for en gitt belastning / behandling). Fluer som forblir nederst er tildelt en verdi av 0. Det er ikke tilrådelig å bruke mer enn 25 fluer per hetteglass, fordi det da blir vanskelig å avgjøre plasseringen av hver enkelt flue å måle høyden. No desensitivisering har blitt observert på opp til 6 påfølgende forsøkene fordelt 1 minutt fra hverandre at vi har ansatt. Det er viktig IKKE å gjenbruke polystyren testing hetteglassene i denne analysen etter de første settene med data er samlet fordi nye fluer plassert inn Brukte hetteglass ikke vil klatre i samme grad som i ferske hetteglass.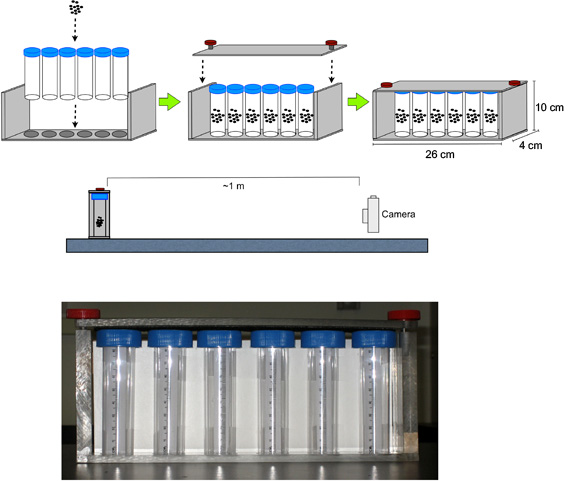 Figur 1. Setup for RING analysen. Det digitale kameraet er plassert ~ 1 m foran apparatet som inneholder fluer i isopor hetteglassene, fokusere og zoome kameraet på apparatet, og sette en timer til 3,0 sekunder.
Figur 2. Representative data fra larvestadiet gjennomgangen analysen med flue ectopically uttrykke UAS-FUS WT, og UAS-FUS R521C under kontroll av en motor neuron driver (OK371-gal4).
Subscription Required. Please recommend JoVE to your librarian.
Discussion
Drosophila oppførsel er strengt regulert av genetiske og miljømessige faktorer. Vi, og andre, har tidligere brukt analysene som er beskrevet her for å samle data for å undersøke gener relatert til fly atferd og til menneskelige nevrodegenerative sykdommer modellert i Drosophila 5-19. For krypende analysen, er nøye utvalg av 3. instar larver et kritisk punkt. Ved behandling med et medikament, vil det ta 10-15 minutter (eller mer, avhengig av type og karakter av stoffet) for å oppnå maksimal effekt hvis den har god løselighet. Derfor har vi rutinemessig mate flyr stoffet i 15 minutter, og deretter vente ytterligere 15 minutter før testing. Det er imidlertid viktig å holde narkotika konsentrasjoner i løsningen, og eksponeringstider, mellom behandlingsgruppene det samme for nøyaktig sammenligning. CNS aktive stoffer vil vanligvis ha en maksimal effekt varig ~ 45 minutter. Larvene må vaskes godt etter valget (eller gravd fôring) for å fjerne flua mat ogtillatt akklimatisert i 1 minutt før du starter gjennomgangen analysen. Den agarskål bør oppbevares i romtemperatur (~ 22 ° C) for en time, så lav temperatur kan påvirke larve gjennomgang evne. Selv om larvenes gjennomgangen analysen kan gi viktig informasjon om aktivitetsnivå, er det ikke egnet for analyse av subtile koordinering underskudd. Derfor, som en screening plattform er det mest hensiktsmessig for en første pass undersøke brutto aktivitet underskudd.
En voksen oppførsel som involverer finmotorikk er frieri og paring. Dette problemet har blitt brukt til å undersøke aspekter ved atferd som er relevante for menneskelige sykdommer, og innebærer sensorisk prosessering (olfaktoriske, visuell, akustisk) i tillegg til kontroll av finmotorikk 18. Når en mann ser en kvinne, initierer han frieri ritual som utvikler seg i en stereotyp mønster som begynner med orientering oppførsel (vri mot og jage den kvinnelige). Dette etterfølges av wingsong, licking og tapping av den kvinnelige genetalia, curling av buken mot den kvinnelige, og kulminerer i copulation, som kan vare i flere titalls minutter 20-22. Fordi mange av aspektene ved frieri involvere visuelle signaler, mørke forhold fører til en degradering av parring ytelse, og analysene skal utføres med nok lys, slik at fluer kan se hverandre. Følgelig hvit-eyed fluer har som regel ekstremt dårlig ytelse i vår beskrevet analysen og leserne blir frarådet planlegger eksperimenter utnytte dem med denne protokollen. Ved behandling av fluene med et medikament, sette stoffet inn i mediet fluene er isolert på (f.eks 1% agarose + 10% sukrose + legemiddel istedenfor standard mat ved behandling med legemiddel for å unngå eventuelle degradering av stoffet av mikroorganismer i mat). Vanligvis fluene blir isolert i 5 ml reagensrør som har 300-500 ml av mat i dem, plugget med bomull. IKKE anesthetize fluene for overføring til paring hjulet. Det jegs helt avgjørende for å vaske paring hjulet meget godt mellom bruker for å fjerne eventuelle rester feromoner (varmt vann med litt Alconox såpe over natten med å riste, deretter vasket i minst 48 timer i avionisert vann med risting, og flere endringer av vann) . En annen vurdering når du utfører analysen beskriver vi er været. I vår erfaring fluer vil ikke retten hvis det regner eller ser ut som det blir regn. De fungerer best på lyse solfylte dager, uavhengig om laboratoriet har vinduer eller ikke. Vår nåværende teori er at dette fenomenet er knyttet til atmosfærisk trykk, men vi har ikke undersøkt dette.
Den tradisjonelle negative geotaxis analysen baserer seg på å måle hvor mange fluer klatre over et forhåndsbestemt høyde på 10 sekunder (beskrevet i http://www.jove.com/details.php?id=2504 ). Vi tror at ringen analysen har visse fordeler fremfor den tradisjonelle analysen. Det ene er throughput, som seks uavhengige replikater kan måles samtidig i forhold til en av standard analysen, og systemet er generelt skalerbare. En annen er følsomhet, fordi den gjennomsnittlige høyden klatret i en definert tidsperiode kvantifiseres, snarere enn bestått / ikke bestått nummer for absolutt høyde. Ved hjelp av denne tilnærmingen, kan mer subtile underskudd følges. På grunn av nivået av gjennomstrømning, er analysen mer egnet til skjermer enn de mer kjedelige tradisjonelle negative geotaxis analysen. Videre Garagano et al. (2005) beskriver en datastyrt scoring metode som hvis sysselsatt vil ytterligere øke gjennomstrømningen. Primære hensyn for denne analysen er at det er avgjørende at fluene ikke er bedøvet før testing, og at fersk ampuller brukes etter et gitt sett av studier før en ny gruppe med fluer er testet.
Subscription Required. Please recommend JoVE to your librarian.
Disclosures
Vi har ingenting å avsløre.
Acknowledgements
Vi ønsker å takke Astha Maltare for generering av larver gjennomsøkingsfunksjoner data. Vi ønsker å takke Dr. Nicholas Lanson Jr for å gi sine kommentarer på manuskriptet. Dette arbeidet ble støttet av Robert Packard Center for ALS ved Johns Hopkins (til UBP) og amyotrofisk lateral sklerose Association (UBP), og R01MH083689 fra National Institutes of Mental Health (CDN).
Materials
| | | | |
| --- | --- | --- | --- |
| Name | Company | Catalog Number | Comments |
| Sucrose | Fisher Scientific | S5-500 | |
| Agarose | Invitrogen | 16500-500 | |
| 6 oz Drosophila bottle | Genesee Scientific | 32-130 | |
| Paint Brush (#1) | Ted Pella, Inc. | 11859 | |
| Cornmeal | Fisher Scientific | NC9109741 | |
| Agar | Genesee Scientific | 66-104 | |
| Molasses | Fisher Scientific | NC9349176 | |
| Propionic acid | Acros Organics | 14930-0010 | |
| Tegosept | Apex | 20-258 | |
| Ethanol | Fisher Scientific | BP2818-4 | |
| Yeast | Genesee Scientific | 62-107 | |