Summary
In deze video laten we zien hoe het neuron microfluïdische apparaat gebruiken zonder plasma-bonding.
Cite this Article
Copy Citation | Download Citations

Harris, J., Lee, H., Vahidi, B., Tu, C., Cribbs, D., Cotman, C., Jeon, N. L. Non-plasma Bonding of PDMS for Inexpensive Fabrication of Microfluidic Devices. J. Vis. Exp. (9), e410, doi:10.3791/410 (2007).
Abstract
In deze video laten we zien hoe het neuron microfluïdische apparaat gebruiken zonder plasma-bonding. In sommige gevallen kan het wenselijk zijn om reversibel band apparaten om de Corning nummer een dekglas. Dit kan te wijten zijn, misschien, op een plasma-cleaner niet beschikbaar. In andere gevallen kan het wenselijk zijn om het apparaat te verwijderen uit het glas na het kweken van neuronen voor bepaalde soorten microscopie of voor immunokleuring, maar het is niet nodig om het apparaat te verwijderen voor immunokleuring omdat de neuronen kan worden gekleurd in het apparaat. Sommige onderzoekers, echter nog steeds de voorkeur aan het apparaat te verwijderen. In dit geval, omkeerbare binding van het apparaat om de dekking van glas maakt dat mogelijk. Er zijn een aantal nadelen aan niet-plasma hechting van de apparaten in die niet zo strak van een zegel wordt gevormd. In sommige gevallen kunnen axonen groeien onder de groeven in plaats van via hen. Ook, want het glas en de PDMS hydrofoob zijn, hoeft vloeistoffen niet gemakkelijk op het apparaat waardoor het noodzakelijk is bij tijden aan media en andere reagentia kracht in het apparaat. Vloeistoffen zal in het apparaat via capillaire werking, maar het duurt aanzienlijk langer in vergelijking met apparaten die zijn plasma gebonden. De plasma-reiniger zorgt voor tijdelijke hydrofiele kosten op het glas en het apparaat dat de stroom van vloeistoffen door het apparaat te vergemakkelijken na het verlijmen binnen enkele seconden. Voor niet-plasma gebonden apparaten, vloeistofstroom door de inrichtingen duurt enkele minuten. Het is ook belangrijk op te merken dat de apparaten die worden gebruikt met niet-plasma hechting moet u eerst gesteriliseerd worden, terwijl plasma behandeld apparaten hoeven niet vooraf te worden gesteriliseerd te gebruiken omdat het plasma cleaner zal steriliseren ze.
Protocol
Voorbereiden microfluïdische apparaten voor Neuron Cel Cultuur
1) Reinig Corning No.1 24 mm x 40 mm glas dia's
Ultrasone trillingen het glas schuift in een waterbad ultrasoonapparaat gedurende 30 minuten
Spoel het glas dia's met 70% EtOH
Was de dia's drie keer met dH 2 O
Droog dia's in een weefselkweek kap voor enkele uren, bij voorkeur 's nachts
Opmerking: We hebben speciale metalen trays dat we last met de dia's. De dia's worden individueel gescheiden en geplaatst in sleuven van dit metaal rek. We kunnen dan plaats deze metalen laden trays in een glazen schaal die we vullen met water, plaats in het waterbad ultrasoonapparaat, en ultrasone trillingen gedurende 30 minuten. Latere wast worden uitgevoerd in dit gerecht.
2) Voorbereiding van de PDMS-apparaten
Knip de PDMS mal van de silicium wafer, punch gaten in de PDSM cast en kwartaal
Reinig de PDMS-apparaten door eerst blazen inert gas (argon of stikstof) over hen. Maak dan gebruik van 3M Scotch Brand 471 tape aan tillen alle resterende vuil
Opmerking: Het is belangrijk om de apparaten naar boven. In eerste instantie, toen we de PDMS weggesneden van de silicium wafer, de zijde in contact met de wafer is de schone kant: het bevat de microfluïdische kanalen. We proberen zo voorzichtig zijn als we kunnen om niet het apparaat beschadigen, en houd de schone kant naar boven, totdat we klaar zijn voor plasma-bonding.
Autoclaaf apparaten in plastic containers
Na de autoclaaf, schoon nr. 1 Corning glas dia's en plasma-treat apparaten met een Harrick merk plasma schoner, www.harrickplasma.com
Plaats de apparaten schoon kant naar beneden op het glas dia.
Het apparaat is nu plasma gebonden aan het glaasje.
3) Coating De apparaten met Poly L-lysine (PLL)
PLL wordt toegevoegd aan een goed aan elke kant van het toestel en mag door stromen naar de volgende goed
=> 150 ul van PLL voor de grote putten en 30 μ l PLL voor de kleinere putten. Het hoeft niet om precies te zijn, zolang de putten vol zijn.
Opmerking: Als je kijkt naar een apparaat dat u ziet vier bronnen: elk twee zijn verbonden. U wilt de PLL zetten in een goed, zodat het door het apparaat stromen naar het volgende goed.
Laat de PLL om via het apparaat stroom voor ongeveer 10 minuten en dan meer PLL toe te voegen aan de putten te vullen
Plaats de apparaten met PLL in een incubator bij 37 ° C voor een minimum van 4 uur ('s nachts heeft de voorkeur)
Vacuüm uit de overtollige PLL na de behandeling, maar wees voorzichtig om niet alle vloeistof zuigen uit het apparaat
Opmerking: Je wilt niet om luchtbellen te brengen in de kanalen of kamer. Net vacuüm uit de overtollige PLL in de putten.
Voeg geautoclaveerd dH 2 O aan elk putje aan weerszijden van het apparaat, en laat aan de andere goed stroom door capillaire werking
Figuur 1 is een diagram van een microfluïdische apparaat. Merk op hoe de Blue (Soma kant) is aangesloten en de Rode (Axonale kant) zijn aangesloten. Als we zeggen zet de PLL, of water of media, op een goed aan elke kant van het toestel, wat we bedoelen, is bijvoorbeeld: Plaats 150 ul van geautoclaveerd dH 2 O in een Blue Nou, dan plaats 150 ul van geautoclaveerd dH 2 0 in een Red Well. Het water (of de PLL, of media, of cellen) zal stromen door het apparaat naar het andere overeenkomstige goed.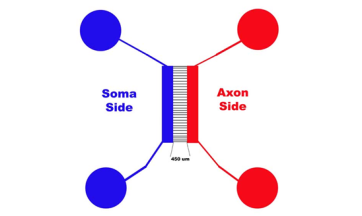 Figuur 1
Let op: Gelieve er rekening mee dat, van nu af aan, als ik zeg "place media, cellen, water of PLL in de TOP putten", Ik verwijs naar het diagram hierboven, waar de Soma zou worden aan de linkerzijde en de axonen zal uitgroeien tot de rechts.
Zuigen het water (nogmaals zorg dat u alle vloeistof volledig uit het apparaat), dan nog een 150 pl van geautoclaveerd dH 2 O tot een van elk goed aangesloten en laat het door middel van goed stroom naar de corresponderende.
Plaats het apparaat met dH 2 O in een incubator bij 37 ° C gedurende 1 uur, dan weer herhaalt u de wasstap. Was de apparaten drie maal met dH 2 O voor een uur, dat is het totaal.
Opmerking: Vanwege de mogelijkheid dat boraat uit de PLL kan opnemen in het PDMS, sommigen in de Jeon Lab raadt het incuberen van de apparaten 's nachts met geautoclaveerd dH 2 O na een paar iNITIËLE snel spoelt. Dit zal ervoor zorgen dat alle vrije boraat zal lekken uit prior van het PDMS voor het laden van de cellen. Als dit niet gebeurt, kan er een release van boraat in de media na verloop van tijd, wat kan leiden tot cytotoxiciteit.
Voeg Neurale Basale Media (NBM), met de nodige factoren (Glutamax, B27, Penstrep) naar de top Wells
Opmerking: De apparaten kunnen worden 's nachts geïncubeerd en bedekt met cellen van de volgende dag, of geïncubeerd een minimum van 3 uur met NMB + factoren voor het uitplaten de cellen.
De voorbereiding van de Neuronen Voor het laden in de apparaten
We maken gebruik van 18 dagen oud foetale rat cortex dat we ofwel kopen van een bedrijf genaamd Brain Bits of dat hier is voorbereid op de campus voor ons. Wij geven de voorkeur om het weefsel fris.
Verkrijgen van een foetale hersenen cortex (2 stukjes weefsel) zijn opgeslagen in de sluimerstand E
Neem 3 lange glazen pipetten en vuur ze elk in achtereenvolgens kleinere maten met behulp van een alcohol-lamp
verwijderen weefsels van Hibernate E met een glazen pipet en plaats in 2 ml van NMB + Factors in een steriele 15 ml buis.
Tritureren: Met behulp van een lamp en glazen pipet de cortex wordt doorgegeven op en neer op ongeveer 5 tot 10 keer. Daarna wordt de eerstvolgende kleinere pipet gebruikt voor het pipet op en neer het weefsel. Tot slot wordt de kleinste pipet gebruikt om de pipet op en neer het weefsel. Wij willen ervoor zorgen dat er geen zichtbare stukjes.

Let op: Onlangs heeft de Jeon Lab begon te vergelijken cellen van weefsels opgeslagen in de sluimerstand E tot cellen die werden bereid uit Tissue in eerste instantie behandeld met 0,125% Trypsine in 50% Ca + + vrij en Mg + + gratis dissectie buffer. De consensus is dat weefsel bereid met behulp van trypsine opbrengst meer levensvatbare cellen dan weefsel in eerste instantie geplaatst in de sluimerstand E. Als u niet van plan om het weefsel te gebruiken meteen, dan moet je het weefsel op te slaan in de sluimerstand E.

Als je gaat om het weefsel te gebruiken meteen en wil meer levensvatbaarheid willen, dan behandelen het weefsel met trypsine voorafgaand aan de mechanische tritureren als volgt: 1) 1 ml 0,25% trypsine (Gibco, Invitrogen) verdunnen met 1 ml van Ca + + gratis Mg + + gratis dissectie buffer (laatste Trypsine = 0,125%) in een 15 ml buis (blijven ijskoud), 2) plaats weefsel in buffer en onmiddellijk bij 37 incubeer ° C gedurende 8 minuten 3) voeg 10 ml DMEM/10% FBS tot aan de aanslag trypsine reactie en hieronder verder protocol.


Centrifugeer cellen bij 1100 rpm gedurende 1 minuut
Aangezogen media voorzichtig uit de celpellet
Voeg 1 ml van de NMB + factoren om de pellet en opnieuw opgehangen door en neer te pipetteren
Passeren de re-geschorste cellen door zwaartekracht door een filter om eventuele klonten te verwijderen (BD Falcon cel zeef 40 um nylon)
Tellen en plaat cellen:

In een microfugebuis, voeg 60 ul NMB + factoren, 20 pi celsuspensie, en 20 pl van trypan blauw dan mix
Voeg ongeveer 10 ul van deze oplossing voor een hemocytometer en tellen van de levende cellen (niet blauw)
Aan te passen concentratie 2,5 tot 4,5 x10 6 cellen / ml

Opmerking: Wij over het algemeen het verkrijgen van een concentratie van ongeveer 2,5 tot 4,5 x 106 cellen / ml. afhankelijk van het volume van de cellen geresuspendeerd in (normaal gesproken 1 ml NBM + B27/Glutamax/PenStrep percortex). Als het weefsel werd bereid met trypsine, zal de opbrengst waarschijnlijk worden verhoogd.
Plating De apparaten
Load cells (primaire neuronen) in een goed van het toestel
Plaat 5 ul per klein apparaat en 20 ul per big-apparaat

Opmerking: u kunt laden 10 ul van cellen op de bovenkant van het apparaat en 10 pi aan de onderkant van het apparaat (half totaal volume), of rechtstreeks alle 20 ul van cellen in de bovenste Somal goed (5 pl in de top Somal goed voor de kleine apparaten).


Incubeer gedurende 10 minuten in een 37 ° C incubator, zodat cellen kunnen beginnen te hechten
Voeg ongeveer 150 / 30 ul van NMB + factoren die aan elk putje, afhankelijk van grootte van het apparaat

Opmerking: Volumes kunnen variëren afhankelijk van de dikte van het PDMS. Het enige dat telt is dat de putten vol zijn.
Aanvullende over het gebruik van de apparaten zonder Plasma Bonding
Zonder plasma behandelen, Christina Tu, een technicus, die het doet met succes elke week zonder plasma, zegt gewoon laden de cellen meteen.
Vergeet niet om de media te verwijderen uit putten op de soma kant (axon kant zal niet uit of je laat de media in). Het is de vloeistofstroom die het mogelijk maakt de cellen in te voeren het belangrijkste kanaal. Als u media in de putten, krijgt u geen vloeistof stromen.
Discussion
Hier hebben we laten zien hoe je het neuron microfluïdische apparaat gebruiken zonder een plasma schoner. We noemen dit als niet-plasma-bonding.
Materials
| | | | | |
| --- | --- | --- | --- | --- |
| Name | Type | Company | Catalog Number | Comments |
| PDMS | Reagent | Dow Corning | | Sylgard 184 with curing agent Please consult Dow Corning to find a vendor near you |
| Cornig No. 1 Cover Glass | Cover Glass | Corning | Corning No. X2935 244 | Available through Fisher Scientific, Fish Catalog number 12-531D |
| B27 | Reagent | Invitrogen | 17504-044 | B27 is a proprietary supplement available through Invitrogen under their Gibco line of cell culture reagents. |
| Glutamax | Reagent | Invitrogen | 35050-061 | Glutamax is available through Invitrogen under their Gibco line of celll culture reagents. |
| 60 mm Petri Dish | Tool | Fisher Scientific | 08-757-13A | 60 mm polystyrene sterile petri dishes are used to house the device bound to glass. |
| Poly-L-Lysine | Reagent | Sigma-Aldrich | P-1274 | |
| BD Falcon 50 ml Tube | Tool | BD Biosciences | Falcon No. 352098 | Available through Fisher Scientific catalog number 14-959-49A |
| BD Falcon 15 ml tube | Tool | BD Biosciences | Falcon No. 352097 | Available through Fisher Scientific catalog number 14-959-70C |
References
Park, J. W., Vahidi, B., Taylor, A. M., Rhee, S. W., Jeon, N. L. Microfluidic culture platform for neuroscience research. Nat Protoc. 1, (4), 2128-2136 (2006).
Taylor, A. M., Blurton-Jones, M., Rhee, S. W., Cribbs, D. H., Cotman, C. W., Jeon, N. L. A microfluidic culture platform for CNS axonal injury, regeneration and transport. Nat Methods. 2, (8), 599-605 (2005).