Summary
Bu yazıda akciğer fonksiyonu ölçümleri veya fareler kurtarmak için ve daha sonraki dönemlerde de incelenebilir sağlar pulmoner instilasyon için fare entübasyon bir striaghforward ve etkili bir yöntem açıklanır. Işlem doğrudan soluk borusu yanması pahalı olmayan bir fiber optik ışık kaynağı içerir.
Abstract
Akciğer fonksiyon ölçümleri için fareler Entübe bir basit bir prosedür sınırlı sayıda ya da pahalı hayvan ile uzunlamasına çalışmalarda çeşitli avantajları olurdu. Bu daha çok rutin olarak yapılan olmadığını nedenlerinden biri var bunu başarmak için yollarını tanımlamak birçok yayınlanmış çalışmaları olmasına rağmen, nispeten zor olmasıdır. Bu yazıda bu entübasyon ile ilişkili en önemli engellerden biri, entübasyon tüm süre boyunca trakea görselleştirme olduğunu ortadan kaldıran bir yordam göstermek. Yaklaşım fare trakea içine entübasyon kanül doğrudan bir uygulayıcıya olarak hizmet veren bir 0,5 mm fiberoptik ışık kaynağı kullanır. Biz bunu en az birkaç hafta süre boyunca bireysel farelerde akciğer mekaniği ölçmek için bu yordamı kullanmanız mümkün olduğunu göstermektedir. Tekniği nispeten daha az masraf ve uzmanlığı ile ayarlanabilir, ve rutin nispeten az eğitim ile gerçekleştirilebilir. Bu mak gerekirmümkün herhangi bir laboratuvar rutin böylece böylece gerekli farelerin sayısını en aza indirir ve kendi kontrolü olarak her fare kullanılarak istatistiksel gücünün artırılması, bireysel farelerde uzunlamasına çalışmalar sağlayan bu entübasyon yürütmek için e.
Introduction
1999 yılında, Brown ve ark. Fare akciğer 1 intübasyon için bir yöntem tarif eden bir kağıt yayınlanmıştır. Böyle bir teknik uzunlamasına çalışmalarda 2 bireysel farelerde tekrar solunum fonksiyon veya bronkoalveoler lavaj yaparken önemli bir yararı da vardır. O orijinal kağıt beri, fare entübasyon 3-9 farklı yaklaşımlar tarif ettiğim birkaç diğer kağıtlar olmuştur. Bu yöntemlerin hepsi başarıyla kullanılabileceği gibi, genellikle önemli eğitim veya maliyet gerektirir. Böyle entübasyon ile ana konulardan biri entübasyon kanülü yaklaşımlar olarak trakea bekleyen ekleme yaklaşıyor olduğunu, kanülün kendisi ışık ve dolayısıyla gitmek gerekir nerede görselleştirme engeller. Böylece, ekleme en önemli zamanda kör hale gelir. Bu yazıda basit ve masrafsız böylece nispeten az eğitim veya başarılı entübasyon sağlamak, bu görselleştirme sorunu ortadan kaldırmak için nasıl gösterirdeneyim.
Subscription Required. Please recommend JoVE to your librarian.
Protocol
1. Prosedür için hazırlanıyor
Bir ilk edinilir ve aşağıdaki öğeleri hazırlamak gerekir:
Kanül. 20-35 g farelerin entübasyon için, biz uzun bir 1 ya da 1.5 inç, 20 gauge IV kateter (BD Insylte, Sparks, MD veya Jelco Optiva, Carlsbad, CA) kullanın. Yeni bir steril sonda her bir fare için kullanılabilir, fakat kateterler, bir gecede% 70 etanol içinde ıslatarak sterilizasyon sonrasında yeniden kullanılabilir. Fare yutak veya trakea ne steril eldivenler ve araçların kullanımı da dahil olmak üzere steril uygun temizlik prosedürleri, olmasına rağmen, takip edilmelidir.
Fiberoptik kablo. Edmund Optik 0,5 mm'lik optik kablo ≈ 70 cm kullanır, ancak uzunluk kritik değildir. Bir jilet ile uzunlukta kablo kestikten sonra, kenar nispeten keskin sol yana fiber kenarından düzeltti olduğundan emin olmak önemlidir ve trakeal duvar delmek için çok çaba almaz. Bununla birlikte, bu ilar çok kolay 1000 grit zımpara kağıdı bir parça (bir video ve Şekil 1'de gösteri görmek dokunmadan ucu kenarları ucundan yaklaşık 2 cm lif tutarak ve sonra birkaç saniye için küçük daireler çizerek bu kenar yumuşatmak için MacDonald, ve diğ. 10). Diğer ucu bir kauçuk durdurucu sokulur. Bu, en kolay şekilde, ilk önce iğnenin geri çekilmesi, durdurucu vasıtasıyla bir 18-gauge iğne itme iğne deliği vasıtasıyla optik fiber ekleme ile başarılır. Kauçuk tıpa (örneğin, NCL-150, Volpi USA, ya da başka herhangi bir ışık kaynağı ya da hatta daha az bir 150 watt) yaklaşık 150 watt halojen ışık kaynağı ile bağlantılıdır. Bu sıcak ışık kaynağına çok yakın bulunduğu zaman sıradan lastik veya mantar yakabilir yana, silikon kauçuk (veya diğer ısıya dayanıklı malzemeden) yapılmış bir stoper kullandığınızdan emin olmak için önemlidir.
2. Entübasyon Sahne
Şekil 1 ve 2'ye bakınız. Fiber optik kablo t takınhrough silikon kauçuk tüp kısa bir parça (≈ 0.8 mm ID x 4 mm D.Ç., Cole-Palmer, EW-96410-13). Hala fiber optik kablo ayarlanabilir izin verirken, oldukça sıkı bu lastik tüp bağla. Kanülün Luer sonunda rahatça silikon tüp takılması kanül içine fiber optik kablo konumunu giderir. Bu kanül uç önünde kanül ≈ 4 mm kadar uzanır, böylece fiber optik kablonun pozisyonunu ayarlar.
Üst dişleri (Şekil 3) ile asılı duran bir dikey destek üzerinde anestezi uygulanmış fare, koyun. Çoğu araştırmacılar kendilerini bakan fare ventral tarafı ile iyi görselleştirme bulabilirsiniz. Çok hafifçe dilini dışarı çekin ve başparmak ve işaret parmağı ile tutun. Orta parmak boyun ve plastik destek arasına yerleştirilir. Işaret parmağı ve başparmak ile dil üzerinde çekiş gücü ağzı açmak için, ve entübasyon yol düzeltmek için kullanılır, kafa ve boyun arkasından açı orta parmak ile ayarlanırŞekil 3 'de gösterilmiştir.
Bir ışık kaynağı ve introduser olarak fiber optik kablo kullanarak görüntülenmiştir ses telleri ile itin. Kabloları görünmüyorsa, hafifçe destek olarak orta parmak ile dil üzerinde sert çekin. Takıldığında, daha kanül ≈ 5 mm ilerlemek. Sonra, çok dikkatli olmak, kanül hareket fiber optik kablo çekmek değil. Fare Uzan ve kanül sabitlemek bant parçası ve Plasticine (modelleme kil) bir parçası üzerinde kanül hub desteklemez, Şekil 4'te gösterilmektedir.
Yalnız bir işlem olduğundan 3. adımda prosedürü kolay öğretilebilir ve hatta, ortaya olamaz. Ancak, dil ve başının arkasında destek çekiş ince ayarlamalar ile neredeyse bu deneyin herkese yakında ses telleri görselleştirmek için fare konumlandırmak için doğru yolu bulmak.
Subscription Required. Please recommend JoVE to your librarian.
Representative Results
Yöntemin bir değerlendirme olarak, 27.7, ortalama ağırlığı (ortalama ± SEM) ± 0.40 g ile 20 dört haftalık erkek BALB / c fareleri kullanılmıştır. 11. Daha önce tarif edildiği gibi akciğer direncini bir sistem kullanılarak ölçüldü olduğunda da birbirini takip eden beş hafta üzerinde çalışıldı. Her fare IP enjeksiyon yoluyla ketamin (100 mg / g BW) ve salin ksilazin (15 mikrogram / g BW) ile anestezi yapıldı. Yukarıda bahsedildiği gibi sonra entübe edildi. Kanül trakea ve değil yemek borusu olup olmadığını herhangi bir şüphe varsa, bu küçük bir diş ayna kullanarak doğrulanabilir. Dondurucuda ayna tutun ve kateter Luer merkezi önünde yer gerektiğinde. Kateterin trakea ise, ekspiryum havasında ayna görünür bir kondens oluşturacaktır.
Entübasyondan sonra, biz sonra fareler 2 Hz hızı ve 0.2 ml tidal hacim ile ventile edildi ventilatör ve ölçülen Akciğer Direniş farelerde bağlı ve solunum direnci 11. Daha önce tarif edildiği gibi mesafeyi solunum tıkanması yöntem ile ölçülmüştür. Şekil 5, 4 Farelerin oluşturduğu her bir 5 haftalık ölçümleri göstermektedir. Tekrarlanabilirlik, haftalık aralıklarla, en azından önceki ölçüm hiçbir etkisi yoktur, ki gösteren mükemmel. Bu daha zor ve potansiyel olarak travmatik prosedürü 2 ile bireysel BALB / c farelerde mekaniği ve BAL hücre profillerinin önce bildirilen haftalık değerlendirmeler ile tutarlıdır.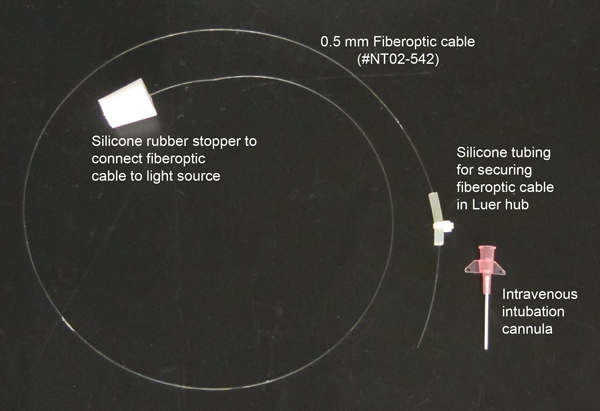 Şekil 1. Resim arası ürün entübasyon etmek için kullanılır. Fiberoptik kablo ucunu yakın bağlanmış silikon kauçuk borudan yapılmış küçük bir parça ile, bir silikon kauçuk tıpa eklenir gösterilmiştir. Şekil 2 de gösterildiği gibi, bir silikon kauçuk tıpa ışık kaynağı eklenir.
">
Şekil 2. Entübasyon kanülü takılı fiberoptik kablonun diğer ucunu ışık kaynağına bağlı kauçuk tıpa gösteren.
Basit destek entübasyon sırasında fare tutmak için standı
Resim
de solda gösterilir.

Şekil 3,. Fare konumunu gösteren iki perspektifler entübasyon için hazırlandılar.

Şekil 4'e. Bu rakam havalandırma için hazır bir entübe fare gösterir. Ağız çevresinde bant hareket kanül tutmanıza yardımcı olur. Plasticine küçük bir parça (modelleme kil) ventilatöre bağlantı için kanül hub sabitlemek için uygun bir dinlenme sağlar.
ontent "fo: keep-together.within-page =" always ">
Şekil 5,. 4 Farelerin oluşturduğu her bir sonucunda akciğer direncini (farklı renklerde) 5 haftalık aralıklarla ölçüldü.

Şekil 6. 0.5 enjeksiyonları, 0.75 ve 1 ml itibaren bir entübe fare havayolu basıncı bir grafik kayıt edilir gösterilir. Her cilt 20-40 sn tutuldu, ardından bir sonraki enflasyon daha önce yayınlandı. Stres rahatlama kurtarma sonra çok yavaş bir sızıntı olabilir, ancak bu normal ventilasyon veya dinamik solunum fonksiyon ölçümlerinin değerlendirilmesi üzerinde ihmal edilebilir etkiye sahip olacaktır. büyük bir rakam görmek için buraya tıklayın .
Subscription Required. Please recommend JoVE to your librarian.
Discussion
Burada anlatılan prosedür birçok avantajı vardır. İlk cihaz basit ve nispeten ucuz .. Aparat imalatı hiçbir özel alet ya da pahalı ekipman gerektirmez. Bir kateter kullanımı da ışık kaynağının tek bir uygulayıcıya trakeal açıklığa yaklaştıkça trakea açıklığı görme kaybeder asla anlamına gelir olduğunu tanıtır. Bir 0.5 mm uygulayıcıya kullanımı da daha büyük bir kanül bir ilk ekleme ile meydana gelebilecek travmayı en aza indirmek için sunulmaktadır. Biz benzer bir optik prob ticari bir satıcı (Braintree Bilimsel, Braintree, MA) edinilebilir burada not. Onların cihaz pille çalışan bir ışık kaynağı ve fiber optik kullanır.
Mevcut çalışmada, akciğer mekanikleri tekrarlanan ölçümü ile işlem test edilmiş, ancak bu tür entübasyon gibi kolayca LPS ile 12 arasında tekrarlayan teslim için tarif edildiği gibi, akciğer içine veya kimyasal hücreleri aşılamak için kullanılabilir. Buna ek olarak,daha ilkel bir entübasyonu ile önceden rapor bireysel farelerde 2'de tekrarlanmıştır BAL yapmak için yetenek tarif, ve bu çok daha basit yeni entübasyon yaklaşımı ile başarılı olacaktır.
Uygulamada, burada açıklanan yöntem kolaylıkla arkadaşlarının, öğrenciler ve entübasyon girişimi asla teknisyenleri öğretti edilmiştir. Aslında, grup eğitimi sırasında, bazı öğrencilerin daha sonra henüz denemedim değil diğer bazı öğrencilerin öğretmek için yeterince yetkin hale. Bu uygulama için gerekli olan fareler sayısını en aza indirir ve tekrarlanan çalışmalar içinde en az zarar izin vermelidir olarak Bu nedenle bu yöntem, bir önemli avantajı vardır.
Entübasyon yaparken, belirtilmelidir bazı pratik sorunları vardır. Bu ağız ilk açılışında dilin geri çekme ile mümkün olduğu kadar yumuşak olması önemlidir. Korumasız forseps kullanılıyorsa bu dil zarar kolaydır ve bu lea edebilirfare ölümüne d. İlk entübasyon nasıl öğrenme, en önemli şey trakeal açıklık görselleştirme etkinleştirmek için kafa açısını ayarlamak için boyun arkasına parmak kullanılmasıdır. Dil üzerinde yeterli çekiş, doğru yapıldığında, ses telleri kolayca görülebilir. Genellikle bir kez trakeal açıklığa görülmesi nedeniyle, bu fiber kablo ve intravenöz kateter eklemek için nispeten basit, çoğu zaman gerektiren bu ilk görselleştirme adımdır. Bu görselleştirme ile ilgili bir sorun olduğunu Başlangıçta varsa, stajyer genellikle yeterli kuvvet dilini çekerek değil. Ses tellerinin görülebilir böylece bu çekme Artan biraz görselleştirme yolu düzeltmek olacaktır. Hamacher, ve ark., Mikroskopik 4 ile eşsiz bir entübasyon sistem tanımlanmıştır. Baş ve boyun konumlandırma araçları vid tamamen belli olmamakla beraber bu entübasyon Onların online video, mükemmel ve çok öğreticidireo ve şekil. Onlar tarif sistemi çok verimli çalışmak gibi görünüyor olsa da, özel bir mikroskop gerektirir. Biz ses telleri ve trakea açıklığı çıplak gözle görülebilir, tarif sistemi ve prosedürü kullanarak. Bu yöntem 10 bizim orijinal tanımı, biz entübasyon kanül bir koni eklemek için bir prosedürü nitelendirdi. Bu koni dar fare yutak içine dilimleri ve çok derinden takılı olmaktan kanül önler. Biz muhtemelen hava yolu duvarının sızmasını, karina veya ötesine kanül yerleştirilmesi çok kolaydır çünkü bu kama, öğrenciler işlemini öğretirken faydalı olduğunu bulduk. Kama imal Basit talimatlar bu kağıt bulunabilir. Ancak, bir kez birisi yeterince iyi prosedürü öğrenir ve nerede kanül konumlandırmak için, bu uyum artık gerekli değildir.
Son olarak, biz sadece birkaç suşlarının genç erişkin farelerde 20 g kanül ile bu prosedürü test ettik dikkat etmelisiniz. Bu durumda, biz trakea ve ses telleri normal ventilasyon basınçları ile kanülün etrafında çok iyi bir sızdırmazlık sağlayabilir geçerliliği, yani minimal hava kaçağı mekanik ventilasyon akciğer dışarıda. Şekil 6 içinde kanülasyon itibaren sonuçlarını gösterir 3 artan hava bolus (0.5, 0.75, ve 1 mi) çözündürüldü akciğer şişirmek için kullanılan C57BL / 6 fare,. Bu basınç kaçakları en az 15 cmH 2 O bir hava yolu basıncı minimal daha bu rakam açıktır Biri farklı bir akciğer anatomisi ile suşları önemli ölçüde daha genç veya yaşlı fareler, ya da fare kullanır, ancak o zaman minimal sızıntı olmadığını teyit etmek akıllıca olacaktır. Varsa, prosedür daha sonra farklı bir boyut kanül kullanılması gerekebilir.
Özetle, entübasyonu burada açıklamak kullanmak için imal ucuz ve basit, ve çoğu araştırmacı ve laboratuar teknisyenleri hızla başarıyla öğrenmek için imkan vermelidirnispeten daha az deneyime sahip fareler entübe.
Subscription Required. Please recommend JoVE to your librarian.
Disclosures
Yazarların hiçbiri ifşa herhangi bir çıkar çatışması var.
Acknowledgments
NIH HL-10342 tarafından desteklenir.
Materials
| | | | |
| --- | --- | --- | --- |
| Name | Company | Catalog Number | Comments |
| Intubation cannula | BD Insylte, Sparks, MD or Jelco Optiva, Carlsbad, CA | | 1-in.-long, 20-gauge intravenous (IV) catheter |
| Fiber-optic cable | Edmund Optics, Barrington, NJ | #NT02-542 | Approximately 2-ft length of 0.5-mm optical fiber (Communication grade plastic fiber). The edge of the fiber end that is inserted into the trachea should be gently rounded by holding the fiber ≈2 cm from the end and then making small circles while dragging the tip for a few seconds on 1,000-grit emory paper. |
| Light Source | Volpi | NCL-150 | Although we use a 150-W halogen light source, any equivalent light source, even with much lower wattage can be used. |
| Aluminum tube | | | One inch O.D., with 1/16 inch wall. This may need to be change to fit whichever light source is used. |
| Rubber stopper | | | A #4 rubber stopper fits the 1 inch tube. |
| Small silicone rubber tube | Cole-Palmer | EW-96410-13 | A ≈1.5 cm piece of silicone rubber tubing (0.8 inner diameter, 4 mm outer diameter) |
| Angled support stand | | | Ours is constucted from plexiglass, but any material to which a thread or wire can be affixed to hold the mouse at an almost vertical angle can be use. |