Cite this Article
Copy Citation | Download Citations

Bar-Joseph, H., Stemmer, S. M., Tsarfaty, I., Shalgi, R., Ben-Aharon, I. Chemotherapy-induced Vascular Toxicity - Real-time In vivo Imaging of Vessel Impairment. J. Vis. Exp. (95), e51650, doi:10.3791/51650 (2015).
Abstract
Kemoterapiler bazı sınıfları vasküler morbidite riski hastayı zemin hazırlayabilir uzun vadeli koşulları içine ilerleyebilir akut vasküler değişiklikleri uygulamak olabilir. Ancak, montaj klinik kanıt olsa, vasküler toksisite ve bu nedenle damar / kardiyovasküler bozukluklar heterojen bir grup etiyolojisinde açık çalışmalar yetersizdir aydınlatılamamıştır gerekmektedir yoktur. Ayrıca, damar toksisite yatan mekanizma olabilir tamamen miyosit yaralanma doğrudan ilgilidir kemoterapi kaynaklı kardiyotoksisitenin, ilkelerinden farklı olabilir. Biz anti-kanser tedavilerinin olası akut vasküler toksisite değerlendirmek için in vivo moleküler görüntüleme platformu, gerçek zamanlı kurduk.
Biz uygun kapalı organ ve referans blo içinde damarsal görselleştirmek için in vivo, farelerde yüksek çözünürlüklü moleküler görüntüleme, bir platformu kurdunuzHer birey ise aynı bireyler içinde od gemiler kendi kontrolü olarak hizmet vermektedir. Kan damarı duvarları uç organ hasarı erken bir olay olabilir vasküler toksisite benzersiz bir mekanizma temsil, doksorubisin uygulamadan sonra bozulmaktadır. Burada, lifli konfokal floresan mikroskobu (FCFM) göre görüntüleme yöntemi, hayvan deneklerde hücresel ve alt-hücresel düzeyde fizyolojik olayları anlamak için yenilikçi bir mod sağlayan, tarif edilmektedir.
Introduction
Klinik kanıtlar kemoterapi çeşitli sınıfları Raynaud fenomeni, hipertansiyon, myocardialinfarction, serebrovasküler atak ve hepatik veno-occlusivedisease 1,2 ile kendini gösteren vasküler patolojilerin çeşitli ortaya belirtir. Başlangıçta bu amaçla 3-5 için geliştirilmiş, ancak az uygulanmasıyla tümör hücrelerini yok etmek için tasarlanmış olup, ancak "'kazara anti-anjiyojenik ilaçlar", "yan mümkün anjiyojenez inhibitörleri olarak etki geleneksel kemoterapötik maddeleri tarif oldukça yeni bir terimdir mümkün 3 gibi normal hücrelere zarar ". Serum biyomarkırları kullanarak klinik çalışmalarda görüldüğü gibi çeşitli kemoterapiler vasculo-toksik maddeler olarak ima edilmiştir. Bunlar arasında maddeler (örneğin, siklofosfamid gibi), platin (örneğin sisplatin gibi) bileşikleri ve antrasiklinler 1,2,5-7 alkile edilir.
Akut kardiyovasküler komplikasyonlar Bir resul olarak ortaya çıkabilirKemoterapi ile uyarılan vasküler toksisite t. Onlar geç vasküler morbidite riski ateroskleroz ve hesabına gibi kronik koşulları dikkate ilerleyebilir. Ancak, klinik kanıt montaj rağmen, damar toksisite mekanizması vurgulayan belirlenen çalışmalar yetersizdir olduğunu ve bu nedenle, onlar indirebilmek tam patogenezi daha aydınlatılması garanti edilir.
Kemoterapi kaynaklı vasküler toksisite mekanizması açığa büyük bir meydan okuma in vivo vasküler fonksiyonu soruşturma karmaşıklığı kaynaklanmaktadır. Biz burada kan akışını ve gemilerin özelliklerini yakalamak sağlayan farelerde in vivo moleküler görüntüleme yüksek çözünürlüklü bir platform açıklar. Bu platform, doğrudan tedaviye bağlı vasküler etkilerinin tespitini kolaylaştırır: gerçek zamanlı olarak, hem de aynı bireylerin içinde bir süre boyunca onları takip gibi.
Subscription Required. Please recommend JoVE to your librarian.
Protocol
Etik deyimi: Bütün deneyler Kurumsal Hayvan Bakım ve Kullanım Kurulu tarafından kabul edildi. Hayvan bakımı kurumsal kurallarına göre oldu. (- 8 hafta eski 7, 25-30 gr) ICR dişi fareler Tel-Aviv Üniversitesi Sackler Tıp Fakültesi klimalı, ışık kontrollü hayvan tesislerinde muhafaza edildi. Vadede, hayvanlar anestezi doz aşımı ile ötenazi edildi.
1. lifli Konfokal Floresan Mikroskobu (FCFM) Kalibrasyon
Aygıtı AÇIN.
Mikroprob (mini0 / 30) bağlayın.
Üreticinin talimatlarına göre cihazı kalibre edin.
2. Fareler Görüntüleme Hazırlık
Her iki Ketaset (100 mg / kg) ve xyl-M2 (6 mg / kg) deri altından enjeksiyonu ile anestezi. Ayak-tutam tepkisizlik tarafından uygun anesthetization onaylayın.
Sırayla için kasık altındaki cildi insizyon femoral arter damarları ortaya. Kesi aşağıdaki tuzlu su ile nemli kesi sitesini tutun.
Yaklaşık 30 saniye için, ılık su (çok sıcak dokunma) ile dolu bir torba (ya da bir eldiven) ile kuyruk ısıtın. Tuz veya kemoterapötik ajanın ya kuyruk damarına bir iğne (30 g, 1/2 inç) sokulması ve buna 1 ml şırınga takılarak FITC dekstran (kontrast bir madde) verilmesi için bir damar içi (IV) şant hazırlanması ve . Ven tuzlu enjekte açık olduğundan emin olun.
Not: FITC dekstranın bir IV uygulama (yüksek molekül ağırlığı, 100 ul 10 mg / ml, 2,000 kDa) FCFM femoral mikrovaskuleterini görselleştirme kolaylaştırır. Doksorubisin (100 ul, 8 mg / kg, Adriyamisin) veya tuzlu su, aynı zamanda, daha sonra önceden ısıtılmış bir kuyruk venine IV tatbik edilecektir.
Bir polistiren sahnede supinely fareyi yerleştirin. Pad fare Güvenli ve cerrahi koli bandı kullanarak konumunu korumak.
sırasında ve Doksorubisin veya Salin İdaresi sonra FCFM tarafından Femoral Damar başlığı "> 3. Görüntüleme
NOT: (1) mikroprob (mini0 / 30): Bu çalışmada kullanılan lifli konfokal mikroskop iki üniteden oluşmaktadır. (2) Lazer tarama ünitesi (LSU-488; 488 nm dalga boyu).
LSU 488 nm dalga boyunda lazer kullanarak analizler her zaman tur gerçekleştirin.
NOT: Ana ünite dedektörü, filtre tespit (500-650 nm) yayılan floresan. edinilen görüntüler daha sonra yeniden ve / sn 12 kare hızında görüntülenir.
Dikkatle iğneden şırınga ayırın ve FITC dekstran içeren yeni bir şırınga takın. FITC dekstran (IV) 100 ul yönetme.
Karşılık gelen bir görüntü elde etmek için z ekseni uyum sonra, bakış uygun bir alanına mikroprob (mini0 / 30), Shift ve sabitleştirmek. Açık ve odaklanmış sinyal visi- kadar solmaya ilk sinyal bekleyinble.
Kısa bir süre stabilizasyon (~ 30 sn) için bir temel kan akışını kaydedin. Sonra doksorubisin veya tuzlu ya içeren, iğne başka şırınga bağlayın. IV, 100 ul doksorubisin veya tuzlu yönetmek.
20 dakika boyunca sürekli olarak enjekte FITC dekstran akışını izleyin. FCFM ilişkili yazılım üzerinde, kan damarlarını ölçmek için üst cetvel üzerinde çapı düğmesini kullanın ve kategorize onları küçük (<15 mikron) veya büyük (> 15 mm).
Anestezi doz aşımı ile hayvan Euthanize.
Subscription Required. Please recommend JoVE to your librarian.
Representative Results
Gerçek zamanlı olarak in vivo sürekli görüntülemede
Burada kullanılan görüntüleme aparatı, damar görselleştirme ve kemoterapi gibi çeşitli uyarıcılara verdiği cevap sağlayan bir sonda ile donatılmış bir yüksek çözünürlüklü, lifli konfokal mikroskop vardır. Derin damarlar ya da organ görüntüleme kolaylaştırabilir rağmen, sonda için küçük bir insizyon, bu yöntem minimal invaziv. prob demetleri onlarca lifleri, mikroskop optik ve hassas özel konnektörü binlerce oluşur. Şematik bir temsili, Şekil 1 'de gösterilmiştir.
Femoral mikrovasküler Görüntüleme
Bu damarların çap göre femur kan damar ağını sınıflandırmış (küçük <15 um, büyük> 15 um) FCFM ile FITC-dekstran enjekte edilmiş farelerde. Hızlı bir vazokonstriksiyon - küçük damarların (2 5 dk) doksorubisin ile oluşturuldu. Tam bir disappearanFITC dekstran floresan ce, 8 dakika sonrası doksorubisin tedavisi (Şekil 2A örneğin, oklar, Video 1). Birkaç farelerde, kan damarı floresan sinyalinin azaltılması ve onun perivasküler bölge, doksorubisin uygulama birkaç saniye sonra (Şekil 2B g, oklar) gözlenmiştir çevreleyen sinyali arttırır. Bu sonuçlar, çevre dokulara kan kabından yüksek molekül ağırlıklı dekstran bu damar geçirgenliğinin artması ve sızıntıyı göstermektedir. Resim floresans sinyali FITC-dekstran ile daha önce enjekte değil, farelerde doksorubisinin uygulanmasından sonra açıktı. Paklitaksel ile tedavi edilmiş fareler içindeki kan damarları yapısı gösterdi ve ölçüm süresi boyunca, serum fizyolojik enjekte edilen fareler (gösterilmemiş olan) gözlenenler ile akış hızı.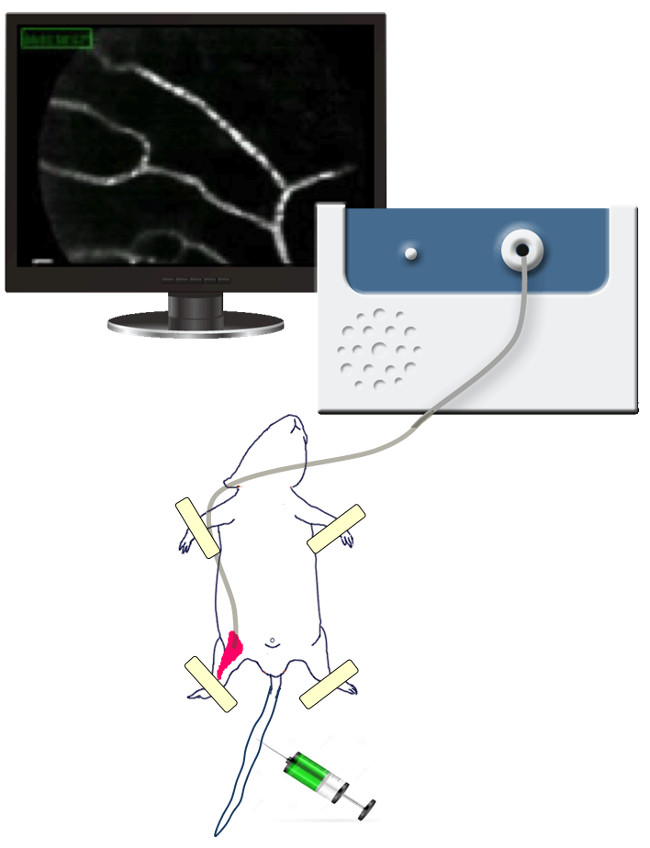 Şekil 1. FCFM iki üniteden oluşmaktadır burada kullanılan konfokal mikroskop: mikroprop (mini0 / 30) ve lazer tarama birimi (LSU-488; 488 nm dalga boyu)..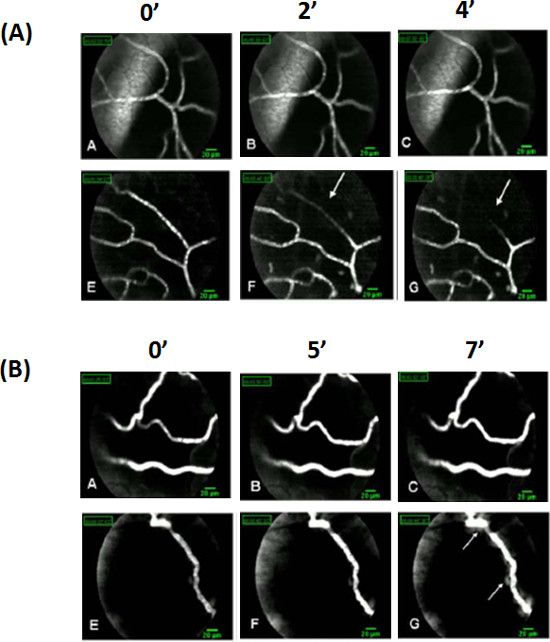 Şekil 2. Femoral mikrovasküler FITC dekstran floresan sinyal görüntüleri. Gemiler dichotomously (<15 mikron ya da majör minör) sınıflandırıldı (> 15 mikron) kendi kalibre göre. FITC dekstran femoral mikrovasküler (100 ul 10 mg / ml) eklenmiştir. (A) FCFM tarafından görüntüsü küçük kaplar, fareler önce ve doksorubisin ya da tuz ya da IV uygulaması sırasında görüntülenmiştir enjekte 2 dakika doksorubisin uygulamadan sonra akut vazokonstriktör başladı (f , n esnasında sinyal hiçbir kurtarma belirgin iyileşme ile, tamamen ortadan kalkması kadar floresan sinyal sürekli daralması gösteren) arrowext gerçek zamanlı görüntüleme (g ok) sekiz dakika. (B) Görünüm, bazı anlık olarak, enjeksiyondan hemen sonra kemoterapi-enjekte edilen farelerin (g ok) kan damarları duvarları etrafında bir "puslu" alan, potansiyel gösterir dekstran-FITC kaçağı. Bu rakamın büyük halini görmek için lütfen buraya tıklayınız.
Video 1 Femoral mikrovasküler görüntüleme. Bir temsilci FITC dekstran floresan minör (çapı <15 mikron), kan damarları filmini fotoğrafladı. 100 ul FITC-dekstran (10 mg / ml) ile enjekte edilmiş fareler görüntülenmiş ve doksorubisin IV uygulamasına andan itibaren fotoğraflandı: Yumurtalık ve femoral mikrovasküler zaman fotoğraflar ve yalar. 2 - doksorubisin, enjeksiyondan sonra 5 dakika, küçük damarları floresan sinyalinin tamamen kaldırılması, Terbiyede sonra daha önce 8 dakika süre ile dramatik bir vazokonstriksiyona gösterdit. (AVI) Bu videoyu görmek için lütfen buraya tıklayınız.
Subscription Required. Please recommend JoVE to your librarian.
Discussion
Kemoterapi ile indüklenen vasküler toksisitesinin değerlendirilmesi nedeniyle, gerçek zamanlı olarak bir uyarıcıya tepki olarak damar dinamiklerinin görüntülenmesi güçlüğü nedeniyle zordur. Birçok klinik çalışmalar birkaç kemoterapiler doğrudan vasküler yaralanmaya neden olduğunu ima var, ama bu toksisite mekanizması ve özellikleri tam olarak açıklığa kavuşmuş. Bu tarifnamede, 8-10 tarif edildiği gibi lifli konfokal floresan mikroskobu içeren farelerde kemoterapi potansiyel vasküler toksisitesinin değerlendirilmesi için in vivo moleküler görüntüleme platformu, gerçek zamanlı kurduk. Farelerin Bu yüksek çözünürlüklü moleküler görüntüleme arteriyel kan akımını ve gemilerin mimarisi görselleştirmek için uygundur. Bu uzun bir süre boyunca aynı hayvanda tedavi kaynaklı komplikasyonlar, gerçek zamanlı belirlenmesini sağlar. Doku yanı sıra bilinen doksorubisin, in vitro olarak endotelyal hücrelere karşı toksik olduğu: Bu kemoterapi iki sınıfını değerlendirildiHerhangi bir vasküler etki eski kanıtlar çok sınırlı olan bir kontrol kemoterapi gibi doksorubisin 10-15 ve paklitaksel ile muamele edilmiş hayvanlardan elde edilen s.
FCFM lazer tarama konfokal teknolojisi gerçek zamanlı floresan boyalı derin dokuları izleme ve in vivo 9 kan damarlarının time-lapse video görüntüleri üretir kolaylaştırır. Çalışmamızda FCFM bir prototip vasculotoxic madde olarak doksorubisin akut vasküler etkisi gözlemlemek için kullanılmıştır. Kısa bir süre doksorubisin uygulamasından sonra başlayan bu etki, kan damarları boyutu bağımlı oldu: küçük gemilerin çapı, daha belirgin hasar. Küçük çaplı floresans sinyali (<15 um) gemi doksorubisine bağlı sabit gemi sıkışmasının bir sonucu olarak aşama aşama azalır. Hiçbir belirgin iyileşme gerçek zamanlı görüntüleme sonraki 8 dakika boyunca tespit edildi. Büyük çaplı (> 15 mikron) gemiler daha az hasarlı olduğu; bütünlükkendi duvarın düzensiz yüzey sergileyen, tatlıya. Bu etkiler doksorubisin benzersiz ve bu metodoloji titizlikle ilacın spesifik etkisinin delineates belirten, paklitaksel kullanılmıştır zaman belirgindi.
Değişiklikler ve sorun giderme
Protokol boyunca, lazer güç damarları göstermek için başlangıç ​​kaydı sırasında değiştirilebilir. Ancak, lazer güç deney sırasında değiştirilmemelidir. Buna ek olarak, yüksek bir lazer güç süre boyunca floresans madde ağartma olabilir. Kayıt tamamlandıktan sonra Ayrıca, bu filmin parlaklığını değiştirmek ve uzunluğunu ve hızını düzenlemek mümkündür. Gemilerin Ölçümler daha sonra yapılabilir ve meydana gelen değişikliklerin takip edilebilir.
Teknik ve kritik adımlar Sınırlamalar
FCMF cihazı birkaç sınırlaması vardır. Faiz (ROI) bölgesi içinde değişebilirGörüntüleme zamanı. Ayrıca, görüntülü alan kurumasına olabilir; bir sulu alan tutmalı. floresan ajan çamaşır suyu olabilir ve sinyal kaybolur. Bir dikkat etmelidir bir kritik adım hayvan ve iyi ROI değişiklikleri önlemek için sabit sonda tutmaktır.
Önemi ve Gelecekteki uygulamalar
kurulmuş deney platformu kemoterapi ya da alternatif olarak, potansiyel vasküler toksisite profilini karakterize etmek için bir muhtemel biyolojik marker olarak yanıt için acil bir test olarak hizmet edebilir. Damar bozukluğu çalışılan mekanizması bağlı olarak, yöntem, aynı zamanda, potansiyel maddelerin değerlendirilmesinde gelecekte yararlı kemoterapi ile indüklenen vasküler toksisitesini azaltmak için belirlenebilir. Kanser kurtulan potansiyel uzun vadeli vasküler komplikasyonları azaltmak için ihtiyaç kemoterapi kaynaklı damar toksisite arkasındaki mekanizmayı keşfetmek için bize sürücüler.
Subscription Required. Please recommend JoVE to your librarian.
Materials
| | | | |
| --- | --- | --- | --- |
| Name | Company | Catalog Number | Comments |
| general anesthesia | Fort Dodge Animal Health, IA, USA and Biove Laboratories, France | | 100 mg/kg ketaset and 6 mg/kg XYL-M2 |
| depilatory cream (Veet) | ReckittBenckiser, Bristol, UK | | |
| 30 G, 1/2 inch needle attached to 1 ml syringe | | | |
| FITC dextran (10 mg/ml; MW 2,000 kDa) | Sigma | FD2000S | 100 μl volume |
| Doxorubicin | Teva, Israel | | 8 mg/kg, Adriamycin |
| paclitaxel | Taro, Israel | | 1.2 mg/kg, Medexel |
| saline | | | |