Cite this Article
Copy Citation | Download Citations

Baczynska, A. M., Shaw, S., Roberts, H. C., Cooper, C., Aihie Sayer, A., Patel, H. P. Human Vastus Lateralis Skeletal Muscle Biopsy Using the Weil-Blakesley Conchotome. J. Vis. Exp. (109), e53075, doi:10.3791/53075 (2016).
Abstract
Percutane spierbiopsie met behulp van de Weil-Blakesley conchotome is goed ingeburgerd in zowel klinische en onderzoekspraktijk. Het is een veilige, effectieve en goed verdragen techniek. De Weil-Blakesley conchotome heeft een scherpe bijtende tip met een 4-6 mm brede holle. Het wordt ingebracht via een 5-10 mm huid incisie en kan worden gemanoeuvreerd voor gecontroleerde weefsel penetratie. De punt wordt geopend en gesloten in het weefsel en gedraaid 90 -180 ° om de spier te snijden. De hoeveelheid spier verkregen na herhaalde bemonstering kunnen variëren van 20 mg tot 290 mg kan worden verwerkt voor zowel histologische en moleculaire studies. De wond moet worden droog gehouden en krachtige fysieke activiteit tot een minimum van ongeveer 72 uur, hoewel normale niveaus van activiteit direct kan herstarten na de procedure. Deze procedure is veilig en effectief wanneer veel aandacht wordt besteed aan de selectie van onderwerpen, volledige asepsis en na de procedure zorg. Zowel links en rechts vAstus lateralis zijn geschikt voor biopsie afhankelijk deelnemer voorkeur.
Introduction
Het verkrijgen van de skeletspier voor de diagnose van een myopathie en andere neuromusculaire degeneratieve ziekten is gebaseerd op een veilige en efficiënte methoden die aanvaardbaar en niet invaliderende aan patiënten 1 zijn. Historisch gezien methoden voor het verkrijgen van spierweefsel voor analyse omvatte geopend biopsies uitgevoerd onder algemene verdoving of uit post mortem. Deze technieken toegestaan ​​directe visualisatie van de spier en toegestane een groter stuk van de spier te biopsie. Gezien de mogelijke nadelen van deze technieken moet de patiënt in termen van verblijf in het ziekenhuis en het herstel, werden percutane 'semi-open' spierbiopsie methoden geïntroduceerd als alternatief. Deze techniek werd eerst uitgevoerd door Duchenne (1806-1875), die zelf geproduceerde naald met een trocar gebruikt en kon een spier monster van een levend subject verkrijgen zonder algehele anesthesie 2. Sindsdien zijn diverse vormen van biopsienaalden gebruikt 3,4,5. De biopsie needle door Bergstrom ontwikkeld in 1962 is de meest gebruikte in de klinische praktijk; zowel bij kinderen als volwassenen, evenals in het onderzoek 6,7,8,9,10. Het bezit een scherpe trocar, een snijdende canule en een duwende staaf om het weefsel na de biopsie te verdrijven. Muscle opbrengsten verkregen uit deze procedure zijn gemeld varieert van 25 -293 mg na herhaalde bemonstering 11,9.
Henriksson introduceerde de Weil-Blakesley conchotome in 1979 als alternatief halfopen spierbiopsie methode (figuur 1) 12. Het instrument is een enkele structuur in tegenstelling tot de Bergstrom construct en is ontworpen als een pincet met een scherpe bijtende tip. De tip grootte kan variëren van 4 mm tot 6 mm breed. Wanneer de twee randen van de bijtende tip verzetten, wordt een holle gevormd dat de vangst van de spier zorgt. De conchotome wordt ingebracht via een 5-10 mm huidincisie en vermijdt de noodzaak van een trocar om de spier en de fascia overliggende als Scalpe penetrerenl kan worden gebruikt om een ​​track maken naar de spier.
Deze methode maakt het mogelijk gecontroleerde weefsel penetratie met een hoge mate van wendbaarheid 13,14. Het is vooral nuttig voor toepassing op grote druk mogelijk neurovasculaire of onderliggende botstructuren bijvoorbeeld kunnen beschadigen. Op de plaats van de tibialis anterior 15,14. Muscle opbrengsten met behulp van de conchotome kan variabel zijn en in onze praktijk 20-200 mg van de spier is verkregen na herhaalde bemonstering. Een potentieel voordeel van de conchotome via Bergstrom naald, naast de hoge wendbaarheid biedt, dat de snijdende tip niet te worden geslepen of vervangen zo vaak als de trocar van de Bergstrom construct 16.
De algemene doelstelling van spierbiopt met de Weil Blakesley conchotome is voldoende hoeveelheden spierweefsel verkrijgen histochemie en moleculaire analyse voor zowel diagnostische als resear inschakelench studie. Het is een eenvoudige en veilige procedure die gemakkelijk kan worden geleerd. Met deze techniek, spier geschikt voor biopsie omvat biceps, triceps, deltoideus, gastrocnemius, tibialis anterior, soleus en de sacrospinals 17,15,7,18,14. De buitenzijde van de vastus lateralis is de meest voorkomende plaats voor biopsie omdat men daarmee de belangrijkste neurovasculaire structuren binnen de dij. Het is geïdentificeerd ongeveer tweederde hij een denkbeeldige lijn die de spina iliaca anterior superior en de knieschijf. Muscle morfologie gegevens, bijvoorbeeld myofibre gebied, myofibre proporties, capillaire dichtheid afgeleid van vastus lateralis sampling zijn op grote schaal beschikbaar in de literatuur waardoor vergelijking tussen studies 11,19.
Subscription Required. Please recommend JoVE to your librarian.
Protocol
Ethiek statement: Een beschrijving van de spier biopsie procedure volgen we binnen onze instelling volgt nu. De spier biopsie procedure wordt gebruikt in de Hertfordshire Sarcopenia Study die door het aantal Committee Hertfordshire Research 07 / Q0204 / 68 heeft goedgekeurd. Alle deelnemers gaven schriftelijk informed consent 20.
LET OP: Een enkele operator kan de procedure, geholpen door een assistent die de deelnemer in een gesprek kunnen deelnemen om de angst te verminderen en ervoor te zorgen dat ze zijn comfortabel te allen tijde uit te voeren. De procedure kamer moeten worden uitgerust met een wastafel, een in hoogte verstelbare bank, schone oppervlakken en een procedure trolley.
1. Bereid de Deelnemer (figuur 2)
Vraag de deelnemer om comfortabel te leggen, liggende op een bank. Expose de voorkeur dij van de lies vouw. Verspreid een wegwerp absorberende laag onder de blootgestelde dij. Zorg ervoor dat de been recht en ontspannen gedurende de gehele procedure blijft maarde dij is even gespannen naar de vastus lateralis schetsen.
Markeer de procedure ter plaatse ongeveer tweederde hij een denkbeeldige lijn van de spina iliaca anterior superior aan de knieschijf.
2. Bereid de huid (figuur 2)
Scheren huid tot ongeveer 4 cm in diameter rond de voorgestelde biopsieplaats met een steriel scheermesje en de huid met een watje met alcohol reinigen.
LET OP: Dit is om eventuele latere haar opsluiting in de wond tijdens het genezingsproces te voorkomen. Deze stap is optioneel naar keuze van de operator.
Infiltreren in de huid en de overliggende fascia met plaatselijke verdoving. Gebruik een 25 G naald onderhuids bleb van 2% lidocaïne verhogen dan dieper infiltreren in het onderhuidse weefsel met een 23 G naald. Doel te dringen tot ten minste de helft van een inch, afhankelijk van het subcutane weefsel inhoud op de biopsieplaats. Deze diepte moet volstaat om de bovenliggende fascia is verdoofd. Laat 2-5 minuten voor de verdoving tot actie. Bevestig verdoving door het sonderen van de huid zachtjes met de naald of scalpel tip.
3. Bereid een steriele (figuur 2)
Was uw handen met zeep en schone handen te houden tot een steriel toga wordt gedragen. Bedek handen met steriele handschoenen voor het creëren van een steriel veld op de procedure trolley.
Steriliseer de biopsie site met 2% chloorhexidine / isopropylalcohol oplossing of een jodium gebaseerde huid ontsmettingsmiddel. Breng een steriel laken van kleefstof diafragma op de biopsieplaats bloot maar ook een steriele gebied te behouden.
4. Voer de Procedure (figuur 2)
Met een maat 11 scalpel, maak een 5-10 mm incisie op de huid en naar beneden en door de overliggende fascia. Plaats het gesloten uiteinde van de bijtende conchotome door de incisie haaks op de lengteas van het femur, tot een diepte middeling half tot één inch. Indien nodig gebruikde vrije hand te houden en ondersteunen de dij rondom de biopsieplaats terwijl het uiteinde van de conchotome wordt geopend en gesloten in de spier.
Draai de conchotome tot 90-180 ° om de spier te snijden. Trek de conchotome en open de tip op een steriel gaasje getemperd door een steriele fysiologische zoutoplossing. Herhaal de procedure in de interne wondplaats, indien nodig, voldoende spierweefsel te verkrijgen. Breng het gaas in een houder op ijs geplaatst. Breng de houder naar een preparaat laboratorium de spier werkwijze volgens de lokale protocol van de instelling.
5. Bericht Procedure (figuur 2)
Toepassen directe druk op de wond tot 5 minuten. Sluit de wond met Steri-strips door ze parallel aan de wond in plaats van loodrecht vermijden potentieel littekenweefsel verwijderen en opnieuw de wond indien de Steri-strips onbedoeld worden verwijderd. Plaats een steriel absorberend verband op de Steri-strips en bind een tweelaagsbandage voor compressie en veilig met tape.
Leg het wondverband methode om de deelnemer als zij zullen moeten een dressing verandering uit te voeren 3-4 dagen na de ingreep. Zorg ervoor dat de deelnemer verwijdert de drukverband voordat je naar bed later die avond.
6. Plaats biopsie Advice
Informeer de deelnemer dat het gebruikelijk is om een aantal dij stijfheid die kan worden verlicht door zacht uit te oefenen (bijv., Lopen) te ervaren. Gebruik eenvoudige analgesie, zoals paracetamol. Waarschuw de deelnemer over voorbijgaande gevoelloosheid rond de biopsie site die kan aanhouden tot twee weken, evenals de mogelijke complicatie van wondinfectie.
7. Instructies voor de Subject Bericht Procedure
Vraag de deelnemer om krachtige activiteit voor 72 uur te vermijden (zoals klimmen, hardlopen, zwaar tillen). Vraag de deelnemer om onderdompeling in water te vermijden voor 48-72 uur. Echter, instrueren de participant om plastic folie of iets dergelijks rond de biopsie website wikkel wanneer een douche aan de dressing droog te houden.
Vraag de deelnemer om de dressing te veranderen na 3-4 dagen en verwijder de Steri-strips na één week.
LET OP: De deelnemer moet worden gegeven schriftelijke instructies voor post biopsie zorg, reserveonderdelen dressings en hulpdiensten contactgegevens van het team dat verantwoordelijk is voor het uitvoeren van de procedure.
Subscription Required. Please recommend JoVE to your librarian.
Representative Results
De bovenbeschreven procedure is veilig en aangenaam voor zowel klinische als onderzoeksomgeving. Wanneer de biopsie wordt uitgevoerd als onderdeel van het diagnostisch proces dient de spier worden gekozen op basis van symptomen van spierzwakte patiënt. De biopsie site moet vrij zijn van eerdere blessures, contracturen of instrumentatie 21,1 zijn. Onderzoek kunnen gestandaardiseerde omstandigheden zoals vasten of uitsluiten van patiënten met diabetes vereist 19. Anticoagulantia zoals warfarine moet worden gestopt en stollingstijd gecontroleerd voordat de procedure. Eenvoudige aspirine in een dosis van 75 mg kan worden voortgezet als onze ervaring suggereert niet dat het risico van overmatig bloeden 22 verhogen. Bovendien moet rekening worden gehouden met de deelnemers het nemen van medicijnen die afbreuk wondgenezing. In wezen moet het risico van het stoppen medicatie opzichte van het nut van de procedure in elkgeval. Tijdens deelnemer selectie, moet een gedetailleerde geschiedenis van mogelijke allergieën voor plaatselijke verdoving, jodium / chloorhexidine en wondverband worden verkregen en alternatieven toegepast zoals vereist. Deelnemers moeten worden gewaarschuwd over de zeldzame, maar potentieel optreden van allergische reacties die kan zich manifesteren als verhoogde roodheid van de huid, lokale zwelling of blaarvorming. In deze omstandigheden verwijderen van het verband (en) en behandeling met anti-histamines / steroïden nodig zijn.
De procedure duurt ongeveer 15 - 20 min. Het is essentieel om te letten op asepsis om het risico van wondinfectie minimaliseren. Tijdens de procedure deelnemers kunnen wat ongemak ervaren. Optreden van een scherpe pijn kunnen verdere infiltratie van plaatselijke verdoving noodzakelijk. Na de procedure, dij stijfheid wordt over het algemeen ervaren en kan worden verlicht door zacht uit te oefenen (bijv., Lopen). In de Hertfordshire SarcopenieStudy (HSS), de pijnscores gemeten met de pijn visuele analoge schaal (VAS) (schaal van 0 mm - 'geen pijn' tot 100 mm - 'pijn zo slecht als het maar kan') waren meestal laag met een gemiddelde van 7 mm tijdens de procedure en 4 mm een dag na de behandeling suggereert de patiënten in dit onderzoek vond de procedure minimaal pijnlijk 22 (Materials Table) .Het percentage wondcomplicaties in de literatuur varieert van 1% tot 3% en omvatten voornamelijk wondhematoom formatie 13,9,14. Een studie beschreef een serieuze een sub-fasciaal hematoom en een daaropvolgende diepe veneuze trombose 13. In de HSS was de mate van wondcomplicatie (beschreven als een harde knobbel onder het litteken voor 3 weken) 1% 22. Deelnemers kunnen gevoelloosheid rond de kleine incisie gegeven noodzaak om incisie door de huid en het onderhuidse weefsel. In onze ervaring heeft deze gevoelloosheid van voorbijgaande aard en heeft volledig opgelost binnen een of twee wee ks.
Met betrekking tot de representatieve histologische resultaten, we eerder onderzocht het verband tussen ontwikkelings- invloeden en spieren morfologie 19. In deze studie betekenen Type I myofibre gebied (SD) in 48 lager geboortegewicht (≤3.18 kg) mannen was 4903 um 2 (1354 um 2) en 4644 micrometer 2 (1022 um 2) in 47 hoger geboortegewicht (≥3.63 kg) mannen, terwijl de gemiddelde type II myofibre gebied was 4046 um 2 (1166 um 2) en respectievelijk 3859 um 2 (1127 um 2) in het lagere en hogere geboortegewicht mannen.

Figuur 1. Beeld van Weil-Blakesley Conchotome. De Weil-Blakesley conchotome met een 6 mm bijten tip wordt gebruikt in deze studie.5 / 53075fig1large.jpg "target =" _ blank "> Klik hier om een ​​grotere versie van deze figuur te bekijken.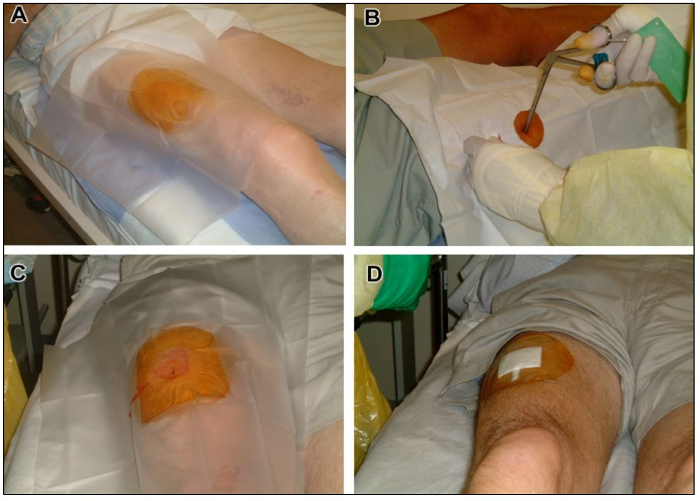 Figuur 2. spierbiopsie Techniek De Weil-Blakesley Conchotome. (A) Het been werd blootgesteld, de liesplooi. De biopsie ruimte boven de vastus lateralis werd geschoren haar, gemarkeerd, geïnfiltreerd met lidocaïne en gereinigd met een antiseptische. De biopsie gebied werd geïsoleerd. De huid en de bovenliggende fascia werden vervolgens doorboord met een maat 11 scalpel. (B) De conchotome werd in het spoor door de scalpel en gedraaid over 90 ° om de spier te snijden ingevoegd. CD. De 5 -. 10 mm wond werd afgesloten met Steri-strips en gekleed (Eerder verschenen 22) Klik hier om een LAR bekijkenger versie van deze figuur.

Figuur 3. Steri-strip Application. De steri- strips worden toegepast evenwijdig aan de kleine incisie. Deze werkwijze gaat gepaard met een goede snelheid van genezing; meestal binnen een week. Klik hier om een grotere versie van deze figuur te bekijken.

Figuur 4. Muscle biopten van de vastus lateralis. Klik hier om een grotere versie van deze figuur te bekijken.
Mediaan (interkwartielafstand [IQR])
Tijdens de procedure
7 (1-34)
Een dag na de procedure
4 (0-16)
Zeven dagen na de procedure
1 (0-4)
Dagelijkse activiteit hervat
N (%)
Na een dag
60 (65%)
Na twee dagen
26 (28%)
Meer dan twee dagen
7 (7%)
Tabel 1. Pijn Visual Analogue Scale (VAS) Score en Hervatting van de activiteit in de 93 deelnemers aan het onderzoek na Conchotome spierbiopsie in de Hertfordshire Sarcopenie Study. De pijn schaal varieerden van 0 mm - 'geen pijn' toeen maximum van 100 mm - 'pijn zo slecht als kan zijn'. De meerderheid van de deelnemers hervat gebruikelijke dagelijkse activiteit een dag na de procedure.
Subscription Required. Please recommend JoVE to your librarian.
Discussion
Om de veiligheid te garanderen deelnemer en efficiënt uit te voeren de spierbiopsie, is het belangrijk om aandacht te besteden aan kritische stappen in het protocol.
De deelnemers moeten worden gekozen na zorgvuldige afweging van de uitsluitingscriteria complicaties zoals bloeden en slechte wondgenezing te voorkomen. Strikte asepsis gedurende de hele procedure is essentieel. De toepassing van de juiste techniek zorgt ervoor deelnemer comfort, ongewenste trauma aan weefsels deelnemer een minimum te beperken en ervoor zorgen dat voldoende monster opbrengst voor analyse. Soms kan het moeilijk zijn om een ​​spier monster te verkrijgen, vooral als de deelnemer buitensporige onderhuids vetweefsel. Overmatig bloeden kan optreden, zelfs na een zorgvuldige selectie van de deelnemers, in welk geval een beslissing om door te gaan met de procedure moet worden gemaakt. Directe druk op de wond tot 5 minuten nodig zijn om hemostase te stimuleren en kneuzingen minimaliseren. Een andere methode om bloeden te minimaliseren isGebruik lidocaïne met epinefrine die een lokale vasoconstrictie veroorzaken. Evenwel epinefrine interfereren met analyses en voorzichtigheid worden gebruikt. Het is de voorkeur van de auteur niet te epinefrine gebruiken tijdens deze procedure.
Meerdere analyses kunnen worden uitgevoerd in spierweefsel gezien de vooruitgang in de microscopie, beeldanalyse, histochemische en moleculaire analysemethoden. Deze omvatten het beoordelen van de spieren morfologie bv., Vezelsamenstelling, fiber dwarsdoorsnede, vasculariteit, enkele vezel contractiele activiteit, analyse van RNA, eiwit evenals enzymactiviteit 23,24,25,19,26,27. Hoewel gebruikt regelmatig worden gebruikt in de klinische diagnostische proces van myopathie, wordt spierbiopsie steeds uitgevoerd in het onderzoek. Zo hebben we eerder aangetoond dat ontwikkelings-invloeden op de spieren morfologie van de associaties tussen lager geboortegewicht en sarcopenie 19 kan verklaren. Mogelijke beperkingen van deze techniek, similar andere halfopen technieken omvatten beperkt tot een plaats waar de morfologie dwz spiervezeltype niet representatief voor de hele spiergroep kan zijn.
Spierbiopsie met de Weil Blakesley conchotome is een haalbaar en aanvaardbaar procedure. Deze procedure verschaft een andere methode dan Bergstrom en andere naaldbiopsie methoden. Het is gemakkelijk te beheersen en geeft een goede opbrengst monster voor analyse. De complicatie is laag en ongemak tot een minimum beperkt wanneer de procedure wordt uitgevoerd met behulp van een gestandaardiseerde techniek zoals hierboven beschreven, is een strikte aseptische omstandigheden onderhouden en uitgebreid advies op post-biopsie zorg wordt gegeven.
Subscription Required. Please recommend JoVE to your librarian.
Materials
Name
Company
Catalog Number
Comments
Weil-Blakesley conchotome
Gebrüder Zepf Medizintechnik, Dürbheim, Germany
None
6 mm biting tip
5 ml 2% lidocaine
Generic use
None
One 5 ml vial should suffice for adequate anaesthesia
Alcohol swab
Generic use
None
5 ml syringe
Generic use
None
25 G and 23 G sterile needles
Generic use
None
Sterile scalpel size 11
Generic use
None
Sterile gauze squares
Generic use
None
Sodium chloride 0.9% 10 ml
Fannin
1122/002/001
Steri-Drape™ Small Drape with Adhesive Aperture
3M
1020
ChloraPrep 2% w/v /70% v/v cutaneous solution
CareFusion
270400
Two
Steri-Strip™ 1/4 inch x 3 inch Reinforced Adhesive Skin Closures
3M
R1541
PRIMAPORE sterile dressing 15 cm x 8 cm
Smith &
Nephew
66000318
Cotton crepe bandage Hospicrepe 233 7,5 cm x 4,5 m
Hartmann
915562
Flexible cohesive bandage Co-Plus LF
BSN medical
2904565
Disposable absorbent sheet
Generic use
None
Micropore or transpore tape
Generic use
None
Sterile gown with sterile paper towels
Generic use
None
Sterile gloves
Generic use
None
References
Dubowitz, V., Sewry, C. A., Oldfords, A. Muscle Biopsy: A Practical Approach. 4th ed, Saunders Elsevier. China. (2013).
Parent, A. Duchenne De Boulogne: a pioneer in neurology and medical photography. Can J Neurol Sci. 32, (3), 369-377 (2005).
Hayot, M., Michaud, A., Koechlin, C., Caron, M. A., Leblanc, P., Prefaut, C., Maltais, F. Skeletal muscle microbiopsy: a validation study of a minimally invasive technique. Eur Respir J. 25, (3), 431-440 (2005).
O'Rourke, K. S., Blaivas, M., Ike, R. W. Utility of needle muscle biopsy in a university rheumatology practice. J Rheumatol. 21, (3), 413-424 (1994).
O'Rourke, K. S., Ike, R. W. Muscle biopsy. Curr Opin Rheumatol. 7, (6), 462-468 (1995).
Bergstrom, J. Muscle electrolytes in man. Scand J Clin Lab Invest. 14, Suppl 68. (1962).
Edwards, R., Young, A., Wiles, M. Needle biopsy of skeletal muscle in the diagnosis of myopathy and the clinical study of muscle function and repair. N Engl J Med. 302, (5), 261-271 (1980).
Edwards, R. H. Percutaneous needle-biopsy of skeletal muscle in diagnosis and research. Lancet. 2, (7724), 593-595 (1971).
Edwards, R. H., Round, J. M., Jones, D. A. Needle biopsy of skeletal muscle: a review of 10 years experience. Muscle Nerve. 6, (9), 676-683 (1983).
Shanely, R. A., Zwetsloot, K. A., Triplett, N. T., Meaney, M. P., Farris, G. E., Nieman, D. C. Human skeletal muscle biopsy procedures using the modified Bergstrom technique. J Vis Exp. (91), e51812 (2014).
Coggan, A. R. Muscle biopsy as a tool in the study of aging. J Gerontol A Biol Sci Med Sci. 50, 30-34 (1995).
Henriksson, K. G. 'Semi-open' muscle biopsy technique. A simple outpatient procedure. Acta Neurol Scand. 59, (6), 317-323 (1979).
Dorph, C., Nennesmo, I., Lundberg, I. E. Percutaneous conchotome muscle biopsy. A useful diagnostic and assessment tool. J Rheumatol. 28, (7), 1591-1599 (2001).
Poulsen, M. B., Bojsen-Moller, M., Jakobsen, J., Andersen, H. Percutaneous conchotome biopsy of the deltoid and quadricep muscles in the diagnosis of neuromuscular disorders. J Clin Neuromuscul Dis. 7, (1), 36-41 (2005).
Dietrichson, P., Mellgren, S. I., Skre, H. Muscle biopsy with the percutaneous conchotome technique. J Oslo City Hosp. 30, (5), 73-79 (1980).
Dietrichson, P., Coakley, J., Smith, P. E., Griffiths, R. D., Helliwell, T. R., Edwards, R. H. Conchotome and needle percutaneous biopsy of skeletal muscle. J Neurol Neurosurg Psychiatry. 50, (11), 1461-1467 (1987).
Andonopoulos, A. P., Papadimitriou, C., Melachrinou, M., Meimaris, N., Vlahanastasi, C., Bounas, A., Georgiou, P. Asymptomatic gastrocnemius muscle biopsy: an extremely sensitive and specific test in the pathologic confirmation of sarcoidosis presenting with hilar adenopathy. Clin Exp Rheumatol. 19, (5), 569-572 (2001).
Helliwell, T. R., Coakley, J., Smith, P. E., Edwards, R. H. The morphology and morphometry of the normal human tibialis anterior muscle. Neuropathol Appl Neurobiol. 13, (4), 297-307 (1987).
Patel, H. P., Jameson, K. A., Syddall, H. E., Martin, H. J., Stewart, C. E., Cooper, C., Sayer, A. A. Developmental influences, muscle morphology, and sarcopenia in community-dwelling older men. J Gerontol A Biol Sci Med Sci. 67, (1), 82-87 (2012).
Patel, H. P., Syddall, H. E., Martin, H. J., Stewart, C. E., Cooper, C., Sayer, A. A. Hertfordshire Sarcopenia Study: design and methods. BMC Geriatrics. 10, (1), 43 (2010).
Anderson, J. R. Recommendations for the biopsy procedure and assessment of skeletal muscle biopsies. Virchows Arch. 431, (4), 227-233 (1997).
Patel, H. P., Syddall, H. E., Martin, H. J., Cooper, C., Stewart, C., Sayer, A. A. The Feasibility and Acceptability of Muscle Biopsy in Epidemiological Studies: Findings from the Hertfordshire Sarcopenia Study (HSS). J Nutr Health Aging. 15, (1), 10-15 (2011).
Charifi, N., Kadi, F., Feasson, L., Costes, F., Geyssant, A., Denis, C. Enhancement of microvessel tortuosity in the vastus lateralis muscle of old men in response to endurance training. J Physiol. 554, (Pt 2), 559-569 (2004).
Frontera, W. R., Suh, D., Krivickas, L. S., Hughes, V. A., Goldstein, R., Roubenoff, R. Skeletal muscle fiber quality in older men and women. Am J Physiol Cell Physiol. 279, (3), C611-C618 (2000).
He, J., Watkins, S., Kelley, D. E. Skeletal muscle lipid content and oxidative enzyme activity in relation to muscle fiber type in type 2 diabetes and obesity. Diabetes. 50, (4), 817-823 (2001).
Patel, H. P., Al-Shanti, N., Davies, L. C., Barton, S. J., Grounds, M. D., Tellam, R. L., Stewart, C. E., Cooper, C., Sayer, A. A. Lean mass, muscle strength and gene expression in community dwelling older men: findings from the Hertfordshire Sarcopenia Study (HSS). Calcif Tissue Int. 95, (4), 308-316 (2014).
Peterson, C. M., Johannsen, D. L., Ravussin, E. Skeletal muscle mitochondria and aging: a review. J Aging Res. 2012, 194821 (2012).