Summary
Hier presenteren we een protocol voor het uitvoeren van intracraniële farmacologische experimenten gevolgd door pijn gedrag testen bij knaagdieren. Dit protocol kunnen onderzoekers te leveren van moleculaire en cellulaire doelen in de hersenen, voor farmacologische agenten in de behandeling van pijn.
Cite this Article
Copy Citation | Download Citations

Martinez, E., Zhou, H., Wang, J. Intracranial Pharmacotherapy and Pain Assays in Rodents. J. Vis. Exp. (146), e58473, doi:10.3791/58473 (2019).
Abstract
Pijn is een opvallende zintuiglijke ervaring met affectieve en cognitieve dimensie. Centrale mechanismen voor pijn blijft echter slecht begrepen, belemmeren de ontwikkeling van effectieve therapeutics. Intracraniële farmacologie presenteert een belangrijk instrument voor het begrip van de moleculaire en cellulaire mechanismen van pijn in de hersenen, alsook voor nieuwe behandelingen. Hier presenteren we een protocol dat intracraniële farmacologie met het testen van de werking van de pijn integreert. Specifiek, we laten zien hoe pijnstillende medicijnen inblazen met een select hersenen-regio, die verantwoordelijk voor modulatie van de pijn wellicht. Bovendien, om te bepalen van het effect van het kandidaat-geneesmiddel in het centrale zenuwstelsel, pijn testen worden uitgevoerd na de intracraniële behandeling. Onze resultaten tonen aan dat intracraniële beheer van pijnstillende medicijnen in de regio van een gerichte verlichting van pijn bij knaagdieren kan bieden. Dus ons protocol met succes toont aan dat intracraniële farmacologie, gecombineerd met pijn gedrag testen, een krachtig hulpmiddel voor de studie van de mechanismen van de pijn in de hersenen zijn kan.
Introduction
Het centrale zenuwstelsel is bekend dat een belangrijke rol spelen in de verordening van de pijn. Glutamaat signalering in de hersenen heeft bijvoorbeeld een regelgevende taak in het kader van pijn1,2. Vandaar, is er een noodzaak om te studeren van cellulaire en moleculaire signaalroutes in de hersenen ten aanzien van pijn. Daarnaast is er een noodzaak om te begrijpen als moleculaire doelwitten in specifieke hersengebieden kunnen worden gewijzigd voor de behandeling van pijn. Huidige studies van pijn in de hersenen, is afhankelijk van in vitro studies van electrofysiologie in combinatie met systemische (intraperitoneaal) levering van farmacologische agenten. In vitro studies hebben duidelijke tekorten in het onthullen van in vivo de mechanismen van de pijn. Ondertussen, systemische drug delivery doet niet af te bakenen de precieze cellulaire doelstellingen. In vivo intracraniële injecties van chemische en biologische agentia zijn geworden een krachtig hulpmiddel om te studeren van neurologische en moleculaire pathways in de hersenen. In de afgelopen jaren hebben andere velden in vivo intracraniële injecties gebruikt voor succesvol studeren verslaving en beloning gedrag en circuit trajecten in knaagdieren3,4. In het kader van de pijn ontbreekt het gebruik van in vivo intracraniële farmacologie echter.
Intracraniële injecties zorgen voor nauwkeurige injectie van een geneesmiddel in een bepaald gebied van de hersenen. Bovendien kunnen specifieke studierichtingen en receptoren worden gericht zeer selectief drugs gebruiken. De combinatie van een intracraniële delivery systeem met precisie drugs kan ons te richten op moleculaire en cellulaire doelstellingen voor pijn. Na de intracraniële levering van deze drugs, kunnen onderzoekers observeren de onmiddellijke gevolgen in het gedrag van knaagdieren. Van degelijk uitgevoerde experimenten, kunnen knaagdieren gedrag worden gekoppeld aan farmacologie.
In dit protocol gebruikten we het voorbeeld van AMPAkine infusie in de prefrontale cortex (PFC) om aan te tonen van het mechanisme van corticale glutamaat signalering in de verordening van de pijn. AMPAkines zijn synthetische verbindingen die allosteric modulatoren zijn bekend. Zij hebben getoond voor de mogelijkheid om te verlichten acute en chronische pijn in dierlijke modellen5,6. Eerdere studies suggereren dat de waarschijnlijk sites actieprogramma van AMPAkines in de hersenen5,6 zijn. De PFC is een regio in de hersenen dat top-down besturingselement subcorticale gebieden voor het regelen van de stemming en gedrag vertoont. Sommige van deze uitvoer projecties is gebleken sleutel in pijn verordening1,2,7. Meer in het bijzonder, is glutamaat signalering in de PFC aangetoond dat het reguleren van de pijn. Dus, de PFC werd gekozen als een gerichte hersenen gebied voor de studie van AMPAkines in de Staten van de pijn.
Subscription Required. Please recommend JoVE to your librarian.
Protocol
Alle procedures in deze studie werden goedgekeurd door de New York University School van geneeskunde institutionele Animal Care en gebruik Comité (IACUC) als consistent met het National Institute of Health (NIH)-gids voor de zorg en het gebruik van proefdieren.
1. stereotaxic canule implantatie
Gebruik 10-12 weken oude mannelijke Sprague-Dawley ratten.
Anesthetize dieren met 1,5-2% Isofluraan1,3,5zoals eerder is beschreven. Zodra het dier gereageerd op een sterke snuifje met een scherpe Tang wordt, uitvoeren van de operatie. Moeten zeker autoclaaf alle instrumenten, steriele chirurgische handschoenen gebruiken en oogheelkundige zalf toevoegen aan de ogen van het dier om schade te voorkomen.
Stereotaxically implant bilaterale 26-gauge gids cannulas in de PFC onder een hoek van 12,5 graden met coördinaten AP: 2,9 mm; ML: +/ −1.6 mm; DV: −2.1 mm. Om in te voegen de cannulas, boorgaten in de schedel op de gewenste coördinaten, met gat diameter volgens de grootte van de cannulas gebruikt.
Opmerking: Hier, de PFC werd bestudeerd als het potentieel doelwit voor intracraniële implantaten vanwege zijn belangrijke rol bij het verwerken van de pijn, die heeft aangetoond in een aantal eerdere studies1,-2,7. De functie van andere specifieke hersengebieden studeren, kunnen onderzoekers verschillende coördinaten volgens de atlas van de hersenen gebruiken. Raadpleeg voor meer informatie over het uitvoeren van intracraniële chirurgie Goffer et al. (2013)3, Lee et al. (2015)1en Sun et al. (2017)10.
Toestaan dat ratten om te herstellen van een operatie voor ten minste 1 week. Na chirurgie, injecteren subcutaan vloeistoffen voorafgaand aan terugwinning te helpen ondersteunen de metabole eisen en actuele bupivacaine in de vers gesloten incisie van toepassing. Plaats het dier op een warme pad totdat ze wakker worden, en de werking van de dierlijke post voor 3 dagen om te zorgen voor een goede gezondheid en een goede herstel controleren.
Zodra de dieren hebben volledig hersteld van de operatie, beginnen injecties (volgende stap).
2. intracraniële en intraperitoneaal injecties
Voor intracraniële injecties, gebruikt u PE-50 buis gekoppeld aan het ene uiteinde tot 10-μL Hamilton spuiten met 33-gauge injector canule die uitbreiden 1.0 mm buiten de geïmplanteerde gidsen.
Injecteren van 0,5 μL (of minder indien gewenst) van de studie drug of zoutoplossing in de PFC van deze ratten. Omdat de PFC een grotere regio bij ratten is, zal dit bedrag niet worden verspreid naar andere regio's. Echter, voor kleinere hersengebieden of voor muizen, gebruik een kleiner volume. Het bedrag geïnjecteerd zal afhangen van de regio van de hersenen en de diersoort.
Opmerking: Houd er rekening mee dat zout mag worden gebruikt als een besturingselement in plaats van DMSO omdat DMSO neurotoxisch is. Een zeer kleine hoeveelheid DMSO kan wel veilig voor infusie, zoals studies hebben aangetoond dat minder dan 50% DMSO (dat wil zeggen, minder dan een totaal volume van 0,3 μl, zoals in dit geval) niet aan gedrag storen kan8,9 bestudeert.
Injecteren volume bilateraal over een periode van 100 s en houd injector cannulas voor een extra 60 s voorafgaand aan verwijdering om langzame verspreiding van deze oplossing.
Voor studies met synergetische farmacologische werking is mede een andere drug te beheren door middel van systematische methoden. In dit geval Injecteer de gewenste drug of het besturingselement intracranially en beheren van een aanvullende drug intraperitoneally onmiddellijk daarna. Als voorbeeld, in deze studie bestudeerde we de synergetische pijnstillende effecten van Morfine en Ampakines om te testen voor een additief effect. We toegediend intracranially, een AMPAkine in combinatie met intraperitoneaal levering van 1 mg/kg morfine (een veilige systemische dosis)10.
Opmerking: Het wordt aanbevolen dat intracraniële injecties eerst worden gedaan, zoals ze zijn moeilijker uit te voeren dan intraperitoneaal injecties.
3. analgesia testen en evaluatie
Om te bestuderen van het effect van intracraniële injecties op acute pijn gedrag bij ratten, de plantaire test (Hargreaves' tests) te gebruiken voor het berekenen van de latentie van de terugtrekking in reactie op thermische stimuli. De Hargreaves apparaat richt zich een infraroodstraal door een vlak glas op de rat voet; de rat is permanent en vrij bewegen boven het vlak glas. Bij het uitvoeren van Hargreaves' test, richten de infraroodstraal onder de plantaire gebied van de rat voet.

Beginnen met het uitvoeren van de basislijn Hargreaves' tests vóór de injecties, de waarde van een basislijn voor vergelijking vast te stellen.

Niet injecteren een drug van welke aard ook voorafgaand aan de vaststelling van de waarde van een basislijn. Voeren 5 goede proeven, 5 min uit elkaar. Een goede proef wordt aangegeven door een duidelijke terugtrekking, dat wil zeggen, wanneer de rat zijn knie buigt en liften van de voet omhoog en in het lichaam.
Opmerking: Zorg ervoor dat de proeven zijn 5 min uit elkaar om te voorkomen dat de overgevoeligheid van de rat. Het tijdstip van intrekking, vastgelegd de Hargreaves apparaat automatisch zodra de infraroodstraal gebroken is. Dientengevolge, moet u proeven van motoriek korting, verschuiven gewicht, etc. als een scherp geprijsde proces optreedt, wacht 5 minuten en herhaal het proces.
Intrekking drempels worden berekend door het nemen van het gemiddelde van de 5 proeven.
Na het verkrijgen van een basislijn-gemiddelde, begint het experiment om wachttijden na de infusie van drugs. Hargreaves proeven kunnen uitgevoerd 20-30 min na intracraniële injecties, hoewel de precieze timing kan afhankelijk van de farmacokinetiek van de specifieke agenten. Dit is om ervoor te zorgen dat de rat heeft geabsorbeerd de drug en met de gevolgen ervan kampt. Doe dit experiment op dezelfde wijze als stap 3.1.
Bereken terugtrekking drempels zoals vermeld in stap 3.2.
Subscription Required. Please recommend JoVE to your librarian.
Representative Results
Als voorbeeld geïnfundeerd wij een AMPAkine in de PFC via cannulas (Figuur 1). Wij ook morfine systemisch om te beoordelen van de synergetische pijnstillende werking tussen AMPAkines en morfine toegediend. Deze resultaten tonen aan dat AMPAkines en morfine een additief pijnstillend effect hebben. Het blijkt ook dat intracraniële injecties de macht om te ontdekken hebben, ten minste gedeeltelijk, een mechanisme voor activering van de drug in het kader van de pijn.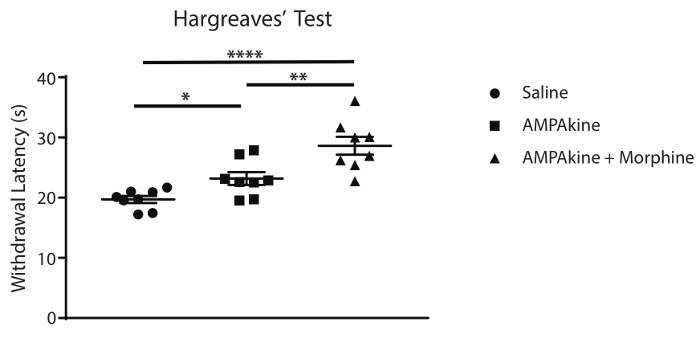 Figuur 1. Intracraniële injectie van AMPAkines en systemische injectie van Morfine bieden aanvullende analgesie. Een grafiek vergelijken terugtrekking latenties van Hargreaves' test na intracraniële injecties ofwel zoutoplossing, AMPAkines, of AMPAkines met systemische injectie van Morfine. Foutbalken vertegenwoordigen gemiddelde met SEM. n = 8; p < 0,0001, **p = 0.0099, *p = 0.0124, ongepaarde Student t-test. Dit percentage is aangepast van Sun et al. (2017) 10, met toestemming van Elsevier. Klik hier voor een grotere versie van dit cijfer.
Subscription Required. Please recommend JoVE to your librarian.
Discussion
In dit onderzoek hebben we aangetoond dat intracraniële farmacologie een krachtig hulpmiddel is om pijn mechanismen te bestuderen en potentieel als een therapeutische uitvoeringssysteem heeft. In ons protocol, we AMPAkines rechtstreeks in de PFC geleverd en vond dat door het verbeteren van glutamaat signalering in de PFC, AMPAkines geboden verlichting van pijn. We waren in staat om aan te tonen dat door het gebruik van intracraniële injecties gecombineerd met intraperitoneaal injecties, met latere pijn testen. Op basis van het bewijs van pijnstillende effecten, wanneer AMPAkines worden geleverd aan de PFC, suggereert de huidige studie dat de PFC betrokken zijn als een doelwit van AMPAkines zouden kan. Dit is een belangrijk voordeel van de intracraniële farmacologische benadering, wanneer gecombineerd met het testen van gedrag. Daarnaast de mogelijkheid om te combineren met systemische levering van drugs intracraniële stelt ons in staat om te begrijpen van de therapeutische relatie tussen twee verschillende drugs en de potentiële farmacologische interacties. In het voorbeeld in deze studie, toont het beheren van een AMPAkine in de PFC in combinatie met morfine een verwachte additief effect, waarmee wordt aangegeven dat de AMPAkines en morfine werkzaam via verschillende moleculaire mechanismen.
Hoewel in vivo farmacologie een krachtig hulpmiddel om te studeren van pijn is, heeft het beperkingen. Ten eerste, het is mogelijk dat in onervaren handen, de geïnfundeerd drug verspreiden kan naar naburige hersengebieden. Dit is een bijzonder probleem met muizen. Dit kon worden overwonnen met het gebruik van licht-geactiveerde drugs en implantatie van optische vezels, door meting van de drug niveaus op verschillende afstanden van de injectieplaats, of door het injecteren van de drug op sluit anatomische sites. Tweede, intracraniële injecties kunnen korte levensduur, maar de periode van effect is niet geheel bekend als gevolg van de farmacokinetiek van de drug. Andere technieken, zoals optogenetics, toestaan voor onmiddellijke activering of inactivering van een gewenste regio van de hersenen; Deze techniek is directer en heeft een bekende periode van effect. Aan de andere kant, kan in vivo farmacologie richten op specifieke receptoren of signaalroutes, en bieden daardoor een extra niveau van moleculaire specificiteit. Dus, in de toekomst zal moet u om te verkennen in vivo farmacologie combineren met aanvullende technieken, zoals in vivo fysiologie en optogenetics. Met de combinatie van deze hulpprogramma's, kunnen nieuwe leerwegen receptor specifieke studierichtingen worden ontdekt en gebruikt voor de behandeling van pijn.
Subscription Required. Please recommend JoVE to your librarian.
Disclosures
De auteurs hebben niets te onthullen.
Acknowledgments
Dit werk werd gesteund door de National Institute of General Medical Sciences (GM102691, GM115384), National Institute of Neurological Disorders en beroerte (NS100065), (Bethesda, MD, USA) en de verdoving Fonds van New York University onderzoeksafdeling van Anesthesiologie (New York, NY, USA).
Materials
| | | | |
| --- | --- | --- | --- |
| Name | Company | Catalog Number | Comments |
| Sterotaxic Cannula | PlasticsOne | 8I26GA8MMKIT | |
| Digital Syringe | Hamilton | 8440 | |
| AMPAkine | Sigma Aldrich | C-271 | |
| Dimethyl Sulfoxide | Sigma Aldrich | D4540 | |
| Hargreaves Apparatus | Ugo Basile | 37370 | |
| Male Sprague-Dawley rats | Taconic Farms | NTac:SD | |
| Sterile Surgical gloves | Dynarex | 6535 | |