Summary
Her præsenterer vi en protokol for at udføre intrakraniel farmakologiske forsøg efterfulgt af smerte adfærd assays i gnavere. Denne protokol giver forskere til at levere molekylære og cellulære mål i hjernen, for farmakologiske stoffer til behandling af smerter.
Abstract
Smerte er en iøjnefaldende sanseoplevelse med affektive og kognitive dimensioner. Centrale mekanismer for smerte er dog stadig dårligt forstået, hindrer udviklingen af effektiv terapi. Intrakraniel farmakologi præsenterer et vigtigt redskab for at forstå de molekylære og cellulære mekanismer af smerte i hjernen, og for nye behandlinger. Her præsenterer vi en protokol, der integrerer intrakraniel farmakologi med smerter adfærd test. Specifikt, viser vi hvordan du indgyde smertestillende lægemidler i en region, Vælg hjernen, som kan være ansvarlig for smerte graduering. Desuden, for at bestemme virkningen af kandidat stof i central nerve systemet, smerte assays er udført efter intrakranielt behandling. Vores resultater viser, at intrakraniel administration af smertestillende lægemidler i en målrettet region kan give lindring af smerte hos gnavere. Således, vores protokol, med succes viser at intrakraniel farmakologi, kombineret med smerter adfærd test, kan være et effektivt redskab for studiet af pain mekanismer i hjernen.
Introduction
Centralnervesystemet er kendt for at spille en central rolle i smerte forordning. Eksempelvis har glutamat signalering i hjernen en regulerende rolle i forbindelse med smerter1,2. Derfor er der behov for at studere cellulær og molekylær signaling veje i hjernen med hensyn til smerte. Derudover er der behov for at forstå, hvis molekylære mål i specifikke hjerneregioner kan ændres til behandling af smerter. Aktuelle undersøgelser af smerte i hjernen er afhængige af in vitro- undersøgelser af Elektrofysiologi i kombination med systemisk (intraperitoneal) levering af farmakologiske midler. In vitro undersøgelser har tydelige underskud i afslørende i vivo smerte mekanismer. I mellemtiden, systemisk medicinafgivelse ikke afgrænse de præcise cellulære mål. In vivo intrakraniel injektioner af kemiske og biologiske agenser er blevet et stærkt værktøj til at studere neurologiske og molekylær veje i hjernen. I de seneste år, har andre felter bruges i vivo intrakraniel injektioner med held studere afhængighed og belønne adfærd og kredsløb stier i gnavere3,4. Men i forbindelse med smerter, brug af i vivo intrakraniel farmakologi mangler.
Intrakraniel injektioner giver mulighed for præcis indsprøjtning af et stof i et bestemt område af hjernen. Derudover kan særlige veje og receptorer målrettes ved hjælp af yderst selektiv narkotika. Kombinationen af en intrakraniel levering system med præcision narkotika tillader os at målrette molekylære og cellulære mål for smerte. Efter intrakranielt levering af disse stoffer, kan forskere observere de umiddelbare virkninger i gnavere adfærd. Fra veltilrettelagte forsøg, kan rodents' adfærd være forbundet med farmakologi.
I denne protokol brugte vi eksempel AMPAkine infusion i den præfrontale cortex (PFC) for at demonstrere mekanismen af kortikale glutamat signalerer i smerte forordning. AMPAkines er syntetiske stoffer, der er kendt for allosteriske modulatorer. De har vist evnen til at lindre akutte og kroniske smerter i dyre modeller5,6. Tidligere undersøgelser tyder på, at de sandsynlige steder i handling af AMPAkines er i hjernen5,6. PFC er en region i hjernen, der udstiller top-down kontrol til subkortikale områder at regulere humør og opførsel. Nogle af disse output fremskrivninger har vist sig at være afgørende i smerte forordning1,2,7. Mere specifikt har glutamat signalerer i PFC vist sig at regulere smerter. Således, PFC blev valgt som et målrettet hjernen område for studiet af AMPAkines i smerte stater.
Subscription Required. Please recommend JoVE to your librarian.
Protocol
Alle procedurer i denne undersøgelse blev godkendt ved New York University skole af medicin institutionelle Animal Care og brug udvalg (IACUC) som i overensstemmelse med National Institute of Health (NIH) Guide til pleje og anvendelse af forsøgsdyr.
1. stereotaxisk kanyle Implantation
Brug 10-12 uge gammel mandlige Sprague-Dawley rotter.
Som tidligere beskrevet, bedøver dyr med 1.5-2% isofluran1,3,5. Når dyret bliver ikke reagerer på en stærk knivspids med skarpe pincet, udføre kirurgi. Være sikker på at autoklave alle instrumenter, bruge steril kirurgiske handsker og tilføje oftalmologiske salve til dyrets øjne til at forebygge skader.
Stereotaxically implantat bilaterale 26-gauge guide cannulas i PFC i en 12,5 graders vinkel med koordinater AP: +2.9 mm; ML: +/ −1.6 mm; DV: −2.1 mm. For at indsætte cannulas, bore huller i kraniet på de ønskede koordinater med huldiameter efter størrelsen af cannulas anvendes.
Bemærk: Her, PFC blev studeret som potentielle mål for intrakraniel implantater på grund af dens vigtige rolle i smerte behandling, hvilket er blevet påvist i en række tidligere undersøgelser1,2,7. For at studere funktionen af andre specifikke hjernen områder, kan forskere bruger forskellige koordinater ifølge hjernen atlas. For flere detaljer om at udføre intrakraniel kirurgi Se venligst Goffer mfl (2013)3, Lee mfl (2015)1og solen mfl (2017)10.
Gøre det muligt rotter at inddrive fra kirurgi i mindst 1 uge. Efter kirurgi, injicere subkutan væsker før opsving til at støtte de metaboliske krav og Anvend aktuel bupivacaine i frisk lukkede snit. Placere dyret på en varm pad, indtil de vågner op, og overvåge dyrs post-handlingen i 3 dage for at sikre godt helbred og en korrekt genvinding.
Når dyrene har fuldt tilbagebetalt fra kirurgi, begynde injektioner (næste trin).
2. intrakraniel og Intraperitoneal injektioner
For intrakraniel injektioner, bruge PE-50 slanger fastgjort i den ene ende til 10 μL Hamilton sprøjter med 33-gauge injektor kanyle, der udvider 1.0 mm ud over de indopererede guider.
Injiceres 0,5 μl (eller mindre hvis det ønskes) af enten undersøgelse stof eller saltvand i PFC af disse rotter. Fordi PFC er en større region i rotter, vil dette beløb ikke blive spredt til andre regioner. Dog mindre områder af hjernen eller mus, bruge en mindre mængde. Den mængde injiceret vil afhænge af regionen af hjernen og arter af dyr.
Bemærk: Vær opmærksom på at saltvand bør anvendes som en kontrol i stedet for DMSO, fordi DMSO er neurotoksiske. Dog kan en meget lille mængde af DMSO være sikkert for infusion, da undersøgelser har vist, at mindre end 50% DMSO (dvs. mindre end en samlet maengde paa 0,3 μl, som i dette tilfælde) ikke kan forstyrre adfærd undersøgelser8,9.
Inject volumen bilateralt over en periode på 100 s og holde injektor cannulas i stedet for en yderligere 60 s forud til fjernelse så langsom diffusion af denne løsning.
For studier af synergistiske farmakologiske virkninger, co administrere en anden narkotika gennem systemiske metoder. I dette tilfælde indsprøjtes ønskede stof eller kontrol intracranially og administrere en supplerende stof intraperitoneal umiddelbart herefter. Som et eksempel, i denne undersøgelse studerede vi de synergistiske analgetiske effekter af morfin og Ampakines til at teste for en additiv effekt. Vi tilført en AMPAkine intracranially, i kombination med intraperitoneal levering af 1 mg/kg morfin (et sikkert systemisk dosis)10.
Bemærk: Det anbefales at intrakraniel injektioner er færdig først, da de er vanskeligere at udføre end intraperitoneal injektioner.
3. analgesi Assays og vurdering
For at studere effekten af intrakranielle injektioner på akutte smerter adfærd i rotter, skal du bruge den plantar test (Hargreaves' test) til at beregne tilbagetrækning latency svar på termisk stimuli. Hargreaves' apparater fokuserer en infrarød stråle gennem et glas fly på rottens fod; Rotten stående og frit flytte over glas plan. Når du udfører Hargreaves' test, fokusere den infrarøde stråle under området plantar af rottens fod.

Indledningsvis udfører baseline Hargreaves' test forud for injektioner, at etablere en baseline værdi for sammenligning.

Injicér ikke nogen medicin af nogen art inden oprettelse af en baseline værdi. Udførelse af 5 gode forsøg, 5 min fra hinanden. Et godt forsøg er angivet med en klar inddragelse, dvs når rotten bøjer sine knæ og løfter sin foden opad og ind i kroppen.
Bemærk: Sørg for, at forsøg er 5 min fra hinanden for at forhindre sensibilisering af rotten. Hargreaves' apparatet registrerer automatisk tidspunktet for tilbagetrækning, når den infrarøde stråle er brudt. Som et resultat, være sikker på at rabat forsøg fra locomotion, skiftende vægt, osv. , hvis en diskonteret retssag opstår, Vent 5 min. og gentage forsøget.
Beregne tilbagetrækning tærskler ved at tage gennemsnittet af de 5 forsøg.
Efter at have indhentet en baseline gennemsnit, Begynd eksperiment for at få udbetalingstider efter infusion af narkotika. Hargreaves' tests kan udføres 20-30 min efter intrakranielt injektioner, selv om den præcise timing kan være afhængige af farmakokinetik af de specifikke agenser. Dette er at sikre, at rotten har absorberes stoffet og oplever dens virkninger. Foretage dette eksperiment på samme måde som trin 3.1.
Beregne tilbagetrækning tærskler, som nævnt i trin 3.2.
Subscription Required. Please recommend JoVE to your librarian.
Representative Results
Som et eksempel infunderes vi en AMPAkine i PFC via cannulas (figur 1). Vi også infunderes morfin systemisk for at vurdere de analgetiske synergieffekter mellem AMPAkines og morfin. Disse resultater viser, at AMPAkines og morfin har en additive analgetiske virkning. Det viser også, at intrakraniel indsprøjtninger har beføjelse til at opdage, i det mindste i en del, en mekanisme til aktivering af narkotika i forbindelse af smerte.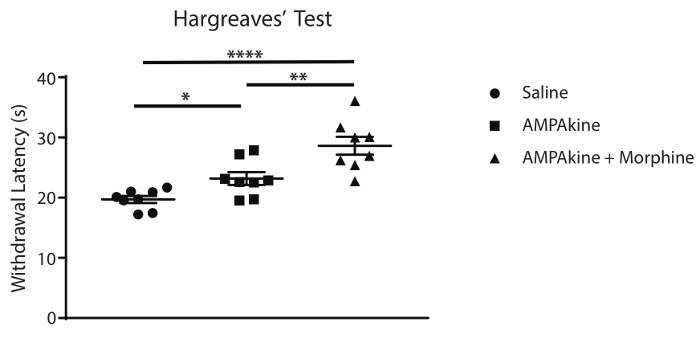 Figur 1. Intrakraniel injektion af AMPAkines og systemisk injektion af morfin give supplerende analgesi. En graf sammenligner tilbagetrækning ventetid fra Hargreaves' test efter intrakranielt injektioner af enten saltvand, AMPAkines, eller AMPAkines med systemisk injektion af morfin. Fejllinjer repræsenterer middelværdien med SEM. n = 8; p < 0,0001, **p = 0.0099, *p = 0.0124, uparrede Student's t-test. Dette tal er blevet tilpasset fra solen et al. (2017) 10, med tilladelse fra Elsevier. Venligst klik her for at se en større version af dette tal.
Subscription Required. Please recommend JoVE to your librarian.
Discussion
I denne undersøgelse, har vi bevist at intrakraniel farmakologi er et kraftfuldt værktøj til at studere smerte mekanismer og har potentiale som en terapeutisk levering system. I vores protokol, vi leverede AMPAkines direkte ind i PFC og fandt, at ved at øge glutamat signalerer i PFC, AMPAkines leveres smertelindring. Vi var i stand til at dokumentere dette ved hjælp af intrakranielle injektioner kombineret med intraperitoneal injektioner, med efterfølgende smerter assays. Baseret på beviser for smertestillende virkninger, når AMPAkines er leveret til PFC, tyder den nuværende undersøgelse på, at PFC kan inddrages som et mål for AMPAkines. Dette er en vigtig fordel intrakraniel farmakologiske tilgang, når kombineret med opførsel test. Desuden giver muligheden for at kombinere intrakraniel med systemisk levering af lægemidler os til at forstå den terapeutiske relation mellem to forskellige stoffer og de potentielle farmakologiske interaktioner. I eksemplet vist i denne undersøgelse, viser administration af en AMPAkine i PFC i kombination med morfin en forventede additiv effekt, hvilket tyder på at AMPAkines og morfin opererer gennem forskellige molekylære mekanismer.
Selv om i vivo farmakologi er et kraftfuldt værktøj til at studere smerte, har det begrænsninger. For det første er det muligt at infunderes stoffet i uerfaren hænder, kan diffuse til tilstødende områder af hjernen. Dette er et særligt problem med mus. Dette kan løses ved brug af lys-aktiveret narkotika og implantation af optiske fibre, ved måling af narkotika niveauer på forskellige afstande fra injektionsstedet eller ved at indsprøjte narkotika på lukke anatomiske steder. Andet, intrakraniel injektioner kan være korte levetid, men tidsrummet for effekt ikke er helt kendt på grund af farmakokinetik af stoffet. Andre teknikker, såsom optogenetics, giver mulighed for øjeblikkelig aktivering eller inaktivering af et ønskede region af hjernen; denne teknik er mere direkte og har en kendt virkning. På den anden side, kan i vivo farmakologi målrette specifikke receptorer eller signaling veje, og dermed give et ekstra niveau af molekylære specificitet. Således i fremtiden, det vil være nødvendigt at udforske kombinere i vivo farmakologi med supplerende teknikker, såsom i vivo fysiologi og optogenetics. Med kombinationen af disse værktøjer, kan nye veje og receptor specifikke veje blive opdaget og anvendes til behandling af smerter.
Subscription Required. Please recommend JoVE to your librarian.
Disclosures
Forfatterne har ikke noget at oplyse.
Acknowledgments
Dette arbejde blev støttet af National Institute of General Medical Sciences (GM102691, GM115384), National Institute for neurologiske forstyrrelser og slagtilfælde (NS100065), (Bethesda, MD, USA) og anæstesi forskning fond af New York Universitetsinstitut for Anesthesiology (New York, NY, USA).
Materials
| | | | |
| --- | --- | --- | --- |
| Name | Company | Catalog Number | Comments |
| Sterotaxic Cannula | PlasticsOne | 8I26GA8MMKIT | |
| Digital Syringe | Hamilton | 8440 | |
| AMPAkine | Sigma Aldrich | C-271 | |
| Dimethyl Sulfoxide | Sigma Aldrich | D4540 | |
| Hargreaves Apparatus | Ugo Basile | 37370 | |
| Male Sprague-Dawley rats | Taconic Farms | NTac:SD | |
| Sterile Surgical gloves | Dynarex | 6535 | |