Overview
Deze video beschrijft de CApillary FEeder, of CAFE, assay, een gedragsmethode die de voedselinname en voorkeur van ongeremde fruitvliegen meet. Het aanbevolen protocol laat zien hoe u de test kunt uitvoeren met minimale verdamping van de met vloeistof gevulde haarvaten die worden gebruikt om het voedsel te leveren en de inname ervan bij te houden.
Protocol
Dit protocol is een fragment uit Diegelmann et al., The CApillary FEeder Assay Measures Food Intake in Drosophila melanogaster, J. Vis. Exp. (2017).
1. Assemblage en uitvoering van de CApillary FEeder Assay
Als vasten niet nodig is, breng de experimentele vliegen dan over naar de test door te tikken of door een blaaspijp. Zorg ervoor dat u drie controleflacons zonder vliegen opneemt om verdamping te kwantificeren.
Verwijder voorzichtig een pipetpunt (2 - 20 μL volume) die een van de buitenste openingen sluit en plaats eerst een gevulde glazen capillaire, bottom-end. Zet het capillair vast door de pipettip terug naast het capillair te plaatsen. Als er meerdere voedseloplossingen worden getest, herhaalt u deze procedure dienovereenkomstig.
Plaats de capillaire uiteinden in alle flacons op hetzelfde niveau om bias te voorkomen die kan optreden als de voedselbronnen zich op verschillende hoogten bevinden (3 - 4 cm van het deksel); houd afstand tot het filterpapier om te voorkomen dat het capillair lekt door per ongeluk het filterpapier of verschillende viscositeiten van voedselbronnen aan te raken.
Label het bovenste uiteinde van de gekleurde vloeistof met behulp van een markeerstift(beginmarkeren ). Om ervoor te zorgen dat de verschillende haarvaten kunnen worden geïdentificeerd, labelt u ze afzonderlijk met behulp van een kleur- of streepcode.
Plaats meerdere voorbereide CAFE-assays in een plastic doos met roosterinleg en breng de doos (figuur 2A) in een veilige positie onder laboratoriumomstandigheden of in een temperatuur-, licht- en vochtigheidsgestuurde klimaatkamer (parameters: 25 °C, 60% relatieve vochtigheid, 12 h/12 uur licht-donkercyclus) voor de experimentele periode(bijv. 3 uur of dagen).
Als het onderste filterpapier uitdroogt als de test gedurende meerdere dagen wordt uitgevoerd, breng dan elke 24 uur vers water aan via de sponsbung (100 μL) om de vochtigheid binnen de test constant te houden. Gebruik vier afzonderlijke flacons (8 cm hoog, 3,3 cm diameter) gevuld met 30 ml ddH2O als vochtigheidsinrichting en plaats ze naast de CAFE-assays in de plastic doos. Gebruik een afdekking voor de plastic doos om tijdens het experiment een vochtigheidsgecontroleerde omgeving te creëren (figuur 2A).
OPMERKING: Bredere variabiliteit treedt op onder laboratoriumomstandigheden; het is echter mogelijk om de CAFE-test uit te voeren bij kamertemperatuur(bijv.in een klaslokaal). Het gebruik van een bevochtigingsapparaat (filterpapier, met of zonder natte sponsbung, gevulde waterflacons en deksel voor de plastic doos) wordt sterk aangemoedigd om verdamping te verminderen (figuur 2B).
Vervang de haarvaten door vers gevulde voor langdurige experimenten om de 24 uur. Noteer dode vliegen vóór elk interval van 24 uur en gebruik het aantal levende vliegen om het verbruik per vlieg voor de volgende periode te berekenen. Gooi de oude haarvaten weg na het meten van de afname van de meniscus (zie 2.1).
OPMERKING: Tijdens een 3 uur experiment zien we nauwelijks dode vliegen. Tijdens een 4-daagse studie vinden we meestal 1 - 3 dode vliegen.
Markeer aan het einde van de test of voordat u het capillair vervangt de onderste meniscus van het capillair (markeerhet uiteinde) met een markeerpen terwijl de CAFE-assay nog rechtop staat. Gooi de gegevens weg als heteinde van de markering niet onder de beginmarkering ligt(begin markeren). Verwijder het deksel niet, omdat dit de meniscus kan veranderen.
Verwijder de haarvaten voorzichtig uit de test en bewaar ze voor het verzamelen van gegevens. Controleer of de vloeistof in het capillair de onderkant heeft bereikt als u de gegevens niet weggooit, omdat voedsel niet toegankelijk was voor de vliegen. Verzamel alle haarvaten per flacon als groep. Steek ongesneden pipetpunten in alle openingen om te voorkomen dat vliegen ontsnappen. Demonteer de opstelling en was de flacons, deksels en spons bungs in een zeepbad en droog 's nachts op kamertemperatuur voor verder gebruik.
OPMERKING: Vliegen kunnen na de test verder worden geanalyseerd. Bevestig de opname van voedsel door het oog of onder een dissectiemicroscoop.
Herhaal experimenten met dezelfde genotypen op ten minste drie verschillende dagen.
2. Gegevensverzameling en -analyse
Meet de afstand tussen hetbegin van de markering en heteinde van de markering op het capillair met behulp van een remklauw of een liniaal. Als u gegevens rechtstreeks naar een spreadsheet wilt overbrengen, gebruikt u een usb-aansluiting (Universal Serial Bus) aangesloten digitale remklauw (afbeelding 1E). Gooi de haarvaten weg na de meting.
Houd rekening met de capillaire grootte om de opname of verdamping van voedsel te berekenen. Denk bijvoorbeeld aan een capillair dat 73 mm lang is en 5 μL voedseloplossing bevat. Een afname van 14,6 mm in de meniscus weerspiegelt de opname van 1 μL oplossing. Bereken de opname van voedsel met behulp van de volgende formule:
Voedselopname (μL) = gemeten afstand (mm)/ 14,6 mm
Om het effect van verdamping op de voedselinname uit te sluiten, berekent u de gemiddelde verdamping in de drie (minimaal) controleflacons zonder vliegen. Trek deze gemiddelde waarde af van de waarde die de vliegen voor voedselconsumptie hebben verkregen.
Gebruik de volgende formule om het totale verbruik per vlieg te bepalen:
Voedselconsumptie (μL) = (Voedselopname [μL] - Verdampingsverlies [μL])/totaal aantal vliegen in de flacon. Gebruik voor langetermijnexperimenten het aantal vliegen dat vóór het begin van het interval van 24 uur in leven is.
Om rekening te houden met verschillen in lichaamsgrootte, zoals tussen mannelijke en vrouwelijke vliegen, normaliseert u de voedselconsumptie naar lichaamsgewicht (μL voedsel/mg vlieg).
Gebruik statistische software voor gegevensanalyse. Gebruik voor normaal gedistribueerde gegevens de T-testsvan studenten om verschillen tussen twee vlieggroepen te bepalen en gebruik ANOVA (analyse van variantie) met post-hoc Tukey Cramer-tests voor meer dan twee groepen. Analyseer in een keuzesituatie verschillen met willekeurige keuze met behulp van een niet-parametrische tekentest met één monster.
Subscription Required. Please recommend JoVE to your librarian.
Representative Results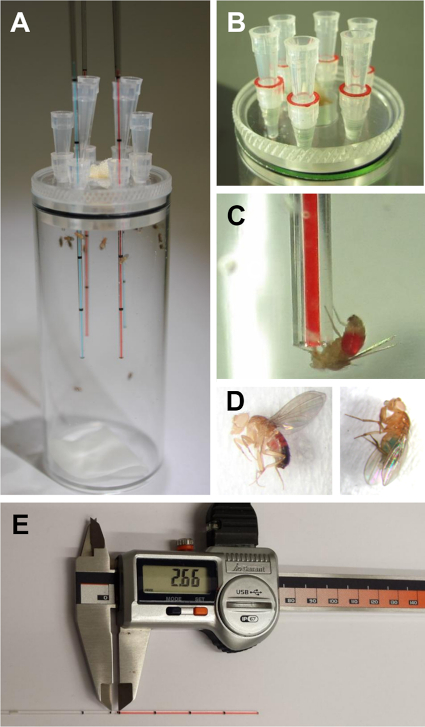 Figuur 1: De Drosophila melanogaster CApillary FEeder Assay. A) De voedertest met vliegen. Bevochtigd filterpapier zorgt voor water aan de onderkant van de flacon. Tijdens het experiment worden vier haarvaten verstrekt (rood- en blauwkleurig voedsel in tegenoverliggende haarvaten). Merk op dat de haarvaten op hun plaats worden vastgezet door een tweede pipetpunt en ongebruikte posities worden gesloten met pipetpunten. Een schuimplug in het midden van het deksel maakt luchtuitwisseling mogelijk. B) Gedetailleerd zicht op het deksel. Gesneden pipetpunten (2 - 20 μL, rode randen) worden in de conische openingen van ongebruikte posities geplaatst en een tweede pipetpunt wordt in de snijpunt gestoken om het gat te sluiten. De gesneden pipettips worden gebruikt om de plaatsing van de microcapillairen te regelen en ongesneden uiteinden worden gebruikt om de haarvaten stevig vast te houden. C) Een D. melanogastervlieg voedt zich met een capillair. D) Na het voeden is de voedselkleur duidelijk zichtbaar in de vliegbuik. E) Een digitale remklauw wordt gebruikt om de afstand tussen hetbegin van het teken en heteinde van de meniscus te meten. De gegevens worden via USB rechtstreeks naar een Excel-spreadsheet overgebracht. Klik hier om een grotere versie van deze afbeelding te bekijken.

Figuur 2: Invloed van verdamping in de capillaire feedertest. A) Meerdere CAFE-assay geplaatst in een plastic doos met een gerasterde inleg. Voor het regelen van de luchtvochtigheid tijdens het experiment worden vier met water gevulde flacons (rode velgen) in het rooster geplaatst. De verdampingscontroles worden in de directe nabijheid van deze flacons geplaatst. Op de achtergrond wordt een omslag voor de hele installatie weergegeven. B) Vergelijking van het volumeverlies door verdamping. De gemiddelde waarde voor verdamping over 4 dagen wordt weergegeven. De vochtigheid wordt geregeld door (i) water aan te brengen op de centrale sponsbung (interval van 24 uur); ii) het toevoegen van vier met water gevulde flacons aan het rooster; en (iii) het gebruik van een plastic hoes voor de hele opstelling. De verdamping is aanzienlijk lager als de luchtvochtigheid voor beide geteste oplossingen wordt geregeld (***P ≤ 0,001; N = 48). Er zijn geen verschillen in volatiliteit tussen EtOH-bevattende en niet-bevattende sacharoseoplossing detecteerbaar met de gebruikte vochtigheidsapparatuur. Klik hier om een grotere versie van deze afbeelding te bekijken.
Subscription Required. Please recommend JoVE to your librarian.
Materials
Name
Company
Catalog Number
Comments
Vials (breeding)
Greiner Bio-One
960177
www.greinerbioone.com
Vials (CAFE assay)
Greiner Bio-One
217101
www.greinerbioone.com
Lid-CAFE assay
Workshop
–
–
Plastic box, low wall
Plastime
353
www.plastime.it
Cover for the plastic box
Workshop
–
–
Capillaries
BLAUBRAND
REF 7087 07
www.brand.de
Pipette tips
Greiner Bio-One
771290
www.greinerbioone.com
Filter paper circles
Whatman
10 311 804
www.sigmaaldrich.com
D(+)-Sucrose
AppliChem
57-50-1
www.applichem.com
Ethanol absolute
VWR Chemicals
20,821,330
www.vwr.com
Food color (red, E124)
Backfun
10027
www.backfun.de
Food color (blue, E133)
Backfun
10030
www.backfun.de
Soap solution (CVK 8)
CVH
103220
www.cvh.de
Digital caliper
GARANT
412,616
www.hoffmann-group.com
Vials (breeding)
Height 9.8 cm, diameter 4.8 cm
Vials (CAFE assay)
Height 8 cm, diameter 3.3 cm
Lid-CAFE assay
Produced in university workshop, technical drawing supplied
Please click here to download this file.
Plastic box, low wall
A plastic grid inlay was custom-made for 8 x 10 vial positions
Cover for the plastic box
Dimensions (37 x 29 x 18 cm)
Capillaries
DIN ISO 7550 norm, IVD-guideline 98/79 EG, ends polished
Pipette tips
Pipettes for the outer circle are cut according to the lid
Filter paper circles
45 mm diameter works nicely if folded for the vials used
D(+)-Sucrose
Not harmful
Ethanol absolute
Highly flammable liquid and vapor
Food color (red, E124)
Not stated
Food color (blue, E133)
Not stated
Soap solution (CVK 8)
Odor neutral soap
Digital caliper
Standard fly food
(for 20 L)
Agar
160 g
Brewer's Yeast
299.33 g
Cornmeal
1,200 g
Molasses
1.6 L
Propionic acid
57.3 mL
Nipagin 30%
160 mL