Summary
En förenklad ännu inte exakt metod för att samla in och färga mygga hemocyter beskrivs. Vår metod kombinerar enkelhet perfusionen med en noggrannhet av hög injektionsteknik att isolera rena beredningar av hemocyter i Aedes myggor. Denna metod underlättar studier som kräver kunskap om vilka typer av hemocyter och deras överflöd.
Abstract
Myggor är vektorer för ett antal sjukdomsframkallande patogener som gula febern-virus, parasiter malaria och filarial maskar. Laboratorier utreder anti-patogen komponenter i det medfödda immunförsvaret i arter smittospridare i hopp om att generera transgena myggor som är refraktära mot sådana patogener 1, 2. Det medfödda immunförsvaret av myggor består av flera försvarslinjer 3. Patogener som lyckas fly den barriär som följer av epitel-fodrade myggor midgut 4 Ange hemolymph och möter cirkulerande hemocyter, viktiga cellulära komponenter som förankrar och uppsluka patogener 5, 6. Forskare har inte funnit bevis för hematopoetiska vävnader i myggor och aktuella uppgifter tyder på att antalet hemocyter har fastställts till vuxen uppkomst och siffror kan faktiskt minska i takt med mygga åldrarna 7. Förmågan att korrekt samla in och identifiera hemocyter från medicinskt viktiga insekter är ett viktigt steg för studier i cellulär immunitet. Men de små myggor och den begränsade volymen av hemolymph en utmaning att samla immunceller.
Två etablerade metoder för insamling mygga hemocyter inkluderar utvisning av hemolymph från en klippa snabel 8, och volym förskjutning (perfusion), där saltlösning injiceras i membranös necklike regionen mellan huvudet och bröstkorgen (dvs cervix) och perfusion hemolymph samlas från ett sönderrivet öppning i en distal regionen av buken 9, 10. Dessa tekniker är dock begränsad av låga återvinning av hemocyter och eventuell förorening med fett kroppens celler, respektive 11. På senare tid har en metod kallad high förbättrad injektion / återhämtning återvinning av immunocytes genom användning av antikoagulantia buffertar samtidigt minska nivåerna av förorenande skalor och inre vävnader 11. Även denna metod möjliggör en förbättrad metod för att samla in och bevara hemocyter för primär kultur innebär det ett antal injektion och samla steg som inte är nödvändiga om det efterföljande målet är att samla in, fixa och bets hemocyter för diagnostik. Här visar vi vår metod för att samla in mygga hemolymph som kombinerar enkelhet perfusion, med hjälp av blodförtunnande buffertar i stället för saltlösning, med en noggrannhet av hög injektionsteknik att isolera rena beredningar av hemocyter i Aedes myggor.
Protocol
1. Preparat i förväg hemocyte samlingen
Bered en lösning hemolymph spädningsvätska som består av 60% Schneiders Medium, 10% fetalt bovint serum (FBS), och 30% citratbuffert (antikoagulantia, 98 mm NaOH, 186 mM NaCl, 1,7 mM EDTA, 41 mM citronsyra, pH 4,5) 11. Gör 1,0 mL alikvoter som kan lagras vid -20 ° C. Använd varje alikvot endast en gång (se material).
Förbered diabilder glas mikroskop (75 x 25 x 1 mm) genom att göra poäng en en cirkel cm i diameter i ena änden med hjälp av ett glas etsning verktyg. Alternativt kan objektglas med två pre-etsade cirklar köpas (t.ex. Fisher Scientific eller EMS källor). En glasskiva per mygga kommer att behövas.
Bered en serie av glas nålar (se Material) drog i enlighet med följande förslag på inställningar (Sutter Instrument, Modell P-87):


Värme Ramp 5
Pull: 45
Vel: 75
Tid: 175
Tryck 580


Använda de föreslagna inställningarna på den här avdragare, konstruerar vi nålar som är omkring 500 mm i total längd med skaft längder på ca 3 mm. Pre-drog nålar kan också köpas (t.ex. Tritech forskning).
2. Beredning av microinjector före hemocyte samlingen
Sätt i en drog nålen i microinjector nål enligt tillverkarens anvisningar. Återfyllning av microinjector (se Material) slang, spruta och drog glasnål med mineralolja enligt tillverkarens anvisningar.
3. Beredning av kvinnliga myggor i förväg hemocyte samlingen
Aspirera 15 vuxna kvinnor i små solida bur containrar som kan vara i kontakt med is. Sänk bur med mygg i is djupt nog så att hela höjd bur och alla sidor är i kontakt med is. Detta kommer att säkerställa att alla myggor kommer att utsättas för kylan.
Kall söva myggor i ca 8 minuter eller tills de inte längre mobil.
Placera en mygga på en depression bild. Denna bild kommer att fungera som plats för injektioner.
4. Hemocyte samlingen
Ställ microinjector att ta upp 12 ìl hemolymph spädningsvätska i drog glas nål och injicera lösningen i myggan mellan sjunde och åttonde buken segment. Cirka 3 myggor kan injiceras med 3-3,5 ìl av totalt 12 l volym tas upp. Den mygga försiktigt hålls på plats med pincett samtidigt som injektion utförs. En liten volym spädningsvätska bör förbli på spetsen av nålen för att undvika mineralolja från att injiceras. Efter injektion i buken bör se "fyllda" eller uppsvälld.
Placera injiceras myggor i en separat ren behållare på is att återhämta sig efter 5 min. Den inkubation av antikoagulantia spädningsvätska lösning i den mygga hjälper rubba hemocyter följa interna vävnad. I genomsnitt 3 till 5 nya myggor kan injiceras under varje 5 min återhämtningsperiod.
Efter 5 minuter på återhämtning, klipp av ben, vingar, och spetsen på buken (på den åttonde segmentet) för varje mygga en i taget med hjälp av mikro sax. Detta bör göras i återhämtningen koppen placeras på is. Skära av benen och vingarna minskar risken för skalor överförs till samling bilder. Observera: inte skära ben och vingar för nära bröstkorg kvarstad webbplatser eller du riskerar att skapa andra öppningar för hemolymph att fly. Hemolymph får endast samlas in genom öppningen som skapats på spetsen av buken.
Tvätta ett glas etsad objektglas med 70% etanol och torka den med en kimwipe. Placera en injiceras och återvinns mygga på bilden på den yttre kanten av etsat cirkeln. Ställ microinjector att plocka upp 12 l av färsk hemolymph spädningsvätska och injicera denna volym i mygga i den laterala sidan av sin mesothorax. Leverera de flesta, men inte hela volymen spädningsvätska (ca 8 till 10 l) för att förhindra mineralolja från att injiceras. En liten volym spädningsvätska bör förbli på spetsen av nålen.
Placera mygga så att den skär buken öppning på kanten av 1 cm cirkel. Efter injektion den utspädda hemolymph ska samlas in inom det markerade området. När nålen tas bort från mesothoracic injektionsstället, återuppta hålla mygg mellan de två grenarna av pincett och kläm försiktigt buken med dem pincett för att styra hemolymph på etsade cirkeln området.
Låt utspädd hemolymph att torka på bild i ca 10 minuter eller tills den är synligt torr.
5. Hemocyte fixering och färgning
Fläck varje bild separat med HEMA3 7 (se Material): Doppa sLiDE i fixativ 5 gånger i 1 sekund varje gång, Dipslide i lösningen jag 3 gånger i 1 sekund varje, och slutligen, doppa bild i lösning II 3 gånger under 1 sekund vardera. Skölj baksidan av bilden med DI-vatten. Framsidan av bilden bör inte sköljas. Blot-torr framsidan av bilden utanför etsade cirkel som innehåller färgade vävnad.
Applicera monteringsmedium (t.ex. Sur / Mount eller Polymount) runt etsade mitten och lägg ett lock halka på den. Tryck ner lite på locket glider (25 x 25 mm) så att monteringsmedium sprider sig till hela området som täcks av locket halka (inklusive etsad cirkel som innehåller färgade vävnad). Låt objektglasen torka i minst 3 timmar eller över natten. Hemocyter ska ses inom 2 veckor efter insamlingen för optimal visualisering och bildbehandling.
6. Representativa resultat
Exempel på fasta och HEMA3 färgade hemocyter samlas in från en Aedes aegypti vuxen hona visas i Figur 1A-C. Figur 1A visar en hemocyte att vi identifieras som en prohemocyte baserat på dess ringa storlek, sfäriska-sfäriska form och hög nukleär cytoplasman förhållande (550x förstoring) 11. Figur 1B visar en hemocyte klassificeras som en oenocytoid baserat på dess sfäriska form och hög cytoplasman till kärnkraft förhållande (550x förstoring). Slutligen visar Figur 1C en granulocyt-typ hemocyte (550x förstoring). Granulocyter är mer detaljerad karaktär och tenderar att vara mer amöboid i form och beteende som de ansluter sig till glasytor. Använda tidigare publicerade kriterier för hemocyte skriva och återhämtning 11, gav vår insamlingsmetod ett liknande antal totala hemocyter liksom vi fann att granulocyter utgör den största andelen av det totala hemocyter 11 (Fig. 2).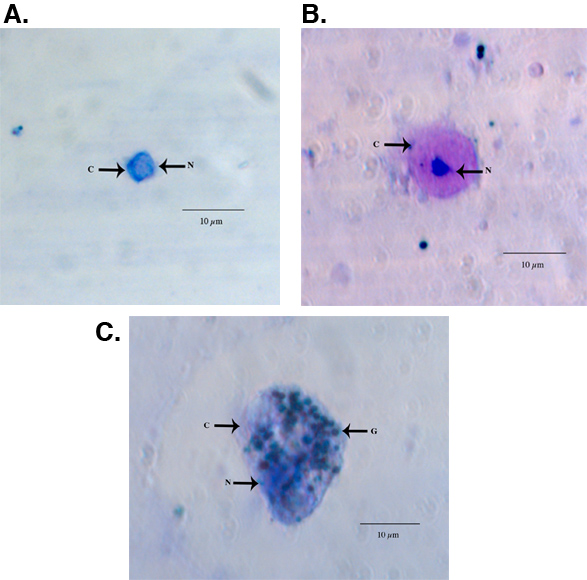 Figur 1. Ljusmikroskop bilder av en representant HEMA3 fast, färgade prohemocyte (A), oenocytoid (B), och granulocyter (C) från en AE. aegypti vuxen hona. C = cytoplasman, N = kärna G = granulat.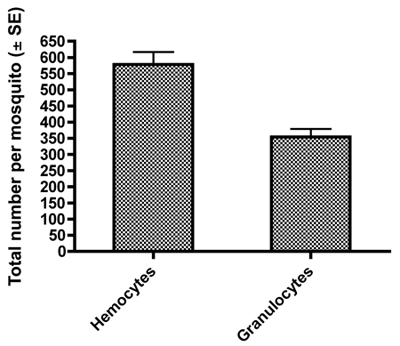 Figur 2. Totalt räknar ± SE för alla hemocyter och granulocyter erhålls per hona mygga av våra hemolymph utspädning och insamlingsmetod.
Subscription Required. Please recommend JoVE to your librarian.
Discussion
Den hemocyte kollektionen här beskrivna metoden är modifierad från de tidigare publicerade metoder och gör att man kan isolera rena beredningar av hemocyter från Aedes myggor med färre steg. Medan våra särskilt intresse ligger i att karakterisera hemocyte populationer i Aedes myggor, tror vi denna teknik kan tillämpas på andra mygga grupper efter inledande försök utförs för att fastställa korrekt injektion volymer. Vår protokollet använder blodförtunnande buffertar i stället för saltlösning och ger en befolkning på hemocyter som korrekt återspeglar siffrorna in vivo. Vi har dock ännu inte fastställt lämpligheten hos våra protokoll för att upprätthålla isolerade hemocyter i kultur.
Insamling av hemolymph via ett snitt snabel har visat sig ge minst antal cirkulerande hemocyter och kommer inte att diskuteras vidare här. Perfusion-baserade metoder, medan lätta att genomföra, har kritiserats för att tillåta en högre nivå av föroreningar från inre vävnader och skalor 11. Nyligen var höga injektion / återhämtning metoder utvecklats för att förbättra återvinningen av hemocyter, och samtidigt minska nivåerna av föroreningar 11, men innebär ett antal injektion och samla steg. Vår protokoll fått samma nivå av återvunna hemocyter och minskade föroreningar men med färre injektion och samla steg, därmed kan erbjuda en enkel men noggrann metod för att få fram rena beredningar av hemocyter. För det första enkla steget i vår-protokollet för att ta bort ben, vingar och spetsen av buken i en behållare skild från där hemolymph samlas resulterar i mycket renare preparat hemocyter. För det andra, vår metod vinster noggrannhet genom att använda glas nålar hölls i en nål fäst vid en positiv-deplacement microinjector. Medan spädningsvätskan kan också injiceras med handhållna injektionsnålar eller andra handhållna leverans utrustning, användning av ett microinjector ökar noggrannheten i leveransvolymen och därefter ger ett konsekvent volym insamlade hemolymph. Våra studier visar att kombinerad injektion volymer från 9,5 till 10,5 l (steg 4,1 och 4,4) tillät oss att ständigt samla 9-10 ìl hemolymph från injicerade honmyggorna (opublicerade data), vilket ger ett annat mått på konsekvens i kvantifiera hemocyte populationer. Vår metod förenklar totala insamlingen genom att ta bort behovet av andra handhållna injektionsnålar och / eller glas kapillärrör att samla utspädd hemolymph.
Subscription Required. Please recommend JoVE to your librarian.
Disclosures
Inga intressekonflikter deklareras.
Acknowledgments
Författarna vill tacka John Frey och Ben Peterson för mygga uppfödning. Vi vill också tacka Christine Davis och Gary Radice för hjälp med hemocyte micrographs. Denna forskning har finansierats av University of Richmond Arts & Science sommaren gemenskap till AA Qayum och fakultetsanslaget till A. Telang.
Materials
| | | | |
| --- | --- | --- | --- |
| Name | Company | Catalog Number | Comments |
| Name of the reagent | Company | Catalogue number | Comments (optional) |
| Schneider's Medium | Sigma-Aldrich | S0146 | |
| Fetal bovine serum | Sigma-Aldrich | F0643 | |
| Hema3 stain kit | Fisher Scientific | 123-869 | |
| Glass needles (borosilicate with filament) | Sutter Instrument Co. | BF100-78-10 | 1.0mm O.D. and 0.78mm I.D. |
| Needle puller | Sutter Instrument Co. | Model P-87 | |
| MicroInjector | Tritech Research, Inc. | MINJ-PD | |
| Needle holder | Tritech Research, Inc. | MINJ-4 | |