Summary
Spectral Karyotypering (SKY) is een geavanceerde cytogenetica techniek om genomische en chromosomale afwijkingen te identificeren. Deze techniek profiteert van chromosoom schilderkunst probes, waarmee indeling van alle chromosomen. SKY kan ook worden aangegeven complexe chromosoomafwijkingen en de segregatie defecten in muizen en mensen met diverse ziekten, waaronder polycystische nierziekte.
Cite this Article
Copy Citation | Download Citations

AbouAlaiwi, W. A., Rodriguez, I., Nauli, S. M. Spectral Karyotyping to Study Chromosome Abnormalities in Humans and Mice with Polycystic Kidney Disease. J. Vis. Exp. (60), e3887, doi:10.3791/3887 (2012).
Abstract
Conventionele methode om identificeren en classificeren individuele chromosomen afhankelijk van de unieke banding patroon van elk chromosoom in een specifieke soort geanalyseerd 1, 2. Deze klassieke banding techniek is echter niet betrouwbaar in identificeren complexe chromosomale aberraties zoals die in verband met kanker. Om de beperkingen van de strepen techniek te overwinnen, is Spectral Karyotypering (SKY) geïntroduceerd om veel betrouwbare informatie over chromosoomafwijkingen te bieden.
SKY is een meerkleuren fluorescentie in situ hybridisatie (FISH) techniek om metafase chromosomen te detecteren met spectrale microscoop 3, 4. SKY is bewezen een waardevol instrument voor de cytogenetische analyse van een breed scala van chromosoomafwijkingen geassocieerd met een groot aantal genetische ziekten en maligniteiten 5, 6. SKY betreft het gebruik van veelkleurige fluorescent-gelabelde DNA probes bereid uit de gedegenereerde oligonucleotide primers door PCR. Dus elke chromosoom heeft een unieke spectrale kleur na in-situ hybridisatie met probes, die differentieel gelabeld met een mengsel van fluorescerende kleurstoffen (Rhodamine, Texas Red, Cy5, FITC en Cy5.5). De sondes gebruikt voor SKY bestaan ​​uit maximaal 55 chromosoom specifieke probes 7-10.
De procedure voor SKY omvat verschillende stappen (Figuur 1). SKY vereist de beschikbaarheid van cellen met een hoge mitotische index van normaal of zieke weefsel of bloed. De chromosomen van een enkele cel, hetzij bij een vers geïsoleerde primaire cel of een cellijn worden op een glasplaatje. Dit chromosoom spread is gelabeld met een andere combinatie van fluorescerende kleurstoffen specifiek voor elk chromosoom. Voor de probe detectie en beeldacquisitie, de spectrale imaging-systeem bestaat uit Sagnac interferometer en een CCD-camera. Hierdoor kunnen de metingen van het zichtbare licht spectrum uitgezonden uit het monster en om een ​​spectraal beeld fro verwervenm de individuele chromosomen. HiSKY, de software die wordt gebruikt om de resultaten van de opgenomen beelden te analyseren, biedt een gemakkelijke identificatie van chromosoom afwijkingen. Het eindresultaat is een metafaseachtig en een karyotype classificatie beeld, waarin elk paar chromosomen heeft een afzonderlijke kleur (figuur 2). Dit maakt eenvoudige identificatie van chromosoom identiteiten en translocaties. Voor meer informatie kunt u terecht op Toegepaste Spectral Imaging website ( http://www.spectral-imaging.com/ ).
SKY is recentelijk voor een identificatie van chromosoom segregatie gebreken en chromosoom afwijkingen bij mensen en muizen met autosomaal dominante polycystische nierziekte (ADPKD), een genetische ziekte die wordt gekenmerkt door stoornissen in de primaire cilia 11-13. Met behulp van deze techniek hebben we aangetoond dat de aanwezigheid van abnormale chromosoom segregatie en chromosomale afwijkingen bij ADPKD patiënten en muismodellen 14. Verdere analyses gebruik SKY niet alleen ons toegestaan ​​om chromosomale aantal en de identiteit identificeren, maar ook om nauwkeurig te detecteren zeer complexe chromosomale aberraties zoals chromosoom deleties en translocaties (figuur 2).
Protocol
1. Cel voorbehandeling en metafase voorbereiding
De cellen worden gekweekt in Wijziging Dulbecco's van Medium Eagle's (DMEM) bevattende 10-15% foetaal bovine serum (FBS) en 1% penicilline / streptomycine bij 37 ° C met 5% CO 2 incubator, totdat zij bereikt 70-80% confluentie.
Behandel de cellen met Colcemid oplossing op 0,05 ug / ml gedurende 30-60 min.
Verzamel de medium met een drijvend cellen in 50 ml steriele valk centrifugebuizen. Spoel de cellen op de plaat met sterile1X-PBS. Na incubatie met steriel trypsine voor 1-2 min, de oogst en het verzamelen van de overige cellen in dezelfde buis.
Draai de buizen bij 1000 rpm gedurende 5 minuten, zuig het supernatant het verlaten van 0,5 ml en los pellet door de knop met de vinger alleen.
Afhankelijk van de pellet grootte, voeg 5-10 ml van hypotone oplossing van 0,56% KCl in dH 2 O en incubeer de suspensie bij 37 ° C gedurende 30-45 min.
Voeg een druppel methanol / azijnzuur(3:1 vol / vol) per ml van hypotone celsuspensie en zachtjes keer de buis voor het mengen.
Centrifugeer bij 1200 rpm voor 5 min en verzamel pellet als stap 1.4 vervolgens voeg 5 ml van vers methanol / azijnzuur (3:1 vol / vol) fixatief oplossing druppelsgewijze terwijl flicking de pellet continu. Deze procedure is van cruciaal belang, zodat de metafase spreads niet zal worden opgesloten in de cellen 'klonten, die het experiment in gevaar zou brengen.
Centrifugeer opnieuw op 1200 tpm voor 5 min en voeg 5-10 ml van ijskoude methanol / azijnzuur fixatief langs de wand van de buis. In dit stadium, indien nodig, kunnen de cellen worden opgeslagen in fixatief oplossing in een aangescherpt en verzegeld tube bij -20 ° C voor korte of -80 ° C voor lange termijn (jaar) voor toekomstig gebruik.
Clean slides in absolute ethanol, dan onderdompeling de dia in dH 2 O voor approximately10X teneinde een omhulsel van water vormen op het oppervlak van de dia. Plaats de foto op een glasplaat en drop 15-20μl celsuspensie (uit stap 1.8) Van 10 "boven de dia. Plaats de dia in een waterbad ingesteld op 65-70 ° C voor 1-2 minuten en laat het drogen.
Controleer de glijbaan onder een lichtmicroscoop met behulp van 10X en 40X droge doelstellingen ervoor te zorgen dat er metafase chromosomen en de spreads zijn gelijkmatig verdeeld. Controleer of er cytoplasma aanwezig rond de chromosomen. Als cytoplasma aanwezig is doorgaan met slide voorbehandeling (pepsine spijsvertering), indien geen cytoplasma aanwezig is en de chromosomen hebben goede morfologie, dan is er geen noodzaak voor slide voorbehandeling.
2. Schuif de voorbehandeling (pepsine behandeling)
Breng 120 ul van 1:200 RNase oplossing (20 mg / ml) opgelost in 2X-SSC op een 24 mm x 60 mm microscoop dekglaasje en omkeren van de metafase glijbaan naar beneden op het dekglaasje dan voorzichtig Keer de metafase schuif naar boven en incuberen bij 37 ° C voor 45 min.
Verwijder voorzichtig het dekglaasje, zonder krassen op de glijbaan en wassen in 2X SSC-buffer in een Coplin pot om de 5 min gedurende 15 minmet schudden.
Voeg 5-15 ul van pepsine stockoplossing (100 mg / ml in dH 2 O) in een schone bekerglas en voeg vervolgens 100 ml van voorverwarmde (37 ° C) 0,01 M HCl. Het is belangrijk dat de pepsine toe in een schone beker eerste en niet direct in de HCl-oplossing, anders zou het geen oplossen in oplossing. Incubeer de dia in een Coplin pot die de HCl / pepsine-oplossing bij 37 ° C gedurende 3-5 min. Deze stap is zeer kritisch als te veel spijsvertering zorgt ervoor dat de chromosomen te overdigested en te weinig spijsvertering laat het cytoplasma onverteerde dat kan leiden tot niet-specifieke binding van de sonde en interfereren met de hybridisatie-signaal.
Was de dia in een Coplin pot met 100 ml 1X-PBS voor 5 min tweemaal bij kamertemperatuur.
Was de dia in een Coplin pot met 100 ml 1X-PBS/MgCl 2 voor 5 min bij kamertemperatuur (50 ml van 1M MgCl 2 in 950 ml 1X-PBS).
Plaats de dia in een Coplin pot containing 100 ml 1% formaldehyde voor 10 min bij kamertemperatuur (1,7 ml van 37% formaldehyde in 100 ml van 1X-PBS/MgCl 2).
Was de dia in een Coplin pot met 100 ml 1X-PBS gedurende 5 minuten.
Observeer de dia onder een lichtmicroscoop behulp 40X droge lens te waarborgen dat de slides behoren worden verteerd en geen cytoplasma aanwezig is en het chromosoom morfologie behouden blijft. Selecteer een gebied voor hybridisatie gebruik een diamant pen.
3. Chromosoom en probe denaturatie en hybridisatie
Bereid verse denaturering oplossing (70% formamide/2X SSC, pH 7,0) en Verwarm tot 70-80 ° C in een Coplin pot geplaatst in een waterbad Place de dia in het Coplin pot die de denaturering oplossing in een waterbad bij 70 ° C voor muis chromosomen en 80 ° C voor menselijke chromosomen voor 30s-1.5 min.
Onmiddellijk Plaats de dia in ijskoude 70% ethanol gedurende 3 minuten, gevolgd door 80% en 100% ethanol gedurende 3 minuten per stuk en de lucht drogen. Onderzoek de glijbaanvoor chromosoom morfologie. Goede chromosoom morfologie wordt aangeduid met donkere chromosomen en niet "phase-light" of halogeen chromosomen.
Verwarm de SkyPaint probe (SKY verf kit; injectieflacon # 1) bij 37 ° C met schudden voor 20 min, vortex en centrifugeer kort bij 1000 rpm voor een paar seconden.
Denatureren de probe op een thermocycler geprogrammeerd voor een tweefasige cyclus bij 85 ° C gedurende 5 min cyclus gevolgd door 37 ° C voor 60 min voor geëtiketteerde-probe DNA zorgen voor preannealing.
Breng 10μl van de gedenatureerde probe op het gebied van hybridisatie en bedek het met een 22 mm x 40 mm dekglaasje ervoor te zorgen dat niet om luchtbellen te vangen. Dicht de randen van de coverglass met rubber cement en incubeer in een bevochtigde kamer bij 37 ° C gedurende 48-72 uur.
4. Fluorescente probe detectie
Verwijder het beschermglas en plaats de dia in een Coplin pot met voorverwarmde (45 ° C) wassen I-oplossing (vers bereid 50% formamide in 2x SSC). Was gedurende 5 minutendrie keer bij 45 ° C in een schuddend waterbad op 45 rpm
Was de dia in wasoplossing II (1X SSC) bij 45 ° C gedurende 5 min tweemaal met schudden.
Was de dia in wasoplossing III (4X SSC/0.1% Tween 20) gedurende 5 min bij 45 ° C met schudden.
Breng 80 ul van het blokkeren van reagens (SKY verf kit; flacon # 2), plaats een dekglaasje en incubeer bij 37 ° C gedurende 30 minuten.
Verwijder de dia en laat de vloeistof uitlekken. Breng 80 pi van Cy5 kleuring reagens (Geconcentreerde Antibody Detection CAD kit; injectieflacon # 3), toepassen een dekglaasje en incubeer bij 37 ° C voor 40 min.
Was de dia met wasoplossing III bij 45 ° C gedurende 5 min driemaal met schudden.
Breng 80 ul van Cy5.5 vlekken reagens (Geconcentreerde opsporing van antilichamen tegen CAD-kit; flacon # 4), plaats een dekglaasje en incubeer bij 37 ° C gedurende 40 minuten.
Was de dia met wasoplossing III bij 45 ° C gedurende 5 min driemaal met schudden.
Kantel de foto en laat de vloeistof af te voeren. Breng 20 ui van de anti-fade DAPI reagens (SKY verf kit; flacon # 5) en plaats een 24 mm x 60 mm microscoop dekglaasje. Verwijder voorzichtig luchtbellen die misschien gevormd zijn. Slides kunnen onmiddellijk worden afgebeeld of bewaard bij 4 ° C in het donker niet langer dan 1 week.
5. Afbeelding acquisitie en-analyse
Afbeelding overname wordt bereikt door het bekijken van metafase dia's met behulp van een Olympus microscoop uitgerust met een 60x olie-immersie lens, een Spectral kubus (op maat ontworpen triple band pass filter), een DAPI filter en een Sagnac interferometer module met een CCD-camera.
Spectral-karyotypes werden uitgevoerd met Sky View-software (Applied spectrale imaging versie 1.62) naar aanleiding van de handleiding.
Na analyse van de beelden, kan de chromosomen worden beschouwd als kleurenafbeeldingen (met specifieke fluorescerende kleuren), pseudo kleurenbeelden (met kleuren voor classificatie) en omgekeerde DAPI beelden (specifieke banding patroon).
e_title "> 6. representatieve resultaten
Een complete SKY procedure duurt meestal ongeveer een week de tijd (figuur 1). Dit geldt ook voor beeldacquisitie en analyse op voorwaarde dat de cellen in de metafase zijn in voldoende aanbod. Karyotypering analyse onthult normale muis karyotype (40, XY) van cellen uit wild type muizen (figuur 2a). In Daarentegen cellen van PKD1 - / - mouse (PKD muismodel) toont een significante toename aantal chromosomen en structurele afwijkingen, zoals chromosoom deleties (Chromosome # 8) en translocaties (chromosomen # 11 en 19) (Figuur 2b). We ook vaatweefsel geanalyseerd vanuit het ADPKD patiënten. Een eenvoudige studie door telling de chromosomale nummers aangaven dat non-ADPKD en sommige ADPKD vasculaire samples normale chromosomale aantallen 23 paren (Figuur 2c) had. In het algemeen echter, we waargenomen falen van chromosomale segregatie, resulterend in 46 paren chromosomen in ADPKD monsters ipv 23 paren (figuur 2d).

Figuur 1. SKY-protocol stroomdiagram. Stroomschema van de SKY-protocol geeft stappen om een experiment vanaf cel voorbehandeling en metafase voorbereidingen om beeld acquisitie en-analyse te voltooien. Een benaderende een week tijdlijn wordt gepresenteerd aan de linkerkant met stap-voor-stap procedures voor elke dag.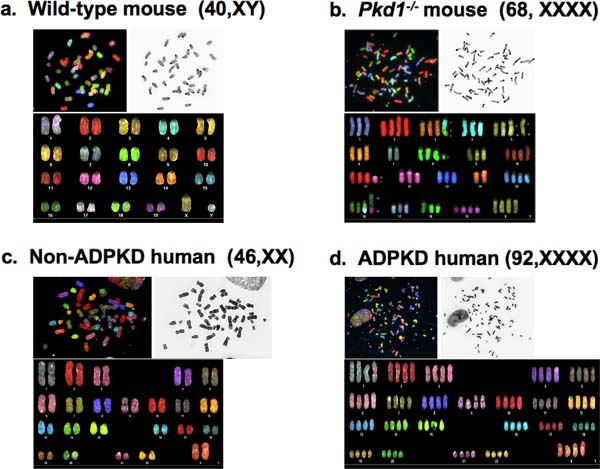 Figuur 2. Spectral karyotypering op vereeuwigd muis cellijnen en vers geïsoleerde menselijke primaire cellen. Kleur en omgekeerde DAPI beelden van de individuele chromosomen zijn zichtbaar voordat de chromosomale sorteren. Na het sorteren worden de chromosomen gepresenteerd in de "classificatie" tafel. A) SKY beeld van een metafase verspreiding van wild-type muis bevat een normaal karyotype (40, XY). B) PKD1 - / -. muis toont abnormaal aantal chromosomen (68 in plaats van 40) en chromosoom afwijkingen, zoals chromosoom deleties (chromosoom # 8) en chromosoom translocaties (chromosomen # 11 en 19) c), SKY beeld van een metafase spread vanuit het vasculaire weefsel van een non-ADPKD patient heeft normale karyotype (46, XX). d) SKY afbeelding van een metafase spread vanuit het vasculaire weefsel van een ADPKD patient bevat abnormale karyotype (92, XXXX). Delen van de gegevens zijn eerder gerapporteerd en met toestemming gebruikt 14.
Subscription Required. Please recommend JoVE to your librarian.
Discussion
Spectral Karyotypering (SKY) is een cytogenetica techniek die gebruikt wordt in het bestuderen van genomische en chromosomale composities. Deze techniek maakt gebruik van chromosoom painting probes, en de detectie van deze probes worden verworven door middel van een Sagnac interferometer. Het complete SKY proces duurt meestal ongeveer een week, en het gaat om een aantal belangrijke stappen (figuur 1). De SKY maakt gebruik van een standaard protocol, die voor het eerst werd beschreven door Padilla-Nash et al. 3. Het protocol is inmiddels aangepast door diverse cytogenetische laboratoria, waaronder de onze.
Een van de belangrijkste stappen in het protocol, een goede kwaliteit metafase voorbereiding is van groot belang voor een succesvolle SKY analyse. Bijvoorbeeld, als de chromosomen teveel cytoplasma of indien de slides zijn te oud zou de kwaliteit van de afbeeldingen aangetast. Zoals te zien in onze filmclip, kan de inhoud van het cytoplasma gemakkelijk worden geïdentificeerd met behulp van een hoge resolutie van differentiëleinterferentie contrast microscopie techniek. In Bovendien, de beschikbaarheid van actief delende cellen is een voorwaarde voor SKY analysis; dit kan worden overwonnen door behandeling met Colcemid voor een langere tijd of een toevoeging van andere groeifactoren aan de cellen. Het totale succespercentage van SKY is grotendeels afhankelijk van de vaardigheden en ervaring van de gebruiker.
SKY biedt een krachtig en betrouwbaar hulpmiddel voor chromosomale analyse, inclusief structurele veranderingen in een chromosoom. In aanvulling op cellulaire polyploïdie, SKY biedt een mogelijkheid om chromosoom inserties, deleties, duplicaties en translocaties te bestuderen. Bijvoorbeeld, SKY maakt identificatie van nieuwe en verborgen chromosomale afwijkingen en identificatie van complexe herschikkingen tijdens de ontwikkeling van kanker en progressie 15. Verder is SKY toegepast op een gebied van onderzoek binnen de vergelijkende cytogenetica, die chromosomale herschikkingen bestudeert tijdens de evolutie 4. Met behulp van SKY techniek, Ons laboratorium wordt de eerste op chromosoom afwijkingen bij muizen en mensen met een polycysteuze nierziekte (figuur 2) te identificeren. Er is geen twijfel dat SKY ten goede zal komen in veel andere chromosomale-geassocieerde aandoeningen. In feite, we voorstellen dat SKY zou ook nuttig zijn in vele cilia-gerelateerde pathogenese, waar cilia is aangetoond dat celdeling 14 reguleren.
Omdat muizen en ratten zijn belangrijke diermodellen om het mechanisme van een ziekte te bestuderen en om een functionele evaluatie in vivo, de ontwikkeling van muis en rat probes voor SKY analyse heeft het mogelijk gemaakt routine karyotypering van muizen en ratten chromosomen uit te voeren. Op dit moment is Sky dan ook beperkt tot chromosomale studies in de mens, muis en rat. Echter, zoals meer onderzoek laboratoria gebruik maken van andere soorten om genomische composities te bestuderen, is het te verwachten dat meer chromosoom painting probes voor verschillende organismen binnenkort commercieel verkrijgbaar zijn.
Subscription Required. Please recommend JoVE to your librarian.
Disclosures
Geen belangenconflicten verklaard.
Acknowledgments
Auteurs willen Brian Muntean, Shao Lo, Maki Takahashi en Blair Mell bedanken voor hun technische bijstand. Dit werk werd ondersteund door prijzen van de NIH (DK080640) en de Universiteit van Toledo & ProMedica Translationeel Onderzoek Stimuleringsprogramma Award uit aan dr. Surya Nauli.
Materials
| | | | |
| --- | --- | --- | --- |
| Name | Company | Catalog Number | Comments |
| DMEM | Cellgro | 10-013-CV | |
| Fetal bovine serum (FBS) | Hyclone | SH30088-03 | |
| Penecillin/Streptomycin | Thermo Fisher Scientific, Inc. | SV30010 | |
| Colcemid | Roche Group | 10 295 892 001 | 10 μg/ml |
| HCl | Fisher Scientific | A144-500 | |
| KCl | Fisher Scientific | S77375-1 | |
| Phosphate buffered saline | Thermo Fisher Scientific, Inc. | SH30256-01 | |
| SKY paint probe kit (Human) | Applied Spectral Imaging | SKY000028 | |
| SKY paint probe kit (Mouse) | Applied Spectral Imaging | SKY000030 | |
| Concentrated antibody detection kit | Applied Spectral Imaging | SKY000033 | |
| Trypsin | Thermo Fisher Scientific, Inc. | SH30236.01 | |
| Methanol | Fisher Scientific | A433P-4 | |
| Acetic acid | Fisher Scientific | A38-212 | |
| RNase A | Roche Group | 10 109 169 001 | |
| Pepsin | Sigma-Aldrich | P6887-5G | |
| MgCl2 | Fluka | 63069-500ML | |
| 37% Formaldehyde | Mallinckrodt Baker Inc. | 2106-02 | |
| 20X SSC | Promega Corp. | V4261 | |
| Formamide | Fluka | 47671 | prepare just before use |
| Tween-20 | Fisher Scientific | BP337-500 | |
| Microscope glass slides | Fisher Scientific | 12-549 | |
| Microscope cover glass 24x60mm | VWR international | 16004-312 | |
| Rubber cement | Elmer's | | |
| Hybridization/ humidifiedchamber/Tray | Simport | M920-2 | put wet paper towels at the bottom |
| Thermocycler | Eppendorf | Epgradient S | |
| Shaking platform/Orbital shaker | Bellco Glass | | |
| Shaking/water bath | Precision Scientific | | |
| DAPI filter cube | Chroma Technology Corp. | | |
| SKY filter cube | Chroma Technology Corp. | | |
| SpectraCube | Applied Spectral Imaging | | |
| Inverted cell culture microscope | Nikon Instruments | Nikon Eclipse TS100 | |
| Fluorescence microscope | Olympus Corporation | IX70 | 60X oil |