Summary
Spectral Karyotyping (SKY) er en avansert cytogenetikk teknikk for å identifisere genomisk og kromosomavvik. Denne teknikken tar nytte av kromosom maleri sonder, som lar klassifisering av alle kromosomer. SKY kan også identifisere komplekse kromosomavvik og segregering mangler i mus og mennesker med ulike sykdommer, inkludert polycystisk nyresykdom.
Cite this Article
Copy Citation | Download Citations

AbouAlaiwi, W. A., Rodriguez, I., Nauli, S. M. Spectral Karyotyping to Study Chromosome Abnormalities in Humans and Mice with Polycystic Kidney Disease. J. Vis. Exp. (60), e3887, doi:10.3791/3887 (2012).
Abstract
Konvensjonell metode for å identifisere og klassifisere de enkelte kromosomer avhenger unike striper mønster av hvert kromosom i en bestemt art blir analysert 1, 2. Denne klassiske banding teknikk, derimot, er ikke pålitelig i å identifisere komplekse kromosomavvik som de assosiert med kreft. For å overvinne begrensninger av den banding teknikk, Spectral Karyotyping (SKY) innført for å gi mye pålitelig informasjon om kromosomfeil.
SKY er en flerfarget fluorescens in-situ hybridisering (FISH) teknikk for å oppdage Metafasekromosomer med spektral mikroskop 3, 4. SKY har vist seg å være et verdifullt verktøy for cytogenetisk analyse av et bredt spekter av kromosomfeil forbundet med et stort antall genetiske sykdommer og malignitet 5, 6. SKY innebærer bruk av flerfarget fluorescently-merket DNA prober fremstilt fra den degenererte oligonucleotide primere med PCR. Dermed har hver kromosom en unik spektral farge etter in-situ hybridisering med prober, som er ulikt merket med en blanding av fluorescerende fargestoffer (Rhodamine, Texas Red, Cy5, FITC og Cy5.5). Sondene brukes til SKY bestå av opptil 55 kromosom spesifikke probene 7-10.
Prosedyren for SKY involverer flere trinn (figur 1). SKY krever tilgjengelighet av celler med høy mitotisk indeks fra normal eller sykt vev eller blod. Kromosomene i en enkelt celle fra enten en fersk isolert primær celle eller en cellelinje er spredt på en glass-slide. Dette kromosom spredningen er merket med en annen kombinasjon av fluorescerende fargestoffer spesifikke for hvert kromosom. For probe deteksjon og bilde oppkjøpet består spektral avbildning system av sagnac interferometer og en CCD-kamera. Dette gjør måling av det synlige lysspekteret slippes ut fra prøven og å skaffe en spektral bilde from enkelte kromosomer. HiSKY, leverer programvaren som brukes til å analysere resultatene av bildene, en enkel identifisering av kromosom anomalier. Sluttresultatet er en metafase og en karyotype klassifisering bilde, der hver kromosompar har en distinkt farge (figur 2). Dette gir enkel identifisering av kromosom identiteter og translokasjoner. For mer informasjon, vennligst besøk Applied Spectral Imaging nettsted ( http://www.spectral-imaging.com/ ).
SKY ble nylig brukt til en identifisering av kromosom segregering defekter og kromosomfeil hos mennesker og mus med autosomal dominant polycystisk nyresykdom (ADPKD), en genetisk sykdom karakterisert ved dysfunksjon i primær cilia 11-13. Ved hjelp av denne teknikken, viste vi tilstedeværelse av unormale kromosom segregasjon og kromosomavvik defekter i ADPKD pasienter og musemodeller 14. Videre analyser ved hjelp av SKY ikke bare tillot oss å identifisere kromosomal antall og identitet, men også til nøyaktig oppdage svært komplekse kromosomavvik som kromosom slettinger og translokasjoner (figur 2).
Protocol
1. Cell forbehandling og metafase forberedelse
Cellene er dyrket i Dulbecco sin Endring av Ørns Medium (DMEM) som inneholder 10-15% fosterets storfe serum (FBS) og 1% penicillin / streptomycin ved 37 ° C med 5% CO 2 inkubator, inntil de når 70-80% confluency.
Unn cellene med colcemid løsning på 0,05 mikrogram / ml i 30-60 min.
Samle medium med eventuelle flytende cellene i 50 ml sterile falcon sentrifugerør. Skyll cellene på tallerkenen med sterile1X-PBS. Etter inkubasjon med sterilt trypsin for 1-2 min, høsting og samle de gjenværende cellene i samme røret.
Snurr rørene ved 1000 rpm i 5 min, aspirer supernatanten forlate 0,5 ml og løsne pellet ved å bla med fingeren bare.
Avhengig av pelletstørrelse, tilsett 5-10 ml av hypoton løsning av 0,56% KCl i dH 2 O og inkuber suspensjonen ved 37 ° C i 30-45 min.
Legg en dråpe metanol / eddiksyre(03:01 vol / vol) per ml av hypoton cellesuspensjon og Snu røret forsiktig for å blande.
Sentrifuger ved 1200 rpm i 5 min og samle pellet som steg 1,4, deretter tilsett 5 ml fersk metanol / eddiksyre (03:01 vol / vol) fiksativ løsning dropwise mens flicking pellet kontinuerlig. Denne prosedyren er kritisk slik at metafase sprer ikke vil bli fanget i cellenes klumper som ville svekke eksperimentet.
Sentrifuger igjen ved 1200 rpm i 5 min og tilsett 5-10 ml iskald metanol / eddiksyre fiksativ langs veggen av røret. På dette stadiet, hvis nødvendig, kan cellene lagres i fiksativ løsning i en strammet og forseglet rør ved -20 ° C for kortvarig eller -80 ° C for langsiktig (år) for fremtidig bruk.
Rene lysbilder i absolutt etanol, deretter dyppe raset i dH 2 O for approximately10X for å danne en kappe av vann på overflaten av lysbildet. Plasser lysbildet på en glassplate og slipp 15-20μl av cellesuspensjon (fra trinn 1,8) Fra 10 "over raset. Plasser lysbildet i et vannbad innstilt på 65-70 ° C i 1-2 min og la tørke.
Sjekk sliden under et lysmikroskop med 10X og 40X tørre målsettinger gjør at det er metafase kromosomer og de sprer er jevnt fordelt. Sjekk for cytoplasma nærvær rundt kromosomer. Hvis cytoplasma er tilstede fortsette med sklie forbehandling (pepsin fordøyelse), hvis ingen cytoplasma er til stede, og kromosomene har god morfologi, så er det ikke behov for lysbilde forbehandling.
2. Slide forbehandling (pepsin behandling)
Påfør 120 mL 1:200 RNase løsning (20 mg / ml) oppløst i 2X-SSC på en 24 mm x 60 mm mikroskop coverglass og invertere metafase lysbildet forsiden ned på coverglass deretter forsiktig snu metafase lysbildet forsiden opp og inkuber ved 37 ° C i 45 min.
Fjern forsiktig coverglass uten å skrape raset og vask i 2X-SSC buffer i en coplin krukke hvert 5 min for 15 minmed risting.
Legg 5-15 mL av pepsin stamløsning (100 mg / ml i dH 2 O) i en ren beholder og deretter tilsett 100 ml prewarmed (37 ° C) 0.01M HCl. Det er viktig at pepsin er lagt inn i en ren begerglass første og ikke direkte inn i HCl løsning, ellers ville det ikke oppløses i løsningen. Inkuber sliden i en coplin krukke inneholder HCl / pepsin løsning ved 37 ° C i 3-5 min. Dette trinnet er svært kritisk så altfor mye fordøyelsen vil føre til at kromosomene skal overdigested og altfor lite fordøyelsen vil forlate cytoplasma ufordøyd som kan føre til ikke-spesifikk binding av sonden og forstyrre hybridisering signal.
Vask raset i en coplin krukke inneholder 100 ml 1X-PBS for 5 min to ganger ved romtemperatur.
Vask raset i en coplin krukke inneholder 100 ml 1X-PBS/MgCl 2 i 5 min ved romtemperatur (50 ml 1M MgCl 2 i 950 ml 1X-PBS).
Plasser lysbilde i en coplin krukke containing 100 ml 1% formaldehyd i 10 min ved romtemperatur (1,7 ml av 37% formaldehyd i 100 ml 1X-PBS/MgCl 2).
Vask raset i en coplin krukke inneholder 100 ml 1X-PBS i 5 min.
Observer raset under et lysmikroskop med 40X tørr objektiv for å sikre at lysbildene er fordøyd skikkelig og ingen cytoplasma er til stede og kromosom morfologi er bevart. Velg et område for hybridisering med en diamant penn.
3. Kromosom og sonde denaturering og hybridisering
Forbered fersk denaturering løsning (70% formamide/2X SSC, 7,0 pH) og prewarm til 70-80 ° C i en coplin krukke plassert i et vannbad Plasser lysbildet i coplin krukken inneholder denaturering løsningen i et vannbad ved 70 ° C for mus kromosomer og 80 ° C for menneskelige kromosomer for 30s-1.5 min.
Umiddelbart plassere raset i iskaldt 70% etanol i 3 min etterfulgt av 80% og 100% etanol i 3 min hver og la dem lufttørke. Undersøk rasetfor kromosom morfologi. God kromosom morfologi angis av mørke kromosomer og ikke "fase-lys" eller glorie kromosomer.
Varm SkyPaint sonden (SKY maling kit; hetteglass # 1) ved 37 ° C med risting i 20 min, vortex og sentrifuger kort ved 1000 rpm i noen sekunder.
Denature sonden i en thermocycler programmert for en to-trinns syklus ved 85 ° C i 5 min syklus, etterfulgt av 37 ° C i 60 min å tillate merket-sonde DNA for preannealing.
Påfør 10μl av denaturert sonden på området hybridisering og dekk med en 22 mm x 40 mm coverglass å sørge for ikke å fange luftbobler. Forsegle kantene på coverglass med gummi sement og inkuber i en fuktet kammer ved 37 ° C i 48-72 timer.
4. Fluoriserende probe deteksjon
Fjern coverglass forsiktig og plasser lysbilde i en coplin krukke inneholder prewarmed (45 ° C) vasking løsningen jeg (nylaget 50% formamide i 2X SSC). Vask i 5 mintre ganger ved 45 ° C i en skjelvende vannbad ved 45 rpm
Vask raset i vaske-løsning II (1X SSC) ved 45 ° C i 5 min to ganger med risting.
Vask raset i vaske løsning III (4X SSC/0.1% Tween 20) i 5 min ved 45 ° C med risting.
Påfør 80 mL av blokkering reagens (SKY maling kit; hetteglass # 2), plasser en dekkglass og Inkuber ved 37 ° C i 30 min.
Fjern sliden og la væsken renne. Påfør 80 mL av Cy5 flekker reagens (Konsentrert Antistoff Detection CAD kit; hetteglass # 3), gjelder en coverglass og Inkuber ved 37 ° C i 40 min.
Vask sliden med vask løsning III ved 45 ° C i 5 min tre ganger med risting.
Påfør 80 mL av Cy5.5 flekker reagens (Konsentrert Antistoff Detection CAD kit; hetteglass # 4), plasser en coverglass og Inkuber ved 37 ° C i 40 min.
Vask sliden med vask løsning III ved 45 ° C i 5 min tre ganger med risting.
Vipp raset og la væsken å avløp. Påfør 20 mL av anti-fade DAPI reagens (SKY maling kit; hetteglass # 5) og plassere en 24 mm x 60 mm mikroskop coverglass. Fjern forsiktig luftbobler som kan ha dannet. Lysbilder kan avbildes umiddelbart eller oppbevares ved 4 ° C i mørke i lenger enn en uke.
5. Bilde oppkjøp og analyse
Bildet erverv oppnås ved å vise metafase lysbilder ved hjelp av et Olympus mikroskop utstyrt med en 60X olje nedsenking linse, en Spectral kube (spesialdesignet trippelbånd pass filter), en DAPI filter og en sagnac interferometer modul med en CCD-kamera.
Spectral-Karyotyper ble utført med Sky View programvare (Applied spektral avbildning Version 1.62) etter bruksanvisningen.
Etter å ha analysert bildene, kan kromosomene sees som fargebilder (med spesifikke fluorescerende farger), pseudo fargebilder (med farger for klassifisering) og inverterte DAPI bilder (spesifikk banding mønster).
e_title "> 6. Representative Resultater
En komplett SKY prosedyre tar vanligvis omtrent en uke tid (figur 1). Dette inkluderer bilde oppkjøpet og analyse forutsatt at metafase cellene er i tilstrekkelig forsyning. Karyotyping analyse avdekker vanlig mus karyotype (40, XY) av celler fra villtype mus (figur 2a). I motsetning, celler fra Pkd1 - viser mus (PKD mus modell) en betydelig økning i kromosom nummer og strukturelle abnormaliteter, som for eksempel kromosom slettinger (kromosom nr. 8) og translokasjoner (kromosomer nr. 11 og 19) (Figur 2b) - /. Vi har også analysert vaskulære vev fra ADPKD pasienter. En enkel undersøkelse ved å telle kromosomale tallene indikerte at ikke-ADPKD og noen ADPKD vaskulære prøvene hadde normale kromosomale antall 23 par (figur 2c). Men generelt, observerte vi svikt i kromosomal segregering, noe som resulterer i 46 par kromosomer i ADPKD prøver i stedet for 23 par (Figur 2d).

Figur 1. SKY protokollen flytskjemaet. Flow diagram av SKY-protokollen illustrerer trinnene for å fullføre et eksperiment fra celle forbehandling og metafase forberedelser til bilde oppkjøpet og analyse. Et tilnærmet én uke tidslinjen presenteres på venstre med steg-for-trinn prosedyrer for hver dag.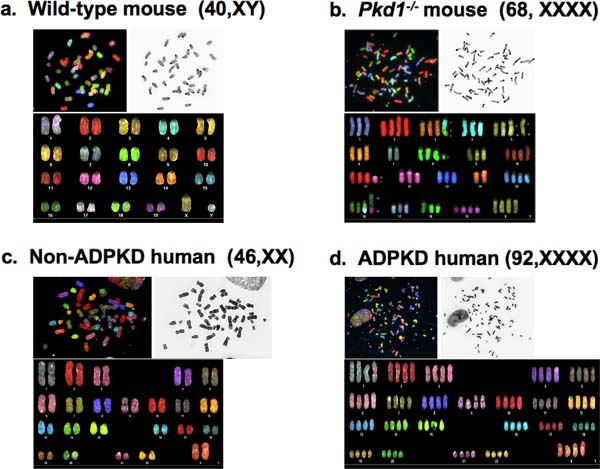 Figur 2. Spectral karyotyping på udødeliggjorde mus cellelinjer og ferskt isolerte humane primære celler. Color og inverterte DAPI bilder av individuelle kromosomer er vist før kromosomal sortering. Etter sortering går kromosomene presentert i "klassifisering" tabellen. A) SKY bilde av en metafase spredning fra villtype mus inneholder normal karyotype (40, XY). B) Pkd1 - / -. mus viser unormal kromosom nummer (68 istedenfor 40) og kromosomfeil som kromosom slettinger (kromosom nr. 8) og kromosom translokasjoner (kromosomer nr. 11 og 19) c) SKY bilde av en metafase spredning fra det vaskulære vevet av en ikke-ADPKD pasienten har normal karyotype (46, XX). d) SKY bilde av en metafase spredning fra det vaskulære vevet av en ADPKD pasient inneholder unormal karyotype (92, XXXX). Deler av dataene har tidligere blitt rapportert og gjenbrukes med tillatelse 14.
Subscription Required. Please recommend JoVE to your librarian.
Discussion
Spectral Karyotyping (SKY) er en cytogenetikk teknikk som brukes i å studere genomisk og kromosomal komposisjoner. Denne teknikken tar nytte av kromosom maleri sonder, og påvisning av disse sonder er anskaffet gjennom en sagnac interferometer. Den komplette SKY prosessen tar vanligvis omtrent en uke, og det innebærer flere viktige trinn (figur 1). SKY bruker en standard protokoll, som først ble beskrevet av Padilla-Nash et al tre. Protokollen har siden blitt bearbeidet av ulike cytogenetikk laboratorier, inkludert vår.
Blant de viktigste trinnene i protokollen, er en god kvalitet metafase forberedelse ekstremt viktig å ha en vellykket SKY analyse. For eksempel, hvis kromosomene har for mye cytoplasma eller hvis lysbildene er for gammel, kan kvaliteten på bildene bli kompromittert. Som sett i vår filmklipp, kan innholdet i cytoplasma lett identifiseres ved hjelp av en høy oppløsning på differensialforstyrrelser kontrast mikroskopi teknikk. I tillegg er tilgjengeligheten av aktivt delende celler en forutsetning for SKY analyse, og dette kan løses ved behandling med colcemid for en lengre tid eller et tillegg av andre vekstfaktorer til cellene. Den samlede suksessrate på SKY er i stor grad avhengig av kompetanse og erfaring av brukeren.
SKY har en kraftig og pålitelig verktøy for kromosomal analyse, herunder strukturelle endringer i ett enkelt kromosom. I tillegg til mobilnettet polyploidi tilbyr SKY en mulighet til å studere kromosom innsettinger, slettinger duplikasjoner og translokasjoner. For eksempel lar SKY identifisering av nye og skjulte kromosomavvik og identifisering av komplekse rearrangements under kreftutvikling og progresjon 15. Videre har SKY vært brukt på et forskningsfelt innen komparative cytogenetikk, hvilke studier kromosomavvik rearrangements under evolusjonen 4. Bruke SKY teknikk, Vårt laboratorium blir den første til å identifisere kromosomfeil hos mus og mennesker med polycystisk nyresykdom (Figur 2). Det er ingen tvil om at SKY vil være nyttig i mange andre kromosomavvik tilhørende sykdommer. Faktisk, foreslår vi at SKY vil også være nyttig i mange flimmerhårene-relatert patogenese, hvor flimmerhårene har vist seg å regulere celledeling 14.
Fordi mus og rotter er viktige dyremodeller for å studere mekanismen av en sykdom og å utføre en funksjonell vurdering in vivo, utvikling av mus og rotter prober for SKY analyse har tillatt rutine karyotyping av mus og rotter kromosomer. I dag er SKY derfor begrenset til kromosomale studier i mennesker, mus og rotter. Men som flere forskningslaboratorier bruke andre arter for å studere genomisk komposisjoner, er det påregnelig at flere kromosom maleri prober for ulike organismer vil snart være kommersielt tilgjengelig.
Subscription Required. Please recommend JoVE to your librarian.
Disclosures
Ingen interessekonflikter erklært.
Acknowledgments
Forfatterne ønsker å takke Brian Muntean, Shao Lo, Maki Takahashi og Blair Mell for deres tekniske assistanse. Dette arbeidet ble støttet av utmerkelser fra NIH (DK080640) og The University of Toledo & ProMedica translasjonsforskning Stimulering Award til Dr. Surya Nauli.
Materials
| | | | |
| --- | --- | --- | --- |
| Name | Company | Catalog Number | Comments |
| DMEM | Cellgro | 10-013-CV | |
| Fetal bovine serum (FBS) | Hyclone | SH30088-03 | |
| Penecillin/Streptomycin | Thermo Fisher Scientific, Inc. | SV30010 | |
| Colcemid | Roche Group | 10 295 892 001 | 10 μg/ml |
| HCl | Fisher Scientific | A144-500 | |
| KCl | Fisher Scientific | S77375-1 | |
| Phosphate buffered saline | Thermo Fisher Scientific, Inc. | SH30256-01 | |
| SKY paint probe kit (Human) | Applied Spectral Imaging | SKY000028 | |
| SKY paint probe kit (Mouse) | Applied Spectral Imaging | SKY000030 | |
| Concentrated antibody detection kit | Applied Spectral Imaging | SKY000033 | |
| Trypsin | Thermo Fisher Scientific, Inc. | SH30236.01 | |
| Methanol | Fisher Scientific | A433P-4 | |
| Acetic acid | Fisher Scientific | A38-212 | |
| RNase A | Roche Group | 10 109 169 001 | |
| Pepsin | Sigma-Aldrich | P6887-5G | |
| MgCl2 | Fluka | 63069-500ML | |
| 37% Formaldehyde | Mallinckrodt Baker Inc. | 2106-02 | |
| 20X SSC | Promega Corp. | V4261 | |
| Formamide | Fluka | 47671 | prepare just before use |
| Tween-20 | Fisher Scientific | BP337-500 | |
| Microscope glass slides | Fisher Scientific | 12-549 | |
| Microscope cover glass 24x60mm | VWR international | 16004-312 | |
| Rubber cement | Elmer's | | |
| Hybridization/ humidifiedchamber/Tray | Simport | M920-2 | put wet paper towels at the bottom |
| Thermocycler | Eppendorf | Epgradient S | |
| Shaking platform/Orbital shaker | Bellco Glass | | |
| Shaking/water bath | Precision Scientific | | |
| DAPI filter cube | Chroma Technology Corp. | | |
| SKY filter cube | Chroma Technology Corp. | | |
| SpectraCube | Applied Spectral Imaging | | |
| Inverted cell culture microscope | Nikon Instruments | Nikon Eclipse TS100 | |
| Fluorescence microscope | Olympus Corporation | IX70 | 60X oil |