Cite this Article
Copy Citation | Download Citations

Molina-Villa, T., Mendoza, V., López-Casillas, F. Affinity Labeling Detection of Endogenous Receptors from Zebrafish Embryos. J. Vis. Exp. (114), e54405, doi:10.3791/54405 (2016).
Protocol
Hayvanlarda yürütülen tüm deneyler CICUAL-Protokol numarası altında, Laboratuar Hayvanları Bakım ve México Özerk Ulusal Üniversitesi (UNAM) Kullanımı Komitesi tarafından kabul edildi: FLC40-14. (CICUAL: "Comité Institucional para el Cuidado y Uso de los Animales de Laboratorio del Instituto de fizyoloji Celular, Universidad Nacional Autonoma de México").
Embriyo Protein Özü 1. Hazırlık
Her koşul örneği 72 saat sonra döllenme (hpf) için, istenilen aşamada (morphants vs yabani tip) karşılaştırmak için 200 embriyolar - 100 toplayın.
Balık su içeren Petri yerleştirin embriyolar (Tablo 1) ve elle ince uçlu forseps kullanarak embriyolar dechorionate. hedeflenen reseptör sindirmek olabilir bu aşamada (ya da protokol boyunca başka herhangi bir proteaz) sırasında pronase kullanmaktan kaçının.
1.5 ml mikrofuge'de tüp yerleştirin embriyolar ve embriyo tw yıkama1x Fosfat tampon çözeltisi (PBS) ile buz (Tablo 1 e bakınız).
Deyolk tampon 500 ul ekle (Tablo 1 e bakınız).
(- 40 kez yaklaşık 30) çözelti içinde embriyolar yavaşça yukarı ve aşağı pipetleme sarısı en bırakın. 72 hpf ve 48 hpf embriyolar için sırasıyla mavi ve sarı pipet uçları kullanın. Sarı ipuçları biraz embriyoların yok önlemek için kesmek gerekebilir. Başarılı sarısı bırakma mikroskop altında embriyoların gözlemleyerek kontrol edilebilir.
15 saniye boyunca 600 x g'de santrifüj ile embriyolar toplayın.
Bir pipet kullanarak dikkatlice süpernatant atın.
Yıkama embriyolar iki kez 500 ul yıkama tamponu ile hafifçe düşük hızda karıştırın (Tablo 1 e bakınız).
15 saniye boyunca 600 x g'de santrifüj ile embriyolar toplayın.
Buradan itibaren, 4 ° C'de prosedürü devam etmektedir.
Bir pipet kullanarak dikkatlice süpernatant atın.
lizis tamponu 350 ul süspanse embriyolar (Tablo 1 'e bakınız) ve plastik bir havan tokmağı kullanılarak homojen hale getirilir.
4 ° C de bir test tüpü rocker lize embriyolar çalkalama ile 30 dakika kuluçkalayın.
Santrifüj çözünmeyen artık çıkarmak için 15 dakika 11,000 x g'de embriyolar parçalanmıştır.
Transferi yeni bir tüp bir pipet kullanarak süpernatant temizledi.
Bradford protein deneyi 4 veya başka bir uygun yöntem vasıtasıyla, toplam protein belirler. Bradford tahlili kullanıldığında, bunlar 4 Standart proteinin tahmin edilmesine neden olarak, liziz tamponunda deterjanlar sunar eşdeğer konsantrasyonlarının varlığında kalibrasyon eğrisi gerçekleştirin.
2. Tespit Endojen Reseptör Protein
Affinity Etiketleme ve Immunoprecipitation (bütün bu adımlar 4 o C'de)

1.5 ml mikrofuge'de tüp içinde toplam embriyo protein, 500 mg ve tamponu 1 (bakınız Tablo 1) ile 1 mcg / ul sulandırmak - 400 yerleştirin.
Not: yaklaşık 100 toplam embriyo proteinin 500 ug elde etmek için - 200 embriyo ilk işlenmelidir. 72 HPF embriyolar rutin Betaglikan tarama için yeterli olana toplam embriyo proteininin ~ 5 ug verim.
150 pM'lik bir nihai konsantrasyon elde edildi ve 4 ° C 'de, bir test tüpü külbütör 2 saat ajitasyonla inkübasyona etiketli TGF-β2 stokunun yeterli hacim. AFLIP başlatılmadan önce Cheifetz ve ark., 5 ile tarif edildiği gibi, TGF-β2 kloramin T yöntemiyle 125I ile etiketlenmesi gerekir.
DİKKAT: Ben ligand etiketli 125 taşıma sırasında maruziyeti en aza indirmek için koruyucu.
100 seyreltme ve (kuluçka O / N olabilir), 4 ° C'de başka bir 2 saat daha inkübasyona devam: 1 ulaşmak için ilgi alıcısına karşı seyreltilmemiş antikorun yeterli hacim. Bu, bu çalışmada kullanılan ve başka bir yerde tarif edilen 3, ama kalitesine bağlı olarak, antiserum # 31 optimal dilüsyonudurtibody daha büyük veya daha küçük bir seyreltme uygun olabilir.
Uygun bir immünoglobulin bağlama, boncuk tanelerin 50 ul ekle (örneğin, daha önce TNTE içinde dengelenmiş 1 yeniden süspanse edildi, G-proteini-Sefaroz: TNTE orjinal hacminin 5) ve 4 ° bir test tüpü rocker çalkalama ile 50 dakika boyunca inkübe C.
20 saniye boyunca 11.000 xg mikrosantrifüj boncuk kurtarın.
Uygun bir radyoaktif çöp konteyner içinde süpernatant atın.
20 saniye, her seferinde 11,000 xg, vorteks ve mikro santrifüjleme IP yıkama tamponu (bakınız Tablo 1) 1 ml IP boncuk üç kez yıkayın.
Süspanse IP-boncuk, IP yıkama tamponu 250 ul.
(10 mg / ml DMSO içinde çözülmüş DSS) disüksinimidil suberat 1.5 ul ekle. Sadece bu aşamada kullanılmadan önce DSS çözeltisi hazırlayın.
çalkalama ile 4 ° C'de 15 dakika boyunca inkübe edin.
Çapraz bağlama reaksiyonu söndürmek için 500 ul o eklemeYeterince Tris-Cl, pH 7.4 stok ile desteklenmiş F IP yıkama tamponu, 25 mM Tris-Cl ulaşmak için. Tris serbest amino grupları reaksiyona girmemiş DSS yakalamak.
20 saniye boyunca 11.000 xg'de Santrifüj IP boncuk toplamak ve süpernatant atmak için.
Süspanse IP boncuk Laemmli tamponu indirgeme 30 ul.
Kaynama örnekleri 94 ° C 'de 5 dak.
İsteğe bağlı olarak, imalatçının protokolü kullanılarak bir gamma sayacında örnekleri analiz eder.

numune Analizi

SDS-PAGE denatüre Konu örnekler. reseptör kütlesi için uygun oranda poliakrilamid kullanın ve standart prosedür altında jel çalıştırın.
Sabitleştirici çözeltide jel daldırın oda sıcaklığında 30 dakika boyunca (bakınız Tablo 1).
15 dakika boyunca damıtılmış su ile jel yıkayın.
Daha önce sulu filtre kağıdına jel yerleştirin ve Saran wrap film ile kaplayın.
1 saat boyunca 80 ° C'de kuru jeli.
Beyaz Fosfor bağırıyorum üzerinde jel AçığaRT O / N en-.
Üreticinin protokolü kullanılarak bir fosforimager kullanılarak maruz ekranı tarayın.
Subscription Required. Please recommend JoVE to your librarian.
Representative Results
Şekil 1, AFLIP ile elde edilen temsili bir sonuç göstermektedir. 125 I-ligand gelen Lane 1 Sinyaller kovalent (150 kDa işaretleyici altında BG çekirdek) zebrabalıkları Betaglikan çekirdek protein veya glikozaminoglikan eki (GAG, smear tarafından proteoglikan forma işlendikten BG çekirdek ya bağlı ), 170 kDa, jelin en arasında değişmektedir. Göç Bu model, keskin çekirdek proteini ek olarak (nedeniyle GAG zincirlerinin uzunluğu heterojenliği) bir bulaşmış proteoglikan, TGFBR3 2 özelliğidir. DSS kovalent her ligand-reseptör kompleksi oluşmuş bağlantı olmadığından, jel (125 I-TGF-β2) göç önünde görünen 125 I-ligand ücretsiz. Bu serbest ligand reseptöre bağlanmış, ve immüno-çökeltme sırasında bağlı kalan, ancak kovalent bağlı değildi, çünkü SDS-PAGE işlemi sırasında ayrılır. Yok hayırnetheless olarak, sinyalin gücü hala işaretli reseptör ile verilen bir karşı gelir. Bu yoğunluğuna karşılık gag ve BG özünde hafif sinyalleri, görülebilir 72 HPF embriyolar 3 daha BG düşük miktarlarda, zebra balığı embriyolar HPF 48 'de kuşak 2 ve 3 karşılaştırarak gösteren takdir edilebilir jel ön görülen serbest ligand tarafından verilen sinyalleri (Şerit 2). AFLIP kullanıldığında sıçan karşı antikorlar BG 6 ZF BG ile çapraz reaksiyona girmemektedir göz önüne alındığında, antikorlar, bir negatif kontrol (Şerit 3) olarak görev bu nedenle, herhangi bir sinyal verdi. Benzer negatif sonuçlar, anti-ZF BG antikor 3 ön-immün serum ile elde edilmiştir.
Şekil 2, AFLIP bağlı olarak morfolino, bu durumda, bir deney manipülasyona tabi embriyolar Betaglikan azalması, belirli bir reseptör ekspresyon düzeylerini ölçmek için nasıl kullanılabileceğini göstermektedirjection 3. Şerit 2 ZF BG primer transkriptin exon2-intron2 sınır yönelik bir morfolino 7 ng tatbik etkisini gösterirken Şerit 1, 72 HPF vahşi tip embriyoda TGFBR3 seviyesini göstermektedir. Bu morfolino ile elde edilen BG aşağı regülasyon hatalı eşleştirilmiş kontrol (Lane 3) tarafından yeniden unutmayın. Bu sonuçlar, 3 daha önce tanımlandığı gibi, bu morfolino elde fenotipi TGFBR3 demonte için spesifik olduğunu teyit etti.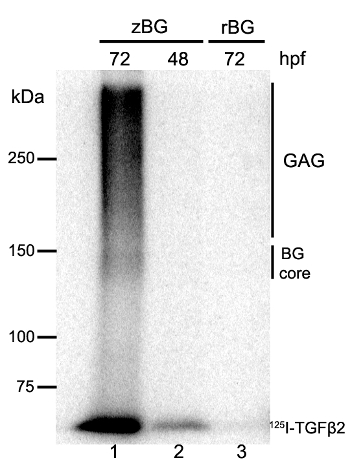 Zebra balığı Embriyolar BG Şekil 1. AFLIP Algılama. 72 saat sonrası fertilizasyon (hpf) de embriyolardan total protein ekstresi (Şerit 1 ve 3) ve 48 hpf (Lane 2) takip 125l-TGF-β2 afinite etiketleme tabi tutuldu BG (Lane 3 Rbg tavşan anti-zebra balığı BG (kulvarlar 1 ve 2, ZBG) veya tavşan anti-fare ile IP tarafından) Bir kontrol olarak. Otoradyografi BG GAG (BG çekirdek) olmadan tespit edilebilir ya da bir glikozaminoglikan modifiye BG (GAG) olarak. Bu rakamın büyük halini görmek için lütfen buraya tıklayınız.

Şekil 2. BG Morfolino demonte. AFLIP tarafından algılanan belirli BG morfolino (Şerit 2) ya da bir uyumsuzluk kontrolü (Şerit 3) ile microinjected muamele edilmemiş WT embriyolar (Lane1), BG 125 I-TGF-β2 afinite etiketi. Milyon (cpm) başına sayımları immünopresipitasyon ve çapraz bağlama adımı belirtilmiştir sonra. Iyileşti bu rakamın daha büyük bir versiyonunu görmek için lütfen buraya tıklayınız.
| | |
| --- | --- |
| Tampon | kompozisyon |
| Tampon 1 | pH 7.5, 50 mM Tris-HCI, 150 mM NaCI,% 0.1 Triton X-100 |
| Deyolk tamponu | 55 mM NaCI, 1.8 mM KCI, 1.25 mM NaHCO 3 |
| balık su | Malzeme Tablosu görün |
| fiksatif çözüm | % 50 CH3OH,% 12 CH3COOH, 0.185% HCHO |
| IP yıkama tamponu | 10 mM Na-2 HPO 4, 2 mM KH 2 PO 4, 137 mM NaCI, 2.7 mM KCI,% 0.1 Triton X-100,% 0.02 SDS, pH 7.4 |
| Laemmli tamponu | % 2 SDS,% 10 gliserol, 100 mM DTT, 60 mM Tris (pH 6.8),% 0.001 bromfenol mavisi. |
| liziz tamponu | 50 mM Tris-HCI pH 7.4, 150 mM NaCI, 1 mM EDTA, 1 mM PMSF,% 0.5 Triton X-100,% 0.1 SDS,% 0.5 sodyum DeoxychOlate |
| PBS | HPO 4 137 mM NaCI, 2.7 mM KCI, 10 mM Na-2, 2 mM KH 2 PO 4, pH 7.4 |
| TNTE | 50 mM Tris-HCI pH 7.4, 150 mM NaCI, 1 mM EDTA,% 0.1 Triton X-100 |
| Yıkama tamponu | 110 mM NaCI, 3.5 mM KCI, 2.7 mM CaCl2, 10 mM Tris-HCI, pH 8.5 |
Tablo 1: Tampon bileşimler
Subscription Required. Please recommend JoVE to your librarian.
Discussion
Ilgi konusu bir proteinine karşı spesifik bir antikor ile Western lekeleri kullanımı embriyojenez sırasında ifadesini 7 incelemek için değerli bir araçtır. Bununla birlikte, yüksek-glikosile proteinlerin immünoblot yetersizlikler nedeniyle transfer ve nitroselüloz ya da PVDF zarlarına 8,9 zayıf bağlanma için çok başarılı olmamıştır.
Proteoglikanlar çünkü negatif yüklü ve polistiren yüzeyler veya hidrofobik lekeleme membranların ya iyi bağlamaz onların kovalent bağlı glikozaminoglikan zincirleri (GAG) nedeniyle, bu eksiklik bir iyi bir örnektir. Ayrıca GAG zincirlerinin boyutu heterojen etkili leke alanı başına düşen miktarı azaltarak, bir jel sektörü üzerinde protein "yayılır." İlgili protein ekspresyonunun düşük seviyelerde bulunur Buna ek olarak, düzenli western blotlar tarafından tespit zor bir iştir. reseptörü (TGFBR3) ya da Betaglikan β tip III transforme edici büyüme faktörü(BG), Zebra balığı 3 iki GAG bağlanma memelilerde 1 ve sitelerin biriyle zar reseptörü, bu özelliklerin hepsi var. Bu engellerin üstesinden gelmek için protokoller geliştirilmiştir edilmiştir rağmen, avidin-biotin kompleks (ABC) sistemi 10,11 veya pozitif yüklü membranların 12 proteoglikanların imüno-lekeleme ile algılama gibi, aynı protokolde hem sorunları çözemez. doğal ligandı TGFβ2 için ve belirli bir antikorun mevcudiyeti BG yüksek afinite yararlanarak, AFLIP afinite etiketi ve immüno-avantajlarını birleştiren bir teknik yukarıda Western blot algılama sınırlamaları ortadan edilebilir ele aldı.
Bunların radyo etiketli ligandları ile membrana bağlı reseptörlerin afinite etiketlemesi çok önemli bir büyüme tanımlanması ve karakterizasyonu için vesile kültürlenmiş hücreler 13-16 reseptörleri faktörleri olan bir de kullanılan bir araçtır.hücrelerin tek bir tabakası etiketleme konvansiyonel afinite doku kültürü tabağına ligand etiketleme kovalent tabi tutulur ve daha sonra lize edilir olsa da, AFLIP ligand reseptör kompleksleri ilk önce embriyo lizatlarında, o zaman, immüno-çökeltme ile saflaştırılmış ve son olarak da, kovalent çapraz bağlanmış oluşturulur. , Radyo etiketli ligandların kullanımı bölgesinin AFLIP başka büyüme faktörleri veya etiketli bir ligand ve iyi bir antikor, mevcut olduğu sitokin reseptörlerine uyarlanabilir çok hassas ve prensip olarak. AFLIP bu potansiyel bu düşük bol ama fizyolojik ilgili moleküllerin tespit yardımcı olacaktır.
Çünkü afinite etiketi arasında çapraz bağlama aşamasında doğal değişkenlik, AFLIP kantitatif olarak tayin reseptörleri seviyelerinin saptanması için kullanılamaz. Yeterli paralel kontrolleri ile gerçekleştirilen Ancak, onların ifade göreli seviyeleri oldukça doğru ölçümün sağlayabilir. AFLIP toplam protein özleri kullanmak gibi, restri değildisseke yetişkin örneklerinin uygulandığı takdirde reseptörünün bir spesifik hücresel konuma cted, o tam bir birey ya da organda kendi ifadesini ortaya koymaktadır. gerekli AFLIP diğer biyokimyasal protokollere bağlı olabilir Son olarak, karbonhidrat enzimatik sindirim gibi, daha da ilgi reseptörü karakterize etmek.
Geleneksel afinite etiketleme benzer şekilde, taze 125-etiketli ligand şiddetle tavsiye edilir. 125 Ben kısa yarı ömrü göz önüne alındığında, ligand taze izotop ile etiketleme sonra ilk 2 hafta içinde kullanılmalıdır. protokol uyarılar en mukabil adımlarda açıklanan olmasına rağmen, özel bir söz mümkün olduğu kadar tam ve düzgün olmalıdır sarısı dikkatli uzaklaştırılması verilir. sarısı düzensiz miktarda bırakılması lizatları iyi niyetli embriyo proteinin yanlış kantitatif neden olacaktır.
Subscription Required. Please recommend JoVE to your librarian.
Materials
| | | | |
| --- | --- | --- | --- |
| Name | Company | Catalog Number | Comments |
| Disuccinimidyl suberate (DSS) | ThermoFisher Scientific | 21555 | |
| Protein G Sepharose 4 Fast Flow | GE Healthcare Life Sciences | 17-0618-01 | |
| Gel Dryer Model 583 | BIO-RAD | 1651745 | |
| Typhoon 9400 | GE Healthcare Life Sciences | 63-0055-78 | |
| Cobra II Auto gamma counter | Packard | | |
| Exposure Cassette | Molecular Dynamics | 63-0035-44 | |
| NaCl | J.T. Baker | 3624 | |
| KCl | J.T. Baker | 3040 | |
| Na2HPO4 | J.T. Baker | 3828 | |
| K2HPO4 | J.T. Baker | 3246 | |
| CH3OH | J.T. Baker | 9070 | |
| CH3COOH | J.T. Baker | 9508 | |
| HCHO | J.T. Baker | 2106 | |
| SDS | Sigma-Aldrich | L4509 | |
| EDTA | Sigma-Aldrich | ED | |
| Triton X-100 | Sigma-Aldrich | T9284 | |
| CaCl2 | Sigma-Aldrich | C3306 | |
| NaHCO3 | Fisher Scientific | S233 | |
| PMSF | Sigma-Aldrich | P7626 | |
| Crystal Sea Marine Mix | Marine Enterprises International | http://www.meisalt.com/Crystal-Sea-Marinemix | |