Summary
Işık ve elektron mikroskopi için kesit maya kolonileri izin gömmek için bir yöntem. Bu protokol, bir mantar toplum içinde hücre tiplerinin organizasyon anlayışına yönelik yeni bir araç sağlayan koloniler içinde sporulated hücreleri ve pseudohyphal hücrelerin dağılımı belirliyor.
Cite this Article
Copy Citation | Download Citations

Piccirillo, S., Honigberg, S. M. Yeast Colony Embedding Method. J. Vis. Exp. (49), e2510, doi:10.3791/2510 (2011).
Abstract
Embriyolar farklı hücre tipleri Desenlendirme metazoan gelişiminde kilit bir mekanizma. Koloniler ve biyofilm olarak mikroorganizmalar, topluluklar da hücre tiplerinin kalıplarını gösterilecek. Örneğin, maya S. cerevisiae, sporulated hücreleri ve pseudohyphal hücrelerin düzgün koloniler halinde dağıtılan değildir. Desenlendirme ve bu kalıplar altında yatan moleküler mekanizmaları fonksiyonel önemi halen yeterince anlaşılamamıştır.
Mantar kolonilerin hücre tiplerinin kalıplarını soruşturma açısından bir sorun metazoan doku aksine, koloniler halinde hücrelerin nispeten zayıf birbirine bağlı olduğunu. Özellikle, mantar kolonileri, en dokularda bulunan ekstrasellüler matriks aynı geniş düzeyde içermez. İşte bu kolonilerin hücre tiplerinin iç desenler ortaya koymaktadır maya kolonileri gömme ve kesit için bir yöntem rapor. Bu yöntem, ışık mikroskobu ve transmisyon elektron mikroskopi için uygun ince bölümler (0,1 μ) için yararlıdır (0,5 μ) kalınlığında kesitler hazırlamak için kullanılabilir. Aşçı ve pseudohyphal hücreleri kolayca bu hücrelerin iç yapısı EM tarafından görüntülenmiştir olabilir, ışık mikroskobu ile oval maya hücreleri ayırt edilebilir.
Yöntemi, agar kolonileri çevreleyen, onları Spurr orta infiltre ve sonra kesit dayanmaktadır. Çapı 1-2 mm aralığında bir Kolonileri, bu protokol için uygundur. Kolonilerin iç görüntülenmesine ek olarak, yöntem temel agar işgal koloni bölgesi görselleştirme sağlar.
Protocol
1. Colony İzolasyon ve Fiksasyon
Belirtilen süre için agar 300 kolonileri (izole edilmiş bir koloni çapı 1-2 mm olmalıdır) inkübe edin.
Koloni (yüz yukarı) ve dar bir spatula ile altta yatan orta çıkarın.
% 2 agar birkaç damla koyun 42 ° C katılaşır önce 1 ml agar yüzünde Pipetman ucu ve hemen yer koloni kullanarak bir mikroskop lamı üzerine.
42 ° C kolonisi üzerinde% 2 agar birkaç damla koyun ve sağlamlaştırmak için izin.
Bu protokolün kalan bütün adımlar için eldiven giyin
Trim jilet ile, 4 blok ve 7 gün boyunca,% 2 paraformaldehid /% 2 glutaraldehid fiksatif içeren bir 3.5 mL borosilikat vida kapaklı flakon koyun ° C
2. Yıkama ve Osmium Tedavi
Yaklaşık 1 hafta sonra, 5 dakika sonra koloni (yaklaşık 1.5 ml) iki kez daha tamamen aynı hacmi ile karşılamak için yeterli 0.15m sodyum cacodylate (pH 7.2) ile iki kez 15 dakika boyunca inkübe kimyasal davlumbaz altında buz üzerinde agar blokları yıkamak 1X OS tamponu (100 mM KH 2 PO 4 10 mM MgCl 2, pH 6.0).
Sonra 1 saat süreyle kimyasal davlumbaz altında agar blokları karşılamak için aynı hacimde% 1 OsO 4 [2 mL OsO 4 (% 2) + 2 ml 2x OS Tampon] şişeleri (buz) aynı miktarda iki kez yıkayın her biri için 10 dakika 1X OS tampon.
Şişeleri, 4 gece bekletin ° C 1X OS tampon.
Sabitleme ve bu adımda bütün yıkar tehlikeli atık olarak bertaraf edilir. OsO 4 içeren Tüm pipetler, bitkisel yağ ile 3X durulanır .
3. Yıkama ve dehidratasyon
Pasteur pipeti kullanarak her bir 10 dakika soğuk su yukarıdaki gibi aynı hacimde iki kez buz üzerinde Ertesi sabah yıkama agar blokları.
Sırayla aynı hacimde% 25,% 50,% 75, her 10 dakika, 10 dakika boyunca% 100 etanol ile 2 yıkar takip için% 95 etanol ile yıkayın. 4 gece bekletin ° C% 100 etanol.
Bu adımda tüm yıkar tehlikeli atık olarak bertaraf edilir.
4. Spurr Kullanıcı Hazırlık
Ertesi sabah (mümkün olduğunca erken) Spurr reaktifi hazırlamak için bir davlumbaz altında tek kullanımlık plastik behere aşağıdaki çözümleri (EM Bilimler) tartın. Bu reaktif kullanılarak sonraki tüm iş için, bir davlumbaz kullanmaya devam.
(ERL 4221 çözüm 5 gram)
(DER 736 çözümü, 4 gram)
(NSA çözüm 13 gram)
bir heyecan çubuğunu kullanarak kaput 20 dakika boyunca bu çözümler karıştırmayın (yavaş)
DMAE çözüm 0.15 gram ekleyin ve yukarıdaki gibi 20 dakika karıştırın.
Degas kaputu 1-2 saat için yukarıdaki karışımı.
5. Spurr Kullanıcı Sızma
Spurr aynı hacmi ile% 100 her biri için 10 dakika oda sıcaklığında etanol yukarıda agar blokları 5 kez yıkayın kısa sürede yapılır. Son etanol yıkama sonra kalan etanol sadece agar blokları kapsar, böylece Pasteur pipeti kullanarak etanol çıkarın.
Spurr reaktifi (yaklaşık 0,5 ml) yaklaşık eşit miktarda ekleyin ve tekerlek şişeleri döndürmek ve oda sıcaklığında 15 dakika sonra 30 dakika süreyle bekletilmesi. 30 dakika tamamen Pasteur pipeti kullanarak çözüm kaldırdıktan sonra, ekle Spurr agar bloğu (yaklaşık 1.5 ml) kapsayacak şekilde, oda sıcaklığında 15 dakika boyunca tekerlek şişeleri döndürmek ve 30 dakika bekletilmesi. Spurr yerine, döndürme ve inkübasyon 3 kez daha tekrarlayın.
Son 30 dakika sonra, Spurr reaktifi kaldırmak ve blokları karşılamak için taze Spurr ekleyin. Agar bloklar 4 saat oda sıcaklığında bekletin.
Spurr değiştirin ve bir gecede döndürmek.
Sabah Spurr Kullanıcı değiştirin ve şu güne kadar dönen bırakın.
Ertesi sabah yer Spurr sonra kalıp alt kapağı kalıpları agar blokları eklemek sayılı silikon kalıplar (Fisher Scientific). 4 saat boyunca 60 ° C'de inkübe
Daha Spurr ve inkübe 60 ° C gecede kalıpları üstlük 4 saat sonra,.
Kalıpları blokları çıkardıktan sonra bloklar hala biraz esnek iseniz, kalıpları dönmek ve ek bir 2 gün inkübe
6. Kesit
Leica Ultracut S mikrotom ışık mikroskobu ve 0.1 μ iletim EM için ince bölümleri için 0.5 μ kalınlığında kesitler kesmek için kullanılır oldu.
Kesitler olduğu gibi ışık mikroskobu için, dH 2 O bir damla yerleştirildi, ve 52 ° C ısı blok üzerinde kurutulur. Kurutulmuş bölümlerde daha sonra% 1,0 oranında toluidin mavi, 5-15 saniye için% 1 Sodyum Borat bir düşüş ile boyandı. Boyama sonra, bölümleri, hemen bir su akışı altında yıkanıp kurutulur, montaj medya (KPL) kaplı ve bir kapak kayma örnek üzerinde mühürlenir.
Maya ve diğer mikroorganizmaları desen oluşumu ölçme geniş önemi daha önce 1 incelendi. Özellikle not düzensiz topluluklar göre organize mikrobiyal kolonilerin artan işlevselliği.
Açıklanan yöntemi, daha büyük uzmanlaşmış koloniler 2 gömmek için bir yöntem bir değişiklik ve modifikasyonlar kısa bir açıklama 3 yayımlanmıştır .
Bir örnek, vahşi S. bir koloni merkezinden geçerek bir bölümü hafif bir mikrografı cerevisiae maya koloni Şekil 1'de gösterilmiştir. Aşçı, psödohif ve ovoid maya kolayca ayırt edilebilir ve altta yatan agar işgalci koloni bölgesi de açıktır.
Maya bir laboratuvar suşu (W303 arka plan) bir elektron mikrografı bir örneği Şekil 2'de gösterilmiştir. Görüntü yüksek frekanslı sporulated hücreleri içeren koloninin bir bölge.

Şekil 1 vahşi bir maya koloni Işık mikroskobu. Bu maya (YPS133) ağaç eksuda 4 izole edilmiştir. 6 gün önce kesit YNA orta 5 koloni inkübe edildi. Açık oklar dolu ok uçları uzamış hücrelerinin zincirleri (psödohif) ve asci göstermektedir dolu oklar temsilcisi oval vejetatif hücreler gösterir, temsilcisi asci göstermektedir.

Şekil 2 Elektron mikroskobu bir laboratuvar maya suşu. SH1020 (W303 arka plan) koloni 3 kesit YNA orta 6 gün önce inkübe edildi. Resim asci bir yüksek frekans bölümünde bir bölge gösterir. Bir ok spor duvarın iki katmanlı bir yapı gösterir.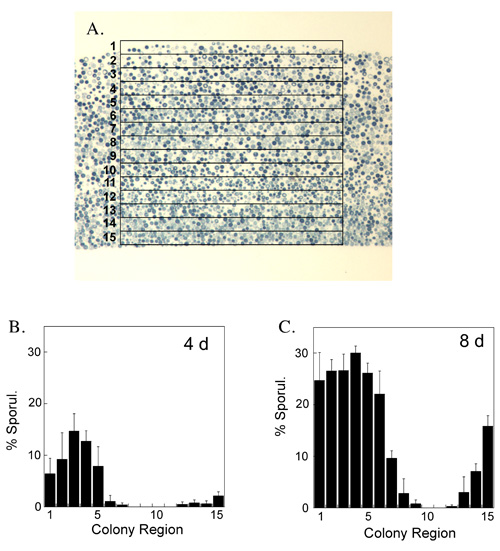 Şekil 3. Koloniler halinde sporulated hücrelerinin dağılımı Niceleme: A), uzun kenarı boyunca yığılmış 15 bitişik dikdörtgenler içeren bir ızgara, bir koloni bölümünde bir görüntü merkezi bölgeye bindirilir . Sadece oranları sabit tutarken ızgara sadece koloninin alt ve üst kapakları, ölçeklenir. (B & C) o dikdörtgenin içinde toplam hücrelere göre her dikdörtgen sporulated hücreler kısmını 4 gün eski (B) ve 8-günlük eski (C) koloniler görüntüleri görsel muayene ile belirlenir. Örneğin, koloninin üst kısmında dikdörtgen ("1" etiketli) grafiğin sol tarafına karşılık gelir. 4 koloni ortalaması gösterilir; hata çubukları std gösterilecek. hata.
Subscription Required. Please recommend JoVE to your librarian.
Discussion
Sunulan yöntem kolonilerin iç yapıları ortaya koymaktadır. S. bir dizi hücre tiplerinin kalıplarını belirleyen yöntem etkili olduğundan cerevisiae suşlarının farklı koloni morfolojileri ve aynı zamanda ilgili bir tür S. paradoksus 5, yöntem aynı zamanda geniş bir mantar ve diğer mikroorganizmalar üzerinde çalışmak için muhtemeldir .
Yöntemin başarısı için kritik bir adım koloninin dahil olmak üzere tüm koloni, protokol boyunca agar kaplı olduğundan emin olmak için. Koloniler agar tamamen kaplı olup olmadığını toluidin mavi ışık mikroskobu ve boyama için kesit sonra tespit edilebilir. Boyanan kesitler ışık mikroskobu ile görüntülenebilir, agar gömme ortamı biraz daha koyu lekeli. Dehydrations adımları sırasında agar küçülür, tüm koloni kurtarmak için emin olmak Çünkü: 1) güvenilir bir adım 1.2 'de koloni kapsayacak şekilde agar 4-5 damla ekleyin, ve 2), sadece tarafta agar Döşeme üst ve alt ve sadece adım 1.5 'kalıplara sığdırmak için yetecek kadar düzeltin.
Ikinci aşamada en iyi bölümleri için kritik olan protokol, orta gömme blok sertliği içerir. Tipik olarak, blok kalıpları çıkardıktan gecelik inkübasyondan sonra incelenir. Blokları iki elinizle tarihleri ​​arasında düzenlenen hala esnek ve fleksiyon varsa, onlar muhtemelen kesit için yeterince sert değildir. Bu durumda ek bir 48 saat aynı sıcaklıkta inkübatör için iade ve yukarıdaki gibi yeniden test.
Mikrobiyal koloniler içinde hücre tiplerinin kalıplarını tespit edebiliyor olmanın önemini, bu desenleri muhtemelen topluluklar içine hücrelerinin işlevsel bir organizasyon yansıtmaktadır. Gerçekten de, mikrobiyal desenlendirme, aynı türün organizmalar etkileşim eski ve temel mekanizmaları yansıtıyor olabilir. Koloniler 3,6 gen ekspresyonu izleme desenler yöntemleri ile birlikte, bu toplulukların hücre farklılaşması kalıplarını tespit yeteneği potansiyel mikrobik desen oluşum mekanizmaları test etmek için yardımcı olabilir.
Subscription Required. Please recommend JoVE to your librarian.
Disclosures
Çıkar çatışması ilan etti.
Acknowledgements
Araştırma NIH 1R15GM094770 tarafından finanse edildi.
Materials
| | | | |
| --- | --- | --- | --- |
| Name | Company | Catalog Number | Comments |
| Osmium tetroxide | Electron Microscopy Sciences | RT 19152 | |
| Silicone embedding molds | Fisher Scientific | NC 9975029 | |
| Cycloaliphatic epoxide resin | Electron Microscopy Sciences | RT 15004 | ERL 4221 |
| Epoxy resin | Electron Microscopy Sciences | RT 13000 | DER 736 |
| Nonenyl Succinic Anhydride | Electron Microscopy Sciences | RT 19050 | NSA |
| 2-Dimethyl amin–thanol | Electron Microscopy Sciences | RT 13300 | DMAE |
| Mounting media | KPL Inc | 71-00-16 | |
| Rotating wheel | Ted Pella, Inc. | Pelco 1055 | |
| Microtome | Leica Microsystems | Ultracut S | |