Summary
Een nieuwe methode voor ovariële follikel inkapseling in een 3D-fibrine-alginaat interpenetrerend netwerk wordt beschreven. Dit systeem combineert een structurele ondersteuning met proteolytische degradatie van de ontwikkeling van onvolgroeide follikels steun aan rijpe eicellen te produceren. Deze methode kan worden toegepast op de cultuur cel aggregaten tot cel-cel contacten, zonder beperking van de uitbreiding te behouden.
Cite this Article
Copy Citation | Download Citations | Reprints and Permissions

Shikanov, A., Xu, M., Woodruff, T. K., Shea, L. D. A Method for Ovarian Follicle Encapsulation and Culture in a Proteolytically Degradable 3 Dimensional System. J. Vis. Exp. (49), e2695, doi:10.3791/2695 (2011).
Abstract
De ovariële follikel is de functionele eenheid van de eierstok dat seks hormonen afscheidt en ondersteunt de eicel rijping. In vitro follikel technieken bieden een tool om model follikel ontwikkeling om de fundamentele biologie te onderzoeken, en worden verder ontwikkeld als een techniek om de vruchtbaarheid te behouden in de kliniek 1-4. Onze in-vitro-cultuur systeem maakt gebruik van hydrogels in om de inheemse ovariële omgeving na te bootsen door het handhaven van de 3D-folliculaire architectuur, cel-cel interacties en paracriene signalen dat de directe follikelontwikkeling 5. Voorheen werden follikels met succes gekweekt in alginaat, een inert algen-afgeleide polysaccharide die gelering ondergaat met calcium-ionen 6-8. Alginaat hydrogelen gevormd bij een concentratie van 0,25% w / v waren de meest tolerante voor follikel cultuur, en behield de hoogste ontwikkelingscompetentie 9. Alginaat hydrogels zijn niet afbreekbaar zijn, dus een toename van het follikel diameter resulteert in een drukkracht op de follikel dat de follikelgroei 10 van invloed kan zijn. We vervolgens ontwikkelden een cultuur gebaseerd op een fibrine-alginaat interpenetrerend netwerk (FA-IPN), waarin een mengsel van fibrine en alginaat tegelijkertijd worden gegeleerd. Deze combinatie zorgt voor een dynamische mechanische omgeving, omdat beide componenten bijdragen aan de stijfheid matrix in eerste instantie, maar proteasen afgescheiden door de groeiende follikel degraderen fibrine in de matrix waardoor alleen alginaat om ondersteuning te bieden. Met het IPN, kan de alginaat inhoud moet lager dan 0,25%, wat niet mogelijk is met alginaat alleen 5. Dus, als de follikel groeit, zal het ervaren een verminderde drukkracht ten gevolge van de verminderde gehalte aan vaste stoffen. Hierin beschrijven we een inkapseling methode en een in-vitro-cultuur systeem voor follikels in de eierstokken binnen een FA-IPN. De dynamische mechanische omgeving bootst de natuurlijke ovariële klimaat waarin kleine follikels wonen in een rigide cortex en verhuizen naar een meer tolerante medulla als ze in omvang toenemen 11. De afbreekbare component kan worden bijzonder kritisch voor de klinische vertaling, om de meer dan 10 6-voudige toename in het volume dat de menselijke follikels normaal ondergaan in vivo te ondersteunen.
Protocol
1. Follikel Isolatie
Experimenten op dieren werden uitgevoerd in overeenstemming met de richtlijnen en voorschriften uiteengezet door de National Institutes of Health Guide voor de Zorg en gebruik van proefdieren en de gevestigde institutionele Animal Gebruik en onderhoud protocol aan de Northwestern University.
Voor optimale resultaten, worden alle dissecties uitgevoerd in L15 media voor de pH-regeling bij een omgevingstemperatuur niveau van CO 2, op 37 ° C verhit podia voor de temperatuurregeling, en op een schone bank om bacteriële besmetting te minimaliseren. De dissectie media (DM) is bereid met L15 media aangevuld met 50 IU / ml penicilline en 50 ul / ml streptomycine en 1% FBS. Het onderhoud media (MM) is bereid met αMEM media aangevuld met 50 IU / ml penicilline en 50 ul / ml streptomycine en 1% FBS.
Overdracht vers ontleed eierstokken van 16 dagen oude muis in een nieuwe 35 mm petrischaal met 1-2 ml MM met 0,1% en 0,1% Collagenase DNase. Incubeer gedurende 15 minuten in een incubator bij 37 ° C en 5% CO 2.
Na de incubatie, voert een aantal wasstappen in DM aan collagenase te verwijderen, en vervolgens over te dragen aan een 35 mm petrischaal met verse DM. Isoleer follikels van de eierstokken door zachtjes te tikken (of snijden) follikels uit de buurt van de hele eierstok met behulp van twee 28 5 / 8 gauge naalden aan wegwerpspuiten. Verwijder zoveel stroma mogelijk zonder beschadiging van de integriteit van de follikel. Ontleden van 20-40 secundaire follikels per ovarium (130-150mm). Deze follikels hebben meestal 2-3 lagen van somatische cellen.
Voeg 1 mL MM naar de centrale putje van een 60 mm IVF (in vitro fertilisatie) Petrischaal, en 3 mL MM naar de buitenste ring. Transfer intact follikels met een pipet om de buitenste ring van de IVF-schotel kort spoelen, en vervolgens selectief over te brengen in de centrale goed (zie 1.4). Bewaar deze IVF gerecht in de incubator.
Nadat alle follikels worden verzameld, is de selectie stap uitgevoerd onder een dissectiemicroscoop met een 5-8x vergroting. Gezonde follikels hebben de volgende morfologische kenmerken:

2-3 somatische cellagen
130 tot 150 mm
Geen scheiding tussen eicel en somatische cellen
Intact en ronde eicellen
Breng de gezonde follikels in het centrum van de IVF gerechten voor inkapseling.
2. Follikel Encapsulation, Methode 1 - "The Drop Methode"
Voeg 1 mL van 50 IU / ml trombine in TBS met 40 mM CaCl 2 in het midden goed van de IVF-schotel. Ontdooien en bewaren fibrinogeen voorraad (50 mg / ml in TBS) op ijs. Breng de fibrinogeen op kamertemperatuur vlak voor gebruik.
Bereid de fibrinogeen / alginaat-oplossing door het mengen 1x PBS, 0,5% alginaat in PBS-oplossing en 50 mg / ml fibrinogeen oplossing bij een 02:01:01 verhouding in een 1.7 ml steriel microcentrifugebuis. Voorkomen dat er luchtbellen in de oplossing. Voorzichtig vortex en spin-down. De oplossing lijkt licht bewolkt en moet onmiddellijk vóór gebruik worden bereid.
Plaats twee druppels van fibrinogeen / alginaat-oplossing in de buitenste ring van een IVF-gerecht: een 90 ul druppel voor inkapseling en een 10 ul druppel voor het wassen. Voor het verlagen van verdamping, zet u de verwarming podium op het ontleden microscoop. Overdracht 10-15 follikels in de 10 pi druppel met een minimale hoeveelheid van de cultuur media (<5 pi) met behulp van een 200 micrometer micropipet tip, en snel mengen. Overdracht van al de follikels in de 90 uL druppel met een minimale hoeveelheid van de oplossing (<5 pi) vanaf de eerste druppel, en meng.
Tegelijkertijd aspireren een follikel en 5 pi van fibrinogeen / alginaat oplossing met behulp van een 10 il pipetpunt, en introductie in het trombine / Ca 2 +-oplossing in de IVF-schotel. Herhaal deze stap totdat alle follikels worden ingekapseld.
Cross-link van de kralen voor 5-7 minuten in het trombine / Ca 2 +-oplossing. De kralen zal donkerder worden als fibrine gels. Overdracht van de parels in een petrischaal met MM, te beginnen met de donkere kralen eerste. Incubeer de schotel 15-30 minuten InThe incubator af te spoelen de resterende trombine.
Breng de kralen in een 96 well cultuur plaat met 100 ul van de follikelgroei media, en het beeld meteen. De groei van media (GM) is bereid met αMEM media aangevuld met 10 mIU / mL van recombinant FSH, 3 mg / ml BSA, 1 mg / ml van runderen fetuin, 5 ug / ml insuline, 5 ug / ml van transferrine, en 5 ng / mL van selenium.
3. Follikel Encapsulation, Methode 2 - "De Parafilm Methode"
Bereid de fibrinogeen / alginaat-oplossing door het mengen van 0,5% alginaat-oplossing en 50 mg / ml fibrinogeen oplossing bij een 1:1 verhouding in een 1.7 ml steriel microcentrifugebuis.
Pipetteer 7,5 pi druppels van het fibrinogeen / alginaat mengsel op een parafilm gecoat glas glijbaan met 3 mm afstandhouders. Overdracht een follikel in elke druppel met een minimal hoeveelheid media.
Voeg 7,5 ul van trombine / Ca 2 +-oplossing voor elke druppel. Mengen is niet nodig, omdat de gel vrijwel onmiddellijk.
Bedek de gels met de tweede parafilm gecoat glas glijden, zet de dia's ondersteboven in een 100 mm petrischaaltje, en transfer naar de incubator gedurende 5 minuten.
Overdracht van de parels in een petrischaal met MM, en dan in de cultuur en de eerder beschreven. Als de kralen aan elkaar vastkleven, wat te wijten is aan cross-linking tussen de kralen, kunnen ze voorzichtig worden gescheiden met een pincet.
4. Follikel Imaging en Media Change
Om de 2 dagen, worden de gekweekte follikels beeld gebracht met behulp van een lichtmicroscoop en de follikel diameter wordt gemeten met het softwareprogramma ImageJ.
Om de 2 dagen, is de helft van de groei media (50 pi) vervangen door verse, pre-evenwicht groei media.
5. Follikel Herstel van de 3D-matrix en de in vitro rijping Eicel (IVM)
Na acht dagen van de cultuur, de hydrogels lijken duidelijk te wijten aan de afbraak van de fibrine onderdeel te voltooien, en de follikels uit te breiden tot een diameter van 300-400 urn. De resterende alginaat wordt afgebroken door alginaat-lyase, een plant-afgeleide enzym dat specifiek afbreekt alginaat en heeft geen invloed op dierlijke cellen.
Verwijder de groei media van putjes die de kralen en voeg 100 ml van 10 IU / ml alginaat lyase in αMEM. Laat de plaat in de incubator voor 25-30 minuten.
Verwijder follikels uit het opgeloste parels met een stomp uiteinde tip. Overdracht eerst naar de buitenste ring van een IVF-schaaltje met DM, en dan in het midden goed, ook met DM te wassen.
Na het wassen, overdracht van de follikels naar de buitenste, en dan binnenste ring van een IVF-schaaltje met rijping media. In vitro rijping media (IVM) is samengesteld uit αMEM, 10% FCS, 1,5 IU / ml hCG, en 5 ng / mL van de epidermale groeifactor (EGF)
Over te dragen aan CO 2 incubator voor 15-16 uur.
Onderzoek de follikels voor cumulus cellen expansie. Om de cumulus cellen van de eicel te verwijderen, toe te voegen hyaluronidase oplossing om uiteindelijke concentratie 0,1 mg / ml en broeden in de incubator voor 2-3 minuten. Gebruik een 75 mm micropipet tip om afschuiving van de cumulus cellen van de eicel door en neer te pipetteren meerdere malen. Bepaal rijping stadium van de eicel onder een licht of een dissectie microscoop. De mogelijke stadia, van minst tot meest volwassen, zijn:

Gedegenereerd. De eicel is gefragmenteerd in twee of meer stukken.
Germinal vesicle (GV) fase. De eicel niet hervat meiose in reactie op hCG blootstelling, dat is duidelijk door de voortdurende aanwezigheid van de kern van de eicel (GV).
Germinal vesicle uitsplitsing (GVBD). Het kernmembraan is afwezig bij de eicel, maar er is geen polaire lichaam aanwezig is. Daarom is de eicel is nog in meiose-I.
Metafase-II aangehouden eicel (MII). De eicel hervat meiose, en is nu gearresteerd op metafase-II. Een polaire lichaam moet zichtbaar zijn op een licht of een dissectie microscoop. De eicel blijft op MII, tenzij bevrucht in latere experimenten.
6. Representatieve resultaten:
Beschreven wij een nieuwe inkapseling methode van follikels in de eierstokken in een FA-IPN voor in vitro cultuur (figuur 1). Ovariële follikels bestaan ​​uit een eicel omgeven door verschillende lagen van somatische cellen. De communicatie tussen de verschillende cellulaire compartimenten is essentieel voor een gezonde follikel ontwikkeling en rijping eicel. Follikel inkapseling in een 3D-hydrogel ondersteunt follikel groei met behoud van de architectuur van de follikel 9,11,12. Als follikels te ontwikkelen, hun volume breidt exponentieel en het inkapselen van biomateriaal moet deze uitbreiding mogelijk te maken zonder de ontwikkeling van een remmende drukkracht. FA-IPN is een netwerk opgebouwd van twee natuurlijke materialen, waar de fibrine proteolytisch afbreekbaar is door plasmine geactiveerd door de follikel en alginaat is biologisch inert 13 (figuur 2). Tijdens de follikelgroei, fibrine degradatie begint lokaal de buurt van de follikel, en gaat door tot de fibrine wordt gewist uit het hydrogel. De niet-afbreekbare alginaat-component, die nog steeds intact gedurende de periode van cultuur, ondersteunt de 3D-structuur van de hydrogel.
Follikels werden geïsoleerd in de secundaire fase van de ontwikkeling (150-180 micrometer diameter) en uitgebreid tot 400 micrometer in het antrale stadium van ontwikkeling in de FA-IPN gels. Met hCG stimulatie, kan de gekweekte follikels ondergaan cumulus celexpansie en eicellen kunnen meiose en de voortgang CV naar metafase II voor de bevruchting. Deze resultaten suggereren dat de inkapseling methode en de inkapselingsmateriaal follikel cultuur en succesvolle rijping toegestaan ​​in vitro (figuur 3).
Fibrine degradatie rond de encapsulated follikels begint op de eerste dag van de cultuur en wordt aangevuld met dag 6. Aprotinine, een oplosbare plasmine-remmer, kan gebruikt worden om fibrine degradatie te veranderen en de mechanische helling uit te breiden in de inkapselende materiaal (figuur 4). Als follikels worden gekweekt met 0,01 TIU / ml aprotinine, de fibrine afgebroken langzamer voor de eerste 4 dagen. Niettemin, de follikels nog ontwikkelen om de antrale stadium en eicellen bevoegd blijven om meiose cv naar metafase II na aprotinine is removed.A hoge concentratie van aprotinine (0,1 TIU / ml) significant remt fibrine degradatie, stijfheid matrix voorkomt follikel groei en somatische celtherapie invasie in de matrix wordt waargenomen.

Figuur 1. Stroomschema van follikel ontwikkeling. Ovariële follikel bestaat uit een centraal gelegen eicel, omgeven door een of meer lagen van somatische cellen, die eicel ontwikkeling te ondersteunen. Omdat follikels ontwikkelen van het secundair naar het pre-ovulatoire antrale fase, de somatische cellen rondom de eicel prolifereren en differentiëren, en de eicel toeneemt in omvang. In vitro rijping (IVM) is de laatste stap voor de follikel cultuur, als de somatische cellen naast de eicel, genoemd cumulus cellen, uit te breiden na hCG stimulatie, en de eicel hervat meiose en zich ontwikkelt tot een metafase II (MII) fase.

Figuur 2a. Alginaat en fibrine-alginaat voor 3D follikel cultuur in vitro. (A) Alginaat is een natuurlijk biomateriaal dat geschikt is voor in-vitro follikel cultuur als gevolg van de zachte gelering en biochemische kenmerken, zoals maaswijdte, controleerbare stijfheid en biologische inertie. Alginaat is een lineaire polysaccharide copolymeer van α-L-guluronzuur (G) en β-D-mannuronic zuur (M). Gebieden met herhalende G monomeren, aangeduid als "G-blokken", zijn cross-gekoppeld aan een hydrogel in de aanwezigheid van tweewaardige calcium-ionen te vormen.

Figuur 2b. (Bi) Kleine ingekapseld follikels ervaring lage drukkracht in alginaat aan het begin van de cultuur. Echter, als de follikel de waterverplaatsing in de kraal breidt toe, wat resulteert in een grotere drukkracht in de tegenovergestelde richting van de follikel expansie (b-ii).

Figuur 2c. De ketens van de individuele polymeren zijn volledig verstrikt in de fibrine-alginaat-oplossing voorafgaand aan de cross-linking. Beide componenten van de FA-IPN start onmiddellijk cross-link als zij worden blootgesteld aan het mengsel van trombine en calcium.

Figuur 3a. Stroomschema voor de follikel isolatie en inkapseling in een FA-IPN. Secundaire follikels zijn geïsoleerd van een 16-dagen oude muis (Ai). De voortplantingsorganen worden ontleed (A-II), en de geïsoleerde follikels worden overgebracht naar een schotel met onderhoud media (A-III).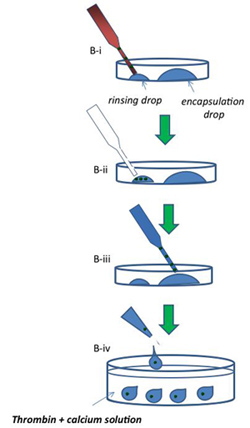 Figuur 3b De daling methode voor het follikel inkapseling in fibrinogeen alginaat-oplossing (B: I-IV).. Twee druppels van fibrinogeen-alginaat-oplossing, zijn de spoelen druppel (10 pi) en de inkapseling drop (90 pi) gepipetteerd in de schaal (Bi). Komende 3-5 follikels worden overgebracht naar een spoeling druppel (B-ii). Na het spoelen en media verwijdering, worden follikels overgebracht naar de inkapseling laten vallen (B-III). Elke follikel wordt opgezogen met 5 pi fibrinogeen-alginaat-oplossing met een 10 il pipetpunt en vervolgens wordt uitgewezen om in trombine / calcium-oplossing (B-iv).

Figuur 3c. De kraal crosslinks gedurende 5 minuten. De Parafilm methode voor het follikel inkapseling in fibrinogeen alginaat-oplossing (C: i-iii). Fibrinogeen-alginaat-oplossing (7,5 pi) is gepipetteerd op de parafilm gecoat glas schuiven en follikels zijn individueel overgebracht naar elke druppel na het spoelen (Ci, ii). Trombine-oplossing (7,5 pi) wordt toegevoegd aan elke druppel (C-iii).

Figuur 3d - e. De druppels zijn bedekt met een tweede parafilm gecoat glas glijbaan en de FA-IPN is verknoopt in de incubator voor 5 minuten. (D) De ingekapselde follikels worden overgebracht naar groei media in een 96-well plaat. (E) Een beeld van een ingekapseld follikel in de FA-IPN (witte pijl).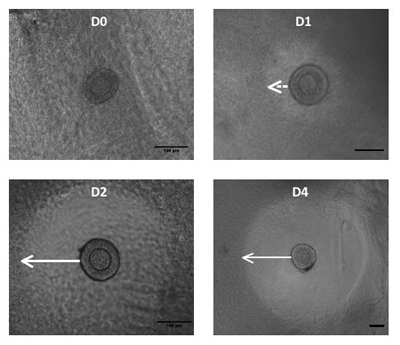 Figuur 4. Fibrine degradatie door de groeiende Follicle. Follikels degraderen de fibrine component van de FA-IPN in de cultuur periode, die wordt aangetoond door een duidelijke cirkel rond de follikel. De follikel 3D-architectuur wordt ondersteund door de overige alginaat. Op dag 0 (D0) de fibrine is nog intact en de matrix rondom de follikel is troebel, na een dag in de cultuur (D1) de heldere ring rond de follikel verschijnt (witte pijl) en de fibrine degradatie front blijft radiaal uit te breiden op dag 2 (D2) en dag 4 (D4) van de cultuur.

Figuur 5. Beelden van follikelgroei. Representatieve beelden ofsecondary follikel groei in de FA-IPN op dag 0 (A), 4 (B), 6 (C) en 8 (D) van de cultuur. Na 8 dagen werden antrale follikels gerijpt in vitro, en de daaruit voortvloeiende MII stadium eicellen worden weergegeven (E, het polaire lichaam wordt weergegeven met zwarte pijl).

Figuur 6. Fibrine degradatie werd geremd door aprotinine. Groeiende follikels op dag 2, 4, 10 en 12 zijn weergegeven in de eerste rij. Aprotinine bij concentraties 0,01 TIU / ml (tweede rij) en 0,1 TIU / ml werd toegevoegd aan het kweekmedium op dag 0, 2 en 4. Alleen follikel culturen met 0,01 TIU / ml aprotinine afgebroken na de fibrine aprotinine verwijdering en bereikte antrale stadium. Follikels gekweekt in 0,1 TIU / ml aprotinine niet groeien in de FA-IPN.
| | |
| --- | --- |
| Afkorting | Volledige naam |
| CO 2 incubator | 37 ° C incubator met 5% CO 2 |
| COC | Cumulus eicel complex |
| 3D | 3 dimensionale |
| DM | Dissection media |
| EGF | Epidermale groeifactor |
| FA-IPN | Fibrine-alginaat interpenetrerend netwerk |
| FBS | Foetaal runderserum |
| GM | Groeimedia |
| GV | Germinal vesicle |
| hCG | Humaan choriongonadotrofine |
| ITS | Insuline Transferrine Selenium te vullen |
| IVF schotel | Centrum goed 60 mm in vitro fertilisatie schotel |
| MM | Onderhoud media |
| MII stadium eicel | Metafase II stadium eicel |
| rFSH | Recombinant Folliculair Stimulerend Hormoon |
| TBS | Tris gebufferde zoutoplossing |
| TIU | Trypsine remmende eenheden |
Tabel 1. Afkortingen
Subscription Required. Please recommend JoVE to your librarian.
Discussion
De gepresenteerde ovariële follikel inkapseling methode in een FA-IPN maakt follikel cultuur in een 3D omgeving in vitro. Een FA-IPN is een dynamische, cel-responsieve matrix waarin de aanvankelijke mechanische eigenschappen worden bepaald door de combinatie van beide fibrine en alginaat. Tijdens de cultuur, de ingekapselde follikel activeert proteases dat slechts een onderdeel van het IPN, de fibrine, wat resulteert in een geleidelijk afnemende gel stijfheid die wordt bijgedragen uitsluitend door de resterende alginaat aan het einde van de cultuur af te breken. De dynamische mechanische eigenschappen verkregen met een FA-IPN zijn voorgesteld in overeenstemming te zijn met de natuurlijke omgeving van de zich ontwikkelende follikels en bijgedragen aan de verbeterde snelheid van eicel de meiose rijping vergelijking met alginaat alleen.
De FA-IPN toont mild en snelle gelering, waarbij elke component van het systeem verknoping van een onafhankelijk mechanisme. We hebben elders 5 beschreven dat de snelheid van de gelvorming kan worden gecontroleerd door fibrinogeen en trombine concentraties. De afbraaksnelheid kan worden aangepast door aprotinine remming van fibrine proteolyse. Murine secundaire follikels zijn meestal gekweekt voor 8-12 dagen en follikels van andere soorten vereisen een langere cultuur periodes. Zo kon vertraagd fibrine degradatie door aprotinine potentieel bieden een uitgebreide dynamische omgeving voor een langere culturen.
De beschreven inkapseling methoden kunnen worden toegepast op andere systemen, zoals het inkapselen en de cultuur van micro-weefsels of embryoid lichamen, waarin de cel-cel contact nog kan worden vastgehouden aan de aggregaat kan gedeeltelijk de matrix afbreken en creëren een ruimte voor uitbreiding. Kortom, de FA-IPN inkapselingsmethode presenteert een steriele hydrogel cultuur-systeem met dynamische, cel-responsieve mechanische eigenschappen en een beheersbare afbraaksnelheid.
Subscription Required. Please recommend JoVE to your librarian.
Disclosures
Geen belangenconflicten verklaard.
Acknowledgments
Dit werk werd gefinancierd door NIH (U54HD41857 en PL1EB008542, een P30 Biomaterials Core binnen de Oncofertility Consortium Roadmap subsidie).
Materials
| | | | |
| --- | --- | --- | --- |
| Name | Company | Catalog Number | Comments |
| Fetuin | Sigma-Aldrich | F3385 | |
| FBS | Invitrogen | 10082-139 | |
| Aprotinin | Roche Group | 10236624001 | |
| CaCl2 | Wako Pure Chemical Industries, Ltd. | 039-00475 | 40 mM |
| EGF | Sigma-Aldrich | A412 | |
| rFSH | National Institute of Diabetes and Digestive and Kidney Diseases | | |
| hCG | Sigma-Aldrich | CG-5 | |
| Hyaluronidase | Sigma-Aldrich | A1603 | |
| ITS | Sigma-Aldrich | I1884-1VL | |
| L-15 | GIBCO, by Life Technologies | 11415 | |
| αMEM+Gluta MAX | GIBCO, by Life Technologies | 32561 | |
| Pen-Strep | Cellgro | 30-002-CI | |
| TBS | Pierce, Thermo Scientific | 28379 | |
| Tisseel Fibrin kit | Baxter Internationl Inc. | 921030 | |
| Sodium Alginate | FMC BioPolymers | LF200DL | Mw 418kDa |