Summary
Bioluminescence avbildning av hypoxi inducible factor-1α aktivitet används för att övervaka intrakraniell tumör syrebrist utveckling i bröstcancer metastaser i hjärnan musmodell.
Cite this Article
Copy Citation | Download Citations

Saha, D., Dunn, H., Zhou, H., Harada, H., Hiraoka, M., Mason, R. P., Zhao, D. In vivo Bioluminescence Imaging of Tumor Hypoxia Dynamics of Breast Cancer Brain Metastasis in a Mouse Model. J. Vis. Exp. (56), e3175, doi:10.3791/3175 (2011).
Abstract
Det är väl känt att tumören hypoxi spelar en viktig roll för att främja malign progression och påverkar terapeutiskt svar negativt. Det finns lite kunskap om in situ, in vivo, tumör hypoxi under intrakraniell utvecklingen av elakartade hjärntumörer grund av brist på effektiva metoder för att övervaka det i dessa djupt rotade orthotopic tumörer. Bioluminescence imaging (BLI), baserad på detektion av ljus som avges av levande celler som uttrycker en luciferas gen, har snabbt antagits till cancerforskning, i synnerhet för att utvärdera tumörtillväxt eller tumör förändringar storlek i svar på behandling i prekliniska djurstudier. Dessutom genom att uttrycka en reporter gen under kontroll av en promotor sekvens, kan den specifika genuttryck övervakas icke-invasivt av BLI. Enligt hypoxisk stress signalerar svar medieras huvudsakligen via hypoxi inducerbara factor-1α (HIF-1α) för att driva transkription av olika gener. Därför har vi använt en HIF-1α reporter konstruera, 5HRE-ODD-Luc, stabilt transfekterade i human bröstcancer MDA-MB231 är celler (MDA-MB231/5HRE-ODD-luc). In vitro HIF-1α mareld analys utförs av inkubering av transfekterade cellerna i en hypoxisk kammare (0,1% O 2) för 24 tim innan BLI, medan celler i normoxia (21% O 2) fungera som en kontroll. Betydligt högre photon flux observerades för celler under syrebrist föreslår en ökad HIF-1α bindning till sin promotor (HRE element), jämfört med dem i normoxia. Cellerna injiceras direkt in i musen hjärnan för att skapa en bröstcancer modell metastaser i hjärnan. In vivo mareld avbildning av tumör hypoxi dynamik påbörjas 2 veckor efter implantation och upprepas en gång i veckan. BLI avslöjar allt ljus signaler från hjärnan som tumören fortskrider, vilket indikerar ökad intrakraniell tumör hypoxi. Histologiska och immunhistokemiska studier används för att bekräfta in vivo imaging resultat. Här kommer vi att presentera metoder för in vitro HIF-1α mareld analys, kirurgiska inrättandet av en bröstcancer metastaser i hjärnan på en naken mus och tillämpning av in vivo mareld imaging att övervaka intrakraniell tumör hypoxi.
Protocol
Alla animaliska förfaranden har godkänts av Institutional Animal Care och användning kommitté University of Texas Southwestern Medical Center.
1. In vitro HIF-1α mareld analys
Material och metoder:

Mänskliga metastaserande bröstcancer cellinje MDA-MB231 transfererats med en ny HIF-1-beroende reporter genen var 5HRE-ODD-Luc genereras av Dr Harada.
I hypoxiska tillstånd är bättre uttryck för syre-beroende nedbrytning domän (ODD)-luciferas fusionsprotein drivs av fem kopior av hypoxi-respons-elementet (5HRE). Närvaron av ODD orsakar nedbrytning av ODD-Luc protein resulterar i extremt låga bakgrunden luciferas aktivitet i normoxic förhållanden. Därför kan denna roman systemet användas för att upptäcka hypoxiska regioner i en tumör genom realtid avbildning. Byggandet av denna 5HRE-tal-Luc uttryck vektor har rapporterats av Harada et al 1,2.

Kultur celler under normoxia eller hypoxi:

Bibehåll rekombinanta MDA-MB231 celler i 10% fetalt bovint serum (FBS)-DMEM medium som innehåller 1% glutamin, antibiotika av 400 mikrogram / ml av G418 och 1% penicillin / streptomycin.
För in vitro HIF-1α mareld analys, platta 3 x 10 5 MDA-MB231 celler som uttrycker 5HRE-ODD-Luc vektor i varje brunn på två sex bra maträtt.
Låt cellerna att fästa skålen väggen efter natten inkubation och sedan överföra en maträtt i en hypoxi kammare (Billups-Rothenberg, Inc. Del Mar, CA) för hypoxi studier, medan hålla övriga fat under normoxic villkor (21% O 2).
Återmontera kammaren och gas kammaren med 0,1% O 2 genom att ansluta inloppet slang med en gasflaska.
Notera: Både in-och utlopp klämmor porten måste vara öppen under denna procedur.
Koppla gas källa när kammare har rensats och tätningskammaren genom att stänga av plast klämmor.
Placera den kammare i ett 37 ° C inkubator med 5% CO 2.
Obs: Kammaren måste fuktas för att förhindra överdriven avdunstning av kulturer. Detta kan göras genom att placera 10 - 20 ml sterilt vatten i kammaren.

Bioluminescence analysen:

Efter 24 h inkubering, ta bort mediet och tvätta cellerna snabbt med iskall PBS (2X).
Tillsätt 1 ml kall PBS med 100 ìl luciferin (Guld Bioteknik, St Louis, MO).
Förvärva BL imaging (IVIS Spectrum system, klave Life Sciences, Hopkinton, MA) med olika exponeringstider (1, 30, 60, 180 s).
Mät ljusintensiteten i varje brunn med programmet Living Image (klave Life Sciences).
2. Inrättande av en bröstcancer metastaser i hjärnan modell
Beredning av MDA-MB231/5HRE-ODD-luc celler

Hämta och kultur i MDA-MB231/5HRE-ODD-luc cellerna i DEME medium som innehåller 10% FBS, 1% glutamin och 1% penicillin / streptomycin.
Byt medelstora var 2-3 dagar. Tripsinize och tvätta cellerna när de når 80% sammanflödet.
Räkna lämpligt antal celler och återsuspendera dem i serum gratis DEME medium med 25% Matrigel (BD Biosciences, San Jose, CA) med en slutlig koncentration av 10 5 celler i 4 l volym.
Placera celler på is innan intrakraniella injektion.

Kirurgisk implantation

Kvinna nakna möss (BALB / c nu / nu, National Cancer Institute, Bethesda, MD) vid 4-6 veckors ålder används i denna studie.
Bedöva (3% isofluran / O2 i en induktionskammare, isofluran från Baxter International Inc., Deerfield, IL, USA) och hålla djur med isofluran (1%) i syrgas (1 dm 3 / min) under det kirurgiska ingreppet 3.
Rätt parietal huden bör prepped med Betadine och sedan 70% alkohol innan snitt.
Med hjälp av en snabb borr, burr ett 1 mm hål i den högra hjärnhalvan av skallen, 1mm främre till koronala sutur och 2 mm lateralt saggital sutur.
Rita 4 l cell blandning (10 5 celler) med en 10 l Hamilton spruta (Hamilton Company, Reno, NV). Injicera cellerna direkt till höger caudal diencephalon, 1,5 mm under dura mater med hjälp av en skräddarsydd 32G Hamilton nål. Håll nålen i cirka 30 sekunder innan uttag. Användning av en 32G fin nål minimerar vävnadsskada.
Fyll Burr hålet med ben vax och nära hårbotten med absorberbara suturer.
Förbered snittet regionen med 70% alkohol.
Applicera buprenorfin smärtlindring var 12 timmar i två dagar.
3. In vivo mareld avbildning av tumör hypoxi dynamik i bröstcancer metastaser i hjärnan
Initiera längsgående bioluminescence imaging (IVIS Spectrum system) två veckor efter intrakraniell implantation och upprepa en gång i veckan för 8-10 Veckor.
Bedöva tre möss i en tid (3% isofluran / O 2 i en induktionskammare)
Administrera en lösning av D-luciferin (120 mg / kg i PBS i en total volym på 80 l. Guld Bioteknik) subkutant i halsen på varje mus som beskrivs i detalj tidigare 4.
D-luciferin är giftfri och har visat sig kunna penetrera intakt blod-hjärnbarriären (BBB) ​​och cellmembraner 3,5.
Placera 3 möss i bildbehandling kammaren och upprätthålls med isofluran (1%) i syrgas (1 dm 3 / min) under avbildning.
Fem minuter efter luciferin injektion skaffa BL avbildning med en mängd olika exponeringstid (1, 30, 60, 180 s).
Våra observationer visar att toppen ljus utsläpp är cirka 5 minuter efter subkutan administrering av luciferin i halsen regionen 3,4.
Analysera data med den levande bilduppbyggnad (klave Life Sciences) med absolut fotoner räknas (fotoner / s) i en region av intresse (ROI), manuellt dras till beskriva BLI signaler i hjärnan.
Rita tidsförloppet kurva fotonen räknas som tyder tumören hypoxi dynamik.
Omedelbart efter den sista BLI, administrera pimonidazole, den hypoxi markör och en timme senare, offra möss och dissekera hjärnor. Bädda in hela hjärnan i Optimal Cutting Temperatur (oktober) medium och frysa i -80 ° C frys. Efterföljande histologiska Cresyl violett färgning och immunhistokemisk färgning mot luciferas, hypoxi markör pimonidazole, och HIF-1α utförts för att validera avbildning observationer.
4. Representativa resultat:
Som visas i figur 1, var signifikant högre BLI signal observerats efter transfekterade cellerna inkuberas i hypoxisk kammare (1% O 2) i 24 timmar. Svaga ljusemission observerades från kontrollrummet celler under normoxia. Detta kan bero på överfulla cellpopulation efter 24 tim kultur av 3 x 10 5 celler, som framkallade en stress signal till celler för att överuttrycker HIF-1α. Ändå var in vivo BLI resultat validerats av immunhistokemisk färgning visar colocalization mellan tumör hypoxi och luciferas uttryck.
En automatiserad rad exponeringstider möjliggör löpande förvärv av en serie bilder, vilket underlättar fånga en svag signal med längre exponeringstid, och starka signaler med hjälp av en kortare tid utan mättar CCD.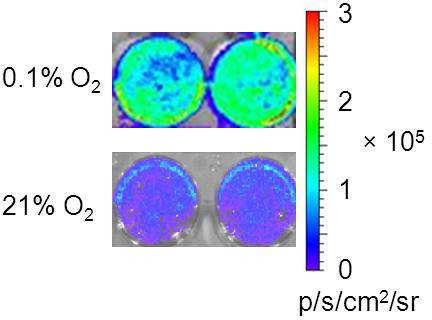 Figur 1 In vitro HIF-1α mareld analysen Övre raden:. 3 x 10 5 MDA-MB231/5HRE-ODD-luc celler inkuberas i varje brunn i en 6-väl-skålen i en hypoxi kammare (0,1% O 2) för 24 tim innan mediet togs bort, tvättas och ersättas med 1 ml PBS. Omedelbart efter 100 l luciferin inkom i varje brunn, var BLI förvärvades med en rad exponering gånger (1, 30, 60, 180 s). Starka luminiscens observerades från representativa brunnar Nedre raden:. Som en kontroll, 3 x 10 5 celler inkuberas i normoxia (21% O 2) som avges svagt ljus.

Figur 2 In vivo mareld avbildning av tumörer hypoxi dynamik. A) En svag ljussignal från höger sida av musen hjärnan först visualiseras 5 veckor efter intrakraniell implantation av MDA-MB231/5HRE-ODD-luc bröstcancerceller. Ökad optiska signalen sågs över ytterligare 6 veckor, vilket indikerar ökad tumör hypoxi. B) Handlingen visade kurvan tidsförloppet av kvantitativa fotonen fall av ljussignal.

Figur 3 Colocaliztion av luciferas och hypoxi upptäcks av immunohisto-kemisk färgning. En frusen mus hjärnan med en metastasering av bröstcancer MDA-MB231/5HRE-ODD-luc inbäddade i oktober var snittades. En 10 mikrometer avsnitt immunostained med hypoxisk markör, pimonidazole visade intratumoral heterogenitet hypoxi, vilket befanns korrelera rumsligt med luciferas uttryck upptäckts av anti-luciferas färgning. Skala bar, 100 ìm.
Subscription Required. Please recommend JoVE to your librarian.
Discussion
Bröstcancer metastaser i hjärnan förekommer hos 30% av patienterna bröstcancer stadium IV. Det är förenat med hög morbiditet och mortalitet och har en medianöverlevnad på 13 månader 6. Det finns ett behov av att ha lämpliga djurmodeller för att efterlikna detta kliniskt förödande sjukdom för att underlätta vår förståelse av intrakraniell initiering och progression samt patofysiologiska profiler. Här har vi utvecklat en orthotopic bröstcancer modell metastaser i hjärnan genom att injicera mänskliga bröstcancerceller, direkt i musen hjärnan. Våra tidigare erfarenheter har visat att ett radiologiskt visualiseras (genom MRI) intrakraniell lesion visas ca 2 veckor efter implantation. Alternativ till denna direktinsprutning modell, har vi nyligen genomfört en intrakardiell förhållningssätt cell injektion för att skapa en annan orthotopic bröstcancer modell metastaser i hjärnan genom att injicera cancerceller i vänster kammare hos möss. Det är dock första urval av hjärnmetastaser som ofta drabbas bröstcancerceller nödvändigt för att uppnå flera fokala hjärnskador i den här modellen 7. Vi har nyligen infört samma HRE-Luc konstruera i cancer musen bröst 4T1 celler som kan metastasera till musen hjärnan via intrakardiell injektion.
Bioluminescens bildbehandling är mycket känslig och effektiv, som till skillnad från fluorescens avbildning, inte behöver ljus excitation. Detta underlättar avbildning av djupt rotade tumörer hos gnagare modeller, t ex intrakraniella hjärntumörer av mus i denna studie. Tre eller fem möss kan avbildas på samma gång. Men för att öka känsligheten speciellt när en svag signal sågs på hela kroppen bilden, inställning djuret position närmare kameran kommer att bli nödvändiga. I detta fall kan bara en eller två djur avbildas varje gång. En begränsning av BLI är låg rumsliga upplösningen i anatomi även om det finns metoder för att generera tomografiska bilder. Co-registrering med mikro-CT eller MR-bilder skulle hjälpa en korrekt identifiering av anatomin.
Omfattande insatser har försökt att utveckla icke-invasiva metoder för att övervaka tumör hypoxi in vivo 8,9. Genom att införa en hypoxi reporter gen i genomet av cancerceller, kan longitudinell uppföljning av tumör hypoxi utveckling övervakas av optisk avbildning 10,11. På samma sätt kan tumören hypoxi dynamiken efter behandling följas med hjälp av denna metod.
Förutom luciferas och dess substrat, luciferin, syre och ATP är oundgängliga element i luciferin-luciferas reaktion för att producera ljus. I syrefattiga miljö, kan tillgången på syre och ATP-produktionen väsentligt begränsad, vilket kan leda till minskad ljus utsläpp. Men våra in vitro-BLI-test visade att MDA-231/HRE-luc cellerna inkuberas i hypoxisk villkor (<0,1% O 2) som avges betydligt mer ljus, jämfört med dem i normoxic skick. Dessutom visade immunhistokemisk data av tumörvävnad en bra rumslig korrelation mellan luciferas uttryck och pimonidazole. Dessa observationer är ett bra avtal med tidigare studier av andra, vilket tyder på att syrekoncentrationen och ATP krävs för en effektiv lätt produktion ligger långt under deras nivåer som finns i levande däggdjursceller. Vi har även kombinerat funktionell MRI metoder, djärva (blod syrehalten beroende) och berättade (vävnad syrehalten beroende) MRT för att utvärderas tumör hypoxi i denna modell. Jämförbara uppgifter har erhållits från multimodal imaging metoder (opublicerade data). Bekräftade dessutom immunhistokemisk färgning colocaliztion av hypoxiska tumörceller och luciferas uttrycker celler. Korrekt bedömning av utgångsvärdet tumör hypoxi och de dynamiska förändringar som svar på behandlingen borde låta rationellt terapeutiska kombination 12.
Sammanfattningsvis kan de billiga, snabba och mycket känsliga BLI vara ett användbart verktyg för att icke-invasivt bedöma tumör hypoxi dynamik in vivo. Medan orthotopic hjärntumör modell har använts i denna studie, kan metoden verkligen tillämpas för andra typer av djupt rotade orthotopic tumörer hos gnagare.
Subscription Required. Please recommend JoVE to your librarian.
Disclosures
Inga intressekonflikter deklareras.
Acknowledgments
Denna studie stöds delvis av DOD Bröstcancer IDEA Award W81XWH-08-1-0583 och NIH / NCI CA141348-01A1 (DZ) och FAMRI kliniska forskare Award (DS). Imaging infrastruktur tillhandahålls av sydvästra Small Animal Imaging Research Program som stöds delvis av U24 CA126608 och Simmons Cancer Center (P30 CA142543) och NIH 1S10RR024757-01.
Materials
| | | | |
| --- | --- | --- | --- |
| Name | Company | Catalog Number | Comments |
| D-luciferin | Gold Biotechnology | L-123 | 120 mg/kg in PBS in a total volume of 80 μl for in vivo study |
| Isoflurane | Baxter Internationl Inc. | 1001936060 | |
| Matrigel | BD Biosciences | 354234 | |
| Hamilton syringe | Hamilton Co | 1701 | |
| 32G Hamilton needle | Hamilton Co | 7803-04 | |
| Hypoxia chamber | Billups-Rothenberg, Inc. | MIC-101 | |
| Bioluminescence imaging system | Caliper Life Sciences | IVIS Spectrum system | |
| G418 | Fisher Scientific | SV3006901 | |