Summary
Detta protokoll illustrerar en skörd teknik för Svansrotens nötkreatur diskarna för orgel kultur för
Abstract
Den intervertebral skiva (IVD) är leden mellan ryggraden ansluta kotan till kotan. Det fungerar att överföra belastning på ryggraden och ger flexibilitet att ryggraden. Det komponerar av tre fack: den innersta kärnan pulposus (NP) som omfattar den annulus fibrosus (AF), och två brosk muskeländplattorna ansluter NP och AF till kotkroppen på båda sidor. Discogenic smärta möjligtvis orsakade av degenerativa intervertebral disksjukdom (DDD) och herniations skivan har identifierats som ett stort problem i vårt moderna samhälle. Undersöka tänkbara mekanismer för IVD-degeneration, är in vitro organsystem kultur med live-skiva celler mycket tilltalande. In vitro kultur intakt nötkreatur Svansrotens IVDs har avancerat till en relevant modell, som gör det möjligt att studera redskap för biologiska aspekter i en väl kontrollerad fysiologiska och mekaniska miljö. Bovin svans IVDs kan erhållas relativt lätt i högre siffror end är mycket lik den mänskliga ländryggen IVDs med avseende på celltäthet, cellpopulationen och dimensioner. Dock inte tidigare nötkreatur caudal IVD skördeteknik behålla brosk muskeländplattorna och beniga muskeländplattorna efter 1-2 dagar av kultur eftersom den näring vägar uppenbarligen blockeras av levrat blod. IVDs är den största avaskulär organ, alltså de näringsämnen till cellerna i NP är uteslutande beroende av diffusion via kapillära knopparna från den intilliggande kotkroppen. Förekomst av ben skräp och levrat blod på ändplattan ytor kan hindra näringsämnen diffusion in i mitten av skivan och kompromisser cellernas livskraft. Vår grupp etablerat en relativt snabb protokoll till "crack"-ut IVDs från svansen med en låg risk för smittspridning. Vi kan permeabilize den nyklippt beniga ändplattan ytor med hjälp av ett kirurgiskt systemet jet magsköljning, vilket tar bort blodproppar och skär skräp och mycket effektivt öppnas igen vägen näring spridningtill mitten av IVD. Närvaron av tillväxten plattor på båda sidor av ryggraden ben måste undvikas och att tas bort före kultur. I denna video, disposition vi viktiga steg vid beredning och visa nyckeln till en framgångsrik orgel kultur upprätthålla hög cellviabiliteten i 14 dagar under fria svullnad kultur. Kulturen tiden kan förlängas vid behov mekanisk miljö kan upprätthållas med hjälp av mekanisk belastning bioreaktor. Tekniken visade här kan utvidgas till andra djurarter, såsom svin, får och HAR-stjärt-och ländrygg IVD isolering.
Protocol
1. Intervertebral skiva Skörd
Hela längden nötkreatur svansen erhålls från ett lokalt slakteri, om möjligt utan skinn eftersom förekomsten av hud ökar risken för kontaminering (Fig. 2).
Förbered stor skärbräda och förbereda steril arbetsplats och instrument på toppen av en skärbräda (Fig. 2).
Förbered under sterila laminärt luftflöde huva steril gasbinda fuktad med 0,9% natriumklorid med 55mm natriumcitrat och tas i varje brunn på 6-brunnar.
Förbered en bassäng och späd 1:100 Betadine lösning med kranvatten.
Sänk hela nötkreatur svansen i en bassäng som innehåller 1% Betadine lösning för 5 min.
Kortfattat torr svans med steril gasbinda och placera den på steril arbetsplats.
Ta försiktigt bort muskler runt svansen med skalpell blad # 22.
Hacka bort delar av svansen som inte behövs, oftast båda ändarna av svansen, som innehåller relativt stora och mycket småIVDs (Fig. 3).
Trimma ytterligare muskler och senor runt IVD med skalpell blad # 10. Akta dig att inte skära den yttre annulus av skivor.
Markera den främre av IVD med ett kirurgiskt skinn markör (detta steg är valfritt, det hjälper att bestämma centrum för axiell rotation i vår bioreaktor).
Leta reda på IVD och kotan anslutningspunkt genom att flytta svansen försiktigt. Känn gränsen mellan IVD och ben med matta sidan av en skalpell blad. Den klyva webbplats bör vara 1-2 mm bort av IVD mot kotan. Placera kundanpassade industriella knivfästet på klyva plats (bild 4).
Cleave IVD och kotan genom att hamra på toppen av kundanpassade industriella knivfästet (Fig. 3).
Upprepa på andra sidan av IVD-kotan anslutning.
Wrap isolerade IVD med steril gasbinda fuktad med 0,9% natriumklorid med 55mm natriumcitrat.
Fortsätt isolering av IVDs till önskat prov nummer (vanligtvis runt 6 kanskördas med diameter mellan 10-20 mm).
Anslut systemet jet magsköljning (Zimmer, inc.) Med steril Ringer-laktat lösning, 5L påsar är en bra storlek (alternativt steril PBS eller 0,9% saltlösning).
Håll IVD med pincett och jet-lavage båda sidor av ändplattan ytan med Zimmer Pulsavac jet-lavage systemet (Figur 1C). JET pistol bör skjutas på ändplattan ytan i en vinkel mellan 30 - 60 ° i ca 30s på varje sida. (Se diagram 1 och 7)
Sätt IVDs tillbaka till 6-brunnar och linda med fuktad gasväv medan jet tvätt annan skiva prov.
IVDs är redo för orgel kultur och nedströms tillämpningar (t.ex. cellviabiliteten, mekanisk belastning, orgel kultur) (Fig. 1D).
2. Representativa resultat
Utfall mätningar att döma en framgångsrik intervertebral skiva preparatet kan en spridning experiment där en liten molekylvikt fluorescerande färg (t.ex. procion röd)bereds som en 1% lösning i PBS 2. Den IVD hålls sedan med minst 100 ml färglösningen och färgen får sedan sprida passivt i IVD för 24h under fria svullnad. Den IVD är då flash-fryst i flytande kväve och förs tillbaka till rumstemperatur och uttorkade av en serie av aceton överföringar (första nedkylda i -80 ° C, därefter -20 ° C, därefter 4 ° C och slutligen till rumstemperatur ). Skivan kan sedan bäddas in i poly-metyl-akrylat (PMMA) och skär med en vass kniv för att producera 100 ìm tjocka sektioner. Dessa avsnitt kan sedan ses av någon standard brightfield mikroskop, men helst genom användning av fluorescensmikroskopi sedan procion rött avger en röd fluorescens (bild 5-6). Den trabeculi av beniga ytan verkar mycket rent efter jet lavaging steg (bild 7).
Parametrar för en lyckad orgel kultur är i första hand frånvaron av kontamination bibehålls, cellviabiliteten (bild 8-9), skiva höjd ochövergripande "skiva integritet", mätt med histologiska sektioner och safranin O / snabb grön bets eller Meyers Hematoxilin 3. Vi utvecklade protokoll och publiceras makron någon annanstans 4,5 för att färga leva skiva vävnad och för att skanna cellviabiliteten i 3D med hjälp av en konfokala laserskanning mikroskop och levande / döda fläckar kit (molekylära sonder, Invitrogen, Basel, Schweiz). Vi utvecklas ytterligare ett makro och rutin för att utföra automatiserade cell räknar att uppskatta cellviabiliteten i 3D vävnad eller 3D som använder NIH ImageJ plattformen 4-6. Alternativa protokoll har föreslagits för att bestämma cellviabiliteten av skiva celler med första matsmältningen använda sekventiell nedbrytning av extracellulär matris med pronase och kollagenas typ 2 och sedan att färga cellsuspension 7. En tidigare version av protokollet inblandade en inkubationstid steg i PBS som innehåller tio gånger mer koncentrerat penicillin / streptomycin koncentration för 10min efter skörd av skivorna innan orgeln culture. Med jet lavage steg för detta steg blir föråldrat eftersom detta steg verkar vara bra för odling ändamål.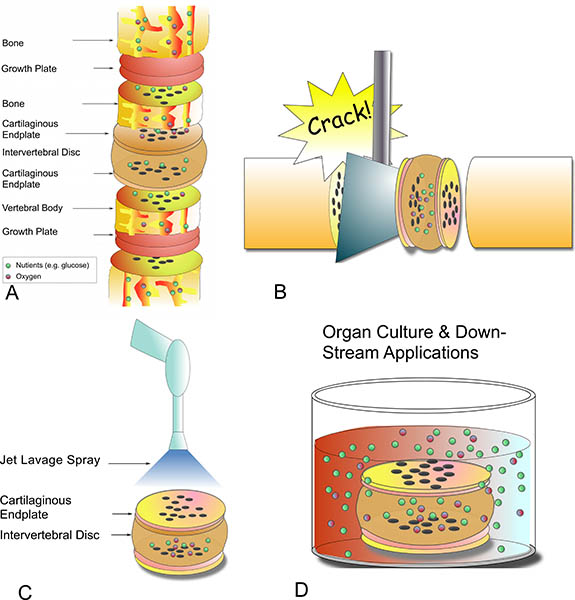 Figur 1. Översikt över de metodologiska åtgärder för att förbereda nötkreatur Svansrotens diskarna med intakt muskeländplattorna och ett tunt lager (1-2mm) av ben. A) Schematisk bild av intervertebral skiva (IVD) och dess näringsmässiga vägar. B) Förfarande för att klippa ut IVD med ett anpassat blad-hållare och ett industriellt vass kniv. C) Jet lavage steg för att säkerställa hög cellviabiliteten och möjliggöra näringsämnen utbyta hålla muskeländplattorna och 1-2 mm av ben fäst på båda sidor. D) Slutligen IVD kan odlas i provet kammare i en bioreaktor eller användas för något nedströms ansökan.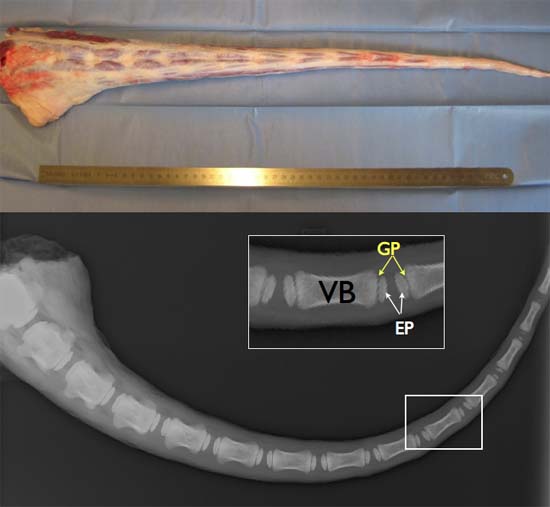 Figur 2 TOP:. Fullängd färskt nötkött svans (helst obtaINED inom 2-3 timmar efter slakt för att säkerställa hög cellviabiliteten. Nederst: röntgenbild av ett nötkreatur svans åldern ca 6 månader som illustrerar att det finns tillväxt plattor (GP), sekundära centrum av benbildning, mellan de beniga muskeländplattorna (EP) och kotan organ (VB).


Figur 3. A) Verktyg för att dissekera nötkreatur svansen under sterila förhållanden. B) Anpassad kniv-innehavaren till utskurna rörelsers segment från nötkreatur svansen i aktion samtidigt minska de intervertebral skiva. C) Side-bild av kundanpassade blade-hållare med ett standardförfarande vid industriell blad (Lutz, Tyskland).

Figur 4. Ritning och bild av nötkreatur svansen när du har tagit den omgivande muskler och ligament illustrerar klyva webbplatser för att skära ut rörelsers segment. Partiell kota bör vara "knäckt" Wie de skräddarsydda knivfästet helst 1-2 mm från brosk muskeländplattorna att säkerställa full benytan.

Figur 5. Demonstration av effektiv rengöring av jet-lavage steget innan (A) och efter (B). Lägg märke till rena beniga ytor intervertebral skiva segmenten efter sprutning proceduren.

Figur 6. Gratis-svullnad spridning experimentet nyberedd exciderad nötkreatur svans diskarna (IVDs) kvar till 24 timmar i 1% procion röd lösning, visar blockering effekt av tillväxten plattan. En digital röntgen sagittala syn på en IVD fortfarande innehåller tillväxten plattan och ett andra lager av ben fluorescerande mikroskopi bild av sagittal skär genom Svansrotens nötkreatur intervertebral skiva Explantation med brosk och beniga gavel efter 24h fri diffusion. GP: tillväxt tallrik, 2ndry CO: andra centrum för benbildning.

Figur 7. Gratis-svullnad experimentet nyberedd exciderad nötkreatur svans diskarna (IVDs) kvar till 24 timmar i 1% procion röd lösning, visar rengörande effekten av jet lavage behandling. Sagittal tjocka sektioner (~ 100 mm) av exciderad nötkreatur IVDs med ~ 1,5-mmthick beniga gavlar som genomgick jet lavage behandling (vänster) kontroll sida utan behandling (höger) jet-lavaged behandling. Inlet visar spridningsbild, som användes från Zimmer såret debridering systemet 24h fri spridning experiment från bovin intervertebral skiva explants i 1% procion rött.

Figur 8. Live / Dead Bilder av prognoser om konfokala Imaging stackar (250μm) som tas från Bovine intervertebral skiva segment förberedd med denna jet-lavage metoden hållas under fritt svullnad i 0 och 14 dagar respektive för kärnan pulposus (NP), den inre annulus fibrosus (IA) och den yttre annulus fibrosus (OA). Gröna celler = levande celler färgas av kalcein AM (acetyl metyl), röda blodkroppar = döda celler cellkärna färgas av Ethidium homodimer-1.

Figur 9. Cellviabiliteten av intervertebral skiva med konfokala laserskanning mikroskopi på levande vävnad och 3D stack skanning. Cellviabiliteten av Nucleus pulposus (NP) och annulus Fibros (AF) över 21-dagars-kultur under fri-svullnad skick. (Medel ± SEM, n = 6) Statistiska skillnader testades med icke-parametriska Kruskal-Wallis tecknat testa rang summa mellan grupper. Signifikanta skillnader mellan dag 21 och alla andra punkter tid i NP. Även i AF signifikanta skillnader mellan dag 7 tilldag 0. (* P <0,05, ** p <0,01).
Subscription Required. Please recommend JoVE to your librarian.
Discussion
Det första steget för en lyckad orgel kultur är att se till att Explantation inte ska förorenas. Svansen ska flås innan du börjar med förfarandet. Varje djurhår förs in i en steril labb kan vara problematiska när det gäller föroreningar. Nötkreatur Svansen ska helst vara så färska som möjligt (detta påverkar första cellernas livskraft). Dessutom är Betadine tvätt rekommenderas för att minska risken för smitta vidare. Istället för att använda en skräddarsydd kniv hållare och en hammare för att separera IVD från kota kroppen, kan detta göras genom att använda en histologisk bandsåg (den diamantklinga bör kylas med PBS eller Ringers lösning samtidigt som man skär). Tänk på att bandsåg, provhållaren och kniven bör vara sterila. Tekniken har visat här är inte begränsad till nötkreatur svansen IVD isolering men kan utvidgas till andra djurarter, såsom svin, får och HAR-caudal eller lumbala IVD isolering. För IVD harvest i den region där spinal processer är närvarande, är det viktigt att avlägsna alla processer först.
Den cellviabiliteten uppgifter som lämnas i figur 9 samlades in under fri-svullnad upp till 21 dagar och kan användas som referens. Denna metod upprätthåller cellviabiliteten i 14 dagar under fritt svullnad. Nedgången i cellviabiliteten på 21 dagar skulle kunna bero på avsaknaden av mekanisk belastning som har visat sig vara viktiga för att hjälpa näringsämne diffusion över muskeländplattorna och bibehålla lönsamheten skiva cell 3. Det kommer att vara mycket troligt att cellviabiliteten kommer att bli ännu högre under hydrostatisk kompression och / eller ytterligare dagaktiva 8-10 lastning.
Som ett alternativ protokollet kan nötkreatur skivorna vara förberedd genom att ta bort alla intilliggande ben i kotorna med hjälp av en tand Burr och bara lämnar brosk muskeländplattorna 11. IVD cellviabiliteten bibehölls under 4 veckor med den här metoden.Men i detta fall vridning inte kan tillämpas på ett enkelt sätt till rörelsers segment eftersom det inte finns någon hård ben tillgängligt för "ta tag" skivan. Den konkava muskeländplattorna istället för parallella ytor på båda sidor behöver också en justering av provet kammaren i alla bioreaktor design för att redogöra för lastning profilen skillnader 11. Dessutom är utvärderingen av spridningen av molekyler över beniga muskeländplattorna också omöjligt i dessa explants.
Betydelsen av vårt arbete
Användningen av single-användning industriella blad för att klippa ut intakt intervertebral skiva segment för orgel kultur förkortar skörd protokollet betydligt jämfört med protokoll som handlar om en kapning steg med en histologisk bandsåg. Även trabekulärt uppbyggnad av ben påverkas inte eftersom det är fallet från en slipning rörelse med en diamant sågklinga.
Jet-lavaging av beniga ytan tvättar ut levrat blod mycket effektivt och significantly förbättrar cellviabiliteten av kärnan pulposus (mitten av skivan) över tiden jämfört med obehandlade diskarna.
Subscription Required. Please recommend JoVE to your librarian.
Disclosures
Vi har ingenting att lämna ut.
Acknowledgments
Projektet fick stöd av den schweiziska National Science Foundation (SNF # 310030-127586/1).
Materials
| | | | |
| --- | --- | --- | --- |
| Name | Company | Catalog Number | Comments |
| Fresh bovine intervertebral disc tissue from bovine tails, from local slaughter house (ideally within hours post-mortem and without skin). | | | |
| Pulsavac Plus AC System | Zimmer inc., Switzerland | 00-5150-486-01 | Best performance with the hip-spray head and with AC power supply (the one with the 8 AA battery pack d–s also work but is less convenient) |
| High Capacity Fan Spray w/Splash Shield, 12.7cm length | Zimmer inc., Switzerland | 00-5150-175-00 | There are several spray heads available, we tested this one successfully |
| Scalpel blades #22 and #10 | Swann-Morton | #10: 0201 #22: 0208 | |
| Scalpel blade holder # 3 and #4 | Hausmann, Germany | #3: 06.103.00 #4: 06.104.00 | |
| Lutz industrial blade | Lutz, Germany | 1022.0884 | |
| Phosphate buffered Saline (PBS) | Invitrogen | 10010-023 | |
| Dulbecco's Modified Eagle Medium (DMEM) | GIBCO, by Life Technologies | 11960-044 | |
| Lactated Ringer's solution (without glucose) | Bichsel, Switzerland | 133 0002 | |
| 6-well multi-well plate | Techno Plastic Products | 92006 | |
| Betadine solution | Mundipharma, Switzerland | 10055025 | |
| Surgical skin marker | Porex Surgical, Switzerland | 9560 | |
| Large cutting board | | | Any brand is possible |