Summary
Dit protocol geeft een oogst techniek voor coccygeale runderen tussenwervelschijven voor orgel cultuur
Cite this Article
Copy Citation | Download Citations

Chan, S. C., Gantenbein-Ritter, B. Preparation of Intact Bovine Tail Intervertebral Discs for Organ Culture. J. Vis. Exp. (60), e3490, doi:10.3791/3490 (2012).
Abstract
De tussenwervelschijf (IVD) is het gewricht van de wervelkolom verbinden wervel naar wervel. Het functioneert het laden van de wervelkolom doorgeven en de flexibiliteit te geven aan de wervelkolom. Het bestaat uit een drie compartimenten: de binnenste nucleus pulposus (NP), omvat door de annulus fibrosus (AF), en twee kraakbeen eindplaten het aansluiten van de NP en AF aan het wervellichaam aan beide zijden. Discogene pijn mogelijk veroorzaakt door degeneratieve tussenwervelschijf ziekte (DDD) en herniaverwijdering is geïdentificeerd als een groot probleem in onze moderne samenleving. Voor het bestuderen van mogelijke mechanismen van de IVD-degeneratie, zijn in vitro orgelcultuur systemen met een live-cd cellen zeer aantrekkelijk. De in vitro cultuur van intacte runderen coccygeale IVD's is gevorderd tot een relevant model systeem, dat de studie van mechano-biologische aspecten in een goed gecontroleerde fysiologische en mechanische omgeving mogelijk maakt. Bovine staart IVD's kan worden verkregen relatief eenvoudig in hogere aantallen eend zijn zeer vergelijkbaar met de menselijke lumbale IVD's met betrekking tot cel-dichtheid, celpopulatie en afmetingen. Echter, vorige runderen staart IVD oogsttechnieken behoud van kraakbeen en bot eindplaten eindplaten niet na 1-2 dagen van cultuur sinds de voedings-routes zijn duidelijk geblokkeerd door geronnen bloed. IVD's zijn de grootste avasculaire organen, dus de voedingsstoffen naar de cellen in het NP uitsluitend afhankelijk zijn van diffusie via de capillaire knoppen van de aangrenzende wervellichaam. De aanwezigheid van bot puin en geronnen bloed op de eindplaat oppervlakten kunnen hinderen voedingsstoffen diffusie in het midden van de schijf en compromis levensvatbaarheid van de cellen. Onze groep is een relatief snelle protocol "crack"-out van de IVD van de staart met een laag risico op besmetting. We zijn in staat om de vers gesneden benige eindplaat oppervlakken permeabilize door middel van een chirurgische jet lavage systeem, dat het bloed stolt en snijden vuil verwijdert en zeer efficiënt heropent de voeding diffusie padnaar het centrum van de IVD. De aanwezigheid van de groei platen aan beide zijden van de wervelkolom bot moet worden vermeden en worden verwijderd voordat de cultuur. In deze video, schetsen we de cruciale stappen tijdens de bereiding en demonstreren van de sleutel tot een succesvolle orgelcultuur het handhaven van hoge levensvatbaarheid van de cellen gedurende 14 dagen onder vrije zwelling cultuur. De cultuur tijd zou kunnen worden uitgebreid indien nodig de mechanische omgeving kan worden gehandhaafd met behulp van mechanische belasting bioreactor. De techniek blijkt hier kan worden uitgebreid tot andere diersoorten, zoals varkens, schapen, hazen-caudale en lumbale IVD isolatie.
Protocol
1. Tussenwervelschijf Oogsten
Gehele lengte van runderen staart is verkregen uit een lokaal slachthuis, indien mogelijk, zonder huid, omdat de aanwezigheid van de huid verhoogt de kans op besmetting (figuur 2).
Bereid grote snijplank en voor te bereiden steriele werkplek en instrumenten op de top van een snijplank (fig. 2).
Voor te bereiden onder de steriele laminaire stroming kap steriel gaas bevochtigd met 0,9% natriumchloride bevat 55mm natriumcitraat en in elke well van de 6-wells plaat.
Bereid een wastafel en verdun 1:100 Betadine-oplossing met kraanwater.
Dompel de hele runderen staart in een bassin met 1% Betadine-oplossing gedurende 5 minuten.
Kort droog staart met steriel gaas en plaats het op steriele werkplek.
Verwijder voorzichtig de spieren rond de staart met een scalpel # 22.
Hak weg de delen van de staart, die niet nodig zijn, meestal beide uiteinden van de staart, bevatten relatief grote en zeer kleineIVD's (afb. 3).
Trim verder de spieren en pezen rond de IVD met behulp van scalpel # 10. Pas op niet naar de buitenste ring van de schijven snijden.
Markeer de voorste van de IVD met een chirurgische huid marker (deze stap is optioneel, het helpt bij het bepalen van de centrum voor axiale rotatie in onze bioreactor).
Zoek de IVD-en wervel aansluiting door het bewegen van de staart zachtjes. Voel de grens tussen IVD en bot met de doffe kant van een scalpel. De site moet het splitsen van 1-2 mm weg van de IVD de richting van de wervel te zijn. Plaats op maat gemaakte industriële meshouder op de splitsen van site (afb. 4).
Aankleven IVD en wervel door het hameren op de top van de op maat gemaakte industriële mes houder (afb. 3).
Herhaal aan de andere kant van de IVD-wervel-verbinding.
Wrap geïsoleerde IVD met steriel gaas bevochtigd met 0,9% natriumchloride bevat 55mm natriumcitraat.
Ga door het isolement van IVD om het gewenste sample nummer (meestal rond de 6 kunnenworden geoogst met een diameter tussen 10-20 mm).
Sluit de jet lavage systeem (Zimmer, inc.) Met een oplossing steriele Ringer lactaat, 5L tassen zijn een handig formaat (alternatief steriele PBS of 0,9% zoutoplossing).
Houd de IVD met een tang en jet-lavage beide zijden van de eindplaat oppervlak met behulp van Zimmer Pulsavac jet-lavage systeem (Fig. 1C). De jet kanon moet worden opgenomen op de eindplaat oppervlak in een hoek tussen 30 - 60 ° voor ongeveer 30 seconden aan elke kant. (Figuren 1 en 7)
Plaats de IVD aan de 6-well plaat en wrap met bevochtigd gaas, terwijl jet het wassen van een andere disc monster.
IVD's zijn klaar voor orgel cultuur en down-stream-toepassingen (bv. levensvatbaarheid van de cellen, mechanische belasting, orgelcultuur) (fig. 1D).
2. Representatieve resultaten
Het meten van resultaten om een ​​succesvolle tussenwervelschijf voorbereiding rechter kan een diffusie experiment zijn, waar een klein moleculair gewicht fluorescerende kleurstof (bijv. Proción rood)wordt bereid als een 1% oplossing in PBS 2. De IVD wordt gehouden met ten minste 100 ml kleurstof oplossing en de kleurstof is dan toegestaan ​​om passief diffunderen in het IVD voor 24 uur onder vrije zwelling. De IVD is dan snel bevroren in vloeibare stikstof en teruggebracht tot kamertemperatuur en uitgedroogd door een reeks van aceton transfers (eerste pre-gekoeld in -80 ° C, dan -20 ° C, dan 4 ° C en tenslotte op kamertemperatuur ). De schijf kan dan worden ingebed in poly-methyl-acrylaat (PMMA) en snijd met een scherp mes tot 100 urn dikke secties te produceren. Deze secties kunnen vervolgens worden bekeken door elke standaard helderveld microscoop, maar bij voorkeur door het gebruik van fluorescentie microscopie, omdat Proción rood straalt een rode fluorescentie (afb. 5-6). De trabeculi van het benige oppervlak lijken erg schoon te maken na de jet lavaging stap (afb. 7).
Parameters voor een succesvolle orgelcultuur zijn in de eerste plaats de afwezigheid van besmetting, onderhouden levensvatbaarheid van de cellen (fig. 8-9), schijf hoogte entotale "disc integriteit ', gemeten met histologische secties en safranine O / snel groene vlek of Meyer Hematoxilin 3. We hebben protocollen en macro's gepubliceerd elders 4,5 tot leven schijf weefsel vlek en levensvatbaarheid van de cellen in 3D met behulp van een confocale laser scanning microscoop en de live / dode vlekken kit (Molecular Probes, Invitrogen, Basel, Zwitserland) te scannen. We hebben verder ontwikkeld een macro-en routine om geautomatiseerde cel tellen levensvatbaarheid van de cellen schatten in 3D weefsel of 3D-dragers met de NIH ImageJ platform 4-6 uit te voeren. Alternatieve protocollen zijn voorgesteld om levensvatbaarheid van de cellen van de disc cellen te bepalen door de eerste digestie met sequentiële vertering van de extracellulaire matrix met behulp van pronase en collagenase type 2 en vervolgens naar de celsuspensie 7 vlek. Een eerdere versie van het protocol betrokken een incubatie stap in PBS dat tien keer meer geconcentreerd penicilline / streptomycine concentratie voor 10min na de oogst van de schijven voorafgaande orgel culture. Met de jet lavage stap voor deze stap in onbruik is geraakt, omdat deze stap lijkt gunstig voor het kweken van doeleinden.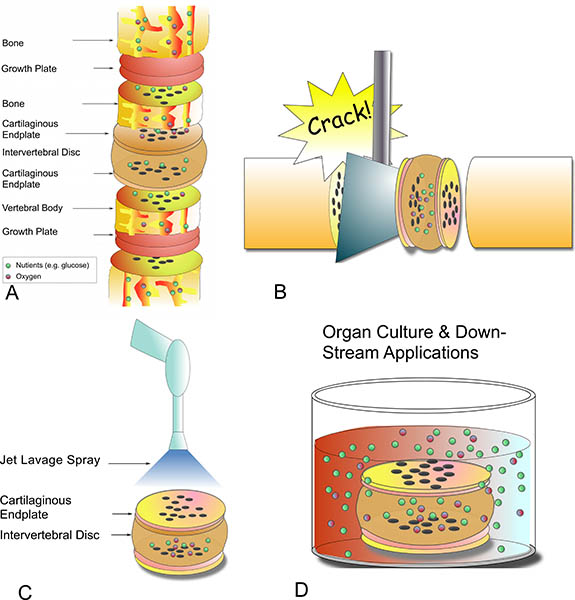 Figuur 1. Overzicht van de methodologische stappen van boviene coccygeale tussenwervelschijven te bereiden met intacte eindplaten en een dunne laag (1-2mm) van het bot. A) Schematische weergave van de tussenwervelschijf (IVD) en de voedingswaarde paden. B) Procedure uit te snijden van de IVD met een op maat gemaakte blade-houder en een industriële scherp mes. C) Jet lavage stap op weg naar een hoge levensvatbaarheid van de cellen te waarborgen en de voedingsstoffen uitwisselen houden van de eindplaten en 1-2 mm van het bot bevestigd aan beide zijden mogelijk te maken. D) Tot slot de IVD kunnen worden gekweekt in het monster kamer van een bioreactor of worden gebruikt voor enig down-stream applicatie.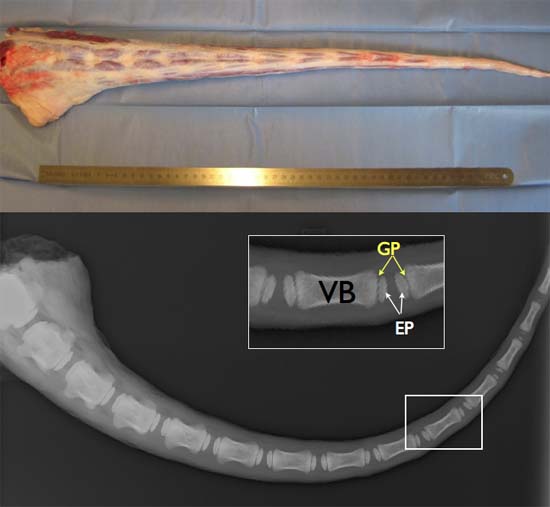 Figuur 2 TOP:. Volle lengte vers vlees van runderen staart (idealiter obtaINED binnen 2-3 uur post-mortem om hoge levensvatbaarheid van de cellen te verzekeren. Bottom: X-ray beeld van een rund staart van rond de zes maanden illustreren het bestaan ​​van de groeischijven (GP), secundaire centrum van verbening, tussen de benige eindplaten (EP) en de wervel lichamen (VB).


Figuur 3. A) Tools om de runderen staart ontleden onder steriele omstandigheden. B) op maat blade-houder voor cut-out motionele segmenten van de runderen staart in actie tijdens het snijden van de tussenwervelschijf. C) Side-view van de aangepaste blade-houder met een standaard industriële mes (Lutz, Duitsland).

Figuur 4. Tekenen en foto van de runderen staart na het verwijderen van de omliggende spieren en gewrichtsbanden ter illustratie van de splijten websites uit te snijden van de bewegingstaal segmenten. Gedeeltelijke wervel moet worden "gekraakt" wie de custom-made mes houder ideaal 1-2 mm afstand van de kraakbeenvissen eindplaten om volledige botoppervlak te verzekeren.

Figuur 5. Demonstratie van de effectieve reiniging van de jet-lavage stap voor (A) en na (B). Let op de schone benige oppervlakken van de tussenwervelschijf segmenten na de spuiten procedure.

Figuur 6. Free-zwelling diffusie experiment van vers bereide weggesneden runderen staart tussenwervelschijven (IVD's) links voor 24 uur in 1% Proción rode oplossing, waaruit blijkt verstopping effect door de groeischijf. Een digitale X-ray sagittale weergave van een IVD nog steeds met de groeischijf en een tweede laag van het bot fluorescentie microscopie imago van sagittale dwars door de coccygeale runderen tussenwervelschijf Explantatie met kraakbeen en bot eindplaat na 24h free diffusie. GP: groei plaat, 2ndry CO: secundaire centrum van verbening.

Figuur 7. Gratis-zwelling experiment van de vers bereide weggesneden runderen staart tussenwervelschijven (IVD's) links voor 24 uur in 1% Proción rode oplossing, waaruit blijkt reinigende werking van jet lavage behandeling. Sagittale dikke secties (~ 100 mm) van de uitgesneden runderen IVD's met ~ 1.5-mmthick benige eindplaten dat jet lavage behandeling (links) controle kant ondergingen zonder behandeling (rechts) jet-lavaged behandeling. Inlaat laat de spray patroon, dat werd gebruikt van de Zimmer wond debridement systeem 24u gratis verspreiding experimenten van runderen tussenwervelschijf explantaten in 1% Proción rood.

Figuur 8. Live / Dead Beelden van projecties van confocale Imaging stapels (250μm) uit bovine tussenwervelschijf segmenten die met deze jet-lavage methode gehouden onder free-zwelling voor de 0 en 14 dagen respectievelijk voor de nucleus pulposus (NP), de binnenste annulus fibrosus (IA) en de buitenste annulus fibrosus (OA). Groene cellen = levende cellen gekleurd door calceïne AM (acetyl methylester), rode bloedcellen = dode cellen kern gekleurd door ethidium-homodimeer-1.

Figuur 9. Levensvatbaarheid van de cellen van de tussenwervelschijf met behulp van confocale laser scanning microscopie van levende weefsel-en 3D-stack scannen. Levensvatbaarheid van de cellen van de nucleus pulposus (NP) en Annulus Fibrosis (AF) over de 21-dagen-cultuur onder vrije-zwelling conditie. (Gemiddelde ± SEM, N = 6) Statistische verschillen werden getest met behulp van niet-parametrische Kruskal-Wallis Signed Rank som te testen tussen groepen. Significante verschillen werden gevonden tussen dag 21 en alle andere tijdstippen in het NP. Terwijl in AF significante verschillen werden gevonden tussen dag 7 tot en metdag 0. (* P <0,05, ** p <0,01).
Subscription Required. Please recommend JoVE to your librarian.
Discussion
De eerste stap voor een succesvolle orgelcultuur is om ervoor te zorgen dat de explantatie niet moet worden besmet. De staart moet worden gevild voordat u start met de procedure. Alle dierlijk haar gebracht in een steriele laboratorium kan problematisch zijn in termen van besmetting. De runderen staart moet bij voorkeur zo vers mogelijk (dit van invloed op de initiële levensvatbaarheid van de cellen). Bovendien wordt de Betadine wasstap aanbevolen om het risico van besmetting nog verder afneemt. In plaats van het gebruik van een custom-made mes houder en een hamer om de IVD scheiden van de wervel lichaam, kan dit worden uitgevoerd met behulp van een histologische bandzaag (de diamant mes moet worden gekoeld met PBS of Ringer-oplossing tijdens het snijden). Let op dat de zaagmachine, het monster houder en de snij-mes moet steriel zijn. De techniek gedemonstreerd is hier niet beperkt tot runderen staart IVD-isolatie, maar kan worden uitgebreid tot andere diersoorten, zoals varkens, schapen, hazen-caudale of zelfs lumbale IVD isolatie. Voor IVD harvest in de regio waar spinale processen aanwezig zijn, is het belangrijk om eerst te verwijderen van alle processen.
De levensvatbaarheid van de cellen is weergegeven in figuur 9 werden verzameld onder vrije-opzwellen tot 21 dagen en kan worden gebruikt als een referentie. Deze methode houdt levensvatbaarheid van de cellen gedurende 14 dagen onder vrije-zwelling. De daling van de levensvatbaarheid van de cellen op 21 dagen kan te wijten zijn aan het ontbreken van mechanische belasting waarvan is aangetoond dat het belangrijk is in het bijstaan ​​van voedingsstoffen diffusie over de eindplaten en op schijf levensvatbaarheid van de cellen 3 te behouden. Het zal zeer waarschijnlijk dat de levensvatbaarheid van de cellen zullen nog hoger zijn onder hydrostatische druk en / of aanvullende dagelijkse belasting 8-10.
Als een alternatief protocol, kan de runder-schijven worden opgesteld door het verwijderen van alle van de aangrenzende bot van de wervels met behulp van een tandheelkundige braam en gewoon het verlaten van de kraakbeenvissen eindplaten 11. IVD levensvatbaarheid van de cellen werd gedurende 4 weken met behulp van deze methode.Echter, in dit geval torsie kan niet worden toegepast op een eenvoudige manier om de bewegings segmenten, omdat er geen stijf been beschikbaar om "grijpen" de schijf. De concave eindplaten in plaats van een parallelle oppervlakken aan beide zijden moet ook een aanpassing van het monster kamer in een bioreactor het ontwerp rekening te houden voor het laden profiel verschillen 11. Bovendien, de evaluatie van de diffusie van moleculen door benige eindplaten is ook niet mogelijk in deze explantaten.
Betekenis van ons werk
Het gebruik van single-gebruik van industriële messen voor cut-out intact tussenwervelschijf segmenten voor orgelcultuur verkort het oogsten protocol aanzienlijk ten opzichte van protocollen met betrekking tot een cutting-stap met een histologische lintzaag. Ook de trabeculaire structuur van het bot is aangetast zoals het geval is vanuit een knarsend beweging met een diamant zaagblad.
Jet-lavaging van het benige oppervlak wast-out geronnen bloed zeer efficiënt en significantly verbetert de levensvatbaarheid van de cellen van de nucleus pulposus (midden van de schijf) over de tijd in vergelijking met onbehandelde tussenwervelschijven.
Subscription Required. Please recommend JoVE to your librarian.
Disclosures
We hebben niets te onthullen.
Acknowledgments
Dit project werd ondersteund door de Zwitserse National Science Foundation (SNF # 310030-127586/1).
Materials
| | | | |
| --- | --- | --- | --- |
| Name | Company | Catalog Number | Comments |
| Fresh bovine intervertebral disc tissue from bovine tails, from local slaughter house (ideally within hours post-mortem and without skin). | | | |
| Pulsavac Plus AC System | Zimmer inc., Switzerland | 00-5150-486-01 | Best performance with the hip-spray head and with AC power supply (the one with the 8 AA battery pack d–s also work but is less convenient) |
| High Capacity Fan Spray w/Splash Shield, 12.7cm length | Zimmer inc., Switzerland | 00-5150-175-00 | There are several spray heads available, we tested this one successfully |
| Scalpel blades #22 and #10 | Swann-Morton | #10: 0201 #22: 0208 | |
| Scalpel blade holder # 3 and #4 | Hausmann, Germany | #3: 06.103.00 #4: 06.104.00 | |
| Lutz industrial blade | Lutz, Germany | 1022.0884 | |
| Phosphate buffered Saline (PBS) | Invitrogen | 10010-023 | |
| Dulbecco's Modified Eagle Medium (DMEM) | GIBCO, by Life Technologies | 11960-044 | |
| Lactated Ringer's solution (without glucose) | Bichsel, Switzerland | 133 0002 | |
| 6-well multi-well plate | Techno Plastic Products | 92006 | |
| Betadine solution | Mundipharma, Switzerland | 10055025 | |
| Surgical skin marker | Porex Surgical, Switzerland | 9560 | |
| Large cutting board | | | Any brand is possible |