Summary
Kwantitatieve Real Time polymerase chain reaction (qPCR) is een snelle en gevoelige methode om de expressie niveaus van verschillende microRNA (miRNA) moleculen te onderzoeken in tumor monsters. Met deze methode uitdrukking van honderden verschillende miRNA-moleculen kunnen worden versterkt, gekwantificeerd en geanalyseerd uit dezelfde cDNA sjabloon.
Cite this Article
Copy Citation | Download Citations | Reprints and Permissions

Gordanpour, A., Nam, R. K., Sugar, L., Bacopulos, S., Seth, A. MicroRNA Detection in Prostate Tumors by Quantitative Real-time PCR (qPCR). J. Vis. Exp. (63), e3874, doi:10.3791/3874 (2012).
Abstract
MicroRNA (miRNAs) zijn enkelstrengs 18-24 nucleotide lang niet-coderende RNA-moleculen. Ze zijn betrokken bij vrijwel elke cellulaire proces, inclusief ontwikkeling 1, apoptose 2, en celcyclus 3. MiRNAs worden geschat op de expressie van 30% te regelen tot 90% van de menselijke genen 4 door te binden aan hun doel messenger RNA (mRNA) 5. Wijdverbreide ontregeling van miRNAs is gemeld bij verschillende ziekten en kanker subtypes 6. Als gevolg van de prevalentie ervan en unieke structuur, deze kleine moleculen zijn waarschijnlijk de volgende generatie van biomarkers, therapeutische middelen en / of doelstellingen zijn.
Methoden om aan te miRNA expressie onderzoeken zijn onder andere SYBR groene I dye-basis en Taqman-probe gebaseerde qPCR. Als miRNAs zijn om effectief te worden gebruikt in de klinische setting, is het noodzakelijk dat hun detectie in vers en / of gearchiveerd klinische monsters nauwkeurig, reproduceerbaar, en specific. qPCR is op grote schaal gebruikt voor het valideren van de expressie van miRNAs in hele genoom analyses, zoals microarray studies 7. De monsters in dit protocol van patiënten die waren radicale prostatectomie ondergaan voor klinisch gelokaliseerde prostaatkanker echter andere weefsels en cellijnen kunnen worden vervangen binnen prostaat monsters werden snel bevroren in vloeibare stikstof na verwijdering. Klinische variabelen en follow-up informatie voor elke patiënt werden verzameld voor latere analyse 8.
Kwantificering van miRNA niveaus in de prostaat tumor monsters. De belangrijkste stappen in qPCR analyse van tumoren zijn: Totaal RNA-extractie, cDNA synthese, en detectie van qPCR producten met behulp van miRNA-specifieke primers. Totaal RNA, die mRNA, miRNA, en andere kleine RNA's bevat werden uit monsters met behulp van TRIzol reagens. Qiagen's miScript System werd gebruikt voor het synthetiseren van cDNA en qPCR (figuur 1) uit te voeren. Endogene miRNAs zijn niet polyadenylated, dus tijdens de omgekeerde transcriptie proces, een poly (A) polymerase polyadenylates de miRNA. De miRNA wordt gebruikt als een template voor de synthese van cDNA met oligo-dT en reverse transcriptase. Een universele tag volgorde van het 5'-uiteinde van oligo-dT primers maakt de amplificatie van cDNA in de PCR-stap. PCR amplificatie product wordt waargenomen door de mate van fluorescentie afkomstig van SYBR Green, een kleurstof die intercalates in dubbelstrengs DNA. Specifieke miRNA primers, samen met een universele primer die bindt aan de universele tag volgorde zal versterken specifieke miRNA sequenties.
De miScript Primer Testen zijn beschikbaar voor meer dan duizend mensen specifieke miRNAs, en honderden muizen-specifieke miRNAs. Relatieve kwantificering methode werd hier gebruikt om de expressie van miRNAs te kwantificeren. Om te corrigeren voor variatie tussen de verschillende monsters, is expressie van een doel miRNA genormaliseerd op de expressie van een referentie-gen. De keuze van een gene is om de expressie van doelen normaliseren kritisch relatieve kwantificatie analysemethode. Voorbeelden van genen referentie gewoonlijk in deze hoedanigheid de kleine RNA RNU6B, RNU44 en RNU48 omdat zij als stabiel uit te drukken in de meeste voorbeelden. In dit protocol wordt RNU6B als referentie-gen.
Protocol
1. Prostaat Sample Collection
Verzamelen van de prostaat monsters bij de prostatectomie. Het monster wordt georiënteerd met behulp van anatomische oriëntatiepunten. De prostaat en zaadblaasjes zijn geschilderd als volgt: rechts groen, links blauw.
Een willekeurige dwars middendeel van de prostaat loodrecht op de rectale oppervlak, bevroren in vloeibare stikstof en bij -80 ° C 9.
Banked plakjes exemplaren zijn fotokopieën, gericht (anterior, posterior, rechts en links), quadrisected. Secties worden gesneden met behulp van de cryostaat.
Secties worden gekleurd met H & E en beoordeeld door een patholoog om vast te stellen en af ​​te bakenen tumor ten opzichte van normale gebieden van het behandelde dia's en een bijbehorende afbeelding. De gemarkeerde gebieden worden gebruikt als richtlijn van gebieden waarop de tumorweefsel waarvan RNA worden geëxtraheerd in de volgende stappen extraheren geven.
te breken ">
2. Isoleren Totaal RNA, inclusief miRNA, van monsters
Plaats bevroren prostaat monsters op droog ijs en onder verwijzing naar het afgebakende fotokopie, geknipt uit een klein deel van de prostaat tumor (tussen de 50 tot 100 mg).
Meng de prostaat tumorweefsel in 1 ml TRIzol reagens. De hoeveelheden in de volgende stappen zijn gebaseerd op gebruik van 1 ml TRIzol Reagent.
Opmerking: Hier is gebruik gemaakt TRIzol Reagent voor de extractie RNA, maar andere kits kleine RNA geïsoleerd bevattende totale RNA kan ook worden gebruikt.
Incubeer de gehomogeniseerde monsters gedurende 5 minuten bij kamertemperatuur.
Voeg 0,2 ml chloroform aan de monsters en schud krachtig gedurende 15 seconden. Incubeer monsters gedurende 3 minuten bij kamertemperatuur, vervolgens centrifugeren bij 12.000 xg gedurende 15 minuten bij 4 ° C.
Breng de kleurloze bovenstaande waterige fase verse buizen en 0,5 ml isopropylalcohol.Incubeer monsters gedurende 10 minuten bij kamertemperatuur, vervolgens centrifugeren bij 12.000 xg gedurende 10 minuten bij 4 ° C.
Zuig voorzichtig het supernatans af zonder de pellet te verstoren met het RNA. Was de RNA-pellet met 1 ml van 75% ethanol. Vortex het monster en opnieuw sediment door centrifugatie gedurende 5 minuten bij 7500 x g bij 4 ° C.
Zuig voorzichtig het supernatant en droog de RNA-pellet gedurende 5-10 minuten, zorg ervoor dat het RNA pellet is niet volledig droog is. Opnieuw oplossen in Nuclease-vrij water dient te worden pellet grootte. Concentratie van RNA met de NanoDrop 1000 spectrofotometer (maatregel absorptie bij 260 nm en 280 nm).
Controleer de kwaliteit en integriteit van het RNA monsters met behulp van Agilent Bioanalyzer.
3. Reverse transcriptie van RNA
Reverse transcriptie van RNA werd uitgevoerd met miScript reverse transcriptie Kit volgens fabrikant (Qiagen). Deze kit bestaat uit eenreverse transcriptase en een poly (A) polymerase. De miScript RT buffer bevat Mg 2 +, dNTPs, oligo-dT primers, en random primers.
Gebruik van 10 pg en 1 pg RNA synthese van cDNA. Wanneer meer dan een ug RNA, vergroten de reactie lineair de juiste volume.
Bereid een meester mix 5X miScript RT Buffer (4 pi) miScript reverse transcriptie Mix (1 pi) en RNAse-vrij water reacties eindvolume van 20 pi brengen bevat. Ook template RNA (tot 1 pg) in de master mix.
Incubeer de monsters gedurende 60 minuten bij 37 ° C onmiddellijk gevolgd door een incubatie gedurende 5 minuten bij 95 ° C. Deze stap kan worden uitgevoerd in een PCR-machine, verwarmingsblok of waterbad. Thermocyclers zijn de meest geschikte en nauwkeurige methode. Bewaar de cDNA op het ijs voor de korte termijn, en -20 ° C voor langdurige opslag.
4. Het genereren van een Standard Curve
Voorafgaand aan deskunrimentele met doel miRNAs is een standaard curve van met cDNA bekende concentraties tegen de kruispunten (CP) (Figuur 2).
Bereid een verdunningsreeksen van 2-voudig, 10-voudig, 50-voudig, 250-voudig en 1250 maal de oorspronkelijke cDNA van een monster waarvan bekend is dat een aanzienlijke expressie van het gen van belang zijn.
Voer het PCR zoals bepaald in punt 5 "Real-time PCR voor de detectie van miRNA", met dien verstande dat cDNA in seriële verdunningen geen statisch 40x verdunning.
Voer analyse met behulp van RelQuant software (Roche) om uw normale curve te genereren.
Opmerking: een nieuwe standaard curve worden gegenereerd voor elk gen van belang.
5. Real-time PCR voor de detectie van miRNA
Real-time PCR voor miRNAs werd uitgevoerd met behulp van miScript SYBR Green PCR Kit en miScript Primer Assay volgens de instructies van de fabrikant (Qiagen). Maak een master mix met2x QuantiTect SYBR Green PCR Master Mix, 10x miScript Universal Primer, 10x miScript Primer Assay, en RNase-vrij water. Bereid een meester mix voor een 20 ul volume reactie.
De Primer test is specifiek voor de miRNA van belang. Voor reconstitutie 10x miScript Primer Assay, kort centrifugeren de flacon en voeg 550 ul TE-buffer, pH 8,0. Vortex de flacon even om te mixen, hoeveelheid primers voor kleinere volumes, en bewaar bij -20 ° C. Twee primers vereist. Primers voor het doelwitgen en de referentie-gen RNU6B is usedas de referentie-gen.
Verdun het cDNA 40x en op te slaan extra fracties bij -20 ° C.
cDNA dient als template voor de PCR. Gebruik 2 pi van 40x verdund cDNA en breng aan de 20 ui licht cycler capillairen (Roche).
Voeg 18 ul van de master mengsel elke capillair en centrifugeer behulp van een capillaire adapter.
Plaats de haarvaten in een capillair op basis van real-time fietser, zoals LightCycler 3.5 Real-Time PCR-systeem met een 32-capillaire carrousel formaat.
Voer het PCR-fietsen-programma als volgt:
Om HotStarTaq Polymerase dat de 2x QuantiTect SYBR Green PCR Master Mix activeren pre-incuberen bij 95 ° C gedurende 15 minuten.
Gevolgd door 50 cycli van
Denaturatie, 15 s, 94 ° C;
Gloeien, 30 s 55 ° C;
Uitbreiding, 30 s, 70 ° C.
Selecteer een sample aan de kalibrator te zijn, en stel de genormaliseerde streefbedrag op 1. Vergelijk de relatieve expressie van de miRNA in alle andere monsters naar de kalibrator.
Let op: Binnen een studie, dezelfde kalibreren monster moet worden gebruikt om de consistentie van de resultaten te behouden.
6. Gegevens analyseren
Versterking curven voor de PCR-reacties worden grafisch en numeriek weergegeven door Molecular Biochemicals LightCycler Software versie 3.5 (Roche). Kwantificeer reacties in de "Kwantificering" tab, eennd de gegevens exporteren naar een tekstbestand.
Importeer de gegevens naar de RelQuant analyse software (Roche) tot kwantificering resultaten te genereren. Importeer aparte bestanden voor target-gen, referentie-gen, en standaard curve gegevens.
Geef de positie van de kalibrator voor zowel de streefwaarde en de referentie-gen. Geef ook posities van de monsters. Worden uitgedrukt als het doel om verhouding van verschillende monsters gedeeld door het doel om referentieaandeel van de kalibrator verwijzen. De standaardcurve eerder gegenereerd voor een bepaalde miRNA en huishoudelijke gen wordt gebruikt als referentiestandaard voor extrapolatie kwantitatieve gegevens miRNA doelen van onbekende concentratie.
Drie herhalingen van de monsters worden geanalyseerd als een groep en de gemiddelde concentratie en de standaarddeviaties van de drievoud wordt berekend. Als een van de triplo strijd is met de rest van de toestel, wordt uitgesloten door het programma.
7. Representatieve resultaten
<p class = "jove_content"> Een voorbeeld van qPCR analyse prostaat monsters is weergegeven in
figuur 3.
De resultaten worden numeriek afgebeeld, en grafisch. De grafieken tonen de expressie van de referentie-gen, U6, beginnen exponentieel ongeveer cyclus 20, waarbij expressie van het doelwitgen, miR-98 toonde vertraagd amplificatie ongeveer op cyclus 25. De gegevens uit dit experiment is geëxporteerd als tekstbestand en geanalyseerd door RelQuant analyse software. Posities van de capillairen die de kalibrator en monsters bepaald.
Figuur 4
illustreert hoe de kalibrator is ingesteld op 1, en ​​de expressie van andere monsters opzichte van de kalibrator.

Figuur 1. Verschillende stappen in miScript reverse-transcriptie en Real-time PCR.


Figuur 2. Een standaard curve gegenereerd met behulp van verdunningsreeksen van 2-voudig, 10-voudig, 50-voudig, 250-voudig en 1250 maal de oorspronkelijke cDNA monster.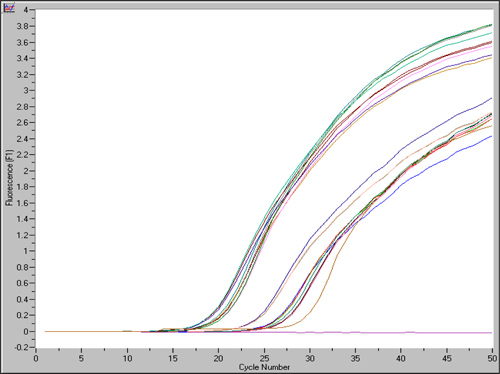 Figuur 3. Roche Molecular Biochemicals LightCycler Software toont de volledige gegevens van het experiment grafisch en met tekst. Kwantitatieve real-time PCR-amplificatie kavels tonen steeg in fluorescentie van verschillende monsters.

Figuur 4. De gegevens werden gekwantificeerd met behulp van RelQuant LightCycler analyse software. Meestal drie duplo monsters worden geanalyseerd als een groep en samples die produceren duidelijk inconsistente resultaten worden uitgesloten en de gemiddelde concentratie en de standaarddeviaties van de drievoud wordt berekend.
Subscription Required. Please recommend JoVE to your librarian.
Discussion
Afwijkende uitingen van sommige miRNAs zijn consistent gevonden in de prostaat tumoren in vergelijking met normaal weefsel 10, en een aantal van deze miRNAs zijn genoemd als potentiële nieuwe therapeutische middelen tegen prostaatkanker 11. Vandaar de afwijkende expressie van miRNAs kan nuttig diagnostische en / of prognostische biomarkers. De Real-Time qPCR methodiek hier gepresenteerd biedt een test voor een nauwkeurige kwantificering van miRNA niveaus in de prostaat tumor weefsels. De miScript gebruikte PCR-systeem kan detecteren single nucleotide verschillen tussen volwassen miRNAs. De miScript miRNA qPCR Testen zijn echter niet bedoeld voor het opsporen van stam-lus voorloper miRNAs, waarvoor verschillende miScript Precursor Analyses zijn beschikbaar.
De betrouwbaarheid van deze techniek is afhankelijk van de kwaliteit van de input RNA derhalve concentratie integriteit en zuiverheid van RNA worden getest voor real-time PCR. Bovendien ribonucleasen zeer STABLe en gemakkelijk afbreekbaar is RNA, waardoor extra voorzichtigheid is geboden bij het hanteren van het RNA. Alle reacties dienen te worden opgericht op ijs om RNA degradatie te minimaliseren. RNase remmers kan ook worden toegevoegd aan het reactiemengsel voorafgaand aan transcriptie keren. Handschoenen moet vaak worden ververst, terwijl steriel en voor eenmalig plasticware moet worden gebruikt tijdens de gehele procedure.
Als er geen PCR-product of de amplificatiecurve wordt gedetecteerd laat in real-time PCR, kunt u proberen het aantal PCR-cycli, en zorg ervoor dat het fietsprogramma activering van HotStarTaq DNA-polymerase gedurende 15 minuten bij 95 ° C bevat Lage versterking is wellicht ook te wijten aan onvoldoende start-cDNA template, daarom proberen om de hoeveelheid van cDNA te verhogen. Late versterking kan ook een vals-positieve.
Subscription Required. Please recommend JoVE to your librarian.
Disclosures
Geen belangenconflicten verklaard.
Acknowledgments
Dit werk werd gefinancierd door de Canadese Cancer Society Research Institute, toe te kennen nee. 019038.
Materials
| | | | |
| --- | --- | --- | --- |
| Name | Company | Catalog Number | Comments |
| TRIzol Reagent | Invitrogen | 15596 | |
| miScript Reverse Transcription Kit | Qiagen | 218061 | |
| miScript Primer Assays | Qiagen | Experiment specific | |
| miScript SYBR Green PCR Kit | Qiagen | 218073 | |
| LightCycler 3.5 Real-Time PCR System | Roche Group | | |
| Light Cycler Capillaries | Roche Group | 04929292001 | |
| NanoDrop 1000 spectrophotometer | Thermo Fisher Scientific, Inc. | 2538 | |
| Agilent 2100 Bioanalyzer | G2943CA | | |