Summary
Tek Virüs Genomik (SVG) tek Virons en genom izole etmek ve yükseltmek için bir yöntemdir. Karışık malzeme grubuyla viral süspansiyonları böylece virion yakalama ve alt işleme sırasında genom kesme azaltarak, agaroz içeren ayrık kuyu ile bir mikroskop lamı üzerine akım sitometri kullanılarak sıralanır. Tüm genom amplifikasyonu sekanslama için uygun olan genomik malzeme ile sonuçlanan birden fazla yer değiştirme amplifikasyonu (MDA) kullanılarak elde edilir.
Cite this Article
Copy Citation | Download Citations | Reprints and Permissions

Zeigler Allen, L., Ishoey, T., Novotny, M. A., McLean, J. S., Lasken, R. S., Williamson, S. J. Isolation and Genome Analysis of Single Virions using 'Single Virus Genomics'. J. Vis. Exp. (75), e3899, doi:10.3791/3899 (2013).
Abstract
Tek mikrobiyal hücrelerin tüm genom amplifikasyon ve sıralama ekimi 1-3 en gerek kalmadan genomik karakterizasyonu sağlar. Her yerde ve gezegenimizin 4 üzerindeki en çok sayıda varlıklar ve tüm ortamlarda 5 içinde önemli olan Virüsler,, benzer yaklaşımlar yoluyla ortaya çıkmak için henüz. Burada 'Tek Kişilik Virüs Genomik' (SVG) adı verilen tek virionlar genom izole ve karakterize için bir yaklaşım tarif. SVG daha sonraki dizi analizi reaksiyonlar otelinin ikinci el kullanılabilen, yüksek molekül ağırlığı genomik DNA (gDNA) elde etmek üzere tek tek virüs ve Bütün Genom Dizileme Sistemi amplifikasyon izole etmek için akım sitometri kullanır.
Protocol
1. Viral süspansiyonlar, bölgesinin hazırlanması
Akım sitometri yöntemiyle tek bir virionlar izolasyonu önce, sabitlenmemiş viral süspansiyonlar hazırlamak.
Emin yarıyıl sonu viral bir askıya alma yapma daha önce belirlenmiş olan iletişim kuralları'nı kullanarak viral partiküller izole edin 0.1 'de içerdiği almaktadır mikron-süzüldü Yatay aralık TE (Tris-EDTA, pH 8). Diğer yöntemler söz konusu kullanım kimyasal flokülasyon 7 geliştirilmiştir olmasına rağmen Biz yaklaşımlar teğetsel akış filtrasyon (TFF) kullanarak 6 tavsiye ederiz.
Örneğin Epifloresans 8-10 veya akış sitometri 11,12 kullanarak kurulmuş bir protokolleri, kullanarak viral parçacıkların numaralandırılamıyor.
Iki Eppendorf tüpleri (son hacim 1.000 ul olması tavsiye edilir) içine kısım viral süspansiyon.
2. Akım Sitometri
Özel bir İleri Saçılım PMT (FSC PMT) ile donatılmış BD FACSAria II Akış Sitometresi kullanarak virüsleri sıralamak için, 0.1 yılında viral parçacıkların sulandırmak TE, pH 8 mikron-filtre.0 200 olaylar sn -1 bir olay oranı için uygun bir titresi için.
Sinyal--gürültü rasyonlarına üst düzeye çıkarmak için eşikleri, örneğin ayarlayın. T4 ve lambda faj parçacıkları aşağıdaki içeren bir karışık malzeme grubuyla karşılaşılmıştır için tavsiye edilir: FSC PMT 1.000 ve SSC az 200 de.
Sadece 1 içeren "boş" örnekleri) 0,1 mikron-filtre TE ve 2) 1e-4 at 0.1 mikron-filtre TE ve SybrGreen1 stok seyreltme (10.000 X) 100 ul Run.
Lekeli viral süspansiyon (stokunun 1e-4 dilüsyon at SybrGreen1), 5.000 olaylar her bir toplam için viral parçacıklar tarafından takip arka plan değerlendirmek için boyanmamış viral süspansiyon bir küçük bir kısım (100 ul tavsiye edilir), çalıştırın. Bu tür için önce, gerekirse, konsantrasyon kontrol edin ve sıralama kapıları ayarlamak için olduğunu. Biz viral parçacıkların merkezinde sıkı bir kapısı tavsiye ederiz. Ayrıca, kapılar üreten için biz SYBR Green ve FSC PMT arsa kullanın.
1% alçak erime alanına (LMP) ve bölgesinin 5'te ul ekleyin agaroz ile (TBE tamponu otelinin), her ile 37 ° C bulundunuz soğutulduiyi bir politetrafloroetilen (PTFE) mikroskop lamı üzerine (Elektron Mikroskobu Bilimler).
Sıralama kriteri viral parçacıkların yakalamak için akış sitometresinin içine PTFE mikroskop lamı yükleyin.
Doğrudan LMP agaroz ile PTFE slayt üzerine SYBR yeşil lekeli viral parçacıkların tür başlayın. Biz konfokal lazer tarama mikroskobu (CSLM) sırasında virüslerin derinliği algılama yardımcı olmak için bazı kuyularda 10 veya daha fazla olaylar (viral parçacıklar) sıralama tavsiye ederiz.
Sınıflandırıcı tamamlandı olduğunu Ne zaman, akış sitometresinin ışık adlı işletmeye slayt kaldırmak ve yorum eklemek 5 ul devamı LMP, agaroz ve böylece, viral partikül (ler) katıştırma, her bir kuyunun bulundunuz 37 ° C arası ° C'ye soğutuldu.
3. Konfokal Mikroskop kullanarak Tek Kişilik viryonlar görselleştirme
, Bir Tek bir virionu arzu edilen edilir halinde, her bir ayrıca bir bireysel virüs içeriyorsa,, o zaman belirlenmesi zorunludur olduğunu ve CLSM yalnızca, bir tek bir parçacık mevcut olduğunu ve bu olduğunu doğrulamak için 3 Boyutlu otelinin katıştırılmış virion (temizle) görselleştirmek için gerekli olan Birden çok virüsHer bir Diğer bölgesinin En iyi ilgili sayısız yığılmış değil, uygulanır.
Dalga boyu 488 nm eksitasyon için mikroskop lazer ayarlayın.
Bir 63X uzun çalışma mesafesi objektif kullanarak katıştırılmış viral parçacıkların Görüntü.
4. Tüm Genom Amplifikasyon
Tek virüsleri ile kuyu CLSM ile tanımlanır Bir kez, agaroz (in situ) içinde birden çok yer değiştirme amplifikasyon (MDA) kullanarak tüm genom amplifikasyon gerçekleştirin.
DNA kontaminasyonu tanıtılması olasılığını azaltmak için, slayt gelen istenen agaroz 'boncuk' kaldırmak ve bir steril PCR tüp yerleştirilir. Steril cımbız ve / veya bu adımı için jilet bir çift kullanın.
In situ bir termalcycler sıcağında bloğunda 3 dk için (94 ° C) ısı kullanılarak en viral parçacık lyse.
Aşağıdaki değişiklikler ile MDA reaksiyon aşağıdaki üretici tavsiyelerine (GenomiPhi HY kiti, GE Healthcare) gerçekleştirin

Örnek ve reaksiyon buf hacmi azaltın30 de 11.25 ul ve inkübe için fers ° nonspesifik amplifikasyon azaltmak için 2 hr bir maksimum için C.

, Bir, 1.7 ml Eppendorf tüp etmek için genomik DNA'sı (gDNA) aktarmak edenler tarafından güçlendirilmiş genomik malzeme Purify ve 1/10 ses seviyesi TBE tamponu otelinin 3 M sodyum asetat (edilerek NaOAc) (aynı tampon maddesi LMP, agaroz hazırlanmasında otelinin ikinci el) ekleyin.
55 Place at numune (ler) ° C 10 dakika için agaroz çözmek için.
42 için tüp (ler) hareket ettirin ° C enzim eklemeden önce sıcaklığını düşürmek için.
Her bir tüp ve 2 saat boyunca inkübe edin bulundunuz β-Agarase 2 adet sahipsiniz.
, Tüp için bir tampon-doymuş bir fenol çözeltisi bölgesinin 1 hacim Ekleyin olarak, şiddetle mix ve 15 dakika Ülke: için 3,500 'den x g'de okuyun santrifüj. , Bir yeni 1.7 ml lik Eppendorf tüp bulundunuz süpernatant ihtiva eden DNA aktarın.
Glycoblue, bölgesinin% 100, izopropanol ve 1μl bölgesinin bir hacim ekleyin. Tersini tüp tarafından iyi karıştırın.
60 dakika için 4 ° C de 28.000 xg'de santrifüjleyin. Durusu izopropanol pelet rahatsız için değil emin yapım. 70% etha 150 ul ekleyinHer bir tüp için nol. 10 dakika için 28.000 xg'de ve oda sıcaklığında Spin. Etanol Durusu için hava, çalıştırıldığında DNA pelet kuru ve TE tampon maddesinde bölgesinin, bir uygun bir hacmi eksiksiz yer alan DNA tekrar süspansiyon haline getirin.
Biz aşağıdaki modifikasyonlar ile adımları 4,4-4,9 tekrar tavsiye ederiz. Ortalama gönderim süresi 3-5 çoğaltmak MDA reaksiyonları Set up ve 1 saat için 30 de inkübasyon ° C azaltır. Arzu edilen konsantrasyonunun elde edilmesi için% 95-100 aralığı şekilde, etanol kullanılarak ve temizlemesi için çökelti, Aşağıdaki Yüzme Havuzu örnekleri.
5. Temsilcisi Sonuçlar
Şekil 1, bu SVG sürecini özetler. Bu yöntemler sıralama için yeterli olan gDNA miktarları elde etmek için MDA tarafından takip bir karışık malzeme grubuyla karşılaşılmıştır gelen tek virionlar izole etmek için agaroz içeren PTFE mikroskop slaytlar üzerine viral parçacıkların sıralamak için akım sitometri kullanın.
Bir kanıtı-of-kavram olarak, bakteriyofaj lambda ve T4 karıştırıldı ve SVG Süreci 11 tabi. Virionlar agaroz, CLSM wa yakalanan ve gömülü edildi Bir keztemizle görselleştirmek ve, bir tek bir virionu elde edildi olduğunu teyit etmek için ikinci el;. sonuçları Şekil 2'de otelinin yeri gösterilmiştir arıyorsunuz Bir kez tek kişilik virionlar ile kuyu tespit edilmiştir, onlar gDNA bölgesinin MDA için seçilmişlerdir, edildi. Biz o zaman T4 ve izole virion, Şekil 3. Tanımlamak için lambda Bir izole faj lambda genom sıralama için seçildi için multipleks PCR özel kullanılır.
Genom sekanslaması özellikle, ve SVG kullanıyorsanız elde edilen seçenekleri içerisinde bölgesinin seviyeler-ini belirlemek için gerçek zamanlı verilerin referans ilaç politikasına tabi edildi 454-Titanyum teknolojisi ve sıralama okuma kullanılarak gerçekleştirildi. Şekil 4, gösterileri hemen hemen tüm lambda genomu (olanlar önce Herhangi 5'te bp bölgesinin özel durum ile birlikte) kurtarıldı olduğunu.

1 Şekil. Bir karışık malzeme grubuyla karşılaşılmıştır içeren SVG metodolojisi. Viral süspansiyonları daha sonra ler vardır akım sitometri yöntemiyle tek bir virüs parçacıkları indirgenirbireysel agaroz "boncuk" üzerine orted. Virüs agaroz yazılan Mesajı akım sitometrik sıralama ek bir tabaka ile overlaying tarafından agaroz boncuk içinde gömülü edilir. Son olarak, Bütün Genom Dizileme Sistemi amplifikasyon in situ otelinin gerçekleştirilir.

Şekil 2. Konfokal lazer bir agaroz boncuk gömülü bir sıralama kriteri viral parçacığın mikrografı tarama. Bir agaroz boncuk içinde bir SYBR Green I-lekeli viral parçacığın A) Üç boyutlu rekonstrüksiyon. Inset: izole viral parçacığın daha yüksek büyütme bir agaroz boncuk içinde lekeli tek bir viral parçacığın göreceli floresans B) Profil arsa..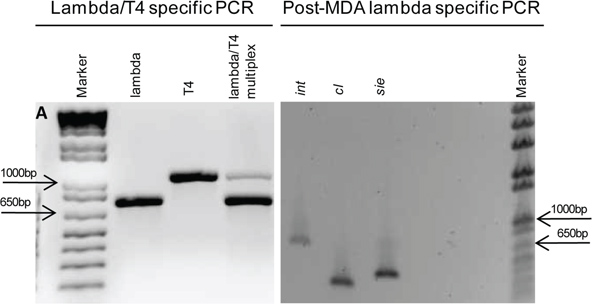 Şekil 3,. PCR kullanılarak, Bakteriyofaj kimlik belgesi. A) '</ Strong> Multipleks PCR genotip, Lanes için T4 ve lambda-özel primerler kullanılarak: 1. TrackIt 1 kb artı merdiven (Invitrogen), 2. lambda integraz (750 bp), 3. T4, majör kapsid proteini (1,050 bp), 4. . 1: lambda integraz ve T4 büyük kapsid protein Mix B) ek lokusların ile Bilanço Tarihinden Sonraki lambda spesifik PCR daha fazla faj genom izolasyon, Lanes onaylamak için. Lambda integraz (750 bp), 2. Lambda repressör (356 bp) 3. Lambda sie (süperenfeksiyon hariç tutma) (456 bp) 4. TrackIt 1 kb artı merdiven (Invitrogen).

4 Şekil. Lambda genom nitelikleri ve kapsama. A) GC arsa, B) lambdanın Genom Haritayı (adapte http://img.jgi.doe.gov ), ve C) SVG of Mapping referans bakteriyofaj lambda için okur, x-ekseni olduğu genom konumu, yaxis% kapsama alanı.
Subscription Required. Please recommend JoVE to your librarian.
Discussion
SVG yaklaşımlar uygularken önemli bir dizi faktör dikkate alınmalıdır. Genotipleme, proof-of-concept deney 13 sırasında yapılan gibi, korunmuş astarlar tüm viral gruplarında mevcut değildir gibi çevresel veya bilinmeyen izolatların için geçerli bir seçenek değil. Ayrıca, arka plan DNA sentezi ya da spesifik olmayan amplifikasyon sık MDA reaksiyon 14 kullanılarak amplifikasyon sırasında bildirilir. Spesifik olmayan amplifikasyon reaksiyonu reaktif maddeler ve / veya reaksiyon karışımı içinde rastgele heksamerleri amplifikasyon sağlayan bir mekanizma yoluyla ortaya çıkan DNA bulaşıcı atfedilmiştir. Viral toplulukları ile çalışırken, tercihen (dolayı parçacık içinde anlamlı bir fark (hücre) boyutu ve genomik DNA içeriği, bir sonucu olarak tek bir bakteriyel hücrelere karşıt olarak şablon viral DNA düşük miktarda amplifiye nonspesifik DNA'lar daha yüksek bir olasılık belki de yoktur 25-100 nm; virüs ~ 1.5 fg, gibi0,2-1,5 um aksine, bakteriler için ~ 14 FG). DNaz I, CLSM kullanarak agaroz boncuk içeren virüs incelenmesi, MDA kuluçka süresinin kısaltılması ile viral toplulukları tedavisi ve (yani gibi yeni nesil sıralama teknolojileri ile yetenekli sıralama derinliği arttı: Aşağıdaki yöntemler spesifik olmayan amplifikasyon seviyesini azaltmak için tavsiye edilir 454-Titanyum ve Illumina gibi).
Çevresel numuneler üzerinde SVG gerçekleştirirken, optimize de novo montaj tam veya tama yakın genom dizileri elde etmek için zorunludur. Bu gereksiz azaltılması, montajdan önce daha büyük bir kapsama alanı 13 elde etmek için gerekli olan okur bulduk.
Subscription Required. Please recommend JoVE to your librarian.
Disclosures
Çıkar çatışması ilan etti.
Acknowledgments
Biz yazının hazırlık süreci boyunca onun fikir ve tavsiye için Ken Nealson teşekkür etmek istiyorum.
Materials
| | | | |
| --- | --- | --- | --- |
| Name | Company | Catalog Number | Comments |
| 1X TE buffer | Invitrogen | 12090-015 | |
| Buffer-saturated Phenol | Invitrogen | 15513-039 | |
| GenomiPhi HY kit | GE Healthcare | 25-6600-22 | |
| Glycoblue | Invitrogen | AM9516 | 15 mg/ml |
| LMP agarose | Invitrogen | 16520100 | |
| PTFE microscope slide | Electron Microscopy Sciences | 63430-04 | 24 well, 4 mm Diameter |
| SybrGreen | Invitrogen | S7585 | 10,000X |
| β-agarase | New England Biolabs | M0392S | |