Summary
Un semplice protocollo per la preparazione di estratti di tessuto umano da utilizzare come fonte di antigeni a cellule T funzionali saggi è descritto. Questo metodo consente risposte delle cellule T al tessuto-antigeni derivati ​​da misurare
Cite this Article
Copy Citation | Download Citations

Necula, A., Chand, R., Albatat, B., Mannering, S. I. Extraction of Tissue Antigens for Functional Assays. J. Vis. Exp. (67), e4230, doi:10.3791/4230 (2012).
Abstract
Molti degli obiettivi di antigene risposta immunitaria adattativa, riconosciuti da cellule T e B, non sono stati definiti 1. Ciò è particolarmente vero per le malattie autoimmuni e il cancro 2. Il nostro obiettivo è quello di studiare gli antigeni riconosciuti dalle cellule T nel tipo di malattia autoimmune 1 diabete 1,3,4,5. Per analizzare umani risposte delle cellule T contro il tessuto in cui gli antigeni riconosciuti da cellule T non sono identificati abbiamo sviluppato un metodo per estrarre antigeni proteici da tessuto umano in un formato compatibile con saggi funzionali 6. Risposte precedentemente, cellule T ad estratti di tessuto non purificati non potevano essere misurati perché i metodi di estrazione produrre un lisato che conteneva detergenti tossiche per cellule mononucleari del sangue periferico. Qui si descrive un protocollo per estrarre proteine ​​da tessuti umani in un formato che non è tossico per le cellule T umane. Il tessuto è omogeneizzato in una miscela di butan-1-olo, acetonitrile e water (BAW). La concentrazione proteica nel tessuto estratto viene misurato e una massa nota di proteina è frazionato in provette. Dopo l'estrazione, i solventi organici vengono rimossi mediante liofilizzazione. Estratti di tessuti liofilizzati possono essere memorizzati fino al momento. Per l'uso in saggi di funzione immunitaria, una sospensione di cellule del sistema immunitario, in terreni di coltura appropriati, possono essere aggiunti direttamente al estratto liofilizzato. Proliferazione e produzione di citochine da PBMC, in risposta a estratti preparati utilizzando questo metodo, sono stati facilmente misurata. Quindi, il nostro metodo permette la rapida preparazione di lisati di tessuto umano che possono essere utilizzati come fonte di antigeni nell'analisi delle risposte delle cellule T. Suggeriamo che questo metodo faciliterà l'analisi delle risposte immunitarie adattative ai tessuti nei trapianti, cancro e malattie autoimmuni.
Protocol
1. Preparazione del tessuto Spleen
Nota-tutto il materiale umana dovrebbero essere considerati come potenzialmente infettivi e le procedure devono essere condotte in una cabina a flusso laminare di classe II. Utilizzando forbici sterili e pinze, rimuovere il tessuto grasso e fibroso dalle sezioni milza (~ 1-2 cm di dimensione) e tagliare la maggior quantità di materiale capsula esterna possibile.
Tagliare un pezzo di piccole dimensioni (1-2 cm 3) del tessuto della milza e posizionare ogni pezzo in una sterile tubo da 50 ml Falcon.
Snap-congelare i pezzi di tessuto per immersione in liquido N 2.
Conservare a -80 ° C. Un protocollo simile è adatto per altri tessuti (s).
2. Preparazione Islet umano per l'archiviazione
Isolotti cultura nei media CMRL. Raccogliere isolotti in un tubo 10 ml fondo conico e lavare due volte in PBS mediante centrifugazione a 1500 rpm per 5 min. Eliminare il PBS e svuotare il buffer residuo ponendo la provetta capovolta brevemente su un tovagliolo di carta. Fare attenzione a nonper rimuovere gli isolotti.
Una volta svuotato, ri-tappare la provetta e snap-congelamento in azoto liquido e conservare a -80 ° C.
3. Preparazione estratto
Preparare BAW mix (10:30:60% v / v) e conservare a 4 ° C.
Rimuovere il tubo da -80 ° C. Scongelare a temperatura ambiente.
Aggiungere un quantitativo sufficiente ghiacciata BAW per coprire il pezzo di tessuto. Per utilizzare isolotti 3-5 ml. Per tessuto della milza utilizzare 10-20 ml a seconda della dimensione del pezzo di tessuto.
Montare il tessuto omogeneizzatore. Pulire da 'omogeneizzazione' 10-20 ml di etanolo 70% / acqua.
Omogeneizzare il tessuto in lampi, dopo aver posizionato la sonda omogeneizzatore nella provetta con il tessuto e la soluzione BAW. Tenere il tubo in un secchio di ghiaccio in seguito.
Pulire accuratamente l'omogeneizzatore tra i campioni, omogeneizzando 10-20 ml di etanolo 70% / acqua e poi tampone BAW. Questo impedisce la contaminazione incrociata di tessuto tra samples.Dismantleand pulita con 70% etanolo / acqua dopo noie.
Se un estratto contenente solo materiale solubile è richiesto, centrifugare estratto omogeneizzata tessuto a 4000 rpm a temperatura ambiente per 10 min. Se un estratto grezzo è più necessario, centrifugare a 1000 rpm a temperatura ambiente per 5 min. La tecnica più appropriata per estrarre i BAW-proteine ​​insolubili dipende dall'analisi valle delle proteine. Per l'uso in saggi immunologici funzionali si suggerisce di tentare di sciogliere la frazione insolubile in urea 8 M come abbiamo trovato che questo è ben tollerato 6.
Trasferire il surnatante in una provetta pulita e metterlo in ghiaccio.
Determinare la concentrazione di proteine ​​nell'estratto utilizzando un saggio BCA o simili.
4. Congelare Estratti di essiccazione
A seconda della massa della proteina desiderata (ad esempio, 100 mcg per provetta), diluire il omogenato di conseguenza e dispensare aliquote in etichettato 5,0 ml sterile, Falcon (12x75 mm) tubi. Si utilizzano spesso 100 mg / tubo.
Utilizzare un 18-20 ago da siringa sterile calibro di fare 3 fori nel tappo di ciascun tubo.
Congelare tubi o mettendo in ghiaccio secco per circa 10 minuti o in un congelatore a -80 ° C per> 1 ora. Conservare a -80 ° C fino al momento di mettere sul liofilizzatore.
Accendere il freeze-asciutto e lasciarla stabilizzare (-100 ° C). Questa operazione richiede circa 30 minuti.
A seconda del volume, liofilizzazione può essere completato entro 3 ore, ma abbiamo lasciato i nostri campioni di routine durante la notte.
Dopo il completamento del ciclo di asciugatura, spegnere la pompa per vuoto e lentamente consentire pressione nella camera. Rimuovere rack.
In una cappa sterile, rimuovere i tappi forati dai tubi e sostituirli con quelli nuovi (Falcon 352032).
Conservare le provette a -20 ° C. I campioni possono essere ricostituiti in terreni di coltura, o altri buffer, ed utilizzati in funzione o saggi biochimici.
5. Risultati rappresentativi
Figura 1 mostra la colorazione di una proteinagel caricato con estratto di milza e tessuto di isole pancreatiche impoverito (etichetta acinose) e purificato isole umane (isole etichettati). I risultati mostrano una buona rappresentazione di proteine ​​di peso molecolare diverso per ogni tessuto.
La capacità di estratti di tessuto umano per stimolare la proliferazione di cellule T è stato testato utilizzando un saggio basato CFSE proliferazione 7 (Figura 2). PBMC utilizzato in questo saggio sono stati isolati da un individuo con diabete di tipo 1. L'entità della risposta viene espressa come rapporto tra il numero di cellule per CFSE dim 5000 CD4 +, cellule CFSE luminosi senza antigene di cellule CFSE dim 5000 per CD4 +, cellule CFSE luminose con antigene di campioni in triplo 7. I risultati mostrano una debole, ma rilevabile, la proliferazione in risposta a acinose (CD1 = 3.5) e una risposta più forte per estratto isolotto (6.8). Virus influenzale inattivato (CDI = 142,6), è incluso comecontrollo positivo.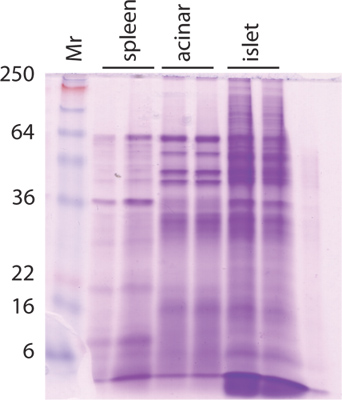 Figura 1. Gel proteico.

Risultati Figura 2. CFSE da un saggio basato su proliferazione contro acinose ed estratto isolotto. Clicca qui per ingrandire la figura .
Subscription Required. Please recommend JoVE to your librarian.
Discussion
Questo protocollo è stato sviluppato perché volevamo per generare un estratto dal tessuto umano che è stato esente da sostanze chimiche tossiche come i detersivi. Specificamente abbiamo utilizzato per preparare estratti di tessuto umano che possono essere utilizzati in saggi di funzione immunitaria umana in vitro. Estratti preparati usando questo protocollo può ugualmente essere ricostituito in qualsiasi buffer e usato per molte analisi biochimiche, quali la cromatografia in western blotting o liquido. Ciò rende questa tecnica applicabile a molte applicazioni a valle.
Utilizzando il nostro protocollo la risposta a estratti di tessuto non sono forti. Questo è previsto perché siamo alla ricerca di risposte a "sé" antigeni, nel nostro caso risposte delle cellule T contro gli antigeni delle isole sono spesso debole 1. In precedenza abbiamo scoperto che CD4 + umane le risposte delle cellule T a ricombinante proinsulina e acido glutammico decarbossilasi (GAD), autoantigeni nel diabete tipo 1, possono essere rilevati utilizzando il nostro CFSE-basedproliferazione dosaggio 7,8. Abbiamo scelto di utilizzare estratti di tessuto per evitare problemi associati all'utilizzo di peptidi sintetici 9 e proteine ​​ricombinanti 10.
Noi di solito non aggiungere gli inibitori della proteasi per il nostro estrazioni. La presenza di inibitori di proteasi può inibire l'elaborazione e presentazione dell'antigene 11 e conseguentemente inibire risposte delle cellule T. Invece si esegue l'estrazione sul ghiaccio nel tentativo di prevenire proteasi degradazione mediata. Per altre applicazioni l'inclusione di inibitori di proteasi può essere utile se la degradazione delle proteine ​​è un problema.
Subscription Required. Please recommend JoVE to your librarian.
Disclosures
Nessun conflitto di interessi dichiarati.
Acknowledgements
Questo lavoro è supportato da sovvenzioni dal Australian National Health and Medical Research Council (NHMRC # 559007) e la Juvenile Diabetes Research Foundation (JDRF 4-2006-1025) e il progetto di infrastruttura operativa del Governo del Victoria. Ringraziamo i membri del Team Tom Mandel Islet Programma di trapianto di isole di isolamento per fornire i tessuti umani. I tessuti umani sono stati raccolti ed utilizzati con il locale approvazione etica (St. Vincent Hospital HREC-A 011/04 e Salute San Vincenzo HREC-A 135/08).
Materials
Name
Company
Catalog Number
Comments
5 ml 12 x 75 mm sterile polystyrene tubes
BD Falcon
352054
Caps for tubes polystyrene tubes (above)
BD Falcon
352032
50ml sterile tubes
Becton Dickinson
352070
Acetonitrile
Mallinckradt Chemicals
2856-10
Butan-1-ol
Sigma Aldrich
537993-IL
Homogenizer: PRO200
Bio-strategy
01-01200
10 x 115 mm saw-tooth generator
Lyophilizer
Virtis, Benchtop 4K
Sterile Needle 18-20 gauge
Becton Dickinson
REF 302032
CMRL-1066 Medium
Sigma
C0422
PBS
Sigma
D8537

Table 1. Specific reagents and equipment.