Summary
Um protocolo simples para a preparação de extractos de tecido humano para ser usado como uma fonte de antigénios de células T funcionais de ensaios está descrito. Este método permite a respostas das células T aos antigénios derivados de tecido a ser medido
Cite this Article
Copy Citation | Download Citations

Necula, A., Chand, R., Albatat, B., Mannering, S. I. Extraction of Tissue Antigens for Functional Assays. J. Vis. Exp. (67), e4230, doi:10.3791/4230 (2012).
Abstract
Muitos dos alvos de antigénio de resposta imune adaptativa, reconhecidos por células T e B, não foram definidas 1. Isto é particularmente verdadeiro em doenças auto-imunes e cancro 2. O nosso objectivo é o de investigar os antigénios reconhecidos pelas células T humanas do tipo de doença auto-imune uma diabetes 1,3,4,5. Para a análise de células T humanas respostas contra o tecido, onde os antigénios reconhecidos pelas células T são identificadas não foi desenvolvido um método para extrair os antigénios de proteína a partir de tecido humano, em um formato que é compatível com ensaios funcionais 6. Respostas previamente, de células T para extractos de tecido não purificados não puderam ser medidos por métodos de extracção de produzir um lisado que continha detergentes que foram tóxicas para as células mononucleares do sangue periférico. Aqui descrevemos um protocolo para a extracção de proteínas a partir de tecidos humanos, em um formato que não é tóxico para as células T humanas. O tecido é homogeneizado numa mistura de butan-1-ol, acetonitrilo e water (BAW). A concentração de proteína no extracto de tecido é medida e uma massa conhecida de proteína é separado em alíquotas para tubos. Depois da extracção, os solventes orgânicos são removidos por meio de liofilização. Extractos de tecidos liofilizados podem ser armazenados até serem necessários. Para utilização em ensaios da função imune, uma suspensão de células do sistema imunológico, em meios de cultura apropriados, podem ser adicionados directamente ao extracto liofilizado. A produção de citocinas e a proliferação de PBMC em resposta a extractos preparados utilizando este método, foram facilmente medido. Por isso, o nosso método permite a preparação rápida de lisados ​​de tecido humano que podem ser utilizados como uma fonte de antigénios na análise de respostas de células T. Sugerimos que este método irá facilitar a análise das respostas imunes adaptativas para os tecidos em transplantes, cancro e auto-imunidade.
Protocol
1. Preparando tecido do baço
Nota-todo o material humano devem ser tratados como potencialmente infecciosos e todos os procedimentos devem ser realizados em uma Capela Fluxo Laminar Classe II. Usando tesouras e pinças esterilizadas, remover gordura e tecido fibroso de seções do baço (~ 1-2 cm de tamanho) e retire o máximo de material da cápsula externa possível.
Corte um pedaço pequeno (1-2 cm 3) de tecido do baço e colocar cada peça em um tubo de 50 ml estéril Falcon.
Snap-congelar os pedaços de tecido por imersão em N2 líquido.
Armazenar a -80 ° C. Um protocolo similar é adequado para qualquer outro tecido (s).
2. Preparando Islet Humanos para Armazenamento
Ilhotas Cultura na mídia CMRL. Colete ilhotas num tubo de 10 ml de fundo cónico e lavar duas vezes em PBS por centrifugação a 1500 rpm durante 5 min. Decantar a PBS e drenar o tampão residual colocando o tubo invertido brevemente sobre uma toalha de papel. Tenha cuidado para nãopara desalojar as ilhotas.
Uma vez drenada, re-cap o tubo e encaixe-congelamento em nitrogênio líquido e armazenar a -80 ° C.
3. Preparando Extrato
Prepare BAW mix (10:30:60% v / v) e armazenar a 4 ° C.
Remover o tubo de -80 ° C. Descongelar à temperatura ambiente.
Adicionar BAW gelado suficiente para cobrir a peça de tecido. Para usar ilhotas 3-5 ml. Para o tecido do baço usar 10-20 ml, dependendo do tamanho do pedaço de tecido.
Montar o homogeneizador de tecidos. Limpar por "homogeneização" 10-20 ml de etanol a 70% / água.
Homogeneizar o tecido em explosões múltiplas, após a colocação da sonda para o tubo homogeneizador com o tecido e solução BAW. Manter o tubo em um balde de gelo depois.
Limpar completamente o homogeneizador entre amostras, por homogeneização de 10-20 ml de etanol a 70% / água e depois de tampão BAW. Isto impede a contaminação cruzada de tecido entre samples.Dismantleand limpa com etanol a 70% / água depois de nóse.
Se um extracto contendo apenas material solúvel é necessário, centrifugar extracto de tecido homogeneizado a 4000 rpm à temperatura ambiente durante 10 min. Se um extracto bruto é mais necessário, girar a 1000 rpm à temperatura ambiente durante 5 min. A técnica mais apropriada para extrair as proteínas insolúveis em BAW depende da análise a jusante das proteínas. Para utilização em ensaios imunológicos funcionais sugerimos tentar dissolver a fracção insolúvel em ureia 8 M, como já anteriormente foi encontrado que este seja bem tolerada 6.
Transferir o sobrenadante para um tubo limpo e colocá-lo em gelo.
Determinar a concentração de proteína no extracto utilizando um ensaio BCA ou similar.
4. Congelar Extractos de secagem
Dependendo da massa da proteína desejada (isto é, 100 mg por tubo), dilui-se o homogenato em conformidade e dispensar em alíquotas rotulado 5,0 ml estéril, Falcon (12x75 mm) de tubos. Nós freqüentemente usar 100 mg / tubo.
Use um 18-20 calibre da agulha de seringa estéril para produzir 3 furos na tampa de cada tubo.
Congelar tubos ou colocando-os em gelo seco durante ~ 10 min ou no congelador a -80 ° C durante> 1 hora. Loja a -80 ° C até que esteja pronto para colocar no liofilizador.
Ligue liofilizador e deixar equilibrar (-100 ° C). Isto demora cerca de 30 min.
Dependendo do volume, a liofilização pode ser concluída dentro de 3 horas, mas nós rotineiramente deixar nossas amostras durante a noite.
Após a conclusão do ciclo de secagem, desligar a bomba de vácuo e, lentamente, permitir que a pressão dentro da câmara. Remover rack.
Em um capuz estéril, remover as tampas dos tubos perfurados e substituir por novos (Falcon 352,032).
Tubos de armazenar a -20 ° C. As amostras podem ser reconstituídos num meio de cultura, ou outros tampões, e usado em ensaios bioquímicos ou função.
5. Resultados representativos
A Figura 1 mostra a coloração de uma proteínagel carregado com extracto de tecido do baço e ilhéus pancreáticos empobrecido (rotulado acinar) e purificado ilhéus humanos (ilhotas marcadas). Os resultados mostram uma boa representação de proteínas de peso molecular diferente para cada tecido.
A capacidade dos extractos de tecidos para estimular a proliferação de células T humanas foi testado utilizando um ensaio de proliferação CFSE baseado 7 (Figura 2). O PBMC utilizado neste ensaio foram isoladas de um indivíduo com diabetes tipo 1. A magnitude da resposta é expressa como a razão entre o número de células CFSE dim por 5000 células CD4 +, brilhantes, sem antigénio CFSE: de células CFSE dim 5000 por células T CD4 +, células CFSE luminosos com antigénio a partir de amostras triplicadas 7. Os resultados mostram uma fraca, mas a proliferação, detectável em resposta à acinar (CD1 = 3,5) e uma resposta mais forte ao ilhota extracto (6.8). Vírus influenza inactivado (CDI = 142,6) é incluído como umcontrolo positivo.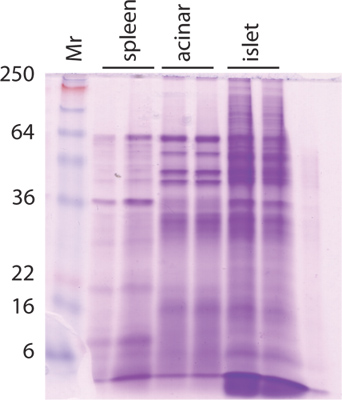 Figura 1. Gel Protein.

Figura 2. Resultados de um ensaio de proliferação CFSE baseado contra acinar e extrato de ilhotas. Clique aqui para ver maior figura .
Subscription Required. Please recommend JoVE to your librarian.
Discussion
Este protocolo foi desenvolvido porque queríamos gerar um extrato de tecido humano que estava livre de produtos químicos tóxicos como detergentes. Especificamente utilizou-se para preparar os extractos de tecido humano que podem ser utilizados em ensaios de função imunitária humana, in vitro. Extractos preparados utilizando este protocolo pode igualmente ser reconstituída em qualquer tampão e usados ​​para muitas análises bioquímicas, tais como cromatografia de Western blotting ou líquido. Isto faz com que esta técnica aplicável a muitas aplicações a jusante.
Usando nosso protocolo a resposta aos extratos de tecido não são fortes. Isto é esperado porque estamos procurando respostas para 'eu' antígenos, no nosso caso respostas de células T contra antígenos das ilhotas são freqüentemente fraco 1. Anteriormente verificou-se que as respostas CD4 + humanas de células T recombinante para proinsulina e ácido glutâmico descarboxilase (GAD), autoantígenos em diabetes do tipo 1, pode ser detectada usando o nosso CFSE baseadaensaio de proliferação 7,8. Optou-se por usar extractos de tecidos, para evitar problemas associados com o uso de peptídeos sintéticos e de proteínas recombinantes, 9 10.
Nós não rotineiramente adicionar inibidores da protease a nossa extracções. A presença de inibidores de protease podem inibir o processamento e apresentação de antigénios 11 e, consequentemente, inibir a respostas das células T. Em vez disso, fazer a extracção em gelo, numa tentativa de evitar a degradação da protease mediada. Para outras aplicações, a inclusão de inibidores da protease pode ser benéfico se a degradação da proteína é um problema.
Subscription Required. Please recommend JoVE to your librarian.
Disclosures
Não há conflitos de interesse declarados.
Acknowledgements
Este trabalho é apoiado por concessões do Australian Nacional de Saúde e Pesquisa Médica do Conselho (NHMRC # 559007) eo Juvenile Diabetes Research Foundation (JDRF 4-2006-1025) e do Sistema de Infra-estrutura Operacional do Governo de Victoria. Agradecemos aos membros da Islet Mandel Tom Programa de Transplante Equipe Isolamento Islet para a prestação dos tecidos humanos. Tecidos humanos foram coletadas e utilizadas com aprovação ética local (Hospital São Vicente HREC-A 011/04 e de Saúde de São Vicente HREC-A 135/08).
Materials
Name
Company
Catalog Number
Comments
5 ml 12 x 75 mm sterile polystyrene tubes
BD Falcon
352054
Caps for tubes polystyrene tubes (above)
BD Falcon
352032
50ml sterile tubes
Becton Dickinson
352070
Acetonitrile
Mallinckradt Chemicals
2856-10
Butan-1-ol
Sigma Aldrich
537993-IL
Homogenizer: PRO200
Bio-strategy
01-01200
10 x 115 mm saw-tooth generator
Lyophilizer
Virtis, Benchtop 4K
Sterile Needle 18-20 gauge
Becton Dickinson
REF 302032
CMRL-1066 Medium
Sigma
C0422
PBS
Sigma
D8537

Table 1. Specific reagents and equipment.