Summary
Ett enkelt protokoll för framställning extrakt av mänsklig vävnad som skall användas som en källa för antigener i funktionella T-cell-analyser beskrives. Denna metod tillåter T-cellsvar mot vävnads-härledda antigener som skall mätas
Cite this Article
Copy Citation | Download Citations

Necula, A., Chand, R., Albatat, B., Mannering, S. I. Extraction of Tissue Antigens for Functional Assays. J. Vis. Exp. (67), e4230, doi:10.3791/4230 (2012).
Abstract
Många av antigen mål adaptiva immunsvaret, som erkänns av B-och T-celler, har inte definierats 1. Detta är särskilt sant i autoimmuna sjukdomar och cancer 2. Vårt mål är att undersöka de antigener känns igen av humana T-celler i den autoimmuna sjukdomen typ 1-diabetes 1,3,4,5. För att analysera humana T-cellsvar mot vävnaden där de antigener som känns igen av T-celler inte är identifierade vi utvecklat en metod för att extrahera proteinantigener från mänsklig vävnad i ett format som är kompatibelt med funktionella analyser 6. Tidigare, T-cell-svar på orenade vävnadsextrakt kunde inte mätas eftersom extraktionsmetoder ger ett lysat som innehöll detergenter som var toxiska för humana perifera blodmononukleära celler. Här beskriver vi ett protokoll för att extrahera proteiner från mänskliga vävnader i ett format som inte är giftigt för humana T-celler. Vävnaden homogeniseras i en blandning av butan-1-ol, acetonitril och WatER (BAW). Proteinkoncentrationen i vävnaden extraktet mäts och en känd massa av protein alikvoterades i tuber. Efter extraktion, de organiska lösningsmedlen avlägsnades genom lyofilisering. Lyofiliserade vävnadsextrakt kan lagras tills den behövs. För användning i analyser av immunfunktion, en suspension av immunceller, i lämpliga odlingsmedier, kan tillsättas direkt till den lyofiliserade extraktet. Cytokinproduktion och proliferation genom PBMC som svar på extrakt framställda med denna metod, var lätt mätas. Följaktligen, tillåter vår metod snabb framställning av mänsklig vävnad lysat som kan användas som en källa för antigener i analysen av T-cellsvar. Vi föreslår att denna metod kommer att underlätta analysen av adaptiva immunsvar till vävnader vid transplantation, cancer och autoimmunitet.
Protocol
1. Förbereda mjältvävnad
Obs-all mänskligt material skall behandlas som potentiellt infektiösa och alla förfaranden bör genomföras på ett klass II skåp med laminärt flöde. Användning av sterila saxar och pincetter, ta bort fett och fibrös vävnad från mjälte sektioner (~ 1-2 cm i storlek) och trimma bort så mycket av den yttre kapseln materialet som möjligt.
Skär en liten bit (1-2 cm 3) i mjältvävnad och placera varje del i en steril 50 ml Falcon-rör.
Snäpp-frysa bitar av vävnad genom nedsänkning i flytande N 2.
Förvara vid -80 ° C. Ett liknande protokoll är lämpligt för annan vävnad (er).
2. Förbereda Human Islet för lagring
Kultur cellöar i CMRL media. Samla öar i ett 10 ml koniskt rör botten och tvätta två gånger i PBS genom centrifugering vid 1.500 rpm under 5 minuter. Häll av PBS och töm resterande buffert genom att placera den inverterade röret kort på en pappershandduk. Var noga med att inteatt lösgöra öarna.
När avrunna, re-cap röret och snap-frysa i flytande kväve och förvara vid -80 ° C.
3. Förbereda Utdrag
Förbered BAW mix (10:30:60% v / v) och förvara vid 4 ° C.
Ta bort röret från -80 ° C. Tina vid rumstemperatur.
Tillsätt tillräckligt iskall BAW att täcka bit vävnad. För cellöar använda 3-5 ml. För mjältvävnad använda 10-20 ml beroende på storleken på bit vävnad.
Montera vävnadshomogenisator. Rengör med "homogenisering" 10-20 ml 70% etanol / vatten.
Homogenisera vävnad i flera skurar, efter placering homogenisatorn sonden i röret med vävnaden och BAW lösning. Håll röret i en is-hink därefter.
Rengör homogenisatorn mellan sampel, genom homogenisering 10-20 ml 70% etanol / vatten och sedan BAW buffert. Detta förhindrar korskontaminering av vävnad mellan samples.Dismantleand ren med 70% etanol / vatten efter osse.
Om ett extrakt innehållande endast lösligt material erfordras, centrifugera homogeniserad vävnadsextrakt vid 4.000 rpm vid RT under 10 minuter. Om en mer råextrakt krävs, snurra vid 1.000 varv per minut vid rumstemperatur under 5 min. Den mest lämpliga tekniken för extrahering av BAW-olösliga proteiner beror på nedströms analys av proteinerna. För användning i funktionella immunologiska analyser som vi föreslår försöka lösa den olösliga fraktionen i 8 M urea som vi tidigare funnit att tolereras väl 6.
Överför supernatanten till ett rent rör och lägga den på is.
Bestämma koncentrationen av protein i extraktet med användning av en BCA-analys eller liknande.
4. Frystorkning Extrakt
Beroende på massan av protein som krävs (dvs., 100 ng per rör), späd homogenatet detta och dispensera alikvoter till märkt 5,0 ml steril, Falcon (12x75 mm) rör. Vi använder ofta 100 pg / rör.
Använd en 18-20 gauge steril spruta nål för att göra 3 hål i hatten för varje rör.
Freeze rören antingen genom att placera dem på torr is under ~ 10 minuter eller i en -80 ° C frys under> 1 timme. Förvaras vid -80 ° C tills redo att sätta på lyofilisatorn.
Slå på frystork och låt jämvikt (-100 ° C). Det tar cirka 30 minuter.
Beroende på volymen, kan frystorkning vara avslutad inom 3 timmar, men vi rutinmässigt lämna våra prover natten.
Efter fullbordan av torkcykeln, stänga vakuumpump och långsamt att trycket i kammaren. Ta rack.
I en steril huva, ta bort de perforerade locken från rören och ersätta med nya (Falcon 352.032).
Förvara rören vid -20 ° C. Prover kan rekonstitueras i odlingsmedier, eller andra buffertar, och används i funktion eller biokemiska analyser.
5. Representativa resultat
Figur 1 visar färgning av ett proteingel laddad med extrakt från mjälte och holme utarmat pankreatisk vävnad (märkt acinar) och renat humana öar (märkta öar). Resultaten visar en god representation av proteiner med olika molekylvikt för varje vävnad.
Kapaciteten hos vävnadsextrakt att stimulera humana T-cellproliferation testades med användning av en CFSE-baserad proliferationsanalys 7 (figur 2). PBMC användes i denna analys isolerades från en individ med diabetes typ 1. Storleken av svaret uttrycks som ett förhållande av antalet CFSE dim celler per 5.000 CD4 +, CFSE ljusa celler utan antigen: av CFSE dim celler per 5.000 CD4 +, CFSE ljusa celler med antigen från tredubbla prover 7. Resultaten visar en svag, men detekterbara spridning svar på acinar (CD1 = 3,5) och en starkare respons på holme extrakt (6,8). Inaktiverat influensavirus (CDI = 142,6) ingår som enpositiv kontroll.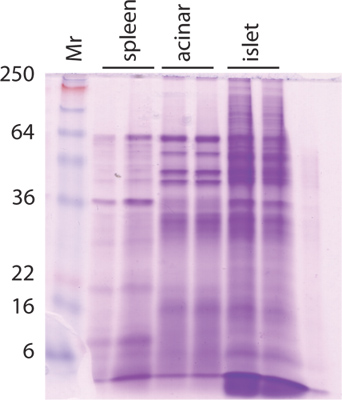 Figur 1. Protein-gel.

Figur 2. Resultat från en CFSE-baserad proliferationsanalys mot acinar och ö extrakt. Klicka här för att se större bild .
Subscription Required. Please recommend JoVE to your librarian.
Discussion
Detta protokoll har utvecklats för att vi ville skapa ett utdrag ur mänsklig vävnad som var fri från giftiga kemikalier, såsom rengöringsmedel. Specifikt har vi använt den för att bereda extrakt av mänsklig vävnad som kan användas i analyser av mänsklig immunförsvar in vitro. Extrakt framställda med användning av detta protokoll kan likaledes rekonstitueras i en buffert och användas för många biokemiska analyser, såsom Western blotting eller vätskekromatografi. Detta gör denna teknik tillämpas på många efterföljande tillämpningar.
Med vår protokoll svaret på vävnadsextrakt är inte stark. Detta förväntas eftersom vi söker svar på "själv" antigener, i vårt fall T-cellssvar mot ö-antigener är ofta svaga 1. Tidigare fann vi att humana CD4 + T-cell svar på rekombinant proinsulin och glutaminsyradekarboxylas (GAD), autoantigener i typ 1-diabetes, kan detekteras med hjälp av vår CFSE-baseradeproliferationsanalys 7,8. Vi har valt att använda vävnadsextrakt att undvika problem förknippade med användning av syntetiska peptider 9 och rekombinanta proteiner 10.
Vi inte rutinmässigt lägga proteashämmare till vår extraktioner. Närvaron av proteasinhibitorer kan hämma antigenbearbetning och presentation 11 och följaktligen inhibera T-cellsvar. Istället vi utför utdrag på is i ett försök att förhindra proteas-medierad nedbrytning. För andra applikationer införandet av proteasinhibitorer kan vara fördelaktigt om proteinnedbrytning är ett problem.
Subscription Required. Please recommend JoVE to your librarian.
Disclosures
Inga intressekonflikter deklareras.
Acknowledgements
Detta arbete stöds av bidrag från Australian National Health and Medical Research Council (NHMRC # 559.007) och Juvenile Diabetes Research Foundation (JDRF 4-2006-1025) och det operativa infrastruktur systematiken i viktorianska regeringen. Vi tackar medlemmarna i Tom Mandel Islet Transplantation Program Islet Isolation Team för att tillhandahålla de mänskliga vävnader. Mänskliga vävnader samlas in och används med lokala etiska godkännanden (Saint Vincent Sjukhus HREC-A 011/04 och St Vincent Health HREC-A 135/08).
Materials
Name
Company
Catalog Number
Comments
5 ml 12 x 75 mm sterile polystyrene tubes
BD Falcon
352054
Caps for tubes polystyrene tubes (above)
BD Falcon
352032
50ml sterile tubes
Becton Dickinson
352070
Acetonitrile
Mallinckradt Chemicals
2856-10
Butan-1-ol
Sigma Aldrich
537993-IL
Homogenizer: PRO200
Bio-strategy
01-01200
10 x 115 mm saw-tooth generator
Lyophilizer
Virtis, Benchtop 4K
Sterile Needle 18-20 gauge
Becton Dickinson
REF 302032
CMRL-1066 Medium
Sigma
C0422
PBS
Sigma
D8537

Table 1. Specific reagents and equipment.