Summary
Hier laten we zien hoe beeldcytometrie kan worden gebruikt voor kwantificering van pathogene schimmels in samenhang met gastheercellen in kweek. Deze techniek kan worden gebruikt als alternatief voor CFU opsomming.
Cite this Article
Copy Citation | Download Citations | Reprints and Permissions

Berkes, C., Chan, L. L. Y., Wilkinson, A., Paradis, B. Use of Image Cytometry for Quantification of Pathogenic Fungi in Association with Host Cells. J. Vis. Exp. (76), e50599, doi:10.3791/50599 (2013).
Abstract
Studies van de cellulaire mechanismen van de pathogenese van pathogene gisten zoals Candida albicans, Histoplasma capsulatum, en Cryptococcus neoformans algemeen gebruik infectie van zoogdierlijke gastheren of gastheercellen (bijvoorbeeld macrofagen), gevolgd door gist kwantificering middels kolonievormende eenheid analyse of flowcytometrie. Terwijl kolonievormende eenheid opsomming is de meest gebruikte methode op het, deze techniek heeft nadelen en beperkingen, waaronder trage groei van sommige schimmelsoorten op vaste media en lage en / of variabele plating efficiëntie, hetgeen vooral van belang bij het vergelijken van de groei van wild-type en mutante stammen. Flowcytometrie kan snelle kwantitatieve informatie over de levensvatbaarheid van gist te voorzien, echter de goedkeuring van flowcytometrische detectie van pathogene gisten is beperkt tot een aantal praktische redenen, waaronder de hoge kosten en bioveiligheid overwegingen. Hier laten we zien een beeld-gebaseerdecytometrische methode met behulp van de Cellometer Vision (Nexcelom Bioscience, LLC) voor de kwantificering van levensvatbare pathogene gisten in co-cultuur met macrofagen. Onze studies richten zich op de opsporing van twee menselijke pathogene schimmels: Histoplasma capsulatum en Candida albicans H.. capsulatum koloniseert alveolaire macrofagen door repliceren binnen de macrofaag phagosome, en hier, we kwantitatief de groei van H. te beoordelen capsulatum gisten in RAW 264,7 macrofagen met acridine oranje / propidiumjodide kleuring in combinatie met beeldcytometrie. Onze methode trouw recapituleert groei trends zoals gemeten volgens de traditionele kolonievormende eenheid opsomming, maar met aanzienlijk verhoogde gevoeligheid. Daarnaast hebben we direct beoordelen infectie van levende macrofagen met een GFP-expressie stam van C. albicans. Onze methodologie biedt een snelle, accurate en economische middelen voor detectie en kwantificering van belangrijke menselijke schimmels in associatie with gastheercellen.
Introduction
Studies van pathogene schimmels in samenwerking met hun gastheren en / of gastheercellen vereisen vaak kwantificering van levensvatbare schimmels cellen over een tijdsverloop of onder verschillende omstandigheden infectie. Bepalen van kolonie vormende eenheden (CFU) is de standaard methode waarbij het aantal levensvatbare schimmelcellen is gemeten, maar deze techniek heeft een aantal nadelen en beperkingen. Ten eerste, veel schimmelsoorten groeien langzaam. Groei van zichtbare kolonies op vaste media kan 1-2 weken duren, aanzienlijk vertragen van het tempo van het onderzoek. Tweede, manipulatie van monsters tijdens CFU plating is een moeizaam proces, aangezien verschillende verdunningen moeten worden uitgeplaat op een aftelbaar aantal kolonies garanderen. Ten derde, het aantal CFU doorgaans lager is dan het aantal levensvatbare organismen uitgeplaat omdat de plating efficiëntie ruim onder 100%. Bijvoorbeeld kan plateren efficiëntie voor de dimorfe schimmel pathogeen Histoplasma capsulatum oplopen tot 90%, maar gewoonlijk zo laag als30% en zelfs lager (10%) voor de verbonden schimmel dimorph Paracoccidioides brasiliensis 1, 2. Plating efficiency voor Candida albicans is ook onderhevig aan variabiliteit 3. Tenslotte CFU analyse slechts verantwoordelijk voor levende en actief delende cellen kunnen vormen van de groei op vaste media, terwijl in veel situaties, zou het nuttig zijn om de aanwezigheid en concentratie van dode en / of metabolisch inactieve cellen te bepalen.
Eerder heeft flowcytometrische werkwijzen voor kwantificering van verscheidene pathogène schimmelsoorten beschreven 4-6. Echter, vanwege de bioveiligheid insluiting kwesties die met behulp van bioveiligheidsniveau 2 (BSL2) of BSL3-niveau ziekteverwekkers op gedeelde flowcytometers, goedkeuring van deze techniek is beperkt. Zoals flowcytometrie, beeldcytometrie is een gevoelige en snelle methode van cel kwantificering. Echter, beeldcytometrie worden uitgevoerd bij een fractie van de kosten met vergelijkbare resultaten 7 -11. We beschrijven hier werkwijzen voor het uitvoeren beeldcytometrie van pathogene schimmels in samenhang met gastheercellen. We tonen onze methoden met behulp van twee menselijke pathogene schimmels: Histoplasma capsulatum en Candida albicans H.. capsulatum is een dimorphic schimmelziekteverwekker dat respiratoire aandoeningen veroorzaakt, bij de mens, het groeit als gist en repliceert binnen alveolaire macrofagen Candida albicans is een humane commensale soorten die soms veroorzaakt candidiasis.. We laten zien dat beeldcytometrie maakt een snelle kwantificering van deze gisten, samen met visualisatie mogelijkheden.
Subscription Required. Please recommend JoVE to your librarian.
Protocol
1. Infectie van macrofagen met H. capsulatum, C. albicans
16 uur voorafgaand aan infectie, zaad macrofagen op gewenste dichtheid in 24-well platen. In dit protocol werd een dichtheid van 3,0 x 10 5 cellen / putje gebruikt.
Voeg schimmelcellen in log-fase groei op een gewenste multipliciteit van infectie (MOI). Dit protocol is geschikt voor een scala van MOI (0,2-5,0). Voor de infectie van RAW264.7 macrofagen met H. capsulatum, gebruikten we een MOI van 0,2.
Na 1,5 uur om voor fagocytose, macrofagen driemaal wassen met PBS om extracellulaire schimmels verwijderen.
Incubeer gewenste aantal uren voorafgaand aan de analyse van het monster. Bij lage MOI (0.2 in ons experiment), geïnfecteerde macrofaag cellen levensvatbaar blijven voor meerdere dagen, en monsters kunnen worden geanalyseerd ongeveer elke 12-24 uur.
2. Macrofaag Lysis
Tegen schimmels uit macrofaagcellen bevrijden, verwijder media, was 3 keer met PBS, envoeg 0,5 ml steriel water. Onder deze omstandigheden zal macrofagen lyseren en schimmelcellen blijven intact.
Incubeer gedurende 5 minuten bij kamertemperatuur.
Overdragen lysate tot steriele buis, houd op ijs.
Breng 20 pl lysaat naar een afzonderlijke buis en voeg 20 ul AO / PI oplossing. Ga dan naar stap 5: "Monstervoorbereiding voor Beeld cytometrische analyse"
3. CFU Plating
Voer tienvoudige verdunning van lysaten (uit stap 2.3) in de media.
Plaat 100 ul van elke verdunning, in tweevoud, op HMM-agarose platen. Incubeer de platen in een bevochtigde kamer bij 37 ° C met 5% CO2 voor 7-8 dagen.
Handmatig tellen kolonies op platen tonen minimaal 100 en maximaal 1000 verschillende kolonies.
4. Visualisatie van Schimmels binnen Levende Macrofagen
Om levende macrofagen verzamelen, wassen cellen 3 maal met PBS. Voeg 0,5 ml PBS en incubeer gedurende 30 minuten bij 4 ° C.
Om macrofagen uit weefselkweek putten te verwijderen, voorzichtig pipet op en neer meerdere malen. Vloeistof overbrengen in steriele buis, houd op ijs.
Breng 20 ul monster op een aparte buis, voeg 20 ul AO / PI-oplossing. Ga dan naar stap 5: "Monstervoorbereiding voor Beeld cytometrische analyse".
5. Monstervoorbereiding voor Beeld cytometrieanalyse
Pipetteer de doelmonster grondig en vervolgens de overdracht 20 ul van het monster in de wegwerp cel telkamer.
Laat de cellen om zich te vestigen in de kamer voor 30 sec.
Steek telkamer in de afbeelding cytometer.
6. Cellometer Instrument-setup
Plaats de Fluorescentie Optics Modules: VB-535-402-en VB-660-502 in het systeem en zorg ervoor dat ze zijn opgesloten in zijn plaats.

VB-535-402 (excitatie bij 475 nm, emissie bij 535 nm) wordt gebruikt voor acridine oranje en GFP detectie.
VB-660-502 (excitatiop bij 540 nm, emissie bij 660 nm) wordt gebruikt voor propidium iodide detectie.

Zet de afbeelding cytometer en open de bijbehorende software.
7. Cellometer software-installatie
Selecteer de preset "Assay Type 'en' Cell Type" in de Assay Dropdown Menu.

Voor levensvatbaarheid, wordt de test geoptimaliseerd voor acridine oranje en propidiumjodide detectie.
Voor detectie van Candida albicans-infectie wordt de assay geoptimaliseerd voor GFP detectie.

Selecteer "Opties" op de bovenkant en klik op "Take achtergrondafbeelding", en laat de operatie te voltooien.
Klik op "Preview Bright-Field Schilderij".
8. Image Acquisition Procedure
Plaats de voorbereide monsterkamer in de afbeelding cytometer.
Gebruik de scherpstelknop en scherp.
Eenmaal in focus, klik op "Graaf", en laat het beeld overname operatie te voltooien.
Remove de wegwerp telkamer en bergen.
9. Image Data Analysis
Concentratie en meting levensvatbaarheid

Zodra het tellen is voltooid, worden de concentratie en levensvatbaarheid van de doelcellen weergegeven in de resultaten pagina.
Klik op "Exporteren" om de gegevens te exporteren naar FCS Express 4 voor celpopulatie analyse van GFP in de Candida albicans infectie experiment.

FCS Express analyse van Candida albicans-geïnfecteerde cellen

Importeer de "NXDAT." Bestand in FCS Express 4 en plot de resultaten in een fluorescentie histogram.
Solliciteer celpopulatie poort naar het histogram aan de bevolking percentages van Candida albicans-geïnfecteerde cellen te bepalen.
Subscription Required. Please recommend JoVE to your librarian.
Representative Results
We gebruikten de Cellometer Vision afbeelding cytometer om de groei te volgen van H. capsulatum in macrofaagcellen. RAW 264.7 cellen werden geïnfecteerd met H. capsulatum gistcellen en op verschillende tijdstippen werden monsters onderworpen aan AO / PI kleuring gevolgd door image-based cytometrische analyse. Daarnaast werden monsters geanalyseerd door traditionele CFU opsomming. Op elk tijdstip werden monsters geïncubeerd in water om macrofagen te lyseren en de bevrijde gistcellen werden geïdentificeerd door de Cellometer Vision software (figuren 1a en 1b). We nemen zeer vergelijkbare trends in de concentratie van levensvatbare gisten zoals gedetecteerd door image-based cytometrieanalyse en CFU opsomming op elk tijdstip (figuur 1c). Zoals verwacht, het absolute aantal levende gisten gedetecteerd door AO / PI kleuring telkens groter het aantal gisten kan kolonievorming op vast medium zoals bepaald door CFU analyse nadruk significant aantallen levensvatbare maar niet cultiveerbare cellen.
Visualisatie van schimmelcellen in levende macrofagen kunnen worden bereikt met behulp van GFP-expressie giststammen. Beenmerg-afgeleide macrofagen (BMDM) werden geïnfecteerd met C. albicans cellen die groen fluorescent eiwit (GFP) onder de controle van de ADH1 promoter 12 (figuur 2a). Infectie van BMDM met GFP-C. albicans gisten bij veelvouden van infectie (MOI) gaande 0,1-10 overeen met incrementele toename in GFP-intensiteit in besmette macrofagen (figuur 2a) en het totale percentage van geïnfecteerde macrofagen (figuur 2b).

Figuur 1. Vergelijking van image-based cytometrieanalyse naar CFU opsomming van H. capsulatum tijdens in vitro infectie van RAW 264.7 macrofagen. (a) RAW 264,7 macrofagen waren geïnfecteerd met H. capsulatum gisten bij een MOI van 0,2. Op 24 hr intervallen na infectie, werden macrofagen gelyseerd en levensvatbare gisten beoordeeld door AO / PI kleuring parallel met CFU opsomming. (B) vertegenwoordiger helderveld (BR) en FL1/FL2 (groen / rood) gecombineerde beelden van AO / PI gebrandschilderde H . capsulatum vrijgelaten uit gelyseerde RAW 264.7 macrofagen. Een segmenteren algoritme slechts geteld AO en PI positieve gisten in de fluorescerende beelden terwijl de grote PI-lood RAW 264,7 macrofagen (rood) zijn uitgesloten. Beelden werden gevangen onder 10x vergroting. (C) Directe vergelijking van gist proliferatie zoals beoordeeld door AO / PI kleuring en CFU opsomming. Lineaire regressie-analyse van de groei van trends zoals gemeten door CFU en Cellometer analyse opbrengst R 2 = 0,9927./ Files/ftp_upload/50599/50599fig1large.jpg "target =" _blank "> Klik hier om een grotere afbeelding te bekijken.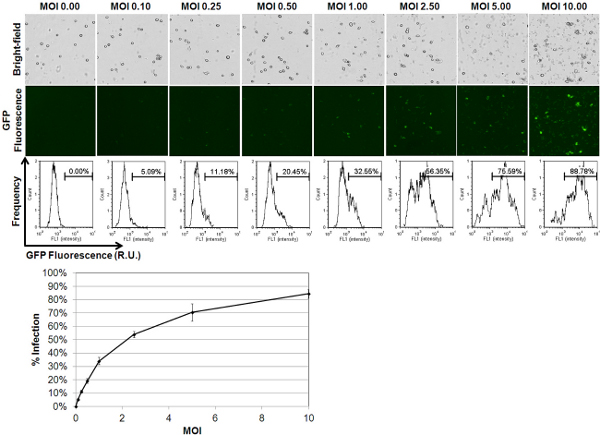 Figuur 2. Kwantificering van BMDM infectie met GFP-expressie van C. albicans. (a) Gevangen helderveld (BR) (boven) en TL (midden) beelden van GFP-C. albicans besmet BMDMs op het verhogen MOI. Histogrammen van fluorescentie-intensiteiten van een toename van GFP fluorescentie intensiteit als de MOI toe, hetgeen een toename van het aantal C. vertegenwoordigt albicans verbonden BMDM cellen (onder). De software geïdentificeerd geïnfecteerde BMDMs gebaseerd op toepassing van een lineaire marker op de basislijn fluorescentie-intensiteit wordt weergegeven door de niet-geïnfecteerde controle populatie (MOI = 0). (B) Procent infection als functie van de MOI, die een toename van de geïnfecteerde BMDMs als MOI stijgingen laat zien. Klik hier om een grotere afbeelding te bekijken .
Subscription Required. Please recommend JoVE to your librarian.
Discussion
Beeldcytometrie kan de gebruiker hoge kwaliteit beelden vast te leggen en, met behulp van gespecialiseerde software voert snelle kwantificering van cellen. Een mogelijke uitdaging voor de vaststelling van beeldcytometrie op het gebied van microbiële pathogenese is dat de microben te tellen aanwezig in een gemengde populatie van cellen, waaronder zoogdierlijke gastheercellen. Hier tonen wij dat beeldcytometrie kan worden gebruikt voor de kwantificering van levensvatbare pathogène gist in macrofagen in vitro infectie. Onze methode niet alleen trouw recapituleert trends in fungale groei en levensvatbaarheid waargenomen bij in vitro assays macrofaag infectie, maar geeft ook betere gevoeligheid dan de traditionele CFU assay 13.
Beeldcytometrie biedt een aantal praktische voordelen in vergelijking met ofwel CFU opsomming of flowcytometrie voor de kwantificering van de gistcellen. Wanneer plating CFU's, laboranten must plaat meerdere verwaterdeionen teneinde een aftelbaar aantal cellen waarborgen op elke plaat die erg arbeidsintensief. Beeldcytometrie elimineert de noodzaak voor meerdere verdunningen. Eerder hebben wij aangetoond dat kolonievorming op vaste media is vaak variabel en bij zeer lage concentraties schimmels niet kolonies vormen helemaal, terwijl beeldcytometrie maakt telling van cellen ongeacht hun gehalte 13. De mogelijkheid om schimmels te detecteren en te tellen bij zeer lage concentraties kan zeer nuttig zijn tijdens de vroege stadia van een lage dosis infectie, of gedurende klaring wanneer nummers en levensvatbaarheid kan worden op de rand van detectie. Bovendien, de gegevens gegenereerd door beeldcytometrie zijn direct beschikbaar, terwijl kolonies kan enkele dagen duren om zichtbaar te worden. Terwijl vele schimmelsoorten kan worden gedetecteerd door flow-cytometrie, de mogelijkheid van cross-contaminatie een probleem in gedeelde faciliteiten. De telkamer in deze studie biedt een significant voordeel in termen van biologische veiligheid, aangezien het disposable en self-contained. Bovendien beeldcytometrie biedt praktische voordelen van lagere prijs en een kleinere voetafdruk vergeleken met gebruikelijke flowcytometrie, die belangrijk kan zijn voor kleinere onderzoekslaboratoria 11.
Naast de praktische voordelen, beeldcytometrie gistcellen informatie verschaft die CFU opsomming niet. Eerst CFU opsomming slechts kan schimmels die kunnen koloniegroei stellen van de gekozen drager die niet nauwkeurig het aantal levensvatbare schimmels in een infectie experiment in real time kunnen vormen detecteren. Ook kan de mogelijkheid koloniegroei stellen op vaste media verschillen bij het ​​vergelijken wild-type en mutante stammen van schimmels, die een bron van experimentele vertekening 14 kan zijn, en deze verborgen vooroordelen kan bepaald worden door vergelijking van beeldcytometrie en kwantificeren van CFU wild-type en mutante stammen. Zodra het gedrag van een bepaalde stam gekenmerkt door both CFU opsomming en beeldcytometrie, geloven wij dat beeldcytometrie kan worden gebruikt als een alternatief middel om schimmel kwantificering.
Een beperking van beeldcytometrie in het algemeen is dat het niet mogelijk verzamelen van zoveel datapunten flowcytometrie. Aangezien het beeld cytometer afgeleid kwantitatieve gegevens van een beperkt aantal opnamen, is het moeilijk om het systeem gegevens naar honderdduizenden tot miljoenen cellen per monster te verzamelen. Echter, kan deze beperking worden omzeild door groepering van meerdere monsters in een set van gegevens voor analyse om soortgelijke gegevens punten als stroomcytometer bereiken. We willen ook graag benadrukken dat de AO / PI kleuring hier gebruikte methode is een manier van meten van cellulaire levensvatbaarheid, en betekent niet noodzakelijkerwijs cellulaire vitaliteit en / of de mogelijkheid om de groei op vast medium in een bepaalde steekproef vast te stellen. Daarom, terwijl onze methode biedt een gemakkelijke methode van levende / dode kwantificering van gisten, hetOok interessant zijn om het gebruik van beeldcytometrie onderzoeken in combinatie met celstofwisseling indicatoren zoals FUN-1 15.
Beeldcytometrie software identificeert en telt cellen van belang op basis van grootte en vorm, en daarom is het absoluut essentieel dat deze parameters zorgvuldig worden ingesteld tijdens elk experiment. Bij het uitvoeren beeld cytometrie met een nieuwe giststam, stellen wij voor dat een eerste gegevensstroom gegenereerd uit een zuivere gistcultuur aan gegevens van het tellen van een mengsel van gisten plus gastheercellen dat de parameters zodat de software onderscheid tussen ingesteld vergelijken twee celtypen.
In de toekomst zal dit werk de basis voor verdere ontwikkeling van methoden om microben te detecteren en te kwantificeren via beeldcytometrie zijn. Zo zal de ontwikkeling van het cytometrisch methoden binnen orgel homogenaten op te sporen schimmels van groot nut zijn in het veld. Een andere uitdaging voor de toekomst zal zijn om develop en verfijnen beeld cytometrische methoden en software zodanig dat het kan worden gebruikt voor kwantificering van bacteriële cellen. Met de vooruitgang in optische systemen, digitale camera's, en een groot aantal fluorescerende vlekken in het veld de mogelijkheid om beeld en analyseren bacteriepopulatie kan in beeld cytometers worden uitgevoerd, die kunnen zorgen voor een snellere werkwijze voor concentratie en levensvatbaarheid of vitaliteit meting in vergelijking met de CFU of optische dichtheid methoden. Samengevat, het hier gepresenteerde werk is een proof-of-concept blijkt dat beeldcytometrie is een gevoelige methode voor de kwantificering van pathogene gisten. De verfijning van beeld-gebaseerde cytometrische analyse software biedt de mogelijkheid om de interacties tussen gastheercellen en pathogene schimmels te analyseren in een sterk kwantitatieve wijze. Deze technologie kan worden aangepast aan een reeks onderzoeksvragen op het gebied van schimmel pathogenese pakken.
Subscription Required. Please recommend JoVE to your librarian.
Disclosures
De auteurs Leo Li-Ying Chan en Benjamin Paradis zijn medewerkers van Nexcelom Bioscience LLC.
Materials
Name
Company
Catalog Number
Comments
REAGENTS
DMEM
Life Technologies
11965-084
Fetal Bovine Serum
Life Technologies
16000044
AO/PI Solution
Nexcelom Bioscience
CSK-0102
Disposable Counting Chamber
Nexcelom Bioscience
CHT4-SD100
EQUIPMENT
Cellometer Vision
Nexcelom Bioscience
Cellometer Vision Software
Nexcelom Bioscience