Summary
De Focus Formation Assay verschaft een eenvoudige methode om de transformerende potentieel van een kandidaat oncogen beoordelen.
Cite this Article
Copy Citation | Download Citations

Alvarez, A., Barisone, G. A., Diaz, E. Focus Formation: A Cell-based Assay to Determine the Oncogenic Potential of a Gene. J. Vis. Exp. (94), e51742, doi:10.3791/51742 (2014).
Introduction
Tumorcellen kunnen worden onderscheiden van hun normale tegenhangers diverse wijzigingen van patronen van genexpressie te epigenomics morfologische en proliferatieve veranderingen. Onder de laatste, verminderde afhankelijkheid van serum, verlies van contact (dichtheid) remming, de verwerving van verankering-onafhankelijke proliferatie en, uiteindelijk, het vermogen om tumoren te vormen wanneer geïnjecteerd in dieren zijn nuttig meetbare maligne transformatie 3. Verschillende in vitro en in vivo assays zijn ontwikkeld voor cellulaire transformatie. In vitro assays gericht op het identificeren en meten van veranderingen in cultuur morfologie (focusformatie assay), kweek dynamica (groeisnelheid, verzadiging dichtheid) en groeifactor (groei verminderde serum) of ankerplaats (groei in zachte agar) eisen. De gouden standaard voor het bepalen van kwaadaardige karakter van een celtype blijft tumorvorming (xenografts) bij proefdieren. Echter, thij kost en de lengte van in vivo studies ze niet altijd te rechtvaardigen als een eerste validatie stap of de screening van kandidaat oncogenen maken. Hoewel er geen in vitro test geeft een duidelijke beoordeling van de oncogene potentieel van een gen, ze geven inzicht in oncogene potentieel dat kan een beperking van de toekomst in vivo studies. Eén van de meest gebruikte systemen voor de evaluatie oncogeen potentieel in vitro is het Focus Formatie Assay 2. Deze aanpak berust op het gebruik van NIH 3T3 muis fibroblast, een niet-getransformeerde cellijn die sterk contactremming toont. Overexpressie van een oncogen resulteert in het verlies van de dichtheid-afhankelijke groei; getransformeerde cellen kunnen dan in meerdere lagen, vormen "foei", gemakkelijk gevisualiseerd tegen de achtergrond monolaag van niet getransformeerde cellen. De Focus Formation Assay, dan meet het vermogen van een kandidaat oncogen maligne transformatie induceren, zoals blijkt door het verlies van contact inhibvulle als meetbaar fenotype. De FFA is gebruikt voor transformatie evalueren door overexpressie van eiwitkinasen (bv Src 4, BRAF 5), transcriptiefactoren (bijvoorbeeld N-myc 6), G-eiwit gekoppelde receptoren (bv P2RY8 7) en GTPases (bv Ras 1), onder anderen. Het relatieve gemak van deze test maakt het een goede keuze die een snelle en visueel duidelijk antwoord of overexpressie van het gen is voldoende om NIH 3T3 muis fibroblast cellen te transformeren in vitro biedt.
De in dit protocol beschreven FFA gebruikt de Plat-E inpakcellijn 8, die virale verpakking eiwitten levert, en de retrovirale vector pBABEpuro 9 (Addgene plasmide 1764) aan retrovirus produceren. Na transfectie met pBABEpuro construct dat het gen van belang, de Plat-E cellijn ecotropische retrovirus dat kan worden gebruikt om NIH 3T3 cellen te infecteren. Tzijn virale Werkwijze genafgifte efficiënter is dan traditionele chemische transfectie methoden en biedt een manier om duurzame expressie van het gen 10. Eenmaal opgenomen in het genoom van de NIH 3T3 cellen, wordt overexpressie van het gen van belang aangestuurd door de virale lange eindstandige herhalingen (LTR) promoter 11. Deze constante expressie kan worden vastgesteld of het betreffende gen heeft oncogene activiteit zoals gemeten door de vorming van foci op NIH 3T3 cellen.
Subscription Required. Please recommend JoVE to your librarian.
Protocol
1. Het maken van de virale vectoren
De coderende sequenties voor het gen van belang, evenals de positieve en negatieve controles, worden in pBABEpuro ingevoegd traditionele kloneringsmethoden (PCR amplificatie, restrictie digestie en ligatie). Er zijn vier restrictieplaatsen van de vector waarin het DNA kan worden ingebracht: BamHI, SnaBI, EcoRI en Sali.
Bereid transfectie-grade plasmide-DNA van competente cellen met behulp van de QIAGEN plasmide midi kit.
Meet DNA-concentratie met behulp van een NanoDrop2000 spectrofotometer.
2. Retrovirus Production
De Plat-E verpakkingscellijn wordt gebruikt om ecotropische retrovirus dat levert het cDNA van belang NIH 3T3 cellen.
Oprichting van Plat-E Culturen van bevroren cellen

Snel ontdooien Plat-E cellen in een 37 ° C waterbad en naar een 15 ml conische buis. Voeg langzaam 9 ml Plat-E medium (Dulbecco's Modified Eagle Medium (DMEM) + 10% foetaal runderserum (FBS) + penicilline en streptomycine).
Centrifugeer de buis bij 180 x g gedurende 5 min en gooi het supernatant.
Re-schorten de cellen met 10 ml Plat-E medium en transfer naar een 10 cm cultuur schotel.
Incubeer de cellen in een 37 ° C, 5% CO2 incubator tot ze 80-90% confluent (ongeveer 2 dagen).

Cel splitsen

Zuig het medium en was cellen eenmaal met PBS.
Voeg 2 ml van 0,05% trypsine-EDTA en incubeer gedurende 1 min bij kamertemperatuur.
Maak de cellen door de vinger te tikken, voeg 10 ml Plat-E medium, en breng de celsuspensie aan een 15 ml buis.
Centrifugeer de buis bij 180 x g gedurende 5 min en gooi het supernatant.
Resuspendeer de cellen met 10 ml Plat-E medium en zaden ze nieuwe schotels 1: 4-1: 6 verdunningen.

Plat-E Zaaien en Transfection

Zaad 2 x 10 6cellen per 10 cm cultuur schotel met behulp van Plat-E medium zonder antibiotica.
Incubeer de cellen O / N in een 37 ° C, 5% CO2 incubator.
De volgende dag, overdracht 300 pi Opti-MEM in 1,5 ml microcentrifugebuis.
Voeg 27 ul van polyethyleenimine (PEI), een rendabele transfectie reagens 12 naar de voorbereide buis met Opti-MEM. Meng voorzichtig door vinger tikken en incubeer gedurende 5 minuten bij kamertemperatuur.
Voeg 9 ug transfectie-grade plasmide DNA in Opti-MEM / PEI tube, meng vortex en incubeer gedurende 15 minuten bij kamertemperatuur.
Voeg de DNA / PEI complex druppelsgewijs in de Plat-E schotel en incubeer O / N bij 37 ° C, 5% CO2.
De volgende dag, zuig het medium dat de transfectiereagens en voeg 10 ml vers Plat-E medium (zonder antibiotica).
Zet de cellen in de incubator.
3. NIH 3T3-cellen en Infectie
Oprichting van NIH3T3 culturen en zaaien

Snel ontdooien NIH 3T3 cellen in een 37 ° C waterbad en naar een 15 ml buis. Voeg langzaam 9 ml NIH 3T3 medium (DMEM + 10% FBS).
Centrifugeer de buis bij 180 x g gedurende 5 min en gooi het supernatant.
Resuspendeer de cellen met 10 ml NIH 3T3 medium overgebracht in een 10 cm kweekschaal.
Incubeer de cellen in een 37 ° C, 5% CO2 incubator. Het is zeer belangrijk dat NIH 3T3-cellen altijd bewaard underconfluent (50-60%), de frequentie van spontane transformatie (en dus basale niveaus van foci vorming) toeneemt wanneer een kweek confluentie bereikt.
Zaad 3 x 10 5 cellen per 10 cm schaal en incubeer O / N voor infectie werden de volgende dag.

Infectie

Oogst de retrovirale supernatant van de Plat-E schotel met een 10 ml wegwerpspuit, filtering door een 0,45 urn poriegrootte nylon membraan filter, en over te dragen in een 15 mlbuis.
Voeg 10 ml vers Plat-E medium aan de cellen (zonder antibiotica), en terug naar de incubator.
Zuig het medium van de NIH 3T3 cellen schaal besmet en voeg 5 ml normale NIH 3T3 medium en 5 ml van virus-bevattende supernatant gefiltreerd.
Polybreen Aan de schotel in een concentratie van 6 ug / ml.
Incubeer de cellen O / N bij 37 ° C, 5% CO2.
De volgende dag, herhaalt u stap 3.2.1 - 3.2.5 voor een tweede ronde van de infectie.
Vervang de virus-bevattend medium met regelmatige NIH 3T3 medium.
Laat de NIH 3T3 cellen groeien gedurende 2-3 weken, vervangt het medium nodig. Controleer expressie van het eiwit van interesse door conventionele eiwit elektroforese en immunoblot van lysaten van gehele cellen uit kopie platen.
4. kleuring en kwantificering
Crystal Violet kleuring

Zuig het NIH 3T3 medium en plaats de gerechtenop ijs.
De afwas tweemaal met ijskoude PBS.
Fixeer de cellen met ijskoude methanol gedurende 10 min.
Verwijder de gerechten van ijs, zuigen de methanol en 3 ml 0,5% kristalviolet oplossing bereid in 25% methanol (RT).
Incubeer de gerechten gedurende 5 minuten bij kamertemperatuur.
Zuig het kristalvioletoplossing en zorgvuldig spoel de schaal met Milli-Q H 2 O tot er geen kleur komt uit in de spoeling.
Laat de gerechten te drogen O / N op een tafelmodel (open).

Brandpunten Kwantificering

Zodra de gerechten zijn droog, gebruik een liniaal om de donker gekleurde collecties van cellen op het bord te meten. Alleen tellen die meer dan 5 mm in diameter zijn "brandpunten". Noteer het aantal foci en bereken gemiddelden en de betekenis vergeleken met de controles.
Subscription Required. Please recommend JoVE to your librarian.
Representative Results
MXD3 is een basis helix-loop-helix leucine zipper (bHLHZ) transcriptiefactor die lid is van de MYC / MAX / MAD netwerk. Het is een atypisch lid van de familie MAD 13-15, en er is gemeld betrokken bij carcinogenese 16,17. Vergeleken met pBABEpuro (negatieve controle) en MYC (positieve controle), NIH 3T3 gerechten waar MXD3 werd overexpressie significant minder foci (figuur 1A). De gegevens in Figuur 1B werden verzameld op verschillende experimenten significantie te bepalen.
Er was aanvankelijk belangstelling voor het bepalen van oncogene potentieel MXD3's want het heeft soortgelijke activiteit te MYC (de bekende oncogen). Echter, de resultaten van deze test blijkt dat MXD3 niet functioneert zoals een oncogen.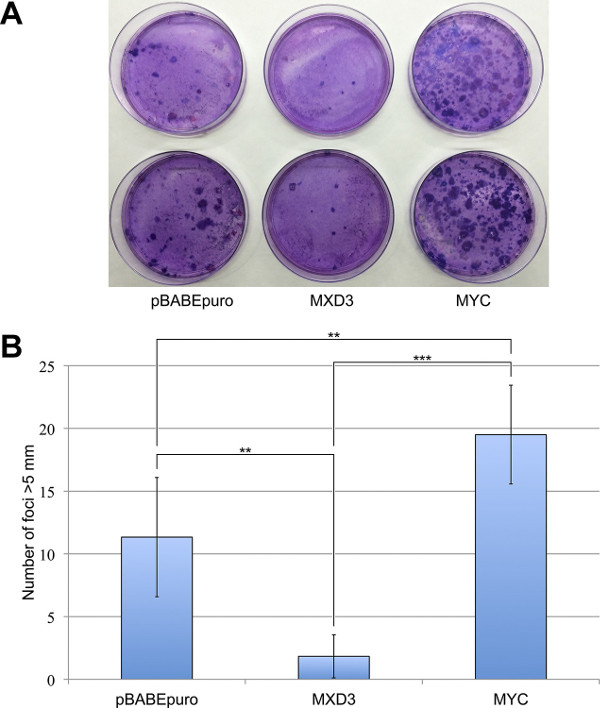 Figuur 1. Focus vorming assayResultaten. De oncogene potentie van MXD3 werd bepaald door focusformatie assay (FFA) in NIH 3T3-cellen. (A) Foto's van cellen uit een enkel experiment gekleurd met HEMA 3. Opmerking: kristalviolet kunnen als alternatief vlek. (B) Gecombineerde resultaten van drie experimenten. Alle experimenten werden in duplo. Focus geldt voor elk experiment zijn als volgt: Experiment # 1: pBABEpuro (13, 11), MXD3 (3, 4), MYCN (23, 19); Experiment # 2: pBABEpuro (8, 7), MXD3 (1, 0), MYCN (22, 20); Experiment # 3: pBABEpuro (9, 20), MXD3 (3, 0), MYCN (21, 12). Foutbalken standaarddeviatie van het aantal foci in de drie experimenten. Betekenis: ** p <0.01; *** P <0,001. Klik hier om een grotere versie van deze afbeelding te bekijken.
Subscription Required. Please recommend JoVE to your librarian.
Discussion
De FFA biedt een snelle en eenvoudige methode om maligne transformatie in vitro evalueren. Het is vatbaar voor screening van een relatief groot aantal kandidaat-genen, en zijn bescheiden technische eisen maken het kosten-effectief is. Verder kunnen twee of meer genen co-expressie (soms aangeduid als een "samenwerking" assay) om de tumorigene potentieel van de combinatie te evalueren. De voordelen van deze bepaling afhankelijk zijn eenvoudige techniek, het gemak van kwantificering en de relatief korte omlooptijd. Het moet echter benadrukt dat deze vormen van de beperkingen van in vitro assays. De test beoordeelt oncogene transformatie door meting één fenotypisch kenmerk van kankercellen, namelijk hun vermogen te groeien dan een monolaag in een kweekschaal. Negatieve resultaten moeten daarom met voorzichtigheid worden geïnterpreteerd, als een bepaalde oncogen kan transformatie veroorzaken zonder dat het bevorderen van deze bijzondere phenotype of kunnen co-expressie met een ander gen (bijv samenwerking bovengenoemde) vereisen. In dit geval wordt aanbevolen transformatie beoordelen van andere in vitro methoden, zoals de bepaling van vermenigvuldigingssnelheid en serum eisen en / of verankering onafhankelijke groei door bijvoorbeeld de zachte agar assay.
Hoewel de FFA techniek is eenvoudig, moeten een aantal voorwaarden in acht worden genomen. Belangrijker, is het essentieel om een ​​subkloon 3T3 cellen die zeer lage spontane transformatie toont gebruiken. Als pre-neoplastische (een kenmerk dat deze cellijn gevoelig voor deze test maakt), kunnen bepaalde injectieflacons een groot aantal reeds getransformeerde cellen bevatten, resulteert in een onaanvaardbaar hoge basisniveaus voor de test. Spontane transformatie te minimaliseren is het zeer belangrijk dat de beginnend cultuur wordt verkregen van een betrouwbare bron. Bovendien moeten de cellen worden doorgekweekt regelmatig en nooit mag confluentie bereiken.We raden passeren culturen als ze ongeveer 50% samenvloeiing bereiken. Daarom is het belangrijk om aanvullende constructen gebruikt als controles. In onze experimenten hebben we gebruik pBABEpuro bevatten MYC (een bekende oncogen) 18 en lege pBABEpuro respectievelijk dienen als de positieve en negatieve controle.
Het construct van belang kan in het 3T3 cellen met behulp van verschillende methoden worden ingevoerd; Meestal hebben traditionele transfectie methoden toegepast. In de hier gepresenteerde protocol, het gebruik van virale transductie betrouwbaar, efficiënte en consistente wijze van genafgifte. Bovendien is het gebruik van ecotropische retrovirus maakt deze assay relatief veilig bij het hanteren potentiële oncogene constructen; echter een goede bioveiligheid voorzorgsmaatregelen moeten natuurlijk worden gevolgd.
Bij het uitvoeren van de bovenstaande protocol, moeten replica plaat experimenten worden uitgevoerd om zowel de vlek en oogst cellen van die plAtes. De geoogste cellen kunnen vervolgens worden gebruikt voor overexpressie van het gen-van-belang door immunoblot bevestigen.
Alhoewel virale genafgifte biedt verscheidene voordelen ten opzichte verwerking moet worden opgemerkt dat het presenteren een aantal nadelen heeft, en veel laboratoria gebruiken steeds standaard transformatieprotocollen. Virale transductie mogelijk niet geschikt als sterke overexpressie vereist; Anderzijds kan de fysiologische relevantie van zeer hoge expressieniveaus verkregen door plasmide transfectie zijn twijfelachtig.
Tenslotte moet worden benadrukt dat een tweede test is gewoonlijk te verifiëren dat de foci door oncogene transformatie. Brandpunten kan (voordat kleuring) worden opgehaald en gekweekt in soft-agar aan verankering-onafhankelijke proliferatie bevestigen.
Subscription Required. Please recommend JoVE to your librarian.
Disclosures
De auteurs hebben niets te onthullen.
Acknowledgments
Dit werk werd ondersteund door een subsidie ​​van de NIH directeur Nieuwe Innovator Award Program (ED). AA werd mede ondersteund door undergraduate awards van het National Cancer Institute en de National Science Foundation.
Materials
| | | | |
| --- | --- | --- | --- |
| Name | Company | Catalog Number | Comments |
| pBABE-puro vector | Addgene | Plasmid 1764 | cloning vector |
| Platinum-E Retroviral Packaging Cell Line, Ecotropic | Cell Biolabs, Inc. | RV-101 | cell line for viral production |
| NIH 3T3 Cell Line murine | Sigma-Aldrich | 93061524 | cell line for focus formation assay |
| 10 ml BD Luer-Lok tip syringe | BD Biosciences | 309604 | viral production reagent |
| 0.45 μm Puradisc Syringe Filter | Whatman | 6750-2504 | viral production reagent |
| Polyethylenimine (PEI) | Polysciences, Inc. | 23966-2 | cell transfection reagent |
| Polybrene Infection / Transfection Reagent | EMD Millipore | TR-1003-G | cell transfection reagent |
| Crystal Violet | Fisher Scientific | C581-25 | cell stain reagent |
| Plasmid Plus Midi Kit | QIAGEN | 12945 | plasmid purification |
| BD Falcon Tissue Culture Dishes | BD Biosciences | 353003 | cell culture supplies |
| Dulbecco's Modified Eagle Medium (DMEM) | Gibco | 11995-065 | cell culture media |
| 0.05% Trypsin-EDTA | Gibco | 25300-054 | cell culture supplies |
| Opti-MEM I Reduced Serum Medium | Gibco | 31985-062 | cell culture media |
| Fetal Bovine Serum (FBS) | Gibco | 16000-044 | cell culture media |
References
Clark, G. J., Cox, A. D., Graham, S. M., Der, C. J. Biological assays for Ras transformation. Methods in enzymology. 255-395 (1995).
Celis, J. E. Cell biology : a laboratory handbook. 3rd edn, Elsevier Academic. 345-352 (2006).
Raptis, L., Vultur, A. Neoplastic transformation assays. Methods in molecular biology. 165, 151-164 (2001).
Johnson, P. J., Coussens, P. M., Danko, A. V., Shalloway, D. Overexpressed pp60c-src can induce focus formation without complete transformation of NIH 3T3 cells. Molecular and cellular biology. 5, 1073-1083 (1985).
Bonner, T. I., Kerby, S. B., Sutrave, P., Gunnell, M. A., Mark, G., Rapp, U. R. Structure and biological activity of human homologs of the raf/mil oncogene. IMolecular and cellular biology. 5, 71400-71407 (1985).
Yancopoulos, G. D., et al. N-myc can cooperate with ras to transform normal cells in culture. Proceedings of the National Academy of Sciences of the United States of America. 82, 5455-5459 (1985).
Fujiwara, S., et al. Transforming activity of purinergic receptor P2Y, G protein coupled, 8 revealed by retroviral expression screening. Leukemia & lymphoma. 48, 978-986 (2007).
Morita, S., Kojima, T., Kitamura, T. Plat-E: an efficient and stable system for transient packaging of retroviruses. Gene. 7, 1063-1066 (2000).
Morgenstern, J. P., Land, H. Advanced mammalian gene transfer: high titre retroviral vectors with multiple drug selection markers and a complementary helper-free packaging cell line. Nucleic acids research. 18, 3587-3596 (1990).
Kim, T. K., Eberwine, J. H. Mammalian cell transfection: the present and the future. Analytical and bioanalytical chemistry. 397, 3173-3178 (2010).
Klaver, B., Berkhout, B. Comparison of 5' and 3' long terminal repeat promoter function in human immunodeficiency virus. Journal of virology. 68, 3830-3840 (1994).
Fukumoto, Y., et al. Cost-effective gene transfection by DNA compaction at pH 4.0 using acidified, long shelf-life polyethylenimine. Cytotechnology. 62, 73-82 (2010).
Fox, E. J., Wright, S. C. S-phase-specific expression of the Mad3 gene in proliferating and differentiating cells. The Biochemical journal. 359, 361-367 (2001).
Yun, J. S., Rust, J. M., Ishimaru, T., Diaz, E. A novel role of the Mad family member Mad3 in cerebellar granule neuron precursor proliferation. Molecular and cellular biology. 27, 8178-8189 (2007).
Gore, Y., Lantner, F., Hart, G., Shachar, I. Mad3 negatively regulates B cell differentiation in the spleen by inducing Id2 expression. Molecular biology of the cell. 21, 1864-1871 (2010).
Barisone, G. A., Yun, J. S., Diaz, E. From cerebellar proliferation to tumorigenesis: new insights into the role of Mad3. Cell cycle. 7, 423-427 (2008).
Barisone, G. A., et al. Role of MXD3 in proliferation of DAOY human medulloblastoma cells. PloS One. 7, e38508 (2012).
Nair, S. K., Burley, S. K. X-ray structures of Myc-Max and Mad-Max recognizing DNA. Molecular bases of regulation by proto-oncogenic transcription factors. Cell. 112, 193-205 (2003).