Summary
Focus Formation-analysen giver en enkel metode til at vurdere transformerende potentiale en kandidat onkogen.
Cite this Article
Copy Citation | Download Citations

Alvarez, A., Barisone, G. A., Diaz, E. Focus Formation: A Cell-based Assay to Determine the Oncogenic Potential of a Gene. J. Vis. Exp. (94), e51742, doi:10.3791/51742 (2014).
Introduction
Tumorceller kan skelnes fra deres normale modparter med en bred vifte af ændringer, fra mønstre af genekspression til Epigenomics til morfologiske og proliferative ændringer. Blandt sidstnævnte mindre afhængighed af serum, tab af kontakt (tæthed) hæmning, erhvervelse af forankringsuafhængig spredning og, i sidste ende, evnen til at danne tumorer ved injektion i dyr er nyttige, målbare indikatorer for malign transformation 3. Adskillige in vitro og in vivo assays er blevet udviklet til cellulær transformation. In vitro assays sigte på at identificere og måle ændringer i kultur morfologi (fokus dannelse assay), kultur dynamik (vækstrate, mætning tæthed) og vækstfaktor (vækst i reduceret serum) eller ankerplads (vækst i blød agar) krav. Den gyldne standard til bestemmelse af ondartet karakter af en celletype forbliver tumordannelse (xenografter) i forsøgsdyr. Men than koster og længden af in vivo studier ikke altid gøre dem berettiget som et første skridt validering eller screening af kandidat onkogener. Selv om ingen in vitro assay tilvejebringer en konkret vurdering af den onkogene potentiale af et gen, de giver indsigt i onkogent potentiale, der kan indsnævre fremtid in vivo-undersøgelser. En af de mest anvendte systemer til evaluering onkogent potentiale in vitro er i fokus Formation Assay 2. Denne tilgang er baseret på anvendelsen af ​​NIH 3T3 muse-fibroblast, en ikke-transformeret cellelinie, der viser stærk kontakt inhibering. Overekspression af et onkogen resulterer i tab af tæthed-afhængig vækst; transformerede celler kan derefter vokse i flere lag, der udgør "foci" let visualiseres på baggrund monolag af ikke-transformerede celler. Focus Formation Assay, derefter måler evnen af ​​en kandidat onkogen, at inducere malign transformation, som det fremgår af tab af kontakt Inhibition som en målelig fænotype. FFA er blevet anvendt til at evaluere transformation ved overekspression af proteinkinaser (f.eks Src 4, BRAF 5), transkriptionsfaktorer (fx N-myc 6), G-protein-koblede receptorer (f.eks P2RY8 7) og GTPaser (f.eks Ras 1), blandt andre. Den relative lethed af dette assay gør det til et godt valg, der vil give en hurtig og visuelt klart svar på, hvorvidt overekspression af genet er tilstrækkelig til at omdanne NIH 3T3 muse fibroblastceller in vitro.
Beskrevet i denne protokol FFA anvender Plat-E pakkecellelinie 8, som giver virale emballage proteiner, og den retrovirale vektor pBABEpuro 9 (Addgene plasmid 1764) til fremstilling af retrovirus. Efter transfektion med pBABEpuro konstruktion indeholdende genet af interesse, vil Plat-E cellelinje producerer ecotropisk retrovirus, der kan anvendes til at inficere NIH 3T3-celler. Thans viral metode til genlevering er mere effektiv end traditionelle kemiske transfektionsfremgangsmåder og det giver en måde at bæredygtigt udtrykke gen 10. Når inkorporeres i genomet af NIH 3T3-celler, er overekspression af genet af interesse drives af virale lange terminale gentagelser (LTR) promotoren 11. Denne konstante ekspression kan anvendes til at bestemme, hvorvidt genet af interesse har onkogen aktivitet, målt ved dannelsen af ​​foci, på NIH 3T3-celler.
Subscription Required. Please recommend JoVE to your librarian.
Protocol
1. At gøre virale vektorer
De kodende sekvenser for genet af interesse, såvel som de positive og negative kontroller, indsættes i pBABEpuro traditionelle klonings- metoder (PCR-amplifikation, restriktionsenzymfordøjelse og ligering). Der er fire restriktionssteder på vektoren, hvor DNA kan indsættes: BamHI, SnaBI, EcoRI og Sall.
Forbered transfektion kvalitet plasmid-DNA fra kompetente celler ved anvendelse af QIAGEN plasmid midi kit.
Mål-DNA-koncentration ved anvendelse af et NanoDrop2000 spektrofotometer.
2. Retrovirus Production
Plat-E pakkecellelinie vil blive anvendt til at producere ecotropisk retrovirus, der vil levere cDNA'et af interesse til NIH 3T3 celler.
Etablering Plat-E kulturer fra frosne celler

Hurtigt tø Plat-E-celler i et 37 ° C vandbad og overføres til et 15 ml konisk rør. Tilsæt langsomt 9 ml Plat-E medium (Dulbecco Modified Eagle Medium (DMEM) + 10% føtalt bovint serum (FBS) + penicillin og streptomycin).
Centrifugeres røret ved 180 x g i 5 min og kassér supernatanten.
Resuspender cellerne med 10 ml Plat-E-medium og overføres til en 10 cm dyrkningsskål.
Inkubér cellerne i et 37 ° C, 5% CO 2-inkubator indtil de er 80-90% konfluente (ca. 2 dage).

Cell Splitting

Aspirer mediet og vaskes cellerne én gang med PBS.
Tilsæt 2 ml 0,05% trypsin-EDTA og inkuberes i 1 min ved stuetemperatur.
Frigør cellerne ved finger tapping, tilsættes 10 ml Plat-E-medium, og overfør cellesuspensionen til et 15 ml rør.
Centrifugeres røret ved 180 x g i 5 min og kassér supernatanten.
Opblande cellerne med 10 ml Plat-E mellemstore og frø dem i nye retter på 1: 4-1: 6 fortyndinger.

Plat-E Seeding og transfektion

Seed 2 x 10 6celler pr 10 cm dyrkningsskål hjælp Plat-E-medium uden antibiotika.
Inkubér cellerne O / N i en 37 ° C, 5% CO 2-inkubator.
Næste dag, overføre 300 pi Opti-MEM i 1,5 ml mikrofugerør.
Tilføj 27 pi polyethylenimin (PEI), en omkostningseffektiv transfektionsreagens 12 på den forberedte rør med Opti-MEM. Bland forsigtigt ved finger trykke og inkuberes i 5 minutter ved stuetemperatur.
Tilføj 9 ug transfektion-grade plasmid DNA i Opti-MEM / PEI rør, bland forsigtigt ved hvirvelblanding, og der inkuberes i 15 minutter ved stuetemperatur.
Tilsæt DNA / PEI-kompleks dråbevis i Plat-E skål og inkuberes O / N ved 37 ° C, 5% CO 2.
Næste dag, aspireres mediet indeholdende transfektionsreagens og tilsættes 10 ml frisk Plat-E-medium (uden antibiotika).
Retur cellerne til inkubatoren.
3. NIH 3T3-celler og infektion
Etablering NIH3T3 Kulturer og Seeding

Hurtigt tø NIH 3T3-celler i et 37 ° C vandbad og overføres til et 15 ml rør. Langsomt tilsættes 9 ml NIH 3T3 medium (DMEM + 10% FBS).
Centrifugeres røret ved 180 x g i 5 min og kassér supernatanten.
Opblande cellerne med 10 ml NIH 3T3 medium og overføres til en 10 cm dyrkningsskål.
Inkubér cellerne i et 37 ° C, 5% CO 2-inkubator. Det er meget vigtigt, at NIH 3T3-celler altid holdes underconfluent (50-60%), som hyppigheden af ​​spontan transformation (og derfor basalniveauer af foci formation) stiger, når en kultur når konfluens.
Seed 3 x 10 5 celler pr 10 cm skål og inkuberes O / N for infektion næste dag.

Infektion

Høst den retrovirale supernatant fra Plat-E skålen ved anvendelse af en 10 ml engangssprøjte, filtrere det gennem en 0,45 um porestørrelse nylonmembran filter, og overføre det til et 15 mlrør.
Der tilsættes 10 ml frisk Plat-E medium til cellerne (uden antibiotika), og returnere dem til inkubatoren.
Aspirer mediet fra NIH 3T3 celle parabol at være smittet, og der tilsættes 5 ml regelmæssig NIH 3T3 medium og 5 ml virus-holdige filtreret supernatant.
Føj polybrene til fadet i en koncentration på 6 ug / ml.
Inkubér cellerne O / N ved 37 ° C, 5% CO 2.
Næste dag, skal du gentage trin 3.2.1 - 3.2.5 for en anden runde af infektion.
Sæt virusholdige medium med regelmæssige NIH 3T3 medium.
Lad NIH 3T3-celler til at vokse i 2-3 uger erstatte mediet som nødvendigt. Kontroller ekspression af proteinet af interesse ved konventionel protein elektroforese og immunoblot på helcellelysater fra replika plader.
4. Farvning og kvantificering
Crystal Violet Farvning

Aspirer NIH 3T3 medium og placere retternepå is.
Vaske op to gange med iskold PBS.
Fikseres cellerne med iskold methanol i 10 min.
Fjern retter fra is, opsug methanol, og der tilsættes 3 ml 0,5% krystalviolet opløsning fremstillet i 25% methanol (RT).
Inkubér skålene i 5 minutter ved stuetemperatur.
Aspirer krystalviolet opløsning og forsigtigt skylle skål med Milli-Q H2O indtil ingen farve kommer ud i skylning.
Lad opvasken tørre O / N på en bordplade (udækket).

Foci Kvantificering

Når retterne er tørre, skal du bruge en lineal til at måle mørkt farvede samlinger af celler på pladen. Tæller kun dem, der er mere end 5 mm i diameter som "foci." Optag antallet af foci og beregne gennemsnit og betydningen i forhold til kontrollerne.
Subscription Required. Please recommend JoVE to your librarian.
Representative Results
MXD3 er en basisk helix-loop-helix leucin-zipper (bHLHZ) transkriptionsfaktor, der er medlem af MYC / MAX / MAD netværk. Det er en atypisk medlem af MAD familien 13-15, og det er blevet rapporteret at være involveret i carcinogenese 16,17. Sammenlignet med pBABEpuro (negativ kontrol) og MYC (positiv kontrol), NIH 3T3 retter hvor MXD3 blev overudtrykt havde signifikant færre foci (figur 1A). Dataene i figur 1B blev indsamlet fra flere eksperimenter for at bestemme signifikans.
Der var indledende interesse i at fastlægge MXD3 er onkogent potentiale, fordi det har lignende aktivitet til MYC (den kendte onkogen). Men resultaterne fra dette assay viser, at MXD3 ikke fungerer som et onkogen.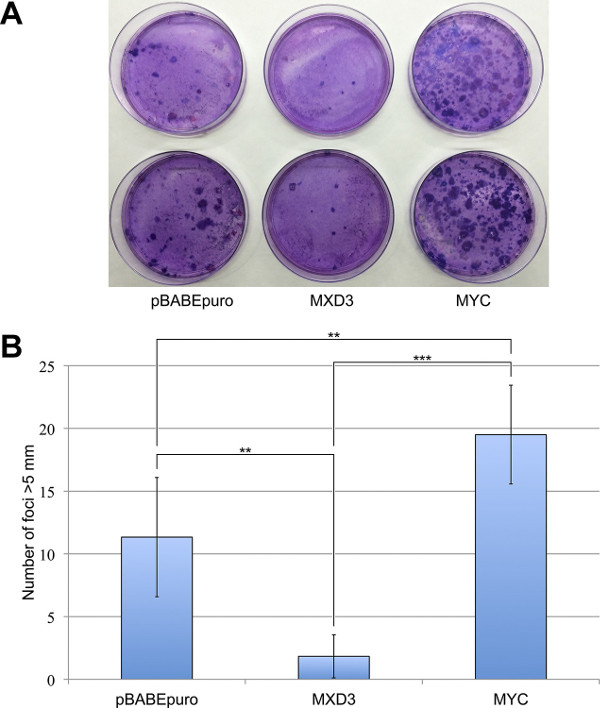 Figur 1. Fokus formation assayresultater. den onkogene potentiale MXD3 blev bestemt ved fokus formation assay (FFA) i NIH 3T3-celler. (A) billeder af celler fra et enkelt eksperiment farvet med Hema 3. Bemærk: Crystal Violet kan anvendes som et alternativ plet. (B) Kombinerede resultater fra tre forsøg. Alle eksperimenter blev udført in duplo. Fokus tæller for hvert forsøg er som følger: Eksperiment 1: pBABEpuro (13, 11), MXD3 (3, 4), MitCN (23, 19); Forsøg # 2: pBABEpuro (8, 7), MXD3 (1, 0), MitCN (22, 20); Eksperiment # 3: pBABEpuro (9, 20), MXD3 (3, 0), MitCN (21, 12). Fejlsøjler repræsenterer standardafvigelse for antallet af foci på tværs af de tre eksperimenter. Betydning: ** p <0,01; *** P <0,001. Klik her for at se en større udgave af dette tal.
Subscription Required. Please recommend JoVE to your librarian.
Discussion
Den FFA giver en hurtig og nem metode til at evaluere malign transformation in vitro. Det er muligt at foretage en screening af et relativt stort antal kandidatgener, og dens beskedne tekniske krav gør det omkostningseffektivt. Endvidere kan to eller flere gener co-udtrykt (undertiden benævnt "samarbejde" assay) at evaluere tumorigene potentiale kombination. Fordelene ved denne analyse påberåbe sig sin ligetil teknik, dens lette kvantificering og dens relativt korte turn-around tid. Det skal dog understreges, at det udgør nogen begrænsninger for alle in vitro-assays. Assayet evaluerer oncogen transformation ved at måle et fænotypisk karakteristisk for cancerceller, nemlig deres evne til at vokse over et monolag i en dyrkningsskål. Negative resultater bør derfor fortolkes med forsigtighed, da en bestemt onkogen kan fremkalde transformation uden at fremme denne særlige phenotype eller kan kræve coekspression med et andet gen (dvs. samarbejde nævnt ovenfor). I dette tilfælde anbefales det at vurdere transformation af andre in vitro metoder, såsom bestemmelse af proliferation rate og serum krav og / eller forankringsuafhængig vækst af, for eksempel, den bløde agar assay.
Selvom FFA teknikken er ligetil, skal overholdes en række betingelser. Vigtigst er det vigtigt at anvende en subklon af 3T3-celler, der viser meget lav spontan transformation. At være pre-neoplasiske (en funktion, der gør denne cellelinie meget følsom for denne analyse) kan visse hætteglas indeholder et betydeligt antal allerede transformerede celler, hvilket resulterer i uacceptabelt høje basale niveauer for analysen. For at minimere spontan transformation, er det meget vigtigt, at starte kulturen opnås fra en anerkendt kilde. Desuden bør cellerne subkultur med regelmæssige mellemrum og aldrig tilladt at nå konfluens.Vi anbefaler passerer kulturer, når de når ca. 50% konfluens. Af denne grund er det vigtigt at skabe yderligere konstruktioner til brug som kontroller. I vores eksperimenter, vi brugte pBABEpuro indeholder MYC (en kendt onkogen) 18 og tom pBABEpuro at tjene som positive og negative kontrol hhv.
Konstruktionen af ​​interesse kan indføres i 3T3-celler ved hjælp af en række forskellige metoder; mest almindeligt blevet anvendt traditionelle transfektionsfremgangsmåder. I protokollen fremlagt her, anvendelse af viral transduktion giver en pålidelig, effektiv og konsekvent fremgangsmåde til genafgivelse. Desuden er brugen af ​​ecotrope retrovirus gør dette assay relativt sikker ved håndtering potentielle onkogene konstruktioner; bør imidlertid ordentlig biosikkerhed forholdsregler naturligvis følges.
Ved udførelse af ovenstående protokol, bør replika plade forsøg udføres for både pletten og høst celler fra de plAtes. De høstede celler kan derefter anvendes til at bekræfte overekspression af genet af interesse ved immunoblot.
Selv viral genlevering præsenterer adskillige fordele i forhold til transformation, skal det bemærkes, at det gør præsentere nogle ulemper samt, og mange laboratorier stadig bruge standard transformationsprotokoller. Viral transduktion kan ikke være egnet, når stærk overekspression er nødvendigt; på den anden side kunne den fysiologiske relevans af meget høje niveauer af ekspression opnås ved plasmid transfektion være tvivlsom.
Endelig skal det understreges, at en anden assay sædvanligvis er nødvendigt for at kontrollere, at de foci skyldes oncogen transformation. Foci kan plukkes (før farvning) og dyrket i blød agar for at bekræfte forankringsuafhængig proliferation.
Subscription Required. Please recommend JoVE to your librarian.
Disclosures
Forfatterne har ikke noget at afsløre.
Acknowledgments
Dette arbejde blev støttet af en bevilling fra NIH direktørs New Innovator Award Program (ED). AA blev delvist understøttet af bachelor priser fra National Cancer Institute og National Science Foundation.
Materials
| | | | |
| --- | --- | --- | --- |
| Name | Company | Catalog Number | Comments |
| pBABE-puro vector | Addgene | Plasmid 1764 | cloning vector |
| Platinum-E Retroviral Packaging Cell Line, Ecotropic | Cell Biolabs, Inc. | RV-101 | cell line for viral production |
| NIH 3T3 Cell Line murine | Sigma-Aldrich | 93061524 | cell line for focus formation assay |
| 10 ml BD Luer-Lok tip syringe | BD Biosciences | 309604 | viral production reagent |
| 0.45 μm Puradisc Syringe Filter | Whatman | 6750-2504 | viral production reagent |
| Polyethylenimine (PEI) | Polysciences, Inc. | 23966-2 | cell transfection reagent |
| Polybrene Infection / Transfection Reagent | EMD Millipore | TR-1003-G | cell transfection reagent |
| Crystal Violet | Fisher Scientific | C581-25 | cell stain reagent |
| Plasmid Plus Midi Kit | QIAGEN | 12945 | plasmid purification |
| BD Falcon Tissue Culture Dishes | BD Biosciences | 353003 | cell culture supplies |
| Dulbecco's Modified Eagle Medium (DMEM) | Gibco | 11995-065 | cell culture media |
| 0.05% Trypsin-EDTA | Gibco | 25300-054 | cell culture supplies |
| Opti-MEM I Reduced Serum Medium | Gibco | 31985-062 | cell culture media |
| Fetal Bovine Serum (FBS) | Gibco | 16000-044 | cell culture media |
References
Clark, G. J., Cox, A. D., Graham, S. M., Der, C. J. Biological assays for Ras transformation. Methods in enzymology. 255-395 (1995).
Celis, J. E. Cell biology : a laboratory handbook. 3rd edn, Elsevier Academic. 345-352 (2006).
Raptis, L., Vultur, A. Neoplastic transformation assays. Methods in molecular biology. 165, 151-164 (2001).
Johnson, P. J., Coussens, P. M., Danko, A. V., Shalloway, D. Overexpressed pp60c-src can induce focus formation without complete transformation of NIH 3T3 cells. Molecular and cellular biology. 5, 1073-1083 (1985).
Bonner, T. I., Kerby, S. B., Sutrave, P., Gunnell, M. A., Mark, G., Rapp, U. R. Structure and biological activity of human homologs of the raf/mil oncogene. IMolecular and cellular biology. 5, 71400-71407 (1985).
Yancopoulos, G. D., et al. N-myc can cooperate with ras to transform normal cells in culture. Proceedings of the National Academy of Sciences of the United States of America. 82, 5455-5459 (1985).
Fujiwara, S., et al. Transforming activity of purinergic receptor P2Y, G protein coupled, 8 revealed by retroviral expression screening. Leukemia & lymphoma. 48, 978-986 (2007).
Morita, S., Kojima, T., Kitamura, T. Plat-E: an efficient and stable system for transient packaging of retroviruses. Gene. 7, 1063-1066 (2000).
Morgenstern, J. P., Land, H. Advanced mammalian gene transfer: high titre retroviral vectors with multiple drug selection markers and a complementary helper-free packaging cell line. Nucleic acids research. 18, 3587-3596 (1990).
Kim, T. K., Eberwine, J. H. Mammalian cell transfection: the present and the future. Analytical and bioanalytical chemistry. 397, 3173-3178 (2010).
Klaver, B., Berkhout, B. Comparison of 5' and 3' long terminal repeat promoter function in human immunodeficiency virus. Journal of virology. 68, 3830-3840 (1994).
Fukumoto, Y., et al. Cost-effective gene transfection by DNA compaction at pH 4.0 using acidified, long shelf-life polyethylenimine. Cytotechnology. 62, 73-82 (2010).
Fox, E. J., Wright, S. C. S-phase-specific expression of the Mad3 gene in proliferating and differentiating cells. The Biochemical journal. 359, 361-367 (2001).
Yun, J. S., Rust, J. M., Ishimaru, T., Diaz, E. A novel role of the Mad family member Mad3 in cerebellar granule neuron precursor proliferation. Molecular and cellular biology. 27, 8178-8189 (2007).
Gore, Y., Lantner, F., Hart, G., Shachar, I. Mad3 negatively regulates B cell differentiation in the spleen by inducing Id2 expression. Molecular biology of the cell. 21, 1864-1871 (2010).
Barisone, G. A., Yun, J. S., Diaz, E. From cerebellar proliferation to tumorigenesis: new insights into the role of Mad3. Cell cycle. 7, 423-427 (2008).
Barisone, G. A., et al. Role of MXD3 in proliferation of DAOY human medulloblastoma cells. PloS One. 7, e38508 (2012).
Nair, S. K., Burley, S. K. X-ray structures of Myc-Max and Mad-Max recognizing DNA. Molecular bases of regulation by proto-oncogenic transcription factors. Cell. 112, 193-205 (2003).