Summary
Odak Oluşumu Testi aday onkogen dönüşürken potansiyelini değerlendirmek için basit bir yöntem sağlar.
Cite this Article
Copy Citation | Download Citations

Alvarez, A., Barisone, G. A., Diaz, E. Focus Formation: A Cell-based Assay to Determine the Oncogenic Potential of a Gene. J. Vis. Exp. (94), e51742, doi:10.3791/51742 (2014).
Introduction
Tümör hücrelerinin gen ifadesi örnekleri morfolojik ve proliferatif değişikliklere epigenomics için, değişiklik geniş bir yelpazesi ile, bunların normal emsallerine ayırt edilebilir. Sonuncular içinde, sonuç olarak, hayvanlara enjekte edildiğinde tümör oluşturma yeteneği habis dönüşüm 3 yararlı ölçülebilir göstergeleri, serum bağımlılığı, kontak (yoğunluğu) inhibisyonu kaybı, ankoraj-bağımsız çoğalma satın azalır ve. In vitro ve in vivo tahliller çeşitli hücresel transformasyon için geliştirilmiştir. In vitro deneyler, amaç (düşük serumda büyümesi) belirlenmesi ve kültür morfolojisi (odak oluşumu testi), kültür dinamiği (büyüme oranı, doygunluk yoğunluk) ve büyüme faktörü değişiklikleri ölçülmesi veya gereksinimleri ankraj (yumuşak agar büyüme). Bir hücre tipi malign tabiatını tespit etmek için altın standart deney hayvanlarında tümör formasyonu (ksenogrefleri) kalır. Bununla birlikte, TO mal ve in vivo çalışmalar uzunluğu her zaman aday onkojenlerin ilk doğrulama adımı veya tarama gibi onları haklı yapmazlar. Hiçbir in vitro deney, bir genin onkojenik potansiyeli kesin bir değerlendirmesini sağlar rağmen, onlar in vivo çalışmalar geleceği daraltmak olabilir onkojenik potansiyeli içgörü sağlarlar. In vitro onkojenik potansiyeli değerlendirmek için en yaygın kullanılan sistemlerden biri Odak Oluşumu Testi 2. Bu yaklaşım, NIH 3T3 fare fibroblast, mutlaka temas inhibisyonu gösteren bir dönüştürülmemiş hücre çizgisinin kullanımına dayanır. Yoğunluk bağımlı büyüme kaybına bir onkogen sonuçların aşırı ekspresyonu; Dönüştürülen hücreler daha sonra kolayca dönüştürülmemiş hücrelerin arka plan tek tabaka ile görselleştirildi "odak" oluşturan, çok sayıda tabaka halinde büyüyebilir. İletişim inhib kaybı ile kanıtlandığı gibi odak oluşumu Deneyi, daha sonra, habis dönüşümünün uyarılması için aday onkogen kabiliyetini ölçmektedirölçülebilir fenotip olarak yerleştirme. FFA (örneğin, Src 4 BRAF 5), protein kinazların aşırı ekspresyonu, transkripsiyon faktörleri (örneğin, N-myc 6) (örneğin, P2RY8 7), G-protein bağlı reseptörler ve GTPazlar (örneğin, dönüşümün değerlendirmek için kullanılmıştır Ras 1), ve diğerleri. Bu deneyde göreli kolaylığı genin ekspresyonu in vitro NIH 3T3 fare fibroblast hücrelerini dönüştürmek için yeterli olup olmadığı hızlı ve görsel net bir cevap verecek iyi bir seçim yapar.
Bu protokol açıklanan FFA viral ambalaj proteinleri sağlar Plat-E ambalaj hücre hattı 8, kullanır ve retroviral vektörü pBABEpuro 9 (Addgene plazmid 1764) retrovirüs üretmek. İlgi konusu geni içeren pBABEpuro yapısı ile transfeksiyondan sonra Plat-D hücre çizgisi NIH 3T3 hücreleri enfekte etmek için kullanılabilir ekotropik retrovirüs üretecektir. TGen teslim onun viral yöntem, geleneksel kimyasal transfeksiyon yöntemlere göre daha etkili olduğunu ve sürdürülebilir geni 10 ifade etmek için bir yol sunar. Bir kez NIH 3T3 hücrelerinin genomu içine dahil edilmiş, ilgi konusu genin aşın virüs uzun terminal tekrarları (LTR) promoteri 11 tarafından tahrik edilir. Bu sabit ifade eden NIH 3T3 hücreleri üzerinde odaklarının oluşumu ile ölçüldüğü haliyle ilgi konusu genin onkojenik etkinliğe sahip olup olmadığını belirlemek için kullanılabilir.
Subscription Required. Please recommend JoVE to your librarian.
Protocol
1. Viral vektörlerin yapımına
İlgi konusu genin, hem de pozitif ve negatif kontroller için kodlama dizileri, geleneksel klonlama (PCR amplifikasyonu, sınırlama sindirimi ve ligasyon) ile pBABEpuro sokulur. BamHI, SnaBI, EcoRI ve SalI: DNA ilave edilebilir vektör üzerindeki dört kısıtlama bölgeleri vardır.
QIAGEN plazmit Midi Kit kullanılarak yetkili hücrelerin transfeksiyonu dereceli plazma DNA hazırlanır.
Bir NanoDrop2000 spektrofotometre kullanılarak DNA konsantrasyonu ölçümü.
2. Retrovirus Üretimi
Plat-E, paketleme hücre soyu NIH 3T3 hücreleri ilgilendiren cDNA teslim edecek ekotropik retrovirüs üretmek için kullanılır.
Dondurulmuş Hücreleri Plat-e Kültürler kurulması

Hızlı bir şekilde 37 ° C su banyosu içinde Plat-E hücreler eritin ve 15 ml konik tüp aktarın. Yavaş yavaş (Du Plat-E orta 9 ml ekleyinlbecco Modifiye Kartal Ortamı (DMEM)% 10 fetal sığır serumu (FBS) + penisilin ve streptomisin).
180 x tüp santrifüj g 5 dakika ve süpernatan atılır.
10 cm kültür çanak Plat-E orta ve transfer 10 ml hücreleri yeniden askıya.
Bunlar% 80-90 ortak akışlı (yaklaşık 2 gün) kadar 37 ° C,% 5 CO2 inkübatörü içinde inkübe hücreleri.

Hücre Bölme

Orta aspire ve bir kez PBS ile yıkayın hücreleri.
% 0.05 tripsin-EDTA 2 ml ilave edilir ve oda sıcaklığında 1 dakika boyunca inkübe edin.
, Dokunarak parmak hücreleri ayırmak Plat-E orta 10 ml ekleyin ve 15 ml tüp hücre süspansiyonu aktarın.
180 x tüp santrifüj g 5 dakika ve süpernatan atılır.
Plat-D ortamı 10 ml hücrelerin yeniden süspanse edin ve 1 yeni yemekler bunları tohum: 4-1: 6 dilüsyonları.

Plat-E Tohumlama ve Transfeksiyon

Tohum, 2 x 10 6Herhangi bir antibiyotik olmadan Plat-E ortamı kullanılarak 10 cm kültür çanak başına hücreleri.
37 ° C,% 5 CO2 inkübatöründe hücreleri O / N inkübe edin.
Ertesi gün, her 1.5 ml mikrofüj tüpüne Opti-MEM içinde 300 ul aktarın.
Opti-MEM ile hazırlanan bir tüpe, polietilenimin 27 ul (PEI), düşük maliyetli bir transfeksiyon ayıracı 12 ekleyin. Dokunarak parmakla hafifçe karıştırın ve oda sıcaklığında 5 dakika inkübe edilir.
Opti-MEM / PEI tüp içine transfeksiyon dereceli plazmid DNA 9 ug ekle vorteks ile yavaşça karıştırın ve 15 dakika oda sıcaklığında inkübe edin.
Ekle DNA / PEI Plat-E kabına ve 37 ° C'de O / N inkübe karmaşık bilge damla,% 5 CO 2.
Bir sonraki gün, transfeksiyon reaktifi ihtiva eden bir ortam aspire ve (antibiyotikler olmadan) taze Plat-D ortamı 10 ml ekleyin.
Inkübatör hücreleri dönün.
3. NIH 3T3 hücreleri ve Enfeksiyon
NIH kurulması3T3 Kültürleri ve Tohumculuk

Hızlı bir şekilde 37 ° C su banyosu içinde, NIH 3T3 hücrelerini eritin ve 15 ml'lik bir tüpe transfer. Yavaş yavaş NIH 3T3 ortamında (DMEM +% 10 FBS) 9 ml ekleyin.
180 x tüp santrifüj g 5 dakika ve süpernatan atılır.
10 cm'lik bir kültür tabağına, NIH 3T3, orta ve devir, 10 ml ile tekrar süspansiyon hücreleri.
37 ° C,% 5 CO2 inkübatörü içinde inkübe hücreleri. Bu kendiliğinden dönüşüm (ve odak oluşumu bu nedenle, bazal seviye) sıklığı gibi bir kültür konfluent ulaştıktan sonra artar, NIH 3T3 hücreleri, her zaman underconfluent (% 50-60) tutulması çok önemlidir.
10 cm çanak başına tohum 3 x 10 5 hücreleri ve ertesi gün enfeksiyonu için O / N kuluçkaya yatmaktadır.

Enfeksiyon

0.45 um gözenek boyutlu naylon zar filtre boyunca, 10 ml'lik atılabilir bir şırınga kullanılarak, ve 15 ml aktararak Plat-E, çanak retroviral süpernatan hasattüp.
(Antibiyotikler olmadan) hücrelere taze Plat-E orta 10 ml ekleyin ve inkübatör onları geri.
Enfekte NIH 3T3 hücre çanak orta aspire ve virüs ihtiva eden, süzüldü süpernatanın 5 normal NIH 3T3 ortamının ml ve 5 mi ekleyin.
6 ug / ml'lik bir konsantrasyonda çanak polybrene ekleyin.
37 ° C'de,% 5 CO2 hücreleri O / N inkübe edin.
Enfeksiyon ikinci tur için 3.2.5 - Ertesi gün, tekrar 3.2.1 adımları.
Normal NIH 3T3 ortamı ile virüs içeren ortam değiştirin.
Gerektiğinde ortamının değiştirilmesiyle, NIH 3T3 hücreleri, 2-3 hafta boyunca büyümeye izin verin. Çoğaltma plakalarından bütün hücre lizatları üzerindeki geleneksel protein elektroforezi ve immüno-lekeleme ile, ilgilenilen proteinin ekspresyonunu kontrol edin.
4. Boyama ve miktarının belirlenmesi
Kristal Violet Boyama

NIH 3T3 orta aspire ve yemekler yerBuz üzerinde.
Buz soğukluğunda PBS ile iki kez yemekler yıkayın.
10 dakika boyunca buz soğukluğunda metanol ile hücreleri saptamak.
Buz yemekler çıkarın metanol havalandırın, ve 25% metanol (RT) 'de yapılan% 0.5 kristal mor çözelti 3 ml ekleyin.
Oda sıcaklığında 5 dakika boyunca yemekler inkübe edin.
Kristal viyole çözüm aspire ve hiçbir renk durulama kapalı gelene kadar dikkatli Milli-Q H 2 O ile çanak durulayın.
Yemekleri masa üstü Ç / N kurumasını bekleyin (ortaya).

Foci Kantifikasyon

Yemekler, kuru, plaka üzerinde hücrelerin koyu renkli koleksiyonlarını ölçmek için bir cetvel kullanın. Sadece olarak çapı 5 mm'nin olanlar saymak "odaklar." Odaklarının sayısını kaydedin ve ortalamalar ve kontrollere göre önemini hesaplamak.
Subscription Required. Please recommend JoVE to your librarian.
Representative Results
MXD3 MYC / MAX / MAD ağının bir üyesi olan temel bir sarmal döngü-heliks lösin fermuar (bHLHZ) transkripsiyon faktörüdür. Bu MAD ailesinin 13-15 bir atipik üyesi olduğunu ve karsinogenezinde 16,17 rol bildirilmiştir. PBABEpuro (negatif kontrol) ve myc (pozitif kontrol) ile karşılaştırıldığında, MXD3 aşın NIH 3T3 yemekler önemli ölçüde daha az odakları (Şekil 1A) vardı. Şekil 1 B 'de veri önemini belirlemek için birden çok deneyden elde edilmiştir.
O MYC benzer aktivite (bilinen onkogen) çünkü MXD3 en onkojenik potansiyelini belirlemede ilk ilgi vardı. Bununla birlikte, bu testte elde edilen sonuçlar, MXD3 onkogen olarak fonksiyon göstermektedir.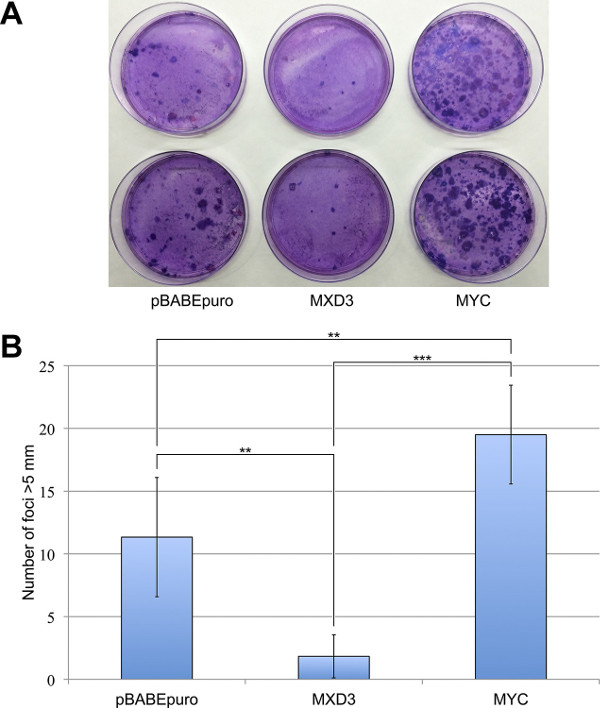 Şekil 1. Odak oluşumu deneyiSonuçlar. MXD3 onkojenik potansiyel NIH 3T3 hücreleri içinde odak oluşumu deneyi (FFA) ile tespit edilmiştir. Hema 3. Not ile boyanmış tek bir deneyde hücreler (A), Resimler: Kristal Violet alternatif boya olarak kullanılabilir. (B) üç deneyden Kombine sonuçlar. Tüm deneyler, iki kopya halinde yapıldı. Odak aşağıdaki gibidir, her bir deney için önemli olan: Deney 1: pBABEpuro (13, 11), MXD3 (3, 4), MYCN (23, 19); Deney 2: pBABEpuro (7, 8), MXD3 (1, 0), MYCN (22, 20); Deney 3: pBABEpuro (9, 20), MXD3 (3, 0), MYCN (21, 12). Hata çubukları, üç deneyin boyunca odaklarının sayısında standart sapmasını temsil eder. Önemi: ** p <0.01; *** P <0.001. Bu rakamın büyük halini görmek için lütfen buraya tıklayınız.
Subscription Required. Please recommend JoVE to your librarian.
Discussion
FFA in vitro malign transformasyon değerlendirmek için hızlı ve kolay bir yöntem sağlar. Aday genler nispeten büyük sayıda taranması için uygundur ve mütevazı teknik gereksinimler, maliyet açısından tercih. Bundan başka, iki ya da daha çok gen birlikte eksprese edilebilir kombinasyonunun tümörijenik potansiyelini değerlendirmek için (bazen "işbirliği" deneyi olarak da adlandırılır). Bu testin avantajları basit tekniği, miktar kolaylığı ve nispeten kısa dönüş etrafında zaman güveniyor. O, tüm in vitro testlerin sınırlamaları poz olmadığını, ancak, vurgulanmalıdır. Tahlil kanserli hücrelerin bir fenotipik özelliği ölçerek onkojenik dönüşümü değerlendirir, yani, kendi yetenek kültür çanak bir tek tabaka ötesine büyümeye. Olumsuz sonuçlar, bu nedenle, bu özel fenotipinin teşvik olmadan dönüşümü neden olabilecek belirli bir onkogen olarak, dikkatle yorumlanmalıdıre veya başka bir gen (örneğin, işbirliği yukarıda belirtilen) ile yakımının birlikte gerekebilir. Bu durumda, örneğin, proliferasyon hızı ile serum şartları ve / ya da ile sabitlenmeden bağımsız büyüme saptanması gibi diğer in vitro yöntemler, yumuşak agar tahlili ile dönüşümü değerlendirmek için tavsiye edilir.
FFA tekniği basit olmasına rağmen, çeşitli koşullar dikkate alınmalıdır. En önemlisi, çok düşük spontan dönüşümü gösterir 3T3 hücrelerinin bir alt klon kullanımı için çok önemlidir. Ön-neoplastik (Bu hücre soyu Bu deney için çok hassas hale getiren bir özellik) olarak, bazı şişeler deneyi için kabul edilemeyecek kadar yüksek bazal seviyelerinde elde edilen, önceden dönüştürülmüş hücrelerin önemli bir sayısını ihtiva edebilmektedir. Spontan dönüşümü en aza indirmek için bu başlangıç ​​kültürü saygın bir kaynaktan elde edilmesi çok önemlidir. Ek olarak, hücrelerin düzenli aralıklarla alt kültür uygulanmış ve birleşik duruma ulaştılar asla izin verilmelidir.Onlar yaklaşık 50% confluency ulaştığında biz kültürleri geçen öneririz. Bu nedenle, kontrol olarak kullanmak için ek yapılar oluşturmak için önemlidir. Deneylerde, sırasıyla, pozitif ve negatif kontrol olarak hizmet etmek üzere MYC (bilinen onkogen) 18 ve boş pBABEpuro içeren pBABEpuro kullanılır.
ilgi yapısı çeşitli yöntemler kullanılarak 3T3 hücreleri içine dahil edilebilir; en yaygın olarak, geleneksel transfeksiyon yöntemleri kullanılmıştır. Burada yer alan protokol, viral transdüksiyon kullanımı gen aktarımının, güvenilir, etkili ve sürekli bir yöntem sağlar. Potansiyel onkojenik yapıları tutarken Ayrıca, ekotropik retrovirüsün kullanımı bu tahlil nispeten güvenli kılar; Ancak, uygun biyogüvenlik önlemleri elbette takip edilmelidir.
Yukarıdaki protokol yapılırken, çoğaltma plaka deneyleri pl olanlardan hem leke ve hasat hücreleri için yapılmalıdırates. Toplanan hücreler daha sonra, gene-faiz immunoblotting aşırı ekspresyonu teyit etmek için kullanılabilir.
Dönüşüme göre viral gene teslimi birkaç avantaj sunar, ancak bunun yanı sıra bazı dezavantajları mevcut yaptığı belirtilmelidir ve birçok laboratuar hala standart transformasyon protokolleri kullanmaktadır. Güçlü bir aşırı ifadesi gerektiği zaman viral transdüksiyon uygun olmayabilir; Öte yandan, plazmid transfeksiyon ile elde edilen ifadenin, çok yüksek seviyelerde fizyolojik uygunluğu şüpheli olabilir.
Son olarak, ikinci bir tahlil genellikle odakları onkojenik dönüşüm nedeniyle olduğunu doğrulamak için gerekli olduğu vurgulanmalıdır. Odakları (boyanması önce) aldı ve ankraj bağımsız çoğalmasını onaylamak için yumuşak agar yetiştirilebilir.
Subscription Required. Please recommend JoVE to your librarian.
Disclosures
Yazarlar ifşa hiçbir şey yok.
Acknowledgments
Bu çalışma NIH Yönetmenin Yeni Yenilikçi Ödülü Programı (ED) bir hibe ile desteklenmiştir. AA Ulusal Kanser Enstitüsü ve Ulusal Bilim Vakfı lisans ödülleri kısmen desteklenmiştir.
Materials
| | | | |
| --- | --- | --- | --- |
| Name | Company | Catalog Number | Comments |
| pBABE-puro vector | Addgene | Plasmid 1764 | cloning vector |
| Platinum-E Retroviral Packaging Cell Line, Ecotropic | Cell Biolabs, Inc. | RV-101 | cell line for viral production |
| NIH 3T3 Cell Line murine | Sigma-Aldrich | 93061524 | cell line for focus formation assay |
| 10 ml BD Luer-Lok tip syringe | BD Biosciences | 309604 | viral production reagent |
| 0.45 μm Puradisc Syringe Filter | Whatman | 6750-2504 | viral production reagent |
| Polyethylenimine (PEI) | Polysciences, Inc. | 23966-2 | cell transfection reagent |
| Polybrene Infection / Transfection Reagent | EMD Millipore | TR-1003-G | cell transfection reagent |
| Crystal Violet | Fisher Scientific | C581-25 | cell stain reagent |
| Plasmid Plus Midi Kit | QIAGEN | 12945 | plasmid purification |
| BD Falcon Tissue Culture Dishes | BD Biosciences | 353003 | cell culture supplies |
| Dulbecco's Modified Eagle Medium (DMEM) | Gibco | 11995-065 | cell culture media |
| 0.05% Trypsin-EDTA | Gibco | 25300-054 | cell culture supplies |
| Opti-MEM I Reduced Serum Medium | Gibco | 31985-062 | cell culture media |
| Fetal Bovine Serum (FBS) | Gibco | 16000-044 | cell culture media |
References
Clark, G. J., Cox, A. D., Graham, S. M., Der, C. J. Biological assays for Ras transformation. Methods in enzymology. 255-395 (1995).
Celis, J. E. Cell biology : a laboratory handbook. 3rd edn, Elsevier Academic. 345-352 (2006).
Raptis, L., Vultur, A. Neoplastic transformation assays. Methods in molecular biology. 165, 151-164 (2001).
Johnson, P. J., Coussens, P. M., Danko, A. V., Shalloway, D. Overexpressed pp60c-src can induce focus formation without complete transformation of NIH 3T3 cells. Molecular and cellular biology. 5, 1073-1083 (1985).
Bonner, T. I., Kerby, S. B., Sutrave, P., Gunnell, M. A., Mark, G., Rapp, U. R. Structure and biological activity of human homologs of the raf/mil oncogene. IMolecular and cellular biology. 5, 71400-71407 (1985).
Yancopoulos, G. D., et al. N-myc can cooperate with ras to transform normal cells in culture. Proceedings of the National Academy of Sciences of the United States of America. 82, 5455-5459 (1985).
Fujiwara, S., et al. Transforming activity of purinergic receptor P2Y, G protein coupled, 8 revealed by retroviral expression screening. Leukemia & lymphoma. 48, 978-986 (2007).
Morita, S., Kojima, T., Kitamura, T. Plat-E: an efficient and stable system for transient packaging of retroviruses. Gene. 7, 1063-1066 (2000).
Morgenstern, J. P., Land, H. Advanced mammalian gene transfer: high titre retroviral vectors with multiple drug selection markers and a complementary helper-free packaging cell line. Nucleic acids research. 18, 3587-3596 (1990).
Kim, T. K., Eberwine, J. H. Mammalian cell transfection: the present and the future. Analytical and bioanalytical chemistry. 397, 3173-3178 (2010).
Klaver, B., Berkhout, B. Comparison of 5' and 3' long terminal repeat promoter function in human immunodeficiency virus. Journal of virology. 68, 3830-3840 (1994).
Fukumoto, Y., et al. Cost-effective gene transfection by DNA compaction at pH 4.0 using acidified, long shelf-life polyethylenimine. Cytotechnology. 62, 73-82 (2010).
Fox, E. J., Wright, S. C. S-phase-specific expression of the Mad3 gene in proliferating and differentiating cells. The Biochemical journal. 359, 361-367 (2001).
Yun, J. S., Rust, J. M., Ishimaru, T., Diaz, E. A novel role of the Mad family member Mad3 in cerebellar granule neuron precursor proliferation. Molecular and cellular biology. 27, 8178-8189 (2007).
Gore, Y., Lantner, F., Hart, G., Shachar, I. Mad3 negatively regulates B cell differentiation in the spleen by inducing Id2 expression. Molecular biology of the cell. 21, 1864-1871 (2010).
Barisone, G. A., Yun, J. S., Diaz, E. From cerebellar proliferation to tumorigenesis: new insights into the role of Mad3. Cell cycle. 7, 423-427 (2008).
Barisone, G. A., et al. Role of MXD3 in proliferation of DAOY human medulloblastoma cells. PloS One. 7, e38508 (2012).
Nair, S. K., Burley, S. K. X-ray structures of Myc-Max and Mad-Max recognizing DNA. Molecular bases of regulation by proto-oncogenic transcription factors. Cell. 112, 193-205 (2003).