Summary
Jäst, Saccharomyces cerevisiae, har varit en viktig modellorganism för att identifiera och studera gener som reglerar biogenes och funktioner endosomal systemet. Här presenterar vi ett detaljerat protokoll för den specifika märkningen av endosomala fack för ultrastrukturella studier.
Abstract
Endosomes är en av de stora membransorterings vägspärrar i eukaryota celler och de reglerar återvinning eller destruktion av proteiner främst från plasmamembranet och Golgi. Som ett resultat av endosomal systemet spelar en central roll för att upprätthålla cell homeostas, och mutationer i gener som hör till detta nätverk av organeller sammankopplade med vesikulär transport, orsaka allvarliga sjukdomar, inklusive cancer och neurobiologiska störningar. Det är därför av största betydelse för att förstå den bakomliggande mekanismen biogenes och organisation av det endosomala systemet. Den jästen Saccharomyces cerevisiae har varit avgörande i denna uppgift. För att specifikt märka och analysera på ultra nivå endosomal systemet av denna modell organism, presenterar vi här ett detaljerat protokoll för den positivt laddade nanoguld upptag av sfäroplaster följt av visualisering av dessa partiklar genom en silverförbättring reaktion. Denna metod är också en värdefull förl för morfologisk undersökning av mutanter med defekter i endosomal trafficking. Dessutom är det inte bara gäller för ultrastrukturella undersökningar, men det kan också kombineras med immunogold labelings för proteinlokaliseringsutredningar.
Introduction
Det endosomal systemet är ett stort membran sorteringsapparat som spelar flera viktiga cellulära funktioner, inklusive handel med lysosomala enzymsorterings receptorer och återvinning av plasmamembran (PM) receptorer 1,2. Endosomes är uppdelade i tre olika fack, dvs. de tidiga endosomes (EE), den sena endosomes (LE) och återvinnings endosomer. Denna klassificering är baserad på den tid det tar för endocyteras material för att nå dem, på specifika markörproteiner och deras morfologi. Membran, dvs protein och lipidbiskikt, internaliserade från PM kan antingen levereras till lysosomer via endosomes för nedbrytning eller återvinnas tillbaka. Membran transporteras också till endosomes från Golgi och på samma sätt, antingen fortsätta att lysosomer eller hämtas tillbaka till Golgi. Dessutom kan proteiner sorteras i luminala vesiklar spirande inåt från det endosomala begränsande membranet, en process som leder till bildning aven underkategori av LE, de multivesikulära kroppar.
Jästen endosomala systemet är förhållandevis mindre komplext än ett av höga eukaryota celler. Jäst endosomer är indelade i EE och LE. I motsats till däggdjursceller de inte innehåller återvinnings endosomer utan även vävnadsspecifika lysosom relaterade organeller. Därför har de en mindre komplext nätverk av endosomala smugglingsvägar 3,4. Jäst har därför representerat och fortfarande utgör ett fördelaktigt experimentellt system för att studera några av de principer som underliggande membrantrafik i endosomal systemet. Denna fördel understryks av det faktum att ett stort antal gener som är involverade i det endosomala vägar har ursprungligen isolerats med genetiska skärmar i jäst 5. Även jästen endosomal systemet i vildtyp och muterade celler har studerats med hjälp av biokemiska och fluorescens mikroskopi metoder har sin undersökning på den ultrastrukturella nivån bara varitminimal. Morfologiska analyser är särskilt relevanta i jäst eftersom de flesta av de endosomala organ detekteras som punktera strukturer genom fluorescensmikroskopi, vilket gör svårt att entydigt identifiera 6. Tyvärr endast ett begränsat antal antiserum erkänna jäst endosomala proteinmarkörer arbetar i immuno-elektronmikroskop (IEM) förberedelser 7-10. För vissa proteiner, har detta problem kringgås genom den endogena taggning av genen av intresse och användning av en antikropp som känner igen taggen för att detektera det 7,11,12. Ofta är dock proteiner påvisas med IEM grund av deras låga nivåer. Deras överuttryck är inte en lösning eftersom denna metod kan framkalla mis-lokaliseringar och / eller förändringar i organell morfologi / funktioner. Således märkning av de endocytiska fack med en sond detekteras genom elektronmikroskopi EM är ett effektivt alternativ. Detta är en optimal lösning, särskilt om probe går in i endocytic vägen på ett tidsberoende sätt, vilket gör det möjligt att veta när det kommer att markera en specifik organell 6.
Upptaget av positivt laddade nanoguld genom jäst sfäroplaster (dvs.. Jäst där cellväggen har enzymatiskt avlägsnas) har framgångsrikt använts för att identifiera jäst endosomala fack 10. Dessa partiklar binds kraftigt till de negativt laddade lipider som utgör de biologiska membranen. Således de positivt laddade nanoguld associerar med PM, penetrerar cellen genom endocytos och passerar genom EE och LE innan vakuolen. Dessa små guldpartiklar, men inte har en lämplig storlek för att ses av EM. För att göra dem synliga, kan deras storlek förstoras genom kemiska reaktioner som leder till avsättning av silver eller guld runt guldsonden 13-15. Vi har utvecklat och framgångsrikt tillämpat ett IEM strategi baserad på Tokuyasu metoden att utföra subcellulärlokaliseringsstudier 8,16. Denna metod gör det möjligt att utföra immunogold märkning på jästpreparat med en utmärkt upplösning på morfologin 8,17-24. Vi har också etablerat ett förfarande som kombinerar denna IEM protokoll med nanoguld märkning av jäst endosomal systemet fack 6. Med hjälp av denna metod har vi morfologiskt karakteriseras olika underklasser endosomes och ultrastrukturellt undersökt mutanter med en endosomal handeln defekt 6,25. Dessutom har vi visat att denna nanoguld märkningen kan kombineras med immunogold labelings ger möjlighet att undersöka fördelningen av ett protein av intresse om de olika endosom delpopulationer. Här presenterar vi hur märkning av jäst endosomal system med positivt laddade nanoguld är praktiskt utförs.
Subscription Required. Please recommend JoVE to your librarian.
Protocol
1. Sferoplast Förberedelse
Inkubera jästen över natten vid 30 ° C i 10 ml av det lämpliga mediet bestämmas genom utformningen av experimentet.
Dagen efter mäta den optiska densiteten hos kulturen vid 600 nm (OD 600) med användning av en fotometer, Späd celler i samma odlingsmedium till en OD 600 av 0,2 till 0,4 och odla dem till en exponentiell tillväxtfas om inte utformningen av experiment kräver ett annat tillstånd. Celler i den exponentiella fasen när kulturen har en OD 600 av 1-2.
Samla 10 OD 600 ekvivalenter av cellerna genom centrifugering vid 3500 x g under 5 min i en 50 ml tub. Efter centrifugering, kassera supernatanten.
Suspendera cellpelleten i 5 ml av en 100 mM PIPES (pH 9,6), 10 mM ditiotreitol och inkuberades vid 30 ° C under 10 min.
Samla igen cellerna genom centrifugering vid 3500 x g under 5 min. Kasta bort supernatanten.
Resuspendera cellerna in 5 ml medium (som bestäms av utformningen av experimentet) innehållande 1 M sorbitol och 5 mg av lytiskt enzym och inkubera blandningen vid 30 ° C med försiktig skakning under 30 min.
Centrifugera cellsuspensionen vid 300 x g under 5 min för uppsamling av pelletfraktionen, som motsvarar de sfäroplaster. Kasta bort supernatanten.
Resuspendera sfäroplaster i 960 | il iskall media (medium bestämmas genom utformningen av experimentet) innehållande 1 M sorbitol och överföra blandningen till en iskall 2 ml mikrocentrifugrör.
2. Nanoguld Upptag
Med pipett försiktigt blanda sferoplast med 4 nmol av positivt laddade nanoguld partiklar suspenderade i 40 fil vatten. Den slutliga volymen för blandningen måste vara av en ml.
Placera den erhållna cellsuspensionen på is under 15 min.
Överför suspensionen vid rumstemperatur och inkubera den under erforderlig tid för att möjliggöra nanoguld intemalisering av endocytosis.
OBS: En 5 min upptag kommer huvudsakligen att leda till märkning av endocytiska blåsor och tidiga endosomala fack, medan en 15 min upptag kommer att tillåta att markera hela endosomal systemet (tidiga och sena endosomer). Längre inkuberingstider (mer än 30 min) kommer också att göra det möjligt att märka vakuolen.
OBS: Puls-chase märkningsexperiment kan inte utföras med denna metod. Därför, när märkning för analys av LE, nanoguld kommer också hittas på PM och inEE.
3. Fixering och Sektione
Stoppa nanoguld upptag genom tillsats av 1 ml av dubbel styrka fixativ [4% paraformaldehyd (PFA), 0,4% glutaraldehyd (GA) i 0,1 M PHEM-buffert (20 mM PIPES, 50 mM HEPES, pH 6,9, 20 mM EGTA, 4 mM MgCb 2)] innehållande 1 M sorbitol till cellsuspensionen. Hålls i röret vid rumstemperatur.
Vänd försiktigt manuellt micocentrifuge rören flera gånger under 30 min (detta kommer att möjliggöra att hålla sfäroplasterna isuspension) och centrifugera sedan den två gånger vid 1700 xg under 25 sek.
Ersätt fixativ genom kasta supernatanten och genom att tillsätta 1 ml färsk standard styrka fixativ (2% PFA, 0,2% GA i 0,1 M PHEM-buffert) innehållande 1 M sorbitol och inkubera i 2 timmar vid rumstemperatur på en långsamt roterande hjul.
Behandla celler för kryo-sektionering som beskrivits tidigare 6. OBS: För nanoguld upptag och silver förbättring förfaranden, den periodiska syrabehandling som beskrivs i det angivna protokollet har inte utföras. Den periodiska behandlingen syran är att bättre permeabilize cellväggen 26, men denna struktur har eliminerats under generering av sfäroplaster.
Skär 50 nm tunna kryosnitt vid -120 ° C med torr diamantkniv med hjälp av en UCT ultramikrotom som tidigare beskrivits 8 och placera dem på Formvar kol belagt 50 maskor nickelgaller.
4. Silver Enhancement för nanoguld Particle Visualisering
OBS: Förfarandet för att förbereda reaktionsblandningarna är i grunden den som anges av tillverkaren. Praktiska anpassningar som använder detta protokoll, gör silverförbättringsförfarandet effektivt och tillförlitligt på kryosnitt.
Avlägsna silverförstärkning kit från frysen och tina den i en 37 ° C inkubator eller vattenbad. När tinade, placera satsen i en 24 ° C inkubator placeras i ett mörkt rum fram till användning (se 4.7).
Placera värmeplattan i det mörka rummet och värma den till sluttemperatur av 24 ° C.
Täck toppen av värmeplatta med ytskydd, blanka sidan uppåt, och fäst den med ett band.
Placera Parafilm på Benchkote och markera kanterna med en svart markering för att kunna se Parafilm kanterna i mörkret.
Tape en termometer på toppen av Benchkote att övervaka temperaturen hos värmeplattan. Gradvis justera temperaturen om inte 24 ° C.
PlaCE 50 ml rör med dubbeldestillerat vatten och silverförbättring sats inuti.
Fyll de små petriskålar med dubbeldestillerat vatten, förvärmd vid 37 ° C. Placera gallren i vattnet, provsidan nedåt, i 30 min.
Upprepa detta 4.7 steg en gång till.
Överför galler i förvaringsbox och föra dem till det mörka rummet.
Skölj gallren igen genom att föra dem (med provsidan nedåt) på flera droppar dubbel destillerat vatten vid 24 ° C som släpps ut på Parafilm som har fastställts på värmeplattan.
Se till att 9 ytterligare dubbla destillerat vatten droppar är redo på Parafilm, för sköljning efter silverförbättring reaktionen.
Släcka lampan och se till att alla lampor är släckta. Vrid den röda lampan på.
Ta ur A-och B-lösningar av silverförstärkning satsen från 24 ° C inkubator.
Sätt första 6 droppar av en lösning och sedan 6 droppar av B-lösning i en 1,5 ml mikrocentrifugrör, och blanda väl med ett glas pasteurpipett undvika att göra bubblor. Lösningen är ganska tjock och den måste manuellt blandas med en pipett innan slutligen vortexa det kort.
Sätt de A-och B-lösningar tillbaka i 24 ° C inkubator och ta ut C lösning.
Lägg till 6 droppar av C lösning av A / B-blandningen. Blanda sedan igen först med en Pasteur-pipett och sedan genom skakning, undvika att göra bubblor.
Använd omedelbart den slutliga blandningen genom att placera droppar (~ 20 l / droppe) på Parafilm.
Med en ren, anti-magnetiska pincett, placera gallren på blandningen (t.ex.., Silver höjande reaktion) för 6 till 15 min beroende på förstärkning (dvs. Storleken på guldpartiklar) ville erhållas.
Avlägsna gallren från blandningen och föra dem vidare upp i dubbeldestillerat vatten sjunker vid 24 ° C under tvättar. Använd först in snabbt följd 6 droppar och därefter 3 droppar med 7 min inkubationstid per droppe, Innan du slår på belysningen.
Gå vidare till nästa steg, antingen immuno-guldmärkning eller membranfärgning 27 för att visualisera resultatet för en EM-undersökning.
Subscription Required. Please recommend JoVE to your librarian.
Representative Results
Enligt den presenterade protokollet kan morfologin av jäst endosome systemet vara tillgång transmission EM. Figur 1 visar olika typer av endosomala fack som har nåtts och därmed märkta med nanoguld. Silvret förbättrade nanoguld kan tydligt ses som elektrontäta partiklar. De optimala inställningarna som fastställts för det silverförstärkning reaktion tillåter med guldpartiklar i ett homogent storleksintervall mellan 5 och 15 nm, vilket inte stör den ultrastrukturen hos jästcellen. Plasmamembran samt tidiga endosomala fack är tillgängliga för nanoguld efter en 5 min inkubation vid 24 ° C (figur 1 A) medan LE, i de presenterade fall multivesikulära kroppar, kan nås med dessa partiklar efter minst 30 min för upptagning (Figur 1B). Upplösningen kraften i att kombinera vår IEM förfarande 8 med nanoguld / silver förbättring protokoll som beskrivs här är underlined genom bevarandet av och kvaliteten på morfologin hos de organeller som visas i synnerhet de interna vesiklar i de multivesikulära kroppar (Figur 1B).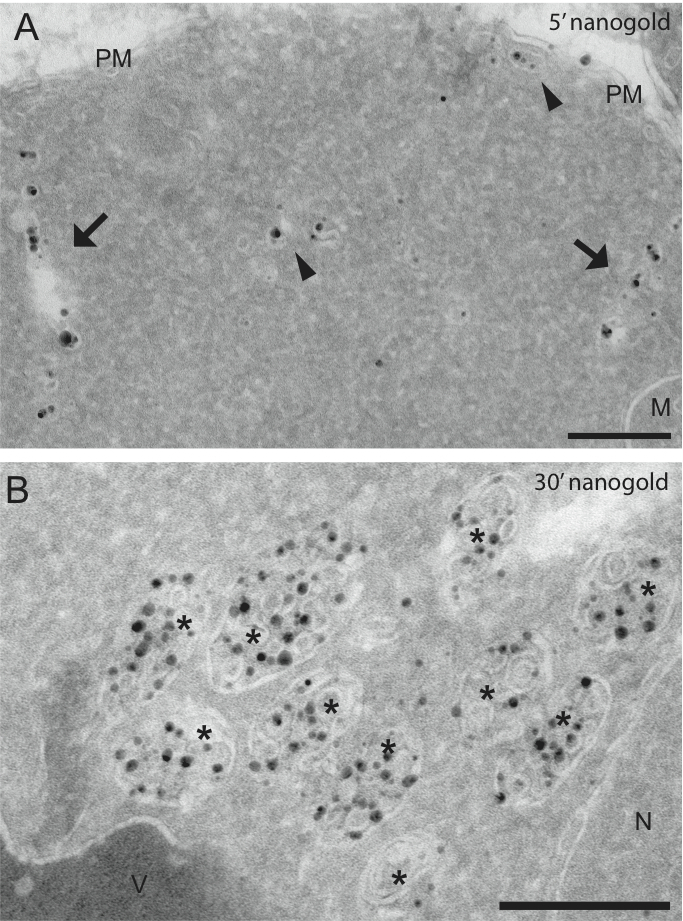 Figur 1. Ultra analys av nanoguld märkt jäst endosomala fack. Sfäroplaster erhölls från vildtypen SEY6210 stam (MATalpha ura3-52 leu2-3, 112 his3-Δ200 TRP1-Δ901 lys2-801 SUC2-Δ9 mel GAL) som beskrivs i den presenterade protokollet. Sfäroplaster inkuberades sedan med 4 nmol av positivt laddade nanoguld vid 4 ° C under 15 min innan den överfördes till rumstemperatur under 10 (panel A) eller 30 min (fält B). Cellerna därefter fast, behandlas för kryosektionering 8 innan de utför silverförbättring reaktion på det sätt som beskrivsi den presenterade protokollet. A. Tidiga fack i jäst endosomal systemet. Vid sidan av plasmamembranet, en kort upptag av nanoguld (5 min) möjliggör märkning av enstaka vesiklar (pilspetsar), eventuellt endocytiska vesiklar, och av rörformiga strukturer (pil), mycket sann tidiga endosomer. B. Jäst multivesikulär kropp ultrastruktur. En 30 min inkubation leder till märkning av LE / multivesikulära organ (asterisker), men även tidiga endosomer och delvis vakuoler (visas ej). M, mitokondrier; N, kärna; PM, plasmamembranet; V, vacuole. Bar = 200 nm.
Subscription Required. Please recommend JoVE to your librarian.
Discussion
Immuno-elektronmikroskop är en teknik som gör det möjligt att kombinera lokalisering av proteiner med den ultra upplösning av bärarna och organeller där dessa proteiner är bosatta. Detta är särskilt viktigt när man studerar jäst endosomal systemet eftersom dess fack visas som punktera strukturer i fluorescensmikroskopi. Det är därför svårt att skilja dem åt. Av detta skäl har användningen av en sond detekteras genom EM och skriva in den endocytiska vägen på ett tidsberoende sätt är avgörande för att specifikt märka de olika endosomer. Denna typ av sond är värdefull för att bedöma funktionalitet endocytos 6 och det är ett alternativ till den bristande immunsera detektion av proteinmarkörer.
Det förfarande som beskrivs här exploit positivt laddade nanoguld som en prob för att märka den endosomala fack. Medan cryosectioning kräver speciell utrustning och kompetens, är tekniskt enkelt den presenterade protokollet och inte återBOK specialmaskiner. Därför är det tillgängligt för alla laboratorier som vill använda den för sin forskning. Men vissa försiktighetsåtgärder måste vidtas under det kritiska steget i detta förfarande, dvs silverförbättring reaktionen. Denna reaktion är mycket känslig för ljus och därför alla lampor (utom den röda) i rummet måste stängas av och / eller täckta. Eftersom samtliga kemiska reaktioner, är hastigheten för silverförstärkning reaktionen påverkas av temperaturen. För att erhålla konsekventa och reproducerbara resultat med användning av samma parametrar, alla lösningar och verktyg måste noggrant förinkuberades vid 24 ° C. Det är viktigt att med noggrannhet bestämma inkuberingstiden för silverförstärkning i det rum där denna reaktion kommer att rutinmässigt. Utbyggnad av nanoguld måste vara tillräckligt lång för att kunna visuellt upptäcka guldpartikel av EM och måste vara tillräckligt kort för att undvika uppkomsten av överdimensionerade partiklar, som skulle kunna täcka morfologiska detaljer. Av denna anledning är det varmt rekommenderat att utföra en pilotexperiment när du ställer in den här tekniken i laboratoriet. Under detta test de nanoguld partiklarna måste vara silver förbättrad för olika tider för att bestämma den optimala tiden för reaktionen. Notera, kan dimensionerna hos de erhållna partiklarna inte vara av homogen storlek; det blir alltid en viss heterogenitet, men det måste hållas så liten som möjligt, på mellan 5 - 15 nm. Detta är särskilt viktigt om nanoguld upptaget förfarandet kommer att kombineras med immuno-guld labelings. En annan aspekt som bör hållas i minnet vid tolkningen av resultaten är att puls-chase märkningsexperiment är inte möjligt med den här metoden. Följaktligen PM och EE ska också märkas i en nanoguld upptag syftar till att visualisera LE.
Det är också möjligt att se ytterligare tillämpningar av det protokoll som presenteras här. Ett alternativ skulle kunna vara att korrelera EM-data för nanoguld upptag med fluorescerande microscopy. FM4-64 är en lipofil fluorescerande markörfärg som associerar till PM och, på dess väg till vakuolen, passerar genom det endosomala fack på ett tidsberoende sätt. FM4-64 och nanoguld Både in i cellen tillsammans med lipider och de har förmodligen mycket liknande interna kinetik 28,29. Som ett resultat av båda färgämnena skulle kunna användas på samma gång in-EM ljus korrelativ metoder för att samtidigt undersöka den dynamiska och ultrastrukturen av den endocytiska compartments.The presenteras metod kan också användas för att receptorförmedlad trafficking genom endocytiska systemet 30. Monomaleido och mono-sulfo-N-hydroxi-succinimido-derivaten enligt nanoguld kan användas för att kovalent binda dessa partiklar till proteiner 6. Till exempel tvärbindning med en-eller α-faktorn kan tillåta efter endocytos av dessa två feromoner av sina specifika receptorer.
Sammantaget ger den beskrivna protokollet för att specifically märka organeller hos jästen endosomala systemet med en endocyteras sond, som kan göras detekterbar genom EM. Denna experimentella verktyg är en värdefull metod för att studera biogenes och organisationen av jäst endosomala fack på ultra nivå.
Subscription Required. Please recommend JoVE to your librarian.
Acknowledgments
Författarna tackar René Scriwanek för hjälp med förberedelserna av figuren. FR stöds av ECHO (700.59.003), ALW Open Program (821.02.017 och 822.02.014), DFG-NWO samarbete (DN82-303) och ZonMW VICI (016.130.606) bidrag.
Materials
| | | | |
| --- | --- | --- | --- |
| Name | Company | Catalog Number | Comments |
| PIPES (piperazin-1,4-bis (2-ethansulfensaure) | Merck, Darmstadt, Germany | 1,102,200,250 | |
| HEPES | Merck, Darmstadt, Germany | 391,340 | |
| EGTA | Sigma, St louis, MO | E4378 | |
| MgCl2·6H2O | Merck, Darmstadt, Germany | 1,058,330,250 | |
| DL-Dithiothreitol | Sigma, St louis, MO | D0632 | |
| Sorbitol | Sigma, St louis, MO | S1876 | |
| Positively charged Nanogold | Nanoprobes, Yaphank, NY | 2022 | store at -20 °C |
| HQ-silver™ enhancement kit | Nanoprobes, Yaphank, NY | 2012 | store at -20 °C |
| Paraformaldehyde (PFA) | Sigma, St louis, MO | 441244 | |
| Glutaraldehyde 8% EM grade | Polyscience, Inc., Warrington, PA | 216 | store at -20 °C |
| Lytic enzyme | MP Biomedicals, Santa Ana, CA | 153526 | store at -20 °C |
| Parafilm M | Sigma, St louis, MO | P7793 | |
| 50 meshes nickel grids | Agar Scientific, Stansted, United Kingdom | G209N | |
| Cryo-immuno diamond knife 35° | Diatome AG, Biel, Switzerland | N.A. | |
| UCT ultramicrotome | Leica, Solms, Germany | N.A. | |
| Formvar 15/95 resine | Electron Microscopy Sciences, Hatfield, PA | 15800 | |
| 50 meshes nickel grids | Agar Scientific, Stansted, United Kingdom | AGG2050N | |
| Parafilm | Sigma, St louis, MO | P7793 | |
| Grids storage box | Leica, Solms, Germany | 162-50 | |
| Falcon 100 mm x 15 mm Petri dish | Corning, Corning, NY | 351029 | |
| Pasteur capillary pipettes 150 mm | Van Bruggen Glas, Rotterdam, The Netherlands | 10216234 | |
| 1.5 ml microcentrifuge | Sarstedt, Nümbrecht, Germany | 72690001 | |
| 50 ml tube | Bio-one, Alphen aan den Rijn, The Netherlands | 210296 | |
| Benchkote surface protector | Whatman, Maidstone, United Kingdom | 1159201 | |