Summary
Intravitale microscopie om temporele en ruimtelijke hemodynamische en inflammatoire gebeurtenissen in de pial microcirculatie te volgen.
Cite this Article
Copy Citation | Download Citations

Cabrales, P., Carvalho, L. J. Intravital Microscopy of the Mouse Brain Microcirculation using a Closed Cranial Window. J. Vis. Exp. (45), e2184, doi:10.3791/2184 (2010).
Abstract
Dit experimenteel model werd ontworpen om de muis te pial microcirculatie te beoordelen tijdens acute en chronische, fysiologische en pathofysiologische hemodynamische, inflammatoire en metabolische voorwaarden, met behulp van in vivo fluorescentie microscopie. Een gesloten craniale raam is geplaatst over het linker parietooccipitalis cortex van de muizen. De lokale microcirculatie wordt opgenomen in real time door het venster met behulp van epi en fluorescentie verlichting, en metingen van de schepen diameters en rode bloedcellen (RBC) snelheden worden uitgevoerd. RBC snelheid is gemeten met behulp van real-time cross-correlatie-en / of fluorescent gelabelde erytrocyten. Leukocyten en bloedplaatjes naleving van pial schepen en beoordeling van de perfusie en vasculaire lekkage worden gemaakt met behulp van fluorescentie-label markers zoals albumine-FITC en anti-CD45-antilichamen TXR. Microcirculatie kan herhaaldelijk worden opgenomen video over meerdere dagen. We gebruiken voor de eerste keer dat de venster sluiten hersenen intravitale microscopie aan de pial microcirculatie om dynamische veranderingen volgen in de loop van Plasmodium berghei ANKA infectie bij muizen en laten zien dat de expressie van CM wordt geassocieerd met microcirculatie stoornissen gekenmerkt door vaatvernauwing, sterke afname in het bloed studie flow en uiteindelijk vasculaire instorten.
Protocol
1. Craniotomie
Een craniotomie in 8-tot-10-week oude muizen moet worden uitgevoerd op voorhand zoals eerder beschreven een, behalve dat een titanium staaf niet is geplaatst in de kop van het dier. De chronische craniale venster is een stabiele voorbereiding waarmee het onderzoek van de pial microcirculatie, zelfs maanden na de implantatie. Meestal voeren we onze studies 2-3 weken na de craniale venster implantatie.
2. Intravitale microscopie
Twee-drie weken na craniotomie, lichaamstemperatuur wordt gecontroleerd en vervolgens de muis is licht verdoofd met isofluraan (4% voor inductie, 1-2% voor onderhoud). Lichte anesthesie wordt gebruikt om de dieren stress en ongemak te voorkomen dat tijdens de experimentele procedure.
Dieren worden vervolgens geplaatst in buikligging op een stereotaxische frame en het hoofd zorgvuldig beveiligd met behulp van oor bars. Het niveau wordt aangepast met behulp van de rechter en linker hendels. Kerntemperatuur van het lichaam wordt onderhouden met behulp van een verwarmingselement. Omdat muizen met cerebrale malaria te ontwikkelen hypothermie, de temperatuur instellingen moeten worden aangepast voor elk dier.
Het deksel slip op de craniale venster is voorzichtig schoongemaakt met een wattenstaafje bevochtigd met minerale olie en een panoramisch beeld van de schepen onder het raam wordt genomen met de hulp van een stereomicroscoop en een digitale camera (Nikon Coolpix 995, Japan). Het beeld wordt afgedrukt, geïdentificeerd en gedateerd en zal worden gebruikt als een kaart voor de metingen van het schip diameter en rode bloedcellen (RBC) snelheden.
De muis is dan overgebracht naar een intravitale microscoop stadium (op maat Leica-McBain, San Diego, CA). Een druppel water is geplaatst op de schedel raam te profiteren van de put wordt gevormd door de tandheelkundige acryl, is focus aangepast. De metingen worden uitgevoerd met behulp van een 20X (LUMPFL-WIR, numerieke apertuur 0,6, Olympus) water immersie objectief. Dezelfde schepen zijn zo volgde dat directe vergelijkingen om hun baseline niveaus kunnen worden uitgevoerd waardoor meer robuuste statistiek voor kleine steekproef populaties. Beelden worden opgenomen met een digitale weinig licht high speed camera (Hamamatsu C9300-221, Japan), of weinig licht analoge camera (Cohu 4815, San Diego, CA) aangesloten op een videorecorder tape (JVC, Japan), de tijd gestempeld (MicroImage Video systemen, Boyertown, PA) en een kleur monitor (PELCO, Clovis, CA). De tape is goed geïdentificeerd voordat u de opname start, en de tijd die stempel staat de identificatie van de evenementen door het documenteren van de termijn gedurende welke dergelijke evenementen werden gehercodeerd.
Een eerste controle van de schepen wordt verwezen naar de kwaliteit van het preparaat te evalueren en als het bloed stroomt in alle schepen. Vervolgens wordt de selectie van de schepen te meten gemaakt en het moet venulen en arteriolen van verschillende diameters (in onze muis pial voorbereidingen, de meeste schepen liggen tussen de 20 en 80μm) en bestrijken verschillende locaties binnen het gebied blootgesteld door het raam. Arteriolen en venulen kunnen gemakkelijk worden onderscheiden door het controleren van de richting van de bloedstroom in de vertakkingen van het schip (of het distribueert of verzamelt het bloed). In onze studies, worden metingen gedaan in 12 schepen. Precieze locatie van elke plek om te worden gemeten is geannoteerd in het beeld van de pial vasculatuur.
Voor elke plek, is het schip diameter gemeten met behulp van een afbeelding schaar apparaat (Image Shear, Vista Electronics, San Diego, CA) 2. Eenmaal ter plaatse is geselecteerd, wordt het beeld van het schip uitgelijnd in verticale positie en het beeld wordt geschoren tot de plaats van extremen zijn uitgelijnd en de lezing is gedocumenteerd. Deze waarde kan worden vertaald in micrometers door vorige kalibratie voor elke specifieke vergroting van een Reticle Calibration objectmicrometer (Edmund Optics Inc, Barrington, NJ).
Elke plek wordt opgenomen gedurende ten minste 30 seconden voor erytrocyten tracking. Voor het volgen wordt een monster van bloed verzameld, en erytrocyten zijn fluorescent gelabelde met de carbocyanine kleurstof Dil (Molecular Probes, Carlsbad, CA) en toegediend door middel van de staartader om een verkrijgen van in-vivo concentratie van ~ 0,4-0,5% 3. Bij dieren die besmet zijn met Plasmodium berghei ANKA (PBA) die het groen fluorescerend eiwit (GFP-PBA, een donatie van de Malaria Research en referentiereagens Resource Center MR4, Manassas, VA, neergelegd door CJ Janse en AP Waters), geen infuus van gelabelde cel nodig is. De videobeelden worden opgenomen met 150 frames per seconde. Dit tarief is ingesteld om een ​​tot zes afbeeldingen van een cel te verkrijgen over een video frame voor de bepaling van snelheden tot 8 mm / s. De video beelden worden gedigitaliseerd met een personal computer met behulp van Adobe Premier 4.0-software, en de XY-coördinaten gegevens voor elke cel beeld worden verkregen met behulp van SigmaScan Pro 4.0 software (SPSS Chicago, IL) 4. Cel posities worden handmatig in plaats bepaald door beeldanalyse, gezien het feit dat het oog van een getrainde waarnemer werd aangetoond dat een goede inschatting van de locatie van het centrum van een cel, die gevenh in het algemeen overeenkomt met de locatie van de maximale fluorescentie waargenomen voor de meeste mobiele oriëntaties. Meerdere bepalingen van de positie en snelheid zijn gemaakt voor elke cel en gemiddeld te betekenen RBC snelheid te verkrijgen.
Toen RBC snelheidsmetingen offline worden uitgevoerd, is de totale observatietijd voor elke muis niet hoger dan 10-15 minuten het minimaliseren van de Cardiodepressieve effecten van de anesthesie.
Zodra schip diameter en RBC snelheid metingen beschikbaar zijn, de berekening van de bloedstroom in elk vat kan worden gemaakt met behulp van de formule: Q = V x π (D / 2) 2, waarbij Q = de bloedstroom, V = RBC snelheid en D = schip diameter.
Deze procedures kunnen worden herhaald in de tijd. Bijvoorbeeld, in het muismodel van cerebrale malaria, voeren we dagelijks metingen te beginnen op dag 4 van de infectie. De verkregen waarden elke dag voor elke muis zijn genormaliseerd ten opzichte van dag 0 (pre-infectie), die wordt beschouwd als 100% te zijn.
Naast de bloedvaten en de doorbloeding metingen, kunnen extra evaluaties worden uitgevoerd, bijvoorbeeld een betere beoordeling van de perfusie en de analyse van de leukocyten en / of bloedplaatjes rollen en de naleving in pial schepen. Deze metingen worden uitgevoerd met behulp van fluorescent gelabelde markers. In het geval van malaria, kunnen we ook ontdekken circuleren of aanhanger parasieten door middel van het gebruik van de PBA stam die GFP uitdrukt.
Voor perfusie assessment gebruiken we een oplossing van FITC-gelabelde albumine (Sigma, St. Louis, MO 50μg/mouse), en om de naleving van leukocyten pial schepen we gebruik van antilichamen tegen het pan-leukocyten marker CD45 gelabeld met Texas Red (TXR) kwantificeren ( Invitrogen, Carlsbad, CA 4μg/mouse). Voor deze, 25μL van de albumine-FITC (2mg/mL) en 20μL van de anti-CD45-PE antilichamen (200μg/mL) zijn gemengd en geïnjecteerd in de voorverwarmde staartader. De muis kan dan direct worden afgebeeld, maar als lekkage metingen zullen nemen albumine-FITC mag circuleren gedurende 15 minuten. Groene fluorescentie (518nm) uitgezonden door albumine-FITC en GFP (PBA-GFP pRBC) is vastgelegd met en ALPHA Vivid: XF100-2 (Omega Optical, Brattleboro, VT), en anti-CD45-TXR fluorescentie (615nm) is verlaten en vastgelegd met een Vivid Standaard: XF42.
De fluorescent gelabelde albumine maakt een betere visualisatie van de vasculaire netwerk, inclusief doordringende schepen, en het is vooral nuttig bij de ziekte van staten zoals cerebrale malaria om te controleren op niet-doorbloed of onder-geperfuseerd schepen. Het kan ook gebruikt worden om vasculaire lekkage 5 te meten.
De fluorescent gelabelde anti-CD45 antilichamen maken het gemakkelijk te identificeren en te kwantificeren leukocyten rollen en adhesie aan pial schepen. Om te voorkomen dat bias in de kwantificering, we kwantificeren rollen en de hechting op dezelfde plekken vooraf gedefinieerde om de bloedstroom te meten. Kwantificering van leukocyt-adhesie wordt gemaakt door het tellen van het aantal leukocyten in een 100 urn-schip lengte. Rolling wordt gekwantificeerd door het tellen van het aantal leukocyten reist met een snelheid beduidend langzamer dan het bloed snelheid van 100 urn in dezelfde lengte, gedurende 30 seconden.
3. Representatieve resultaten


Figuur 1. (Stap 2.6) Foto's van de muis pial vasculaire netwerk toegankelijk via het craniale raam.

Figuur 2. (Stappen 3,1-3,5) Schematische weergave van de set-up voor de intravitale microscopie van de muis pial microcirculatie. 1: intravitale microscoop; 2: 20x water immersie objectief, 3: lichtbron; 4a: digitale weinig licht high-speed camera, 4b: analoge camera; 5: muis in de stereotaxisch frame; 6: computer monitor; 7: analoge Shearer monitoren laten zien hoe het beeld scheren (pijl) wordt gedaan om vat diameter te meten.

Figuur 3. (Stap 3.6 tot 3,8) Microvasculaire rode bloedcellen snelheid van metingen door het volgen van de cel met hoge snelheid fluorescentie-video-opnamen. Foto A tot F zijn sequentie beelden van een pial schip, met een enkele beweging RBC het oversteken van de microscopische veld dat is afgebakend door de camera. Handmatig bepalen van het frame per frame posities van 15 of meer cellen kruising het veld, met zijn pre-gekalibreerde afstand, maakt de berekening van de gemiddelde snelheid van RBC in elk vat met behulp van een Excel-spreadsheet.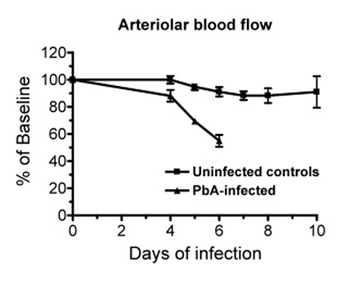 Figuur 4. (Stap 3.9) Gegevens van een representatief experiment met de veranderingen in de pial bloedstroom in de tijd Plasmodium berghei ANKA (PBA) geïnfecteerde muizen (n = 5) en bij niet-geïnfecteerde controle muizen (n = 5). Terwijl in controle muizen de pial bloedstroom is relatief stabiel in de tijd, PBA-geïnfecteerde muizen tonen een duidelijke vermindering van de bloedstroomten tijde van de cerebrale malaria ontwikkeling (dag 6). De gegevens zijn het gemiddelde ± SEM.

Figuur 5. (Stap 4,3) Een groot aantal leukocyten aanhanger van pial schepen van een muis die besmet zijn met Plasmodium berghei ANKA, zoals onthuld door kleuring met anti-CD45-Texas Red fluorescerende antilichamen.
Subscription Required. Please recommend JoVE to your librarian.
Discussion
De intravitale microscopie hier beschreven methode biedt een unieke en krachtige tool voor gedetailleerde observatie van de pial microcirculatie in de muis. Het staat de afzonderlijke vermelding van de individuele arteriolen en venulen en het meten van veranderingen van een aantal parameters zoals schip diameters, RBC snelheden, de doorbloeding, hechting aan en rollen van leukocyten, bloedplaatjes en andere bloed-elementen, vasculaire lekkage, weefsel pH en pO2 en mogelijk nog vele andere toepassingen. De in vivo vasculaire reactie snel kunnen worden geëvalueerd op interventies, zoals toediening van het geneesmiddel, of tijdens de pathologische processen. Bovendien kan de microcirculatie gedrag dynamisch worden opgevolgd in de tijd. We hebben gebruik gemaakt van deze technologie om de pial microcirculatie veranderingen tijdens cerebrale malaria veroorzaakt door P. studie berghei ANKA in de muis, en hebben aangetoond dat de neurologische syndroom in dit model is geassocieerd met een microcirculatie disfunctie wordt gekenmerkt door een verminderde cerebrale doorbloeding, vasoconstrictie, verminderde perfusie en uiteindelijk vasculaire collaps 6.
Subscription Required. Please recommend JoVE to your librarian.
Disclosures
Geen belangenconflicten verklaard.
Acknowledgements
Dit werk werd ondersteund door subsidies R01-HL87290, R01-HL87290-S1 en de R01-AI082610 van de National Institutes of Health om LJMC.
Materials
| | | | |
| --- | --- | --- | --- |
| Name | Company | Catalog Number | Comments |
| Isoflurane | Baxter Internationl Inc. | FDG9623 | |
| Carbocyanine dye Dil | Molecular Probes, Life Technologies | D306 | |
| Albumin-FITC | Sigma-Aldrich | A9771 | |
| Anti-CD45-TxR Ab | Invitrogen | MCD4517 | |
| P. berghei ANKA-GFP | MR4 | MRA-865 | |
References
Mostany, R., Portera-Cailliau, C. A craniotomy surgery procedure for chronic brain imaging. J. Vis. Exp. (15), (2008).
Intaglietta, M., Tompkins, W. R. Microvascular measurements by video image shearing and splitting. Microvasc. Res. 5, 309-312 (1973).
Briceno, J. C., Cabrales, P., Tsai, A. G., Intaglietta, M. Radial displacement of red blood cells during hemodilution and the effect on arteriolar oxygen profile. Am. J. Physiol. Heart Circ. Physiol. 286, 1223-1228 (2004).
Bishop, J. J., Nance, P. R., Popel, A. S., Intaglietta, M., Johnson, P. C. Relationship between erythrocyte aggregate size and flow rate in skeletal muscle venules. Am. J. Physiol. Heart Circ. Physiol. 286, H113-120 (2004).
Baldwin, A. L. Modified hemoglobins produce venular interendothelial gaps and albumin leakage in the rat mesentery. Am. J. Physiol. Heart Circ. Physiol. 277, H650-H659 (1999).
Cabrales, P., Zanini, G. M., Meays, D., Frangos, J. A., Carvalho, L. J. Murine cerebral malaria is associated with a vasospasm-like microcirculatory dysfunction, and survival upon rescue treatment is markedly increased by nimodipine. Am. J. Pathol. 176, (3), 1306-1315 (2010).